3D printing is the process of manufacturing three-dimensional solid objects from a digital file. Technological advancements have made 3D printing a possibility and further refined it to make it more accessible.
Now anyone can print miniature models or design layouts from their bedrooms. The creation process uses an additive layering process until the object is created. It can produce much more complex designs with much less material than traditional manufacturing methods. 
3D manufacturing is becoming more convenient and is the opposite of the subtractive manufacturing method, which involves cutting out hollow spaces using a milling machine. 3D software is required to print a digital file into a solid object. 
If you are interested in building your custom characters and models, then you are at the right place. Miniatures for games such as Warhammer, dungeons, and dragons can be easily made at the click of a button in your bedroom.
The purpose of a miniature design can also be rapid prototyping, a method developed in the late seventies to create a holding prototype of your end product. Nowadays, 3D printers are extensively used in the process of rapid manufacturing. 
Having a 3D printer at your disposal allows you to customize your miniature design according to specific needs. You can also create a one-of-a-kind miniature model with a 3D printer.
3D printing costs are usually very high, and these services cost a lot, so if you are interested in building miniature models regularly, you should opt for a 3D printer for miniatures.
Key Parameters For Choosing The Best 3D Printer For Miniatures
We have curated an exhaustive list of printers available on the market depending upon certain key parameters. These parameters will help you shortlist the product depending on your preferences.
You can compare each product individually based on specific parameters. One way of choosing the best 3D printer for miniatures is to rank your key parameter according to preference and then look at the product that fits your need well.  
Type:-
The two most common and cost-effective 3D printers are FDM and Resin type 3D printers. The LCD-type 3D printers are the only Resin type printers comparable with FDM-type printers in terms of cost.
FDM printers are a better alternative if you want to produce something in bulk, as it allows you to build larger volumes. LCD 3D printers can print better quality and more complex designs with a smoother finish. 
Printing Speed And Accuracy:-
Printing speed and accuracy are seen as crucial characteristics when purchasing 3D printers for miniatures. The printer's accuracy affects the outcome of the finish, quality, and details.
The time taken to produce the model depends upon the extruder movements and is also affected by the material type. 
Plot Area:-
A bigger plot area will allow you to print larger models. You can also produce multiple models if the plot area is big enough. We are looking for 3D printers for miniatures. Therefore, we do not require a commercial standard plot area. 
Colors:-
A printer with multiple extruders is required to create a more detailed model of different colors. The more the number of extruders, the higher the printer's price.
Price:-
As we are looking for a 3D printer for miniatures, price is an important factor to consider. Many budget options are available on the market depending upon the printing materials, quality, lifespan, and apparatus purpose. 
Best 3D Printer For Miniatures – Our Top Pick👌
We have listed the best 3D printer for miniatures available on the market here to aid you in your purchase decision. Go through each product thoroughly before making your final choice.
All 3D printers mentioned here have their own set of distinct features, and you can't possibly go wrong with any of these. 
1. ELEGOO MARS 2 Pro – Best 3d printer for miniatures 2022
ELEGOO Mars 2 Pro printer brings you a 6.08-inch monochrome 2K HD LCD screen. The COB UV lights on it provide a uniform light emission for extra precision and printing accuracy at a stable luminous rate.
The large print volume meets all your printing demands for miniature models. The Mars 2 prints at a speed of 1.5-2s/layer with a 50μm XY precision. 
The 6.08-inch monochrome LCD has a 2K HD resolution that provides twice the printing speed of a traditional RGB LCD printer providing better printing efficiency.
Also, it requires much less maintenance and provides a more stable experience overall. The Mars 2 is compatible with several different languages, such as English, Chinese, Japanese, Korean, Dutch, German, Italian, French, Russian, Spanish, Portuguese, and Turkish which facilitates worldwide usage of this machine. 
The printer has an active carbon built-in feature that works together with the turbo-cooling fan and silicone rubber seal to provide a better printing experience by absorbing the resin fumes to avoid any irritant odor.
The build quality of the Mars 2 Mono is reliable, and it gets the work done easily. From the build platform to the resin vat, the printer is made of machined CNC aluminum improving its build quality and durability. 
The COB light source ensures that each printing comes out perfectly by boosting performance and reducing heat dissipation.
The Chitu Box software is very helpful in slicing .stl files and adding supports because of the anti-aliasing function that provides an improved printing surface. 
Technical Specifications:-
EL3D-3.0.2 system and ChituBox Slicer software.

UV photocuring technology with a layer thickness of 0.01-0.2mm.

The printing speed of the Mars 2 is 30-50mm/h.

The 3D printer comes with a Z-axis accuracy of 0.000125mm.

The XY-resolution offered is 0.05mm(1620*2560)

The Build volume offered by Mars 2 is 5.08(L) X3.15(W) X6.30(H) inches.

The 3D printer has a UV-integrated light source (wavelength of 405nm)

13 language compatibility offered. 
The package includes the following:-
1 X ELEGOO Mars 2 Pro

1 X UL Adapter
1 X 2Gb U Disk
1 X Backup Screws
1 X Measuring Cup
1 X Silicone rubber seal
1 X Resin Tank
1 X Build Platform
1 X Metal Scraper
1 X Plastic Scraper
3 X Gloves
10 X Funnel
User Guide
Pros:-
2K HD resolution.

Ultra Precision
Multi-Language
Built-in active Carbon
CNC Aluminum body
Cons:-
The ELEGOO Mars 2 Pro is one of the best 3D printer for miniatures available on the market that is very popular among consumers.
Check Price on Amazon
Elegoo Mars 2 Pro $300 Resin 3D Printer Review!
2. ANYCUBIC Photon Mono
The ANYCUBIC Photon Mono LCD 3D Printer is a customer-friendly and cost-effective 3D printer. The Photon Mono brings you the pleasure of fast printing and saves your maintenance cost.
The ANYCUBIC company has gathered a strong R&D team to create a high-quality 3D printer to meet professional and daily life needs.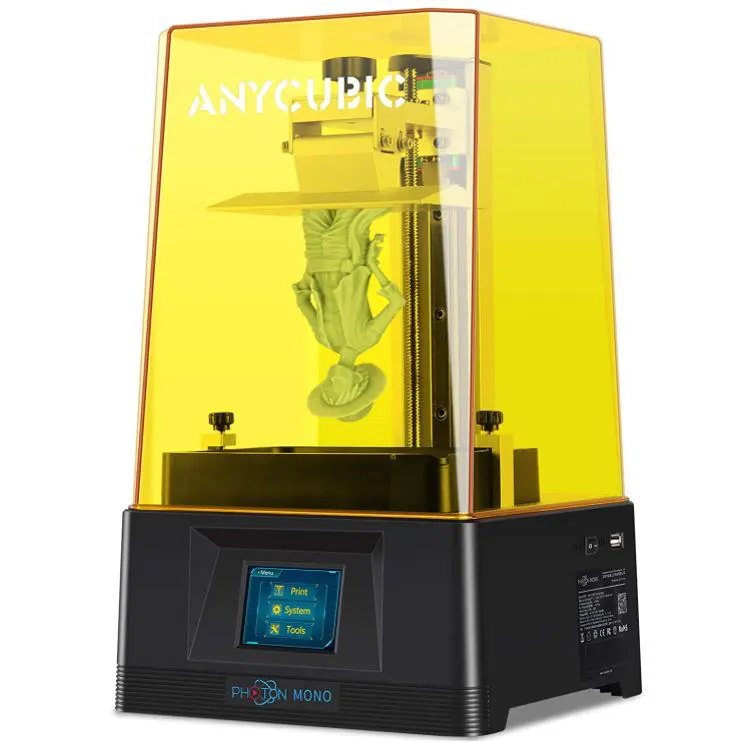 The printing speed on the Photon Mono is among the fastest 3D printer at 50mm/h, which greatly reduces time and improves cost savings.
The 15 pcs lamp beads make a new matrix parallel light source, which can spread the light source evenly and dissipate heat to improve the precision of the model during the printing process.
The printer supports multiple slicing software such as Chitubox and Lychee, among other common software, to improve its ease of usage by different individual users.
The FEP strip steel ring can be easily replaced on the Photon Mono by simply unscrewing the screw and replacing it with a new one. It does not require any other special adjustment making it an easy and convenient process.
It comes with a 6.08-inch Monochrome LCD with 2K HD resolution that takes only 1.5 seconds of exposure to cure the resin. The service life of the screen is four times better than that of an RGB LCD screen which saves material costs.
The UV-blocking top cover can block 99.9% of the ultraviolet rays to reduce the influence of ineffective light during the printing process. The Photon Mono can also be set up to stop printing when the top is opened.
Technical Specifications:-
2.8-inch touchscreen operation.

LCD-based SLA technology with Monochrome 2K HD display.

XY resolution of 0.051mm: 2560 X 1620.

Z-axis resolution of 0.01mm.

A maximum printing speed of 50mm/h.
The Package includes the following:-
1X Photon Mono printer

1X Power Cord
1X Accessories Kit
Pros:-
UV light blocking

Fast Printing Speed
Top cover detection
Large Build Volume
Cons:-
The Anycubic Photon Mono is a trusted 3D printer that scores high on customer reviews. 
Check Price on Amazon
Anycubic - Photon Mono + Wash & Cure 2.0 - Unbox and Setup
3. Monoprice Voxel – best filament 3d printer for miniatures
The Monoprice Voxel 3D printer is a unique and easy-to-use 3D printer with a 2.8-inch color IPS screen. The beginner-friendly printer has an assisted leveling system that reduces calibration with a single tap on the touch screen.
The print nozzle can be swapped out easily within seconds.
It has additional features such as 8Gb of internal memory, a USB port, a Wifi radio with a hotspot, and a built-in camera for monitoring print operations. 
The build plate is removable and flexible. It is heated, so you can remove it and dislodge the model. In case of any damage to the build plate, you can easily replace it with a new one and begin printing again immediately. Further, the plate can be heated up to 60 degrees celsius. 
The Auto-leveling feature is useful for beginners. The printer is print-ready, and you do not need to make any changes to it, but if necessary, you can easily adjust the distance between the nozzle and the bed via the touchscreen interface.
Also, the printer is Polar Cloud-enabled, allowing you to print from anywhere with an internet connection.
You can connect and manage multiple printers, queue print jobs, slice models, access the educational curriculum and even check how your print is doing via the built-in webcam.
The fully assembled Voxel 3D printer has a build area of 150X150X150 mm and can print at a speed of 60mm/hr. It also comes with a useful auto feeding with a filament sensor that notifies you about the filament levels and pauses the print until the filament is reloaded.
Additionally, the filament loading process is fairly easy; insert your filament in the loading port and tap "Load Filament" on the touch screen.   
Technical Specifications:-
Assisted Auto-leveling feature that is fully calibrated to print out of the box.

150X150X150 build volume.

2.8-inch IPS Screen.

Polar Cloud-enabled for remote printing.

Quick change Nozel feature. 

8Gb internal memory with USB port and Wifi for connectivity options.

Built-in camera for monitoring operations.
The Package Includes the following:-
1X Monoprice Voxel

1X Power Cord
1X Accessories Kit
User Manual
Pros:-
User Interface

Built-in camera
Assisted leveling feature
Polar Cloud Enabled
Cons:-
The Monoprice Voxel is an affordable FDM printer that is great for beginners.
4. PHROZEN Sonic Mini 4K
The Phrozen Sonic Mini 4K LCD printer is one of the most consumer-friendly 4K 3D printers available on the market.
The Taiwan-based company develops professional LCD 3D printers for miniatures while striving to enhance human creativity and productivity.
The Sonic Mini gives an unforgettable 3D printing experience for professional and personal use. Also, the company provides lifetime technical support for the printer and one year warranty on all printers except consumable parts such as FEP and LCD screens.
The 6.1 inches 4K printing area ( 3840 X 2160 ) ultra high definition prints at 35μm with 722 PPI. The Monochrome LCD screen can work up to 2,000 hours and prints four times faster than traditional 3D printers. 
The Sonic Mini is a small but mighty machine that is compact and lightweight. You can easily store and fit it into different settings, professional or personal.
It is very convenient to use, and you need just a USB flash drive to send your data to the printer, and with one tap, you are ready to go. 
The printer is compatible with all LCD resins and most DLP resins but works best with the Aqua-gray 4K. The  Sonic Mini can print all your models with ultra-high-definition without sacrificing your print size. The 5.2 X 2.9 X 5.1 chamber size allows you to print out most 3D models and miniatures conveniently.  
Technical Specifications:-
The printer has an XY resolution of 35μm, Z resolution of 30μm-50μm, and layer thickness of 0.01-0.30mm.

The Sonic Mini has a fast printing speed of 80mm/hour.

It uses a Resin 3D LCD-type printing technology.

It has a 405nm ParaLED Matrix 2.0 light source. 

2.8-inch touch panel and USB connectivity.
The package includes the following:-
1 X Sonic Mini 4K 3D printer

1 X Power cable
1 X Kit
Pros:-
LCD/DLP resin compatibility

4K HD resolution
USB connectivity
Fast printing speed
Cons:-
The Phrozen Sonic Mini 4K is one of the few 4K LCD printers on this list. This printer is compact yet powerful. 
5. ELEGOO Saturn MSLA
The ELEGOO SATURN MSLA is a large-size 3D printer with an 8.9-inch 4K monochrome display. It allows you to print faster and a lot more models at a single time with a big build volume of 192 X 120 X 200mm.
As one of the leading brands on the market, it has gained lots of support from customers across the globe. 
The 4K monochrome display has an HD resolution of 3480*2400, 0.05mm XY resolution, and 508 PPI, ensuring your models' smooth and delicate printing surface.
The low light transmittance rate allows you to print a layer in 2-3 seconds while using low energy to reduce heat dissipation which improves the lifespan of the mono LCD by around 300%.
The Saturn MSLA uses UV LED Matrix to provide greater precision and more reliable printing. The 54 LED lights work together to produce an even UV beam of 405nm wavelength that is optimal for 3D printing to provide a higher printing accuracy.
When projecting lights to the mono display, these LEDs take up only 65-80 mW of power to save energy and to further reduce heat dissipation. 
The printer has a shock absorption unit that gives you a quieter, steadier, and more precise motion at ±0.02mm. The build of the entire printer is among the best-in-class.
The sandblasted surface provides a stronger adhesion when printing large-sized models. The metal resin tank is made of aluminum alloy with handgrips on either side, so you can conveniently dismount it without scratching the FEP surface.  
Technical Specifications:-
Fifty-four units of LED light matrix produce a constant wavelength of 405nm with parallel emission for higher precision.

8.9 inches 4K HD monochrome display with an XY resolution of 0.05mm.

A 190*120*200 build volume to conveniently print larger 3D models.

STM32 chip for powerful computing and algorithms.
The package includes the following:-
1 X Elegoo Saturn MSLA

1 X Aluminum resin tank
1 X Power Cable
1 X Accessory ToolKit
User Manual
Pros:-
Larger Build Volume

Printing accuracy
UV LED lighting unit
Steady printing
Build Quality
Cons:-
If you are looking for a 3D printer with a larger build volume, the ELEGOO Saturn could be the right choice for you. 
Check Price on Amazon
Elegoo Saturn - 4k Mono Resin 3D Printer
6. Creality Ender 3 V2 – best filament printer for miniatures
The Creality Ender 3 V2 is an upgraded model that perfectly suits your professional and personal printing needs.
The enhanced V2 model has a new user interface and a newly designed operation UI system. The Ender 3 V2 is a compact printer with a classical appearance.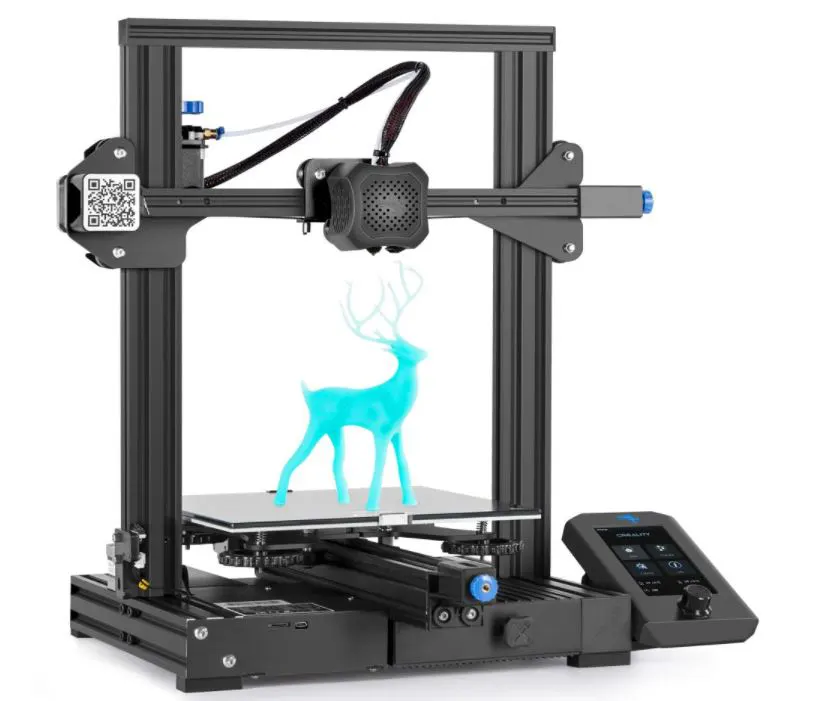 The self-developed silent motherboard ensures smooth movement under -50db and no noise during printing.
The V-guide rail pulley with stable movement improves precision during printing and reduces wear resistance to improve the printer's lifespan. The rotatory knob on the extruder makes it convenient to load and feed filament.
The Creality Ender also has a new injection tensioner that adjusts the belt tension quickly and more conveniently. It allows you to level the printer manually for more freedom and options while printing models.
It also has some additional add-ons, such as a toolbox that is integrated into the machine body which makes it more convenient and quicker for tools organization and storage. 
The brand-new user interface comes with a 4.3-inch color screen that upgrades the user experience with the newly designed operation UI system.
It makes it much easier to operate. Also, the color screen can be removed easily in case of repairs. The printer comes with its Creality Slicer on the SD card that you can use for slicing software.  
Technical Specifications:-
4.3-inch color screen.

Carborundum glass platform that heats up the hotbed quicker to avoid warping during printing.

Self-developed silent motherboard.

The compatible material is Polylactic acid.
The Package includes the following:-
1 X Creality Ender 3 V2

1 X Power Cord

1 X Toolkit

User manual
Pros:-
User Interface

Glass platform
Silent Motherboard
Compact design
Cons:-
The Creality Ender 3 V2 is an FDM printer that has most of the features you require and is budget-friendly at the same time.
7. ANYCUBIC Photon Mono X
ANYCUBIC Photon mono 4K is the biggest 3D printer on the list, with a printing volume size of 192*120*250mm. The printer delivers high-quality prints in a short amount of time at a speed of 60mm/hour.
The single-layer exposure takes only 1-2 seconds, three times faster than the ordinary resin printer, to meet all your professional or personal requirements.
The company is committed to creating high-quality 3D printers with innovation and technology to satisfy its users.
The 3.5-inch touchscreen is highly intuitive and responsive, making it convenient. The brushed aluminum platform enhances the adhesion between the platform and the printer to improve the stability of the model.
The printer also allows you to view how much resin is left in the resin vat with the help of marks. 
The Photon Mono X comes with a safety-first design, as the printing stops as soon as the top cover is lifted. The efficient cooling system improves the UV heat dissipation channel, leading to improved print quality, longer service life, and reduced maintenance costs.
It also comes with a high-quality power supply with international safety certification to protect your 3D printer at all times.
The 8.9-inch Monochrome 4K HD resolution of 3840*2400 with a service life of 2000 hours. The Photon Mono X also supports App remote control allowing you to print and track your progress from anywhere and anytime.
The Z-axis uses a double linear guide, screw motor, and anti-backlash nut to provide more stability while printing lines. The ANYCUBIC slicing software provides 8 times anti-aliasing to print more accurately. 
Technical Specifications:-
A 3.5-inch operation touch screen and 8.9-inch Monochrome 4K HD display.

ANYCUBIC photon Workshop slicing software included.

USB and Wifi Connectivity options.

LCD-based SLA technology.

High-quality filament-based light source with a steady wavelength of 405nm.

XY resolution of 0.05mm and Z-axis resolution of 0.01~0.15mm.

A maximum printing speed of 60mm/hour.
The package includes the following:-
1 X Photon Mono X printer

1 X Power Supply Cable
1 X Accessories Kit
User Guide
Pros:-
APP Remote control

4K Monochrome display
Large Build Volume
Printing speed and accuracy
Cons:-
If you are looking for a large resin 3D printer for miniatures, the ANYCUBIC Photon Mono X would be the go-to choice with an affordable price tag.
8. Creality Halot-One
The Halot One is a high-performance resin 3D printer with a precision integral light source, efficient and easy slicing, and a high-performance motherboard.
The self-developed optical system uniformly distributes the light intensity and each model dimension with consistent accuracy. 
The printer features a self-developed mainboard has the main control chip equipped with the ARMCortex-M4 processor to provide a strong computing and data processing capability that greatly reduces power consumption.
The Crealty slicing software has a simple interface for easy operation that is beginner-ready. The 5-inch brand new touch screen interface improves human-computer interaction. It supports multiple languages and brings an innovative printing experience.
The Crealty printer supports OTA online upgrades and continuously introduces new features to improve user experience. The precision Z-axis control system with widened and thickened profile of micron-grade for stable printing operation.
The printer has a dual cooling system for quick heat release. The Halot One also has an activated carbon air filtration system to reduce odor emissions.
The Crealty printer has an elegant and simple design that is expressive and provides the ultimate user experience. The full metal appearance and the transparent hood allow you to keep track of the printing.
The printer has a large operating space and a printing size of 127X80X160mm. 
Technical Specifications:-
The curing wavelength of 405nm.

LCD resolution of 1620*2560.

It comes with an easy manual leveling feature. 

A printing speed of 1-4s/layer.

XY-precision of 0.051mm.

Printing filament compatible is Photosensitive resin.

5-inch interactive screen.
The package includes the following:-
1 X Creality Halot-one

1 X Power Cable
1 X toolkit
User Manual
Pros:-
Dual Cooling system

Creality Slicing software
Precision Integral light source
High performance
Multiple language compatibility
Cons:-
The Halot One is one of the high-performance 3D printers for miniatures on this list.
9. NOVA3D BENE4 MONO
Nova3D BENE4 Mono resin 3D printers are the upgraded version of the previous model. The printer is equipped with 6.08-inch 2K monochrome screen with resolution of 2560*1620 with improved UV light transmittance.
The LCD temperature is reduced to 42 degrees to extend the service life of the printer and reach up to 2000 hours. Also, the decreased surface temperature improves cost-saving and printing accuracy. 
The printer is free of leveling with a newly-developed leveling method. With the help of 6 leveling screws, the leveling is conditioned, which won't change even if the printer is hit hard. Make sure the screws are not loose. The T-type rails have built-in ball bearings to minimize wobbling when printing.
With a mold size of 130*80*150mm, the printer can help you meet a wide range of printing needs. The BENE4 prints at a speed of 40mm/h, saving your printing time and costs.
Also, the CNC cutting process guarantees the high quality of the Z-axis. The printer has multiple connectivity options, such as Wifi printing, Ethernet, and USB.  
The exposure time on the BENE4 is greatly shortened due to the increased intensity of the light source around 3500uW/cm sq.
Every subpixel of the screen is illuminated, and only the light of a wavelength from 385~405 nm can get through the 2K screen to harden the resin, which requires adequate curing time. 
Technical Specifications:-
Print Size of 130*80*150mm.

6.08-inch 2K monochrome screen with a lifespan of 2000 hours. 

It is curing time of 1.8s/0.05mm.

A printing speed of 40mm/h.

CNC metal aluminum parts.

Multiple connectivity options such as Wifi, Ethernet, and USB.
The package includes the following:-
1 X Nova3D BENE4 printer

1 X Power Cable
1 X 250ml test resin
4 X Gloves
1 X Spatula
1 X plier
1 X filter
1 X Spray bottle
Toolkit
User Manual
Pros:-
Longer Screen life

Leveling free design
Remote control supported
CNC cutting process
Cons:-
The BENE4 Mono Resin printer from the Nova3D is designed to speed up your creative process and is a workhorse. 
10. QIDI TECHNOLOGY I Mates
The iMates 3D printer from QIDI technology is an out-of-the-box ready-to-print 3D printer for miniatures. The overall metal frame of the printer allows it stability during printing and gives a more stable print.
The newly developed extruder also improves the printing accuracy of the printer.
The constant temperature regulation cycle in the closed environment improves the printing process. The filament feeding and printing process is much smoother due to the convenient pull rod filament spool holder.
The magnetic printing surface is made up of special high-performance magnets that make it easier to remove the model after printing.
The redesigned interface of the Qidi print software 5.5.0 is more convenient to operate. The slicing software improves the print quality and the printing speed of the printer, and you get a lifetime free slicing software compatible with all Qidi Tech 3D printers. 
Technical Specifications:-
Compatible materials are PLA, ABS, TPU, PETG, etc. 

Print Volume of 260X200X200 mm.

1 set of 0.4mm extruder and 1 set of 0.2mm extruder. 

The filament diameter is 1.75mm.
The Package includes the following:-
1 X iMates 3D printer

1 X Power cable
1 X Toolkit
User Guide
Pros:-
Out of Box

Special Extruder
Magnetic surface
Large print size
Cons:-
The iMates 3D printer is a user-friendly device that is great for beginners.
FAQs
(Q) What are the most popular three-dimensional printing methods?
FDM:- It is the most common and affordable printing service with good quality products. It uses a plastic thread that is melted, and then melted material is put into specific areas.
SLA:- It is a more expensive and higher-precision technology designed for producing small items. These devices utilize photopolymer and a special beam that turns them into tough plastic.
SLS:- It is a high-accuracy and expensive printing technology used in industries. These are huge machines that use laser rays for layer-by-layer sintering of powder materials.   
What are the different types of affordable printing material for 3D printers for miniatures?
The 3D printing material you choose depends on your final goal and printer compatibility. ABS and PLA plastics are among the affordable printing material.
What are the various advantages of SLA printers over FDM printers?
The single-most distinguishing factor between SLA and FDM printers is the model quality. While the model in an FDM printer is prone to deformation due to warping and misalignment, SLA printers consistently produce high-resolution objects and are more accurate than FDM printers. Also, the cost of resin printers is comparable to that of FDM printers.
Conclusion
Finding the best 3D printer for miniature models is tiresome because there are many printers on the market with distinct features that can easily overwhelm anyone.
Before making your purchase decision, you should note down your needs and requirements to help you shortlist the printers. Choose the printer that fits your needs well and has all the required features.
Some printers have larger build volumes, and some are more compact for personal needs. Each printer on this list ticks almost all the boxes for you to begin with.