Do you have the curiosity to know about the Best 4k HDR Monitor for PS4 Pro to buy in 2022? 🤔 You can easily Find out now in this definitive list with our detailed review.
Without any further delay let's find out. 👓👓
Before jumping into reviews for the best 4k HDR monitor for ps4 pro, I feel it is important to totally understand the concept of an HDR monitor.
HDR stands for High Dynamic Range, this is a technology that computer monitors are beginning to support. It basically implies that these monitors will be able to handle more details both in the brightest and the darkest parts of an image along with a wide color gamut.
Already HDR is a great revolution with HDTVs, with every high-end television now supporting it. While it still has issues with Windows, it's definitely a feature people are looking for in high-end monitors today.
For gamers, HDR is just one other feature that makes the gaming experience even more entertaining. It brings more life into images and in the process makes gameplay more absorbing.
Our editors have compiles a list of the best monitors having the HDR technology that is most appropriate for PS4 pro gamers. This research is aimed to help you make the best buy when considering what HDR monitor to use with your PS4.
Please note that the list has been compiled in no particular order and as such, we hope you take time to make an exhaustive study of the list before deciding on what monitor to purchase.
Without further ado, here is our list.
Best 4k HDR Monitor for PS4 Pro: Our Top Picks
1. 

LG 32UD60-B 4K UHD Monitor
With the LG 32UD60, the first great feature to note is the resolution. It has a design that is meant to bring out its 4k abilities and allow it to deliver was designed with specific 4K abilities that deliver excellent performance and accurate colors.
What is even more eye-catching is that the color consistency is maintained on a Full HD at 3840 x 2160 pixels on an immersive 32-inch screen. The film industry has a benchmark with regards to DCI-P3 color space which the LG 32UD60 does well in covering around 95%.
This ensures that there is a wide spectrum of colors available. This feat makes it great a great 4k HDR monitor for PS4 pro in 2022. While considering this monitor, you must also be aware that it is very compatible with the latest HDCP 2.2 copy protection.
The implication for this is that streaming from 4k video services, game consoles, and ultra HD Blu Ray disc player becomes a breeze. Feated with the AMD FreeSync technology that the LG monitor is provided with, you are sure to have a gaming experience void of tearing and stuttering.
The AMD FreeSync works on synching the graphics card's frame rate and the monitor's refresh rate. For fast-paced games, this feature works in minimizing input lag and making games more responsive.
It also comes with a black stabilizer. Details in dark areas of a game are well represented because the scenes will be brightened up. You are guaranteed not to miss a thing. With some clicks on the mouse, you have access to some basic settings such as the volume, the brightness, dual controller, picture mode presets, and the likes.
You also have functionality for Screen Split 2.0 which can help you multitask by resizing and displaying multiple windows simultaneously. This monitor also comes with 14 options with 4 different picture-in-picture (PIP) options.
As far as viewing angles are concerned, you will find this monitor really great. The monitor stands on an adjustable stand, this is useful for raising or lowering the monitor to find the best viewing angles for you.
The monitor can be set to different modes including on, sleep, and off. These modes are very important for energy conservation. It will consume 25% less energy than standard ones. It may not have just one great feature to make it stand out from the competition, but it gives a great blend among the great features.
Below are some of the Pros and Cons of LG 32UD60-B 4K UHD Monitor that earned it a spot in our list of Best 4k HDR Monitor for PS4 Pro to get in 2022.
Pros:-
Excellent native contrast
Uniform, solid colors
Superb, wide color gamut
Cons:-
Doesn't have the best viewing angles
Glossy screen causes distracting reflections in bright environments
LG 32UD60-B 4K UHD Monitor with AMD FreeSync (2018)
Note:-
I have written a post for people looking for the best
gaming monitors for ps4
to buy, do read it If you are interested.
2. LG 27UK650-W 
In comparison to regular monitors, this LG 27UK650-W stands much higher thanks to its industry-standard HDR10 high dynamic range that supports color levels and brightness like no other in the market. This great feature is why it graces our list for the best 4k HDR monitor for ps4 pro in 2022.
It comes with a superb HDR functionality that allows even non-HDR content to be transformed into images of almost HDR quality.  This is because of its great picture quality algorithm.
It covers an impressive 99% of the sRGB color spectrum. This LG 27UK650-W monitor allows you to display every color with inch-perfect accuracy. It produces a very lifelike image quality.
With the compatibility of the LG 27UK650-W with HDCP 2.2 copy protection, you can view 4K content from streaming services, game consoles, and Ultra HD Blue-Ray disc players.
On the LG 27UK650-W, the movements become very fluid and smooth. It offers great transitions almost to make them feel nonexistent and this is even with high-resolution and fast-paced action games. All these great performances are credited to the AMD FreeSync that minimizes tearing and input lag.
With the LG 27UK650-W  comes along the Dynamic Action Sync. This is a feature that guarantees great performance by allowing you to optimize your monitor's setting quickly by inactivating a black stabilizer.
Once activated intricate places in the darkest spaces can be revealed. perfect for the optimal gameplay experience. Of course in this monitor, you will not be shocked to have onscreen controls. With the on-screen controls, you can adjust your volume, brightness, picture mode presets.
You also have functionality for Screen Split 2.0 which can help you multitask by resizing and displaying multiple windows simultaneously. The ergonomic design of the ArcLine stand adds some great value to this LG monitor, the adjustable stand makes it more sleek and pretty.
All in all, the LG 27UK650-W delivers an attractive 3840 x 2160 resolution on a 27-inch IPS screen accompanied by a couple of great features like FreeSync. The combination of what it has to offer and its price makes this monitor quite a bargain.
Below are some of the Pros and Cons of the LG 27UK650-W Monitor that earned it a spot in our list of Best 4k HDR Monitor for PS4 Pro to get in 2022.
Pros:-
Great transitions with the AMD FreeSync
Plenty of connectivity options
Perfect color production and color gamut
Cons:-
An absence of built-in speakers
The stand's adjustment options aren't as extensive
4k Gaming Panel with HDR and IT ISN'T UGLY! LG 27UK850-W
3. BenQ EL2870U 
The BenQ EL2870U is often seen as a multi-purpose monitor. It is to many, the ultimate gaming screen. It comes with 2 modes, a High Dynamic Range and a Cinema HDR Mode. This increases the dynamic range between the darkest black and the brightest white.
This sweet feature only results in creating more lifelike images and improving the general gameplay experience. Talking of great response time, it records times as low as 1 ms. This response time also ensures there is no lag or tear on the screen.
The result is smooth and fast-paced transitions that allow you to maximize your enjoyment of the fluid gaming experience and spare you any delay and latency.
With its AMD FreeSync, more smoothness is added to the gameplay. It eliminates tearing, obvious transitions, and intermittent gameplay. It also has a high refresh rate. These two features combined give you a smooth experience of gaming.
With all the aforementioned features you will not be surprised that it has very vivid and realistic images of the 4K resolution that have high frame rates. The images are crystal clear and crisp.
The BenQ EL2870U is fitted with the Brightness Intelligence Plus Technology (B.I. + Tech.). This maintains its balance between maximum contrast and vibrancy.
Just like every other monitor reviewed in this list, it has HDR. This gives it solid performance and is great for viewing comfort with the Brightness Intelligence Plus Technology.
You should note that this technology will automatically detect ambient colors of temperatures and brightness in the environment around the monitor, and adjust the display settings according to that.
With this monitor, there is also a Focus feature. It highlights the area in a selected window. It basically works like selective attention by enabling a user to fully concentrate on the content being viewed and reducing the distractions in the background.
On a final note, the BenQ EL2870U is multi-purpose, great for watching movies, perfect for gameplay, and excels with general computing. A feature like FreeSync makes it even better suited for gaming. With refresh rates, however, it may not be the fastest that you can find in the market.
Below are some of the Pros and Cons of the BenQ EL2870U  Monitor that earned it a spot in our list of Best 4k HDR Monitor for PS4 Pro to get in 2022.
Pros:-
Great Ultra High Definition resolution
Support for HDR
AMD FreeSync and lag reduction
Cons:-
TN panel delivers low color performance
Built-in speakers are weak
Connectivity options aren't that extensive
Not the fastest refresh rates
Check Price on Amazon
At the time of our research on "Best 4k HDR Monitor for PS4 Pro", we found a video about "What To Look For In A Gaming Monitor " which is worth watching. 🏆
What To Look For In A Gaming Monitor [Simple Guide]
4. Dell UP2718Q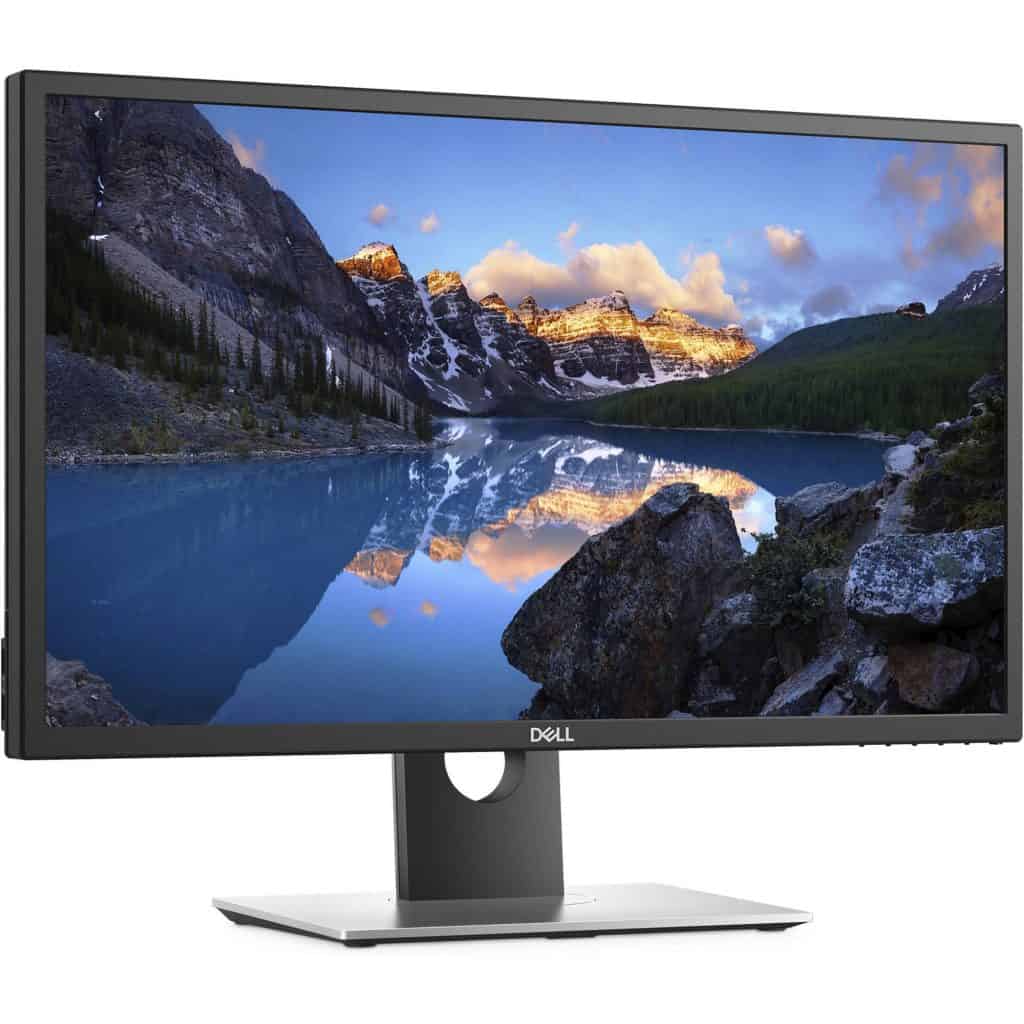 The Dell UP2718Q  comes with great clarity, depth of colors that create lifelike and realistic images, and high contrast range of shades. All these combined in the Dell UP2718Q make it an important monitor in our list of best 4k HDR monitor for ps4 pro in 2022.
It has a standard color consistency on its 27 inches 4K HDR screen. The UltraSharp monitor is factory calibrated at 99.9% sRGB coverage. You are guaranteed to get all the right colors with this monitor.
It easily beats the standard SDR displays with about three times their brightness. This Dell UP2718Q clocks 1000 nits of brightness. With this high brightness capability, you will be able to see the darkest of blacks and the brightest of whites. It brings the images to life in a matter of speaking.
A great point to note is its 20,000:1 contrast ratio and 384 local dimming zones. That coupled with a 3840 x 2160 Ultra HD 4K resolution, which has 4 times more detail than Full HD is all in all about the best package you can ask for.
It offers the most vivid images you can ask for. This is provided by a depth that only 1.07 billion colors can provide. It has a Custom Color Mode, an SDK, and the optional X-rite i1 Display Pro Colorimeter. These allow you to personalize the color parameters to suit your personal preference.
It has an extensive range of connectivity options and provides as well multiple plugin options. Prominently is the dual HDMI 2.0a for simple connectivity to HDR devices.
It comes along with an AC power connector, HDMI 1 and 2 connectors, a DP connector, an audio line-out port, USB upstream ports, and a USB 3.0 downstream port with BC1.2 charging capability.
The Dell UP2718Q allows for customization of the height, tilt, pivot, and swivel of the monitor to your own convenience for the most enjoyable gaming experiences. This means you will find a position and an angle that moist be perfect for you during gameplay.
This is a great monitor to acquire. With great colors, you are sure that gameplay is as much fun as it can.
Below are some of the Pros and Cons of the Dell UP2718Q Monitor that earned it a spot in our list of Best 4k HDR Monitor for PS4 Pro to get in 2022.
Pros:-
High resolution with the HDR10 Ultra HD
Great build quality
Backlight with 384-zone
Cons:-
Quite pricey
The HDR mode can be interrupted by halo effects
Check Price on Amazon
5. ASUS VP28UQG 
If in search of a 4k HDR monitor for ps4 pro, then this may be an appropriate stop for you. The ASUS VP28UQG is about the best budget 4K display that is even suited for competitive console gaming. Even though it is affordable, it offers a host of features.
The first step is to have in mind that this ASUS VP28UQG 28″ monitor features a Twisted Nematic panel which unlike the other monitor panel technologies such as IPS and VA has narrow 170°/160° viewing angles.
Using this monitor, if you experience pictures, colors, or contrast shifts with different viewing angles, then you must know the TN. This may not, however, be an issue because it is a 28-inch monitor and you will most likely always be seated in front of the screen. The TN will also fall short when it comes to color production.
When you compare this to other panels, TN panels have the least vibrant and accurate colors, but they also have the fastest response time speed; This is a trade-off, that will finally result in a choice based on your individual preferences.
It comes with a 4K UHD resolution, this guarantees that you will always have images that will be crisp and sharp with vivid and clear details.
Still, on panel-related specs, it has a 300-nit peak brightness, a 10-bit color depth via dithering, and a 1,000:1 static contrast ratio. For its price range, we can consider all of this as standard.
It also compensates with great quick 1ms response time speed. You will notice there is no ghosting or motion blur, especially of fast-moving objects. These are the features that make gameplay with this monitor very enjoyable.
You will observe that the screen is flicker-free. It also has inbuilt a low blue light filter. You won't have to care about eye strain and fatigue even after prolonged gaming sessions. It comes equipped with AMD FreeSync support. Once you have an AMD graphics card, this will further improve the gaming experience.
The FreeSync comes as a vital feature. It synchronizes the monitor's refresh rate to the GPU's frame rate. This practically eliminates issues with screen tearing and stuttering without introducing extra input lag. Its FreeSync range is 40-60Hz/FPS (Frames Per Second).
This ASUS VP28UQG comes with support for HDCP 2.2. This implies that you will be able to stream content from Netflix, Amazon Video, and the likes in 4K UHD. It has a Game plus feature. This feature is made up of customizable crosshair overlays, an on-screen timer, and an FPS counter.
Another feature is the 8 pre-calibrated picture presets. These are great for various viewing scenarios some of which may include Scenery, Theater, Game, Night View, Reading, Darkroom, sRGB, and also the Standard mode.
The On-Screen Display menu is quite user-friendly. You will find it easy to navigate using the 5-way joystick placed at the backside of the monitor. The monitor has a tilt-only design. You will be able to tilt-only by -5°/20° and you can VESA mount it on a third-party stand using the 100 x 100mm pattern.
Connectivity includes two HDMI 2.0 ports, a DisplayPort, and a headphones jack. So, you can simultaneously connect two consoles and a PC, and just change the input source on the monitor. AMD FreeSync works over HDMI and DisplayPort with a 40-60Hz dynamic refresh rate range.
Below are some of the Pros and Cons of the ASUS VP28UQG Monitor that earned it a spot in our list of Best 4k HDR Monitor for PS4 Pro to get in 2022.
Pros:-
Nice and fully adjustable stand
Nice overdrive implementation
Premium build quality
Cons:-
Accuracy is substandard
The contrast isn't the best
SURPRISINGLY cheap Asus VP28U monitor- 28" 4K 60Hz (no HDR)
6. LG 32UD99-W
It has already been said that LG makes the most and one of the best gaming monitor brands, so, it is not surprising that yet another LG monitor falls under this category.
Its features are quite similar to that of the 27UK850 -W, but there are a few differences, starting from the size. The LG 32UD99-W boasts a screen size of 32 inches, on a 4K UHD of 3840 x 2160 resolution.
Its panel is the IPS, which guarantees superb visual clarity all around, and gives a resolution that is more than two times clearer than anything an HD monitor has to offer. Also, like its aforementioned counterpart, it is HDR 10 compatible, surpassing monitors of its kind in color accuracy and brightness balance.
It also has HDCP 2.2 protection, so, you can download, receive, and even stream files or videos without fears of your data being compromised. Pairing this monitor with your PS4 Pro and playing your games, would be an incredible experience, thanks to a 95% DCI- P3 color gamut.
This percentage of color gamut ensures that a gamer has a wide variety of colors in almost limitless shades and hues. What's more, this monitor is made with hardware that accepts calibration.
What this means is that if you wish to improve your screen brightness or quality of colors, you can simply purchase devices that allow calibration and customize your monitor to taste.
Its screen is almost borderless, thanks to an extremely slim bezel of only 1.3 millimeters. Therefore, you can go at the monitor with your PS4 Pro and immerse yourself in whatever game you decide to play, with no outside distractions.
Another similarity this monitor has when compared to the 27UK850- W, is its USB Type – C port. It allows simultaneous sending and receiving of files, and charging of the device, without any glitches or interruptions. Also, you would not have to worry about clutter caused by numerous cords being wrapped around one another.
Apart from its on-screen controls feature, which allows for numerous options by just clicking your mouse a few times, this monitor has a Split 2.0 feature.
Split 2.0 allows you to move around different windows at the same time. You can also increase and decrease the window sizes. It has 4 picture-in-picture windows and 14 options to choose from.
Now, wait for this. The LG 32UD99 -W has in-built speakers that are actually loud, with a deep bass sound. The dual speakers provide a sound of more than 80 Hz and they measure 5 watts each.
The stand can be pivoted and its height can be increased or reduced. This is one monitor that any gamer with a PS4 Pro should really consider. It weighs 14. 3 pounds.
Below are some of the Pros and Cons of the LG 32UD99-W Monitor that earned it a spot in our list of Best 4k HDR Monitor for PS4 Pro to get in 2022.
Pros:-
It has in-built speakers with high bass and loud quality.
Its color gamut covers an immense spectrum, so this monitor is perfect for great visuals.
The presence of high resolution would make for clarity of both images and texts.
Cons:-
It is quite expensive – less than two hundred dollars short of a thousand dollars.
Its refresh rate is 60 Hz, which means that it refreshes fewer images per second than its counterparts with higher refresh rates.
Check Price on Amazon
Conclusion
We hope this extensive list has helped inform your choice as you seek to get the best 4k HDR monitor for ps4 pro in 2022. Remember that this list has been made in no particular order and your final choice will be based on your personal preferences.