Though our phones have granted us the opportunity and the ability to take hundreds of photographs, there are always times when having a digital copy is just not enough.
In these circumstances, an ultra-portable photo printer allows you to print them out. These printers are very small, battery powered and you can take them on the go.
When looking for an ultra-portable camera, it is important to make sure that you prioritize convenience over everything else, because that is after all the primary purpose of these products.
The good thing is that for a decent printer, you do not have to pay too much. For a reasonable price, you can find a printer with a nice resolution vibrant color reproduction and a good speed of printing.
In order to prioritize mobility, we have made sure that none of the products on this list requires an additional battery supply.
If you are going out with friends, or you are sitting in a room, flipping through images to make a photo diary, just print an image out.
Though you do have to make minor sacrifices in terms of print quality and color reproduction, but on the whole, nothing beats mobility!
Best Ultra-Portable Photo Printers for Speedy Snaps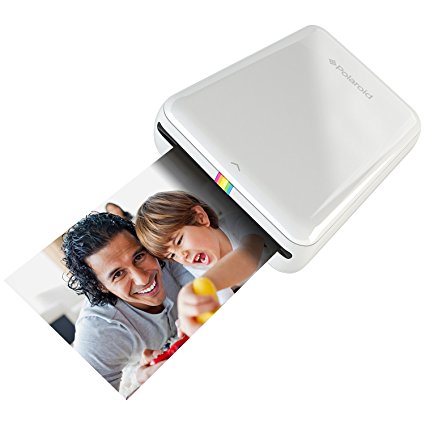 This printer costs $84. Polaroid is a brand that started the trend of fast printing. It is amazing how the brand has stayed at the top of its game, and their Polaroid ZIP Mobile Printer only reminds us of their technical mastery over the field.
At 4 ounces, it is a comparatively light device, and at 4.7 inches by 2.9 inches, it is also very compact. There is certainly going to be enough room in your backpack for this printer, and once in it, you won't even notice it.
And if you value aesthetics, and if you want everything inside your tech bag to be minimalistic, then the looks of this portable camera do not hurt either.
With the use of Bluetooth or NFC, you can connect your smartphone or laptop with this printer. Another great technology being implemented here is the Zink paper, which combines paper and ink.
This way, you do not have to replenish the ink cartridges inside the printer. Another aspect is battery life, and in that department, Polaroid ZIP also excels, with the ability to print out 25 images after a 90-minute charge!
Pros
Pocket-size, compact and lightweight
Affordable as compared to other market competitors.
Bluetooth and NFC compatibility
Fast printing speed
Zink paper: no need for ink or toner refills.
Comes with a feature-packed app
Cons
Small wallet-size images.
The lower resolution of images
Note:- I have written a post for people looking for the laptop backpack for women, do read it If you are interested.
HP sprocket has a lot in common with the Polaroid printer, including the fact that it too utilizes Zink paper. It costs $130 and for that premium price, you also get a couple of premium features. First, it has a longer battery life, which allows it to print around 35 sheets which is 10 more than the Polaroid model. Secondly, it is also more compact and portable than the Polaroid printer. The aesthetics are a matter of opinion but the copper hues and the minimalistic frame certainly does not hurt.
Also, with a company like HP, you get a couple of extra perks. There is app support which allows you to edit and personalize the pictures with frames and filters. This is great for printing out photos with a specific filter theme, and the image quality is also amazing.
Pros
No ink refills needed with Zink paper.
Easy connectivity and enhanced user experience
Feature packed and easy to use app.
Sprocket 2-in-1 with a camera as well.
Cons
The quality of prints is not consistent, and there are constant blotches and blemishes on printouts.
With the Zink paper, printing becomes more expensive.
Small, wallet-sized prints with a mediocre image quality and resolution.
Note:- I have written a post for people looking for the best printers for cardstock to buy, do read it If you are interested.
Fujifilm is a familiar name in the world of photography because this brand has been around for decades. The INSTAX SHARE printer is a culmination of the technologies and the skill that has accumulated over the years. The printer offers speedy printouts, and the company claims that it takes a mere 10 seconds to print an image. The print quality is also great. For the premium price of $147, you are getting a printer with a resolution of 800×600 and 320dpi.
Also, there are some minor features of this product which also makes it a useful option. The reprint button churns out the last image, and that's a great idea of you are giving copies to all of your friends. There is also the option to add a real-time template, so that you can write down the place or the date of the image. The UI and the extra options are fairly intuitive and they contribute greatly to the overall experience of using this printer. Fujifilm has created a product that has an amazing spec sheet, and which also lives up to those numbers. If you are an impatient photographer or if you simply adore keeping photos the classic way, then this printer is a must-have item in your backpack or in your home.
Pros
Long battery life
Chemical printing process brings out more vibrant colors.
Good connectivity and optimization for both android and iOS devices.
App is useful and easy. It is packed with useful features.
Reprint button makes it easy to print out multiple images.
Cons
Expensive, and does not hold up to the premium price.
There are flaws in-app system. i.e. it can't remove tags from photos taken off of social media.
Small size and format of prints.
Note:- I have written a post for people looking for best thermal printers to Buy?, do read it If you are interested.
Prynt case takes the utility and the price of the usual portable printer one step further. At a price of $149, it is by far the most expensive product in this list, though by a little margin. Also, the design of this camera is made to combine vintage aesthetics and utility. It imparts a vintage vibe to your phone setup, and more interestingly, it makes printing on-the-go much easier. Simply slide your iPhone into the slot, take a photo and hit the print button.
The Prynt Case comes with an app which combines an interesting UI design with functionality. Like the camera, the app is also aesthetically pleasing and very productive, and the quirky animations only make the experience more joyful. Also, there is a unique feature of this product which has no equal as yet. If you give your friend a printed photo, he/she can use the Prynt Case app to access a video related to the snap! This is a great way to share both images and videos, and it is a concept which combines both media!
Pros
Fun to use, easy to connect with iPhone.
Reliable connectivity with no problems.
Easy and convenient to handle with a good grip.
Can print our decent color and resolution in images.
Cons
Limited connectivity: Android users will not be able to use it.
You have to stay in the app to take photos with shutter and use the features.
Inaccurate color reproduction.
Large and bulky size.


Note:- I have written a post for people looking for the best projectors under 500 USD?, do read it If you are interested.
This printer stands out because of its larger size, but that increase in size also allows you to print out larger photos. At $100, it is surprisingly affordable especially given the impressive build quality and specs. The size of printouts is 3,5 inches by 2.82 inches. That makes them the largest printouts from any portable printer on this list.
With that bonus, you wouldn't expect how small this thing actually is! It is no bigger than a smartphone, and it is easy to make room for such a product in your tech backpack. It also weighs about 363 grams, and that is light enough to be added to your backpack essentials. The bigger battery allows you to print up to 30 images on one charge. With this product as well, the attention to detail is amazing. The printer guarantees that photos won't jam when the battery dies. At a resolution of 310 dpi, you will find that the pictures are not only larger in size but also richer in quality. The colors are vibrant and, on the whole, there aren't any major flaws to be found with this product.
Pros
High-quality image printing.
Great color reproduction.
Speedy: faster than other products on this list.
Photos are waterproof.
Lightweight and mobile.
Can be connected to several devices at the same time.
Cons
No option to change the size of a print.
Expensive printing due to expensive paper.
The cartridge needs to be replaced after every 12 photos.
Print area is smaller than the postcard size.
Note:- I have written a post for people looking for the Best Gaming Projector to buy?, do read it If you are interested.