If an individual has played many video games in childhood, they'll probably be aware of 8-bit music. This music became popular through video games because most of the games featured only 8-bit music to make the gameplay exciting. This music was catchy and enjoyable for gamers.
In recent times, 8-Bit Maker apps have been in trend because many people are re-creating various audio clips and songs. Most people use multiple types of equipment to convert audio tracks into 8-bit music. One may find a lot of 8-bit music on platforms like Youtube.
Even today, many games we play on smartphones feature 8-bit music. Game developers seem to use 8-bit music on purpose. Most users tend to enjoy games with 8-bit music as it happens to make gamers nostalgic.
It is always exciting to experiment with audio tracks and songs to create new music. Over the years, game developers have been experimenting with the audio they put in their games. Mostly, they find the 8-bit music best suited for their games.
How about if gamers could create their 8-bit music? Well, not only gamers; anyone can create their 8-bit music. About a decade ago, one would require a lot of equipment to create an 8bit music track. 
However, today, it is super easy to create 8-bit music with the help of various 8-bit music maker apps and websites. One may also use their smartphones and no additional equipment to create the perfect 8-bit tracks for themselves.
The exciting part about creating 8-bit music is one needs not have prior knowledge of music. No requirement of having previous experience in music for creating 8-bit music ensures one explores their creativity. Moreover, when one is free, one brings out the best of themselves.
There are various 8-bit music makers available on the internet, where they may go and create their 8-bit audio tracks.
However, not all these platforms are worth a try. So, to ensure that you end up with the best 8 bit music maker, we'll review some of the most loved apps.
Best 8 Bit Music Maker Apps – Our Top Pick👌
1. Piconica
Developed by Kikki lab, Piconica is one of the play store's most loved 8-bit music makers. The app is feature-loaded and is a fierce competitor in the app market for 8-bit music.
A user can also record his work and play it to review the track they created. Moreover, users can also share their recorded tracks with their friends and family using the share button.
Chopin Minute Waltz by Piconica
Furthermore, one may also rename their tracks in the app itself. If a user wants to play multiple voices at once, the Piconica app can do that without any hassles.
The app can produce square waves, triangle waves, and white noise that is both long and short-cycled. The app also supports MIDI for better experience and output.
Moreover, it also enables users to edit and change the sound's pitch, making the app a highly customized 8-bit music maker.
Upon using the app, one realizes that it is straightforward to use and create 8-bit music. The excellent build and user interface of the app ensure the app works without lags. Moreover, the app doesn't give random pop-ups from time to time.
Pros of using Piconica:-
The Piconica app is free to use. No user will have to pay anything to create 8-bit music tracks utilizing this app.

The app's keyboard has as many as 96 keys, ensuring every tone is playable for users.

The app also features a volume envelope that can be useful for adjusting the audio outputs of various tracks.

Keys of the keyboard can be extended from 1 octave to 8 octaves in width, depending on the demands of users.

The duty cycle of square waves produced by the Piconica app varies and gives users multiple choices.

The app size is compact and is less than 5MB. The small size of the app makes it accessible for heavy mobile users, running short on space.

Piconica app continues to receive frequent updates that help the app run smoothly and tackle the bugs if any show-up.

The application runs smoothly on Android phones.
Cons of using Piconica:-
Users need to give storage access to the app to store their audio tracks. Giving storage access could concern some people, as some apps tend to misuse this permission.

The fullscreen function of the app might not work on some models.

Adding new features, like the modulation wheel, might make the app even better.
2. nanoloop
Released in 2011 by Oliver Wittchow, nanoloop lets users create 8-bit music and much more. One may also develop remixes of various audio tracks using this app.
Moreover, the app has some unique features which make the app a must-try 8 bit music maker. 
Rated for users above 3 years of age, nanoloop brings some fantastic console music back to life. Individuals can do much more with the nanoloop app than just creating 8-bit music. The app makes it convenient to create and re-create 8-bit audio tracks. 
The Nanoloop app can work as a sequencer and a sampler package for users and create a variety of audio. The nanoloop app is highly optimized for mobile use and runs smoothly on most mobile phones. One may also load audio samples from their SD cards. 
The nanoloop app can also work as an editor that enables users to trim and edit audio tracks. The list of features of the nanoloop application seems endless, and it offers most features that users might need to create their 8-bit tracks.
The app also comes with a song editor that could prove very useful when fine-tuning a song. 
Pros of using nanoloop app:-
Users can directly share their audio tracks with friends or clients using email or other platforms like Dropbox and Soundcloud. However, Dropbox and Soundcloud must be downloaded on users' devices to share the clip on the two platforms.

The app size is compact, making it accessible for heavy users who are always running low on space. The nanoloop app is not more than 2MB in size.

The app is easy to use and can be used to create melodies and rhythmic audio.

The nanoloop app features eight patterns per channel. These channels make the experience of users better.

Post-installation, the app requires the internet for about 10 minutes only. Once the certificates are checked, the app can be used offline without trouble.
Cons of using nanoloop app:-
To use the app, one has to pay the license fee, and only then can one access the app.

The app might not work with some tablets and old android versions.

Sometimes the app might misbehave with some users. One may update the app to sort the issue.
3. BeepBox

 
John Nesky developed BeepBox, the online platform for making 8-bit music. The platform can help users create and share instrumental music that belongs purely to the user who composed it.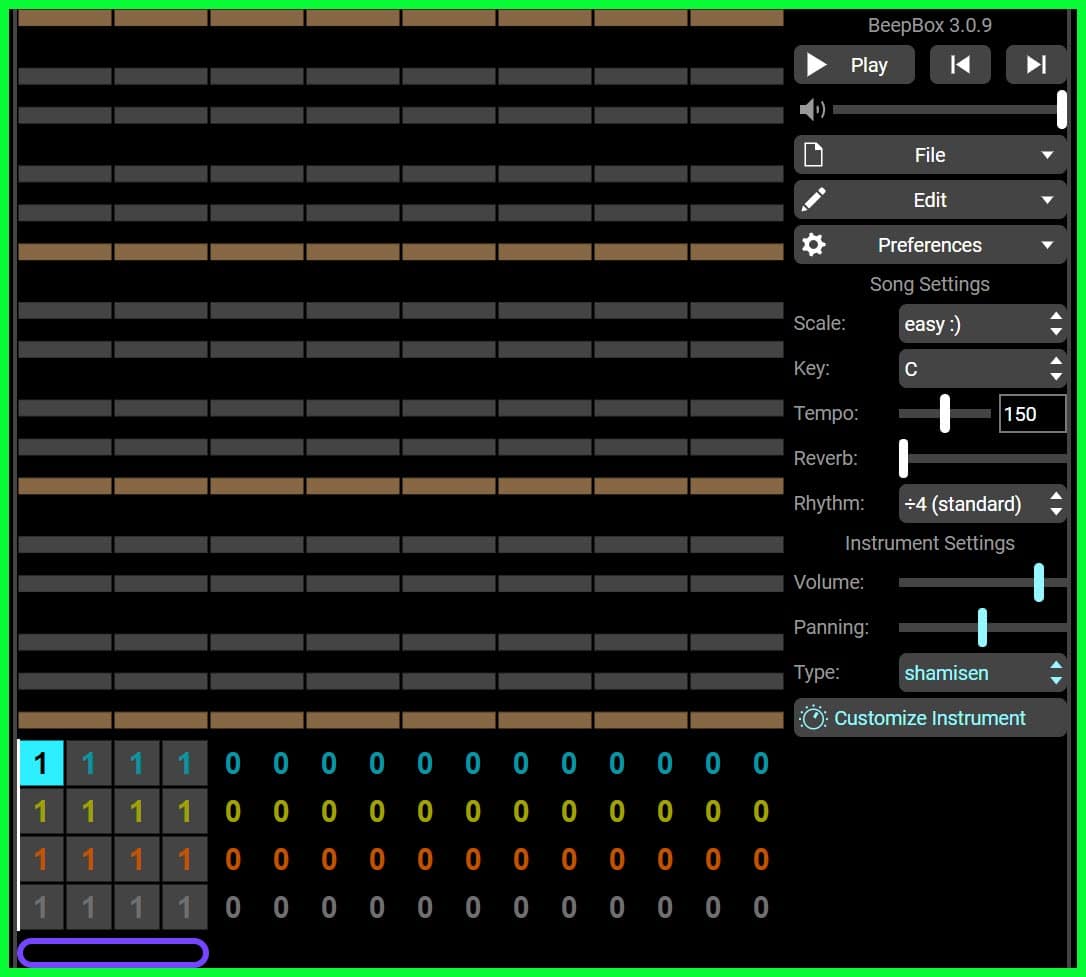 All the songs created on the platform stay in the user's browsers, and nothing is stored on the servers of BeepBox. 
Moreover, BeepBox plays all the notes loud by itself for the users to listen to them. BeepBox also allows users to add or remove specific audio notes they are creating. The platform is open to all and even works offline.
The platform could prove useful for users who are trying to change how 8-bit music sounds. It gives users the freedom to explore their creativity and create their audio tracks. 
However, beginners need to find out how the app works, and that might consume some time of new users.
The great thing is, figuring out the way the platform operates isn't tough. The ways of the platform can be understood in a few hours or even less. This platform has very few limitations on how audio can be edited before sharing them.
The platform features a variety of scales and keys for users to adjust per their requirements. The BeepBox platform makes for a great 8 bit music maker due to its advanced features. These features allow users to copy-paste bits of their songs.
I Made a Video Game Theme in BeepBox.co || Shady Cicada
Pros of using BeepBox:-
The platform is online, and one doesn't have to make space in their devices to use BeepBox. 

BeepBox developers have cleared that the platform will always be free to use. And, no users will have to pay fees for using the platform. However, users who wish to support the developer might head to PayPal and give him a token of appreciation.

A lot of instruments could be opted for while making audio using BeepBox.

Users can play multiple patterns at once using the play button of the BeepBox. 

The platform works smoothly on most browsers. 

A shortcut to BeepBox could also be made through browsers to access the platform quickly. 
Cons of using BeepBox:-
Any audio tracks produced using the platform cannot be directly stored on the user's device. A user needs to share or save the link to save his creation.

The platform is loaded with features that might be overwhelming for newbies. 

Editing the audio might be a task in itself for new users.

The new version of the BeepBox 8-bit music maker might seem strange to old users.

Users cannot find out if particular audio has been generated previously. Or, one cannot even find which songs are already copyrighted.
4. Retro Boy Plugin

 
Retro Boy Plugin (Download Here) is a famous 8 bit music maker that runs on Windows. The plugin is capable of producing retro 8-bit music effortlessly. The plugin loads quickly and runs smoothly on most computers. 
The plugin specializes in producing sounds that were once found in retro games. Moreover, the plugin requires users to have little knowledge of composing music. Retro Boy plugin supports seven waveshapes and comes loaded with an oscillator. 
Retro Boy - Free VST plugin synthesizer - vstplanet.com
The design of the Retro boy plugin is user-friendly and easy to understand. Moreover, the plugin's build is such that it won't slow down the user's computer.
Retro boy plugin is designed in a way that it runs without troubling non-tech users. High-quality graphics on the plugin make it even better to use. 
Pros of using Retro Boy Plugin:-
Retro Boy Plugin is a subtractive emulator that creates music using polyphonic technology and oscillators. Usually, these 8 bit music makers are light in weight and run smoothly.

The plugin comes packed with vibrato and decimation effects. Both these effects can change the quality of audio produced by the plugin.

The plugin also supports four-voice polyphony, which ensures variety in the audios produced using the Retro boy plugin. 

Users won't have to spend anything on the plugin as it is free to use for everyone with an internet connection. 

The graphics of the Retro boy plugin are very impressive. The developer has special efforts for the graphics because graphics prove to be a game-changer for 8-bit music makers.

Retro Boy Plugin loads quickly, even for users with a rough use of their computer, which is loaded with tons of data. The plugin has less loading time because it is very light on the CPU of the user's computer.
Cons of using Retro Boy Plugin:-
The Retro Boy Plugin only works with computers. Users who majorly use mobile phone might not be able to use the plugin for creating 8-bit music. 

For some non-techy people, saving their 8-bit music created using the plugin might become a task. Sometimes, finding buttons to keep the work for future reference becomes annoying when one is not tech-savvy.

Retro Boy Plugin runs majorly on Windows XP, Vista, or Windows 7. If users try to use the plugin on their Mac, it might not load or work.

Some old systems with less RAM might encounter lags when the user runs the plugin.
You may like to read our guide on 21 Of The Best
Poster Making Apps
To Make Posters Easily.
5. PixiTracker
PixiTracker is an 8-bit music maker, launched in 2012. Alexander Zolotov is the app provider on the Google Play Store. The app can create chiptunes and musical sketches with minimum effort of the users.
The app has plenty of features that intend to improve the user experience using an elegant design. The design of the app is unique in its way, and it loads swiftly. There's a lot that this app can help users do, even without any knowledge of music. 
The app uses the Midi keyboard to play the tunes that users play on the PixiTracker. Over the years, the app has received plenty of positive reviews. 
There are many audio tracks supported in the app for users to play. 
The collection of the sound pack in the app comes with a variety of audio tracks. Moreover, it also features some of the retro 8-bit music. The app is more than an 8-bit music maker because it can also work as a sound recorder. 
Developers are dedicated to improving the app and making their user experience better. Developers ensure there are no app bugs and keep sending updates frequently. Regular updates ensure that the app works smoothly for almost every user.
Pros of using PixiTracker app:-
The pixel interface of the app is one of the best. The interface intends to give users the same retro gaming feel.

The sampler of the PixiTracker app is one of a kind. The sampler can impact audio quality in many ways.

If users need to share their created music, they can export their songs using the XM export feature. The XM export feature works with most of the latest music players.

The graphics of the app features a retro gaming theme. The retro gaming theme serves the purpose of making users feel nostalgic.

If users cannot find a suitable track player for playing their 8-bit music, they can run the PixiTracker player. This player is open-source, and anyone can access the player without paying anything.

The app allows users to experiment with their music-creating abilities and explore new tunes as they use it.
Cons of using PixiTracker app:-
The PixiTracker app is not free to use. Users need to buy the license for the app through the play store. The paid version might not be suitable for some users on a budget.

The app won't work with an Android level lower than 4.1. Users need to use newer mobile devices to access the app.
6. 8-Bit Music Maker 
The latest addition to the app market for creating chiptunes is the 8-bit music maker app. This app helps users to develop chiptunes effortlessly. Launched in 2020, Dariusz Zabrzenski is the app provider.
App developers' dedication lies in creating quality 8-bit music quickly and effortlessly. The app can produce 24 sounds for users creating their 8-bit music. Retro games inspire the app's design and bring back many gaming tunes to life.
The user interface of the 8-bit music app has elementary functions and doesn't look too complicated to use. It lives up to its purpose as an 8-bit music maker and doesn't fail to deliver the same.
However, some users might feel the user interface needs to improve, but for starters and hardcore retro gaming sound lovers, it suits them almost entirely. 
For crazy 8-bit music developers, the app has a newly added feature that lets users instantly share their work.
The export feature saves the audio created by users in their SD card or internal storage. Once stored successfully, users can share their work with their friends and family.
Pros of using 8-Bit Music Maker:-
The app size is compact and well under 20MB. Small-size apps are always useful because they don't take up much space on the user's device. 

There's no need to buy any licenses from the play store to use the app because it is free to use. The bonus is that users need nothing to unlock through in-app purchases.

The app keeps on receiving updates frequently. The developer keeps sending updates to ensure there are no bugs in the app.

The app features two octaves which are responsible for generating 24 sounds. Both these octaves provide variety to the users.

This app has all the 16 notes users might need to create their special 8-bit music. These notes are helpful when users need to adjust the pitch of their music.

The new update also brought a feature where the developer reverted some notes to sound even better. Users can adjust this feature as per their needs.
Cons of using 8-Bit Music Maker:-
The app might show many ads to some users, which gets annoying after some time. Moreover, there's no way a user can stop announcements on the app while using it with an internet connection.

Users can't play their music on a loop because the 8-bit music maker app lacks the loop feature. A loop concerns users who love listening to their 8-bit songs interrupted.

Sometimes the ad pop-ups might cause the app to misbehave and lag.
7. Caustic 3
Caustic 3 is an app for music developers who love 8-bit songs and want to make more songs and tunes. The app works in real-time, and all the features are customized for mobile users.
It is one of the most trusted 8-bit music maker apps because it has loads of features and supports most devices.
The app's user interface is truly amazing, and it is easy to learn how the app works. One can be unaware of how music works and still create some fantastic melodies using Caustic 3. The app is powerful when it comes down to its offerings. 
One may also find the effect rack in the app. The effect rack feature supports two effects for each machine mentioned in the app. Due to the effect rack, the app can offer users up to twenty results.
The app is designed so that even professionals can count on it to develop tunes for their next music. It also has a song sequencer that can come in handy for heavy users who are crazy about creating new music and themes.
The app comes loaded with a mixer desk, which can be used to mix two or more tracks. Users need this feature to create new songs using two existing ones.
The mixer desk in the Caustic 3 app also supports the reverb effect that helps make original audio with an even better output.
How to Make FULL SONGS in Caustic (Tutorial)
Pros of using Caustic 3:-
Users don't have to spend anything from their pockets to use the Caustic 3 app on their mobile phones. The Caustic 3 app is free and can be used on Android devices with version 3.2 and above.

Users may choose their sound-producing machine from the menu of 14 pieces of equipment listed on the app.

Users can share their 8-bit music with friends and family without hassles. 

The app also has an equalizer, which allows users to customize their sound outputs. An equalizer is an essential feature of music creation apps. 

The app gives automation features for new users who have never created their music and are starting with it anew. Automation makes the audio-making process smoother.

The graphics of the Caustic three app are impressive and make composing even better.
Cons of using Caustic 3 app:-
Some features of this app need to be purchased by the users to use them.

The app might not work on devices that run on Android versions lower than 3.2. 

The app is packed with features that might look confusing for the newbies trying to make 8-bit music.

In some devices, the app consumes a lot of battery. A lot of battery consumption may not be feasible for some users who are always on the go.

Some users have encountered issues with the Caustic 3 app screen size. The app might sometimes not fit appropriately on the screen, making it difficult to use.
8. SFXR
Boblemarin released its SFXR app in 2010 with a very compact size and a rigid motive to quickly create 8-bit music.
The app became popular amongst chiptune developers and has collected many positive reviews. Over the years, the app has delivered chiptunes without causing much trouble to users.
SFXR video game sound generator for Android
The app is powerful in its capabilities of producing retro 8-bit music. The random mode helps users create fantastic soundtracks that aren't copyrighted before.
Exploring one's ability to create music is excellent, even when they have never had music lessons. 
If a user is looking for some retro chiptunes, the app's preset tone features can bring back nostalgia for users. There's a lot more than retro chiptunes in the preset menu.
One may create multiple tracks through this chiptune maker and edit them to make a mixed composition.
The user interface of the app needs major rework and some updates. However, it is quite simple to use the application after giving it some tries. One may also use the app to generate the basic tunes and edit them with tune editors.
The app simplifies creating chiptunes with its dedicated tune producer that produces melodies using random shuffling.
The SFXR app has a lot in store for beginners, enabling them to explore their music creation abilities without limiting them. Even kids enjoy chiptunes, and SFXR developers have understood this fact. 
Children can operate the app without trouble and begin their journey as music composers. Moreover, there are no in-app purchases in the app, making it safer for children.
Pros of using SFXR app:-
SFXR app is free to use. Users will not have to spend anything from their pocket to use the app. Anyone with a stable internet connection can access the app.

The app size is compact and won't take up much space on the user's device. The app's small size makes it accessible for devices with less space and older Android versions. 

The app allows composers to select their desired wave type for creating their music. The app supports more than two wave types. Wave types make a difference in the audio output. 

Furthermore, users can also pick from a variety of audio types already present in the app. These audios help creators make music following a particular melody.

The app features a replay button for serious developers who need to check their songs repeatedly. This button can help composers play music again and again without trouble.

Unlike other 8-bit music maker apps, SFXR doesn't drain many of the users' batteries.

The SFXR app also requires fewer permissions from the user's device. Fewer permits make it safer to use.
Cons of using SFXR app:-
The app might not perform some complex functions of composing musical tones.

The app doesn't receive many updates, which sometimes makes the app lag.

The app's user interface isn't up to the mark and might be a disappointment for some users.
📗FAQ
What is the best 8-bit music maker? 
Piconica, nanoloop, BeepBox, Retro Boy Plugin, PixiTracker, etc., are among the best 8-bit music maker apps and offer features like multiple instruments to make audios, amazing music patterns, multiple browser support, high-quality graphics, and much more.  
What is the best song maker app? 
Songify, Garageband, Animoog, Korg iElectribe, music Memos, etc., are considered the best song-maker apps and allow you to create amazing songs with a wide range of available music tools and effects.  
Can I make a song on my phone? 
Several apps available on the App Store and Google Play Store allow you to make different types of songs on your phone. A standard for music production is Garageband.
It was created for beginners and is simple to use; anyone can pull loops from Garageband's library and put a song together with little to no experience. 
Those with more experience can track and edit their audio or explore a range of virtual instruments. Garageband is one of the greatest apps for creating music on your phone when used with something like IK Multimedia's iRig 2.
Music Maker Jam, Retro Boy Plugin, Music Lab, BeepBox, and other helpful programs are available. 
What is the best free beat maker? 
Logic Pro, FL Studio, and Magix Music Maker are some of the top beat-making programs. Each tool offers loops and samples that you can use in your beat and has an intuitive user interface.
Free versions of FL Studio, Magix Music Maker, and Logic Pro are all offered; the commercial edition of Logic Pro is exclusively accessible to Apple users. 
How do you make a song 8-bit?

 
You can make 8-bit songs easily by using several methods like GarageBand, FL Studio, MuseScore, VST etc.  
Other great tips for composing 8-bit music include: 
Consider other ways to indicate harmony. Four-note chords cannot be voiced concurrently due to the limitations of many outdated sound chips.

 

With effects, be imaginative.

 

Consider opposing views.

 

Wait to write something in the tracker.
Can you make 8-bit music in Audacity?

 
A built-in feature of the sound editing application Audacity on Windows, Linux, and Mac OS X converts high-fidelity 16- and 32-bit sound files into low-fidelity 8-bit recordings. Here are some easy steps to make 8-bit music in Audacity.  
Launch a File: Pick a file from the menu. Click the Open button to open the audio file after choosing it as the project.

 

File menu for exporting audio Select Export Audio from the File menu after clicking.

 

Enter File Name: In the File name area, enter a name for your 8-bit audio file.

 

Choose a file type: Other uncompressed files can be chosen from the Save as a type pull-down menu.

 

Options Button: Select Unsigned 8-bit PCM from the list displayed by clicking the Options button. Select "Save" from the menu. Audacity displays a dialog box with the file's metadata.

 

Edit the file's metadata to change the artist's name, genre, and year. This data is editable, or you may leave it empty. Choose the OK option. Audacity saves your file in an 8-bit format.

 
how to make 8 bit music with audacity.
How can I make my music?

 
The steps below can help you start making music at home: 
Develop your songwriting skills.

 

Improve your composing skills.

 

Get a DAW and learn how to utilize it.

 

The DAW can be used to write the music for your song or to record it.

 

Set your tempo and key to accomplishing this.

 

Set up a rhythmic beat.

 

Including the bassline

 
Conclusion
App markets are flooded with 8-bit music makers. Some chiptune-making apps are free to use, while some require the users to pay a fee for using the platform.
One may choose from the many available apps and websites based on the features best suited for them.
8-bit music is in trend once again, and users need some of the best apps to create their soundtracks. One may use offline or online platforms as per their liking and features offered by various platforms.