Spotify is usually regarded as the most prominent music streaming service provider with the top-notch results and recommendation system. However, there are some crannies in the app that opens the gate to hunt for alternatives of Spotify.
Firstly, its limited free music plan comes with annoying ads, random shuffles, and a lack of offline downloads. Besides, certain people need additional and exclusive music features that are unavailable on Spotify. All these are reasons enough to start using a new music streaming platform.
Of course, finding Spotify alternatives is not an easy task but not impossible too. There are a large number of music streaming websites, apps, and radios available in the online world. 
It's simple to switch from the Spotify music app to a new music streaming service. As a melophile, though, you will always worry if you will find your favorite songs from one service to another? Will there be good features, perks, and music quality like on Spotify? 
Our short answer is yes. You need to do thorough research to settle on the one that fits the bill. So, to make your life easy, we have created a detailed guidebook on the best Spotify alternative apps and websites.
Best Alternatives of Spotify: Our Top Pick 👌
Whether you desire to stream or listen to some music, here is something for all. Each of these apps and websites mentioned below is the best means to enjoy the music. 
1. Jango
Are you interested in tuning into ready-made albums or playlists? Well, Jango is your go-to option. The highlight of this alternative to Spotify is that you can discover a music selection for every mood and any sort of activity.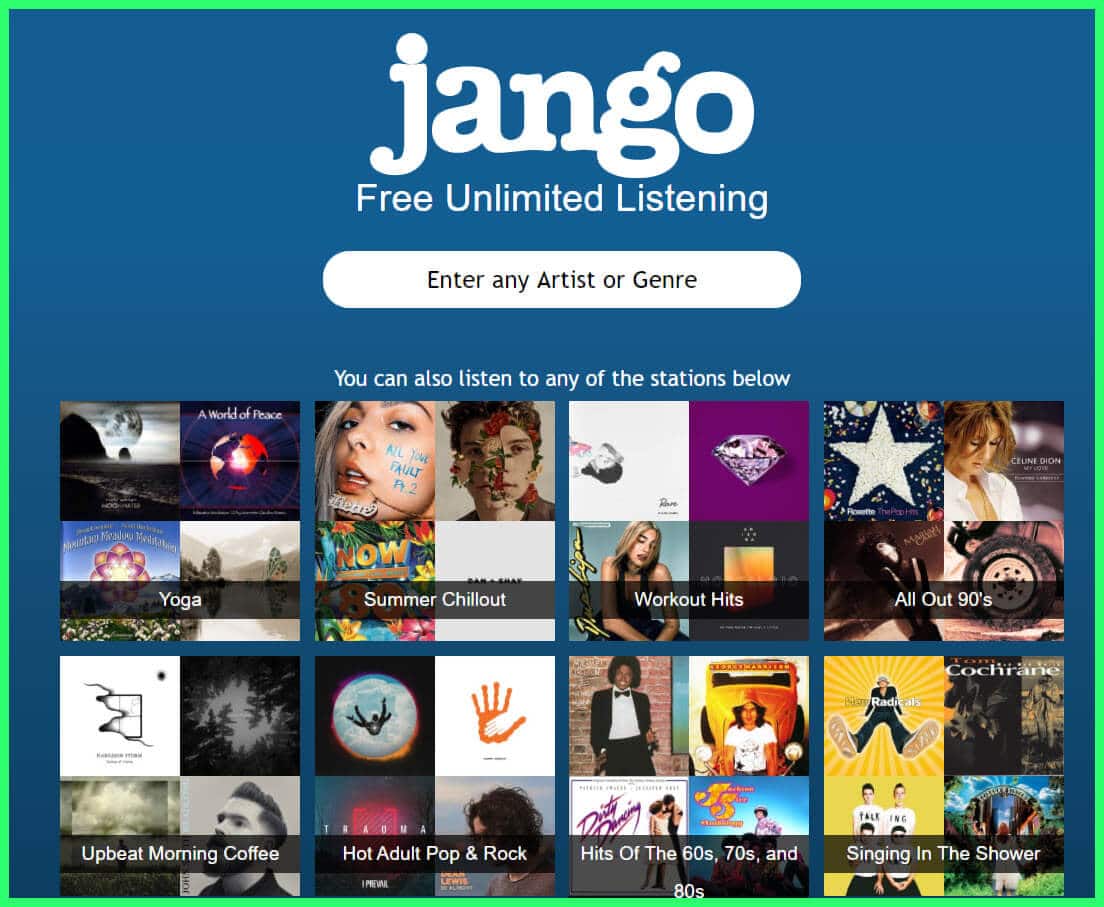 It means you don't need to pick songs while driving or during your workout sessions. The Jango app will do this for you. It consists of nearly 800 ready-made albums created by pro music artists. 
Besides, the app frequently releases a lot of new songs on its platform to keep the users updated and punked! Another amazing feature of this app is that you can set a filter for various genres of songs while browsing for the music. As a result, the recommendations will automatically adapt to your likings.
Pros:-
There is always something new to explore on the Jango music app.

You will get a regular playlist update.

The music streaming app allows creating your personalized playlist.
Cons:-
The app only allows users to listen to the songs online; there is no song download option.

The playlist is limited to 6 artists.
2. Apple Music
Discussing alternatives of Spotify, and not listing the app by the giant that revolutionized the digital world is unfair. The famous Apple Music app boasts features that you can't resist ignoring using it.
The app has some really outstanding exclusives as compared to other alternatives listed here. 
Similar to Spotify, which possesses a huge library of songs, Apple Music will also not dissatisfy you in that category. The outstanding music recommendation even surpasses that of the Spotify app. Additionally, new music is available much sooner on this app than on any other music platform.
For a $9.99 monthly subscription, users can stream an extensive range of music collections on it. However, a free trial is also available for new users to test run and know the exciting features that this streaming platform provides.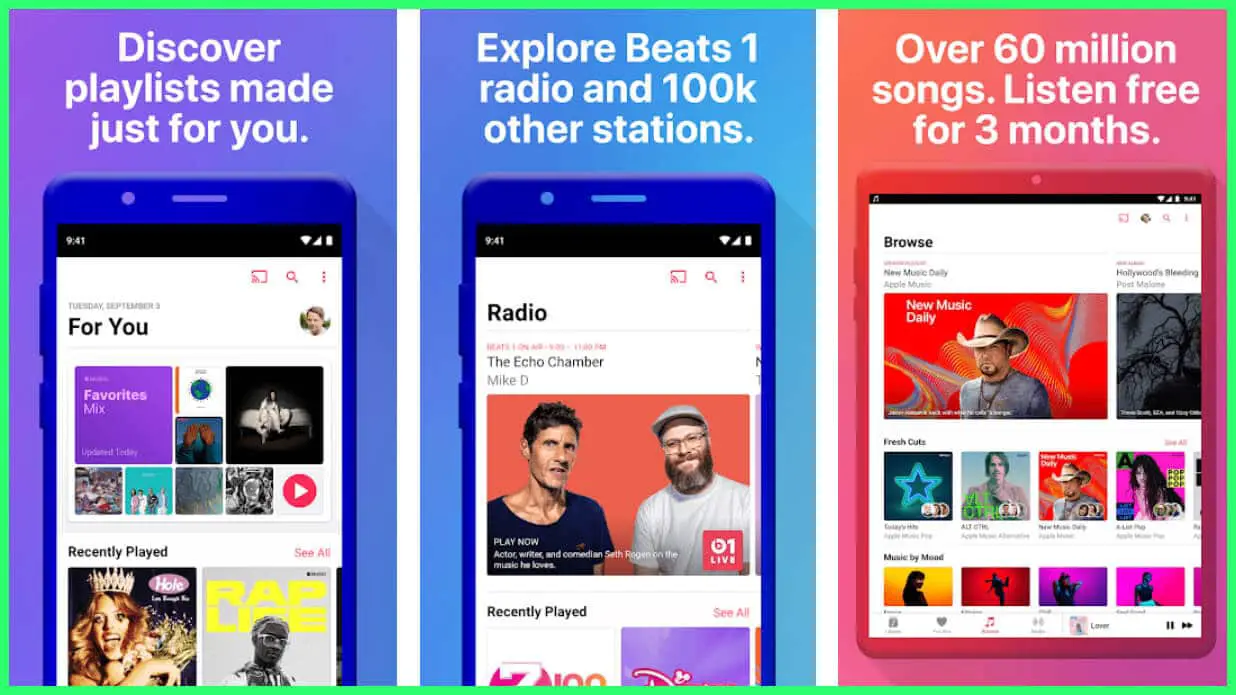 Hence, seeing several convenient features, the Apple Music app gathered more than 60 million subscribers in only four years. This app is undoubtedly giving high competition to Spotify.
Pros:-
There are 50 million song collections available on Apple Music.

You can sync your music library on it from iOS, macOS, watchOS, tvOS, Android, or Windows.

With its three-month free trial, you will get full access to the app as a new subscriber.

The app is available in more than 100 nations.
Cons:-
The recommendation system needs to be more efficient.

The cost of subscriptions is the same as on the Spotify app.
Apple Music vs Spotify (2021)
3. Deezer
Deezer is the French music streaming app that gained an excellent reputation amongst music lovers. This music streaming platform is the oldest in the list that currently has almost 14 million monthly active members. Hence, evident enough why it gives fierce competition to Spotify.
This music app enables users not merely to listen to songs, but also build and rate custom playlists. That said, you can create a personalized playlist on the basis of your preferences and group artists and songs into radio stations. 
You can make your music night happening by using its unique feature named Flow that activates a non-stop mix of tracks you customized as per your choice. Additionally, this feature will introduce you to new artists on the app based on your preferences.
You have to splurge $19.99 per month to become a subscriber to enable other perks of the streaming app.
Under this subscription plan, Deezer will offer you offline support, skips, a Hi-Fi streaming opportunity, along 16-bit FLAC quality music. Furthermore, you can enjoy constant music with a no-ads policy with the paid membership.
Pros:-
Deezer offers its subscribers more than 30,000 radio channels, more than 53 million licensed music tracks, podcasts, and much more. 

The app of this music streaming site is compatible with Android, iOS, Windows Phone 7, and BlackBerry devices.

This music streaming platform offers much better music quality than Spotify.
Cons:-
Although the app's free version is feature-rich, however, the number of ads can bother you. 

There is no scrubbing mode available on this music app.
4. MySpace
MySpace music streaming platform is based on a social networking format. The platform allows you to create personal playlists, profiles, and video archives.
But make sure that you have a strong internet connection to add new songs or watch videos on it. It also lets you post a blog and photos to your profile. 
You can even stay updated on the latest tracks as well as videos. On this app, you can listen to your saved songs, anytime and anywhere.
It is easy to search any song; just add the name of the artist or song, and the music streaming platform will show all possible results automatically.
Pros:-
MySpace encourages sharing your favorite music among your friends.

This music streaming platform is free.

It has a format like a social networking site.
Cons:-
MySpace does not get frequent updates.

The music streaming platform will give a poor performance on the slow internet. 
5. Google Play Music
When it is Google, it can't go wrong. Google Play Music is a streaming service that features more than 40 million songs. If you are ready to invest $2 extra, you can even get full access to YouTube and YouTube Music.
This Spotify alternative consists of a plethora of music genres from all across the world. You can even tune in to your local music tracks as the music service is readily available in many major countries of the world. 
Also, you can stream on the go by uploading about 50,000 of your favorite songs on this music portal. Hence, an ideal storage solution too!
Pros:-
Google Play Music is the only music app that lets you combine your personal music locker and subscription music.

The music streaming app is accessible globally. 

Its subscription plan offers users a sharing option to up to 6 members with unlimited access.

Also, this app provides audio quality of up to 320 kbps.
Cons:-
Google music streaming app offers the same subscription plans as that you find in the Spotify app.

The app needs to be more intuitive to make it more engaging.
6. Pandora Radio
The full on-demand streaming plan of Pandora Radio is similar to Spotify and Apple Music subscription programs. Pandora Radio has more than 40 million songs and over 75 million active users on the platform.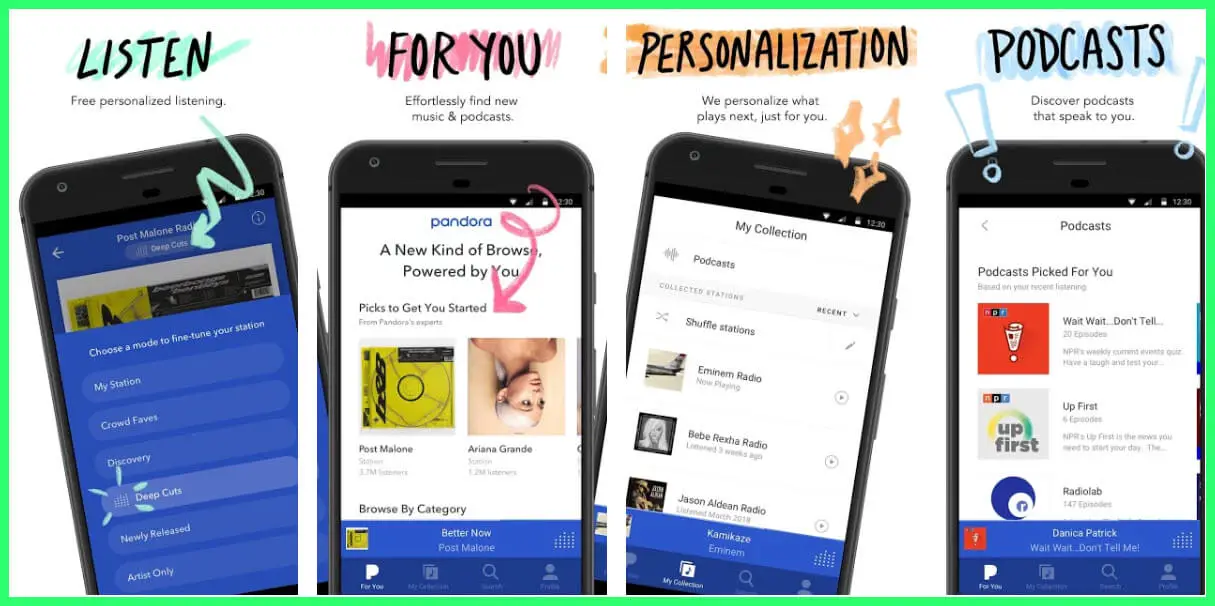 The sound quality of this app is satisfactory on a phone and desktop speaker. Users can also activate the " Best Audio Quality" option available on the application.
You can subscribe to Pandora Plus that costs $4.99 per month. With this plan, you get perks like offline playback, unlimited skipping, and of course, an ad-free experience.
However, the $9.99/month program will offer users unlimited playback and playback customization list options as additional benefits. 
The free account of this music app plays frequent ads and comes with a limit of only 6 skips per hour. 
Pandora Radio is only available for US, Australian, and New Zealand residents. However, the music streaming company claims that it is soon to start its services in many other parts of the world. 
Below is the summary of the main Pros and Cons of Pandora Radio that earned it a spot in our list of the Alternatives of Spotify.
Pros:-
Pandora Radio comes with album commentary, podcasts, and artist tour information. 

The app is supportive of some cars' audio systems as well.

Users can choose from three audio settings – Low, Standard, and High as per their preferences.

Students, military officials, and vets will find exclusive premium plans for them.
Cons:-
You will not find high-quality music tracks as it only supports music of up to 192 kbps quality level.

There is no back button or scrubber in this app.
7. Last.fm
Last.fm Spotify-powered music app that presents you with personalized radio streams. Also, by using its AudioScrobbler feature, you can activate the best music recommendation.
Last.fm is readily available in 190 countries in the world and hosts 40 million members. The app allows selecting artists or genres that you often prefer to listen to.
Further, the platform will accordingly create playlists matching your likings using its "Scrobbler" feature.
This music streaming app even features a paywall on the smartphone device. 
Below is the summary of the main Pros and Cons of the Last.fm that earned it a spot in our list of the Alternatives of Spotify.
Pros:-
Last.fm has a repository of more than 7 million music tracks.

The app also shows a concert calendar so you can plan your next big event.

In the Music section of the platform, you can tune in to the top 20 tracks.

You can enjoy unlimited skips with this music app.
Cons:-
You are not allowed to play individual tracks of your choice rather the whole album.

If you are not from the UK, US, or Germany, then you have to pay a small subscription amount to use its radio innovation.
8. Soundcloud
If you are an Indie music lover, then Soundcloud is your go-to option to remain updated about all the fresh music releases in this genre.
By using the feature called Upload, you can instantly track new music albums uploaded by Indie artists in a playlist. You can also give your feedback to new artists before they get famous.
You will find a new artist posting amazing songs every so often that will keep you always engaged. Also, the music streaming platform is continually expanding its features to keep the users happy. 
Along with this, you will discover all other basic features that make any music app suitable to use. It includes options, such as a stream of artists to follow, playlists, and the button to skip tracks. 
Further, with its SoundCloud Go program costing just $4.99 per month, you can help the emerging music artists as SoundCloud shares revenue with creators. Also, the paid plan removes ads and gives offline support. 
It is perhaps the most popular of picks due to its entire collection that sums up to over 130 million tracks. 
Below is the summary of the main Pros and Cons of Soundcloud that earned it a spot in our list of the Alternatives of Spotify.
Pros:-
Soundcloud has a bigger music library than Spotify.

You can distribute your music on the leading streaming platforms by using its Paid Pro account. 

Also, this music streaming portal is cheaper than Spotify.
Cons:-
Budding artists who are looking forward to building a fanbase better opt for Spotify to upload their songs.

A few famous labels are unavailable on its free account.
9. Musicovery
Musicovery is an advanced music streaming platform that makes it one of the best alternatives of Spotify. Through its easy-to-integrate API, the platform offers users the playlist and song recommendations both.
It means that this interactive web radio service can enable you to configure the playback of songs according to your current mood, such as dance mood.
Not to mention, Musicovery also enables the users to choose the track as per the years of its release. The high-speed interface activates the customized playback with just one click. You won't have to wait for long for various tracks to load or play. 
In a nutshell, Musicovery is an ideal platform to use during celebrations and parties. It will set your mood, right!
Below is the summary of the main Pros and Cons of the Musicovery that earned it a spot in our list of the Alternatives of Spotify.
Pros:-
Musicovery has an extremely convenient and user-friendly interface.

It has a personalized genre and artist selection option.

You can build a custom playlist according to your mood and occasion.
Cons:-
You can't create a playlist in the basic Musicovery account.

The music streaming app does not allow random users to choose songs.
10. Amazon Music Unlimited 
Another game-changer in the digital music world is Amazon Music Unlimited. It is a premium music subscription service that presents to listeners various expertly crafted stations and playlists.
If you are an Amazon Prime member, just pay $7.99 a month and obtain the completely unlimited catalog of Amazon Music Unlimited. Those who also own Amazon Echo, Echo Dot, or Amazon Tap need to spend only $3.99 a month to get the subscription. 
Below is a summary of the main Pros and Cons of Amazon Music Unlimited that earned it a spot in our list of the Alternatives of Spotify.
Pros:-
You will find over 50 million songs on this music streaming platform.

Amazon Music Unlimited is compatible with all smart devices, including Alexa-powered devices and Amazon Fire TV.
Cons:-
The app is not the right choice for those looking for free alternatives of Spotify.

This music streaming app has no live radio content.
11. Tidal
Tidal is a one-stop solution for audiophiles looking for a music streaming service that offers high fidelity streaming audio quality. It implies you can run uncompressed FLAC files in CD quality. 
A new audio format called "Master Quality Authenticated" is also released by Tidal that revolutionized this music streaming system. With this more exclusive feature, you can enjoy the same sound quality on your household speakers or headphones as recorded in the studio. 
Thus, those who possess a good music system should not look beyond. You will have unparalleled music experience on this platform!
Below is the summary of the main Pros and Cons of Tidal that earned it a spot in our list of the Alternatives of Spotify.
Pros:-
Tidal is an ideal music streaming platform for those who appreciate the high-quality sound.

The 30 days free trial plan on this app gives you a chance to check out the sound quality standards that the platform claims to offer.

The app is compatible with iOS, Android, Chrome browser, and desktop.
Cons:-
The app's library has some glitches.

Subscription plans on the Tidal app are on a costlier side.
12. Nuclear
A free, open-source, and simple alternative to Spotify for listening to your desired music albums. It has a simple and neat user interface. The music streaming platform enables you to build your personal playlists to listen that makes it convenient to use music apps. 
The Nuclear app also features downloadable content from reputable sources like Soundcloud, YouTube, Vimeo, and others.
All the audio files that you will find on this platform are of excellent quality because it is a musicaholics focussed music streaming platform.
Below is the summary of the main Pros and Cons of Nuclear that earned it a spot in our list of Alternatives of Spotify.
Pros:-
No need to register on this app; just enter and tune into your favorite music.

It also gives users access to download mp3 directly from YouTube.

It is a completely free music streaming source with no subscription plans.

Since it is an open-source platform, you can make your own changes to its working interface as and when you want.
Cons:-
The music player can sometimes show an error if you don't choose the music source on every search.
Factors to Consider When Looking Out for Best Alternatives of Spotify
1. Compatibility with Mobile Devices
Many music streaming providers also offer downloadable app service for smartphone or tablet users. It is the best way to enjoy music anywhere and anytime.
So, if you are always on the go, opt for music streaming apps. The apps are easily available on the Google Play Store and Apple App Store to install on your device.
2. Free Music Streaming
Some streaming portals also let you listen for free. It is not only beneficial for users but also for music artists. The free subscription strategy helps to restrain the surge in piracy, and artists can receive at least a little bit of what they deserve for their hard work.
3. Paid Subscriptions
Almost all music streaming apps and service providers have paid subscription plans. The paid subscription on different platforms offers a variety of unique features to attract the target audience. If you want exclusive benefits and are ready to shell out some cash, you can go for any of that music streaming platforms.
📗FAQ's on Alternatives of Spotify
Below are a couple of queries that everyone is expecting to answer and I did include the same for my readers.
(Q) What kind of music streaming platforms are there?
On-demand music streaming services and radio stations are the two kinds of music platforms available as browser and app versions. 
(Q) Are there any free alternatives of Spotify?
Google Play Music, Deezer, Nuclear, Pandora Radio, and mflow are free alternatives of Spotify that allow users to listen to non-stop music. But you will also find paid subscription plans if you want to enjoy additional features.
(Q) Are all the music apps available to use for free?
Almost all music streaming platforms have free registration plans. However, on a free account, either you will get limited features or a limited period free trial offer.
Wrapping up….
Gone are the days when you had to download the audio file in different formats to tune in to your favorite music number or album.
This huge list of music streaming alternatives for Spotify clarifies that this industry has tremendously evolved since its origin. No doubt, you have got a lot of options if you are looking for something beyond Spotify. 
All these apps and websites mentioned above are the best means to listen to music. They will satisfy every kind of music lover! Pick the one that suits your requirements and let the music play loud and aloud!