Android TV boxes were an amazing invention for TV sets. While issues kept growing with traditional TV connections, users often became bored with no options to kill their free time. Since the downfall of Blockbuster, online streaming platforms got popular worldwide. 
Users could now stream their mobiles and laptops' latest shows, movies, and video content.
However, to stream one's favorite shows on a bigger screen at home, one needed a Smart TV. Since Smart TVs are relatively new in the markets, many users still have non-smart TVs.
Streaming online content on non-smart TV was a messy process until technology evolved. Gadgets like firestick allowed users to stream online content on any TV set without hassles.
With a good internet connection and a reliable streaming box, one can watch any movie or show on their non-smart TV. 
Most importantly, streaming gadgets or boxes killed the user's dependency on cable TV operators. A user willing to stream a movie on their TV only requires a subscription to the streaming service and a TV box. While smart TVs are expensive, a cheaper alternative is gadgets like Android Box. 
While it can do wonders for a non-smart TV, Android boxes are pocket friendly and powerful at the same time. These boxes are feature-loaded and can compensate for a Smart TV. The impressive part is that Android boxes connect with almost any TV set.
A satellite-based cable connection often repeats shows and movies frequently. Users can choose what to watch when streaming with an Android box. In addition to everything, Android boxes are portable, and users can easily carry them.
Imagine it's a vacation, and you're carrying your Smart Tv to your relative's house where they have a non-smart TV. Carrying the TV makes you look like a fool, don't you think so?
Now, imagine yourself carrying an Android Box. For sure, the second option is more convenient and smart.
The markets are flooded with various Android boxes that can help users stream online content on their non-smart TV. Choosing the right Android box could be confusing for some users.
To ensure you pick the right streaming box, we've reviewed some of the most promising ones available online.
Best Android TV Boxes To Upgrade Your TV Viewing Experience
1. Amazon Fire TV Stick 4K

 
Amazon Fire TV Stick 4K is a robust streaming stick that users can buy as an alternative to a Smart TV.
The Fire Stick 4K can help users stream online content on their TV from most online platforms. Moreover, users can control their Amazon Fire TV Stick 4K with their voice. 
Amazon's Alexa voice assistant works smoothly with the Fire TV Stick. One can ask Alexa to play a song, read the news, skip the video, and much more. The voice assistant feature makes Amazon's streaming stick fun and easily controllable. 
Despite all the exciting features, the Fire TV Stick doesn't compromise the picture quality. Irrespective of the TV set, one can watch their favorite shows and movies in the highest clarity of 4K. Once well connected, Alexa can also order from nearby restaurants or fast food outlets.
While the Fire Stick is compact, it is no less than a beast in terms of features and built quality. 
Moreover, Alexa's voice recognition outperforms the rest. What makes the upgrade to Fire Tv Stick impressive is the smart working of the device and the voice assistant. 
Pros of Amazon Fire TV Stick 4K:-
1. Amazon Fire TV Stick 4K lets users stream content on their TV in 4K Ultra HD with Dolby Vision and HDR. The fire stick provides excellent picture quality and an interactive voice assistant.
2. Users can stream video content from various providers like Netflix, Disney+, HBO, etc. While most services require a subscription, users can stream on free content providers like IMDb.
3. The Amazon Fire TV Stick 4K can store up to 8GB of data with its physical storage. The 8Gigabytes of physical storage in the Fire TV Stick allows it to load faster.
4. Along with the physical storage, users can access cloud storage with the Fire TV Stick 4K. Cloud storage can be used to store additional media content. The cloud storage feature is perfect for amazon prime members.
5. The prime users who buy the Amazon Fire TV Stick Android TV Box will also access Food Network Kitchen. Food lovers fond of making new delicacies would be delighted with their purchases.
Cons of amazon android tv box:-
1. The Amazon Fire TV Stick 4K runs on Android 5.0, Lollipop variant. Some users have complained that it's not really up to date.
2. Some users might face issues with the remote of the Amazon Fire TV Stick 4K. 
3. Some users may face connectivity issues with their Amazon Fire TV Stick 4K. However, if a connectivity issue arises, the support team should be able to assist you.
2. Nvidia Shield Android TV Pro 4K
Nvidia Shield Android TV Pro is a premium-looking android tv box. Nvidia Shield packs tons of features for its pricing point.
While many android boxes support only one assistant, users can use either Alexa or Google Assistant on this box.
Users can also play the latest games on their Nvidia Shield Android TV Pro 4K. Its built-in 3GB ram and 16GB storage empower users to store and run heavy files and games on the box. Moreover, users can also connect the box with Bluetooth 5.0 effortlessly. 
The inbuilt support for Google Chromecast also enables users to stream media files directly from their mobile devices.
The voice command for the Nvidia Shield is responsive and accurate. One wouldn't need to manage space frequently on this android box by Nvidia. 
Two USB 3.0 ports in the Nvidia Shield can be used to expand the device's storage capacity. One can also connect cameras or controllers using the two USB 3.0 ports. These ports help users to perform multiple tasks with their android box. 
Pros of Nvidia Shield Android TV Pro:- 
1. The Nvidia Tegra X1+ processor performs like a beast, and the box works at an impressive speed. The company claims the X1+ processor makes Nvidia Shield Android Tv about 25 percent faster and more efficient. 
2. The Tegra X1+ processor allows the Nvidia Android Tv pro to convert high-definition (HD) video to 4K, Ultra HD video. Tegra does all this with the help of Artificial Intelligence-based upscaling of the video content. 
3. The sound system in the Nvidia Shield runs on Dolby Atmos with Dolby Vision HDR. The high-quality sound that it produces will give users a theater-like experience in their homes.
4. Users can access thousands of videos and apps with their Nvidia Shield Android TV box. 
5. The User Interface of the android box is simple. One wouldn't be confused while using the box. Within a few hours of use, users will get familiar with the functions and features.
6. The new remote has better functionality with Bluetooth. 
7. All the new upgrades from Nvidia are extraordinary and make the entire box even better.
Cons of Nvidia Shield Android TV Pro:-
1. Users must buy a game controller to play the latest games. Users cannot play games using the Nvidia Shield Android TV Pro without a game controller. 
2. Some users may find the device expensive and beyond their budget.
3. The new and improved Nvidia Shield Android TV remote might not work properly with all TV models. If the remote doesn't work properly, users may not be able to experience all the features.
Nvidia Shield TV PRO - 4K Official Android TV Box - The Shocking Truth!
3. Ematic 4K Ultra HD Android TV Box
The Ematic 4K Ultra HD Android TV Box has 8GB of internal storage, which can be extended further. Unlike many other boxes, the storage limit of the Ematic box can be extended using a micro SD card.
The Ematic Android box also features two USB ports, which can also be used to connect with a variety of devices.
The box also supports Google Assistant, which provides more comfort and control to the users. The Google-based voice assistant can do searches, read the news, and do a lot more.
Moreover, users can stream any movie or video from the 4,50,000 videos available on the Ematic 4K TV Box.
Ematic 4K box users can play games using the Ematic Ultra HD TV box. Moreover, users can easily carry the box without any inconvenience.
Its sleek and sturdy design gives it a great look with fantastic features. 
Pros of Ematic Ultra HD:-
1. Users can access more than 4.5k streaming platforms like Netflix, Amazon Prime, and Hulu on the Ematic Ultra HD box. Not just paid platforms, and users can also stream content through free-to-use platforms on the box.
2. Ematic Ultra Android HD Box users may also play games using their devices. The storage and the latest chip help in the seamless gaming experience.
3. The device comes with two USB ports that can be used to connect it to other gadgets. The Ematic device has a micro SD card slot and two USB ports. Users can expand the device's storage and load more content with an SD card.
4. The video plays at 60FPS with a 4K resolution, giving great picture quality and vibrant colors. 
5. The Ematic Ultra HD TV Box's remote control is among some of the best from a wide range of Android TV Boxes. The remote works with Bluetooth Connectivity and can work from any corner of a room.
Cons of Ematic Ultra HD:-
1. Ematic Ultra HD features Bluetooth Version 4.0. While it's not the latest version, users may face connectivity issues on some devices. 
2. Sometimes, the updates might come later than expected. As a result, the device may misbehave for some users.
3. With only 8GB of internal storage, users need to be careful about the space on the device. One must use a micro SD card or the device slows down like a snail. 
4. Some users might feel the Ematic Ultra HD TV box is quite expensive for its features. 
5. Alexa Voice Assistant might not work on this device. Instead, users may have to settle for Google Assistant.
4. Xiaomi Mi Box S

 
Xiaomi Mi Box S is another the best Android TV Box with 8GB of internal storage and works with Google Voice Assistant.
The Mi Box S operates on Android 8.1 for a better user experience. Users will also get frequent updates for the device so that it continues to stream effortlessly. 
The Streaming media player box connects through wifi for a non-interactive streaming experience. The device is packed with a Quad-Core CPU that makes it function at a blazing speed.
The built-in Chromecast allows users to use Google Voice Assistant and make various commands. 
The Google Assistant can perform various tasks like searching movies, pausing videos, reading the news, and more.
Mi Box S users can also ask Google Assistant to set alarms and scroll images in the gallery. The Chromecast also allows users to browse many apps on their streaming media player. 
The most impressive feature is MI's suggestions based on a user's streaming style and preferences. The personalized recommendations save users' time and lead to quick decision-making.
Moreover, in a state of confusion, users can rely on personalized suggestions and decide what to watch next. 
Pros of Xiaomi Mi Box S:-
1. The Xiaomi Mi Box S works on a Quad-Core CPU and a 3+2Core GPU. The duo results in the smooth functioning of the Mi Box S.
2. Users can watch their favorite shows and movies in an improved 4K Ultra HD quality. The streaming box ensures that users don't have to compromise and watch videos with low-quality pixels.
3. One may stream videos on their non-smart TV with Mi Box S from over 3000 streaming platforms. Vast functionality with several apps allows users to stream content from any service they prefer. 
4. The pack also includes a voice control remote, which means users don't need to buy it separately. A voice control remote can come in handy to operate the streaming box without many troubles. 
5. Users can also connect their Mi Box S with Bluetooth. Bluetooth connectivity makes it easier to control and operate for the user. Since it's Bluetooth-connected, users can also control the box from a distance. 
6. Besides high-quality video and picture quality, users get crystal clear sound with Dolby. Dolby-based sound support makes the streaming experience thrilling and cinematic. 
Cons of Xiaomi Mi Box S:-
1. The Mi Box S features only one USB Port. Some users may need multiple ports for better connectivity with their other devices. 
2. Extending the storage might be an issue since there's no support for the SD Card slot, and only one USB port is available. 
3. Mi Box S has an inbuilt Chromecast, so the Alexa assistant will not work by default. Users may need to buy Alexa Echo. 
Xiaomi MiBox S Full Review - 4K HDR for $39
You may like to read our guide on 9 Best
TV Guide Apps
To Track and Discover Shows.
5. Amazon Fire TV Cube
Amazon Fire TV Cube is the bigger and better variant of the Amazon Fire TV Stick. With the Fire TV Cube, Amazon allows users to ditch their remotes and control everything with their voice.
To improve things, Alexa gets a wider range of hearing users' commands for the Fire TV Cube.
One may be outside the room and still make commands to Alexa, and she acts rapidly to get things done.
The Fire TV Cube also has a built-in speaker that makes Alexa even better and more efficient. The speaker isn't ordinary either; it works on Dolby Atmos and produces crisp sound.
While Amazon has upgraded so many features for the Fire TV Cube, there was no point in leaving picture resolutions unchanged. Users can stream video and browse pictures on the Fire TV Cube in 2160 pixels, 1080 pixels, 720 pixels, and 60 frames per second.
Simply, users can stream videos in 4K with this streaming media player. 
The increased storage capacity of the Amazon Fire TV Cube provides better storage capacity and a great function for the device.
The storage capacity of the Amazon Fire TV Cube is 16GB with 2GB of Ram. Whereas Fire TV Stick, on the other hand, only had 8GB of ram. 
Pros of Amazon Fire TV Cube:-
1. With far-field and near-field voice support, Amazon Fire TV Cube can lodge requests from a longer distance. 
2. Even if the user's TV is off, they can still contact Alexa through the built-in speaker of the Fire TV Cube. The in-built speaker is of good quality and works efficiently, even in bigger rooms.
3. Customers buying the Amazon Fire TV Cube in the US can also buy an extended warranty. The extended warranty can be bought for one year and two years respectively. Extended warranty packs are sold separately. 
4. Users can connect their Fire TV Cube with any Bluetooth device, including video game controllers and headphones. The seamless Bluetooth connectivity is possible because the streaming media player houses the latest Bluetooth version, 5.0. 
5. The users who buy digital content from Amazon get free cloud storage to store their data. The Cloud Storage feature saves a lot of space from the device's storage.
6. While the Amazon Fire TV Cube works on voice control, developers didn't compromise the user's privacy. The device also has a button that users can use to switch on and off the microphone.
Cons of Amazon Fire TV Cube:-
1. The Amazon Fire TV Cube may not function on TV sets that don't have HDMI Ports. 
2. Extending the storage capacity of the Amazon Fire TV Cube may not be possible. 
6. TUREWELL T95 
Turewell T95 Max is a beast of an Android box. The box has 4GB of RAM and 32GB of internal storage. The storage capacity of this box is phenomenal. 
Since the device runs on Android 9.0, users can load and browse through hundreds of apps without the device lagging. The quad-core ARM cortex processor makes the box even better.
With a powerful processor and great storage capacity, playing games would be no less than a treat on the Turewell t95 max. 
Users can stream 4K and 6K videos on the Turewell t95 streaming box. Its powerful professor also enables users to share files using DLNA. One may stream content directly from their mobile devices to their TV set through Turewell t95 max. 
Users may connect a wireless mouse or keyboard to the device to better control the TV set. Connecting additional devices like a wireless mouse or keyboard isn't complicated either.
The user-friendly interface of the Turewell t95 max makes it easier to control and master using its features. 
Two types of USB ports are given on the Turewell t95 max streaming android box. Despite being a feature-loaded box, the picture quality and video output always stay up to the mark. Even with heavy use, the picture quality wouldn't be compromised. 
Pros of Turewell T95 Max:-
1. The Turewell T95 Max has great storage capacity. The internal memory of the Turewell T95 Max device is 32GB, while the RAM is 4 GB. Despite probably having the largest storage capacity, users can extend it using a microSD card. 
2. For improved controls, users can connect a keyboard and a mouse using either a USB or wireless connection. 
3. One may also run apps like Skype, Facebook, and YouTube on the Turewell t95 max. 
4. Users can also stream 3D movies effortlessly without annoying buffers. 
5. The device doesn't lag and works smoothly without requiring the users to care about the storage. 
6. The Turewell t95 max can stream 6K videos without interruptions. 
7. The gaming experience is rich and exciting, thanks to the Turewell t95 max's processor. 
Cons of Turewell T95 Max:-
1. Turewell users may be unable to control their devices with the voice assistant. The voice assistant is a handy feature that restores the TV remote and is easy to use.
2. The Turewell T95 Max includes only one USB 3.0 and 2.0 port each. Users may be unable to connect to multiple devices using USB 2.0 or 3.0. 
3. Users must buy their 3D glasses since they're not included in the Cherwell T95 Max. 
4. The remote of the Turewell t95 max might not work with some apps. 
7. MINIX NEO U9-H
Minix Neo U9-H is amongst one of the most robust TV Boxes. One can stream various media files on their TV because the Minix Neo supports the most popular file formats.
With universal support for TV sets, Minix Neo delivers the highest quality video at 60 frames per second.
The pictures are crisp and vibrant, thanks to the HDR10 support. Even the audio quality is excellent with Dolby Digital Audio.
The combination of great picture quality and dynamic sound gives a cinematic experience at home.
Minix Neo has 16GB of Internal Storage and 2GB of RAM. Users may play exciting games on their TV sets without spending much money. The support for Dual-band wifi ensures users watch content on their TV sets without interruptions. 
Pros of Minix Neo U9-H:-
1. With Minix Neo U9-H, users can access licensed support for Microsoft PlayReady 3.0 and Google WideVine 1.0. 
2. To control things, users can connect a wireless mouse. The mouse can make scrolling less annoying and more convenient. 
3. Users experience Dolby Digital Audio with their Minix Neo U9-H. Dolby Audio is much more clear, crisp, and more realistic. People who love to experience sounds with great detailing would enjoy the surround sound with their Neo U9-H.
4. Users also get a QWERTY keyboard and their Minix streaming box. The keyboard makes typing more convenient while using apps like Facebook on the TV set.
5. The licensed Dolby Audio provides cinematic sound. Pixel-rich images and crystal-clear sound enhances the movie-watching experience. 
6. The box has a sturdily built quality and premium looks.
7. The UI of the Minix Neo Android box makes it easy to use and user-friendly. 
8. Users keep receiving firmware updates at frequent intervals. Firmware updates ensure that users can stream all the apps without them lagging. 
9. The customer support for the Minix Neo stands out from the support provided by some of the more prominent brand names.
Cons of Minix Neo U9-H:-
1. The Minix Neo U9-H lacks a crucial USB 3.0 port. Gamers might feel the absence of this USB port while connecting their controllers. 
2. Minix Neo U9-H doesn't have a virtual assistant to take voice commands from the users. Users who want to try the virtual assistant feature may not enjoy using this streaming box.
8. Xgody X96Q Smart Android Box
Xgody X96Q operates on Android 10 with a super-fast Allwinner H313 QuadCore Cortex A-53 Processor.
The Xgody box has 2GB of RAM and 16GB of internal storage to perform tasks without slowing down. The users can expect a great streaming experience with impressive picture quality. 
Users can operate their Xgody X96Q streaming box in multiple languages like English, French, German, Spanish, and more. Vast support for various languages makes the Xgody X96Q streaming box even better for native speakers.
Anyone with basic knowledge of technology can operate the Xgody X96Q streaming box with ease. 
As the Xgody X96Q runs on Android 10, it's more efficient and fast than other boxes. Many boxes that run on the lower Android versions often lag or don't receive updates for a long time. Moreover, the device also has better connectivity with TV sets and wifi networks. 
One may stream movies with a higher frame rate, and the pictures are rich in detail. Moreover, the Xgody X96Q supports the AV interface, which allows users to see high-quality movies and images on old TV sets.
Few streaming devices come with the AV interface, making Xgody X96Q cut the competitors. 
Pros of Xgody X96Q Smart Android Box:-
1. Android 10.0 helps Xgody X96Q load apps faster and avoid annoying buffers and lags. 
2. Users can stream movies in 4K Ultra HD, thanks to the superfast processor that the Xgody X96Q streaming box houses. 
3. The box's inbuilt storage capacity is 16GB, which users can expand using a TF card. Extra storage space helps users browse apps without compromising the device's speed.
4. The Cortex A53 CPU powered by Quad-Core all-winner allows users to watch 3D movies and shows on their TV sets. 
5. Got an outdated TV and a low budget? Users can still stream video content on their old TV sets with better quality and frame rates.
6. Users can also load apps on their Xgody X96Q android box using a USB flash drive. Sometimes, this feature may also come in handy for loading apps or programs that may not load through the Play Store. 
Cons of Xgody X96Q Smart Android Box:-
1. Users may find it challenging to find some apps on the Google Play Store. However, alternate ways to load apps will let users browse them. 
2. The Xgody X96Q Smart Android Box remote control might sometimes misbehave. Moreover, it might not work perfectly with some apps. Users must control the box through a mini wireless keyboard if the remote stops working. 
3. Some bugs might lead the box to slow down. 
9. Pendoo X11 Pro TV Box
Pendoo X11 Pro TV Box comes with Android 10.0 and the latest Processor, QuadCore Allwinner H616. The storage capacity of the Pendoo X11 Pro is 32GB ROM with 4GB RAM.
The latest chip and its huge storage capacity make the box work blazing fast.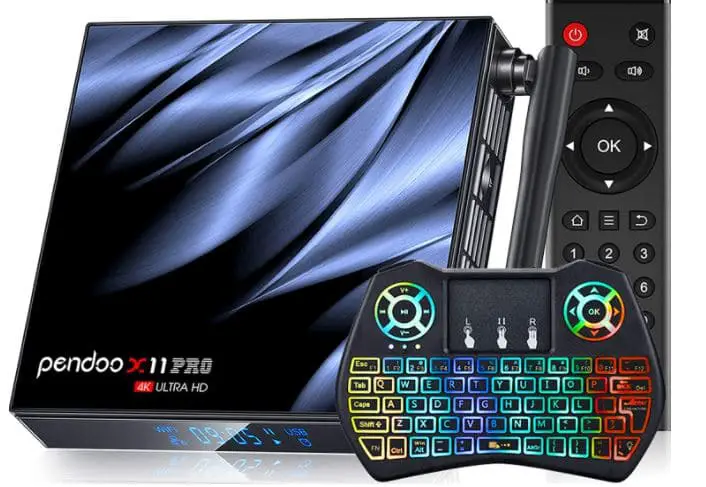 Pendoo goes one step further by installing dual antennas and dual-band wifi in the X11 Pro TV box for better connectivity.
A seamless connection can stream high-quality movies without interruptions. Users with an unstable network would benefit from dual-band wifi and antennas. 
The box can stream movies in high-resolution 6K and 4K ultra HD. The movies look real on the TV screen, and the sound quality is excellent for 6K and 4K videos. And as a bonus, users can stream movies in 3D using the Pendoo X11 Pro TV Box at home. 
The box has powerful connectivity set up to obtain a stronger signal to stream content without interruptions. Connectivity speed doesn't take a hit while connecting the device with Bluetooth. Bluetooth version 4.2 is quick to connect with most devices instantly. 
Pros of Pendoo X11 Pro TV Box:-
1. Dual-band wifi support makes streaming high-quality movies and videos easier without interruptions. 
2. Users get a mini keyboard with their X11 Pro TV Box. The keyboard makes it easier for users to control the box and type faster to search for videos. 
3. X11 Pro users can extend their Pendoo X11 Pro TV box storage capacity with a TF card. Moreover, users can also connect their external hard drive to the X11 pro TV box for a larger storage capacity. 
4. Users can also mirror screens without any wires. Yes, the Pendoo X11 Pro TV Box also supports wireless screen mirroring. Screen mirroring can enhance the gaming experience for mobile gamers.
5. The Pendoo X11 Pro TV Box pricing point makes it widely accessible for users on a tight budget. After all, it's a powerful android box under $100. 
Cons of Pendoo X11 Pro TV Box:-
1. Like most box remotes, Pendoo X11 Pro's remote might not work with some apps. 
2. Users might need to install some apps using APK files.
3. Users cannot access virtual assistants with Pendoo X11 Pro TV Box. 
4. Some users might need a USB 2.0 connector to connect their external devices, but that port isn't available in the Pendoo X11 Pro TV Box. 
5. The box might misbehave or not function properly if updated from its original version.
✅FAQ
Which is the best Android TV box?
The best Android TV boxes you can consider getting this year would include the Nvidia Shield TV Pro, Amazon Fire TV Stick, Easytone T95 Super, and the Xiaomi Mi Box S. You can make use of these when you are in search of a top-notch Android TV box.
What is an Android box for the TV?
The Android box for TV is a set-top box. It lets you to watch on-demand videos, other video content sites, and even play games. Additionally, you can also view regular network shows using a good internet connection and a monitor that can support the Android OS.
What is the difference between Android TV and Android TV box?
The Android TV is something that can be placed inside your living room with the help of your internet connection. Then you can watch the videos that you prefer watching on the several platforms available. The Android TV Box can use the TV with an HDMI port for a smart TV.
Do Android boxes still work?
Yes, they work and are gaining immense popularity using internet content over the years. It is a known fact. Though some of you doubt the fact, it provides you with terrific video content for you to view and enjoy with your family.
Is Android TV box better than Firestick?
According to most users, the Android TV box is able to perform much better than the Firestick in terms of performance. You can ensure that your internet connectivity is suitable for making use of tasks like gaming. In that case, you can use the Android TV box.
Can you watch live TV on an Android box?
Yes, you can watch live TV using the Android box. It has a TV app that allows you to watch the video content that you prefer doing. Some of them include programs, news, and shows. You can watch the live channels app when the TV does not come with the TV app.
Is there a monthly fee for Android box?
There is no monthly cable fee for using the Android box because they come with the free TV feature in them. That is why it is popular among viewers worldwide. The software present on the TV enables you to stream movies, TV shows, and anything you prefer watching for free.
Is there a monthly fee for Android TV?
There is no need to pay for anything when using the Android TV. This is applicable when you have purchased an Android TV device. But you have to pay for the individual subscription streaming services and for the Android TV apps.
Conclusion
Before making a decision, users must be clear about what they expect from their Android TV Box to avoid confusion. Since Android boxes are available across budgets, users can find great deals for the price they decide to spend. 
It's not like only high-end boxes are great; some cheaper ones do the job perfectly. Rest, it all depends on what a user prefers.