Have you been searching for The Best Animation Software For Kids? 🤔  If so, you've come to the right place. We've compiled a comprehensive list for you.
Let's get started. 📗
Indeed it is truly astounding to get to know a child's imagination. There is a scientifically proven fact that most brain development takes place during our childhood.
Kids have the raw and pure power of imagination that is unscathed by all the impurities of the world. If given the right guidance and platform, children can accomplish some remarkable things in the early stages of life.
With technology at large, our kids have access to the entire world at such a young age. Instead of letting them waste their time on unfruitful things, you should take steps to ensure their future.
Hence, we, as adults, are responsible for pushing their cognitive capabilities in the right direction. If technology is used properly, they can learn some wonderful things while having fun at the same time. One such way is learning to use animation software.
They can help give life to your children's imagination. If you can recall your memory, we as kids used to love doodling. These animation Softwares provide a creative way to build your worlds and watch them come to life. 
The software industry is continuously working to evolve and bring new animation software that is suitable for kids these days. There are a variety of Softwares available from different companies.
Each has its pros and cons, as well as some, introduce unique features that are not found in other counterparts. However, choosing the right one for your child can be quite tricky.
There are a ton of factors to consider, but the most important one is to know your child's capabilities. We are here to help you to make the right choice for your ward.
After a thorough investigation, we have composed this list containing the top-of-the-line animation software. They all are equipped with multiple features that are suitable for kids. 
Best Animation Software For Kids: Our Pick 👌
1. Stop Motion Studio
Stop motion studio (Visit Here) is one of the best tools for beginners. This incredible software is enriched with various tools to give you the best experience while creating 2D and 3D content. You can use these tools to create entire animated movies of your own accord.
The simple design can be incredibly powerful while being fun and creative at the same time, and it allows beginners to grasp the basic concepts of video and photo. You will find its graphical user interface is engaging for kids and encourages them to explore more.
You can easily edit every frame of your content. It has helped thousands of students to create interactive projects for their schools. Also, it comes at an affordable price capable of competing with some of the priciest professional animation software out there.
Some of the key features of this Animation Software For Kids are:-
The application is available for all platforms such as desktop, ios, android, and mac. It also allows you to open the same project on different devices. 

Its comprehensive painting tools allow you to add multiple layers as well as create and define your background objects.

You can create your design from the bottom up or use its predefined templates to race through the process. 

It comes equipped with a tool called magic eraser that allows you to remove any unwanted objects from the image.

You can also restore each of your changes so that you can perfectly edit according to your liking. 
Pros:-
Simple yet powerful at the same time

Supports multiple platforms

It also supports 4k videos

You can also connect a remote camera to as a second device

Support for DSLR camera

Incredible control with tools like focus control, white balance, ISO, exposure, and many more.

You can easily import images, audio, or video files. 
Cons:-
The free version of the application contains limited features, but you can easily purchase the pro version to get extra features like 4K. 

You can not add frames in the middle of the video.

You may feel the featured videos are somewhat disconnected from the app.
STOP MOTION TUTORIAL & TIPS | Film With Your iPhone !
2. Adobe Character Animator
Adobe character animator (Download Here) is one of the premium animation software suitable for kids. This software has also won the Emmy award. The application itself is relatively straightforward and easy to use.
It is one of the fastest animation software, even allowing you to live stream while you work on the project. This way, your audience can see your project come to life.
You can use motion capture to animate predefined characters or upload your own. Apart from its library, you can also purchase some of the coolest premade characters by professionals.
The simple steps involved in the process make it perfect for both kids and beginners. It can also help you create cool designs for your live chat, game streaming, online courses, and many more.
Some of the cool features of this Animation Software For Kids are:-
You can animate characters in real-time using your expressions and movements. It allows you to add lipsyncing and facial expressions like eyebrows, mouth, etc. which make it even more realistic. 

You can easily import your artwork from photoshop or adobe illustrator.

It also allows you to add your voice to the characters recording it through your microphone.

You can seamlessly collaborate with other Adobe apps like after effects and premiere pro.
Pros:-
Simple interface with real-time animation capabilities.

Support for live streaming

A library of prebuild characters to use for free. 

It is used by both hardcore professionals as well as beginners.

You can use several effects and tools like blinking, breathing, and many more.
Cons:-
You will need to use several other adobe applications to get the most out of it. 

The application offers only seven days of the free trial period.
Getting Started in Adobe Character Animator
3. Videoscribe
Videoscribe is famous for creating captivating content in just a few minutes. It falls amongst one of the most simple and robust animation programs available. You do not need to be technically sound or spend a lot of money to use this extraordinary program.
Create Videos Like This Yourself
It will give you a pleasant experience in your productions. You can either use its massive library filled with resources or upload your audio, video, graphics, or PNGs.
Also, it is very effective in whiteboard animation tasks. This program can also be used to create powerful presentations providing it a new outlook. You can quickly create highly engaging content for your audience with minimum effort.
The software also features an add-on called TAWE that can help children to adapt to the program quickly. You can use this software to express your narrative or ideas in great detail.  
Pros:-
The software allows high-level customizations to shape your imagination effectively.

People with any experience level can take advantage of its simple structure to create high-quality content.

The program has several videos as well as text-based tutorials to help you understand its work and features. This fantastic support is highly beneficial for its users.
Cons:-
The software does not have an audio editor, which can limit your sound editing capabilities.

Some of the higher resolution images can get compressed, in turn providing a pixelating effect. It can be frustrating for the people who highly depend on their custom graphics.
4. Toon Boom Harmony
Toon boom harmony (Visit Here) is an old player in the animation industry and has evolved to incorporate several amazing features. Several professional animators, as well as companies, use this tool regularly.
About Toon Boom Animation
Toon has captured the industry with its revolutionizing advanced bitmap and vector drawing capabilities. Their arsenal of tools and features gives students full production capabilities in their projects.
They provide fluidity as well as the flexibility to deliver high-quality content. These tools can enable you to accomplish any 2D or 3D animation challenge.
You will get great support from the company through their dense documentation to get beginners up to speed. It allows you to use both traditional and latest animation techniques to combine 2D and 3D animations.
Some of the key features of this Animation Software For Kids are:-
The software includes several advanced tools such as painting, sophisticated palettes, and many more to give you complete control over your production.

You can use this program on both platform's windows as well as macOS.

The program offers a 21 day trial period to use it for free.

Cut-out animation tools help your work look more engaging than ever before.

The company introduces new features timely to keep it up to date. One such feature is a stabilizer to provide smoother lines.
Pros:-
Capable of Integrating 2D and 3D characters.

It provides different camera angles to give you complete control over composition.

You can easily integrate the program with other software such as illustrator, PSD, PSB, PDF, and many more. 

It allows frame-by-frame animation to give it the look of your desire.

The software includes special lighting and volume effects with auto-toning.
Cons:-
The software does not include an audio editor.

It can be quite expensive, especially after the trial period expires.
5. Digicel Flipbook
If you want to create extraordinary 2D content without giving much effort, then Digicel flipbook (Visit Here) is the program for you. It is one of the easiest 2D animation platforms out there.
The graphical user interface is very much friendly for kids and allows them to touch and drag to move items on the screen. Also, you can edit all the components of your production using frame-by-frame animation.
You can even scan your paper drawings and use them in your project. Providing so much flexibility opens up the doors to original and creative content. You can easily create stop motion animations using the tools inbuild into this software.
This program also enables its users to work on multiple frames at a time. There are several other very useful features such as rotate, blur, zoom, dissolve, and many more.
Pros:-
You can easily import your media or drawings as well as export your production. Directly scanning your images or drawings is a major plus point. 

The software also provides lipsync support that adds reality to the content.

You can use this program on both platform's windows and macOS.

The program offers five versions, including a free one. You can choose how much you want to spend on this program according to your specific needs. 

Perfect for 2D animations.
Cons:-
You will have to spend a ton of money if you want all of its features. 

You can not use puppeteering or bone rigging in this software.
6. Pencil 2D
Pencil 2D is one of the open-source animation software on this list. It specializes in 2D animations using handmade drawings. The software has a lightweight and minimalist design that makes it very simple to use.
Pencil2D User Showcase 2017
It has a limited amount of tools so that you can completely focus on the animation. You can easily switch between raster and vector graphics giving you flexibility while working.
There is a timeline feature that allows you to control animation speeds and comes in handy. You start from the bottom with sketches and then work your way up to full-fledged animations. This program can be used on almost all platforms, including Windows, Linux, and macOS.
Pros:-
The program is entirely open-source, which means you won't have to pay a dime to use it.

The interface is easy to learn and provides fluidity in animations.

Its community provides extensive documentation so that beginners can learn every step of the way.

It allows you to set the pacing of your animations.

You can easily find several tutorials on how to use this software.
Cons:-
Complex animations can be challenging to achieve due to a lack of tools.

The program does not export video output and only provides images in the result. So if you want your content in a video format, you will have to use another program to achieve that. 

Your preference settings will reset in every session.

Some people may feel that its eraser tool is a nuisance for detailed work.
7. Moho(Anime Studio)
Moho(anime studio) can be a perfect program for both beginners as well as professional animators. Its sleek and robust design can turn your vision into an animated reality.
Introducing Moho 13 Animation Software
The company markets two products, moho debut and moho professional. Moho debut is way cheaper than moho professional but does not include some of the latest tools.
The significant price difference is somewhat justified by looking at the difference between the arsenal of tools. You will find some of the most revolutionary tools in both of its products.
They, when combined with an easy-going interface, can help pave the way towards higher levels of animation. If you are a beginner, then we suggest you choose the debut version and go for the pro version once you get a good grasp of the technicalities.
Some of the main features of this Animation Software For Kids are:-
The program has multilingual support means that no matter your mother tongue, you can utilize this tool to the fullest. 

You can use this software on both Windows and macOS.

It contains some advanced features like auto freeze tools and advanced masking options.

The program also has pen pressure support for tablets.

The pro version allows a realistic motion blur and complete control over layers and channels. 
Below is the summary of the main Pros and Cons of the Moho(anime studio) that makes it add to the Best Animation Software For Kids list.
Pros:-
The software has easy-to-use tools such as animate brushes. 

It provides support for vector and 4k video. 

Allows frame-by-frame animation.

The program contains some of the most advanced tools, like plus pin bones, freehand tools, bone rigging, and many more.

The software completely supports layered PSDs and images.
Cons:-
You will have to lipsync your animations manually. It won't work automatically.

Pay a lot more for the pro version.
8. Synfig
Synfig is a high-end open-source 2D animation software. It comes easily to people who have used flash or similar animation software in the past. The entire program is based on vectors and gives you full control to edit vector artworks.
Its graphical user interface is somewhat complicated and takes a reasonable amount of time to learn or master. But once you know the basics, you can create some fantastic 2D animations with great detail.
It is highly unlikely that you will find another open-source animation software with as many editing tools and features as Synfig. You can easily create character puppets and other dynamic structures using its advanced tools.  
Below is the summary of the main Pros and Cons of the synfig that makes it add to the Best Animation Software For Kids list.
Pros:-
The program is open source and completely free to use.

You can use this software on multiple platforms such as Windows, Linux, and macOS.

It gives you access to a variety of layers like filters, distortions, transformations, etc. 

You can use complex deformations and bone systems to gain better control over your character. 

The program does the automatic calculation of frames giving you exquisite control over vector editing.
Cons:-
If you want to master this software, then there is a huge learning curve.

It does not support 3D animation.
9. Blender
Unlike Synfig, Blender is an entirely open-source 3D animation tool and can be freely used by anyone in the world. Despite being open-source, the blender is a massive name in the 3D animation department.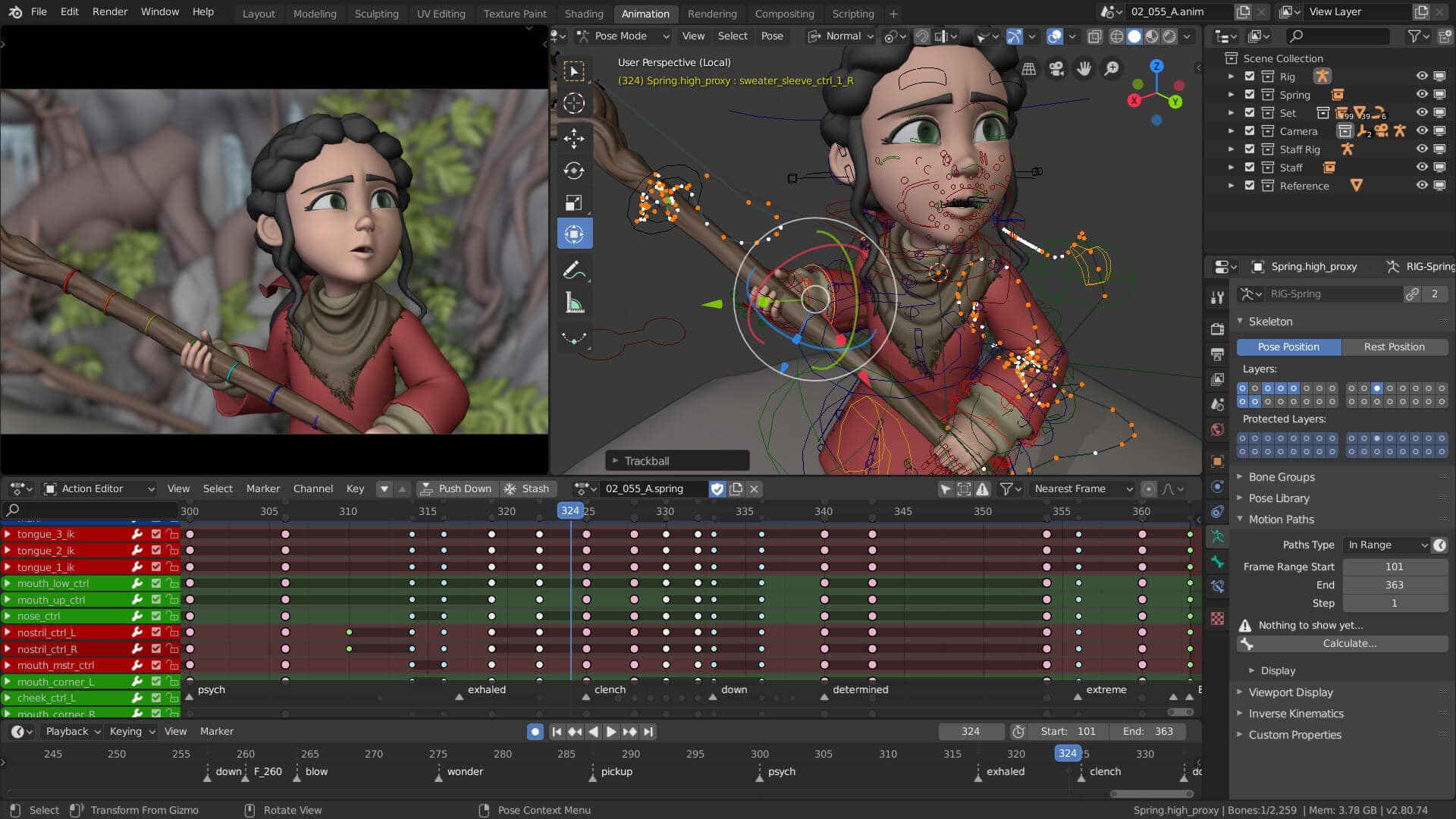 It has some very advanced tools to give the creator complete control over their production. You will find it suitable for both beginners as well as professional animators.
The program is the result of several days of hard work by various contributors around the world. You can use several basic animation features like texturing, rendering, 3D modeling alongside some of the advanced features like sculpting, UV unwrapping, and raster graphic editing.
It can create smooth compositions along with fluid animations. The program is available for Windows, Linux, and macOS. 
Below is the summary of the main Pros and Cons of the blender that makes it add to the Best Animation Software For Kids list.
Pros:-
The software has VR rendering support as well as HDR lighting support.

It is capable of providing some of the most potent visual effects like camera reconstruction, 3D scene, manual and auto-tracking, real-time preview, and many more.

Equipped with advanced animation and rigging tools like strokes, sculpt brush, onion skinning, stroke, and fill with layers and colors. 

Cross-platform support with CPU and GPU rendering support.

Due to a massive worldwide community, it will be up to date with the latest features. 
Cons:-
It can be overwhelming for beginners due to so many features and tools.

You will have to spend hours to master this program entirely.  
10. Opentoonz
Opentoonz is another completely open-source 2D animation software perfect for kids. This program is based on toonz software and is one of the free alternatives in the animation department.
For an open-source program, it has tons of great features that can help both beginners and professionals to create high-quality content. The graphical user interface is well organized.
However, a complete beginner can be a bit puzzled due to multiple tools and options. But if you can keep learning, then this can be the perfect tool for your animation needs and that too without paying a penny. 
Pros:-
Due to an open-source code library, Everyone is welcome to read and modify the code. 

The extensive tools and features make complex animations a breeze. 

It provides the option to change light effects and add distortions. 

You can easily change picture styles as well. 

This tool is even compatible with black and white scans.

It keeps you close to the traditional hand-drawn animation.
Cons:-
A huge learning curve, it can take a while to grasp every feature of this program fully.

It can throw errors sometimes
11. SVGator
SVGator is an online animation tool that's suitable for artists of all ages and backgrounds, so it can be a great place for kids to start learning how to animate.
Their website is packed with tutorials to help kids get started on their animation journey, so learning how to use the tool is as easy as it gets.
Create, Edit & Animate SVG Files With SVGator
Let's see what other features make SVGator a perfect tool for kids to help them become great digital artists in time.
The tool is great to animate basic 2D illustrations, and as they evolve in their learning it can also help create complex animations.
Creating the animations has never been easier, they can use the drag and drop interface to draw the illustrations and an intuitive timeline to animate them.
With SVGator, even complex animations like morphing, stoke path animation, or color animation will feel like a walk in the park. 
As its name states, SVGator exports SVG files, so the resulted creations will be animated scalable vectorial graphics that are responsive, scalable, and lightweight by nature.
This is an excellent feature for kids because it essentially means that they don't have to worry about setting the size anymore, the responsive option will take care of that.
The tool is capable of animation, but it can also be used to create static SVGs with the help of intuitive but performant drawing tools.
Like any online tool, it has the advantage of being usable from any device, and the work is saved automatically in the cloud, so kids don't have to worry about saving documents or losing hours of their work.
With some patience, lots of creativity, and proper guidance, SVGator can become a kid's best friend and prepare them for a great career path like web designer or illustration. 
Some of the main features of this Animation Software For Kids are:-

The intuitive interface that's easy to learn at all ages will help kids start their journey in the world of digital art

The tool has a smooth learning curve and the interface is similar to other graphic design tools, so it's intuitive and user-friendly.

Many tutorials and help pages offer guidance for all types of animations and settings.

The ready-to-use library assets are the best place for a kid to start learning how to animate.

The pencil tool creates a significantly lower number of node points than other editors.

Can be used to create both static and animated content
Pros:-
The animated SVG format exported is lightweight, scalable, and responsive

Drag and drop, user-friendly interface

Helps create interactive animations

Unlimited static exports even with the free version

No need to add your credit card or download software or plugin on your device.
Cons:-
Since it's an online tool, an internet connection is needed to be able to use it.

The application offers unlimited static exports but is limited to only 3 animations with the free plan. 
Conclusion
Each software mentioned in the above list is most suitable for kids. However, there may be one or two that are a little advanced so that some kids who want to take a step further can choose those.
Deciding the best software for your kid can be tricky, but we would suggest you take your time to go through each one of them and then make your decision. Keep in mind that.
Some children can process better and learn faster than other kids. So choose the one that can perfectly align with your child's skills. We sincerely hope that this article will help you and your child.