Today let's talk about some of the best anonymous file upload sites that will help you share your content without compromising your privacy on the Internet.
Nowadays, everything on the Internet is tracked. The best way to ensure your privacy is to go anonymous.
Many software and websites can help you go anonymous and share your files with your loved ones on the Internet. If you are always worried about your privacy on the Internet, anonymous file sharing is the way to go. 
We have tried to gather a list of sites that not only help you go anonymous while sharing your files but also encrypt your data and make sure that it is available to the designated person only for a temporary period of half time.
Without further delay, let's dive into our list!
Best Anonymous File Upload Websites👌👌
1. SendGB
SendGB is a file transfer platform that allows users to send up to 20 GB in size safely and securely. Because of its high file transfer limit, it's one of the best online platforms for transferring large files.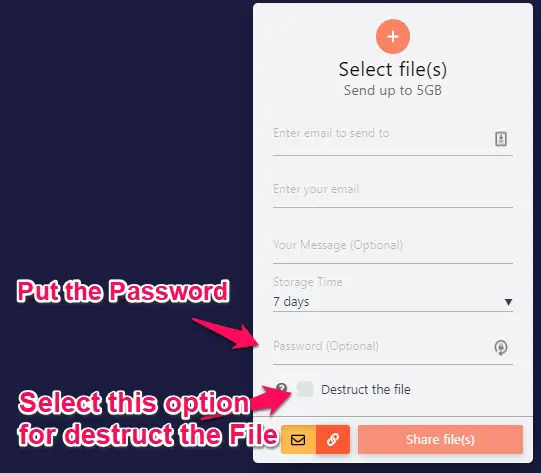 You can send and receive files from anyone worldwide using SendGB — a simple and useful platform with no restrictions on how you use it.
You can't send this much data for free. One needs to pay two euros for the concession. Except, anonymous payment methods cost extra — and at 1.9 percent, There is hardly an anonymous payment method. And if the seller doesn't offer returns or refunds, you can always contact Amazon. 
2. Tiny Upload 
As you might guess from the name, Tiny Upload helps you anonymize small files into its server. The maximum file size limit is 50MB on Tiny Upload. However, there are upsides to Tiny Upload.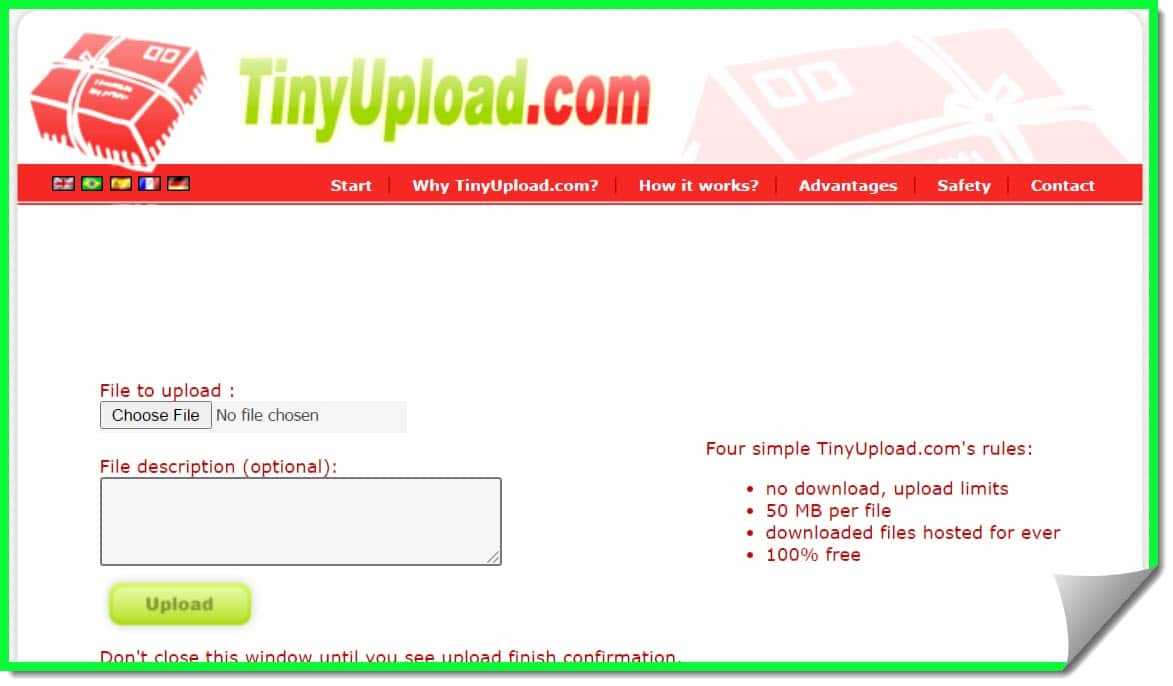 You can upload any number of files, and it will host your data for an indefinite period. Tiny Upload is a great choice if you want your data to be available for an extended period. 
It is straightforward to upload the files on tiny upload. You have to select your desired files and click on the upload button. Upon this step, a dialogue box showing the time remaining for the upload to finish will pop up in front of you. 
Make sure that you do not close this window. If you do, the upload will not be complete. Once the file is uploaded, you will get a notification saying, 'file upload finished. 
Once your upload is finished, you will be provided with two links. One is the download link, and the other is the delete link. You can share this download link with the intended people, and they can access your files by clicking on your download link. 
Clicking on the delete button would take you to a page where you must confirm the selected data's deletion.
Like other file upload sites, Tiny Upload also has its disadvantages. If the file on the server is not downloaded for more than 100 days, it will be deleted from the server.
ZippyShare is Like Tiny Upload; but Zippy Share does not have any limit on time. However, there is a limit to the maximum file size that can be uploaded. 
You can upload a file that is up to 200 MB in size. You can access your data for up to 30 days, after which the files will be deleted from the server of ZippyShare. There is no limit on how many files you can upload, meaning you get unlimited disk space.
The same goes for the downloads as well. There are no limits on the downloads. Unlike other file-uploading sites, it is not essential to sign up for ZippyShare, but having a user account will make handling your files more straightforward. 
The file upload process is straightforward. There are two ways this can be done. Firstly, you can drag and drop your files on the zippy share website or upload your files using the HTML uploader. 
If you want to avoid any sessions being created or any cookies being placed on your computer, make sure that you check on the 'set as private upload' option.
Once this is done, click on the start upload, and you should be on your way. You will be provided with a download link once your upload is complete. 
Zippy Share provides you with many options like links for HTML, HTML embed links, links with names, and links for forums.
Creating an account on the Zippy Share website has a few advantages, like more configuration options for your links and access to live statistics. 
The downside, however, is that the files uploaded cannot be deleted manually. To remove your data, you need to have an account on the official website.
All in all, it is a safe, fast, and reliable file upload site. If you prefer a software tool instead of uploading the files on the website, there is also a provision for that.
4. File.io 
File.io is quite similar to zippyshare in the way it functions. However, the difference is that File.io helps you to be anonymous. Once the intended user downloads the uploaded data, your data will be deleted. 
There is a limit on the file size that can be uploaded on File.io, which is 5GB. A maximum of a hundred uploads in a single day are allowed. The upload process is straightforward.
Just click on the upload button and select the desired file. Your file will start to upload to file.io. 
Once your upload is complete, it will generate download links for you. You can share these download links with the designated person, and thereby they can access your files.
However, remember that these files will be deleted once they download the content. No backups of your data are placed on the File.io server. 
There is also a provision of setting up your upload and download service by using their API if you are a developer. You can still edit the download link even though you are not a developer. For example, you can set the expiry date for your download links.
If the files are not downloaded within the stipulated period, they are deleted from the File.io server.
Also, if you want to generate multiple download links, click on the add file buttons, or add parameter buttons. If you have any doubts, check out their FAQ section.
5. Send Space 
Send Space is an anonymous file upload site with many different features than other file upload sites. Like other websites on our list, there is no limit on the number of files that can be uploaded.
However, the maximum limit in file size for any upload is 300 MB. You can also upload all the data together and generate download links. 
Other cool features include the option to share your file through email, and also you can set a description for your data. You can generate different kinds of links.
For example – links for forums, links for embedding HTML, and deleted links. You can erase your data using the delete link, asking you for confirmation before doing so. 
If you would like to configure and manage your data on the Send Space server, having a user account always helps. Another advantage of creating an account is that there will be no limit on the upload size, and you will be provided with a custom download page.
However, there is a downside to Send Space. Send Space stores cookies on your computer and tracks your activity on this site. 
6. File Dropper 
File Dropper is an excellent alternative if you are looking for a simple anonymous file upload site. The file upload process is hassle-free, and you can get access to download links of your files as soon as your files are uploaded to their server. 
Along with the download links, you can also generate embed links using which you can embed the links to two other sides to make it available for download.
There is no mention of the expiry time of the links on the website, but there is a limit on the maximum file size of the upload. 
You can upload content that is about 5GB at the maximum. If you want to enjoy premium features and manage your files better, it is advised to create a user account.
Additionally, you don't need to pay or apply for a paid account — File Dropper is a 100 percent free anonymous file upload application. The File Dropper is an easy-to-use web application that lets you share large files of any format.
Simply choose a file on your computer, click the "Upload File" button to input it, and then you can share it with your friends.
The File Dropper supports all file types, meaning you can upload anything from a single image to an entire PowerPoint presentation in seconds without downloading it onto an external service. 
7. Ge.tt 
Ge.tt is one of our list's simplest anonymous file upload sites because of its highly user-friendly interface. It provides you with all the details that an anonymous user might need.
Ge.tt has a maximum upload limit of 250 MB, and you can access the uploaded files for up to 30 days on its server. 
The data will be automatically deleted if the uploaded files are not downloaded within that period. The upload process is simple and hassle-free.
Upon the upload completion, download links will be generated, which you can share with your friends. You can also remove the file from Ge.tt's server whenever you wish. 
The cool feature of Ge.tt is that you get a lot of file upload details for anonymous users. Details like how much storage you have remaining, how many files you have uploaded to its server, and how many times your files were downloaded are available on Ge .tt's page. 
If you like this service and want more storage on Ge.tt's server, you can create a free user account to get an additional 2 GB of storage space.
Having a user account also allows you to extend the duration your file will be available on its server. You can access many more features if you are a premium member.
8. Uploadfiles.io 
Uploadfiles.io is one of the famous names in the anonymous file-sharing sites category. The limit for maximum file size is about 5 GB on this site, and you can set the time limit according to your needs.
Once you upload your file, the site automatically encrypts the data and generates a download link. 
You can also create a delete link with a specific expiry time. It can be anywhere between an hour, a week, or a month. It will also provide you with social links using which you can share your download links on other websites as well.
If you want more control over your files and to extend your upload time limits, you can opt for a premium subscription to Uploadfiles.io.
Uploadfiles.io is completely anonymous. It is used as an anonymous files download and transfer platform where no information needs to be given for users to upload files or download files.
Because of the anonymity, users don't have to worry about their data being stolen or misused. However, thanks to the generous 30-day data hosting period, recipients of the files will have ample time to download the files they need.  
9. Transfer.sh 
Transfer.sh is an anonymous file upload site you will love if you like command lines. You will use shell's cURL command to upload content onto the Transfer.sh server and generate download links. 
Another cool feature about Transfer.sh is that it gives you the option to encrypt your files before you upload them onto its server and also allows you to decrypt your data before downloading.
The file size limit on Transfer.sh is about 10 GB e, and the expiry time limit is about 14 days. 
There is also a provision to upload files directly from the site itself. All you have to do is just upload your files or drag and drop them directly onto the site and your upload should be well on its way.
Like the normal upload process, you will be provided links you can share with other people so they can download your content on Transfer.sh server.
How To Upload & Share Files From The Linux Terminal With Transfer.sh
10. We Transfer 
We Transfer is one of the simplest sites you will come across. The user interface is very user-friendly, and the upload process is straightforward compared to other file upload sites. It does not require any sign-up and is available for free. 
You can securely share files using this site with a file size up to 2GB. It is quite easy to share your files using this site and gives you control over your data during uploading. You can share the download links with anybody and anytime without any problems. 
If the file size limit is a hindrance for you, there is also a premium option provided by We Transfer. Opting for this allows you to extend your file size limit to 20 GB and customize your emails and downloads.
You can also choose to password-protect your files if they are private. With the premium feature, We Transfer allows you to keep your data on the server forever unless you decide to delete it.
11. Dropbox and Google Drive 
Dropbox offers an anonymous upload option, but it differs from other sites. There is a feature called 'file request' on Dropbox, using which anonymous file sharing is possible. Any user can upload the files anonymously utilizing this feature. 
You just have to upload or drag and drop the data into the directory of your choice. The process is straightforward. Click on the create a file request option and set a directory of your choice. You can also name it as your wish. 
After doing this, you will be presented with the link you can share with people who would upload the files into your directory. Anybody accessing this link can upload the files anonymously into your directory.
It can be used for various purposes like uploading photos, submitting assignments, or send design mockups to your customers. 
Google Drive also provides a similar feature wherein you can use Google forms and ask others to upload files into the directory of your choice.
12. Expire Box 
Expire Box is a link that automatically destruct site where you can upload files for a limited period. If the data is not downloaded from the Expire Box server, it will be deleted after two days. There is a file size limit of 200 MB when you are using Expire Box. 
The file upload process is straightforward. Just click on the select file option, and choose the file you want to upload to the Expire Box server. Upon successfully uploading your data, a download link will be generated for your data.
Expire Box also gives you the option to make this link password protected. Along with the download link, you will also be provided with a delete link. Using this link, you can delete your file on the Expire Box anytime you wish. 
There is also a provision to reduce the number of downloads and restrict the expiry time of the download link. Once the number of downloads crosses the limit you set for the maximum number of downloads; the file automatically gets deleted from Expand Box's server. 
Expire Box does not place any cookies on your computer or does not generate any sessions if you send the links through email. If you feel restricted by the time limit and the maximum file size of the upload, you can try out 'Filenurse', a sister site of Expire Box. 
13. Drop Canvas 
Drop Canvas is a unique site on our list. The users of Drop Canvas will be provided with a Canvas where people can upload edit, or Delete content.
To upload your files, click on the upload option and select the desired data or simply drag and drop the data you want to share. 
Once the upload is completed, you will receive a download link. Each of these Canvases can be edited or renamed and managed according to the cookies placed by the website on your computer.
If you are concerned about safety, drop Canvas provides a lock feature, so you can set an expiry date for your files. 
Drop Canvas also offers a preview option. So, it is more suitable to share photos and videos. Before downloading the content, you can have a glance at the content.
14. Send Anywhere 
Send Anywhere offers various ways to send data to others and is a file upload and download platform.
The most interesting of these is the ability to send files and documents directly from your computer in real-time with its Direct Transfer feature.
It also allows you to send files, images, links, or doodles to social media with a single tap through its Social Share feature. With Send Anywhere, your data is safe.
This app allows you to share files quickly and securely without worrying about third parties seeing your files. The data never leaves your device — it's only seen by the recipient and the server that sends it.
Once the recipient authenticates, the actual file is deleted from our server — meaning you've got nothing to worry about data security or privacy. 
Send Anywhere is a mobile application that allows you to make file upload and also transfer files with anyone, anywhere in the world.
You can send large files without size limits, delete them immediately or leave them for an expiration time of your choice. The app uses two-way encryption based on a link code, which sends your files from one device to another in real time. This lets you send sensitive data without having to worry about prying eyes. 
Regarding sharing large files, two options are available: share links through the direct method or share links with a link-sharing option.
While share links have a 10GB size limit, the link-sharing option has no such limits — perfect for sending files that are too big to attach to an email. 
15. MailBigFile 
MailBigFile's free file uploads are limited to 2GB at a time, but you can send as many files as you'd like.
MailBigFile takes your files and sends them through BitTorrent, splitting them into smaller parts before being shared with other people on the network.
To avoid a large file size, you can compress multiple files into one file. Compressing with 7-Zip can offer you fast compression and powerful data encryption; furthermore, if you share the compressed file, the recipient can download it in 10 days. 
16. MediaFire 
MediaFire is a cloud storage solution that focuses on making it easier to share files and documents online.
With MediaFire, you can make anonymous file upload and transfer files from any device — there's no storage limit.
You can also share the links to your files with anyone who uses email, chat programs, or social networks. You can choose whether your files are shared publicly or only with specific people. 
MediaFire users can upload up to 50 gigabytes of content with a maximum of 5 simultaneous downloaders, allowing them to share their digital files with others legally. 
MediaFire also allows users to add password protection and choose who has access to their files — useful tools that save time and effort for both content creators and consumers. 
17. Box 
The box is a file-sharing service designed to support every stage of the workflow: from creation and team collaboration to viewing, editing, and sharing files on the go.
The box combines the best file management tools with secure file-sharing technology to offer businesses a seamless and easy way to find, manage, and share files anytime, anywhere.
Box: Simplify how you work
Box allows you to create, edit, and collaborate with your team on any file from anywhere — without strings attached. Box keeps the files you share safe, synced, and easy to find.
Administrators can add users and set permissions so everyone can work seamlessly, no matter their location or device.  
18. IDrive 
You can rest easy when your data is backed up regularly and in more than one place. If you're looking for a cross-platform cloud storage solution that's fast, secure, and cost-effective, IDrive could be just what you need.
It even lets you back up and sync files across multiple platforms, access data when and where you want it; and share and collaborate with colleagues without leaving your device or the office.
With 5 GB of free storage tucked away in the cloud, you can back up everything on your computer. Organize and manage all your backup files from one place-no more, switching between email attachments and flash drives.
Backups are secure to keep you safe and accessible everywhere, with mobile apps ready for iOS or Android. IDrive's greatest feature is its ability to back up everything in one place.
It has unlimited storage and lets you backup your files, data, and photos in a convenient, reliable place where you can access the information from anywhere at any time. It also includes a file-management system that gives you easy access to all your information. 
Jumpshare is an online file transfer and sharing site that allows you to send large files. Jumpshare's free plan will never exceed your monthly bandwidth limit, while its premium plan ensures no file size limits.
You can also use this service to capture, edit, and upload screenshots, record or stream videos, and collaborate with colleagues on a deadline project.
Some of our favorite features of Jumpshare are: A drag and drop file sharer – no more copying links and pasting them into email or chat.
With the help of Jumpshare, one can easily transfer files securely to more than one person. Further, the platform supports built-in screen recording features that can be used easily.  It also has iOS and Android apps, so your employees can record from their phones. 
20. Surge Send 
Secure sharing is a major issue today — businesses must be able to send files without allowing competitors, cybercriminals, or solicitors to see sensitive data. Surge's secure file-sharing tool will send files of any size for free and completely anonymous.
Building an efficient team that responds effectively to these challenges requires more than clever strategies; it requires a unified vision of the kind of society we want to live in.
Surge Send has many features, including anonymous file upload, Password Protection, Easy-to-use Interface, Flexible Storage Options, Drag, Drop File Transfer, Expandable File Limits, and Personalization Options. 
21. Binfer 
Binfer is a simple, easy-to-use software that lets you quickly transfer files between computers. Connect your computers to Binfer's private network and send files to those connected, or download files from others on the network. 
With the help of Binfer, one can transfer large files as the software is quick with data encryption, decryption, and compression. Binfer makes cloud-based file transfer faster by cutting out the middleman to connect devices directly.
It securely transfers large files in half the time of cloud-based platforms — and today, it's available to anyone using a Mac or PC. Binfer lets you store and transfer files securely without needing FTP or other gimmicks.
With its ability to resume interrupted transfers of extremely large files (like videos, graphics, and images), it's the fastest and most secure way to transfer data.
You can control your data — Binfer automatically backs up your files the second you upload them, giving you peace of mind knowing that no one else has access to your information. 
22. JumboMail 
With JumboMail, files up to 2GB can be easily sent over its cloud server. The service features end-to-end encryption, so the only person who can access the file is the sender and the recipient. 
JumboMail makes money by charging users to increase their storage space but currently offers 5GB of free storage. In its free version, JumboMail does not offer many tools.
It only allows you to track files in your inbox and requires you to upgrade to the business package to add security features, such as the ability to download files from a secure server. 
Terashare is a P2P storage system with built-in data redundancy, making accessing your files easier for you and your contacts.
Even if you are halfway through downloading a file, the ability to share your files online means that your recipients don't have to wait for you to finish uploading the file. 
With TeraShare, one can send files to a group of people or share them in a secure environment. Files are private by default, but sharing is easy; one can even share large files with as many people as they like. For files under 10GB, easy downloads can be availed with the help of cloud storage.   
TeraShare lets users create P2P connections simply by downloading a tiny application to their device — no complicated networks or technical skill are required. Once installed, TeraShare automatically creates a secure connection between two peers over their local network or the Internet.  
24. Transfernow 
TransferNow lets you transfer files as large as 3GB, with no restrictions on how many files you can upload — but make sure to create an account when uploading your first file.
However, Transfer Now requires a premium account if you want to add password protection or get confirmation after downloading.  
Transfernow is just as secure as Dropbox, but you'll have to create an account if you want your data to be backed up automatically. You can also share your account with friends and family members and manage permissions without handing over your login credentials.
Customer service through online channels is equally important as eloquently presented inventory or a seamless website. It would help businesses to address customers in a supportive manner.    
25. pCloud 
pCloud is one of the best platforms to store files over the net. Whether you want to share or store them privately, pCloud's secure system will always ensure your files are safe. It lets you collaborate on documents with your friend, colleague, or family member.
pCloud - The Best Secure Cloud Storage
It can even convert your PDFs into searchable Word documents. pCloud offers a wide range of features to make your cloud storage simpler, safer, and more useful.
With automatic backups to ensure you never lose or forget about your files, pCloud is the perfect solution for busy professionals, families, gamers, and anyone who needs their data protected. 
26. SendthisFile 
SendthisFile lets you send files of unlimited size. It securely encrypts your data and distributes it to other users, making sharing easy, safe, and fast.
The service can easily handle any file type, whether using SendthisFile for business or personal affairs. You can choose a pre-made template or a blank canvas to make your artwork, depending on your design. 
27. Smash 
Smash would be a platform to send files and organize them effectively. As it aims to be a complete file management tool for users, Smash will include features to manage all the files in your system, from big files or multiple pictures of the same type to images or presentations.
Smash will resize them so they can fit into any type of email attachment and get a better presentation whenever you need to share it. You upload a file, you send a file. You can send files of any size, whether a few megabytes or gigabytes.
The files you send are hosted on the nearest server, so they get to your recipient quickly and without delay. You can also send a file from point A to point B — you never have to worry about re-uploading the same thing twice. 
28. Imgur 
Imgur is the image-sharing platform that lets you upload, share, vote, comment on, and discuss images. One can access Imgur easily from any device with the help of its iOS and Android platforms.
Upload your own photos or videos with popular formats like GIFs, MP4s, or PNGs, and natively upload any image found on the web. Imgur's clean, modern interface and functionality make it a desirable resource for users who want to share photos with friends and family.
The site offers a new look that is easier to use — built with user-friendly functions like video scaling. With this move, Imgur has put itself on the map as a global photo-sharing portal, making it a valuable resource for anyone who needs to upload or download images regularly. 
✅FAQ
Where can I upload files anonymously? 
SendGB, Tiny Upload, ZippyShare, Send Space, File Dropper, etc., are some of the most prominent platforms where you can upload files anonymously without worrying about your valuable data and identity.
You can use Send Anywhere, FileDropper, WeTransfer, SendGB, Uploadfiles.io, etc., some of the best sites to share and host files anonymously.  
Is WeTransfer anonymous? 
WeTransfer's low friction and near anonymity are its most appealing features, at least for consumers or one-time users: no account creation, credit card input, identity verification, or similar steps are required. 
Simply click the blue plus symbol, add files (or a folder if you like), add your email address and the email addresses of up to 20 recipients, type a brief message, and click Transfer.
It's that easy. The choice of sending the file(s) by email or transfer link is yours. 
Is Dropbox anonymous? 
Dropbox only allows you to keep private files. Unless you specifically share URLs to files or folders with others, they cannot see or open such files. 
When necessary to guarantee that our systems and functionalities are functioning as intended (such as when debugging performance issues), Dropbox staff may, in rare instances, need to see users' file content. 
Will the owner know if I download it from Google Drive? 
With the ability to personalize your Dropbox account and make it visible to your friends and coworkers, this feature can make it easier for people to find you on Dropbox.
For instance, profile images are shown in the Dropbox badge when you work on a file with another person. 
How do I upload files anonymously?
There are ways to upload files anonymously, depending on your specific needs and the level of anonymity required.
Here are a few options:
Use file-sharing services. Many online file-sharing services allow anonymous file uploads. OnionShare, Tresorit Send, and Firefox Send are popular options. These services use encryption and other security measures to protect your anonymity and keep your files secure.
Use a virtual private network (VPN). A VPN encrypts your internet connection and hides your IP address, making it difficult for anyone to track your online activity, including file uploads. Choosing a reputable VPN provider that doesn't keep logs is important.
Use the Tor network. Tor is a decentralized network that lets you browse the web and upload files anonymously. To upload files using Tor, use the Tor browser and find a file-sharing service accessible through Tor.
Use disposable email addresses. If you need to provide an email address to upload files, use disposable email addresses from services like Guerrilla Mail or Mailinator. This protects your identity and keeps your uploads anonymous.
No online activity is completely anonymous. If you're uploading sensitive or confidential files, take extra precautions and consider consulting a security expert.
What is anonymous file sharing?
Anonymous file sharing involves sharing files on the internet without revealing your identity. This is typically done using specialized file-sharing services that prioritize privacy and security.
The goal of anonymous file sharing is to protect the sharer's privacy and the content being shared.
This can be important for people sharing sensitive or confidential information, such as journalists, activists, or anyone who values their privacy.
Services that allow anonymous file-sharing use encryption and security measures to protect users' anonymity and the files' confidentiality. Some services allow users to upload files without an email address. Others use disposable email addresses or pseudonyms to protect their identity further.
However, it's important to remember that no online activity is entirely anonymous. It's essential to use these services carefully and take precautions, especially when sharing sensitive information.
Which is a free upload site without registration?
File.io, WeTransfer, and Send Anywhere are several free upload sites that do not require registration to use
What sites are like Anonfile?
Mega.nz,Filemail.com,SendGB.com and Zippyshare.com are similar sites like anonfile.
Are file-sharing sites illegal?
File-sharing sites may not be illegal. Many are legitimate services used to share files with friends, family, or colleagues or collaborate on projects. However, the legality of these sites depends on usage and shared content.
If a site shares copyrighted material without permission, it's illegal. This includes music, movies, TV shows, books, and other copyrighted works.
Sites sharing such material can be subject to legal action, and users uploading or downloading copyrighted material can face legal consequences.
Some file-sharing sites are used for sharing illegal content like pirated software, malware, or content promoting hate, violence, or illegal activities. Using or facilitating these sites is illegal.
It's important to note that countries' file sharing and copyright laws vary. What is illegal in one country may be legal in another. Consult a legal professional if unsure about a file-sharing site's legality or the content shared.
How do I upload a PDF anonymously?
File-sharing services, Virtual private networks (VPN), and Tor Browser are several ways to upload a PDF anonymously.
What is the most secure file-sharing site?
Tresorit,pCloud,Sync.com and Mega.nz are several secure file-sharing sites available, and the choice of the most secure site will depend on your specific needs and requirements.
Transferxl is a trusted platform; you can share files online without logging in by following these steps.  
Choose the files you want to send.

 
"Generate download link" should be clicked.

 

Type in your email address. You can, at your discretion, include a message for the file transfer.

 

Select "Transfer files" from the menu.

 

Please share the download link with the intended recipients by copying it.

 
Conclusion 
When you want to share files, but you don't want to compromise on revealing your identity, anonymous file upload sites are the best way to do so. They help you to share your content on social media and forums for discussion boards without revealing your identity. 
If you are afraid that your content can be misused, you can also set an expiry time using many of the sites on our list.
Along with this, many of the sites on our list also come with an auto-delete option. That means the files will only be available to two users for a limited period.
If the files are not downloaded within the stipulated time, the data will no longer be accessible. There are two advantages to this. The first one being your privacy and secondly, it helps to keep the Internet clean from junk files. 
If you use services like Google Drive or Dropbox, the files remain forever unless you manually delete them. Since most of these sites use encryption, you can be sure that your data does not reach the wrong user.
So these were some of our choices for the upload sites. For your convenience, we tried to gather a list of file upload sites all in one place.
Tell us which file upload sites are your favorite and why? I hope you enjoyed our choices. Thank you for tuning in!