With everything moving online in the digital age, your data and privacy are at an all-time high risk. Your personal and professional data that is stored online is always vulnerable.
Whenever you visit any website, you follow a digital footprint. Ever wondered when you search for new shoes online, you start getting advertisements on your social platforms such as Instagram, Facebook, and Youtube?  
This footprint in the wrong hands can be easily used to manipulate you if you don't want anyone to look into what you search, and where we highly recommend using any anti-tracking software given below.
This exhaustive list is carefully curated to best suit your personal needs. But before we dive deeper into this list, let's closely look at how you are being tracked and why you need to be using these anti tracking software when surfing online.  
Why Am I Being Tracked? 
Big companies like Google and Facebook keep track of your movement online and offer these advertisements from companies who use their services.
Organizations use Google Analytics to target their customer base by explicitly showing the products and services they might need.  
Your social media handles will also start showing you various advertisements relating to your advertisements with the help of online tracking.
As you leave these footsteps invisible to you, many companies exploit these to gain more attraction for their products and services. 
10 Surprising Ways the Government is Spying on You
How Am I Being Tracked?

 
There are several ways your online movement can be tracked. While the most common are cookies, numerous others have also come up that facilitate online tracking. 
Cookies:- Cookies are used to associate you with a website. All the information about how you move around the website is stored in cookies.
A first-party cookie is from the site you are currently on. Another type of cookie, a third-party cookie, is used to track your footprint from other websites. 
How cookies can track you (Simply Explained)
Fingerprinting:- Fingerprinting is associating you with the device you are operating from and storing its characteristics, such as operating system, extensions, language, and even the fonts installed on the device. 
IP Address:- The address of your device, known as the Internet Protocol address, is used to track your device. This address is given and stored by your Internet Service Provider and can be used to track your movements online. 
Supercookie: Supercookies are harder to detect and are placed at locations other than the normal cookie. Also known as ever cookie, they track your movements without your knowledge.  
Beacon(Tag/Pixels):- Beacon is a small and invisible object embedded into a webpage or an email that records your activity.  
Best Anti Tracking Software: Our Top Picks👌
Let's look at some anti tracking software, such as secure extensions, web applications, and secure browsers that protect you while you surf online.  
1. Brave 
Brave (Download Here) is a secure web browser that is famous anti tracking software. It allows you to surf faster by loading the content quickly without pop-ups and advertisements. It also protects your online data by stopping any online surveillance.  
While other browsers sell your data to companies and breach your online privacy, Brave puts control back into the hands of the user.
With the help of Brave Shield, all the advertisements and trackers are blocked that are trying to identify you and your location.  
You can browse more freely and at incredible speed by blocking harmful ads. Brave promises a 3 times faster experience than other web browsers.  
Brave also allows you to surf privately with the help of Tor. You can use Tor in a tab to protect your history and location with the help of encrypted connections. 
To provide an enhanced browsing experience, Brave has been integrated with IPFS protocol designed to provide a more safe and more open web. This lets you load content faster and improves online resilience.  
Brave allows you to customize your shield settings on a site or a wider browser basis. You can look at the ads and trackers being blocked by Brave. Also, the default setting is designed to block all types of harmful ads.  
With brave, you can sync multiple devices to be on top of things. It supports all the web extensions and allows you to configure their settings easily.  
They do not sell your data, and all of it stays private at all times. With Brave, you can be sure that your online privacy is always protected.  
2. Disconnect 
Disconnect is an antitracking browser extension that protects against online tracking.
Disconnect provides complete control to the end-user by allowing them to block all advertisements. It doesn't facilitate the storage of your private data on any website.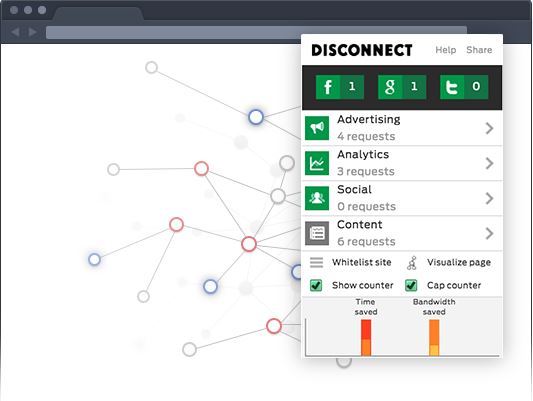 If you want, you can whitelist certain websites to let them store your data if it is a trusted websites. It currently serves more than 750 million users worldwide by blocking malicious content.  
The powerful one-tap protection blocks any unwanted surveillance and tracking. If you want to keep your online activity private, or use public Wi-fi during travel, Disconnect masks your IP Address for online safety. 
Disconnect is a smart software that prevents threats from taking advantage of human error. Overcoming technical limitations stops the start of an attack chain by blocking all network requests. Therefore, all ads, malware, scams, phishing, etc. are blocked. 
Disconnect doesn't facilitate the collection of sensitive data used to collect information about your identity and sold to companies.
Preventing trackers from locating you via cookies, e-mail, IP address, and any other surveillance method allows you to surf carefree. 
Third-party requests and advertisements also slow down your processing time. Still, with Disconnect's help, loading pages takes half the time as usual to provide a better online experience.  
Disconnect is among the anti-tracking software market leaders and has served clients for over a decade.
It is safe and trustworthy software that offers complete online protection. It provides basic and premium services to its customers. For information about its pricing plans and features, Click here. 
3. uBlock Origin: open-source ad content blocker
uBlock Origin is an open-source, anti-tracking extension that protects your online privacy against scams, thefts, and tracking. 
It supports all browsers, such as Opera, Chrome, Firefox, and Microsoft Edge.  
The default filters offered by uBlock include Easy List, Easy Privacy, Peter Lowe's ad tracking, Online Malicious URL Blocklist, and uBlock Origin's filter. This open-source content blocker is free to use.  
uBlock origin reduces your CPU and memory load by blocking unnecessary advertisements and cookies that store your valuable information to target you with ads.  
The primary function of uBlock Origin is to free up the CPU and provide memory efficiency. It is a wide-spectrum content blocker and not just an Ad Blocker. 
It uses content filtering that protects you from privacy invasion. It neutralizes all advertisements and phishing attempts, providing a safer and faster web browsing experience.  
With various browser support, it can be added as an extension to safeguard any online privacy threat. Also, open-source ad blockers increase efficiency and reduce your costs.  
You can monitor ad blocking at all times. uBlock origin shows the ads being blocked at any given time and provides advanced settings to customize your preferences.  
uBlock Origin is free software that can be downloaded and added as an extension on any browser. Using its default filters, you can block specific ads per your requirements.  
4. DuckDuckGo

 
DuckDuckGo is available as an extension, search engine, and application. It safeguards your online privacy by not collecting or sharing your personal information.  
The mobile application is equipped with a search engine, encryption platform, and anti tracking software to provide private browsing for your iOS and Android devices. DuckDuckGo helps you to avoid manipulation by advertising companies. 
Without any downgrade in the search quality, the DuckDuckGo search engine provides a private browsing experience. It blocks all manipulated ads, therefore, improving your browsing experience. 
It also works well with your browser. You need to add it as an extension, and it will start blocking all the ads and third-party trackers. 
By just using incognito mode, you are not browsing privately. It doesn't save your information on your device, but your browser and service provider can see what you are searching for.
But on the other hand, DuckDuckGo offers an entirely anonymous browsing experience.  
DuckDuckGo is a preferred choice of many users as it provides an ad-free and safe browsing experience. The DuckDuckGo search engine gives beneficial results to all your search queries.
By adding DuckDuckGo to your browser as an extension, you can still avail yourself of all the anti-tracking software features.
Download the App from Google Play Store
Download the App from Apple App Store
5. AdGuard 
Adguard is an anti tracking software application that you can download for your device to get rid of ads and online tracking.
It helps protect your device from malware that can harm it and make you vulnerable to data theft, privacy invasion, and online tracking.
AdGuard is available for Mac, Windows, Androids, iOS, and a web extension to cover your devices. 
Block ads on Windows, Android, Mac, iOS with AdGuard
AdGuard provides Ad Blocking, protection from hackers and trackers, and blocks all fraudulent scams and phishing websites.
It can also set up parental control to prevent kids from accessing inappropriate and adult content. 
It blocks all third-party cookies and masks your IP Address to safeguard your identity and location. In addition, an abundance of features is available to you to customize protection and safeguard your data. 
By checking each website for malicious content, AdGuard blocks all malware and any requests from harmful websites. It provides you with a safe web surfing experience.  
With the help of a dedicated module to protect your data, AdGuard filters the website as per your setting and customization. You can select your preferences to allow and block content from specific websites. 
A browsing security module that protects you against fraud and scams is in-built into the application. Its database is updated regularly to protect against any newer forms of threat.  
AdGuard provides online surveillance against malware and distractions that slow down your processing time. It blocks all scam ads and fake news as well. You can monitor what it is doing for you at all times so that you are in complete control. 
AdGuard is application software that can be used across any device. You can download AdGuard for your mobile devices from Play Store and Apple Store.
It can also be set up as a web extension on your browser. AdGuard offers 14 days of free trial to test out the software.
Download the App from Google Play Store
Download the App from Apple App Store
6. Tor 
Tor is free anti-tracking software that allows you to browse privately over the internet. It protects your hate over the internet and safeguards against surveillance and tracking.
Even though Tor is a free browser, it has all the features to block malware and harmful advertisements. 
Tor was started back in 2006 by like-minded people to facilitate safe web surfing. It was built on the Firefox platform; therefore, all the extensions and add-ons work on the browser. It also supports all Windows, iOS, Mac, and Linux platforms.  
By isolating each website you visit, the Tor browser prohibits ads and third-party trackers from following you when you visit any other website. Also, it automatically clears all the cookies stored after you move away from the website. 
It prevents any hacker or tracker from seeing what websites you are looking at. It will simply show that you are using Tor Browser, and no other information or data will be revealed.  
Tor Browser prevents you from being identified based on your device and browser information by making all users look the same.
Your identity remains hidden among other Tor users, with no personal data about you. 
How Tor Browser Protects Your Privacy and Identity Online
With the help of Tor relays, information traffic is relayed and encrypted thrice when it passes through the Tor network to safeguard your personal information. 
Tor Browser allows you to browse freely without any hassle. Also, you can use websites that your local home network may block.  
Tor developers aim to provide free and open-source anonymity to every user. They can browse privately by providing a free-for-use browser to everyone and safeguarding their data.
They do not charge for anything but do accept donations.
Download the App from Google Play Store
7. Privacy Badger 
Privacy Badger is a browser extension that stops ads and third-party trackers from tracking your identity and location.
It automatically blocks all the content from third-party advertisers and masks your location. The Browser extension functions efficiently on all major browsing platforms, such as Chrome, Firefox, Edge, etc. 
The default settings separate Privacy badger from other anti-tracking software extensions on this list.
While others require a certain level of customization, a Privacy badger is developed to serve any user. It doesn't require any technical knowledge of the user, as the software can block any ads. 
Privacy Badger keeps track of all the third-party trackers and domains that embed into images and ads.
Suppose these are identified as tracking methods such as supercookies, third-party cookies, or fingerprinting.
In that case, a Privacy badger will alert the browser to not load any more content from the third-party website. 
Privacy badger uses color codes to distinguish third-party tracking. A site is marked green if it, as of now, is not tracking your identity. The color code turns yellow if the site looks suspicious or if it is trying to track you.
Privacy badger will start blocking its contents that might track you. The red color signifies that content from that third party is disallowed. 
Privacy Badger is not specifically designed to block ads but to safeguard your online privacy. It blocks all visible and invisible third-party trackers embedded into a website. As most of these are in the form of ads and images, they are primarily blocked.  
Privacy Badger doesn't block specific websites but content that it finds objectionable. It screens each piece of information displayed on any website to prevent tracking. 
Privacy badger is an effective tool to protect you against online tracking. It works efficiently against all tracking methods, such as canvas fingerprinting and supercookies, which are complicated to track.
8. Ghostery 
Ghostery is anti tracking software that provides a complete privacy solution to users.
With its browser extension and web browser, you will completely control your online privacy. Ghostery has smart ad blocking that automatically optimizes your surfing experience.  
Everything loads faster with Ghostery as it declutters the webpage of all third-party trackers and ads.
With Ghostery, you can continue to use the internet without making your data vulnerable to hackers and trackers. Ghostery doesn't allow third-party trackers to identify you by keeping it anonymous. 
Ghostery is an advanced adblocker that monitors all the third-party cookies and ads trying to identify you without your knowledge. You can also keep track of which websites are trying to track you with the help of the tracker list. 
You can always protect your data with enhanced protection features such as ad-blocking, anti-tracking, and smart browsing. Trackers that are affecting your surfing experience will be automatically blocked. 
You will have complete control over every website; therefore, you can allow specific websites and block others per your preferences. 
Ghostery has a one-tap feature that allows you to restrict or allow any site with a single tap. You can command ghostery at all times to improve your surfing experience.  
Ghostery also allows you to customize your surfing experience. You can custom-choose to block specific third-party trackers. Ghostery is industry-standard anti-tracking software that provides premium services at an affordable price. 
Ghostery has served customers for the last 10 years and provides efficient adblocking. The software is paid, and you can choose between a monthly or annual subscription.
Click here to visit the Ghostery website and compare the pricing plans. 
9. Avast AntiTrack 
Avast AntiTrack Premium is a privacy protection software that safeguards your data and identity online.
The Avast AntiTrack is one of the best anti tracking software, which frees you from online trackers. It masks your online identity and disguises you to prevent trackers from identifying you for greater online privacy. 
It protects you from malware, targeted ads, and manipulative techniques by hiding your online identity or fingerprint.
It works with all browsers, such as Chrome, Edge, Firefox, and many others to provide a safer and faster browsing experience.  

Avast AntiTrack warns you as soon as it detects trackers trying to detect you. It also automatically starts taking action against them to stop invasive online tracking.  
Advertisers use your online fingerprint to send targeted ads, including your device information, browser, and online habits.
This can be in price manipulation and spam advertising to make you purchase anything and everything you have been searching for. 
Avast AnttiTrack restores your online privacy by blocking these trackers. It also blocks embarrassing ads that might pop up when you surf online related to your search history. 
Data miners will dig up more information about you and then can misuse your data. But with Avast AntiTrack, you can be in control of your privacy. By disguising your identity, no one can track your identity. 
It doesn't send any information about your device to third parties and blocks third-party trackers. 
Avast AntiTrack brings the benefit of Adblockers and Incognito Mode, and much more to safeguard your online privacy.  
Avast AntiTrack is a premium and paid software that will establish complete privacy and control over your online web browsing. You will be able to see who's trying to track you and will be able to block them.
It also makes your PC private. Avast AntiTrack is available for both Mac and Windows users. Click here to learn more about the pricing plans offered by Avast. 
10. iCloud Private Relay
iCloud Private Relay is the new name in the field of tracking protection. Apple provides it to iCloud+ subscription providers. This feature is only available to iOS users with iCloud+ subscriptions.
iCloud Private Relay provides privacy protection to the safari browser, to enable this navigate to Setttings> Tap on your Apple ID Option> and Tap on the iCloud option.
And here you have a Private Relay Option; tap on it to enable it.
That's it. Enjoy tracking free browsing with private relay on your safari browser.
📗FAQ
What does anti tracking software do?
Anti-tracking software is a program that guards your online privacy by preventing or restricting websites and advertising from following your online actions.
These software applications can be installed on your computer, smartphone, or tablet. They can prevent the collection of information by third parties about your surfing patterns, search history, location, and other personal details.
Certain anti-tracking software functions by preventing or restrict the use of cookies, which are little data files that websites save on your computer to remember your preferences and keep tabs on your actions.
Other anti-tracking software may disable or restrict tracking scripts, which are pieces of code used by websites to gather information about your online actions.
Anti-tracking software can help preserve your online privacy and stop advertisers and third parties from tracking you without your consent.
It's crucial to keep in mind that these kinds of applications may also impair the functionality of some websites and services, so you might need to change your settings or disable the software to access some features or use some content.
Is anti tracking software worth it?
Your interests and objectives regarding internet privacy will determine if anti-tracking software is worthwhile.
Anti-tracking software might be a suitable choice if you are concerned about your online privacy and want to stop third parties from monitoring your online activities.
Anti-tracking software may not be able to stop all tracking entirely, and it's vital to keep in mind that it may also interfere with the operation of some websites and services.
It's also important to think about whether the extra security that anti-tracking software provides is worth the price, if applicable, and whether you're okay with the level of access and control that the program may have over your device and browsing habits.
What is the best tracker blocker?
The ideal tracker blocker for you will rely on your requirements and preferences among the numerous various blockers that are now available.
These are a few well-known tracker blockers:-
uBlock Origin:- For several web browsers, including Chrome, Firefox, and Safari, this is a free, open-source tracker blocker. It has a wide range of configuration options and can disable tracking pixels, scripts, and cookies.
Ghostery:– This tracker blocker, which is compatible with a wide range of web browsers and mobile devices, is to prevent tracking technologies from being exploited by marketers and other third parties.
Additionally, it has a "Smart Blocking" feature that instantly disables tracking technologies that impede surfing speed.
Privacy Badger:- The Electronic Frontier Foundation (EFF) created this free tracker blocker to prevent third-party tracking technologies from being used while enabling websites to operate as intended. Chrome, Firefox, and Opera have browser extensions available.
AdBlock Plus:- A standalone software for Android and iOS devices, as well as browser extensions for Chrome, Firefox, and Safari, are all available for this well-known tracker blocker.
It has a feature called "Acceptable Ads" that permits the display of some non-intrusive ads while also being designed to restrict advertisements and monitoring technology.
Your particular requirements and tastes will ultimately determine which tracker blocker is ideal for you. To determine which choice is ideal, it may be beneficial to test a few different ones.
What does anti tracking mean?
"anti-tracking" describes methods, tools, or software employed to stop outside parties from monitoring your online activities.
This may entail disabling or restricting the use of tracking tools like cookies, scripts, and tracking pixels, as well as preventing third parties from gathering information about your browsing patterns, search history, location, and other personal data.
Anti-tracking security precautions are frequently employed to safeguard online privacy and stop unauthorized tracking by advertising and other third parties.
These precautions can be put into practice in several ways, such as by using browser extensions, privacy settings on websites and web browsers, or specialist software tools that are made specially to block or restrict tracking technology.
Anti-tracking methods can be useful for preserving your online privacy. Still, they may also interfere with the operation of some websites and services and may not be able to stop all tracking entirely.
It's also critical to be aware of any potential costs associated with utilizing anti-tracking tools, as they can prevent you from using certain web tools or gaining access to particular information.
Why should you use anti-tracking software?
You could want to utilize anti-tracking software for several reasons, including:
To protect your online privacy:- Anti-tracking software can assist in preventing the gathering of information about your online activities, including your browsing patterns, search history, location, and other personal data, by third parties.
This can assist in preserving your privacy and preventing unwanted tracking by third parties like advertisers.
To prevent targeted advertising:- Anti-tracking software can restrict or block the usage of tracking technologies like cookies, scripts, and tracking pixels, which can help stop marketers from utilizing your browser history to deliver you personalized adverts.
To improve your online experience:- By preventing pop-up windows, advertising that automatically play, and other invasive or bothersome content, anti-tracking software can make your online experience more pleasurable.
Preventing tracking technologies that slow down your device, it might also aid in speeding up your surfing.
To safeguard your personal information:- Anti-tracking software can assist in securing your personal information by preventing or restricting the gathering and dissemination of information about your online activity.
If identity theft or other forms of online fraud worry you, this can be extremely crucial.
While anti-tracking software can be useful for enhancing your online experience and safeguarding your privacy, it may also interfere with the operation of certain websites and services and may not entirely stop all tracking.
Anti-tracking software may restrict your ability to access specific information or utilize specific services on the web, so it's crucial to be informed of any potential trade-offs before using it.
How to check if an anti-tracker is working?
There are a few techniques to determine whether an anti-tracking program is functioning:-
Check your browser settings:- You can block or restrict tracking technologies like cookies and scripts using the privacy options already integrated into most contemporary web browsers.
Whether the anti-tracking tool has been turned on and is preventing or restricting the use of these technologies, you can check your browser's privacy settings to see if it has been activated.
Use a tracking test website:- Several websites have been created particularly to test whether tracking technologies are being restricted or prohibited. To check if your anti-tracking tool is operating correctly, go to one of these websites and follow the instructions.
Check the tracking tool's settings:- Many anti-tracking tools feature settings that let you change how they function. If the tool is set up to prevent or restrict the use of tracking technology, you can check the settings to make sure.
Check your browsing experience:- By keeping an eye on your browsing activity, you may determine whether your anti-tracking program is functioning.
If the tool functions successfully, you should see a decrease in targeted advertisements and tracking technologies used to gather information about your online activities.
It's important to keep in mind that an anti-tracking technology might not be able to stop all tracking, even if it's functioning well.
Furthermore, some tracking technologies might be able to get past the tool's defenses, so it's critical to be aware of any potential restrictions placed on this kind of technology.
Conclusion

 
It is staying protected while online is of utmost importance. Advertising companies are misusing your data to target you with ads and spam. This has been made possible due to various tracking techniques that identify you.
Anti-tracking software detects these trackers and blocks all the ads to allow a safer browsing experience. With anti-tracking software, your browsing speed increases as it declutters the websites. 
Many good free options are also included in the list above so you can use them immediately.