Are you looking for a comparison between AnyDesk vs TeamViewer remote connection tool that is suitable for your business? 🤔
Our many readers asked the same question to us so we decided to do an honest review of both tools.
let's get started. 📗
In today's ever-demanding world, high-paced solutions are the order of the day—one of them being remote access software tools. You can find many organizations of varied sizes and niches, making use of them. 
That is because the world is working 24/7. A client in America may want to troubleshoot a problem during the daytime from America or the UK, to an employee or worker in a third-world country at night. 
Hence, the employee or worker must be able to access the PC or laptop using the same connection through the server, when they are not present in their office. In a worst-case scenario, directly be able to connect to the client's PC or the laptop itself.
They are used for tasks like being able to access files from one location to another, troubleshooting software, and most importantly transferring sensitive data remotely.
Without the remote connection tools, businesses, especially, small firms can be impacted negatively. 
What is a Remote Desktop tool?
A remote connection tool makes use of the Virtual Network Computing or VNC to enable one PC or laptop to access another PC or laptop that is located in an altogether different location, region, or country. 
It is done with the help of an internet connection. Through the remote access tool, several IT personnel, managers, CEOs, and a wide range of other workers in various sectors can connect remotely. 
They can perform a wide range of tasks like configuring software, installing software, uninstalling software, and even troubleshooting bugs. Several corporate profits through this simple and easy method, as they are saving immensely on their overhead costs. 
Not to mention, it offers them instant accessibility to a network, PC, laptop, from different countries, right from their system. It only means that you need not be physically present in front of the PC or laptop; you want to access and perform the task. 
You can do it right from the comfort of your home, office, or just about from anywhere.  Of course, you need to be using the same network facility or internet connection. 
Since, we have an idea of what remote connection tool and its benefits are, we need to find out the best remote connection tool in the market. However, that is easier said than done. Many businesses face problems in identifying the best tools. 
In this post, we will be discussing the differences between 2 of the most popular remote access connection tools, AnyDesk vs. TeamViewer. In the end, we will try to find out which one is suitable for a business. 
AnyDesk vs TeamViewer – An Analysis 👓
TeamViewer was released into the market in the year 2005. Today, it is one of the best remote connection tools used by businesses of varied sizes. Both individuals and companies can easily access the devices that they want to use on the network. 
This remote connection tool provides you with a secure environment to do so. The user interface is simple to use, and even new users find it easy to work on. All you need to do is drag the files and then drop them on the remote desktop using the local system network. 
Why is TeamViewer's technology so special?
AnyDesk, on the other hand, was released into the market in the year 2014 only. The developers launched in Stuttgart, Germany. To use it, you need to install the file and then run it. When you want to access another device, then you need to share the access code. 
The working principle is the same as that of TeamViewer. You will love the fact that you can run on it at high speeds, with slow internet connections. Likewise, you can even share the keyboard and mouse control with other users.
AnyDesk vs TeamViewer: Feature 🤔
If you compare the features of both TeamViewer and AnyDesk, TeamViewer wins hands down. It comes with numerous features that AnyDesk does not offer to you. For example, there is no real-time chat, screen sharing, surveys, and feedback provided by AnyDesk. 
At the same time, AnyDesk offers you remote access, remote desktop control, that are not provided by TeamViewer. At the same time, they both come with remote control, session recording, session transfer, file sharing, and dashboard.
Unique features of TeamViewer:-
We will see some of the unique features of TeamViewer. 
1. Secure Remote Access
The remote connection tool enables you to access a remote system through a randomized access ID that is shared with the other individual. Only when you have authorized the session, others will be able to know the access ID. 
You will be glad to know that the latest versions of the tool come with enhanced encryption for better security. 
2. Multiple Platform Compatibility
With the help of TeamViewer, you can work on several operating systems including android that is quite popular, Windows, as well as iOS. Apart from that, the remote connection tool also comes with cloud-based management services, through which you can use it on browsers, without any installation.
TeamViewer Assist AR – Car flat tire use case
3. Remote Hardware Access
You can give commands to the hardware that is used on your PC to access the cursors, printers, and shut down the system. Apart from that, you can also shut down the PC using the tool. These can be done remotely. 
4. Text, Audio, and Video Communication
The remote connection tool comes with text, audio, and video communication facilities. You can easily communicate with the individual on the other end, without hassle. It enables you to communicate efficiently and relay sensitive information, too during the sessions. 
Unique features of AnyDesk:-
Now, let us discuss some of the unique properties of AnyDesk. 
1. Remote Server Monitoring
Using this remote connection too, you can keep an eye on all the workstations that are present on a server. Not to mention, you can also perform functions on the LAN, including installing applications, transferring files, and troubleshooting. 
If you are using Ubuntu, then you can use it to access a PC that is using a Windows operating system. So, as you can see, it is flexible with operating systems along with adequate monitoring capabilities. 
2. Mobile To PC Remote control
This is a unique feature that is lacking in TeamViewer and maybe the gamer changer of the 2 remote connection tools. You can access PCs right from your system no matter the OS used. 
Not to mention, you can access the system using your smartphone too. You can do that with the help of the AnyDesk App.
The best part is that; you can perform a wide range of activities like transferring files, access desktops, access printers, restart, and shutdown systems. 
3. Whitelist
The remote connection tool offers you the whitelist feature, using which you can let only chosen users and devices access your system. The need for the participants to repeatedly ask permission is not there. 
A small but useful feature. 
4. Widget-inspired user interface
AnyDesk on the latest update has included the user interface. It was derived from widgets. This has helped the user interface to maintain your workflow such that, your file transfer becomes a breeze. 
Not to mention, quick commands can be quickly done without much hassle.
5. Multiple language support
The remote connection tool comes with multiple language support that allows you to communicate in several languages. The need to operate the tool in English only is not there. When users are not fluent in English, they can make use of the language options provided. 
AnyDesk vs TeamViewer: A Detailed Comparison 🤴
There are some pointers that you would want to look at, before making a choice on the remote connection tool that matches your requirements. 
AnyDesk vs TeamViewer: Ease of use & compatibility
The ease of use and compatibility for any remote connection tool is one of the most crucial deciding factors. Having said that, AnyDesk is quite easy and straightforward to use. Users have commended it on the ability to be portable and light. 
In a sense, since it comes with identification numbers that are easy to remember, you can move around with it and communicate with your clients and colleagues instantly. Not to mention, it also comes with chat communication.
It is also quick and fast to work on. However, the only drawback is that it is not compatible with many operating systems. Some of the operating systems that you can work on, which include Windows 10, Linux, Windows XP, and macOS.
On the other hand, TeamViewer comes with excellent compatibility. You can work on it using some of the most common operating systems. Some of them include Windows 7, Windows XP, Windows Home Server 2012, and Windows 2000. 
You can also work on Mac, Linux, Blackberry, Windows Phone, and iOS. The winner here is TeamViewer. It comes with immense features and ease of use. More importantly, it also allows you to work on a wide range of operating systems. 
AnyDesk vs TeamViewer: Security Features
For any remote connection tool, it must come with excellent security features. No users want others to be able to spy or read the files. In some cases, when the information is sensitive, then there can be severe lapses and issues with projects. 
TeamViewer Security:-
End-to-End Security
Security for HIPAA Compliance
Malware Protection
Remote Data Backup
Remote Device Monitoring
AnyDesk Security:-
End-to-End Encryption
Verified Connections
Access Restrictions
As a business, you can ill afford such things from happening. Hence, your information should be transferred safely and securely. Let us check them out. Both the remote connection tools ensure that they provide encryption features for your data. 
Some additional security features include:-
They both come with a screen lock when there is no activity on the monitor for some time. 

You need to start your work only after a 2-step authentication procedure. 

It also comes with a whitelist of allowed users only who can access the sessions. 

Not to mention, there is a blacklist of users who are blocked on the list. 
As far as the security features are concerned, they both are the winners. These remote connection tools take the security aspect very seriously. Not to mention, there have been some false allegations on TeamViewer about the security aspect. 
You cannot go wrong in choosing both of them for your remote desktop access tool. Your information no matter how sensitive is secure and safe when you use them. They also provide you with decent customer service that can be availed if you face issues. 
Which one provides you with better flexibility
Flexibility is the key for users who are new to remote connection tools. Though this is not a new concept, several personal users might find it difficult, if the remote desktop access tool is hard to understand and operate. 
Let us see both of them. AnyDesk is a simple-to-use remote connection tool. Users have commended it for that. It comes with several features that make it flexible. The first feature is that it allows you to work from anywhere. 

AnyDesk Version 5: A Look at All the New Features
It could be even a remote place or location. At times, you need not also be present in the room, and be unattended on the go. The only thing that you need to do is use the password for accessing the session. 
Not to mention, you can make use of the remote connection tool on a wide range of operating systems. There is also a mobile app to use for free. This tool can be used in more than 28 different languages. 
This way, you can communicate with your clients who are based the world over with ease. On the other hand, there is TeamViewer, which enables you to work on several operating systems. You can also work with several team members in a session. 
This provides you with more flexibility when working, and you can complete more work within the stipulated time. It is ideal for working on large projects with international clients. You are not only saving your own time but money and enabling others to work on their schedule. 
The online meetings using this remote connection tool is easy, flexible, productive, and you can share your inputs with each other immediately. This is a close one. TeamViewer is the winner here because it can work on more operating systems, and many team members can be on the sessions. 
This is a crucial aspect for the tools because the more operating systems it supports, the more the individuals are present during the online meetings. The need to download or use an operating system that is compatible with the device is not required. 
When you belong to a large organization, then communicating with your business partners, colleagues, and clients is an essential part of your remote access tools. 
AnyDesk vs TeamViewer: Which offers you better Mobile Access
There is nothing more satisfying than being able to access your sensitive information from anywhere in the world, without worrying that you are being watched. After all, that is the whole idea of using a remote connection tool. 
When you can do it from your smartphone at the comfort of your home, office, car, or just about anywhere, it cannot get sweeter. Let us find out which one offers you with better mobile access. 
This is a difficult one because both of them offer you decent mobile access abilities. AnyDesk has come up with an app for android smartphones, through which you can access systems through your device. 
Using the remote access app, you can easily connect on the system on the same network. Once you are connected, you can just about do anything that you wish to. Not to mention, you can even provide support to your clients through this mode. 
The need to be seated in front of your PC or laptop is not there. Likewise, TeamViewer has its own mobile access ability. There is a remote access app, similar to the AnyDesk, through which you can access systems, using your android, iOS, Blackberry, and Windows device.
As you can see, you are provided with more flexibility in TeamViewer. You can perform a wide range of activities using this mode. You can not only communicate with your clients but also with your colleagues. 
This is suitable for those of you who are on the go always. As you can see, choosing the winner is a tough one, but AnyDesk is slightly ahead on this one. The only upper hand using AnyDesk is that it comes with several mobile features, giving you more flexibility. 
Otherwise, both AnyDesk and TeamViewer are good enough and offer you similar access to the systems. The app is simple to use, and you can make use of the features to communicate with your clients and colleagues when away from your office or traveling. 
Which offers you better file-sharing capabilities
File sharing capabilities are an essential aspect of remote connection tools. We will see about AnyDesk first. It can offer you a copy-and-paste clipboard that is in sync to enable you to perform the transfer of files through your system.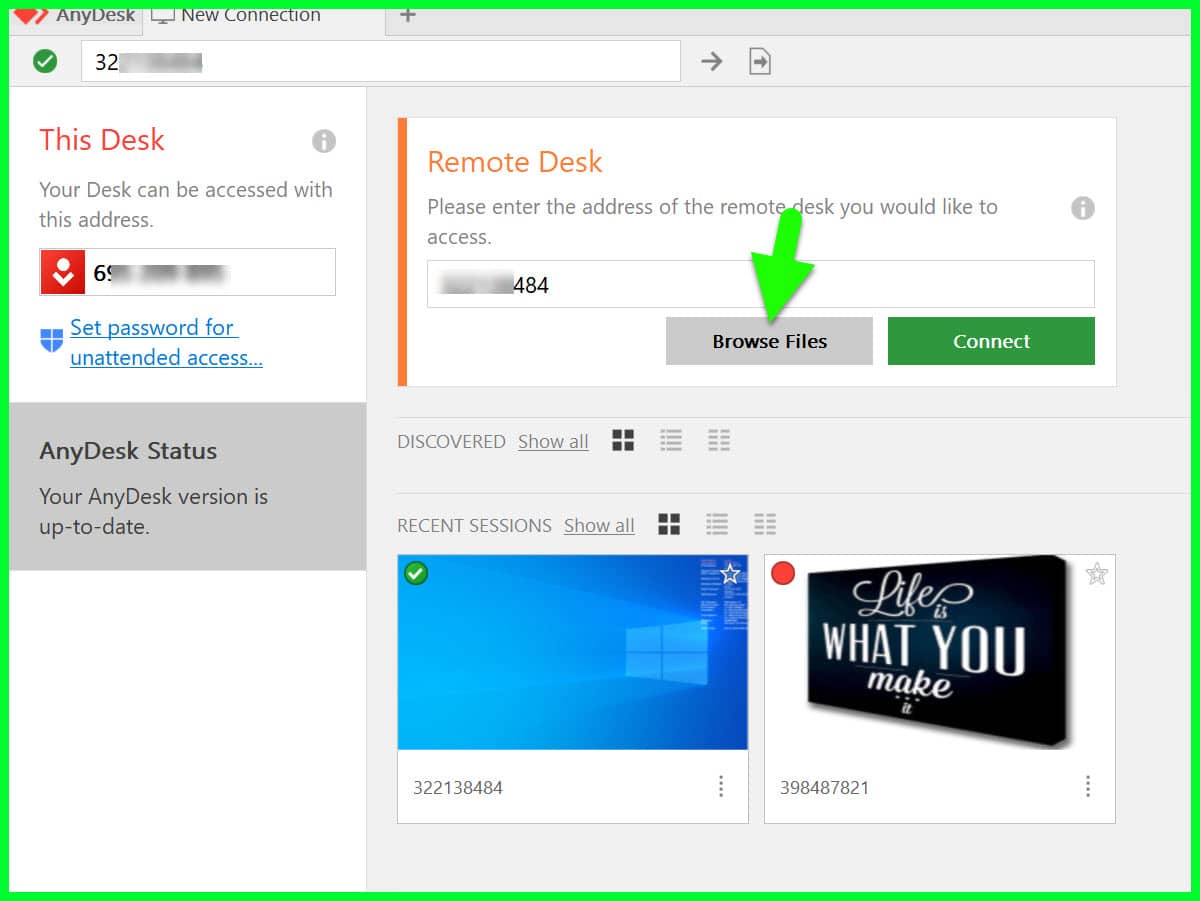 Now, you can use this feature to work on most operating systems. Apart from that, there is a dedicated file manager, which comes useful on both iOS and Windows operating systems. Users can transfer files on Linux but using a different and complicated method. 
TeamViewer, on the other hand, offers you excellent file-sharing options. You can use it to move files. Not to mention, it comes with high-powered encryption. That enables you to move your files safely. 
Some of the file-sharing features include a clipboard that can be shared, allowing you to copy and paste data. Apart from that, you can also share images and text. Finally, there is also a file transfer instantly. 
This helps you to move files at speeds of 200 MB/s. You can also transfer data of 8GB and 3KB. The clear winner here is Teamviewer. The features that are offered are just too good when compared to AnyDesk. 
AnyDesk is excellent and provides you with the necessary file-sharing capabilities. But, you can expect more when you have the option. That is possible with TeamViewer. It provides you with the transfer of data at high speeds. 
Remember, when you want to transfer files, it can take a long time. Hence, choosing a remote connection tool that can help you do the same is crucial to enable you to complete your projects on time. 
Apart from that, you are also provided with the safe passage of your data. Hence, you can transfer sensitive data with peace of mind. 
Which offers better pricing plans
Lastly in our AnyDesk vs TeamViewer comparison, which offers you the best pricing plan, this could be the game-changer in one way. Users on AnyDesk have to pay $10.99/month. This option is ideal for freelancers and individual workers who want to have their plans. 
It is for a single user for a single device. Of course, the main advantage being, it comes with unlimited systems. The multi-user plan begins at $20.99/month. This is suitable for small businesses and firms looking for an affordable policy. 
For large organizations, they can make use of the Power plan that comes at $52.99/month. On the other hand, TeamViewer has some decent features too. Let us check it out. Their first plan begins at $49.00/month.
Now, this is for an individual user, and there is $99.00/month for several users. Now, you could say that it is expensive. But when you want a secure and safe plan that comes with a host of features, then it is quite impressive. 
There is also $199.00/month for large organizations. However, the winner in the pricing has to be AnyDesk. Though TeamViewer comes with a barrage of features and flexibility options than AnyDesk, the low pricing has outdone it. 
Whether you are a freelancer or small business, you will find the AnyDesk pricing plans attractive and useful. But, when you are a large organization with deep pockets, then you can opt for the TeamViewer pricing plans. 
📗 FAQs on AnyDesk vs TeamViewer
Below are a couple of queries on AnyDesk vs TeamViewer that everyone is expecting to answer and I did include the same for my readers.
(Q) With so many complaints, is TeamViewer reliable?
Yes, unfortunately, there have been some complaints against the security aspect of TeamViewer. It is surprising, to say the least because their security features are considered the best in the industry. 
Based on the research conducted by the TeamViewer security team personnel, they found it to be due to poor handling or careless usage of the tool. This was not a security breach, as many users felt. 
Users can rest assured that the remote connection tool, TeamViewer is reliable and extremely safe for usage. 
(Q) Do you need the internet to operate TeamViewer?
Yes, you do need to make use of the internet when you want to use TeamViewer. When you want to connect with a device that is out of your network or region, then you will need and quick internet connection. 
But, when you want to connect to a device that is within your network, then you can make use of it through your LAN mode. However, as a user, you would want to make sure that your internet connection and device you are using it on, is free from viruses and malware. 
(Q) What are the main tasks you can do using TeamViewer?
Using TeamViewer, you can share your PC online, conduct meetings online, also have web conferences and transfer files between PCs. These are mostly the primary purposes of using a remote connection tool. 
(Q) How safe is AnyDesk?
Well, AnyDesk is a safe and secure remote connection tool. If that were not the case, more than 15000 firms located in more than 150 countries wouldn't be using it. Not to mention, you can perform a wide range of tasks using it, when connected on the same network. 
(Q) Can AnyDesk work without the Internet?
AnyDesk can work on low-speed internet connections. Not to mention, they have even provided you with an android app for your smartphones. When you are working in a remote area or location, then you may find this remote connection tool handy. 
(Q) Why is AnyDesk used?
Using AnyDesk, you can perform a wide range of activities like using it to access your PC remotely, you can cut, copy, and paste your information on the clipboard, you can quickly transfer files, and you can reboot a PC in safe mode. 
Final verdict
We hope you benefited from reading the above comparison on AnyDesk and TeamViewer. However, it is going to be extremely difficult to pinpoint the clear winner because they both are perfect remote connection tools. 
On the one hand, AnyDesk offers you excellent navigational properties. It also comes with a simple user interface and straightforward commands. Not to be outdone TeamViewer provides a wide range of features for communication, and you share files without hassle. 
However, when you want a single-to-go solution tool, then our bet would be on the TeamViewer. That is because it is one of the commonly used remote connection tools in the world, with more than 400,000 people downloading it every day. 
Apart from that, you can also access and control the system using the network from where you are based in the world. This has helped several million people stay and remain connected to other users, including their clients, across the globe. 
Having said that, when you see the overall features, the ultimate factor is usage. Does the remote connection tools match your requirements and preferences? We can suggest that you choose the remote desktop tool based on its capabilities to meet your needs. 
A winner is a tool that is useful for your business and enables you to achieve your goals. 
You will want to choose based on that suggestion.