There are many processes that we don't recognize running on our systems daily. The "application frame host" is one of them.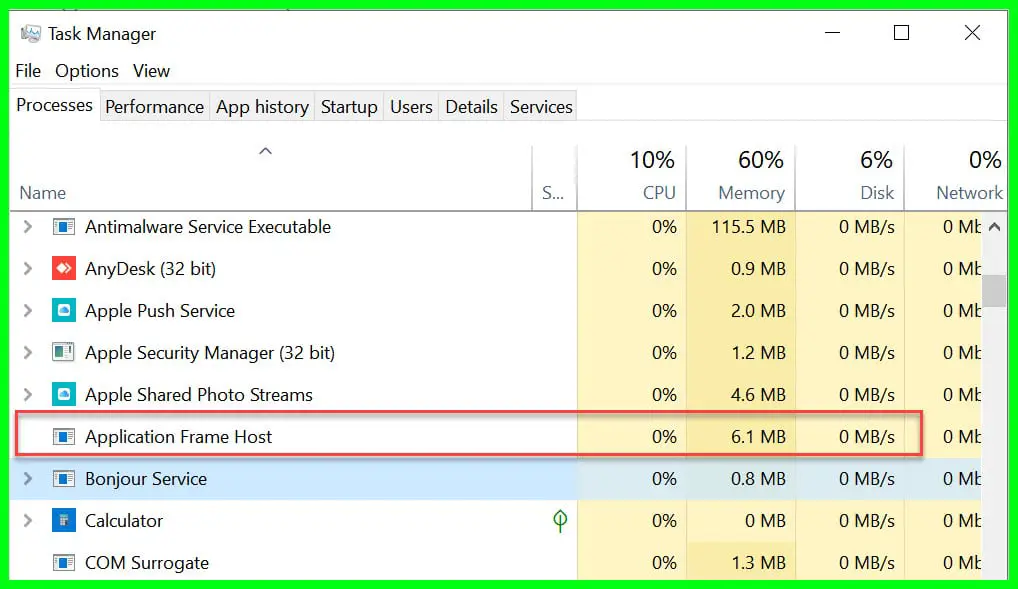 If you open your task manager and go through it, you will usually find processes like the one above. 
Sometimes folks are afraid that it could be malware, so this article will explain exactly what it is and the necessary info you need to know about the process.
What Is The "Application Frame Host" Process?
The process is part of the Windows 10 operating system. It is what is responsible for showcasing all your Windows apps in frames.
That's it. I know, right? That's it in simple terms. To explain further, there are apps called the Universal Windows Platform apps. 
These apps are called UWP apps because they are downloaded from the Windows Store or their default apps of the Windows 10 operating system.
Whichever they are, the apps native to Windows and limited in scope are usually the apps that the "application frame host" frames.
Does The Process Collect Info About Users?
We are very skeptical about many things on our systems because there's a lot of information theft or forceful collection of information.
Sites aggressively track your browsing path, and some browsers send your history back to the app developer, especially when you have issues with the browser.
This has led to people wondering if the "application frame host" is as innocent as it sounds and does not also collect and transmit data back to its developer.
The answer is a flat-out no. Normal or traditional Windows apps are called Win32 apps. These are the most likely able to access your data from other apps on your system.
UWP apps, on the other hand, cannot because they are very limited in their processes. This ensures that they can't access info from other apps. 
So, the process is safe when it comes to gathering your data.
How To Disable The Application Frame Host Process
You should know that while it is possible to disable the process, it will only be for a short time because the process will be up and running again immediately when you open any Store app or any app that needs the process.
The process will also start running at every reboot or restart. The process is deemed necessary for startups by Windows, so it is a waste of time to disable it.
But if you still want to go ahead with the disabling, I'll explain below, and you can follow the process.
Open your task manager and find the process. 
Note: Open your task manager by Right-clicking on the Taskbar and selecting Task Manager from the available options.
Right-click on it and choose End Task in the list of options.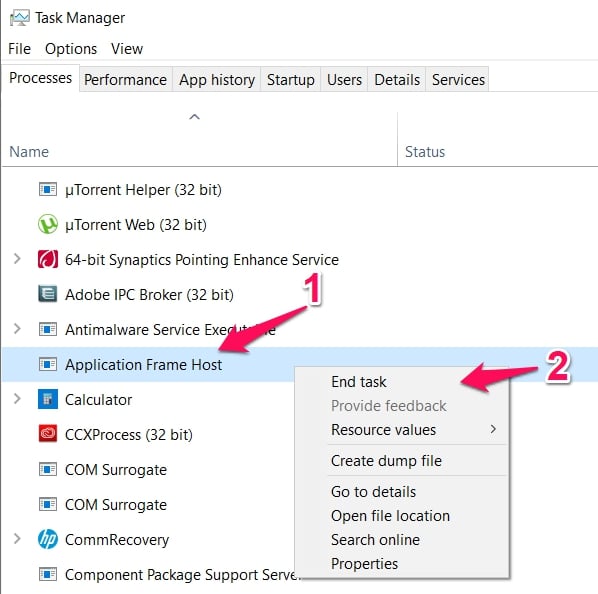 When you end the task, the process is disabled. Of course, as I explained above, this does not last for long. 
How To Find Out Whether The Application Frame Host Is A Virus
We all know how malware, spyware, and other forms of intrusive software usually mimic other legit processes to be able to avoid detection.
Some users have also suggested that this process could be spyware or malware. I won't give a specific yes or no answer. I will only show you how to verify if it's a legit process or if it isn't. 
If it's legit, you can stop worrying. If it isn't, then you should immediately try to use a trusted antivirus app to run a scan and clean your system of all issues. 
Checking File Path (To Confirm If It's A Virus Or Not)
Checking if it's a virus or not is easy. All you have to do is check the file path of the process.
To do that, open your Task Manager. Then find the Application Frame Host process and right-click on it to open a list of options.
In the list of options, choose the Open File Location option.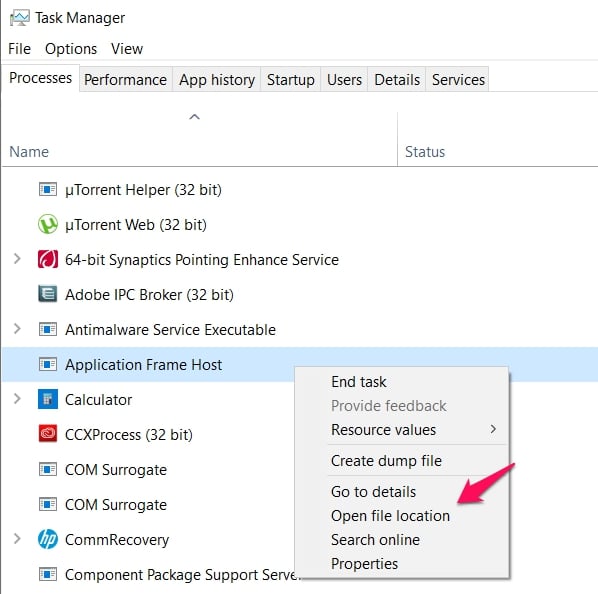 This will immediately take you to where the original file is stored. 
If the navigation looks like what is below, then you can put your mind at rest. It is not a virus. If the navigation is different, you should scan your system with dependable antivirus software.
C:\Windows\System32
Again, if the file isn't in this location or inside a folder in this location, scan your system for threats immediately. 
Does The Process Use A Lot Of CPU Resources?
This is a question that probably can't be answered with just a yes or just a no. Some situations could cause a no to be justified and also likewise for a yes.
No
The default answer is no, though. The process usually does not take much of your CPU resources. 
I tried using many UWP apps, and I only got the process to use about 21 MB. This was also reduced as I closed the UWP apps. 
When you don't have any UWP apps running, it should use close to 0% of your CPU resources.
Yes
The answer isn't that it uses a lot of CPU resources; it is that some other issues might affect the process and make it exhibit behaviors that could cause it to guzzle CPU resources.
Suggestions On How To Fix High CPU Usage
The most likely issue if this happens is that you have bugs on your system, and that should be looked into ASAP. 
Scan your system using the Windows Defender, and you should be able to clear it of all issues causing the high CPU usage.
Another option for you could be just to end the process. It is important to point out that if you end the process, all open UWP apps will also close.
When you end the process, opening any UWP apps again will restart it back. This should clear any bugs in your cache, and the process should be back to normal in no time.
You could also just sign out of Windows and sign back in. Some folks have told me that this worked for them too. 
There are other direct tips you could try too. I'll go through the 3 major fixes you could use if none of the above works for you.
Running a DISM scan

Running an SFC scan

Updating Windows Or Uninstalling Updates
SFC Scan
Your first step is to navigate to the Start button. 
You will have to right-click on the Start button to get some options to appear.
From the options that appear, select the Command Prompt (Admin) option.
You must select the Admin option of Command Prompt to be able to effect changes to your system. 
In the open command prompt, enter this command.
sfc/scannow
Note: When I say to enter a command, you have to input the text above in the command prompt window and click the Enter key.
The scan doesn't take that long. It should be over after minutes, not hours. 
You should be able to repair system files that might be causing the process to display high CPU usage errors.
DISM Scan
What you have first to do is navigate to the Start button. 
Then you have to now right-click on the Start button. 
From the options that appear, please select the Command Prompt (Admin) option.
When the command prompt window opens, please enter this command exactly as seen below. 
DISM /Online /Cleanup-Image /RestoreHealth
Run the command above by clicking the Enter key after inputting the text, and it should normally take a few minutes for your system scan to be over.
This will also help ensure that your bad files that might be causing high CPU usage errors are fixed.  
Updating Windows (Or Uninstalling Updates)
This tip to help resolve the issue when the process displays high CPU usage errors is in two facets. 
You can either update Windows or uninstall the updates you made.
How choose which one to do is almost always based on the situation. 
If you notice the high CPU usage immediately after an update, you might want to uninstall the update.
If the issue comes up independently, you should check if updates are available. 
Microsoft normally releases updates to tackle specific issues with the present version. Chances are, a fix for the issue will be in the next update release.
Uninstalling Updates
The first step is to find your Settings menu, then select the Windows Update option in the settings menu.
In the Windows Update menu, search for and click on Update History.
You will find the Uninstall Updates option there. 
This is where you will be asked to select the updates you want to uninstall. 
The updates will show some information about when the updates took place. This will enable you to know which one to uninstall. 
Just uninstall one update at a time and then check afterward to see if the high CPU usage error is gone. 
Windows Update
Navigate to your Settings menu and open it.
In the menu, select the Change PC Settings option. Then select the Update & Recovery.
In the menu that opens, then choose Windows Update. 
Then select the Check Now option to find out if there are updates.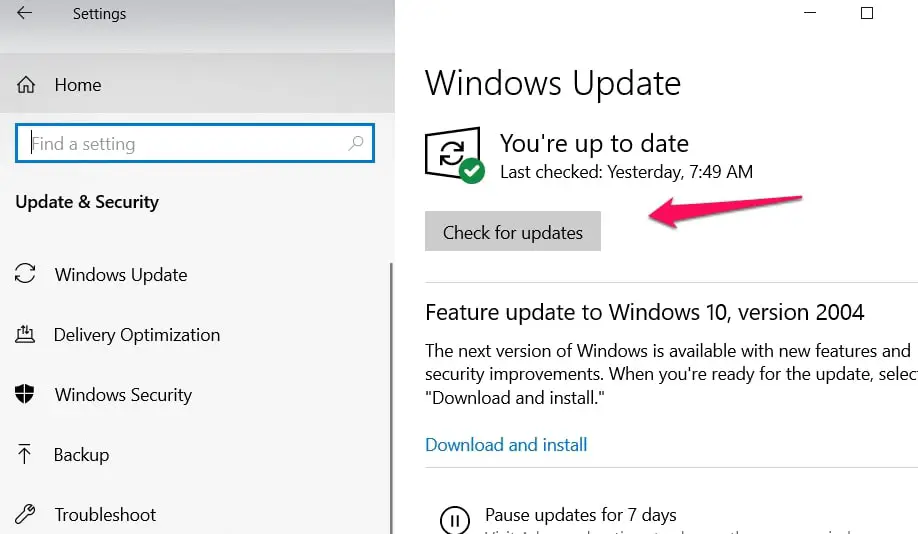 ✅FAQ
What does Application Frame host mean? 
This safe, executable file enables the display of specific applications in a frame. It usually comes with Windows 10. 
Can I disable the application frame host? 
The process can only be closed. All you have to do is go to the task manager, then select the end task to close it.  
What is C System32 ApplicationFrameHost exe? 
The ApplicationFrameHost is a software component that was introduced by Microsoft Corporation only to be used on Windows 10 OS. 
What is UshUpgradeService exe? 
The UshUpgradeService is not an essential need for Windows OS; even if you want to use it, it causes little or no problems. It is a program that runs as ushupgradesvc: USH Upgrade Service used to upgrade USH components. 
Conclusion
The Application Frame Host process is a relatively harmless process that you shouldn't be worried about. 
It does not harm your system, and only on rare occasions does it display a high CPU usage error. The process does not even cause this error, the more likely causes are bugs in your cache or files.
Disabling the process wastes time because it will return after every restart. The best bet is to check its file path, confirm it's not a virus, and scan your system just to be sure.
I hope this article helped you with what you need to know about the process. Thanks for reading.