Are you passionate about drums? Perhaps, a childhood desire that could not be fulfilled due to various reasons. Maybe your kid wants to learn to drum, but you are not sure how to help your child out. 
If your situation is similar to the above two lines, then you are reading the right post. We are here to help you fulfill your dreams of becoming a drummer. Drumming can be fun.
You would have heard a lot of songs and listened to music, with your attention drawn to the drums. During your school days, you would have seen your school choir perform, with your eyes and ears, intently watching and listening to the drumbeat. 
Having said that, drums are one of the most straightforward musical instruments that you can learn. You do not have to attend a course to master them.
The only thing that you should keep in mind when playing is that they come with a specific style to hit to receive the right beat. 
We are equally as passionate as you are, about drumming, and can assure you that our recommendations come with a lot of research and time spent.  
How apps for drummers can help your cause?
In today's technology-driven world, you can find an app for almost everything. It could be anything. Right? Owning smartphones and tablets has broadened the horizons for musicians. More than 85% of Americans now own smartphones and tablets.
The same can be said about drummers. There are tons of apps in the market. You might get overwhelmed with the options that you have in front of you. The main issue with drumming apps is that not many of them are designed for learners or beginners. 
They are specifically designed for professional drummers. Now, we do understand most of our readers want to learn to drum. 
So, how can you choose from these different drumming apps in the market? 
Can you benefit from these apps, and are they beneficial for learning to drum? 
Apps play a significant role in the making of musicians. On that note, we researched and have come up with some of the best apps for drumming that you must check out. 
We can assure you that the following drumming apps are fun and exciting.  
Best Apps for Drummers For All Age: Our Pick 👌
Please note that these drumming apps do not come ranked in any specific order. 
1. DrumKnee 3D
We will begin our drumming quest with an app called DrumKnee 3D. The app is a finger drum app, and it allows you to play the drums using your foot. Maybe it is the only app that lets drummers use their feet when playing it as of now. 
Uptown Funk Drum Cover (DrumKnee 3D)
Yes, you guessed it right. DrumKnee 3D is ideal for kids and beginners. This is a revolutionary drumming app as you can play the bass drum with your foot. Using this app is not difficult because you have to place your smartphone or device on your knee. 
They need to kick your foot. As you know, the bass drum comes with a pedal. It is similar to kicking the pedal, and the device registers a kick sound. Probably, the sound is registered, depending on how you kick the pedal. 
Most drumming apps need you to play the drum with your fingers and not your foot. This one enables you to have the feel of the motion of your foot. So, you actually know and are aware of the right force to kick in to generate the right noise. 
The kit comes with a snare drum, kick drum, two crashes, china, and a tambourine. Yeah, it sounds childish, but nevertheless a decent app for kids. The complete version of the app can be bought for less than $5. 
The free version is excellent. However, they come with countless advertisements that can ruin your experience. Lastly, we come to the sounds. We liked the kit that comes with the app. The sounds are fantastic, giving you the real feel of how things are going to be like. 
The app also comes with an exciting feature known as DK Music. This allows you to download the tracks that come without the drums' sound so that you can play along. 
If you have a child who is keen to learn drumming or somebody who wants to learn how to hit the right chord, then this app will come in handy.
Overall, DrumKnee3D is suitable for kids and beginners.  
2. Drum School
Drum School was founded by a musician named Ferenc Nemet. He wanted professional drummers to experience a new dimension in drumming. At times, you can get lost in the massive world of drumming. 
This is probably the best app as far as drumming is concerned. You could be a beginner or a professional; you will keep learning something in drumming with the app. It comes with four parts, named Techniques, Hits, Grooves, and Practice. 
In the techniques, you can learn from the videos placed thereon playing the sticks on the drums. As you know, hitting the drums with the right technique and speed is crucial for generating the right kind of sound. 
You can only do that when you know how to hold the sticks properly and position your feet for getting the right beat. 
Using the groove section, you can learn to drum intensely using the 260 beats offered in there. As you keep practicing them over and over again, you learn to master them. This is a crucial aspect of drumming. 
Next, you have the hits section, where you are taught how to hit the drums with the right amount of force for getting the right beat. This is one of the toughest parts of drumming. With some practice, you can master it. 
Lastly, you have the practice section, where you are made to do more than 130 exercises. These exercises can immensely help you master the art of drumming. The drumming app comes available on both android and iOS. 
The app is priced at less than $6. You can make use of the free version for the exercises. Not to mention, they come with plenty of advertisements that can spoil your mood for drumming.
The paid version offers you features including jazz, swing, rock, heavy metal, and more.
Drum School App for Android
On the whole, Drum School is a technology-filled drumming app that takes you through the basics. It is suitable for mid-range or professional drummers.
Of course, beginners, too, can learn a thing or two using this drumming app, understanding reading music notation will have no problems adapting to this app.  
3. Rhythm Sight Reading Trainer
Rhythm Sight Reading Trainer is next on our list of the best apps for drummers. So, what is unique about this drumming app? If you are finding it hard to scan your music for better performance, this app can help you keep up.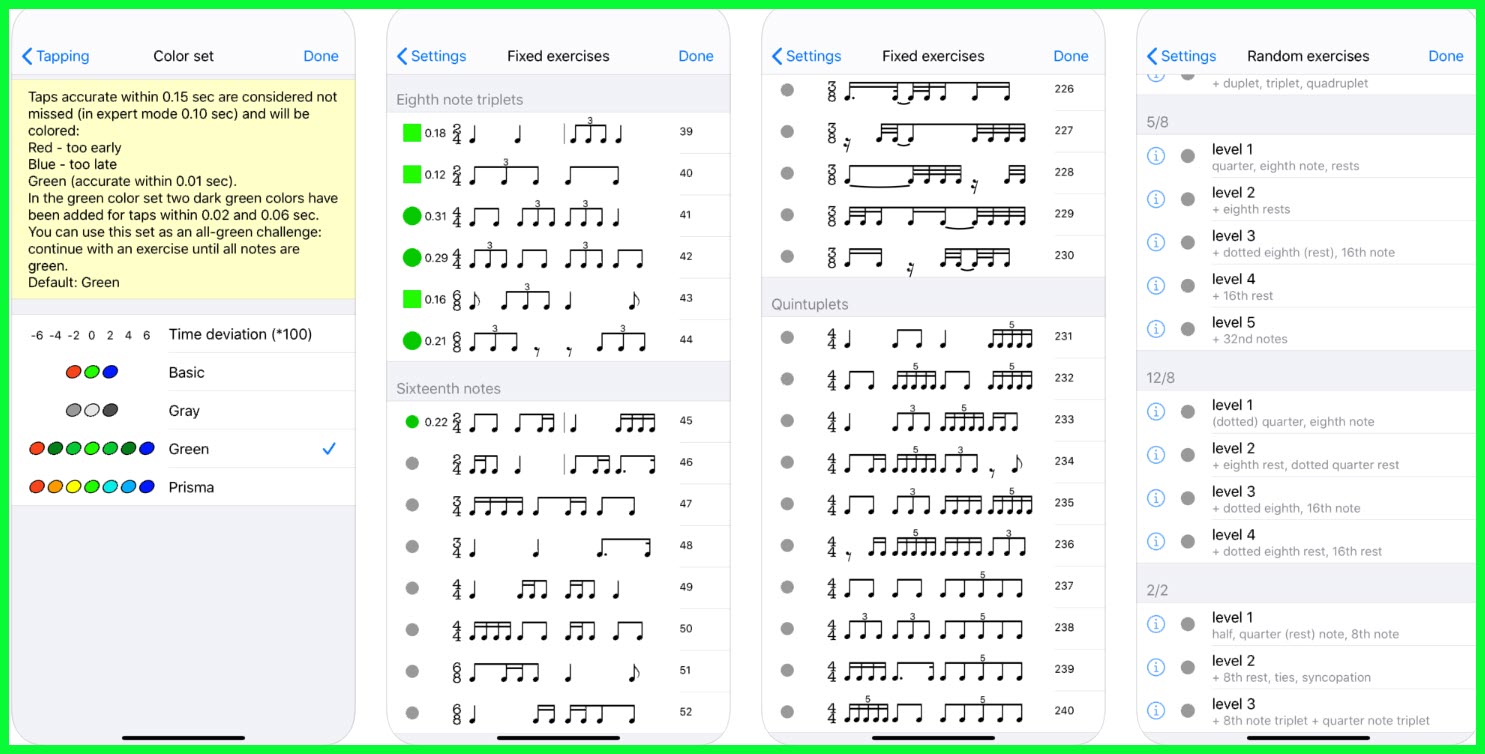 This iOS app can be bought for less than $3. Users have labeled it as an educational tool because it helps you stay on rhythm on your practice beat on the drums. The app also comes with different levels suitable for beginners and professionals. 
Using this drumming app, you can become proficient at reading the beats, and more importantly, manage your timing. Drumming is about getting the timing right. When you are not able to, don't fret, because you can use Rhythm Sight Reading Trainer.
The drumming app comes with a wide range of test options that lets you analyze your beats. Hence, you can improve your drumming skills with time. We were pleasantly surprised at the feedback received by Rhythm Sight Reading Trainer. 
This is something as it encourages you to learn and practice drumming. This is a significant flaw in most of the apps that we have come across, and few on this list.
Though they come with outstanding features, they lack that push into the user for practicing to master drumming. 
According to one user, he likes the app because it comes with no bugs, unlike most of the available apps. He also goes on to say that this app ignited his interest in learning to drum. 
Another user says she was hesitant at first because of the poor response from other apps. She went ahead and was immensely satisfied with the customer support and answer to queries. She also likes the feature that lets you edit your rhythm exercises depending on your music piece. 
This is one feature that lacks in most of the apps for drummers. It also lets you customize the beat and provides you with metronome sounds. We were astounded with the clarity in the sounds, without any beeping or ticking. 
The sound of the beat was just amazing, and we were surprised by how far ahead it went. We also liked the feedback that instantly appears so that you know where you can improvise on your beats.
4. Music Maker Jam: Google Editors' Choice App 🤴
Music Maker Jam is next on our list of apps for drummers. We felt that this app is suitable for professional drummers who want to refine their beats before a performance. At times, you get nervous about how your hits sound to your crowd. 
FREE Music creation app for iOS & Android | Music Maker JAM
The app comes with a barrage of music like rock, pop, heavy metal, hip-hop, blues, and others for you to go through. You can design your own track with the loops provided along with your recording. 
Once you are done with your track, you can forward it to different social media tools through emails and text. This flexibility is essential for budding artists. We loved the fact that this drumming app is free for use on android and iOS devices.  
5. Reflow Score Writer
Reflow Score Writer is another app for drummers. This music notation app comes with a music sheet and unique tablatures. Apart from that, it also has pre-existing files.
It is effective because you can play several instruments using it, including guitar, banjo, piano, bass, and several others. 
You can save your music on your Dropbox and iCloud. The need to worry about losing them is not there. Users can import files from the smartphone and then play them using features. 
Some users have been very positive about using this drumming app. Though the earlier versions came with few bugs, they have fixed it now. Using the drumming app is seamless and comes with a tag editor that works efficiently on your smartphone. 
The app allows you to sync well with other iOS devices and gets your job complete. Not to mention, it helps you create your own musical ideas well. 
Does it come with any flaw? You cannot call it a drawback, but for the moment, the drumming app can be used on your iOS device. So, if you do not own one, then you might have to look elsewhere for inspiration. 
Reflow Score Writer comes with all the features that can help you become a budding musician. It is worth your time and money when you are keen to make a name for yourself in the competitive music industry.  
At the time of our research on Best Apps For Drummers For All-Age, we found a video about "What If All Sound Disappears for a Year" which is worth watching. 😎🤴
What If All Sound Disappears for a Year
6. The Drum Dictionary
The Drum Dictionary is your best option when you are concerned about getting your music sheet lost. If you are a musician, who travels a lot, then these things happen, and at times, you tend to lose track of the most crucial document, music sheets. 
In the end, your performance is poorly affected, so is your confidence. So, is there a way through which you can keep your music sheets safe? 
Yes, it is possible, with The Drum Dictionary, you can now keep your sheets safely, without losing them. Now, carrying several papers in your backpack or hands can be stressful for musicians. 
Think about it. As it is, your mind is focused on the music, and you are tensed about your performance, more than anything else. You cannot keep track of your music sheets. That is why, instead of worrying too much, you can make use of The Drum Dictionary. 
Those of you who travel often or frequently within your own town or city for performances might consider using this drumming app. The interface is simple; you can easily store all your bats inside without fear of losing them anymore. 
You segregate the beats into different categories accordingly. The app comes with several instructions, guiding you on how you should go about things. To help newcomers, it also comes with a few audio demonstrations.  
7. ShowOne – Pro Backing Tracks
ShowOne is another drumming app that comes with a host of features for musicians. At times, you wonder if you can play a song with drums. Perhaps, how your favorite song or music would sound when you play drums. 
However, you struggle to find apps that can help you play your drums, without affecting the song. You see, songs sound quite different, when you use a single instrument. It would sound better when you can add some fusion to it, without several instruments. 
That is when ShowOne comes into play. You can play your drums with the recorded music, and the instruments are filled in. Those areas that you might not be able to fill in are performed using this app. 
The best part about this app is that it is free on iOS. So, if you are a solo artist who owns an iOS device, then you are in luck. Several users have commended the ability to play and even create new music through recorded songs. 
Perhaps, it gives you the much-needed inspiration that you need. For example, if you are a huge fan of Metallica, then this is an ideal app for learning how to play drums. It lets you import songs through different formats in various storage devices. 
It is a flexible app and lets you split the playback into several channels. Depending on your music needs, you can split the songs. The voice can also be added if you want. You can connect to an audio interface if you want to. 
It comes priced less than $9, which is reasonably placed. We liked ShowOne because it comes with a simple interface, suitable for beginners. When you compare it with other drumming apps, this is priced cheap. 
You can import tracks using different formats and control pitch, tempo, and other parts of the songs. Users can also make use of the guide of the functionality of this app. We did not like the fact that you have purchased the app for unlocking all the features. 
In conclusion, ShowOne is one of the ideal backtrack tools for beginners. Even professional musicians can find it useful for designing new tracks.
The features are simple to use; you can also import music in several formats; however, you need to purchase it to utilize it fully.  
ShowOne 1.3.4 - What's New?
8. Drums! – A studio-quality drum kit in your pocket
We would like to finish our apps for drummers with a loud bang. Welcome to Drums! Yes, the name is Drums! If you are yet to own or play drums in your entire life, this is probably the best time to learn it. 
This is probably the best drumming app available in the market, thanks to its cheap price, excellent features, and simple teaching method. Users have benefited immensely through this app. 
It is the next thing to have real drums in your home. You can drum and practice your way for hours, playing your favorite tunes. Cinnamon Jelly Ltd., presents to you a flexible app, which lets you hit the drums on your smartphone or device for real. 
This sort of gives you a similar experience to the drums. It does not matter if you play left-hand or right-hand. What matters is the tone in which you hit the drums to learn it. This is one of those apps that allows you to develop your own style. 
Whether you want to play for fun or learn to drum, having your own drumming style is exciting. Perhaps, you can have a small performance in front of your family or friends, who will be pleased with you. 
This drumming app comes with three kinds of kits that have styles and grooves for you to master. The pricing is good as it is priced less than $1, which most of us can afford. You can get one kit for free while the other two come with the purchase of the app. 
The music library in the app is massive. You literally have hundreds of songs to choose from and practice. For beginners, you can record your tones with the music. You can load tracks and then export them in different formats, depending on your requirements. 
You can also select from single or double kick drum setup. The range of sounds is also good. Using the low latency, you can hit a drum for instant noise. We were also impressed by the graphics on the app, offering you with quality images for better viewing. 
We highly recommend Drums!, as it is cheap, quick to learn, and the interface is good. This app provides you with an enhanced way of learning drums for a real and content experience.  
9. Skills & Fills
Skills & Fills is a specialized app that is derived from a book written by Dennis Tideman. Both amateur and professional drummers will find this app helpful for their cause. It comes with a wide range of features where your skills are tested. 
You can master your skills in drumming. It comes with several demonstrations through videos that help you understand and learn how to play the drums. More than 70 examples are offered in audio files with single, double, power fills, and linear fills. 
These are crucial for drumming. The lessons are beautifully presented to you. Lessons come with screen texts that you can read through on your android or iOS device. The drumming app is priced at less than $9. 
They have also provided you with a  free trial of the app. So, you might want to give it a try and then decide if this app is for you or not. When you want to push yourself to add new tones to your music, then this is a good app. 
On the whole, the app is suitable for beginners as you learn most of the essential drumming skills like fills.
Not to mention, you can also develop your vocabulary immensely. With the different kinds of tunes that they come in, you can build your own music effortlessly.  
Summing up 
We have come to the end of a discussion on some of the best apps for drummers. If you are passionate about drumming or learning to play the drums, then here is your best shot. Drumming offers you a workout for the entire mind and body. 
You are playing the drums with emotion and passion, and you can plateau the progress of your drumming. We would recommend the best drumming apps as Drum School and Rhythm Sight Reading Trainer. 
They offer you powerful drumming capabilities and features. You can play according to the beats that you want. More importantly, you can grasp the drumming abilities quickly. You may want to give other apps a try.  
They are useful in their own ways and can help you master drumming. As you can see, the drums need not be a difficult instrument to learn, when you have the right tools in your hands. 
With the right kind of apps for drummers, you can rest assured that you are headed for the right beats. 
You can use these awesome drumming apps for livening your education, experimentation, and having fun.