It's a world of online banking and transactions. You're shopping online; you'd just pay with your card or UPI. Even when you're out purchasing things at local shops and the bill is too high, you'll pull out your mobile phone rather than your cards to pay for the purchase via online banking applications.
These applications just make it easier to do your transactions. However, as you do that, money and financial management become more important than ever.
Since you have easier and all-time access to your accounts, you may tend to spend more money than you normally would. So, it's necessary that you have something in place that will help you save your money too and allow you to budget and account for your expenses intelligibly.
Luckily enough, there are applications for this money management purpose as well, for instance, Albert. Albert is a complete money management application that you can use to have better control of your finances.
It's nothing like other money management applications that have all their focus on saving your money. Albert goes beyond these kinds of applications, and in addition to helping you with savings, it helps you with investments and other financial management activities as well.
Additionally, they have dedicated and professional financial advisors who you can approach for better financial planning. With that, Albert is the best money management application that you can find over the web.
However, one little issue with Albert is that it limits the savings you can make unless you take a paid plan. Even in the paid plan, the annual percentage yield (APY) is extremely low. This makes you wonder if there are more apps like Albert that you could give a try. Well, there are!
Here, we have compiled a list of some of the best Albert alternatives that you can try to achieve your money and financial management goals and objectives.
Best Apps Like Albert – Our Top Pick👌👌
Managing your money must always be on your priority list. But it's definitely not that easy. With all the unending costs and expenses on your list, you're hardly ever able to save. But apps like Albert make this much easier.
Albert itself is the perfect money management application that will help you save your money and even put it in some lucrative investments. Moreover, it helps you with expert financial advice as well, and that too at the hands of real humans with years of experience and expertise.
So, Albert is a perfect money management application for you. However, one issue with Albert is that its average percentage yield is very low. Additionally, it puts a limit on your savings.
Considering these reasons, you definitely want to look for some other apps like Albert that would have similar features and functionalities or even better than that. That's what this article is all about.
So, let's begin the reviews for the top applications that come as great alternatives to Albert for money control, savings, budgeting, investments, and other aspects related to financial management.
1. Cleo – Apps like Albert To Get To Know Your Money
One of the best banking and money management applications in competition with Albert, Cleo is the perfect application to make some savings, control your spending, and even build a credit score.
It is designed using artificial intelligence that helps you create your personalized budgets and also makes sure that you don't exceed your spending limits.
Additionally, you can make savings without even making an effort. The built-in artificial intelligence in the tool shall analyze your budgets and spending and accordingly put the money into your savings.
Moreover, you can set a limit on what you spend too so that you don't go off limits and be in a financial crisis. Even if you fall prey to that situation, the application has a way out.
It helps you set up an emergency fund wherein you can get a cash advance against your salary. However, this fund has a limit to it, and you cannot withdraw more than $100.
Moreover, the limit for new users is even lesser. So, that comes as a slight drawback. But even $100 in a crisis situation is a great help.
One of the major highlights of this application is its chat feature. With stellar artificial intelligence designed for the chat feature, Cleo makes it easier than ever to keep track of your savings and budgets. You just have to type in a message, and the chat feature will answer you back.
In addition to direct answers to your questions, the application also has a fun element to it in the chat feature. You can just type in the words "Roast Me Cleo," and the chat feature will let you know in a quirky way about how badly you messed up with your budget.
Besides that, you can even build your credit score using this application by paying through the Cleo Credit Builder Card.
So, if you're interested in building and keeping a great credit score so that it's easier for you to have load approvals, then this application is going to help you well.
With all these features and functionalities, you're going to love the Cleo application for keeping track of your money and finances.
Download the App on Google Play Store
Download the App on Apple App Store
2. Dave – Banking for humans
Another application like Albert, Dave is a fairly good option for you to try if you operate a checking account.
Just like Albert, Dave too has features and functionalities to help you put your money automatically into savings and make sure that you never run out of money.
The application also helps you keep better control of your money and finances by helping create proper budgets and making sure that you stay within the limits that you've put for your spending.
The application further helps you in a crisis situation by allowing you to get up to two paychecks in advance. You only need to link your deposit account with the application for this.
Moreover, you can even get interest-free loans up to the amount of $250. You can also use an overdraft, that too without any interest charges or hidden fees.
Another great thing about the application is the ability to withdraw money from ATMs as well. After you become an accredited and eligible user of the Dave application, you can get a Dave card that works like any other debit card.
You can swipe the card in over 32000 MoneyPass ATMs and withdraw money just like that, whenever you need. Alternatively, you can use the card for making payments at shops as well.
It's also a good application to build your credit score. You can buy credit over the application, and as you pay timely, you'll start building your score. However, the credit that you can buy is limited to $100, so that's quite a constraint.
Another constraint comes from the fact that the application supports only checking accounts. So, there are not many options for you.
However, it costs really less, and you can even use it for free for at least some features. In that sense, you can certainly overlook the downsides and try the application to see how well it works for you.
Download the App on Google Play Store
Download the App on Apple App Store
3. Mint – Apps like Albert For Budget planner & tracker
Mint is another personal money management application that you could try if you wish to find an alternative to Albert. One of the major highlights and benefits of this application is that it seamlessly connects and syncs all your bank accounts and cards.
This way, it's easier for you to manage even the most diverse banking transactions from a one-stop solution.
Any Day Can Be Your Big Day
Not only can you link your cards and accounts in the application, but you can even link your investments, loans, and cash. This way, you'll have every detail of where your money is.
Besides linking all the necessary things to the application in one place, the application also offers flexibility to run it over both mobile and laptops/PCs. The application has a website too that you can access and have a desktop application.
Both the mobile and desktop applications remain in perfect sync with each other, thereby making sure that you're able to operate them well from any device that's accessible to you.
In addition to these features, the application has all the basic features for creating budgets, managing your spending, and saving your money for the better. Additionally, you can get detailed information on personal loans and see what kind of loan would suit you the best.
However, the application lacks some advanced features of Albert, such as helping you get overdraft or advance paychecks. However, you do get some credit monitoring tools that help maintain your credit score, only that you have to get the credit from other sources.
Also, it doesn't provide any suggestions or advice for investments. You can only see and track the investment you make from time to time.
With these constraints, it's not a very advanced application. But it sure can aid you to a certain extent, especially for limited needs and requirements.
In fact, if you don't need a lot of financial advice or help with investments and can do with some advanced features and functionalities, Mint will help you even better than Albert. So, the tool is definitely worth a try.
Download the App on Google Play Store
Download the App on Apple App Store
4. Acorns – Apps like Albert To Save & Invest
With more advanced features such as more financial literacy content and an in-built robo-advisor, Acorns is not just a money management application but a perfect platform for any person who wishes to be a financial wizard.
Not only could you save and invest your money, but you can keep reading the financial literacy content in the application and know all about investments and savings.
This content will even help you keep control of your spending, given that the application does not come with an auto-budgeting feature. So, you can gain the knowledge and then work based on it.
Besides that, the other features like paying later, getting the money early, and rounding off the spending you make help you save and budget as per your financial capacity.
Basically, the application rounds off the credit card transactions that you make and put the rounded-off amount into your savings. So, you are able to make the most of your spending as well.
In addition to rounding off your money for savings, the application also helps you out with making the right investments and getting the most out of them. Moreover, you can choose the investment options as per your preferences and put your money for growth in multiple areas.
Another great thing about this application is the signing bonus that you get in it. As soon as you sign up to Acorns, the application offers you a signing bonus of $10. That's a great start for you and will fill you with more motivation to save more money, invest it better, and have perfect control of your finances.
Moreover, it doesn't even cost a lot. The only problem with the application is that there's no auto-budgeting feature or even a feature to design a budget within the application.
On top of it, there's no human advisor either. All you've got is the robot and the content in the application to help you out with things around in the app. So, it's more of a technical application if you look at it that way.
But the user interface is easy to understand, and you'll quickly get the hang of things in the application. So, it's a good application, and with the features that it provides, you can overlook the downsides after all and give the application a try.
Download the App on Google Play Store
Download the App on Apple App Store
5. Digit – Apps like Albert To Save Money & Invest
Another one of the best Apps like Albert to manage your spending and finances, Digit, will help you keep complete control over your money. The application is designed to track your spending habits, and based on the same; it helps you put some money into savings.
You can set a limit on your spending and make sure that you stay within your budget. Moreover, the savings in the application happen automatically.
The application shall pick up your spending habits and patterns and automatically transfer some amount from your account into a savings account on Digit. This way, you would save even without working for it.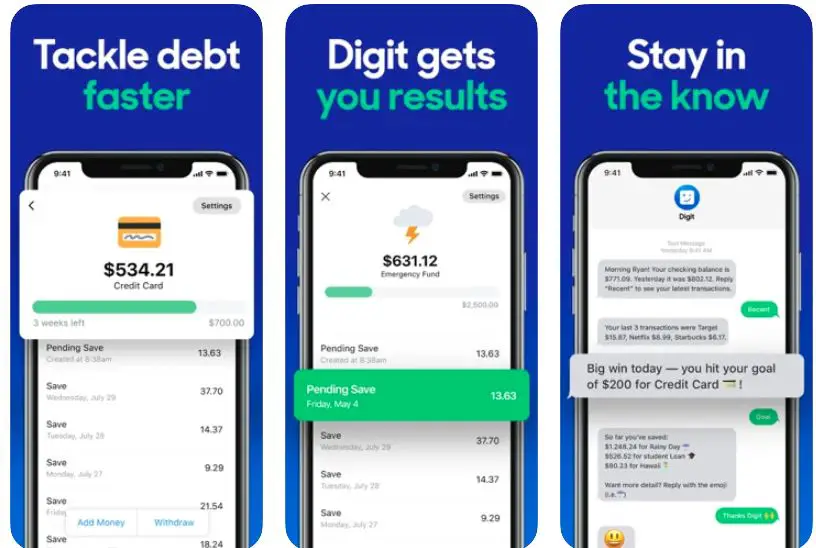 Moreover, you need not worry that it's taking too much from your account and putting it into savings. The application will ask you your savings goals and stick to them when putting the money into the Digit account.
Additionally, you need not even worry about exceeding your spending limits. The application will notify you when you're close to your budgeted limits, and then you can start cutting back on your spending.
Another great thing about this application is the fact that it keeps all your money, finances, and transactions secure, with the security features matching the safety levels of government and military-grade applications.
With all these features and functionalities, this shall be an amazing application for you to put some money into savings so that you never suffer any kind of financial crisis.
Download the App on Google Play Store
Download the App on Apple App Store
6. Personal Capital – Apps like Albert To Track Your Spending
Just like its name, this application is a personal money management application to help you manage all your money and finances.
You can link and view all your accounts in one place in this application and even make investments as per your savings and financial goals.
Moreover, you can prepare well for your retirement with the retirement planner in the application. This secures you for the future as well, and you can feel more secure and free in terms of finances.
Personal Capital Nov. 2020 ANDROID App Store Video
Additionally, you can make sure that you never suffer a crisis situation with the constant savings that the application makes for you.
Furthermore, the application is aided by human advisors who are financial experts. These advisors will help you well in making the right investment decisions, and you'll have a profitable portfolio on the application in no time at all.
The only issue with getting the help of these financial experts and professionals is that you need to pay for it, meaning that you would have to move to the paid plans of the application.
Nonetheless, if you feel like you don't need such help, you can enjoy the features available in the free version of the application, and as you explore the application further, you can decide if you like it better than Albert and if it would be worth paying for.
Download the App on Google Play Store
Download the App on Apple App Store
7. Prism – Apps like Albert For Bill Tracking
Last on our list of the best Apps like Albert is the Prism application. The application is not anything like any other money management applications we've discussed so far.
Unlike the other applications that help you save through investments and keep control of your spending, Prism helps you save through your income and expenses.
The application will make sure that you never miss on paying a bill that's due, thereby saving a lot on the amount of interest you would otherwise have to pay.
The application will also track all your bills and put all your expenses and savings in one place. This way, you can have everything right in front of your eyes and make sure that your spending is in control and your income is credited to your account on time.
The application also provides you with a choice as to how you'd like to pay. You can pay through a bank transfer or use your credit or debit card for the purpose.
The best part yet about the application is that it's entirely free to use. So, you need not put any money into the application, but you'll have all the money flowing into your account.
Well, not as much, but it'll still put you somewhere on the savings chain, and you'll be in a better place with your money.
With all these things in store, Prism is an application worth a try, even if it lacks many features of Albert.
Download App on Google Play Store
Download App on Apple App Store
✅ FAQ On Apps like Albert
Keeping your money safe and secure along with having financial control, freedom, and security is highly essential for you to make through your spending and, more importantly, life. Albert and other apps like Albert are great to help you through with the same.
However, as you use these applications, it's necessary that you have all your doubts cleared. We've attempted to help you with the same by answering some of the frequently asked questions.
1. Do the applications like Albert help borrow money?
Well, many of these applications will help you borrow money. Some applications directly grant loans, while some others provide advances on your salaries.
One of the best applications to get a loan is Dave. Other than that, you can also have advance money and overdrafts from Cleo, Mint, and Acorns.
2. Does Albert cost a lot?
No. Albert doesn't cost a lot. You can use the application for as little as $4 a month, and you'll get all the advanced features and functionalities that the application has in store to offer.
However, even if that seems like a lot to spend on a money management application, these alternatives cost much less than Albert, but then they lack some features too. Nonetheless, you can give them a try.
3. Are these applications legit?
Yes! All the applications on our list are 100% legit, and you can trust them. They'll keep your money safe and make sure that you're in good control of all your finances and money.
4. Will my money be secure in these applications?
Yes! Your money shall be absolutely secure in these applications. Considering that the applications are legit, you can trust them.
Moreover, these applications have all the safety and security features that you need to keep your money safe and secure and even prevent it from any kind of fraud. So, you can be sure that all your money is safe and your finances are much in control.
Final Words
Considering how important and necessary money management and control are, you need to have the perfect solutions to your aid. These applications are designed to help you at best. You can use Albert itself or any of the other apps like Albert on our list.
We hope you found this article helpful and are now having the perfect application to help you out with managing and controlling your money and enjoying financial freedom.