Hoop is an app that connects with Snapchat, enabling users to meet strangers or make new connections. The hoop does not have a chat option or location information.
The Snap profiles or personal details, like the age and gender of the teens, can be linked. They also feature a few pictures and explore the pictures of other users.
These other users review the profile and request them to add to the snap chat. Some gems and points are added to them.
The profiles contain both males and females without birth date verification. Points will be allocated to the teens for everyday logging, acquiring snap friends, sharing their snaps, conducting surveys, etc.
Some apps allow the user to send messages or view profiles for free, boosting your search engine ranking.
There are plenty of apps to make new friends or to look for a relationship. In this article, we will look into certain best apps like Hoop.
What is Hoop App?🤷‍♂️
In Hoop, the users from Snapchat can be connected via social networking platforms. The app functionality is simple, the Hoop app needs to be downloaded, and then the user can easily connect the Snapchat app to the Hoop.
You can click on the Snapchat icon to obtain other people's Snap IDs. A request will be sent to share the person's Snap id. Moreover, the Hoop app does not have a chatting option.
Once you connect with friends and share the snap ids, you can chat with others or have fun. The Hoop app increases the person's Snapchat score. When you recommend Hoop to others and install it, they will receive good scores.
Like Snapchat, the Hoop app also has diamonds. You can collect more diamonds as you regularly log in, view the videos, take the surveys, accept Snap requests from others, and make new connections.
The hoop app can be used to search for a partner or friend. In this article, we will discuss some of the apps like Hoop.
Best Apps Like Hoop – Our Top Pick👌👌
1. Yubo – Other apps like hoop To Make friends Worldwide
The Yubo app is primarily designed for the teenage audience. It is a popular and well-known platform for high school students.
This app is welcomed by all and is a social video live-streaming app used to find new friends and text or chat, explore communities or groups, and build a community that interests you.
Yubo, the social discovery network for Gen Z
It is a social media app that enables you to generate new friends so that you can live stream, have fun, chat with your new friends or play a wide range of games with many participants.
Even though similar apps are available, only a few are outstanding, like Twitter, Facebook, Instagram, etc. Currently, the Yubo is drawing the attention of the people.
Pros:-
Yubo comes free of charge 

The signup process is easy 

It has space to communicate the commonly arisen questions for teens.

To ensure safety, the location can be hidden.
Cons:-
Below 18 years of age need to have the consent of the parents

Less attractive for the older people 

Can easily be fallen prey to scammers
You may like to read our guide on the 11 Best
Apps like Yubo
To Chat, Play, and Make Friends.
Download the App from Google Play Store
Download the App from Apple App Store
2. Wink – Apps like hoop Snapchat To Make new friends and chat
The wink app is another app for making new friends around the globe. Parents must know that it is easy for their teen to start a conversation with a stranger by just swiping right or left. 
While you swipe right on the user's photo and right on yours, they will be added as your friends. There are only a limited number of swipes available per day by spending the gems you have earned in various ways, like sharing the app on social media, checking your app daily, etc.
It does not have age verification between the apps like Snapchat. At times it can be misleading as to whom you are connected to.
Pros:-
Good interface

Easily connect with unlimited friends
Cons:-
Not for kids

Safety needs to be improved 
Download the App from Google Play Store
Download the App on Apple App Store
3. LiveMe – Live Video chat
Video is emerging as a popular digital channel. There are plenty of videos available on social media feeds. This is one of the popular live broadcasting apps for making new friends in your locality or worldwide.
The app also lets you chat with your favorite stars or celebrities. It also enables you to watch different videos over a choice that includes dancing, singing, gaming, etc.
The users can broadcast the videos using their Android devices and watch broadcasts from other users. When others start with live broadcasting, you will be notified instantly; when you begin a broadcast, other users will be notified.
Pros:-
Video call is more personalized 

There are fewer distractions

Not so expensive
Cons:-
Requires additional training 

Lacks multitasking
Download the App from Google Play Store
Download the App from Apple App Store
4. Swiping – Make Snapchat friends
With this app, you can simply swipe right and find new friends globally. You must have a snap chat account to log in.
This app enables the user to share their story, and to write a comment for different articles or posts.
You can also connect with people worldwide, video chat, share pictures or send messages to them. As with today's generation, visual content is shared more extensively than textual content.
Now, you can even choose to exchange your IDs to connect and even have a real-time chat with people before making them your friend on the app.
Pros:-
User-friendly experience 

It has less commercial contents

Enables to be updated with the social circle

Wide range of filters
Cons:-
It has a limited audience 

Searching for family and friends is not so easy

The real face or Identities can be hidden
Download the App from Google Play Store
Download the App from Apple App Store
5. Purp – Make New Friends
Here we have another on our list known to be the best apps like Hoop. Purp is very much similar to Hoop. The prime focus here is to make new friends from all around the world and discover their cultures.
You can continue sharing stories, videos, and images and chat with your new friends. Similar to Snapchat, you can continue with your Streak.
Simply by swiping right, you can ask your new friends for their Snapchat ID and continue to interact with them. For this, you need to earn gems which is pretty easy to achieve.
Furthermore, you can be banned from the app for life if you tend to bully anyone or share illegal content.
Pros:-
The quick and easiest way to meet strangers

Very similar to Hoop

Free sign in

Enables privacy protection
Cons:-
Download the App from Google Play Store
Download the App from Apple App Store
6. Friended – Apps like hoop To Message new people
The friended app lets you talk with like-minded people and discover new friends. The app helps to meet new interesting people and get their attention.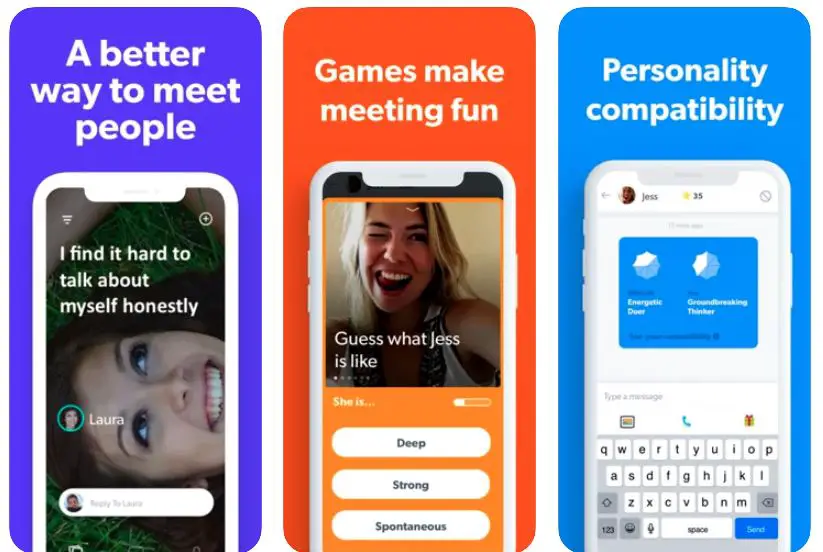 With this app, you can also look for a perfect match without worrying about the age difference. This app lets you meet people near your locality, instantly chat with them, share photos, etc. 
Pros:-
You can easily locate and make new friends 

Helps in developing online friendship 
Cons:-
It has a smaller user base

Not a good app to meet up with people in real life
Download App from Apple App Store
7. Lemon: Nearby friend finder
Lemon helps to find real and meaningful connections with the latest snap chat friends. The lemon app helps to identify the find whom you have crossed paths and to start connecting with them easily.
The chatting can be done safely even before you add the person to Snapchat. With this app, you can enjoy certain features for free.
This comes as a unique app as the concept of meeting strangers differs. Suppose you want to talk to a person; you must open the profile of the person and click either on follow or chat.
Text or messages can be sent by opening their profile. The travel mode allows you to travel around the globe by changing your status and location.
Clicking on the profile picture on the map lets' travel around the globe and make new friends. The app's features include searching for a specific age group, making free video calls, etc.
Pros:-
Free voice calls and text messages 

The registration process is simple

Follow people and like posts

Share posts with others
Cons:-
Many people use their fake profile

Annoying ads are present
8. MeetMe – Go Live, Chat & Meet
MeetMe is a social networking site to meet strangers and play fun games.  The app enables youngsters to make live chat, and video calls, start broadcasting, to meet real people from group chats.
You can chat with any guy or girl, have fun and excitement, and meet the local singles, couples, etc. It helps to widen your professional network, to meet new people, and to share common interests.
Anyone can meet new people and play games to get to know each other. Like-minded people who live nearby can get acquainted with each other rather than looking for a distant relationship. 
Pros:-
Most of the profiles are detailed

The member activity is high
Cons:-
Certain features can be accessed by premium users only

There might be rude users
Download the App on Google Play Store
Download the App from Apple App Store
9. Make friends on Snapchat: Z
By swiping to the right, you can chat with people, or by swiping left to let it pass. You can choose whom you want in your snap chat, new friends can be made from different places in the world, and you can also get to meet new people.
The number of rubies you have is limited, so when you swipe right, you must choose wisely. Select those people whom you want to chat with. Additional rubies can be earned by checking in daily.
Pros:-
Expand your friends circle globally

Explore their culture and lifestyle 
Cons:-
The user interface could be better
Download the App from Apple App Store
10. Zipskee
Many people like to travel solo. The users can create a profile with their interests, spoken languages, pictures, etc. The Zipskee app is free for iOS users and is amongst the best apps like Hoop. You can pair it with your local guide as you travel to discover new places.
It can also enable you to meet and make new friends. The relationships can be made more convenient by using digital community travelers.
Using this app, you can share your experience with others and make new friends as you travel abroad. The app allows you to match with a traveler with like interests and also to match with the local guide.
Pros:-
The best platform to meet locals while traveling 

Enables to explore the true culture of a new destination 

Ensures comparable connections
Cons:-
The matches are limited and based on locations
11. Wupwoo
Wupwoo is a popular social support app for people of all ages. It is a place where you can escape the reality of your surroundings and indulge yourself in a Wupwoo world filled with fun and socializing.
It is an anonymous, interactive, and socially supportive app with online moral support for users of all ages. The Wupwoo app can be customized as per your needs. 
Pros:-
Quick and easy setup

Safe and secure environment 

Inbuilt games and instant messages
Cons:-
The user interface could have been better
Download the App from Google Play Store
Download the App from Apple App Store
12. Hoop Messenger
Hoop Messenger connects you globally with freedom and privacy, as the users' security is this app's main concern.
The app has another interesting feature, like the Vault, a password-protected section for encrypted files or chats. 
Hoop Messenger has enhanced features like time messages, end-to-end chats, encrypted video calls or phone calls, etc.
It also allows you to design and build memes, emojis, or stickers. Chatting with your family and friends can be fun with Hoop Messenger. 
Pros:-
Smooth browsing interface

Great UI

Easy to connect with people
Cons:-
Poor authentication issues
Download the App from Google Play Store
Download the App from Apple App Store
13. Spot a friend
This is yet another excellent apps like Hoop to connect with people and make new friends quickly. The user can just swipe pictures of other people living in your vicinity. To share similar interests and to become friends, you can swipe right.
Spotafriend - Meet & Make New Friends
You can request your friends to meet them live with just one swipe. When both users accept the request, it will make the match, and you can begin the chat privately. The app is all about connecting and exploring interesting people living in your surroundings.
Pros:-
Like-minded people can become friends. 

After finding a good match, chatting can be started instantly 
Cons:-
The people living in your area only are visible as it is a location-based app.
Download the App from Google Play Store
Download the App from Apple App Store
📗FAQ
Are there any apps like Hoop? 
There are some excellent apps like Hoop, indeed. To enjoy features like free voice calls and text messages, post sharing, an easy and quick way to connect with people, superb privacy, and much more, you can try Yubo, Wink, LiveMe, Swiping, Lemon, MeetMe, etc. 
Is Hoop a hookup app? 
Due to the way it asks users to either swipe right or reject possible matches, the app has been compared to Tinder for teens because of its framework. 
This is how it goes:- The first step for users is to link their Snapchat accounts to Hoop. Once people create a profile, they may add photos and biographical details.
After that, the profile is viewable by other individuals with comparable preferences. The users then go to Snapchat, where they can make friends if both parties approve of each other. 
Does Hoop still work? 
Sadly, Hoop stated that the app would be discontinued on July 17, 2020. Sadly, Hoop closed its doors along with many other small enterprises due to the pandemic's difficult economic conditions.
Due to the short notice, many parents and providers were left wondering where to look for, list, and reserve classes. 
What type of app is Hoop? 
The developer platform for Snapchat was well known for exploding as a route to young social app users.
With its Tinder-like swiping interface for meeting new people and requesting to message them on Snapchat, Hoop, the newest Snap Kit hit, surged to No. 2 on the overall App Store charts in Feb 2022. 
Do adults use Hoop? 
Although adults can use the program, Hoop ensures they won't see youngster users' profiles (and vice versa).
Users can choose who they wish to start a chat with by swiping through profiles containing the person's age, gender, and images. 
Can you get banned from Hoop? 
If you violate the terms of service or these guidelines, Hoop may ban you from using it, and your account may be canceled.
Therefore, you must take the Guidelines seriously and abide by them in the spirit that they were intended. 
Conclusion on the best apps to make Snapchat friends
In this article, we have discussed certain alternatives to the hoop app. Parent's responsibility is to take care of their teens to protect them from online fraud games or danger. The parents will get alerts when there is a potential danger.
Your teens must be monitored as there are risks of being exposed to certain inappropriate content while using the various apps. Keep an eye on their online activity, but don't be a spy.
Youngsters use the hoop app to make new friends and explore or discover their cultures. Millions of the youngest people use hoops to connect with new friends on Snapchat.  
So, it is wise for parents to speak with their children about the dangers of using any social media app while they are still young. Be a friendly and trusted adult for your kids. I hope this article has helped you and guided your teen in choosing the best apps like Hoop.