The notability app lets users jot down notes and annotate PDF files. It is a note-taking application for macOS and iOS. This app is available at the App Store as one of the best-selling paid note-taking apps.
Handwritten notes can be written on iPad by using the Apple Pencil. It also has different paper formats, brush styles, and an audio recording feature for interviews or lectures.
All the written notes and recordings are well synchronized, enabling the user to tap on his notes and hear the audio version. This app comes in handy for Macs and iPhones to review existing notes. 
The notability app comes as a free download now but requires a small number of subscription charges which is 15 dollars per year or 12 dollars per year for a limited period where the user can unlock all the features.
The unpaid users have certain limitations on the number of times to edit the notes or use the brushes to save as their favorites. Automatic synchronization to online storage devices or iCloud is not possible.
Hence, if you are looking for alternate options that are affordable but free to work on, check out the list of the top apps like notability.
Best Apps Like Notability – Our Top Pick👌
1. Microsoft OneNote: Apps like notability To Save Ideas
Microsoft OneNote is one of the apps like Notability that is specifically designed for the users to store all the notes and synchronize the contents. The app has plenty of features that let the user connect with the content.
Apart from taking notes, the user can also drag the files, take audio notes, and draw sketches, pictures, or videos without restrictions.
The Microsoft OneNote has all the essential components with stunning features and exclusive tools for note-taking.  One of the unique features of Microsoft OneNote is how it organizes notes, like maintaining a flexible document structure.
The coolest feature of this app is that it has a flexible note-taking method. The app constantly keeps on improving.
But, users still face reports of bugs and syncing issues. The app runs on any supported version of Windows that includes Windows 10 editions.
How to Use OneNote Effectively (Stay organized with little effort!)
Download the App from Google Play Store
Download the App from Apple App Store
You may like to read our guide on the 7 Best
OneNote Templates
To Unlock Hidden Benefits.
2.  Evernote – Apps like notability To Organize Notes
The new Evernote home app assists in task management, note-taking, archiving and organizing. It is available for Windows, Mac, and the web. Very soon, it will be available on Android and iOS.
The notes include texts, audio, drawings, saved web content, or photographs. It also has Edit tables on the go, like editing the data inside the table.
The keyboard shortcuts Menu is an added advantage. There are more than 100 keyboard shortcuts that make things easier and quicker.
The other features include increasing creativity by changing the sketches' pattern and background color. The notes are stored in the notebooks and can be searched, tagged, exported, or edited as per the requirements.
This app is available for Android, iOS, Windows, and even macOS. The free version has monthly usage limits, and the paid edition has more features.
Evernote can be connected to Google calendar to combine your notes and schedule. The notebooks and the written notes are synchronized in your tab, PC, or phone.
The app features include templates, business teams, Integrations, and All-suggested content. The app has a long history and some key attractive features that set it apart from its competitors.
It also has a toolkit that organizes integrations and templates. Although it lacks customer support and some leadership problems are certain drawbacks to it.
Download the App from Google Play Store
Download the App from Apple App Store
3. Notion – notes, docs, tasks
The notion is yet another similar apps like Notability that offers the user components like calendars, databases, notes, reminders, etc.
It assists the users in creating their notes, managing the data, project management, knowledge management, etc. Online content can also be embedded in the Notion pages.
This app is compatible with Android devices. Windows, macOS, and iOS, and also on the Web. All these apps offer their users identical experiences.
The web app feature can be accessed with an internet connection, and the other apps can be accessed even offline.
The notion app for Android can be downloaded using the Google play store and is also available for Mac and Windows, and the Apple App store can be downloaded for iOS devices.
Download the App from Google Play Store
Download the App from Apple App Store
4. GoodNotes 5 – Apps like notability to Write Outside the Lines
GoodNotes 5 comes in handy whether you take notes in a classroom, jot down your creative ideas, etc. Your notes can be stored for later reference.
It has a digital notebook to store all your notes. Multiple Notebooks can be created, and notes can be written inside any of those Notebooks.
It also has a powerful search tool and other attractive features like handwriting recognition, OCR technology, etc. All the data can be synchronized using iCloud to access it anywhere.
This is one of the best apps to keep track of all your notes effectively. Your notes are kept well-organized and attractive. But, the drawback of Good Note 5 is that it lacks certain features of the previous version.
To stay updated, users must purchase the new edition of the software. Certain new features have been added to GoodNotes 5. A new folder system lets users create limitless folders and subfolders to classify all the notes.
The globe search feature allows the user to look for handwritten notes,  Notebook titles, typed text, PDF files, etc.
The toolbar has easy access for writing; the documents can be searched easily. The new feature also includes Quick Notes, where new documents can be instantly started as soon as you download the app.
The new pen style is available for notes and artistic sketches. The rebuilt toolbar has quick access to all the tools. The app is available at the App Store for iPad, iPhone, and Mac.
Download the App from Apple App Store
5. Google Keep – notes and lists
Google Keep is also a note-taking app that comprises Google drawings, Google sheets, Google Docs, Google sites, Google forms, and google slides.
The app is simple to use and has plenty of attractive features. It has multiple tools, which include audio, images, text, etc. The written notes can be color-coded, and the labels can be used for organizing.
The Google Keep app is available as a web and mobile app on iOS or Android devices. The reminders can be set along with options like time or location. The character recognition technology lets the user extract the text from the pictures. 
The app also lets the user choose between two views the single-column view and the multi-column view.
Moreover, it can also be used to create voice notes and to set location-based reminders. The notes can be synchronized with other programs like Google calendar and Google Docs.
The Google Keep will be automatically synchronized with Google Drive, and the documents or files can be accessed from any Google Account, either your phone, computer, or tablet. It can be accessed from both Android and iOS devices.
Download the App from Google Play Store
Download the App from Apple App Store
6. Zoho Notebook – Apps like notability For Notetaking
The Zoho Notebook is a popular app like Notability that specializes in cloud-based software. It is a free note-taking app from a company known as Zoho Corp.
It has improved over the years and can now synchronize the notes through the web and all the leading platforms. The sharing and collaboration component allows the user to get read-only access for editing the notes.
The app has a document scanner, web clipper, document sharing, to record audio notes, password protection, etc. You can use the notes to synchronize them in iCloud, and hence can be accessed from anywhere.
The customization options include selecting the notebook cover, changing the color of the notes, voice memos, etc. All the notes can also be viewed in the grid, landscape, and other modes. It also has other organizational features that logically arrange all your notes.
The Zoho Notebook is free to use, it does not have in-app purchases, and there are no storage limits other than uploading files.
The uploaded attachments, like spreadsheets, PDFs, word processing files, etc., can also be included in the notes. This note-taking app can be accessed on all the major platforms like Mac OS, Linux, Android, iOS devices, and the web.
Synchronization takes place using the Zoho cloud, and all the notes created are saved and encrypted. It ensures that others cannot access your notes.
Your notes can also be password protected. Furthermore, it even has the history of all your previous notes and can be accessed whenever needed. The contents can also be imported from Evernote.
Download the App from Google Play Store
Download the App from Apple App Store
7. Apple Notes – Apps like notability To Take note of almost anything
The Apple Note is available for iPadOS, Mac OS, the iOS operating systems. It lets you write short notes and synchronize between devices via Apple's iCloud services.
The auto-synchronization feature is also available, along with other noteworthy features like uploading images, iCloud access, a powerful editor, etc.
With Apple Notes, you can sketch using your finger on the touch screen device. The coolest feature of Apple notes is that it has a simple interface that covers all the basic features of other apps.
Adding more here is handy, especially if you want to jot down certain basic notes or create a checklist. You can synchronize it with iCloud, which is available on all Apple devices besides the Apple Watch. 
The Apple Notes comes with stylus compatibility, the best experience that Apple users admire. There are certain awesome features that this app utilizes, like adding notes using Siri to share the notes, enabling you to make an Excel-style spreadsheet to categorize the information. 
The notes can also be password protected using a passcode, face Id, or touch Id. The notes can even be organized in folders with formatting options and shortcuts.
You can search the notes easily, and they can be detected by using the spotlight. The app lacks certain advanced features and organizational tools.
Overall it is an amazing app with a wide range of options available to the users, like creating the checklist, sketching ideas, adding documents/ links/ images, etc.
Apple Notes is THE BEST Note-Taking App 2021
8. WizNote App
The WizNote app is specifically designed for mobile and other internet users and is one of our favorites for apps like Notability. 
The app primarily focuses on management, rapid collection, reading, sharing, etc. Also, it is suitable to use on mobile gadgets or computers.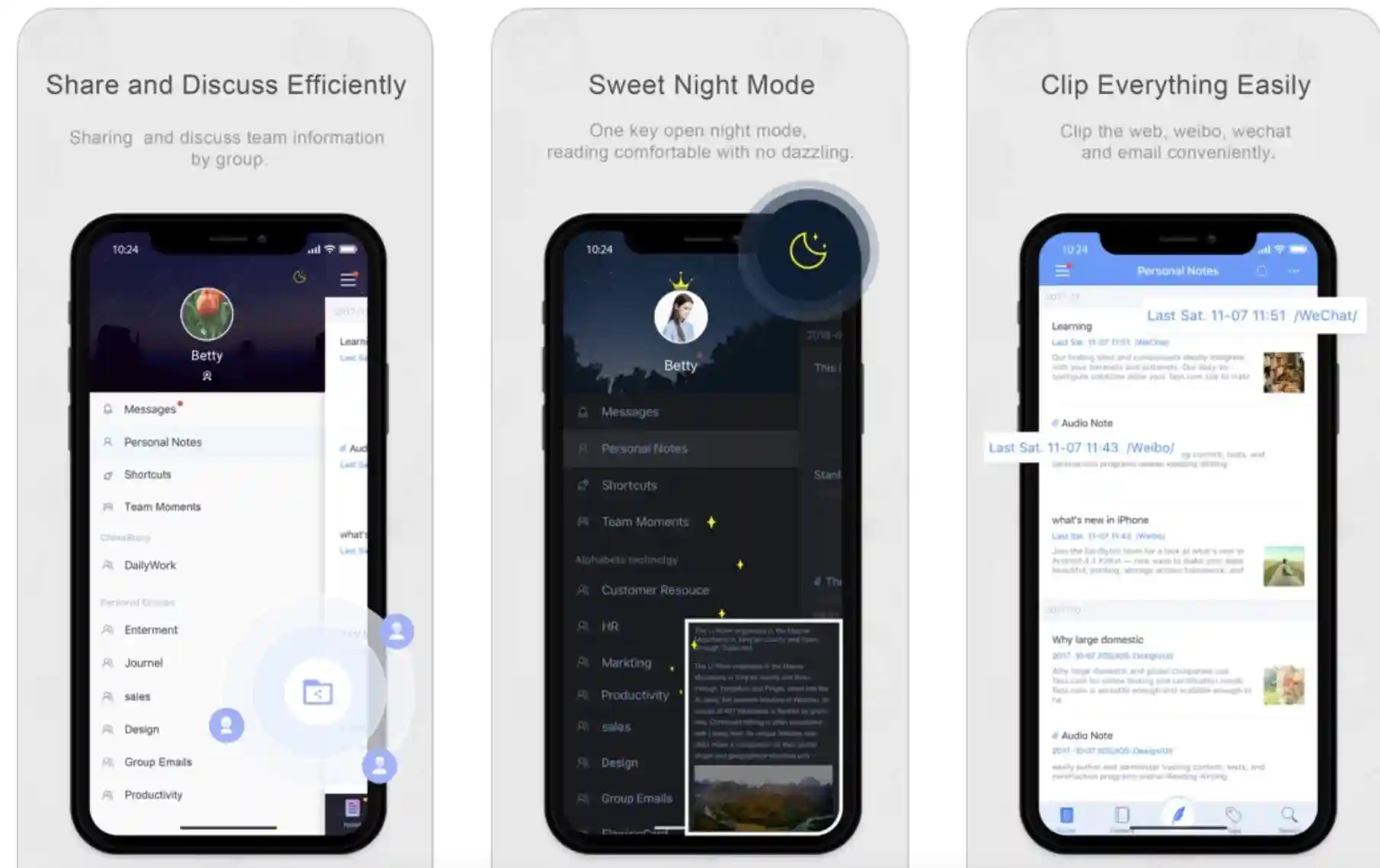 This app can be launched from ask at or dock and run in distraction-free windows. Another advantage of the app is multiple user accounts.
It can be managed simultaneously, and the user can easily switch between them using a keyboard shortcut or with just one click. The password helps in protecting the data.
It is a free cloud-based app that enables users to manage or organize notes. The notes can be searched and viewed whenever required.
The app's key features include recording and collecting information like documents, pictures, audio recordings, etc. The notes can also be collected from email or websites.
The WizNote app organizes the notes efficiently. The notes can be well synchronized. Certain folders support offline notes. The notes can be shared with the team members.
The new version of WizNote X enables users to read and edit the notes. Furthermore, it is compatible with iPhone and iPod touch that has iOS 10.0 or later versions.
Download the App from Google Play Store
Download the App from Apple App Store
9. Squid – Apps like notability For taking Notes & Markup PDFs
Using the Squid app, handwritten notes can be taken on your phone, Android tablet, or even the Chromebook that supports Android apps.
The squid app can take notes, markup PDFs, take audio notes, sign documents, etc. The notes, diagrams, or images can be shared with other users. The graph paper feature can be used to practice geometry or algebra problems.
The squid app can also be used for presentations or research projects. This app is productive as it has certain additional features that make it more efficient. 
The notes can be well organized using folders, sections, labels, etc. It also comes with certain editing and sketching options.
You can make use of certain shapes in images to sketch anything. Multiple objects can be selected by selecting a particular tool from the tool picker.
Moreover, you can edit notes or delete them aligned with changing colors. Also, it has the option to increase or decrease the font size.
The notes can also be reported, and a file format like JPEG, PNG, or PDF can be selected. It even has a stroke eraser enabling the user to delete handwritten notes or images. Backups can be created in Google Drive by using the local backup feature.
Download the App from Google Play Store
10. NoteShelf
The NoteShelf is one of the apps like Notability that is used for handwritten notes on your electronic devices like an iPhone or iPad.
The latest version enables users to type notes, draw sketches, record audio, fill forms, sign contracts, etc. Other added features include creating lists, adding bookmarks, notebook categories, etc.
You can share notes with friends, family, or colleagues. NoteShelf includes a unique user experience that best suits mobile screens. All the notes created can be viewed anytime on your iPhone or iPad.
It is very easy to jot down notes or your ideas on NoteShelf. It is very similar to writing on a piece of paper. There are several writing tools that you can choose from, which include pencils, pens, highlighters, etc.
Your handwriting can look beautiful with a unique pen that offers a calligraphic effect. The NoteShelf app is compatible with all the popular cloud services like Dropbox, iCloud, One Drive, and Google Drive.
Download the App from Google Play Store
Download the App from Apple App Store
11. MyScript Nebo: Notes & PDF Annotations
Nebo is a simple yet the best handwritten note-taking app for Apple pencils. Nebo uses interactive ink, a cutting-edge edition of MyScript technology.
Both active and passive pens can be used for writing and converting handwritten content into Nebo. The app is free to purchase in the Nebo store with in-app purchases. Nebo converts the handwritten notes to text. It supports over 66 languages which keep on increasing.
The app is simple, and creating a new notebook is simple. You can blend handwriting and text in a single word, sentence, or paragraph.
The pointer icon can be used to navigate from one page to another. It even has a pen tool, and the highlighter comes in different pen sizes and thicknesses.
Unlike the other note-taking apps, the highlighter is strictly used for highlighting in the Nebo app.
The other features of the Nebo app include the lasso tool to select a portion of your notes for copying, pasting, deleting, etc. Sketches can be added to the drawings; equations can be added in maths or chemical equations.
Handwriting to text conversion with NEBO: ALL TIPS, TRICKS & FEATURES
The dictionary lets the user add custom words to recognize the technical terms in engineering, pharmacy, or medicine.
The Nebo app is compatible with operating systems Windows 10 version 1699.0 or higher, Xbox One, Android 6.0 or later, iOS 13.0 or later, and iPad 13.0 or later.
Download the App from Google Play Store
Download the App from Apple App Store
12. SimpleNote
The SimpleNote is a note-taking app that comes for free but lacks certain security and certain advanced features.
Suppose you want a note-taking app with ink-to-text conversion, optical character recognition, and video and audio-sharing features. In that case, the SimpleNote app is not recommended for you.
The app also lacks basic features like text formatting, drawing tools, group notes in notebooks, etc. The greatest strength of this app is it comes free of cost, has markdown support, and is quick to synchronize with other devices.
The backpack of this app has no drawing tools, no text formatting, and no advanced features.
It has multiple sharing options where other SimpleNote users will be invited as collaborators. An invitation will be received through email, where they can view or make some changes in the notes or publish it in a web link where others can view the notes. 
The history feature allows the user to go back to the history to view where changes were made or when the notes were last modified. All your notes can be imported from Evernote or through plain text files. It can also be exported by compressing them into a Zip file.
The SimpleNote app allows a customized tagging feature to search for a particular tag to find the exact word on your note. 
This platform lacks security and privacy features, and the contents of the notes are not encrypted. So, sensitive information cannot be stored.
Even though it does not contain plenty of versatile features like the other note-taking apps, it is still relevant to meet the demands of those users who seek a free note-taking app to jot down simple notes.
The app is a desktop for Linux, OS X, and Windows. It is also compatible with Android and other web browsers.
Download the App from Google Play Store
Download the App from Apple App Store
✅FAQ on the apps like notability
Is there a free app like Notability? 
Yes, quite a few amazing free apps like Notability completely transform how you take your notes. You can try out apps like Microsoft OneNote, Evernote, Zoho Notebook, Notion, Squid, etc.  
Is there an app better than Notability? 
One of the greatest alternatives to Notability is Microsoft OneNote. You can use the program to organize your ideas, discoveries, and planning of significant life events with your digital notebook.
Additionally, it allows you to schedule a significant event, seize inspiration to start something fresh, and keep track of a long list of essential errands.
NoteShelf, Google Keep, Notion, Evernote, and other excellent solutions are available. 
Which is better, Evernote or Notability? 
Notability and Evernote are excellent business options, but you must consider a few factors before choosing one.
For example, Evernote might be a better option for you and your company's workflow, depending on various aspects, including pricing, platform support, functionality, integration, storage, and organization.
On the other hand, it isn't easy to think that investing in Notability wouldn't be a wise decision for less than $15 a year.  
There are many good features for students and individual users, and the pricing can't be contested.
The best course of action is to test out each note-taking service's free plan to get a feel for its operation before upgrading to a paid plan to access all of your favorite service's features. 
Is OneNote better than Notability? 
OneNote enables you to organize your subjects into folders, each of which can include many subjects. Then, you can take notes on such subjects.
Because you may have several notes in one subject without creating a new subject each time, users greatly like this setup. 
OneNote's drawback is that the downloaded PowerPoint or PDF is presented as a large piece of paper. OneNote and Notability are similar; however, Notability offers far more capability.
On Notability, you may rapidly access papers, search notes, and divide between notes. It is quick, dependable, and practical.
  
OneNote is an excellent choice if you're seeking a cost-free option. Notability is a good choice if you want to spend less than $10 on a notes app. 
Is Notability a one-time fee? 
The free version of Notability comes with limited but very useful features. However, users can select the tools that best suit their demands and budget by subscribing to a service offering extra capabilities and editing. 
Can students get Notability for free? 
Yes, students are eligible for a free version of Notability because the company provides all its amazing features to educational institutions via Apple School Manager. 
What app is like GoodNotes but free?
Microsoft OneNote is a program that resembles GoodNotes and is free. OneNote is a free note-taking and organization app that can be used on many different operating systems, including Windows, Mac, iOS, and Android.
Using a stylus, including the Apple Pencil, you may handwrite notes, make diagrams, and annotate PDF files.
Additionally, it has OCR features that let you look for text inside scanned documents and photographs.
For those seeking a free choice, OneNote is a strong and functional tool that is an excellent substitute for GoodNotes.
Conclusion on the apps like notability list
As there are plenty of note-taking apps that are available with abundant features, choosing any one app can be a challenge. Examine the app's features, strengths, and drawbacks to help you make the right choice.
In this article, we have discussed some of the top apps like Notability. I hope it will guide you in choosing the best app that suits your preferences and requirements.