With communication, technology, and connectivity evolving, improving, and gaining new capabilities every day, it is no wonder that life is becoming increasingly easier for anyone and everyone.
Anything that any person could ever ask for could be gained easily and efficiently enough.
The advent of online shopping and delivering services is another positive effect of the technological boom that has made the lives of all people easier and simpler.
People can now buy, sell, exchange or return anything they want simply by accessing their computers or mobile phones, going to or opening a particular website or application, choosing the required services, and finalizing the details. The entire world is only a few clicks away.
But in all this, the delivery services and their employees play a key role, often ignored by others and not given due credit or consideration.
These apps like Roadie and their staff, ensure that the products reach their precise and particular location with no damage or harm and in a timely fashion.
One of the best and most appreciated delivery platforms is Roadie. This application is highly rated, ranked, and reviewed by its users. It is particularly known for its efficient services.
The deliveries are always completed timely, the goods are always in perfect condition, and it has an incredibly large range. For people who are not very familiar with this application, here is a brief description of Roadie.
What is a Roadie Driver App?🤷‍♂️
Roadie is a delivery service providing a platform that is used to avail businesses, private, urgent, or scheduled deliveries across the United States of America.
This "crowdsourced" delivery platform has described itself as having an "on the way" model that provides and carries out its delivery services timely, efficiently, and effectively. The application is available on both iOS and Android platforms.
The company, Roadie Inc, was founded in 2014. It proceeded to launch its web platform and mobile applications soon after in January 2015. The founder and current CEO of this company is Marc Gorlin.
Other important individuals involved in the functioning of this company are Dennis Moon and James Delmerico, the COO and the CTO of the company, respectively. This organization currently works under the United Parcel Service.
Roadie works for and in collaboration with several different famous and well-known brands. These include Walmart, Home Depot, Delta Air Lines, and many more.
Walmart, in December 2020, declared Roadie its best delivery collaborator and proclaimed it as providing the "Highest Net Promoter Score" and the "Highest Driver Customer Satisfaction." This platform is particularly known for its prompt response and excellent services.
The deliveries made through this platform are known as "Gigs." Roadie presently employs and works with more than 200,000 drivers and covers over 20,000 zip codes in the country.
Its service lines are extensively praised, and its rapid services are highly appreciated. Roadie is best known for its same-day deliveries and across-the-country deliveries.
Roadie is an excellent delivery service provider with all the features and functions that make it an ideal and unique delivery platform.
While its users never have any complaints or problems with it, it is always a good idea to keep in mind a handful of alternatives that an individual uses daily.
Here is a list containing the best alternative apps like Roadie.
Best Apps Like Roadie Driver – Our Top Pick👌👌
1. DoorDash – Food Delivery
DoorDash is one of the best food delivery platforms and amongst the best Apps Like Roadie available to the general public.
It has the best, widest and largest collection of menus from across the user's country, all listed in front of the user with a couple of clicks.
This service works in the USA, Canada, Puerto Rico, and Australia and covers more than 4000 cities and all of their restaurants' menus that, as a total, run well over 310,000. It boasts of providing excellent services to its users in all locations.
This application is available on both iOS and Android platforms. The first month with DoorDash is completely free for the user, but further use requires monthly subscriptions.
The subscription is quite affordable at only $9.99 per month. The subscription can be easily canceled anytime per the user's wishes and convenience.
DoorDash connects its users to their local and nearby restaurants, food joints, grocery stores, convenience stores, pet stores, and other relevant locations.
DoorDash Holiday IRL Perfect Timing 16x9 30 video
It also offers the option of no-contact delivery to its users. If the user has requested this option, the delivery person would leave the order at an appropriate location and inform the person when they could pick it up.
It also allows scheduling a delivery well in advance to the user. The person who has placed the order can also track their deliveries in real-time using this application.
Giving payments is easy and simple and can be carried out with any regular payment method.
DoorDash collaborates with many brands, including Burger King, Subway, Dunkin' Donuts, Jamba Juice, Panda Express, El Pollo Loco, Noodles & Company, and many more.
Download the App from Google Play Store
Download the App from Apple App Store
2. Grubhub: Delivery apps like roadie For Local Food Delivery
Grubhub is yet another in our list of the best Apps Like Roadie, with an incredibly enormous range, hundreds of thousands of menu options, a large connectivity network, and impressive delivery services.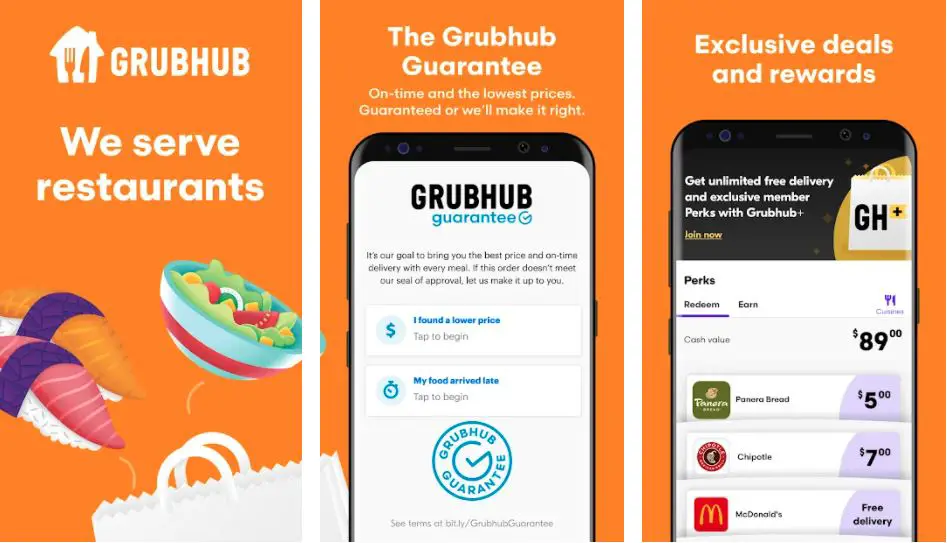 This service is available in more than 2000 cities in over 50 states of the USA. It offers users to choose from over 110,000 menu options available in the cities.
The Grubhub application is compatible with Android as well as iOS platforms. The application is free for initial use but requires a subscription to continue using this platform.
The subscription is feasible enough, only requiring a payment of $9.99 per month. It's excellent functioning, efficient and timely delivery, generous delivery services, and large covering area make it an excellent platform for ordering food.
Grubhub is connected with most of the restaurants and food joints of the cities it is settled. These include KFC, McDonald's, Buffalo Wild Wings, Cinnabon, and many more.
The user can order any types of food item through this application, including burgers, pizzas, donuts, vegan, vegetarian, Italian, Chinese, etc. It also manages and brings in takeout.
This application has a wonderful interface that is easy to use and manage. Ordering food is extremely easy and time-efficient. Its customer support is of the highest quality, with its staff ready and eager to help anytime and anywhere.
It also allows the user to track their orders as they are being delivered. It also offers multiple ordering options that allow the users to change, modify, reorder, cancel or schedule their deliveries at their convenience.
Download the App from Google Play Store
Download the App from Apple App Store
3. Postmates – Food, grocery & more
Postmates is a highly reviewed, rated, and ranked food delivery platform that offers amazing food delivery services. Its functioning is timely, efficient, effective, hassle-free, simple, safe, and secure.
The staff is completely careful and considerate of the orders to be delivered and ensure that they are in perfect condition from the moment they are handed to the delivery men till the order reaches the customers.
How to order food, drinks, or anything else with Postmates
This application is available for both iOS and Android devices. The platform works on a subscription basis and requires monthly payments to continue its use, and the subscription rates are very affordable.
Postmates connects users to their nearest and local restaurants, food joints, convenience stores, grocery stores, retail stores, and related locations.
The user will find the place they wish to order from and their alternatives while using this platform.
Postmates allows user to track their orders in real-time through the application. They can always stay informed about where their order has reached and when it will be with them.
It also allows users to schedule their deliveries per their wishes and terms. The deliveries are as prompt as possible, easy to handle, and hassle-free.
Another great feature of this platform is its pickup option. The user can choose the items they want on the application, add them to their cart and choose the pickup option.
Their order will be prepared in time, and they can go to the restaurant or store and directly take their orders without waiting in line.
Download the App from Google Play Store
Download the App from Apple App Store
4. GoPuff – Apps like roadie driver For Instant Delivery
GoPuff is another one of the best web food and drinks delivery platforms. But it's working, and its reach is not just limited to foods and drinks.
GoPuff also deals with the orders, deliveries, and transportation of and from convenience stores, grocery stores, pretty stores, and many more establishments.
Therefore, the user can buy and receive anything through this application, from burgers, pizzas, and ice creams to various cleaning products.
GoPuff is available on both iOS and Android platforms. This service is also extremely affordable. Each delivery only costs $1.95, no matter what the time, location, or area it might be in.
If an individual signs up and subscribes for premium services, they do not have to pay any delivery charges. GoPuff allows payments to be made through any means which might be convenient for the user.
This platform collaborates with several famous brands and is a well-established delivery partner with these brands. These brands include Coca-Cola, M&Ms, Flamin' Hot Cheetos, Dove, and many more.
Its efficiency and extensive reach make it an incredibly trusted and preferred delivery platform. It offers its services in a large number of cities across the USA.
GoPuff, being amongst our favorite apps like Roadies delivers many products. These include chips, snacks, ice-creams, eggs, milk, water, alcohol, soft drinks, energy drinks, juices, sanitary products, medicines, electronic products, beauty products, and many more.
It also comes with the option of no-contact delivery and offers its users an excellent customer care service feature. It also has a reward-earning feature that allows users to get discounts on their purchases.
Download the App from Google Play Store
Download the App from Apple App Store
5. Favor: Local Delivery Service
Favor: Local Delivery Service is a prominent name in the service industry. This platform is known for its efficient and effective delivery services, excellent product and service quality, and impressive and timely functioning.
Favor can order various products, including groceries, snacks, drinks and beverages, restaurants and other food joints, and many other locations.
This platform allows the users to choose from one, or more, of the hundreds of menu options provided on its application.
AppStore Dec2019 Consumer Android rd2 Contactless
The Favor application is available to both iOS and Android users. It provides services in many different cities in the USA and has a large connectivity network and reach.
It is available in over 150 cities. Favor is connected with all the best restaurants and food joints in one's locality and neighborhood.
Favor works with several famous institutions and brands. These include Dairy Queen, Burger King, McDonald's, Chicken Express, Romano's Macaroni Grill, Zoe's Kitchen, Papa John's Pizza, and many more.
It is well-known for its excellent customer care services and support provided 24/7 to all platform users.
It is a very affordable delivery platform. This delivery system also allows no-contact delivery if the user requests. The platform also provides completely and entirely safe and secure orders.
All the packages are handled with extreme care and consideration. Favor only provides the highest quality of service to its users.
Download the App from Google Play Store
Download the App from Apple App Store
You may like to read our guide on the 9 Best
Apps Like Shipt
For Same Day Grocery Delivery.
6. Instacart
Instacart is another best online food shopping platforms for any buyer or customer. This platform connects thousands of retailers across North America to provide the best quality goods to all its customers.
Instacart is one of the highest-rated, reviewed, and ranked applications that can be used to place orders for food, drinks, etc.
It is known for its highly impressive efficiency, timely deliveries, and excellent service quality.
One of our favorite Apps Like Roadie is available on both iOS and Android platforms. It is the best platform to order and buy groceries, snacks, and other daily utilities.
It brings over the freshest, purest, and most delicious food items and groceries to its users and buyers. The best part is that it delivers the user's orders within 2 hours of placing the order.
Instacart also comes with a lot of additional but useful features. It allows the user to create and manage a shopping list. The user can find and choose the items they wish to buy and add them to the application cart.
Placing the order after doing so is extremely easy and simple. A couple of clicks will finalize the order, and be delivered to the user's address as per their convenience and instructions.
It also allows the user to contact and chat with the shopkeepers to confirm their orders, make changes to their orders or cancel them anytime and anywhere.
The delivery can be completely contact-free if requested by the customer. It has a wide range of products, including food items, beverages, electronic products, and many more.
Download the App from Google Play Store
Download the App from Apple App Store
7. Beelivery
Beelivery is a great platform to place orders for instant or urgent deliveries. This platform is connected to the best grocery stores and restaurants in one's neighborhood and locality.
It can track down the best possible locations around the user, which would be the most appropriate and time-efficient for placing orders as well as receiving them.
This application works with both Android as well as iOS platforms. It is incredibly cost-efficient and can be used anywhere and at any time.
It is well-known for its time-bound deliveries and excellent customer care services that have never disappointed or failed the expectations of its customers before. Every order is delivered to the customers writing a time frame of 15 to 60 minutes.
It is best known for its grocery deliveries. Individuals can place their orders using their devices and continue their daily work while waiting for the order to arrive.
The drivers working with the platform will ensure that the customers receive the orders quickly and without defects.
The products ordered and delivered are of the highest quality possible, and the staff of Beelivery is dedicated to ensuring that no customer would ever have any complaint or trouble with them or their services.
Beelivery also allows the user to track their orders in real time. Therefore, the customer can always know where their order is at any precise moment without facing any troubles.
The drivers who work with this platform are excellent and perfect at what they do and know how to manage and deliver their orders within the time frame given to them.
Download the App from Google Play Store
Download the App from Apple App Store
8. Uber Eats
Uber Eats is a fantastic platform to order and get food and beverages from. This last one in our list of the best Apps Like Roadie is connected with almost all restaurants, food joints, grocery stores, and convenience stores in the user's cities and neighborhoods.
Such an extensive reach allows its users to browse through the menus of each of these establishments to look for what they want to order, place an order by providing their details and have it delivered to the user at the specified address.
Uber Eats is available on both iOS and Android platforms. It is an incredibly affordable service platform that can be used and accessed by anyone and everyone.
As the name suggests, Uber Eats is a part of Uber services.
Uber launched this platform back in August 2014. Travis Kalanick and Garrett Camp mainly founded it, and the current CEO of Uber Eats is Dara Khosrowshahi.
The main purpose of this platform is to facilitate and simplify food ordering and delivery for people who might be too busy to do so by themselves.
Uber Eats outdoes itself in another aspect. Unlike the other delivery services in this list that are only available and functional in a handful of countries, Uber Eats works successfully in around 45 countries and covers more than 6000 cities.
Uber Eats has an extensive reach and will always have something or the other to offer to its users and customers, and it only provides the highest quality of products to the users.
While using Uber Eats, all users can schedule their orders according to their convenience. It also allows users to track their orders in real-time and always stay aware of where their order is and when it will be delivered to them.
It also comes with a no-contact delivery option. This platform collaborates and partners with several famous and beloved organizations.
Some of them are McDonald's, Subway, Moe's Southwest Grill, BurgerFi, Tropical Smoothie Cafe, Boston Market, and many more.
Download the App from Google Play Store
Download the App from Apple App Store
📗FAQ
What other app is like Roadie?
Consider several possibilities if you're seeking an app like Roadie that can assist you with moving objects inside a specific geographic area.
uShip is one such choice that enables consumers to locate and reserve shipments with carriers who are already moving in the right way.
The ability to use available transportation resources rather than paying for a special journey makes this a cost-effective method for moving goods.
Alternatively, consumers can use LoadUp, which connects them with nearby, trustworthy, and insured movers who can assist with their delivery and moving needs.
As the movers will manage the loading and unloading for you, this can be a useful option for individuals who need to carry large or bulky items.
Another app, GoShare, enables users to lease a van or truck with a driver for local moving and delivery purposes.
This can be a fantastic option for folks who need to transport numerous products or don't have access to a large enough vehicle to suit their needs.
Last but not least, Dolly and Bellhop are two applications that let users get in touch with local assistance who can aid with moving and delivery needs.
These can be a wonderful option for people who require additional assistance with the physical parts of moving or delivery because the volunteers can aid with the packing, loading, and unloading items.
Various applications offer roadie-like services, so it is worthwhile to compare them all and select the one that best suits your needs.
Can you make a living off Roadie?
It is feasible to earn a living using the Roadie app. Still, it's vital to remember that your capacity to do so will be influenced by several factors, such as the demand for your services in your neighborhood, your availability to accept deliveries and your negotiating skills.
One benefit of utilizing the Roadie app is creating your schedule and deciding which deliveries you want to accept. This may be a useful technique to increase your revenue or generate more income.
It's crucial to remember that Roadie is only a platform that links drivers with people who need to transport products within a specific geographic area; it is up to you to negotiate the details of your deliveries and choose your prices.
You must actively search out deliveries and bargain fair fees for your services if you want to make a life utilizing Roadie. Given that the demand for transportation services can fluctuate, you might also need to be adaptable and ready to accept deliveries immediately.
It is also important to keep in mind that operating a Roadie will require you to have a dependable car, the required insurance coverage, and meet any other standards established by the firm.
Utilizing the Roadie app to support yourself is feasible, but it will involve perseverance, hard effort, and the capacity to bargain successfully and run a business.
Is Roadie still a thing?
Yes, Roadie is still relevant today! A practical and economical means for individuals to move goods within a specific geographic area is offered by the app, which is still available for download, and by the company, which is still in business.
Roadie can be a fantastic choice if you seek a simple and adaptable approach to make additional money or supplement your income.
You have the flexibility to work when it's convenient for you as a Roadie driver since you can choose the deliveries you want to accept and set your schedule.
You can set your prices and terms using the app, allowing you to charge a reasonable price for your services.
Overall, Roadie is an established business with a solid reputation that has been in business for a while and is still an option for people wishing to work from home by delivering goods locally.
You may download the app and start looking into the opportunities around you immediately if you're interested in driving for Roadie!
What delivery service makes the most money?
It is challenging to ascertain which delivery service generates the highest revenue because the amount of money that can be made will rely on several things, including the demand for delivery services in your area, your availability to accept deliveries, and your negotiating abilities.
However, some delivery services might pay more or provide more prospects for revenue than others.
For instance, certain firms may charge more for rushed or same-day delivery or for shipping bulkier or heavier items.
Other services might reward drivers with incentives or bonuses if they make a certain number of deliveries or receive great customer ratings.
It is important to keep in mind that not everyone will benefit from the delivery service that is most profitable for one person.
Which delivery service is the most profitable for you will depend on various factors, including the kind of vehicle you have, how far you are prepared to travel, and your schedule.
Consider aspects like pay rates, incentives, and the types of deliveries available when comparing the many delivery services offered in your area to see which will be the most profitable for you.
To get knowledge and experience, you might also wish to speak with other drivers or delivery experts. The delivery service that generates the greatest revenue ultimately depends on your unique demands and circumstances.
Final Thoughts
Delivery services are just another way technology has made the general public's life easier. Such services and institutions are especially useful for those who are too busy with their work or daily hassles and might not have the time or opportunities to get their daily necessities by themselves.
Using such facilities, they can somewhat decrease their workload by paying a minimal and affordable amount.
There are countless delivery services providing platforms available on the web. While almost all of them are generic and deal with all the items that may be necessary or required daily, many specialize in delivering a few services over others.
Every user must be aware and clear about why they are using and subscribing to a particular delivery platform. The one they choose must be efficient and effective in fulfilling their purposes.
Choosing the correct platform can make an enormous difference in the life of a person dependent on or necessarily requires such services. The appropriate delivery platform can help make the user's life easier and less hectic.