Are you in need of assistance in completing your assignments or homework? Utilizing Socratic and its other alternatives, the task of doing homework has never been simpler.
Socratic is an educational tech business that offers students a mobile app. It makes use of AI technology to assist students with their homework. It provides education-related resources like videos, definitions, links, and Q&A questions, among many more.
You can take a picture of your questions; then, the application will determine the issue and give you the solution. While Socratic is a fantastic learning tool, it may not suit your needs.
In the following article, we will discuss apps similar to Socratic for Science, Chemistry, English, and many more to assist you with your assignments.
About Socratic:-
Socratic is an education technology company that offers a mobile app for students. The program even uses the data to anticipate future questions and provide particular educational material.
You have to take a picture of your homework issue. The app will be capable of reading the photo and classifying it using OCR (Optical Character Recognition) technology.
You can also use your voice to connect to online resources and comprehend every issue. It covers various topics like Science, Math, Social Science, and Humanities.
Socratic works with professional and teacher educators to give visual explanations of every subject, allowing you to help understand the underlying concepts of every problem.
Additionally, it's accessible to users of both Android as well as iOS devices. Users must create or sign up using an account with a Google account.
The Socratic app is available for both Android as well as iOS devices. Google recognizes text directly via your smartphone's camera, and its database currently contains more than 350,000 inquiries.
But it's been noticed that sometimes answers are not as accurate for humanities and language subjects. Altogether, this app has no archive function available for previously-posted questions.
Best Apps Like Socratic – Our Top Pick👌👌
Below is a list of some best applications like Socratic that are authentic and reliable.
1. Chegg Study – Apps like Socratic To Get Homework Help
Chegg Study provides digital and physical textbook solutions, online tutoring, and other student services.
Access its massive collection of millions of explained, step-by-step solutions to various subjects, such as Maths, Chemistry, Physics, Business, Engineering, Biology, and many more.
You can receive personalized assistance for all your courses, from homework to tests. A personal dashboard can pinpoint the level of your courses, and you can get recommendations on what you should study next.
Key Features:-
It is the best study tool, and you receive 24/7 assistance for your assignments or homework.

Explore more than 500 million flashcards in the library or design and review them with your cards.

Get your education in order through its massive collection of detailed, step-by-step textbook solutions.

Get help with homework on over 80 subjects and hundreds of courses.

You can type your question in the study section and get the answers. It is already part of Chegg Study's databases.

You can have unlimited access to 25 million solved homework problems in the Q&A Library.
Download the App on Google Play Store
Download the App on Apple App Store
2. Photomath – Apps like Socratic To learn elementary, high school, and college math
Photomath is among the top apps similar to Socratic. It's a camera calculator application allows you to calculate math equations easily.
You must download it from Apple App Store for iOS devices and Google Play Store for Android devices. Then, use the camera to snap an image of your maths problem.
Now, you'll be able to find that it can help you with the problem and give you a step-by-step answer. It's available in many languages.
It's available in various languages, including English, Spanish, Persian, Portuguese, Swedish, Indonesian, Turkish, Polish, Russian, and many more.
Key Features:-
You will have a handwriting recognition feature.

It provides step-by-step directions and displays solutions to any problem in graphical format.

Every update brings new kinds of problems that are introduced regularly.

Provides animated videos to aid in understanding and retention of the solution.

It covers different math topics that include fundamental maths, including algebra, geometry, trigonometry, calculus, and statistics.

A satisfactory performance level can be assured, and many users have stated that the application correctly solved the math equation.
Download the App on Google Play Store
Download the App on Apple App Store
3. Microsoft Math Solver – Apps like Socratic To Scan and Solve Math Problems
Microsoft Math Solver is an elementary education program that can solve math and science-related problems, such as algebra, arithmetic, statistics, trigonometry, calculus, and many others.
It is enough to utilize the camera to capture your issue or write it on display. Microsoft Maths immediately identifies the problem and guides you in solving the issue with step-by-step instructions, Interactive graphs, interactive explanations, and other similar problems in online video tutorials and on the internet.
Key Features:-
It was created to help you solve problems in mathematics, science, and tech-related problems and inform users.

It is composed of an equation solver and an equation solver that offers step-by-step solutions for every issue.

It employs AI to find and fix your issues.

Additional learning resources are available, including video lectures as well as explanations.

It is available on the web platform and iOS, Android, Windows, and Microsoft Office.

It is compatible with several languages. It supports various languages, including Spanish, German, Russian, English, and over 12 Indian languages.

Create or record your mathematical question and receive a step-by-step explanation and a graphic calculator.
Download the App on Google Play Store
Download the App on Apple App Store
Best Free App to Solve Math Problems - Microsoft Math Solver
4. Quizlet – Apps like Socratic To Learn with Flashcards
Quizlet is a Quiz and games-based Educational App Like Socratic. It is a multi-national American brand that develops and designs tools that aid study and teaching.
Thanks to its AI learner assistants, experts' explanations, and flashcards, it is possible to get the entire science study tools at your fingertips.
Quizlet provides the simplest method to learn, practice, and master any topic you want to study. You can test your knowledge with exercises, and seven techniques for learning that will help you become more confident.
Back to school 2021: However you study
Key Features:-
Users can design definitions and sets of terms customized to meet their specific needs.

Learn millions of step-by-step textbook solutions written by professionals and tested twice for accuracy.

With the Quizlet Learning Assistant, you will create personalized study plans and keep track of your improvement.

Create your flashcards or use one of the millions created by users.

The main products are tests for practice, digital flashcards, and live and matching games quizzes.

Available in English, Chinese, Portuguese, French, Japanese, Spanish, Turkish, Vietnamese, etc.
Download the App on Google Play Store
Download the App on Apple App Store
5. Brainly – Apps like Socratic To Get Homework Help
Brainly is an educational technology that lets parents, teachers, and students help one another answer homework questions. Ask homework questions on the platform and receive answers in minutes.
It's one of the most popular apps, similar to Socratic, to teach English, Science, Social Studies, and Mathematics. Students can interact with their colleagues, professional educators, and subject matter experts to discuss their subject and find answers to their questions.
Key Features:-
It includes elements of gaming in the form of motivating points and ranks.

It's available for iOS or Android devices and is an online platform.

Parents can connect their accounts with their children's accounts to start learning.

Questions are classified by subject at the school level and the country in which they are located.

Its database is supervised by staff members or a community of volunteers and an algorithm for machine learning.

Find any homework issue or problem, talk to the experts and bright students' questions about your issue, and receive answers in a matter of minutes.

A variety of languages are available in a variety of languages, including English, Hindi, Polish, Portuguese, Turkish, Filipino, Russian, Indonesian, and many more.
Download the App on Google Play Store
Download the App on Apple App Store
6. PhotoStudy
PhotoStudy is a different app similar to Socratic; it is a real-time online platform that connects students struggling with homework. It covers various subjects, including Maths, Physics, Chemistry and more.
With PhotoStudy, it is easy to snap a photo of your issue and then connect to an expert tutor in just a few seconds for a customized conversation lasting 10 minutes.
Live study experts from the company will help you with even the most complex issues, including complicated diagrams or equations.
Key Features:-
They are online and available 24 hours a day to receive personalized assistance anytime you need it.

It's available on both iOS as well as Android devices.

It could be the ideal alternative for high school students, home-schooled children, community colleges, and university students.
Download the App on Google Play Store
Download the App on Apple App Store
You may like to read our guide on 13 Best
Chemistry Apps
To Learn Chemistry Like a Pro.
7. Anki – Open Source apps like Socratic
Anki is an open-source and free flashcard application that uses spaced repetition. It is an approach from the field of intellectual science to facilitate fast and long-lasting memorization. It is among the top Apps Like Socratic, and the name of the program, "Anki" is a Japanese word that means "memorization."
Intro to AnkiDroid - High Yield
Key Features:-
It's suitable for Android, iOS, macOS, FreeBSD, Windows, and Linux.

The user's profile and card numbers are saved in the accessible SQLite format.

Cards display HTML and contain texts, videos, sounds, images, etc.

Provides over 750 additional add-ons, which third-party developers usually develop.

It is available in more than 48 languages, including Traditional and Simplified Chinese, Russian, Greek, Thai, English, Korean, Portuguese, Hungarian, and many more.
Download the App on Google Play Store
Download the App on Apple App Store
8. StudyBlue
StudyBlue is one of our favorite apps like Socratic, that functions as an online study platform for high school students. StudyBlue site lets users upload their class materials and create electronic flashcards to review, share with friends, and test themselves on quizzes.
StudyBlue Student Testimonials
Key Features:-
You can study, create, and edit your flashcards at no cost.

Students can save notes on the cloud and communicate with students studying the same subject.

Take a test or set reminders for your studies and monitor your performance.

It also includes quizzes, flashcards, electronic flashcards, note uploading, and storage of digital study materials.

Content can be easily accessed via a mobile app compatible with iOS or Android devices or via the web.
9. Brainscape
Brainscape is an online and mobile education service that lets students learn with adaptive flashcards.
Students, teachers, and corporate trainers can download and create electronic flashcards. It also enables them to browse flashcards made by other users all over the globe.
Brainscape - Learn Faster with Smart Online Flashcards
Key Features:-
This app uses spaced repetition to increase the speed of learning.

The white paper demonstrates the power of cognitive science. It's the case with its features that use metacognition and active memory.

Brainscape's Pro subscription grants you unlimited premium content and various advanced features.

Flashcards are saved in the cloud and are shared with other groups of students.

Its offerings include various learning types, digital flashcards, teacher dashboards, and collaborative editing tools.
Download the App on Google Play Store
Download the App on Apple App Store
10. SuperMemo
SuperMemo is a software and learning method founded on research on long-term memory. It is an actual application of the spaced repetition process developed to facilitate well-organized instruction by numerous psychologists.
Key Features:-
It can handle HTML images and video-based questions and answers.

It's fully compatible with Windows smartphones, CE, Windows, etc.

The desktop version allows the ability to read incrementally and the traditional design of questions and answers flashcards.

Studying various languages such as Spanish, Russian, French, German, Japanese, and more is possible.
Download the App on Google Play Store
Download the App on Apple App Store
11. Kahoot – Apps like Socratic To Play & Create Quizzes
Kahoot is among the most popular Apps like Socratic. It is a learning game platform primarily utilized as a technology for education in schools and educational institutions.
Kahoots are multiple-choice tests accessible through the Kahoot apps or an internet browser.
Key Features:-
It can be utilized via screen-sharing applications like Google Hangouts or Skype.

It is used to assess students' understanding and their learning to break up old-fashioned tasks.

Available in Spanish, English, Dutch, Norwegian, Portuguese, French and Italian.
Download the App on Google Play Store
Download the App on Apple App Store
12. Memrise
Memrise is a different Socratic alternative that uses repeated flashcards spaced out to boost learning speed.
It also provides user-generated content about many other topics. It is offered in various languages, including French, English, Dutch, Korean, Japanese, German, and Turkish.
Memrise: Learn Spanish Fast, with Locals
Key Features:-
It is home to more than 50 million learners of languages.

Features and courses vary based on the language you speak and the language of your device.

Language experts collaborate with world-class team developers to design the most effective language training course.

Learn to talk in real-time using an array of simple-to-play games and more than 30,000 speakers' video clips.
Download the App on Google Play Store
Download the App on Apple App Store
13. LearnWords
With LearnWords, you can design and market online courses on your website. It's among the most effective Apps Like Socratic that allows you to make money from your knowledge and experience.
Key Features:-
The app consists of hundreds of ready templates and allows you to make landing pages that are highly converting.

This app engages learners through video-based interactions, interactive eBooks, certificates, self-assessment, note-taking, and more.

You can easily convert your videos into a unique experience using automatic tests, transcripts of extracted videos, and tables of information.

Build lasting relationships by enrolling in an educational school focusing on social interaction.
14. Flash Cards Flashcards Maker
Flash Cards Flashcards Maker offers the most compact, lightweight, and speediest creation of flashcards. It's perfect for those working towards NCLEX, MACTs, NCLEX, PSAT, or other significant tests.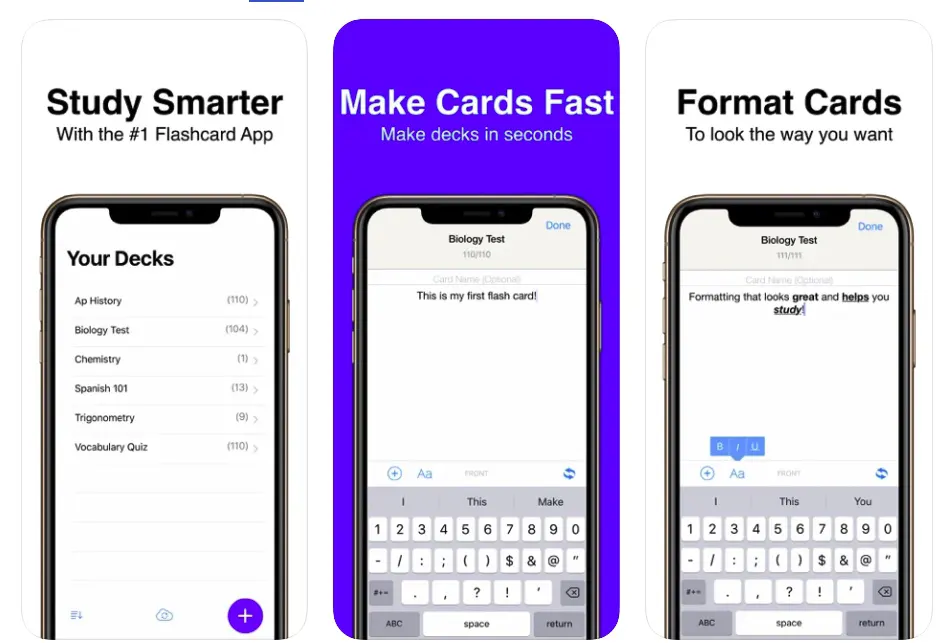 Key Features:-
Faster, cleaner, easier, and more user-friendly than all the others.

Decks can be shared with your students, colleagues, or instructors through Airdrop or email.

You can italicize or bold, and underline the text on your cards.

Add cards and decks quickly in S flash and shuffle decks. You can copy/paste content, also.
Download the App on Apple App Store
15. Answers – Homework Help & Question-Solving App
Answers are the best homework assistance application to help students complete their school work, including chemistry, maths, biology, history, etc.
It is a reliable and trustworthy study partner and problem-solver to make your schoolwork more efficient. Answers contain more than 100 million questions and answers, and study subjects like algebra, calculus, maths, chemistry, physics, biology, and more.
You must download the Answer application from the Google Play Store or Apple App Store and launch it. It will allow you to access the entire library of questions anytime you want.
You can solve math problems using step-by-step solution breakdowns and write an entirely new query that the users' community will be able to solve for you.
Download the App on Google Play Store
Download the App on Apple App Store
16. Mathway
Mathway is yet another best Apps Like socratic that provides rapid and precise solutions to math questions you have to solve.
Whatever problem you're dealing with, Mathway can produce a calculator that includes the appropriate symbols and tools to address the type of issue you're trying to solve, no matter if it's elementary math such as calculus, chemistry, trigonometry, algebra, or statistics.
You can download the application for both iOS or Android devices. Take the time to read the Mathway tutorial. It will be displayed on the screen. Take a picture of the maths problem that must be solved.
You can type the question directly into the application or use the microphone to discuss the math question. The basic Mathway application lets you solve problems with its virtual calculator is free.
You can upgrade to the paid plan at any time to follow the steps to resolve the issue. The paid plan is $79.99 annually or $19.99 each month.
Download the App on Google Play Store
Download the App on Apple App Store
17. Khan Academy
Khan Academy is a non-profit application to change the way we learn for the better by offering students a world-class education for free to everyone in the world.
Khan Academy is one of the most traditional math applications. It allows you to learn and review math within a learning environment that mimics a class. The app contains more than 10,000 instructional videos and 40,000 problems, and various kinds of math.
It covers trigonometry, stats, calculus, algebra, pre-algebra, arithmetic, and other subjects. You can take and repeat any courses you wish to expand your knowledge or refresh things you already know.
The best thing about Khan Academy is its cost. It's free to use for the rest of your life. Khan Academy also teaches extracurricular activities, both inside and out.
Additionally, Khan Academy is an excellent place to conduct assessments and revisions. It is designed for every person looking for detailed information on various subjects.
Download the App on Google Play Store
Download the App on Apple App Store
18. Toppr – Learning App for Class 5 – 12
Toppr is a virtual-learning application described as "one among the top doubt-solving applications." It means that the application instantly eliminates all doubts regarding specific math issues. Toppr is packed with instructional videos from experts.
It also helps students prepare for entrance exams with old documents. This app also has the option of a free version which includes specific resources; you can opt to pay for and use all options.
I like that the app's subscriptions depend on your education level, meaning you pay only for the knowledge you'll gain. Toppr's learning program includes high-quality modules and interactive techniques that help students comprehend concepts quickly.
Additionally, you can gain new information via videos of short, engaging lessons that allow you to interact with your teachers and mentors seamlessly. 
Download the App on Google Play Store
Download the App on Apple App Store
19. Course Hero
Course Hero is among the top Apps like Socratic, which acts as an online learning platform allowing students to access specific education resources created by a community of teachers and students.
It includes notes for class, study guides, videos, essays, practice problems, and more. It also has step-by-step directions, infographics, and much more.
Key Features:-
App features video lectures and libraries by instructors, universities, etc.

The app contains original content created and uploaded by teachers.

It also provides a free catalog of online courses that can be downloaded from the internet.

Provides 24/7 access to online tutors, priced per session using "credits."
Download the App on Google Play Store
Download the App on Apple App Store
20. StudyStack
StudyStack is among the top learning platforms that provide free flashcards for serious study. You can make your own or use sets that other students or teachers share.
Key Features:-
There are many pre-made flashcards from other teachers that are useful for definitions as well as word memorizing.

You can easily design and create different games that keep your students interested and aid in retaining information.

Flashcards can be shared with students, and StudyStacks automatically make additional games.
📗FAQ
Is there a better app than Socratic? 
Yes, some great alternatives to Socratic have similar and even better features like 24/7 help for assignments and homework, millions of flashcards, step-by-step textbook solutions, solved homework problems, more than 50 subjects, and much more. You can try apps like Chegg Study, Khan Academy, Photomath, Quizlet, Brainly, etc.  
What happened Socratic app? 
Google announced that it had bought Socratic in August 2019 and had relaunched the tool as an AI-powered mobile learning app. Socratic was a New York-based provider of an online question-and-answer community and educational resource collection geared toward students. 
What is the best homework help app? 
Microsoft Math Solver, Khan Academy, Brainly, Memrise, StudyBlue, etc., are some of the best homework help apps you can try and can completely transform how you have been doing your homework for a long time.  
Is the Socratic app reliable? 
Yes, Socratic is an excellent online resource. they are allowing you to respond and pose inquiries! Many parents and teachers claim that they have never encountered any questionable content that is entirely safe for all users.
Socratic is completely secure. There is no assurance, though, that kids will use this software to study; some might just be looking for quick answers. 
 
The main conclusion is that this reference tool has the potential to enhance learning and support students on their terms and schedules if used appropriately. 
Is Socratic only for math? 
No, Socratic is not just for math. Algebra, geometry, trigonometry, calculus, biology, chemistry, physics, earth and environmental science, the US and world history, and literature are all currently included in the app. 
How much does Socratic cost? 
The annual tuition fee for the novice, middle school, and non-accredited high school programs is $10,800, which covers the whole academic year (September-June).
The Socratic programs start at $13,500 if paid yearly for recognized high schools. Financial aid based on need is also offered. 
Who created the Socratic app? 
Chris Pedregal and Shreyans Bhansali started Socratic in 2013 to build a community that would make learning available to all students.
At first, the app provided a Q&A platform similar to Quora, where students could submit questions to be answered by professionals. 
Final Words
With applications like Socratic, learning has become much more simple. All of the mentioned best Apps Like Socratic let you study, practice, and master whatever subject you wish to learn about.
If you have questions about apps such as Socratic, you can inquire in the comments section below.