Some software applications are available to help you track your finances. You can track your income, expenses, and savings using these apps.
These apps like TrueBill are not the same as accounting software. They are typically used to track your income and expenses.
Budgeting apps can sync with financial accounts. Budgeting apps are most commonly used to track spending via a synced checking account. Many people don't know how much they spend each month. It makes it much more challenging to make changes.
Use budgeting apps to organize your spending history in categories to identify trends. Over time this will make it easier to track and change your habits.
About Truebill
Truebill is the best personal finance tracker, budget planner, and reminder app. Truebill analyzes your financial situation holistically and gives you a personal finances tracker & bill tracker application that balances automation with customization to help you save money.
The user-friendly interface allows you to track expenses and spending to upcoming bill payments while putting money back in your pocket.
Truebill is entirely free and provides various tools on a single platform. Manage your subscriptions and bills to save money.
Truebill, a monthly bill organizer, will automatically detect and manage your subscriptions, helping you keep track of everything, even those you might have forgotten. This app is a bill reminder and budget planner you can trust.
Benefits of Truebill App:-
Truebill offers a variety of options that can be beneficial for making smart financial choices in your monthly budget. Some of its advantages are as follows:
Limitless Budgets.

Smart Savings Strategies.

Customized Categories.

Tracks subscription renewals.

Chat with an elite user.

Balance synchronization.

Finds and reports on service failures.

Concierge for Cancellations.

It does not contain any duplicate or unidentified subscriptions.

With the free version of the app, there is no requirement to pay for membership.
How to Select the Best-Suited Budgeting App?
Your bank accounts can be synced with a budgeting app, which allows you to track your income and consumer spending.
The app should allow you to track your spending, organize your expenses into categories and see trends over time. These features will help you to make better decisions and understand your spending habits.
Many apps will automatically save you money. They also provide suggestions for saving money, alerts about bills, credit scores, and investment features.
It may be worth switching to an online bank that is tech-focused and offers a higher rate of return, depending on how much you are saving.
Best Apps Like Truebill – Our Top Pick👌
You can compare software alternatives that offer similar features to TrueBill and explore other options.
These other software options are identical to TrueBill and provide key features, benefits, and functionality apps like TrueBill.
1. Mint: Apps like Truebill To Manage Budgets, Bills, and Finance
Mint is a budgeting application and one of the best apps like TrueBill that helps you save money by creating budgets, setting savings targets, and keeping track of your spending in real-time.
Mint is a money management app that can help you manage all aspects of your financial life, including bill payments, credit scores, budgeting, and investing. Mint is a personal money management app, but small and medium-sized businesses can also use it.
Mint's interface on a smartphone or computer is easy to use. Mint is free, so there's no need to worry about extra costs when saving money.
This finance app also makes it easy to track credit factors and check your credit score anytime. Mint also offers deals on loans and credit cards.
Mint lets users customize their features and functions to meet their needs. You can personalize it per your needs. Get alerts about unusual charges in your account and receive tips to reduce fees and save money.
The Mint app gives you detailed information on saving money. You can find it under the "Ways to Save" tab.
The "Ways to Save" section provides valuable information about financial products like credit cards, personal loans, and life insurance.
Download the App from Google Play Store
Download the App from Apple App Store
2. Stash: Invest. Learn. Save
Stash: Invest. Learn. Save is yet another best apps like TrueBill that makes it easy to save, invest, and retire. You can start it with just $5 and then learn. It's a unique platform that allows you to save money by turning on smart save automatically.
This app automatically saves the correct amount for you. You have the option to either invest them or to make your entire savings earn interest. This app is a great way to save money and is very innovative.
This app has a lot of features, including Invest. Learn. You can save an app that allows you to become an investment advisor for just five dollars. This platform will enable you to invest in specific themes to build an actual portfolio.
This app also provides financial education and teaches how to invest with Stash. Its educational content will help you develop better financial habits.
It allows you to build your retirement plan and protect your funds in one of the most secure environments.
Download the App from Google Play Store
Download the App from Apple App Store
3. Spendee: Apps like Truebill For Budget and expense tracking
Spendee – Budget and expense tracking and bank sync are the best tools to help you track your spending, savings, and budgets. Your finance tracker helps you spend money efficiently and save more to reach your goals.
Spendee offers a wide range of attractive features that make it more valuable. The app analyzes your income and expenses through beautiful infographics and adds beauty to your finances.
It keeps track of your spending with its intuitive and effortless interface. It makes it easy to set budget goals and add spending and savings. It proved to be a great bill tracker, a household budget planner, and a manager.
Spendee creates shared wallets you can share with family and friends. This finance app allows secure bank synchronization and provides a plan manager to help you plan your finances for the future.
Download the App from Google Play Store
Download the App from Apple App Store
4. Qapital: Apps like Truebill To Save Small Live Largely
Qapital: Save Small, Live Large is stylish stuff that allows you to save money, save more on things you don't need, and create a new checking account to help you save.
Setting goals and tracking progress are easy, so you can see your savings grow at each journey step. You can create a savings plan by using your daily activities to trigger small deposits that lead to your goals.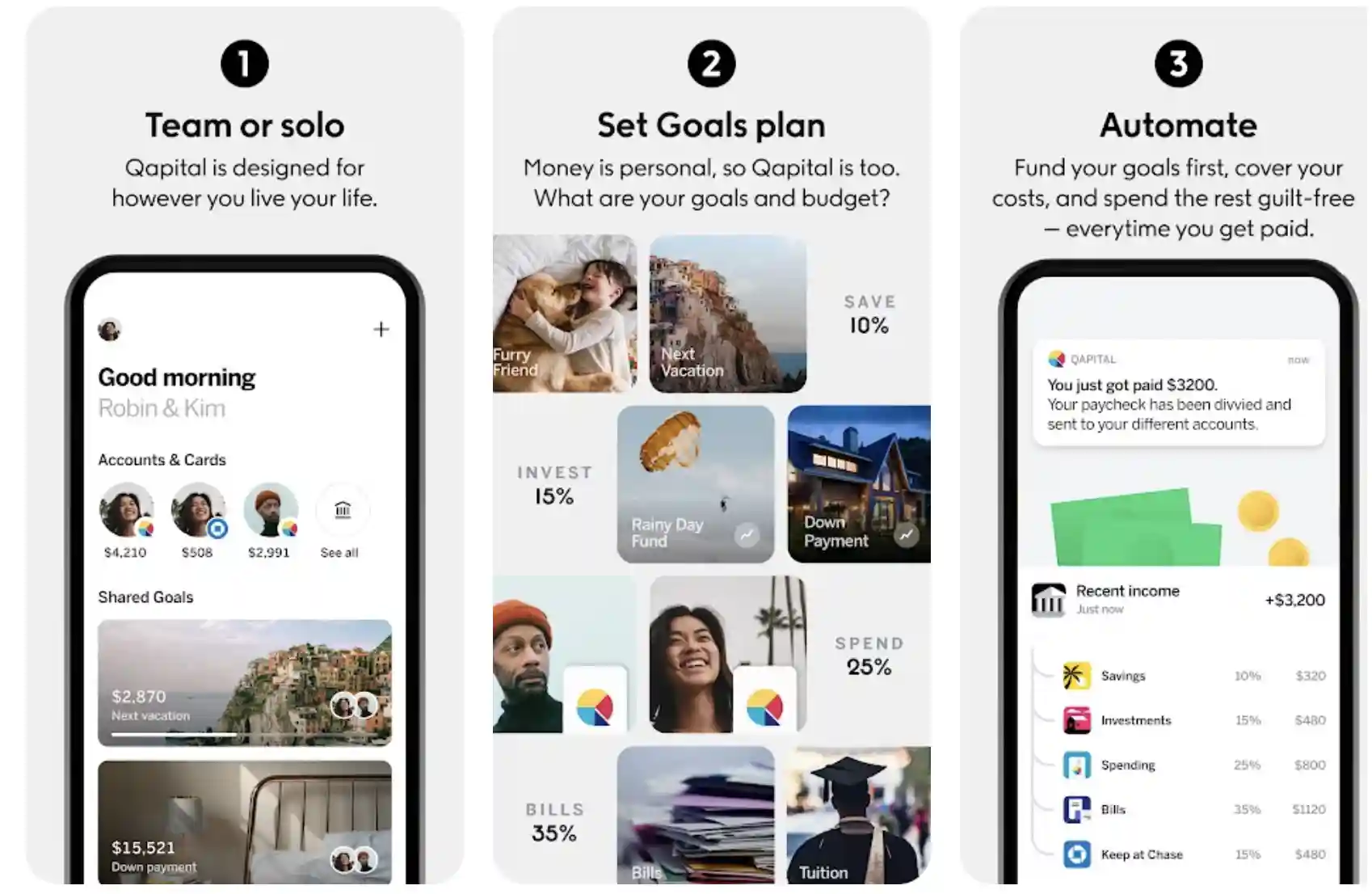 This app allows you to send and get money quickly and access cash whenever needed. It aims to make money management more accessible and motivating by focusing on your checking and savings accounts.
This fantastic app will help you budget for travel, hangouts, and larger purchases.
Download the App from Google Play Store
Download the App from Apple App Store
5. Goodbudget: Budget & Finance
Goodbudget: Budget & Finance is a brilliant money management tool and one of the favorites among apps like TrueBill that tracks your expenses and can be used to measure home budget planning.
It's your finance manager and proactive budget, planner. This app helps you to stay on top of your finances and bills.
It's a real-time tracker app that you can sync across iPhone and Android. You can also share your budget with other budgeting companions.
Goodbudget: Best Budgeting App for Android
It has many excellent features, including expense tracking, a practical overview of your account balance, and check envelopes.
You can also save time using the smart payee; it provides category suggestions, discovering transactions, adding your income, adding or editing accounts, and more.
To match your real life, you can also choose a budget period. You can also edit your budgets. It helps you to keep your eyes on your spending and will enable you to analyze it.
You can track cash flow, income, and spending, clear or reconcile transactions, download them, etc.
Download the App from Google Play Store
Download the App from Apple App Store
6. YNAB Classic (You need a Budget)
YNAB Classic, a classic approach to planning your monthly income, is a great option. This app allows you to monitor your income, spending, expenses, and other expenses to help you better manage your monthly income.
This app will enable you to pay your bills on time. It also saves money for shopping, travel, ceremonies, luxury goods, other priorities, or any emergencies.
Tired of Stressing About Money? You Need A Budget
It is one of the best budget maintenance apps and helps you spend your income in specific sections. It also gives you precise motoring to spend your income correctly and increase your savings.
YNAB Classic offers a new way to manage household income and business budgets. This app will control your money and reduce your financial stress by allowing you to get stuff. Because of its inventive brilliance, it is the legacy app.
Download the App from Google Play Store
Download the App from Apple App Store
7. Acorns: Invest Spare Change
Acorns – Invest Spare Change makes it easy and secure to put your spare money into your future. There are more than 2 million people who do it intuitively.
It allows you to easily invest your spare money in an ETF portfolio with more than 7,000 bonds and stocks.
With its recurring investments and referrals, as well as one-time investments, it allows its users worldwide to invest with greater precision and security.
The app allows you to monitor the progress and check in on your account anytime, anywhere. These are not the only benefits of Acorns. SIPC protection protects almost $500,000 against fraud. That's why your money is so safe and protected on this platform.
You can also stay informed and access its online personal finance publication. You can also withdraw your money without fear at no cost.
Acorns is a trusted financial app and one of the best apps like TrueBill that's intelligent and reliable.
Download the App from Google Play Store
Download the App from Apple App Store
8. Digit – Save Money Automatically
Digit Save Money Automatically offers a solid platform for saving money for all your goals. You can save money without thinking about it and have unlimited withdrawals without account minimums.
Using this app, you can earn a 1 percent bonus for saving money. This app efficiently saves you the most daily money on your income and expenditure. You can withdraw your savings as often and quickly as you need, at any time, without incurring any fees.
It is free to use for 100 days, and then you can have an affordable subscription plan, or you can cancel it anytime.
Download the App from Google Play Store
Download the App from Apple App Store
9. Pennies: Budget and Expenses
Pennies – Budget and Expenses app allows you to track your income, spending, savings, and income like any other. This award-winning app makes it easier for users to track and monitor their credit.
Pennies is a budgeting app that can be used daily for many years. It will help you know what you can spend and do all the work so that you have more money tomorrow.
Your finance client can offer you a monthly, weekly, and bi-weekly budget, as well as custom, twice-monthly, one-off, and custom budgets.
This app allows you to easily add or edit spending to budget periods and previous dates, and it accurately recalculates your current budgets so that your spending money is in control.
It also offers flexible expense options, multiple currency support, and the ability to transfer money between budgets.
Download the App from Apple App Store
10. Pocket Guard
It's a basic free budgeting application that is simple to use. PocketGuard got the nod as it helps to cut down on overspending. It employs an algorithm to monitor your expenses, income, and savings goals.
It will reveal how much you can afford to spend each day. The spending limits will stop overspending and help you achieve what you want to accomplish in your finances.
PocketGuard has been awarded the top spot for the best app for people who overspend because it aims to help users control their spending. It offers a no-cost and premium a paid version called PocketGuard Plus.
Joining your savings, checking, or credit card accounts is necessary. The app can show you the amount you spend and where you can save. It will also remind you when bills for credit cards are due.
The "In My Pocket" feature of PocketGuard "In My Pocket" features an algorithm to determine the total amount you can spend depending on your income, your upcoming bills and goals, your budgets, and recent spending.
The app has an intelligent reminder for bills to help you keep track of the due dates and indicates how you can use it to negotiate lower costs.
It also has an automated savings option that lets you make a plan and save toward it. PocketGuard automates the transfer of money into an FDIC-insured account on your behalf.
PocketGuard Plus offers additional features, including creating your categories, changing dates for transactions, and the ability to export information, tracking cash, coordinating ATM withdrawals and deposits, and even splitting transactions.
The company also has an educational blog that provides opportunities to gain knowledge.
Download the App from Google Play Store
Download the App from Apple App Store
11. Clarity Money: Budget Planner
Clarity Money – Budget Planner is a powerful app that can be used as your financial advisor. It offers many features to help you professionally analyze your finances.
The app uses machine learning and data science to analyze your finances comprehensively. It helps you to make correct decisions about where to spend your money.
This free app will help you track your spending, save money, protect your credit score, plan for your budgets, lower bills, and manage all your accounts in one place.
It doesn't charge you for subscriptions or accounts that aren't necessary. All aspects of your payments can be managed easily. You can cancel or lower your bills instantly.
Clarity Money – Budget Planner allows you to transfer money between accounts. You can also generate your credit score instantly. Your financial partner will efficiently search for ways to save and manage your finances.
12. Simplifi by Quicken
Quicken's Simplifi offers a personal spending plan that includes real-time monthly updates about how much money you have left over.
The app syncs with your bank accounts to track your financial progress and show you where you are at. Simplifi from Quicken tracks all your subscriptions and bills, even those you don't use.
Because of its effective tracking capabilities, Simplifi from Quicken is the best app for cash flow. You will need to connect your bank accounts to get started.
Once you do, you'll have a complete picture of your finances. The app automatically categorizes and tracks your spending and updates you with upcoming expenses.
The app's unique watchlist feature allows you to limit your spending by payee or category. The app's custom spending plan monitors your cash flow to avoid spending more than you earn. Quicken's Simplifi app offers tips, but you can also access a blog with educational content.
Download the App from Google Play Store
Download the App from Apple App Store
13. Zeta
Zeta is a budgeting app that's free for couples. This app is for all couples: married, engaged, newlyweds, and others. You can connect multiple accounts to track spending, view your net worth, manage bills, and more.
A joint, no-fee bank account can be opened. This card will include no account fees, digital checks, and access to the Allpoint ATM network. Contactless payments and bill pay are also available. Zeta is the best choice for couples because of all these added features.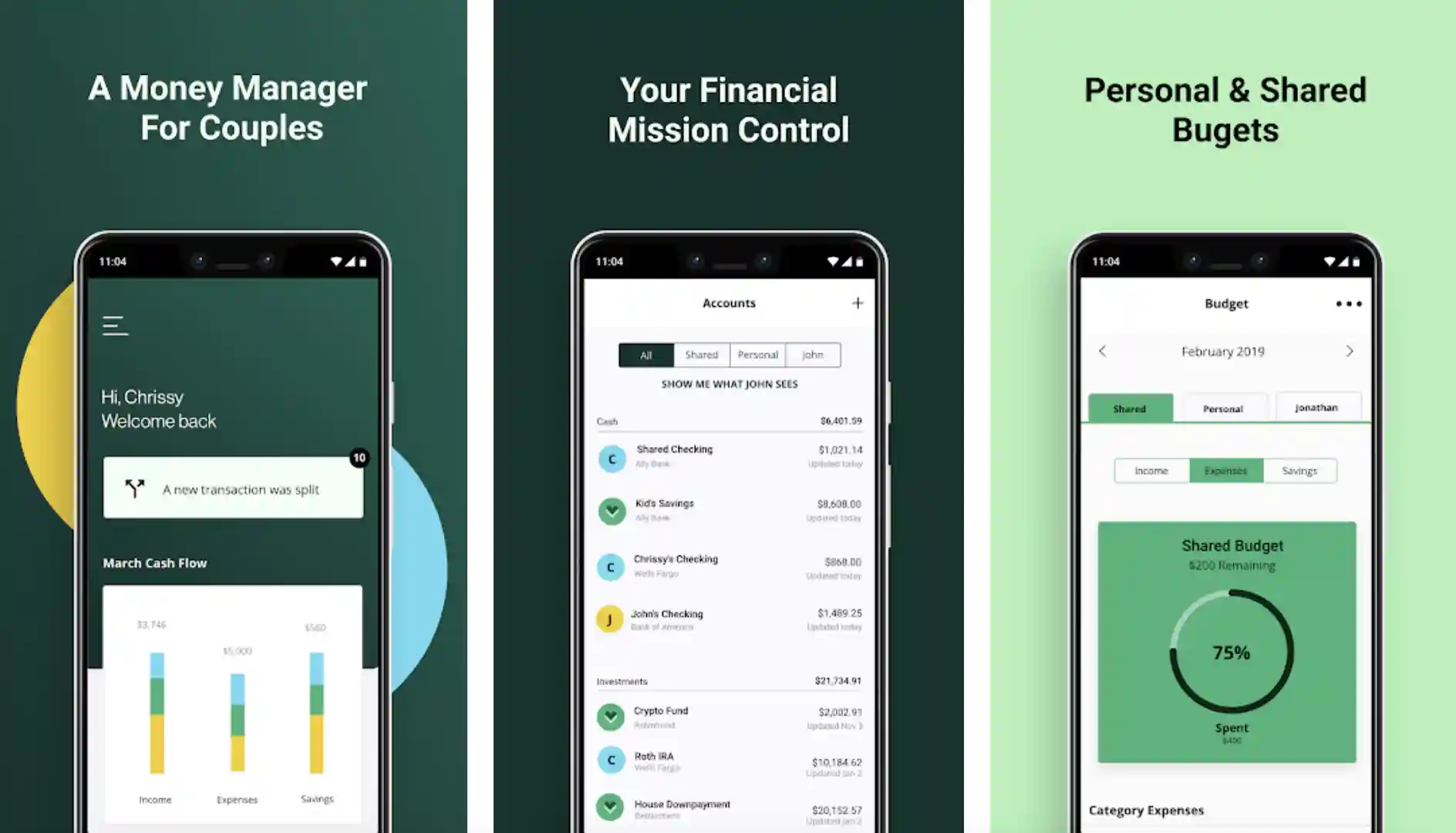 It is a free budgeting tool that caters to all couples. You can also use the product to manage your spending and pay bills together. Zeta's Money Manager App is available for free.
Zeta Money Manager allows you to sync your accounts and manually add data to share a standard view of your finances. It can track spending, create budgets, manage bills, and set goals.
The highlights are sharing controls, personal and shared budgets, bill reminders, and many other features. Zeta helps to keep you focused on your goals while connecting your financial actions with them. 
Download the App from Google Play Store
Download the App from Apple App Store
14. Betterment
Betterment, a financial app with powerful features, brings you a great financial advisor. The app efficiently uses proven investment strategies and user-friendly, modern technology to make them available to all investors.
It is a great way to make money. It will recommend how much risk you should take into your portfolio.
Then, it will invest your money in a globally diversified portfolio with low-cost ETFs. It allows for low taxes that traditional investment services can't match. You can achieve higher returns using globally diversified portfolios and automated portfolio management.
It also offers tax-efficient investing plans like asset location and tax loss harvesting. This app is the best to ensure the best possible investing experience.
It allows you to sync your external investments, access customer support plans, and have access to licensed financial professionals for all customers, anywhere and anytime.
You can save and invest with transparency. It also integrates low-fee funds and low-cost funds without additional trading fees.
Download the App from Google Play Store
Download the App from Apple App Store
15. Hiatus: Subscription Manager, Bill Negotiation, and Budgeting
Hiatus is an app allowing users to control their finances fully. The personal financial management app allows you to track and manage your monthly bills and subscriptions from one place. You can also set custom budgets and monitor your spending.
Hiatus consolidates all the expenses across each account into one hub, making it easier to visualize all of your subscriptions.
Users can cancel their unwanted or forgotten subscriptions directly from the app with a few taps without calling customer service or waiting on hold.
Consumers will also be alerted if any of their bills are negotiable, and Hiatus will help get you lower rates.
Hiatus has an in-house team of financial advisors that will reach out to vendors on your behalf to do all the negotiating for you. Whatever you save, that's the amount that goes back into your pockets.
The app's cutting-edge technology allows users to create monthly budgets based on spending and will alert them of any rate increases.
To get the most out of the budgeting feature, Hiatus users can set custom budgets from different categories or based on keywords from their transaction history. 
Using data analytics, the Hiatus app will help you change your spending habits and aid you in working toward your financial goals.
The app is free to download, but if you want to upgrade to the premium version, that will cost $7-$10/month based on which price point the user thinks is fair.
✅FAQ
Do Budgeting apps help to lower your bills? 
Budgeting apps may help you lower your bills depending on your financial situation. There are many ways they can help you lower your bills. They include professional negotiating and refunds for service outages or fees. 
What are the best monthly budgeting apps? 
The app that suits you best is the best for your monthly budget. Each app recommended has features that will help you avoid common mistakes in budgeting. These features can be applied to many different financial goals and styles. 
What makes for a successful budget? 
The process of budgeting begins by setting your budgeting goals, savings goals, and spending prioritization. 
Knowing the amount of money being spent or coming into your account makes you more prepared to face the unexpected and expected financial difficulties that life throws you. 
Your spending habits are also important. The more precise your financial attitude, savings, and spending habits are, the more effectively your budgeting and investment efforts will help you achieve your goals.
If you're struggling with spending habits that you must improve, the appropriate app will help. 
Are budgeting apps beneficial? 
Budgeting apps can be a powerful tool for helping you live your budget and not plan one. These apps can give you great insight into your spending habits and show you how to make savings. 
Is Truebill free or paid? 
Truebill is free to use; however, it comes with paid-for features that you can choose to avail yourself of. For instance, it's easy to set up budgets in the Truebill application.  
However, it's only possible to make a small amount of funding before you are required to purchase the upgraded version. Additionally, you need to buy an account with a premium subscription if you wish to use Truebill's Smart Savings feature and save funds for set goals. 
What are the top budgeting apps for free?
There are a variety of fantastic budgeting apps that you can select from to satisfy your requirements. The best free budgeting software for you will be the one that can best fulfill your financial objectives.
If you're trying to find the perfect application, try downloading and testing them to see if you like them. 
Final Thoughts
Truebill is far from flawless. Truebill isn't perfect. The application is worth the cost when considering the benefits of canceling your subscription and saving money. Truebill might not be the right choice if you keep track of your monthly expenses and budget accordingly.
The service is worthwhile if you cannot keep track of issues such as auto-renewing subscriptions and service interruptions. Ultimately, an untapped 60 percent savings chance is far better than the 100 percent chance of missing a savings opportunity.
The process of figuring out how to manage your finances is much simpler when using beneficial financial applications. In addition to Truebill, there are many other apps, including Mint, YNAB (You Need a Budget), Zeta, Spendee, Simplifi, Unsplurge, Goodbudget, etc.
These personal finance apps could work for most people, but you should evaluate them while selecting one for your finances. Selected ones must align better with your financial goals.
Of course, you can always use two or more apps simultaneously if you want to take advantage of their different features and benefits. One to help lower your bills and use another to manage your finances properly.