Do you love reading webtoons? This post is for you if you say yes. In today's generation, almost everyone loves to read webcomics. Web comics are different from traditional comics in many ways.
Digital comics and graphic novels have come a long way since their introduction in the 1990s. Today's comic fans tend to read comics more on their mobile devices than on their desktop computers.
So, if you are a big fan of webcomics and want to switch from webtoon to a new application but don't know which one is good, then this article will help you with the best apps like webtoon.
What is Webtoon?💁
A decade ago, most of Korea's cartoon literature was published offline. But the situation has now changed tremendously. There is an incredible amount of material published online in webtoon form.
Webtoon is one of the most popular platforms, which is an online reading app that allows its users to read various comics for free or by subscribing to their weekly offering.
Webtoon is a visual storytelling platform loved by thousands of artists worldwide. Their comics are updated daily, so you can always have something fresh to read. And best of all, it's free!
Some industry insiders believe this trend will continue and surpass the amount of material published offline. This is incredible because South Koreans still spend a lot on comics and novels and games and movies, but it's clear that these trends are shifting to a digital landscape.
Webtoons are a great way to kill time and unwind from the world. Some best Webtoons are Tales of the Unusual, Noblesse, Lookism, and The Breaker. If you are looking for apps like Webtoon, check out the list here.
Best Apps Like Webtoon – Our Top Pick👌
1. Webnovel – Apps like webtoon For Fiction & Comics
Webnovel is a web and mobile application specially designed for those who like novels. It is one of the best webtoon alternatives you can rely on if you want to read novels online.
It lets you read your favorite stories from a range of webtoons, including romance, comedy, and even action – giving you a wide variety of options that you can go through.
Webnovel is a place where every writer can publish their work and reach millions of readers who are just looking for something great to read.
It is a leading English-language web novel publisher. It publishes high-quality translated novels and provides an interactive reading experience for users worldwide. The website has been available in over 80 countries and translated into several languages.
Through the Webnovel App, millions of avid readers worldwide can share their passion for reading novels on mobile devices or the web.
It is available on the web and Android and iOS devices. You can join this site, which provides legal translations of well-known novels and periodically updates new stories.
Download the App on Google Play Store
Download the App on Apple App Store
2. Spottoon – Apps like webtoon For Premium Comics
Are you tired of reading webtoons offline? Spottoon is one of the best apps for you! With all free premium content, it can enhance your comic experiences. It supports a range of languages.
This fantastic app should not be overlooked by comic book fans, with various premium features. It's a free app with a few adverts to use on this platform.
All your favorite material is free and without having to register. It has additional capabilities such as display customization, bookmarking, and more.
Spottoon is a revolutionary new way to read your favorite books. With a Spotton account, you can read whenever and wherever you choose without worrying about losing your page.
It publishes novels in various formats, including Action, Thriller, Mystery, Fantasy, Horror, and more. You get free access to an extensive collection of books and may pick and choose what you wish to read.
You can use Spottoon on any device. You can start reading instantly by downloading the free app for Android and iOS devices. You may read your favorite manga for free and endlessly use it.
Download the App on Google Play Store
3. Pocket Comics – Premium Webtoon
Pocket Comics is a webtoon series that is updated regularly. Each chapter tells a different story that ranges from different genres, styling, and storytelling. 
Pocket Comics is an app that lets you feel the thrill of reading webtoons from your mobile device. All the latest episodes of the most popular Asian comics are available for you to read. Many genres and subjects are available to appeal to a broad spectrum of comic book lovers.
It's unsurprising that one of the best apps, like webtoon, can be found. This app has quickly become one of the most popular apps on the web.
There are two ways for users to enjoy viewing their favorite comics: reading free chapters or purchasing new chapters after a certain period.
Pocket Comics is an app for Android phones and tablets that features a variety of beautiful comics with compelling stories.
It has the most exciting collection of comics available today. Whether you are looking for comedy, romance, or horror, Pocket Comics has it all.
Download the App on Google Play Store
Download the App on Apple App Store
4. Manta comics
Manta Comics is a new way to read your favorite webcomics. They not only collect the latest episodes of your favorite titles but also organize them in a fun, easy-to-access mobile app.
It is another alternative to the webtoon. You can read and watch the latest comics anytime and anywhere on this site.
They put an end to pay-per-episode and ad-spamming. You have to subscribe to gain unlimited access to the entire library. They don't have any long-term contracts or hidden fees!
Manta Comics is the perfect solution for comic readers who want to experience something different. Every day, the app is updated with new content to keep you entertained and engaged. Choose your next read by swiping through an endless selection of top-trending comics adored by millions of fans globally.
Download the App on Google Play Store
Download the App on Apple App Store
5. Lezhin Comics – Apps like webtoon For Daily Releases
Lezhin has over 50 lakh downloads on the play-store that allows you to access and read comics and manga in your preferred language, making it a great way to enjoy the classics in a fresh new light. Read your favorite series in English, Korean, or Japanese. 
This platform brings a refreshing experience for users. Since it is a digital library, managing your comic library is very easy. Download this free app and start reading your favorite comics in high-definition quality.
Lezhin has several promotions for new users. Whatever your preferences are, Lezhin should be able to hook you up with the best comics to read. It is a service that lets you read high-quality manga for free. When you log in, you earn coins that you can use to buy paid chapters.
Download the App on Google Play Store
Download the App on Apple App Store
6. MangaToon: Webtoon like apps For Webcomics and stories
MangaToon is one of the best Webtoon alternatives available on Android and iOS devices. It has over crore installations on the app store with 4.2 ratings. You may also store each chapter in PDF format for offline reading in the app.
MangaToon is a webcomic app that lets you read manga conveniently from your smartphone. The app, which is free to download for Android and Windows Phone, makes finding good books easy – with a wide range of genres to pick from, you're likely to find something you enjoy.
Whether you are an anime lover or love to read comics, MangaToon is your place. It's the place to go if you look for tons of free pages that make you laugh while reading them. 
Choose from thousands of free manga titles, with new manga added daily. Enjoy now, and after choosing your manga, start reading chapters for free.
Download the App on Google Play Store
Download the App on Apple App Store
7. Izneo – Read Comics, Manga, Webtoon
Izneo is a fun way to discover comics and read manga on your phone. It lets you keep up with the latest chapters of your favorite manga and download unlimited manga to read offline. The app enables you to zoom in/out of your screen for a better reading experience if needed.
At Izneo, they offer a vast collection of ebooks that you can read on all devices, including tablets, PCs, and phones.
izneo, libérez vos envies de BD, manga, comics ! - Spot 30sec
Their advanced features allow you to sync your reading progress between devices, so you can start reading on your phone and finish on your tablet.
The app has a unique panel-by-panel mode that allows you to read every panel of the comics on your Android phone or tablet as if you were looking at each page of an actual comic book.
It allows you to read comics on actual paper and browse through several pages at once (depending on the device).
Download the App on Google Play Store
Download the App on Apple App Store
8. Graphite Comics
Graphite Comics is another alternative to webtoon, and it is available for Android, iOS, macOS, Windows PC, and Linux. Graphite Comics received positive reviews from users and websites across the world.
The graphite platform allows you to browse comics from webtoons, vertical webcomics, traditional comics & manga, and even strip cartoons. You can find creator-owned comics from your Dashboard, and you can find published content via the library.
Graphite Comics was founded to make digital content more broadly available. It's a global network that distributes digital comics and provides content in more than 60 languages.
If you enjoy comic books, you can never have enough content to read. With so many comic series and new stories being created daily, the only hard part is deciding which ones to read.
The site offers a free membership allowing you to read as many as 25 comic stories per month. You can also buy a paid upgrade that gives you full access to all of the comics on the site.
Download the App on Google Play Store
Download the App on Apple App Store
9. Comica – Free Webtoon Comic
Comica is one of the best apps like webtoon, which Comica Entertainment Crop developed. Though it has already existed, it has come into the limelight recently.
Comica is a wholly free-to-use and free-of-cost app available on Android. It is an excellent app for reading comics online. The creators are trying hard to make this an alternative to webtoons or manhwa.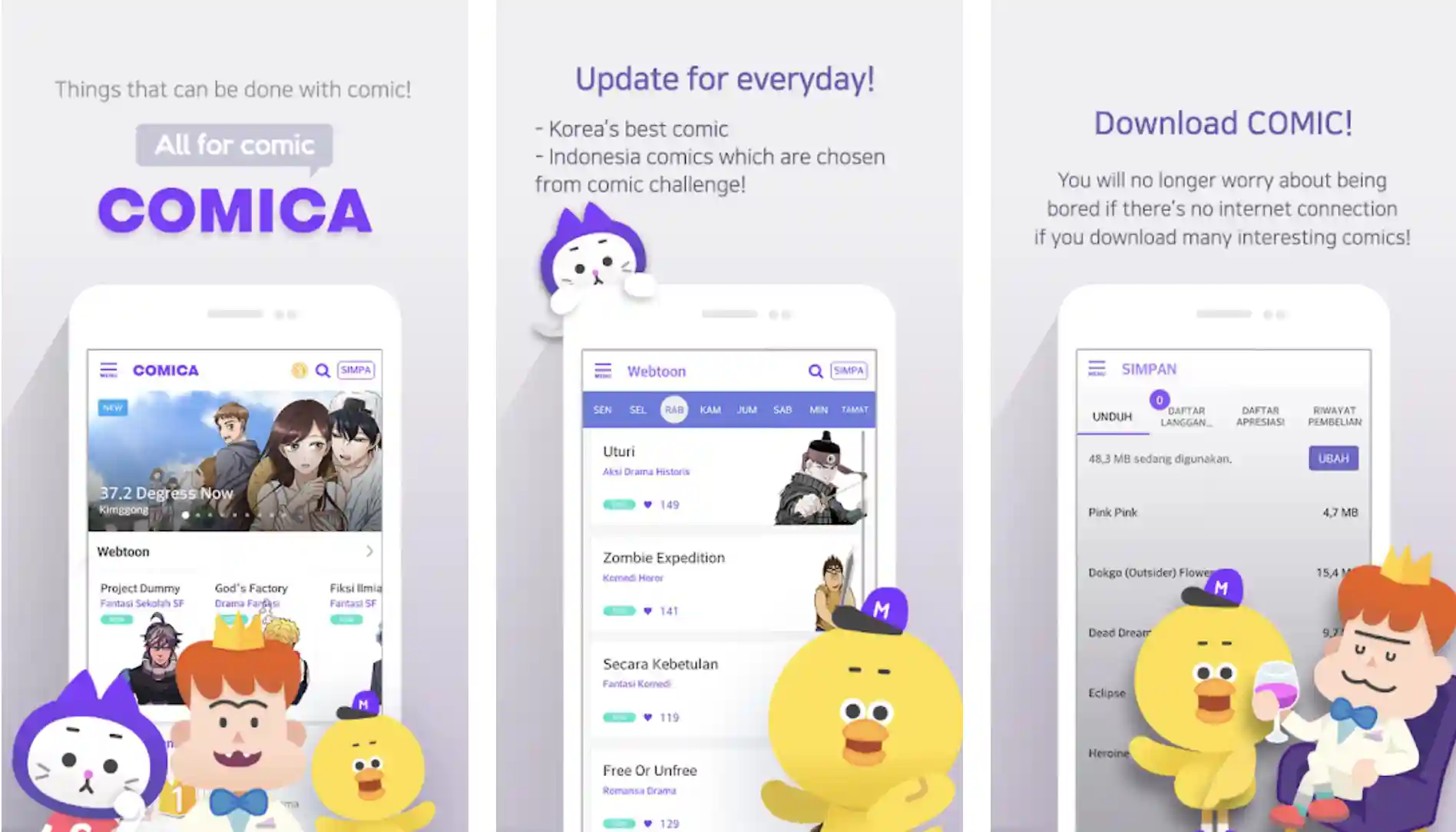 Just like many other apps like webtoon, you have to create an account before using this app. You can sign up using your Facebook account, or Google account, or you can create a new account using your email address. After you've created an account, you may rapidly begin exploring the world of comics.
Comica has many exciting collections of comics that are fun to read. There are comics for everyone, including adults too. Not all comics need to be enjoyable for everyone, but you will like some fun comics.
There are different genres included in Comica to ensure that every user gets something interesting to read. So whether you want to read action or romance comics, there will be something for everyone.
Download the App on Google Play Store
Download the App on Apple App Store
10. Tappytoon Comics
If you like to read comics and want to create your own, Tappytoon is the best app. You can interact with other people and share your comics with them. You can even earn some money as a creator.
Tappytoon is one of the best apps like webtoon because it has thousands of images, characters, and an environment that permits anyone to make their comic and get real-time feedback.
It has a user-friendly interface, and it's easy to use. It enables readers and creators to interact with each other, which no other similar app can do.
Tappytoon Comics & Novels
Suppose you are a newbie in creating comics or think this job is only reserved for professionals. In that case, you're wrong because Tappytoon makes comic creation accessible even to those who have never done it before.
So, whether you want to join this community of cartoonists or if you're going to read fantastic cartoons all day, get Tappytoon now.
Download the App on Google Play Store
Download the App on Apple App Store
11. Tapas – Comics and Novels
Tapas has a community of millions of comic lovers where all the users can share their experiences and recommend the best comic or novel series to read and adore.
Tapas has many sections, which are divided into categories. It has sections for novels, comics, manhwa, manga, etc. It also keeps you updated so you can instantly access your favorite series or novels.
Tapas App (Official Video)
The tapas app is straightforward to use, and navigating through the site is not complicated at all. It has an inbuilt search engine so that searching for comics or novels is not hard at all.
You'll find numerous site sections when you first open the app, including Comics, Manhwa/Korean Comics, Novels, Manga, and so on.
Inside these sections, many popular comics and novels are arranged according to their popularity depending on how many readers have read them and how many recommendations they got from other readers.
Tapas also has recommendations for new titles, which can be viewed by simply swiping left or right on the homepage.
Download the App on Google Play Store
Download the App on Apple App Store
12. Manga Dogs – webtoon reader
Manga Dogs is one of the best apps like webtoon. If you are a manga fan, you should install this app on your phone or tablet. You'll receive an update notification whenever your favorite manga gets updated. It is available for iOS devices.
The interface of this app is straightforward. You can switch between different sources by changing the language settings on the upper part of the screen.
You'll see a variety of languages, including English, French, Spanish, Italian, German, Portuguese, etc.
It has a clean interface with only the most essential options on the main screen so that reading your favorite manga is just one tap away. Its settings can be accessed directly in the viewer so that you don't have to leave the app while customizing it to fit your needs.
Download the App on Apple App Store
13. WebComics – Daily Manga
If you want a good time for free, you should consider reading some comics on the WebComics app. It is a great app that gives you many different options regarding the genres and series you want to read.
It's excellent for folks of all ages, and it will give you hours of entertainment. We recommend it! The site has different comics, from traditional cartoon strips to graphic novels and anime comics. You can read fiction and non-fiction stories as well as love stories and thrillers.
You have a wide range of genres to pick from. In the app, several genres stand out, including fantasy comics, horror comics, BL comics, comedy comics, etc. These genres are prevalent in the app and among readers from all over the world.
The straightforward UI makes it easy for new and experienced readers to jump in and start reading. 
Download the App on Google Play Store
Download the App on Apple App Store
14. Tinyview comics
Tinyview is the latest alternative to webtoon, delivering bite-sized comics on your mobile device on the go. It is among the best places to read comics. Each comic is hand-picked and posts the best comics that are free on the internet.
It's a web-based application for reading comics on your smartphone or tablet. You can easily access all kinds of comics, such as manhwa, manga, and webtoon. It is the best place for you to read comics online with your friends.
Tinyview will recommend comics based on your subscriptions, so you'll never miss a tremendous comic again. You can also search for comics by keyword or view featured comics.
You can also sign up for a subscription to have access to bonus panels and premium comics. You will be helping artists by subscribing so that they may continue to create excellent comics.
Download the App on Google Play Store
Download the App on Apple App Store
15. Marvel Unlimited
Marvel Unlimited is an excellent service if you are a comic book lover. You can read your favorite marvel comics like Iron Man or Guardians of the Galaxy on Android and iOS devices. The service also enables you to purchase digital copies of comics with a book's digital edition.
The app is free to register with a verified email address, name, and other basic details. You can then download comics onto your device or save them from being read later.
Discover the All-New, All-Different Marvel Unlimited
This app also has its comic series categorized, each with its respective comics. Not only do you have access to all Marvel comics, but you can also use the search bar to look for comics by their names or creators.
The free-to-use scenario is another feature that will allow users free access to their preferred Marvel comics. Users will read as many books as they want without paying any money since the free app.
Marvel Unlimited has a subscription service for digital comics and graphic novels, which you can pay monthly.
This subscription grants you access to all Marvel's and Marvel-related comics, which number in the thousands. If you have a library of physical comics, it's easy to get them on your computer or mobile device.
Download the App from Google Play Store
Download the App from Apple App Store
Final Verdict
As we can see, there is a trend of reading webcomics on the web rather than its print edition. The experience of digital comics is growing through these webcomic apps and sites.
From this trend, we can expect many changes in gaining more followers for different digital comics and the development of these comic apps.
Your favorite webtoons are now available on the go. These excellent apps let you enjoy your favorite comics easily anywhere you are.
Almost every new comic is seeing a boom in views as it is released into the app market. If you are looking for good webcomics to try out, above are some recommended ones.
These are apps similar to webtoon that you can choose from. These apps all have different features, depending on your personal preferences and which device you use, if any. Remove the ones you dislike and choose a Webtoon alternative app to improve and simplify your reading experience!