Do you have the curiosity to know about the Best Apps Like Whisper For An Anonymous Chat? 🤔 You can easily Find out now in this definitive list with our detailed review.
Without any further delay let's find out. 👓
Ever heard of the app whisper? An anonymous and top-rated app where you can share your deepest and darkest secrets without anyone knowing it's you.
It sounds like fun, right? 🤔 A little social community like your favorite Twitter, snap chat, and Instagram. The only difference is, you don't need an identity to run an account on a whisper.
The whisper app has millions of users all over the world who not only share secrets, but also share ideas, trade advice, and also learn from other people's posts.
It can be so much fun when you have to share a video or post anonymously and relax and watch as people comment on your posts. But the good thing is since the inception of the whisper, more apps like whisper are springing up, which allows more people to express themselves anonymously.
Why do you need an app like a whisper? 🤷‍♀️
People find themselves in some difficult situation that seems complicated to come out from, and seeking advice might be the only way out.
Now, most times when you share your problems with a loved one or family member, they tend to be caring at first, but go behind to mock you all they can and in most cases, they begin to spread your problems.
This act is common amongst humans, and that is why people coil back in their shells when they have a problem, and as a result of not speaking out, it becomes depression.
An app like whisper will allow you to share those problems or deepest secrets that have been weighing you down and see what other people have to say about it.
Sharing your issues on apps like whisper will give you a sense of relief, and you will get to meet other people who have either passed through what you are passing through, or are currently in the same situation with you. They tend to give you advice on how to go about what is eating you up, instead of mocking you.
This might not be a permanent solution to your problems, but it will go a long way in helping you overcome your worries and fears.
However, there are so many apps like a whisper that you would find on the net. But below is a list of some outstanding apps like a whisper that you can sign up to and start sharing your problems.
Best Apps Like Whisper: Our Top Pick 👌👌
1. Anonymous Chat Rooms
Are you excited about finding other alternative apps to whisper where you can share your thoughts and secrets without anyone judging you? You are at the right place because this Anonymous chat room app is top on our Best Apps Like Whisper list.
If you are one of those people who love to die in silence because you are scared of what people will think or say about you when you tell them your problem, then this app is best for you.
The app provides an opportunity for you to chat with strangers and let them know how you feel or what bothers you without any fear or worry about being judged.
Below are some of the features of the Anonymous Chat Rooms app that earned it a spot in our list of Best Apps Like Whisper.
Features:-
1. By using this anonymous chatroom app, you can find your secret identity, and expose yourself to the world without revealing who you indeed are. You don't need to hide your thoughts and fears behind a social mask because nobody is judging you, and no one is watching you.
2. The app is great when it comes to meeting new people. You get to discover that there are more people like you in the world and people who share the same thoughts as you. You can unconsciously fall in love and start dating anonymously through the app.
3. The app has some excellent anonymous features that you can use while chatting. The app is free, safe, and the advanced filters can be used to predict weird behaviors, stop bullying, trolling and every other bad and annoying behavior. It also includes tips on how to flirt and start a conversation.
4. The app has over a 1.6million anonymous users, and you can make your boring life more fun by engaging in chats with several strangers, and have fun while at it.
Reasons why you will love the anonymous chat app
You will get the opportunity to make new friends online from all over the world. Not minding the tribe or religion. There's no discrimination when it comes to the anonymous chatroom.

You can find new friends who are like-minded from the various chatrooms

You can be assured that you will remain anonymous and secured using this app. With over 500 filters that can be used to stop bullying and trolling, you have nothing to worry about.

In this app, you get to talk to real people who understand your true feelings and not robots

You can chat with strangers who are of the same age as you, and who understand what you are going through.

There are excellent games in the app like truth or dare

If you are shy of communicating with people, this app will give you tips on how to flirt and interact with other people.

The chatrooms are open for you to explore and meet people who are nearby.
Finding true love is a mesmerizing feeling, especially for someone who had given up on love. That is one of the advantages of this app; you can find someone who will love you with all your dirty secrets and trouble.
You can make private chat with anyone who you find fascinating in a chat room, and even share a 10seconds cam video. Download the app and enjoy a relaxing and fun-filled feeling while chatting with strangers.
2. Stranger chat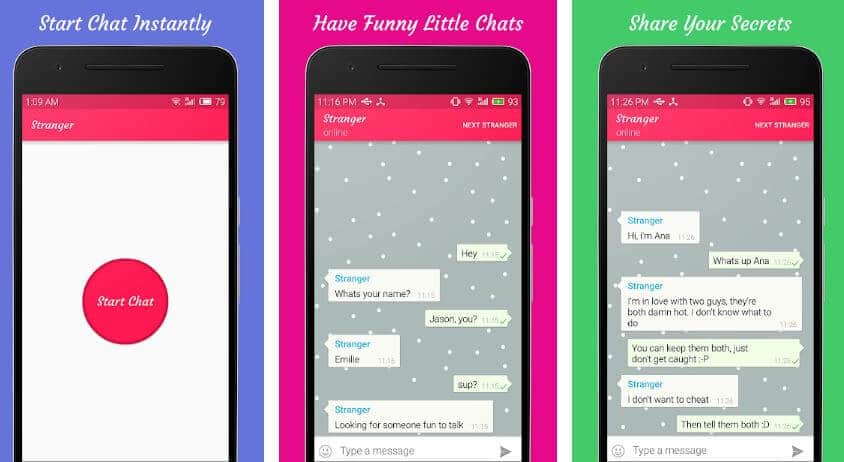 Are you getting bored and tired with the people you're currently chatting with, and you feel the need to meet new people? This random stranger anonymous app will let you meet new people anonymously. It is a new chat app that allows you to mingle with strangers and get to know them personally.
Below are some of the features of the Stranger chat app that earned it a spot in our list of Best Apps Like Whisper.
Features:-
You don't need to sign up or log in before you get to meet new people online. And you get to chat with real people and not robots on the stranger's app.

You get to meet new people on the app that you can share your taught with without being ashamed.

You can make exciting friends online, get to know them, and add them to your friend's list.

Your chat history doesn't save; it clears automatically after a while

The chat is completely free, with no hidden charges.
Ever thought of sharing your dirty thoughts with a stranger? This app offers you that great opportunity to start a chat anonymously with a total stranger and have fun while at it.
3. Sarahah
The sarahah app is an honest, anonymous chatting app. Sarahah also means honesty in Arabic; hence, it is intended to be a straightforward chat app.
The app allows you to receive honest feedback from your friends and family concerning a post you shared. It provides a safe environment for you to send feedback privately without hurting each other's feelings, instead of doing it in the open.
Below are some of the features of the Sarahah app that earned it a spot in our list of Best Apps Like Whisper.
Features:-
The app filters any content generated by users through its artificial intelligence text moderation tool

It comes with an internal filtration engine that it uses to filter substances and make it moderate.

It keeps your information private by default. No one can find you on the search engine unless you decide to come out in the open

You can choose who you want to receive honest messages from
Although the app allows people to share their honest opinions about one another, it is still done secretly as your identity isn't revealed except you permit the app to.
Whenever you want to share an honest comment with anybody, visit the sarahah app, and you would realize that there are lots of users waiting for an honest comment on their posts.
4. Friend shoulder – vent and advice anonymously
Are you looking for a shoulder to lean on? One you can vent and cry all you want? Does it seem like your friends and family are not helpful? Well, you don't have to worry anymore; the friend's shoulder is here to offer you a shoulder to cry on.
The people you meet on the group are ready to provide you with a listening ear and also their shoulder to lean on.
Below are some of the features of the Friend shoulder – vent and advice anonymously app that earned it a spot in our list of Best Apps Like Whisper.
Features:-
The app allows you to vent out all your anger, anxiety, problems, sadness, fear, and depression.

Several categories separate the vent, and you are allowed to choose the category you belong to.

You can use the chat to meet and make new friends online anonymously

You get the chance to share your secrets with anyone and feel more relaxed.
In the friend shoulder app, there is no judging and condemning anyone. No matter how dirty your secret is, no one is out to judge you because one way or the other, everyone on the app most has passed through a difficult situation and someone somewhere offered a shoulder to lean on.
So vent out all your anger, hate, depression, and every other thing that must have weighed you down one way or another.
They have categories like advice, love, relationship, betrayal, family, money, friendship, job, and se#xuality. So you can choose which group you belong to.
5. Connected2.me chat anonymously
The connected2. Me app is another alternative app for whisper. It allows you to chat with new people online anonymously.
Once you have installed the app, the signup process will demand that you add a little bit of information about yourself which you can decide to leave it empty. Once you have signed up, you can begin to meet new people who are also anonymous.
You can only get to know their identity if they allow you to. You can always upload a fake picture of you on your profile with a nickname, and no one will suspect it's you they are chatting with. You become completely anonymous and also meet unknown but exciting people.
Below are some of the features of the Connected2.me chat anonymously app that earned it a spot in our list of Best Apps Like Whisper.
Features:-
Connect with different people from all over the world and chat with them

It comes with a shuffle feature that allows you to see who is online and who is free for a chat

Create your profile and receive a link that you can share on other social media platform to invite people to chat with you

You are free to share your secrets, confessions, and gossip

You can confess your feelings, your thoughts, and emotions freely without being judged by anyone

Meet foreigners also and chat with them.
The messaging platform is free and fast, and you will be surprised to meet celebrities, specialists, business people, and people from all works of life on the connected2 platform.
It is a large community that allows you to explore and open up your mind to meet and mingle with the high and mighty. Download the app today and begin to have fun meeting different people anonymously.
6. Chatous
The chatous app is another beautiful app like whisper that allows you to chat with various people anonymously.
Using the app, you can look for chat rooms that tickle your fancy using a hashtag, and you can also get the chance to create your chat room.
The app is entirely safe and secure, and your chats are only available online for a few days after which it will be automatically deleted for safety purposes.
Below are some of the features of the Chatous app that earned it a spot in our list of Best Apps Like Whisper.
Features
Use the hashtag feature to connect with people who have similar interest as you

Your identity can be protected by anonymity, or you can always change your display name, and no one can find you on the search engine.
The app is compatible with either your smartphone or your computer

When you are tired of being anonymous, you can video chat or send an audio message to the one that interests you
You get the chance to meet new friends all the time because you are always allowed to share a topic of discussion and start a conversation. And that way, you can be sure that whosoever responds to your discussion shares the same personal interest as you.
The app is simple to use and completely free. If you want a community where you can meet people who have similar interests like you, then you can try the chatous app.
7. Reddit
Reddit is an app with over a hundred thousand users that allow you to laugh away your sorrows, think, discuss important issues, and dig dip into exciting topics that are of great interest to you.
The app is entirely free and open for all to vote, and chat anonymously. On Reddit, you get to share so many things like your passion, hobby, favorite books and movies, games, sports, TV programs, etc.
you will get to meet people who are like you and share the same interest as you. With the app, you can never miss out on what's trending, because just like every other social media platform, there is always a piece of trending news or gossip that will fill your ears.
Below are some of the features of the Reddit app that earned it a spot in our list of Best Apps Like Whisper.
Features:-
The app makes it very easy for you to find topics that may interest you.

The app has access to features like community group chat, and many more.

You get the chance to get the best of that which interests you.

You can always share your feelings on the group chat and ask for advice on any problematic issues.

You can also contribute and share your ideas on several issues.

You are allowed to upload photos and videos if you so desire
The Reddit app is one that has lots of activities and fun combined in it, and you can chat and get lost in your conversation on the platform. The app is easy to use, has lots of users, and you can decide to go private with anyone you want to.
Your identity is safe and secured in the app. If you wish to remain anonymous, you can always be unknown and enjoy the ride all the way. The app is free, but if you are tired of seeing the ads popping up, you can upgrade to the pro version.
8. Anonymous Anti chat rooms, meet new people

.
At some point in time, you might feel scared to talk about your problems or share your problems, emotions, crush, etc. with someone else.
But the anonymous anti chat rooms have allowed you to meet new people anonymously that you can share your thoughts with, without being judged.
Some people like to express themselves and share how they feel with other people, but due to the fear of being mocked or judged by family and close friends, they tend to keep to themselves.
Using the anti-chat room app, you can go incognito. Meet new people anonymously, make new friends, share your secrets with a stranger, gossip, and feel free to date and make secret confessions all done in anonymity.
Below are some of the features of the Anonymous Anti chat rooms, meet new people. app that earned it a spot in our list of Best Apps Like Whisper.
Features:-
It's an exciting app that has over a 1.6million users from all over the world

It has over 1ooo group chats that you can join, with people from all languages and tribes. You can also get the opportunity to learn international languages and go into interracial dating

Lots of cute avatars for you to choose from to pose as your identity.

They have skilled moderators that control orderliness in the groups and ensure safety and complete anonymity among members.

The group is fun all the way. You don't need a name, chat history, ads, or anything that might pose a threat to your identity.
The anonymous chat makes chatting easier than you think. It is a large community that brings several people from all works of life together. All you need do is have fun and be happy.
Express yourself adequately and say the things you would never say in a public chat site like Facebook that could give away your identity. You can also meet foreign people and date exciting people, become naughty while being anonymous and nobody will judge you.
9. Psst anonymous
The psst anonymous app is used in connecting like-minded people all over the world. It is an anonymous social network that allows you to share news, secrets, opinions, funny posts, confessions, and photos all confidently and anonymously.
Discover the excitement in sharing a mystery with a stranger. It doesn't come with excitement alone, but it seems like a huge burden has been lifted off your shoulder.
Below are some of the features of the Psst anonymous app that earned it a spot in our list of Best Apps Like Whisper.
Features:-
The app allows you to vote, comment, and send a private message to anyone anonymously

You can always add them as friends when you feel you are mentally and physically ready and also connect with them.

You won't be getting random photos with the use of this app. It is only the people you've added on your friend's list that would be able to send you pictures.

You can follow any post that attracts you secretly and get continuous notifications when a new post comes up

No matter the number of people you are following, they remain anonymous to you, likewise them also.

With this app, everything you do is temporary. There can't be any trace to you as regarding a post or comment, just like every other secret app, no encryption, no screenshots, and no logs anywhere.

Your post only remains on the app for 48 hours after which it disappears completely.
The psst anonymous platform allows you to register using your Facebook or Twitter account, but it doesn't display any of your social media data without your consent.
Hence, the app is completely anonymous, and you can feel comfortable while sharing a post knowing that no one knows you so that no one can judge you.
10. Camsurf: Chat Random & Flirt
CamSurf provides a fun, free video chat experience for people of all ages. Its lightweight platform is so simple to use, it only takes a few clicks to get connected with a stranger.
Once you've decided to move onto the next chat, just hit the "next" button and in less than a second, you'll be meeting someone else!
Video chat is what most people prefer, but CamSurf also provides a text chat to type feature for the people who prefer it. Want to meet random people on the go? Get the Android app! The iPhone app is still in production, but soon everyone will be able to take CamSurf virtually anywhere.
Features:-

Conclusion
It must surely feel great to know that there are other apps like whisper, where you can share your thoughts, feelings, emotions, secrets, and everything that troubles you without being judged.
Even if you are bise#xual and the thoughts of it weigh you down, yet you can't share with anyone, any of these anonymous apps is open for you.
They are all free and available to all android and iOS users. So feel free to download any of the apps you want and begin to express yourself anonymously.