When you take the most amazing picture of all time, and find out that it looks blurry? Man, What a bummer. A few years ago, all you could do with pictures like this was delete them.
But now you can use simple tools or apps to unblur these pictures and see the beauty in them. These pictures might also be the best you have ever taken, don't take the chance of missing out on photos like these.  
All you have to do is download one of the apps that are going to be listed below and unblur your pictures. The apps to unblur pictures are listed below.
Before you take a look at the apps, just remember, there is a limit to everything you do, when the picture is blurry times two just delete them. On most of the apps, you will have to do the work of editing the picture out of the blurriness. 
Best Apps To Unblur Pictures: Our Top Pick👌
1. Remini

– Photo Enhancer
Considering Apps to unblur pictures, Remini is one of the best in the game. The developer of the app has made sure that your pictures will look vivid and stunning.
You can simply unblur your pictures using the Enhance button, which turns your blurry pictures into high-definition and clarity photographs.
This is one of the best apps you can find for editing. With Remini, you can work with pictures that are less than 4096 pixels. 
Download the App, Remini, choose the Enhancer option, and then wait for the app to do its magic. There is also a double enhancer option, to unblur very blur pictures.
Since Remini uses AI generative technology, it is promised by the developers that your photos will look like professionally photographed images.  
Remini - AI Photo Enhancer
Features:-
You can have all your low resolution, blurred, compressed, old, or low-quality pictures to be enhanced by Remini. 

 

The option of non-damaging a picture is also available. To a certain level, since it's not literal magic.

 

The enhancement can be done from an old and low-quality photo to the current camera quality. 

 
The pictures can be uploaded from a camera or a laptop, and then changed and enhanced, and sent back to the laptop. 

 

Remini not only enhances images you can also enhance videos, which might take a longer time to enhance but your job will be done. 

 

The app contains Ads, but only when the app is processing your item, when the ad is over your item is ready too. 

 

Remini gives you an option where you can compare your original picture with the enhanced picture. 

 
Download App on Google Play Store
Download App on Apple App Store
2. AI Image Enlarger

– Best Image Upscaler – 400%
Looking at all the Apps to unblur pictures, AI Image Enlarger upscales your photo without losing quality.
The best app you can use to edit on your phone and then transfer to your laptop or desktop to use for your project you are working on or to post to your socials.
You have two subscription plans available for you, $5.99/month and $14.99/year. Once you get your subscription, you can download your enhanced picture from the app to your gallery.
You can use the sharpness tool available on the app to unblur your picture, which brings clarity to the photo.  
Download AI Image Enlarger and enjoy maximizing and enhancing your pictures. The five main options available on AI Image Enlarger are, of course, Enlarger, Enhancer, Noise cancellation for the images – Denoise, Retouch-for last-minute changes, and Sharpen.  
Features:-
By using the Sharpen option and the image Enhancer, you can easily unblur a picture. 

 

The process of using the app is quite simple: choose an image that you want to edit, wait for you to get a task ID. Once your task ID says 'success,' you can download the image to your gallery. 

 

The upscaling on this app is allowed for 200%, 400%, and 800%. These upscaled pictures can be downloaded and uploaded to your computer, and your picture quality will not reduce. 

 

You have an option to check the difference between the original picture and the beautified/edited picture.

 

The Denoise option reduces the blurriness of the photo. After this, if you use the enhanced option, you can create a beautiful picture to increase the photo's perspective. 

 
Download App on Google Play Store
Download App on Apple App Store
3: EnhanceFox

– AI Photo Enhancer to Better Quality
Want to make your photo memories unblurred? EnhanceFox is one of the best apps to unblur pictures, and it also works with real-time photo quality. 
Imagine you found an old picture on your camera that seems blurry, and you cannot figure out what the picture was. With EnhanceFox, it's easy to unblur your photos with the advanced technology that is AI-generated.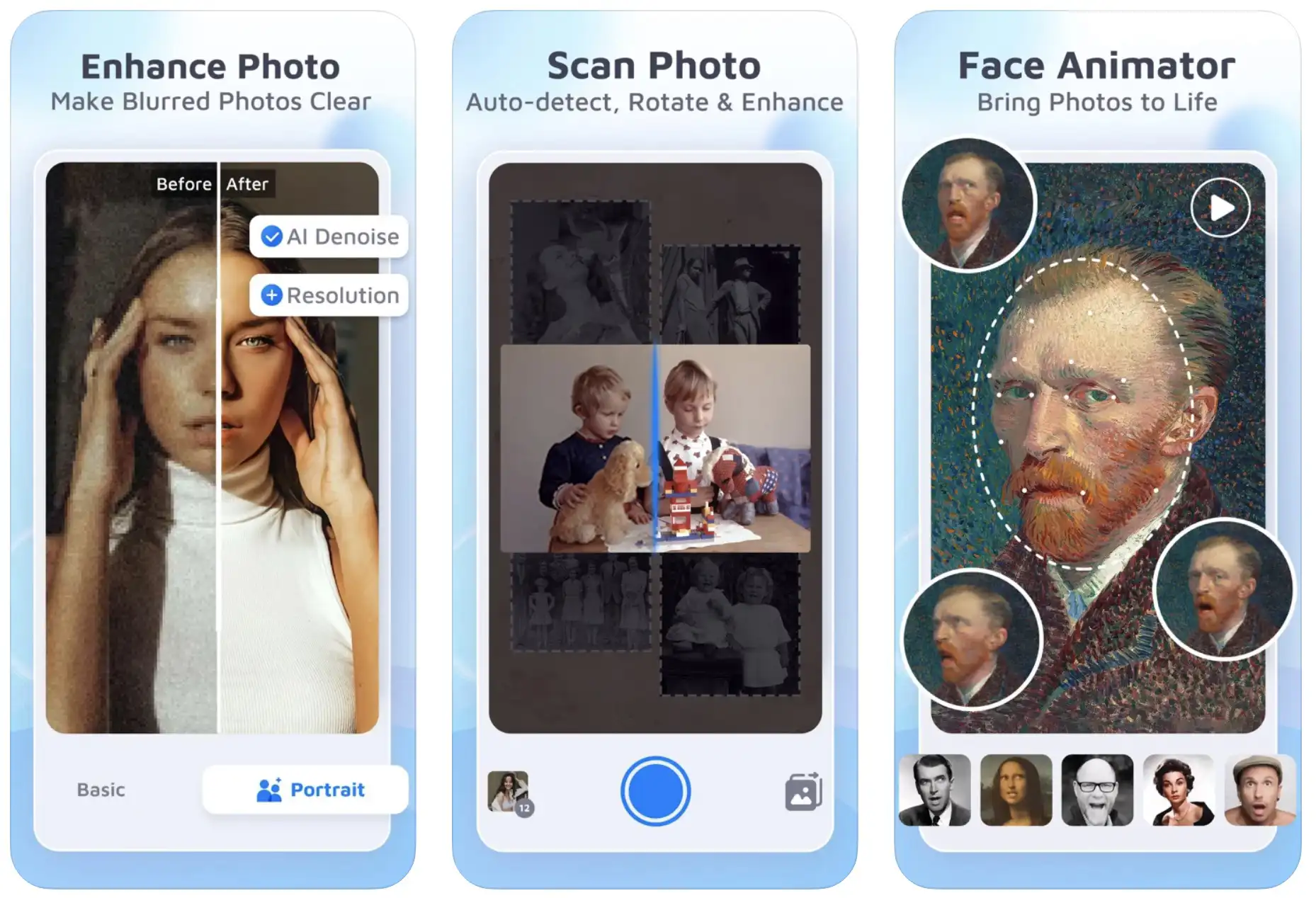 EnhanceFox not only helps you unblur your photos, but it also helps with restoring your old pictures and making them look as good as new.  
Download EnhanceFox and enhance the way your picture looks with the help of the improved HD quality settings.  
Features:-
The main functions of the EnhanceFox are Colourizing and Enhancing your pictures. 

 

Fix the blurry photos to make them clear and improvise with the Enhance option.

 

Along with unblurring, you can also colorize the old black and white pictures with the help of AI-powered technology. 

 

This app also has fun features like animating photos to make your pictures even more fun and changing your selfie photos into anime-looking characters. 

 

You can give retouches to your pictures to make them look more professional. 

 

You can save your old photos when the photos are compressed or have the old yellowish tint. Just upload your files onto the app and make them brand new. 

 

You can also remove the unwanted objects on your pictures with this app and retouch the feel of the picture. 

 

You can use the Denoise option available in the app to remove the noise on the photos and save them from the low-resolution attack. 

 

There is a new option that can let you scan your photo and turn it into digital photos. 

 

You can also share the photos that you worked on directly from the app. 

 
Download App on Google Play Store
Download App on Apple App Store
4. Enhance it

– Fix your photos
Like the other apps to unblur pictures, Enhance-it also uses AI-powered technology to beautify your pictures. One thing that Enhance-it does better is that it automatically defects your photos.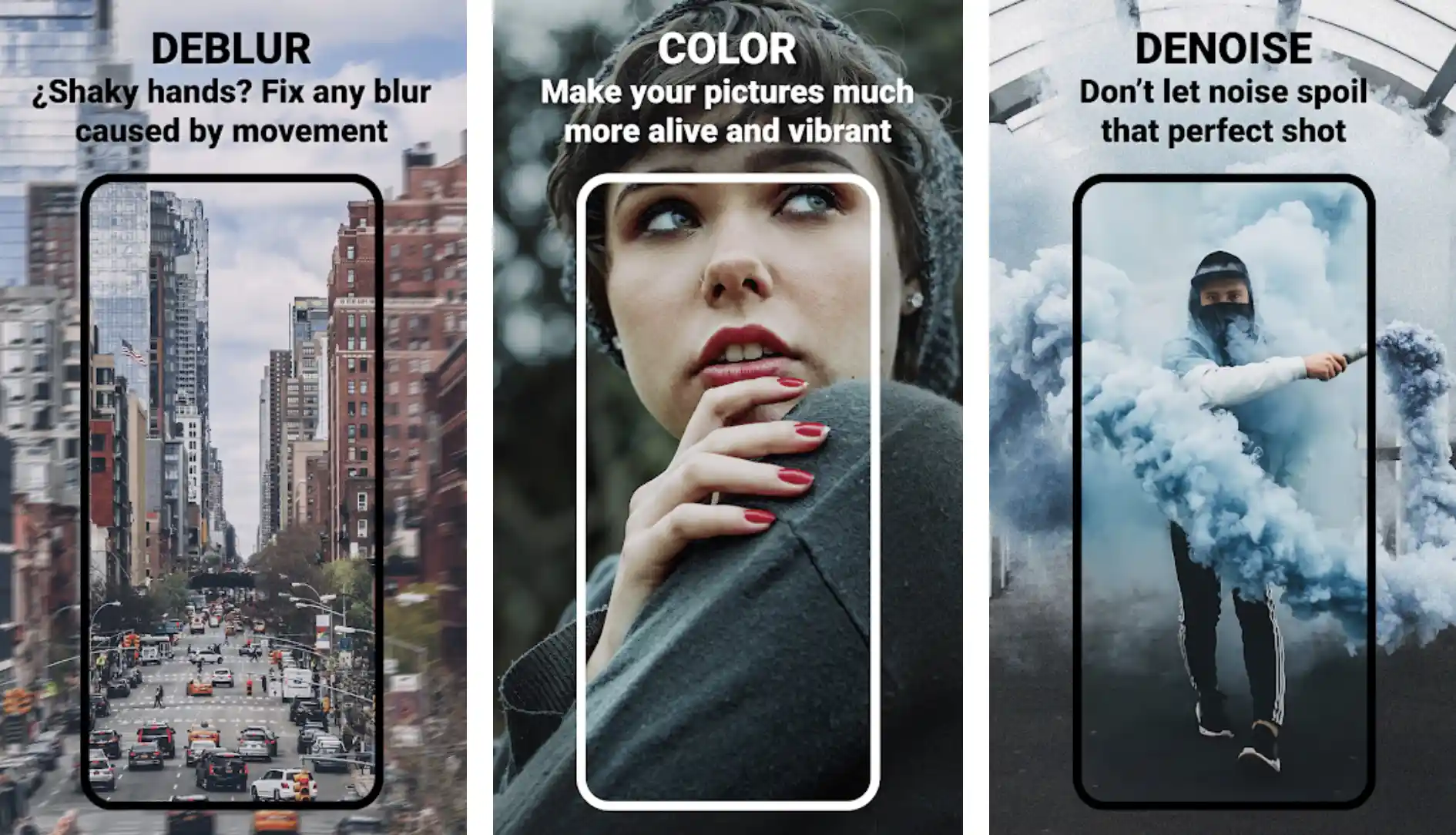 To get a professional edit, your picture will cost you a lot. Instead, download Enhance-it and edit your images in your way.
You have a great set of tools that are available for you to choose from. Download Enhance it and fix your photos by enhancing them. 
Features:-
The five tools that Enhance-it provides are motion blur, Denoise, Enhanced color, enlarge and enlighten. 

 

The motion blur option simply unblurs a picture that has unfortunately gone through an unwanted motion blur. It can also clarify your picture when it has a normal blurriness to it. 

 

The Denoise option helps you enhance the picture by removing the noise and the graininess of your photo. It brings out a perfect balance between the sharpness and the clarity of the picture.

 

The enhanced color option helps you colorize the old black and white photos from a while back. The best part about this? The editing doesn't even spoil the picture. 

 

Enlarge option helps you increase the zoom capacity of the picture. It maximizes the picture that you want to the size you want. 

 

The Enlighten option adds light or brightness to your low lit pictures. Now don't have to worry about not looking good in your pictures because there is not enough light. 

 

Enhance-it has a slider that lets you adjust the kind of filter you want. It also enables you to increase the intensity of the filter. 

 
Download App on Google Play Store
5. Lumii

– Photo Editor and filters
Lumii is one of the free apps to unblur pictures. It lets you edit your photos with powerful tools. It's a simple app that enables you to edit your photos fast.
It gives you high artistic vibes, the quality of your picture increases with the use of Lumii. With all this said, I need to point out that this app unblurs your pictures with high return quality.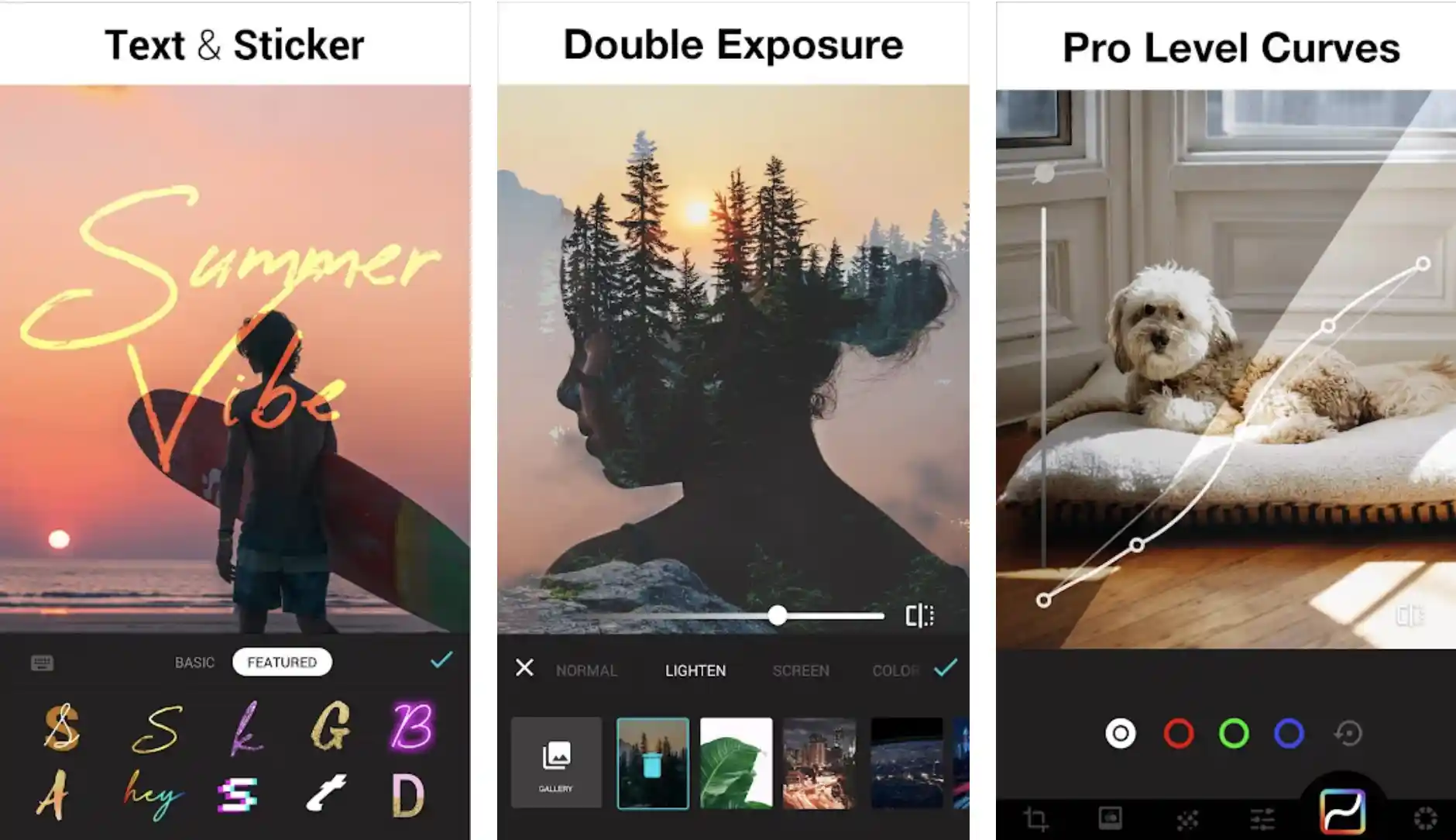 Lumii is an all-in-one photo editor. To use the Pro version of this app, you need to pay a small fee for the extra exciting features that you get.
This pro version creates overlay presets by placing different editing on top of each other in the same picture. Download Lumii and unleash the photo editor spirits inside you.  
Features:-
You have to simply choose the sharpness tool and increase or decrease the quality of the picture. 

 
Since Lumii is an app that unblurs pictures, it has qualities like using customized photo filters, photo effects, background eraser, adding curves on the picture, exposure, and essential photo editing tools. 

 

When you customize filters or effects for your photos, there are various options like preset Instagram filters, special effects, and adjustment of effects on the available filters. 

 

There are effects like a glitch, double exposure, etc., which you can make fine adjustments to. 

 

There is an option to export your pictures from the app to any platform you want to send them to. Share your work with ease.

 

There are also options to rotate and crop your pictures, along with a feature that lets you add texts to your pictures. 

 

Lumii is a mini Instagram picture editor, though the same developer does not make them. 

 
Download App on Google Play Store
6. Adobe Lightroom – Photo Editor

 
When it comes to editing photos, Adobe is one of the most used in the photography industry. It is one of the most easy-to-use Apps to unblur pictures in the market.
When you want your photos to look sharp and clean, it's a must that you take a look at what this app has to offer. You find so many different filters and adjustments which will make your photos look fantastic.
Adobe Lightroom AppPreview 1920x1080 EN
Make your pictures look professionally edited and customized for your content. You can edit photos anywhere with this app, and it also empowers the level of your photography. Download Adobe Lightroom and feel empowered with a great taste of editing. 
Features:-
The creative photo editor for professional results. You can create stunning profiles with easy presets, color enhancement, selective editing, perspective overlook, and many more perks.

 

You can conduct your experiments on the photos by comparing photos and not losing the original picture.

 

You simply have to use the given sharpness and enhancer tool to unblur your picture and use the color schemes to increase the brightness on your picture. 

 
You get access to all the preset edits, and these edits will be saved on every device you log in to your account. 

 

You can retouch your images with needed adjustments and control the saturation to elevate your photos. 

 

The photos that are edited here are in HD quality for the best results. 

 

While enhancing the pictures, you get to choose from the 70+ editing tools and presets created by the developers on Adobe Lightroom.

 

You get an option for a pro camera which increases the uniqueness of your photography. Choose your exposure, timer, raw settings, and many more. 

 

All your work will be saved on the adobe cloud storage, and you can access it when you need it. 

 
Download App on Google Play Store
Download App on Apple App Store
7. Snapseed
You can create a perfect photo fast and easily with the tools and filters they provide. Snapseed lets you tune your photo to your heart's desire.
With Snapseed, you can unblur a picture with the tools that they provide, choose the Sharpen degree, and set the perfect degree to unblur your photos. You can also use the Auto-enhance tool to clear the blurriness.
Since a bunch of professional photographers developed the app, you can trust the editing process. The app will make sure it removes almost all noise in your picture.
You can then use the retouch tools like exposure, brightness, and saturation. Download Snapseed and improve your photo editing skills.  
Features:-
There are 20+ tools that you can work with, including perspective, structure, and a few other professional editing tools. 

 

The app supports RAW and JPEG files, making it easy to upload pictures to the app for editing. 

 

You can save your editing pallets on the app and apply them later to different pictures.

 
The app lets you tune your images by adjusting the exposure and color either manually or automatically, with delicate precision. 

 

The details you can add to the photo magically structure the photos. 

 

The perspective line fixes the skewed lines and adjusts the geometry of surfaces like a building. 

 

There is a white balance tool that helps in making the picture look more natural. 

 

The brush option retouches the pictures and corrects their exposure, saturation, warmth, and brightness.

 

You can remove objects in your picture to get a clean, perfect photograph. 

 

You get many more options like lens blur, contrast, HDR scape, expand, and many more to create a perfect picture.

 
Download App on Google Play Store
Download App on Apple App Store
8. Pixlr

– Photo Collages, Effect
Pixlr is a great app to unblur your pictures, and you get all the essential tools like filters, effects, and standard editing options. When it comes to Apps to unblur Pictures, Pixlr is in the top 5, accessible and user-friendly.
To unblur the photo, choose the picture you want to unblur, select the editing tool in the suitcase icon. Choose the sharpen tool and slide the control as per your wish.
The amount option in the sharpen tool is for the level of blurring, and the radius is to choose how much you want to unblur, like a certain radius amount. Even a tiny slide makes significant changes to your picture.  
Features:-
You get hundreds of free effects, filters, and overlays to edit your photo to your liking.

 

The app helps remove red-eye blemishes, smoothens the skin, and many more with simple tools available on the app.

 

You can choose from a wide range of effects to edit your picture, just like a professional photo editor. 

 
Your favorite effects, tools, or even overlays can be kept track of so that you can use them later on. 

 

You have options to crop and resize the photos, and you can also add a border to your picture right before saving the picture. 

 

You can paint or remove effects into or off a few areas of the picture. 

 

There is a collage option to beautify your pictures altogether and add texts to your photos. 

 

You have a double exposure effect, with which you can create amazing digital photographs. 

 

You can share your photo with the Pixlr community or export it to your gallery. 

 
Download App on Google Play Store
Download App on Apple App Store
9: 

AI Photo Enhance/Unblur

: Clear, Sharpen Face Pics
In the topmost Apps to unblur Pictures, AI Photo Enhance/ Unblur has secured a place with the name for creating crystal clear portraits. All your blurry selfies can now be made Instagram postable.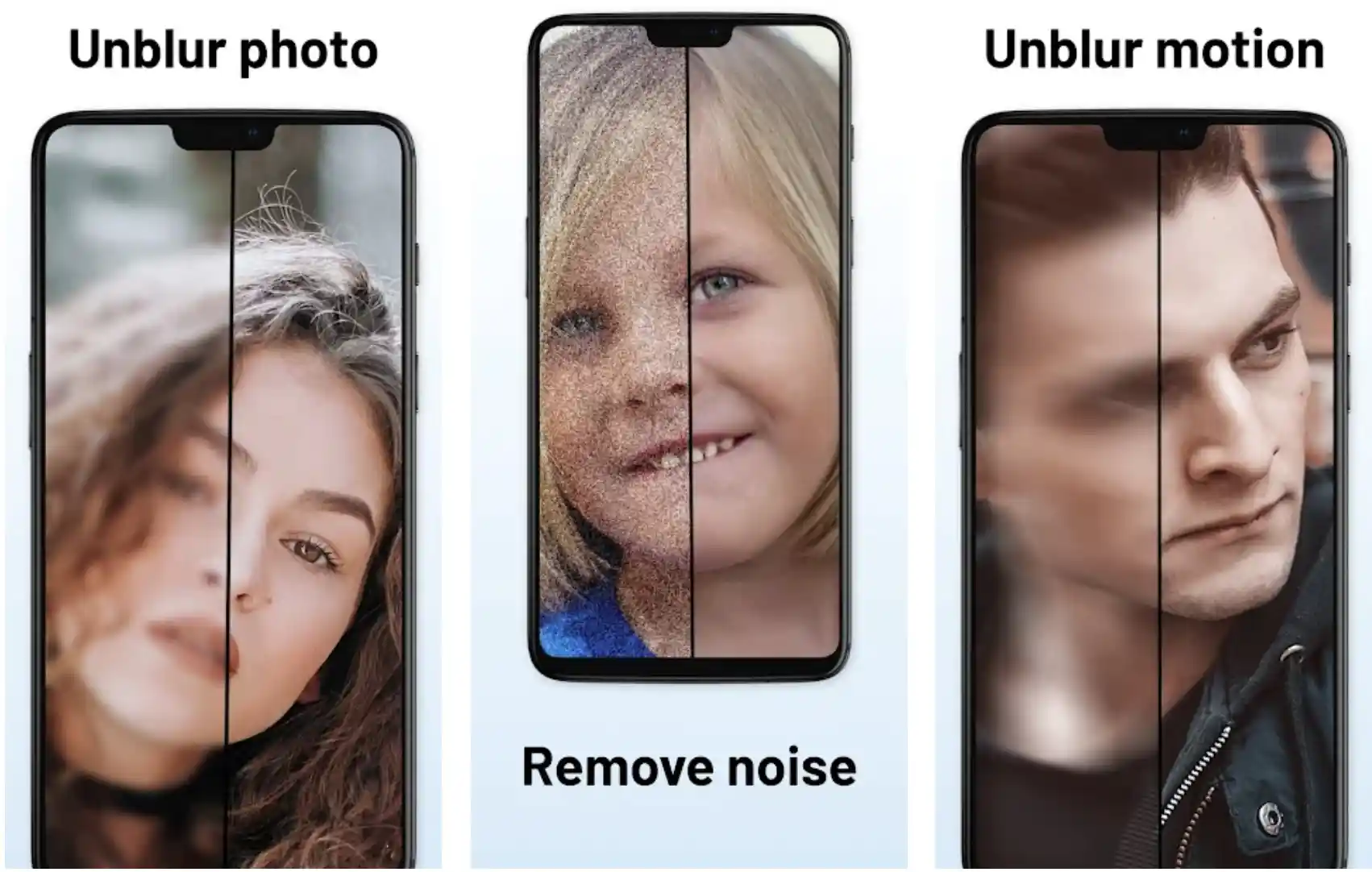 All you need to do is choose a picture that has your face on it, and make sure the faces on the picture should not be too small, click on the unblur picture option, and voila! You have a crystal clear picture in almost less than a minute.  
Some unique features:-
With this app, you can Enhance your photos, unblur the picture, remove all the unwanted noise, unblur the motion capture, and clean your photo and improve the quality. 

 

This app unblurs the whole picture at a time and saves your time unblurring spot by spot. 

 

Since the app is available for free, it might contain ads, one ad per enhancement on the photo. 

 

The app is free for five unblurs, enchantments, or denoising. After which you have to pay a small fee for the Pro subscription. 

 

If you want better results, just run the photo through the enhancer setting or option twice, the photo is going to look marvelous. 

 
Download App on Google Play Store
10. Enhance Photo Quality
The Enhance Photo Quality app is similar to the above apps to unblur pictures, it can unblur your app with the help of the enchantment option and also enhance the quality of the photo.
With this app, you can turn your pictures into art pieces, the overlay effects, photo effects, photo filters, photo focus, and many more. It has a very simple structure to the app but works like magic.  
Some unique features:-

 

 
The app has features like body retouching, double exposure, quality enhancer, colorizing black and white photos, to take the editing game to the next level. 

 

The un-blurring of the photos is easily influenced by using the enhancer option along with the sharpness tool, available on the app. 

 

The app gives access to beautifying effects to apply to your photos, which increases the quality and look of the photo. 

 

You get tools like photo effects, vignette, text on photo effects, autofocus on photos, stickers, lens flare effect, overlays of pictures, and borders on photos.

 

And normal photo tools like contrast, brightness, cropping, rotating, hue effect, sharpness, and many more. 

 
There is a share option via WhatsApp, Facebook, Instagram, Twitter, and other social media. 

 
Download App on Google Play Store
Mobile apps have their own limitations and if you are looking for a powerful way to Fix the EXTREME Blur then I will recommend you to check the below tutorial from PiXimperfect.
Mind Boggling A.I. to Fix EXTREME Blur!
11. PicWish Photo Enhancer 
 Transform blurred, pixelated, old, fuzzy, and damaged photos with this newly launched app. Powered with its very own smart AI technology, users can enhance low-quality photos to high-quality ones automatically with just a tap. Create clear images and fix every detail on your photo instantly with this amazing app. 
More than just a face enhancer app. PicWish can also restore old photos, remove unwanted objects, persons, text, and cartoonize or make yourself older/younger with its added features.   
To achieve a clear and professional-looking photo, download the app on your mobile phone and start enhancing every blurry photo that you have.
Just simply upload your photo and the app will automatically process your file. Wait for the result and save it directly on your phone gallery.   
Features:-
The best feature of this app is its power to unblur photos for any project. You can enhance any photo format that you have automatically.

 

You can restore old photos that were damaged throughout time and bring them back to life.

 

Transform low-quality photos into high-quality ones.

 

Not only you can use it with real people, you may also clear anime or cartoon photos.

 

This app allows you to remove unwanted objects, persons, text, graphics, etc.,  from any images precisely. Use its brush tool to ma

nually highlight the unwanted object.

 
Do some artistic effects by creating a fun cartoon version of yourself that can automatically detect your face and present it in a cartoon.

 

Make fun with yourself using its magic face aging feature. You just need to slide the adjusting bar between younger to older.

 

Accepts almost all the photo formats to process it openly on the app.

 

It shows the before and after results for you to compare the old photo that you have to the new one.

Directly share your clear photo on different social media sites like Facebook and Instagram, or save it on your phone gallery.

 
Download PicWish Photo Enhancer on Google Play Store 
Download PicWish Photo Enhancer on Apple App Store  
Conclusion
If it's a background Blurring, it can be edited with a different editing tool, but when you want to unblur the whole picture, the tools provided in the apps as mentioned above can be done easily.
The apps can help you with slight changes to your picture, which would make a big difference. It'll help you make the picture look presentable and appealing.
Apps to unblur Pictures are common to find, but very few apps do the trick of actually unblurring the picture. These apps are not only used for unblurring your pictures.
They also are used to edit your pictures to look like professional photography. The apps can also be beneficial to hide the unwanted or not presentable background of the photo.