Are You Looking for a list of Best Artificial Intelligence Apps which will help you in your Daily Living? 🤔
This list is for you only.
Without Any Further Delay, Let's Explore this guide. 😎
Over time, artificial intelligence has grown into one of science's most popular fields. It does a lot to provide personal assistance that can help you achieve more in less time.
Since the invention of artificial intelligence, work can now be automated across different industries. Although pretty expensive to acquire and maintain, artificial intelligence has enough advantages to cover for its cost.
It is because of its ability to make work faster and increase ROI that thousands of companies around the world are damming the price and incorporating it into their working process.
As expected for such an expensive technology, most people do not have enough money to purchase the machinery needed to incorporate it into their daily activities.
The invention of artificial intelligence apps has drastically reduced the cost involved in acquiring artificial intelligence. Thanks to these apps, artificial intelligence can be gotten at almost no cost. The availability of so many artificial intelligence apps can make the process of choosing the right one for your needs hectic.
At the time of our research on Best Artificial Intelligence Apps, we found a video about "What is Artificial Intelligence Exactly?" which is worth watching. 😎🤴
To help make the process easier, we will be reviewing 8 of the best artificial intelligence apps that is available for android and iOS users. Each of these apps can easily be incorporated into your smartphone to make work easier and quicker.
Most of these apps feature topnotch AI algorithms that can easily learn your daily habits and use them to help improve your living. They provide an impressive level of accuracy and suggest easier ways to complete your work.
Take a look at them.
Best Artificial Intelligence Apps: Our Top Pick 👌
1. Cortana
Making the top of our list of best artificial intelligence apps for 2019 is one of the world's most popular digital assistant.
App reviewers have often described Cortana as what a digital assistant should look like, and it is not surprising that they believe so, considering all the awesomeness that this app offers.
There's so much talk about Cortana's usefulness and contextual ability. Unlike most other apps in its category, the features of Cortana aren't dependent on the Android version you are using. This puts the app from Microsoft in a good position in the competition.
Cortana helps you access useful information quickly and efficiently, especially if you are in a position where you can't handle or operate your device.
With its access to your personal data, Cortana can assist you with things like text messaging, calendar appointments, incoming and outgoing calls, and a lot more. Although most other digital assistants can do these, Cortana makes the whole process as smooth and seamless as you can ever wish.
The only downside of this app is that it doesn't integrate with Android as well as Google does. This is basically because Microsoft is yet to have complete access to the deep inner working processes of Google and Android. Don't be bothered, however, as this doesn't affect the app's ability to help you with basic functionalities.
Below are some of the features of the Cortana app that earned it a spot in our list of Best Artificial Intelligence Apps to download.
Features:-
Personal assistant app
Voice recognition
Hands-free operation
Overall, this is an app worth having. It lets you concentrate on other things like driving while accessing the basic features of your Android device.
2. Hound
Hound is a voice assistant app that allows you to access several features of your phone through voice command. The artificial intelligence-powered app developed by SoundHound Inc has grown in popularity over the years.
The app arms at setting itself apart from the stiff competition by being an to provide an astonishing level of depth that is unique to it.
Everything, from the setup process of this app to its usage, offers an incredible level of ease. Just a few steps and the app is up and running on your phone. Once you are done downloading the app, open it on your device, and begin setup.
During the setup process, you will be asked to grant a few permissions. Just hit allow and you are good to go. Next, Hound will take you through a brief tutorial on how to use the app before you begin to use it fully.
Hound offers the same functionalities with most other voice assistant apps, from telling you the weather, to showing you coffee shops and restaurants near you.
At first glance, these functionalities don't seem so special; after all, we've had technologies offering them for years.
Hound, however, introduces the use of Boolean logic to take the notch higher. This is a complex logic in question feature often used in database querying. With this feature, you can ask Hound complex, multi-part questions, expecting to get excellent answers from Hound.
It's nothing short of fascinating to know that Hound is designed to answer complex questions correctly, but Hound has even more tricks up its sleeves.
The app's tutorial shows that you can also request the app to play tracks from a specific artist. The app continues to play different tracks from the required artist until you ask it to stop.
Below are some of the features of the Hound app that earned it a spot in our list of Best Artificial Intelligence Apps to download.
Features:-
Accurate
Easy to use
Easy setup
Ability to answer complex questions.
Despite the seeming complexity, this app still handles basic tasks with accuracy. It is the game-changer in voice search. Its ability to tackle complex questions sets a new bar for competitions.
3. ELSA Speak
If you've had to search for an app that translates languages or teaches you how to pronounce English words, then chances exist you must have bumped into ELSA before.
Arguably one of the most popular apps that teach "pronunciation of English words like real Americans," this app brings a new level new vibe to the competition. Many reviewers refer to it as an astonishing use of artificial intelligence in language learning.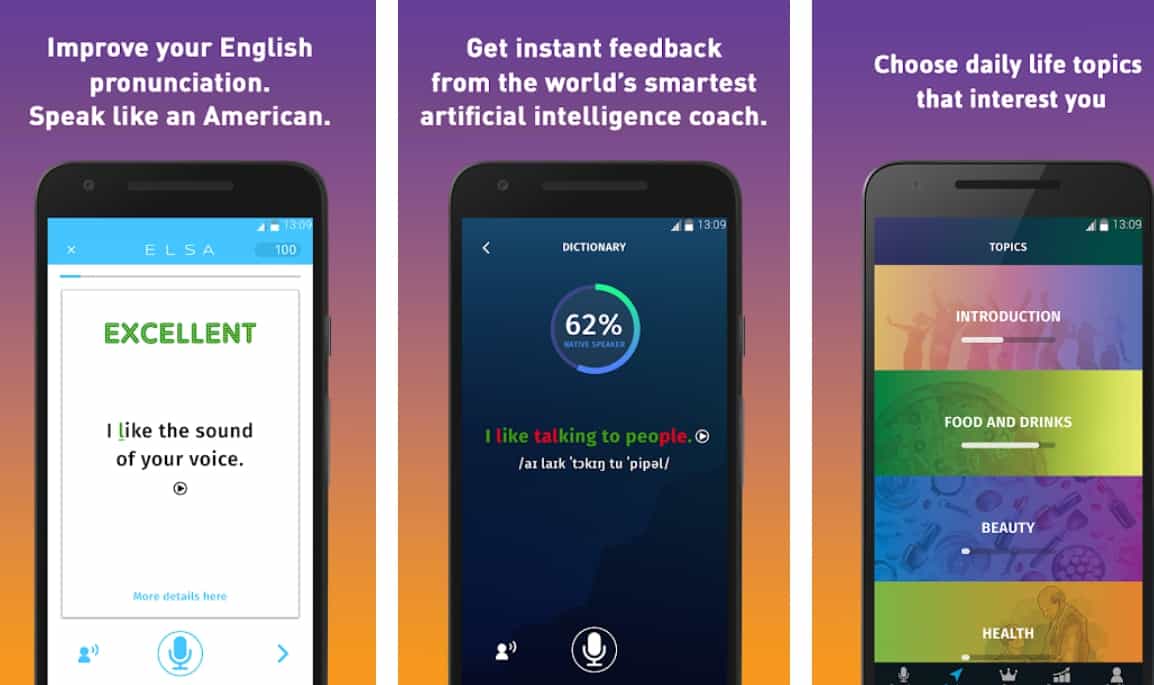 With this app, you can engage in a wide range of activities, all focusing on improving your sound of the English language. With the app, you are mainly recording yourself pronounce certain words, and then you get a chance to compare your words to the American pronunciations.
You will find that the words and phrases are also topic-related, so apart from learning pronunciations, you are also improving your vocabulary knowledge.
Usually, you will be able to listen back to a recording of your attempts. You will also be able to read/listen to helpful feedback on how to improve your performance. The number of times that you can try with each pronunciation is unlimited.
It is important to note that the app isn't designed for only pronunciation. It also comes with a dictionary, where you can look up word definitions, their pictures, plus example sentences.
With this app, you can expect your progress level recorded, so that you can review your performance level and have a go again on words that are difficult for you.
Below are some of the features of the ELSA Speak app that earned it a spot in our list of Best Artificial Intelligence Apps to download.
Features:-
Free to download the app
Easy setup and usage
Provides assessment to gauge progressà level.
Overall, the app comes great for anybody seeking to speak as fluent as a native English speaker. It also offers you a chance to put feedbacks into instant practice.
4. Socratic – Math & Homework
Socratic makes use of a powerful text-recognition technology to look through the web for possible solutions to specific homework questions.
Usually, you will be able to either take these homework questions with the camera of your device or manually with your keyboard. With this app, your kids won't need to do anything complicated to get their assignments solved. All that's required is for them to take a snapshot of their assignment question, crop it, and click on search.
The app compiles everything that relates to the search from basic results to more professional answers from experts, and crowdsourced explanations and solutions available on Socratic's web platform. The app is equipped enough to give answers to even questions that are somewhat complicated.
The app supports answers for science, math, English, history, and more. The great thing about the working process of this app is that it also allows kids to type in the exact format of the question, in case the camera fails to capture it adequately.
The ability of this tool to search through a wide range of platforms for answers and explanations of most basic problems have faced some severe criticisms from educationists.
Some of them believe that some kids will only use the app to get answers, abandoning the explanations of the working process. Hence, learning is lost. The answers offered by the platform tend to be of excellent quality, especially when found on the database of the app.
Below are some of the features of the Socratic – Math & Homework app that earned it a spot in our list of Best Artificial Intelligence Apps to download.
Features:-
Easy to use
Dual capture mode
Answers and working processes
Free and premium modes
Overall, the app is nothing short of a miracle for most families, especially for solving complex questions. The camera feature is also advantageous for capturing maths questions where typing of certain signs can be a problem.
Parents can help their kids use the app properly by ensuring that it is used for deserving problems. They can also ensure that the kids don't just jump to the final answers, but that they can follow and learn each working.
5. FaceApp
FaceApp is an artificial intelligence app developed by Russian company Wireless Lab to help transform images from what they are into beautiful photos. In essence, this is a photo edit app that does more than contrast and color adjustments.
The app has grown in popularity since its invention, and it is available today for both Android and iOS users. With the app, you can run more advanced edits on your pictures, such as changing your look, changing gender, hairstyle, and many other things.
You can make use of its cool filters to easily change your smile, as well as add other face filters to your photo. Generally, it can be seen as a photo app that gives you complete access to manipulate your images using a series of filters.
How it works:-
You can begin by either snapping an instant selfie or by selecting a picture from your photo album. It also gives you access to choose photos from social media apps like Twitter, Facebook, Instagram, and WhatsApp.
After selecting your choice photo, you can then apply your choice filter to either make your image look younger or older, happy or sad, masculine, or feminine.
Once done with your edits, you can then export the image by saving it to the memory of your device, or by sharing it on social media. The app comes in free and paid versions.
A first look through the features of this app provides you with a lot to be interested in. The appeal, however, is often short-lived. It's quite fascinating learning that you could snap a selfie, then edit it so that it can stand side-by-side with a more feminine or more masculine version of you. We find the smile filter to be neat, too, compared to most other apps that will twist your face into impossible shapes.
Below are some of the features of the FaceApp app that earned it a spot in our list of Best Artificial Intelligence Apps to download.
Features:-
Photo edit filters
Free and premium modes
Integrates with social media platforms
Overall, the app is known for the creation of remarkable, realistic images. It's surprising to know that the free and pay versions don't come with so much difference in features.
The paid version removes the ads from the picture. If you are looking to try filters a few times, then this is the perfect app to look to.
6. Stifr Magic Cleaner
Stifr Magic Cleaner is another free artificial intelligence app that is worth being on our list. This app does a lot more than the identification and removal of junk images from any device the App maker describes the app as one that can solve the problem of space crunch on your device. Upon testing, we found this app to be truly effective for handling this task, although it wants you to trust it.
If you've not heard of this WhatsApp Magic Cleaner, then you are probably not as updated with information as you should be. It is a popular app that is designed to remove junk images from your phone.
Beyond spammed images, however, the app also has the ability to remove spammed jokes and messages from your device. The forwarding of spammed jokes across different WhatsApp groups has become a cause of concern.
Most times, you are put at the receiving end of dozens of such messages, memes, and images. Certainly, the senders do not care that you are running out of space on your device.
It can get so bad sometimes that you can't even refresh your email, talk less of trying out new apps. It is upon this background that the developers of this app brought about it to help you identify contents that are not useful in your device and help you delete them.
The process that the app uses to sort through content is pretty straightforward. Once you start it, the cleaner carefully runs through your image, ensuring that no high-detail image is deleted in the process.
Secondly, it features a technology that can detect pictures that it has seen as junk before. It uses this technology on the assumption that if an image is a forwarded junk, then it exists in another device too, where the app might have seen it before.
Below are some of the features of the Stifr Magic Cleaner app that earned it a spot in our list of Best Artificial Intelligence Apps to download.
Features:-
Free application
It uses a three-step process to ensure security and privacy.
Works on Android and iOS devices.
Overall, this is an app that's worth trying. It searches thoroughly through several folders and clears more space that you think is possible. It is also free on the app store and features an interface that you can easily understand.
7. Allo
Allo was launched in 2016 by Google as another addition to its long line of messaging app. This messaging app is built to compete with other popular messaging apps like WhatsApp, Messenger, and Facebook.
Google tries to lead the competition by adding a new twist to it. By adding a Google assistance controlled by artificial intelligence, Google can ensure that the Allo app is not just an instant messaging app, but that it also functions as a personal assistant app.
A lot about this app goes differently from the usual traditions of google. For instance, the sign-in procedure that the app comes with is different from what most Google products are known for.
Allo only requires your phone number during the registration process instead of the regular Google protocol that seeks permission to access different locations on your phone.
Allo is also designed to only work on mobile devices, so you will not find browser version yet. This is so different from how Google products operate.
Allo features an intelligent personal assistant, and that's the most standout feature of the app. You can chat with Allo's intelligent personal assistant just like you will, so with a regular friend, and the assistant will take note of things about you.
For example, while chatting with the assistant, you can tell it the name of your favorite basketball team. The assistant remembers that always so that when you want to know any latest news about your team, you can ask Allo like though you owned the team: "How did my team do over the weekend?"
Here's an even more interesting part of it all. While chatting with a friend or a group of friends, you can bring the assistant on board. The assistant monitors all your conversations and tries to bring useful suggestions when you demand it to.
For example, you can ask the assistant for help in finding a cool restaurant in your area. From your chat with your friends, the app will be able to guess the personality of your crew and suggest restaurants that fit into it.
Below are some of the features of the Allo app that earned it a spot in our list of Best Artificial Intelligence Apps to download.
Features:-
An intelligent personal assistant that acts as a chat partner too.
Instant messaging
Free download
Easy to understand interface.
This is a very handy app that can offer you the help and company you need in a new place. The only issue, however, is that most of your friends are on Facebook, WhatsApp, and messenger, rather than on Alla.
Note:-
I have written a post for people looking for the ultimate guide to
Google Chrome Flags
to improve your browsing experience, do read it If you are interested.
8. Youper
The first medical-related app on our list of best artificial intelligence apps is totally worth being here. This is an app that claims to be able to help you feel less stress, less blue, and less anxious.
The app also boasts of having the needed stuff to make you more confident, creative, focused, optimistic, balanced, positive, and productive. Overall, it is designed to help you feel happier and more satisfied with life.
It is important to state that Youper isn't just an everyday app created with hopeful intention. No, it so comes with clinical support. According to the creators of this app, they used several research methods for determining the factors that are influential to behavior.
They incorporate artificial intelligence into the operation of the app to help it detect what can potentially make a user happy.
How it Works:-
Basically, Youper is backed by science. They make use of extensive data to take care of your concerns. Several reviews already support the apple claim that it takes an average of 7 minutes chat for the app to make positive changes. This instant result is the major reason why so many people are going for the app.
Additionally, there are verifiable data from the platform that suggests that constant use of the app can help reduce symptoms of anxiety and depression.
Youper uses the popular 'Emotional Health Atlas' method for discovering the most common emotions prevalent at a particular time across different states. With these statistics, couples your location, and the last activities you engaged in, the app is able to guess what your present emotion is. Hence, it works to help lighten up your emotion if it detects any negative emotion.
You will find the operation of this app highly fascinating, especially with its ability to connect you on live chat with physicians that can give medical advice when needed.
There you have it, 8 of the best artificial intelligence apps available for android and iOS users. Each of these apps is chooses based on certain criteria like popularity, functionality, ease of usage, and accuracy.
We ensure to test each of these apps, so you can be sure of the accuracy of every information provided for each. Get one or more of these apps from the app store to make work faster and more efficient.