Are You Looking for a list of the Best Artificial Intelligence Apps which will help you in your Daily Living? 🤔
This list is for you only.
Without Any Further Delay, Let's Explore this guide. 😎
Over time, artificial intelligence has grown into one of science's most popular fields. It does a lot to provide personal assistance that can help you achieve more in less time.
Since the invention of artificial intelligence, work can now be automated across different industries. Although pretty expensive to acquire and maintain, artificial intelligence has enough advantages to cover its cost.
It is because of its ability to make work faster and increase ROI that thousands of companies around the world are damming the price and incorporating it into their working process.
As expected for such an expensive technology, most people do not have enough money to purchase the machinery needed to incorporate it into their daily activities.
The invention of artificial intelligence apps has drastically reduced the cost involved in acquiring artificial intelligence. Thanks to these apps, artificial intelligence can be gotten at almost no cost. The availability of so many artificial intelligence apps can make the process of choosing the right one for your needs hectic.
At the time of our research on Best Artificial Intelligence Apps, we found a video about "What is Artificial Intelligence Exactly?" which is worth watching. 😎🤴
What is Artificial Intelligence Exactly?
To help make the process easier, we will be reviewing 8 of the best artificial intelligence apps that are available for android and iOS users. Each of these apps can easily be incorporated into your smartphone to make work easier and quicker.
Most of these apps feature top-notch AI algorithms that can easily learn your daily habits and use them to help improve your living. They provide an impressive level of accuracy and suggest easier ways to complete your work.
Take a look at them.
Best Artificial Intelligence Apps: Our Top Pick 👌
1. Cortana
Making the top of our list of best artificial intelligence apps for 2019 is one of the world's most popular digital assistants.
App reviewers have often described Cortana as what a digital assistant should look like, and it is not surprising that they believe so, considering all the awesomeness that this app offers.
There's so much talk about Cortana's usefulness and contextual ability. Unlike most other apps in its category, the features of Cortana aren't dependent on the Android version you are using. This puts the app from Microsoft in a good position in the competition.
Microsoft Build: Cortana + Alexa Demo
Cortana helps you access useful information quickly and efficiently, especially if you are in a position where you can't handle or operate your device.
With its access to your personal data, Cortana can assist you with things like text messaging, calendar appointments, incoming and outgoing calls, and a lot more. Although most other digital assistants can do these, Cortana makes the whole process as smooth and seamless as you can ever wish.
50 Cortana Voice Commands
The only downside of this app is that it doesn't integrate with Android as well as Google does. This is basically because Microsoft is yet to have complete access to the deep inner working processes of Google and Android. Don't be bothered, however, as this doesn't affect the app's ability to help you with basic functionalities.
Below are some of the features of the Cortana app that earned it a spot in our list of Best Artificial Intelligence Apps to download.
Features:-
Personal assistant app
Voice recognition
Hands-free operation
Overall, this is an app worth having. It lets you concentrate on other things like driving while accessing the basic features of your Android device.
2. Hound
Hound is a voice assistant app that allows you to access several features of your phone through voice commands. The artificial intelligence-powered app developed by SoundHound Inc has grown in popularity over the years.
The app aims at setting itself apart from the stiff competition by being an to provide an astonishing level of depth that is unique to it.
Everything, from the setup process of this app to its usage, offers an incredible level of ease. Just a few steps and the app is up and running on your phone. Once you are done downloading the app, open it on your device, and begin setup.
During the setup process, you will be asked to grant a few permissions. Just hit allow and you are good to go. Next, Hound will take you through a brief tutorial on how to use the app before you begin to use it fully.
Hound offers the same functionalities as most other voice assistant apps, from telling you the weather, to showing you coffee shops and restaurants near you.
At first glance, these functionalities don't seem so special; after all, we've had technologies offering them for years.
Hound, however, introduces the use of Boolean logic to take the notch higher. This is a complex logic in question feature often used in database querying. With this feature, you can ask Hound complex, multi-part questions, expecting to get excellent answers from Hound.
It's nothing short of fascinating to know that Hound is designed to answer complex questions correctly, but Hound has even more tricks up its sleeves.
The app's tutorial shows that you can also request the app to play tracks from a specific artist. The app continues to play different tracks from the required artist until you ask it to stop.
Below are some of the features of the Hound app that earned it a spot in our list of Best Artificial Intelligence Apps to download.
Features:-
Accurate
Easy to use
Easy setup
Ability to answer complex questions.
Despite the seeming complexity, this app still handles basic tasks with accuracy. It is the game-changer in voice search. Its ability to tackle complex questions sets a new bar for competitions.
3. ELSA Speak
If you've had to search for an app that translates languages or teaches you how to pronounce English words, then chances exist you must have bumped into ELSA before.
ELSA Reimagine Education 2
Arguably one of the most popular apps that teach "pronunciation of English words like real Americans," this app brings a new level new vibe to the competition. Many reviewers refer to it as an astonishing use of artificial intelligence in language learning.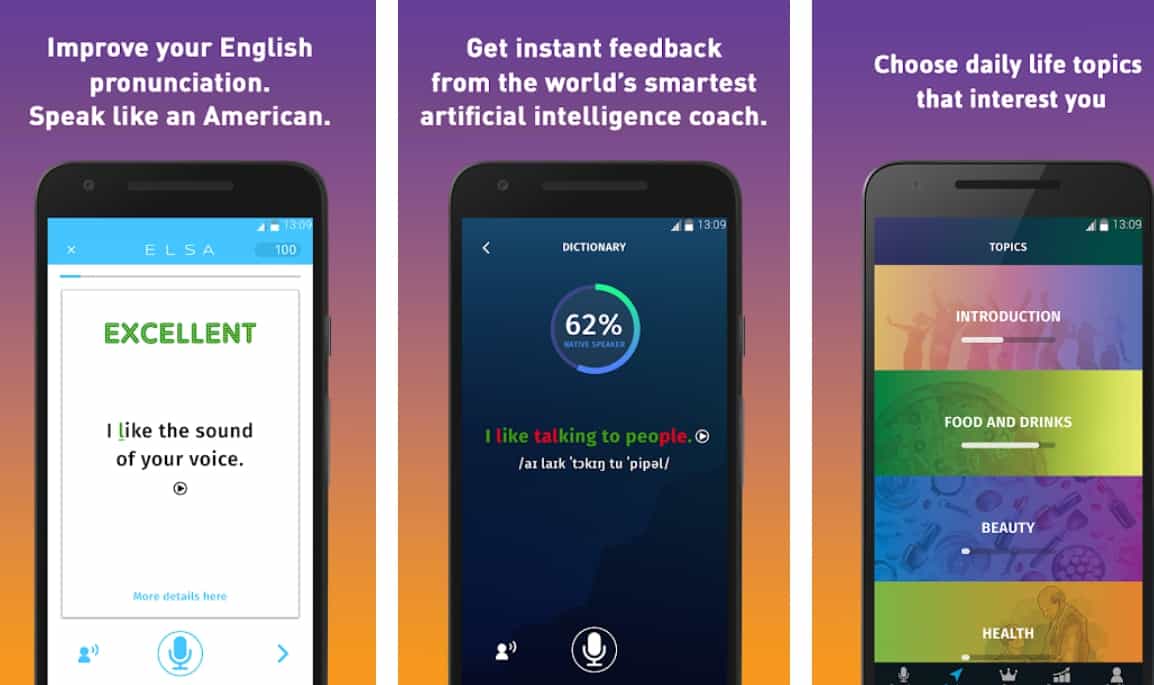 With this app, you can engage in a wide range of activities, all focusing on improving your sound in the English language. With the app, you are mainly recording yourself pronounce certain words, and then you get a chance to compare your words to the American pronunciations.
You will find that the words and phrases are also topic-related, so apart from learning pronunciations, you are also improving your vocabulary knowledge.
Usually, you will be able to listen back to a recording of your attempts. You will also be able to read/listen to helpful feedback on how to improve your performance. The number of times that you can try with each pronunciation is unlimited.
It is important to note that the app isn't designed for only pronunciation. It also comes with a dictionary, where you can look up word definitions, their pictures, plus example sentences.
With this app, you can expect your progress level recorded, so that you can review your performance level and have a go again on words that are difficult for you.
Below are some of the features of the ELSA Speak app that earned it a spot in our list of Best Artificial Intelligence Apps to download.
Features:-
Free to download the app
Easy setup and usage
Provides assessment to gauge progressà level.
Overall, the app comes great for anybody seeking to speak as fluent as a native English speaker. It also offers you a chance to put feedback into instant practice.
4. Socratic – Math & Homework
Socratic makes use of a powerful text-recognition technology to look through the web for possible solutions to specific homework questions.
Usually, you will be able to either take these homework questions with the camera of your device or manually with your keyboard. With this app, your kids won't need to do anything complicated to get their assignments solved. All that's required is for them to take a snapshot of their assignment question, crop it, and click on search.
The app compiles everything that relates to the search from basic results to more professional answers from experts, and crowdsourced explanations and solutions available on Socratic's web platform. The app is equipped enough to give answers to even questions that are somewhat complicated.
The app supports answers for science, math, English, history, and more. The great thing about the working process of this app is that it also allows kids to type in the exact format of the question, in case the camera fails to capture it adequately.
The ability of this tool to search through a wide range of platforms for answers and explanations of most basic problems has faced some severe criticisms from educationists.
Some of them believe that some kids will only use the app to get answers, abandoning the explanations of the working process. Hence, learning is lost. The answers offered by the platform tend to be of excellent quality, especially when found on the database of the app.
Below are some of the features of the Socratic – Math & Homework app that earned it a spot in our list of Best Artificial Intelligence Apps to download.
Features:-
Easy to use
Dual capture mode
Answers and working processes
Free and premium modes
Overall, the app is nothing short of a miracle for most families, especially for solving complex questions. The camera feature is also advantageous for capturing maths questions where typing of certain signs can be a problem.
Parents can help their kids use the app properly by ensuring that it is used for deserving problems. They can also ensure that the kids don't just jump to the final answers, but that they can follow and learn each work.
5. FaceApp
FaceApp is an artificial intelligence app developed by Russian company Wireless Lab to help transform images from what they are into beautiful photos. In essence, this is a photo edit app that does more than contrast and color adjustments.
The app has grown in popularity since its invention, and it is available today for both Android and iOS users. With the app, you can run more advanced edits on your pictures, such as changing your look, changing gender, hairstyle, and many other things.
You can make use of its cool filters to easily change your smile, as well as add other face filters to your photo. Generally, it can be seen as a photo app that gives you complete access to manipulate your images using a series of filters.
How it works:-
You can begin by either snapping an instant selfie or by selecting a picture from your photo album. It also gives you access to choose photos from social media apps like Twitter, Facebook, Instagram, and WhatsApp.
After selecting your choice photo, you can then apply your choice filter to either make your image look younger or older, happy or sad, masculine, or feminine.
Once done with your edits, you can then export the image by saving it to the memory of your device, or by sharing it on social media. The app comes in free and paid versions.
We Break FaceApp to See How It Works
A first look through the features of this app provides you with a lot to be interested in. The appeal, however, is often short-lived. It's quite fascinating learning that you could snap a selfie, then edit it so that it can stand side-by-side with a more feminine or more masculine version of you.
We find the smile filter to be neat, too, compared to most other apps that will twist your face into impossible shapes.
Below are some of the features of the FaceApp app that earned it a spot in our list of Best Artificial Intelligence Apps to download.
Features:-
Photo edit filters
Free and premium modes
Integrates with social media platforms
Overall, the app is known for the creation of remarkable, realistic images. It's surprising to know that the free and pay versions don't come with so much difference in features.
The paid version removes the ads from the picture. If you are looking to try filters a few times, then this is the perfect app to look to.
6. Stifr Magic Cleaner
Stifr Magic Cleaner is another free artificial intelligence app that is worth being on our list. This app does a lot more than the identification and removal of junk images from any device the App maker describes the app as one that can solve the problem of space crunch on your device.
Upon testing, we found this app to be truly effective for handling this task, although it wants you to trust it.
If you've not heard of this WhatsApp Magic Cleaner, then you are probably not as updated with information as you should be. It is a popular app that is designed to remove junk images from your phone.
Beyond spammed images, however, the app also has the ability to remove spammed jokes and messages from your device. The forwarding of spammed jokes across different WhatsApp groups has become a cause of concern.
Most times, you are put at the receiving end of dozens of such messages, memes, and images. Certainly, the senders do not care that you are running out of space on your device.
It can get so bad sometimes that you can't even refresh your email, talk less of trying out new apps. It is upon this background that the developers of this app brought about it to help you identify contents that are not useful in your device and help you delete them.
The process that the app uses to sort through content is pretty straightforward. Once you start it, the cleaner carefully runs through your image, ensuring that no high-detail image is deleted in the process.
Secondly, it features a technology that can detect pictures that it has seen as junk before. It uses this technology on the assumption that if an image is a forwarded junk, then it exists in another device too, where the app might have seen it before.
Below are some of the features of the Stifr Magic Cleaner app that earned it a spot in our list of Best Artificial Intelligence Apps to download.
Features:-
Free application
It uses a three-step process to ensure security and privacy.
Works on Android and iOS devices.
Overall, this is an app that's worth trying. It searches thoroughly through several folders and clears more space than you think is possible. It is also free on the app store and features an interface that you can easily understand.
7. Allo
 Allo was launched in 2016 by Google as another addition to its long line of messaging app. This messaging app is built to compete with other popular messaging apps like WhatsApp, Messenger, and Facebook.
Google tries to lead the competition by adding a new twist to it. By adding a Google assistance controlled by artificial intelligence, Google can ensure that the Allo app is not just an instant messaging app, but that it also functions as a personal assistant app.
A lot about this app goes differently from the usual traditions of google. For instance, the sign-in procedure that the app comes with is different from what most Google products are known for.
Allo only requires your phone number during the registration process instead of the regular Google protocol that seeks permission to access different locations on your phone.
Allo is also designed to only work on mobile devices, so you will not find the browser version yet. This is so different from how Google products operate.
Allo features an intelligent personal assistant, and that's the most standout feature of the app. You can chat with Allo's intelligent personal assistant just like you will, so with a regular friend, and the assistant will take note of things about you.
For example, while chatting with the assistant, you can tell it the name of your favorite basketball team. The assistant remembers that always so that when you want to know any latest news about your team, you can ask Allo like though you owned the team: "How did my team do over the weekend?"
Here's an even more interesting part of it all. While chatting with a friend or a group of friends, you can bring the assistant on board. The assistant monitors all your conversations and tries to bring useful suggestions when you demand it to.
For example, you can ask the assistant for help in finding a cool restaurant in your area. From your chat with your friends, the app will be able to guess the personality of your crew and suggest restaurants that fit into it.
Below are some of the features of the Allo app that earned it a spot in our list of Best Artificial Intelligence Apps to download.
Features:-
An intelligent personal assistant that acts as a chat partner too.
Instant messaging
Free download
Easy to understand interface.
This is a very handy app that can offer you the help and company you need in a new place. The only issue, however, is that most of your friends are on Facebook, WhatsApp, and messenger, rather than on Alla.
Note:-
I have written a post for people looking for the ultimate guide to
Google Chrome Flags
to improve your browsing experience, do read it If you are interested.
8. Youper
 The first medical-related app on our list of best artificial intelligence apps is totally worth being here. This is an app that claims to be able to help you feel less stress, less blue, and less anxious.
The app also boasts of having the needed stuff to make you more confident, creative, focused, optimistic, balanced, positive, and productive. Overall, it is designed to help you feel happier and more satisfied with life.
It is important to state that Youper isn't just an everyday app created with hopeful intention. No, it so comes with clinical support. According to the creators of this app, they used several research methods for determining the factors that are influential to behavior.
They incorporate artificial intelligence into the operation of the app to help it detect what can potentially make a user happy.
How it Works:-
Basically, Youper is backed by science. They make use of extensive data to take care of your concerns. Several reviews already support the apple claim that it takes an average of 7 minutes chat for the app to make positive changes. This instant result is the major reason why so many people are going for the app.
Additionally, there are verifiable data from the platform that suggests that constant use of the app can help reduce symptoms of anxiety and depression.
Youper uses the popular 'Emotional Health Atlas' method for discovering the most common emotions prevalent at a particular time across different states. With these statistics, couples your location, and the last activities you engaged in, the app is able to guess what your present emotion is. Hence, it works to help lighten up your emotion if it detects any negative emotion.
You will find the operation of this app highly fascinating, especially with its ability to connect you on live chat with physicians that can give medical advice when needed.
There you have it, 8 of the best artificial intelligence apps available for android and iOS users. Each of these apps is chooses based on certain criteria like popularity, functionality, ease of usage, and accuracy.
We ensure to test each of these apps, so you can be sure of the accuracy of every information provided for each. Get one or more of these apps from the app store to make work faster and more efficient.
AI experiments you can try online
Machine learning and neural networks may sound techy and dull, but they can actually prove lots of fun. We round up the best free examples that can be run in your browser
1. Get AI to guess your doodles
Quick, Draw (quickdraw.withgoogle.com) was one of Google's first public AI experiments, and, even after three years, we still love playing this neural-network-powered game. It gives you 20 seconds to doodle different things using your mouse, then tries to identify them.
There are six rounds in each game, and challenges include drawing a crocodile, palm tree, and pizza, with the site guessing as you scribble.
Doodles are added to Google's dataset of more than 50 million, to improve the accuracy of the AI, and you can view other people's attempts at drawing the same items.
Similar but more flexible is AutoDraw (autodraw.com), which guesses what you're sketching with your mouse (or your finger on a touchscreen), then replaces your amateur doodles with professional-looking alternatives. Just choose the one that best matches your squiggles from the selection above the drawing pad.
For further artistic fun, Magic Sketchpad asks you to draw an animal or object from its category list, then uses its AI wizardy to complete your virtual pen strokes and create a collaborative picture.
2. Edit and enhance photos using AI
Why bother using an image editor to improve the quality of your photos, when artificial intelligence can do the hard work for you?
Let's Enhance (letsenhance.io) uses neural networks to 'upscale' the resolution of your pictures by four times, producing results that are noticeably sharper, and fix problems with color and tone.
Let's Enhance new platform tutorial
It offers separate options for photos of faces and those of architecture, nature, and crowds, as well as presets for optimizing print quality.
There's also a new Smart Enhance tool that removes blur and blemishes and restores natural skin and hair texture.
You need to sign up for an account to use Let's Enhance, which lets you upload, improve, and save five photos for free. Paid-for plans cost from $9 (£7.20) a month. Note that images can take a few minutes to process.
Equally impressive is Remove.bg (remove.bg), which uses AI to automatically identify the subject of a photo and strip away everything else, so you can place it against a different background.
You can download one high-quality image and 50 previews (of up to 0.25 megapixels) per month, or purchase credits from 18p each.
You may like to read our guide on 15 Of The Best
Numerology Apps
For Better Living.
3. Play text-based online games against AI
Classic text-based adventure games such as Zork relied on a limited range of commands and scenarios, but AI Dungeon (play.aidungeon.io) promises "a world of endless possibilities, where you can do absolutely anything you can imagine".
Choose from settings including fantasy, mystery and apocalyptic, and characters such as noble, wizard or rogue, to generate a story, then type what you want to do at each prompt.
The machine-learning technology effectively makes things up as it goes along, creating a unique, absorbing experience that reacts to virtually anything you suggest. AI Dungeon is free to play and you can register with the site to save your progress.
If you fancy something livelier, Sematris is an addictive Al-powered word-association game.
In its Arcade version, you're challenged to move words to the bottom of a list by typing other words related to them, while the Tetris-style Blocks option involves suggesting 'clues' to words in colored blocks, to try and clear complete lines.
4. Talk to Al bots in your browser
Lots of companies now use chatbots to reply to common customer queries, but if you'd prefer a more freeform and informal conversation, you can talk to a bot online.
One of the most popular is Cleverbot (cleverbot.com), which uses complex coding to hold text-based chinwags with humans, responding instantly to anything you type.
If the chat becomes stilted, you can use the 'think about it' and 'think for me' buttons to move things along. Cleverbot also has a 'human' face in the form of Eviebot (eviebot.com), which uses the same AI technology but lets you interact with an animated (and rather creepy) female avatar.
Among other notable examples are Elbot (elbot.com), whose chats involve "sarcasm and wit, along with a healthy dose of irony," and the impressively fluent Mitsuku, who claims to have answers to nearly every question.
There are also hundreds of bots for Facebook Messenger, including one launched in April by the World Health Organisation to answer coronavirus-related questions.
5. Make amazing machine music
There are several clever online tools that let you create your own music by collaborating with a machine.
For example, the Google experiment The Infinite Drum Machine (Visit Here) offers thousands of everyday sounds that you can combine into a unique rhythm track by dragging the four circles over the colored dots. Click the play button to hear the result or the intertwined arrows for a random selection.
For budding pianists, there's AI Duet (Visit Here), which invites you to play a tune by clicking the on-screen keyboard or pressing keys on your physical one, then responds to your melody with a suitable musical response.
Hit another few notes and it will respond again – and, because its neural network has been trained to recognize notes, rhythm, and timing, the resulting duet will stay remarkably in tune.
If you're feeling more adventurous, Semi-Conductor (semiconductor.withgoogle.com) lets you conduct an AI orchestra by waving your arms in front of your webcam to control the tempo, volume, and instrumentation of a piece.
Then there's the highly amusing Giorgio Cam (Visit Here), which generates song lyrics about pictures you capture with your PC's camera.
6. Play webcam games with your hands
Actions can speak louder than words with AI tools, and allow for ingenious new takes on traditional pastimes. Shadow Art (shadowart.withgoogle.com), for example, challenges you to make shadow puppets of the 12 signs of the Chinese Zodiac, by replicating the on-screen illustrations in front of your webcam.
Once it detects that your hands have created the puppet correctly, you move on to the next animal, but you need to be quick to complete them all!
Much simpler is TensorFire's webcam version of the classic game Rock Paper Scissors (Visit Here), in which you play against the machine by forming one of the titular shapes with your hand.
The neural network makes its own choice simultaneously and recognizes whether you've blunted, wrapped, or cut it, or vice versa.
If you'd rather not grant permission to your webcam, an entirely browser-based AI version of the game is available at https://www.afiniti.com/corporate/rock-paper-scissors .
7. Improve your communication using AI
Don't mistake Word Tune (Download Here) for Grammarly. Yes, it's an Al-powered tool that helps "make your writing more clear, compelling, and authentic," but this isn't just another grammar- and spellchecker.
Working across Gmail, Google Docs, Outlook, WhatsApp, and Slack, as well as social media sites, this extension lets you choose better ways to say what you mean. Suggestions are based on sentences similar to those elsewhere on the web. 
Clicking the Trainer and Briefcase icons provides recommendations for striking a more professional or conversational tone. 
In some instances, such as in Gmail, the toolbar permanently stays on-screen; for others, you need to double-click a word, phrase, or sentence, then select the best tool for the job.
The free version of Word Tune includes Rewrite, for finding new ways to change a sentence, and the alternative word- and phrase- checker Word Explorer. Everything else is kept behind a $10 (£7.60) monthly subscription.
8. Get Microsoft to Guess Your Age
If you are not easily offended, why not ask Microsoft's How-old.net robot to guess your age?
visit how-old.net and click "Use your own photo", then upload a photo in which your face is clearly visible ( you can use an image with several people in it, too).
The highlights each face it recognizes with a square and shows an estimated age and gender for each one.
At the bottom of the page, Microsoft says "Sorry if we didn't get it quite right – we are still improving this feature", and there's definitely some truth in this.
Note:- I have written a post for people looking for the best laptop for machine learning, do read it If you are interested.
We noticed significant age variations even when analyzing photos of the same person taken a couple of years apart, and some predictions were out by as much as 30 years!
To understand in more detail how Microsoft's Face API works, visit https://azure.microsoft.com/en-gb/services/cognitive-services/face/ and upload an image to the Face Detection section.
As well as age and gender, you will see how the tool uses machine learning to identify your emotion, pose, smile and 27 different facial 'landmark'.
The app at the top of the page can use this information to analyse two photos and tells you how likely it is that the face belongs to the same person.
Simply click Browse below each window or copy an image URL to the appropiate boxes to test it.
Microsoft Lobe: Machine Learning Become Much Easier
What is Lobe? (Baby don't hurt me)
Microsoft Lobe (lobe.ai) is a new program that lets you create machine learning models without having to write any code.
It's been designed to be as easy to use as possible, allowing people with no programming experience to conduct experiments in artificial intelligence, and enabling developers to integrate machine-learning capabilities into their apps.
How does it work?
After downloading the Lobe desktop app for Windows or macOS, you can import or capture images and quickly classify them according to what they are showing.
These pictures are used to train the app to recognize certain elements, so Lobe can identify what is happening in any subsequent image. Since it works out which open-source machine-learning model should be used for the dataset, you don't have to fiddle around with any settings to get started. And it's completely free.
Introducing Lobe | Build your first machine learning model in ten minutes.
So how can it be used?
Well, let's say you want to teach the system to identify when a bird flies over to eat some food. To do this, you compile a series of images: one set may show an empty bird table, while another set shows the table with a bird.
By labeling the first set as "no bird" and the other set as "bird-eating", you'll teach Lobe to recognize when a feathered friend is in the frame. If you then show the app two further images – one with a bird and the other without – it should be able to tell the difference between the two and automatically show you the relevant label.
What if it gets mixed up?
There is every chance that your machine learning model will not work perfectly straight away. In our example, we want to know when the bird is actually eating the food rather than just appearing in the shot so. ideally, we'd want to make some refinements.
Lobe allows this by letting you experiment with the model. It can classify anything it examines in real-time, including shots from a camera. This means you can simply click a red or green button to indicate each occasion Lobe makes a mistake, ensuring the model continues to learn.
But why is this such a big deal?
Up until now, the process for machine learning has tended to be out of reach for most people. Although many efforts have been made to open artificial intelligence to developers, with Google being among the companies involved (ai.google/education), it has still generally required users to understand data science and deep-learning models.
Lobe strips away such needs and makes machine learning accessible to all. You can come to it with little or no experience and quickly understand what's going on.
Does it only work with images?
Yes. Lobe, which was acquired by Microsoft in September 2018, is still in beta and it currently only supports image classification. But Microsoft hopes to expand the app's capabilities to other types of models and data in the future.
Lobe says it will offer object detection, which will locate specific items within an image, as well as data classification, so that information in a table will be labeled based on its content.
For now, though, users can become familiar with the simple interface by importing images from a computer or webcam. If you're a little more confident, you can also import a structured folder of images.
Will Microsoft be harvesting my data?
Not at all. Rather than upload data to the cloud, your images will remain on your computer and they'll be processed locally – there's no login and you don't need an internet connection.
Best of all, Lobe works its magic under the bonnet, which means you're sure to get a lot of pleasure out of it once you begin to play around – and all without worrying that your privacy is being compromised.
What can I do with the dataset, though?
Ultimately, Lobe is designed to make it easier for developers to use the datasets in their own apps. As such, the program has an export tool that allows any created machine-learning model to be used on industry-standard platforms.
These include TensorFlow 1.15 SavedModel, which developers use within local applications coded in the Python language, and those hosted on Azure. Google Cloud or AWS.
It is also possible to export Lobe datasets as Core ML for the development of iOS, iPadOS and macOS apps, and as TensorFlow Lite to create apps for Android, web browsers and Raspberry Pi computers, too.
Is Lobe already being used by developers?
It certainly is. Microsoft has drawn attention to a project created by one of its software engineers who keeps bees in his garden.
Fie has fitted a motion-sensor-activated camera at the entrance to a beehive and, by training a machine-learning model to recognize different types of invader such as mites, wasps, and Asian giant hornets, he is now alerted to any incoming problems, which allows him to act fast in rescuing colonies of bees from threats.
The Nature Conservancy uses Lobe to protect marine resources while others are using it to keep an eye out for parking spaces outside their homes. Microsoft suggests it could be used to identify plant species, create a baby monitor, recognize facial expressions to create emoji, and more.
How much support is there for Lobe?
Lobe is beginning to attract a strong following and a community has built up on Reddit (www.reddit.com/r/Lobe) where people are sharing tips, asking questions and helping each other solve problems.
Newcomers can also get a very clear explanation of the tool by visiting lobe.ai/tour. This takes you through the process of training Lobe to detect if you are drinking water, then showing how that could be used in an application.
It shows a tutor taking images of himself drinking, then not drinking, while eliminating mistakes – such as Lobe thinking that his hand being in shot means that he is taking a sip. It's a great introduction to the power of this tool.
HOW DOES LOBE COMPARE WITH ITS RIVALS?
Lobe's main rival is Google's Teachable Machine (teachablemachine.withgoogle.com), which was recently revamped to make it even easier to use.
Like Lobe, it allows machine-learning models to be created without any prior expertise or coding skills – it's just a matter of gathering a set of samples, categorizing them, and training the model so that it can figure the status of any new examples it sees.
However, Teachable Machine goes beyond image classification. Its machine learning models can be taught to classify audio through the recording of sound samples, and it will also classify different poses made in a webcam.
The website has three tutorials that allow you to get to grips with the three different types of machine learning, and you can also discover some of the models that have been made using the tool.
WHAT IS TensorFlow?
Most of the experiments and games in this feature are based on TensorFlow, a Google-developed technology that makes creating machine-learning tools for desktop, mobile and the web relatively straightforward.
TensorFlow In 10 Minutes | TensorFlow Tutorial For Beginners | Deep Learning & TensorFlow | Edureka
TensorFlow uses the programming language Python to let developers construct data-flow graphs of mathematical operations.
These models, called neural networks, are composed of layers containing neurons, which can be trained to recognize patterns and abstract representations of data, and classify that data in a way that's understandable to humans. See the official TensorFlow website (tensorflow.org) for more information.