Are you searching for a durable laptop? If that is the case, you may want to concentrate on two amazing brands in the market today.
They are Asus and Dell. Though Asus is a newcomer, the Taiwanese laptop manufacturer is making a rapid pace in the segment. 
Because of the pandemic, there has been a sudden rise in the demand for laptops. It has never been seen before proportions. Laptop manufacturers globally are coming up with attractive models with sublime features. 
For any user, the brand value of the laptop model is crucial for his/her decision. You could be anybody, a student, a new working professional, a coder, a gamer, or somebody who wants to use the product. 
You tend to first look at the brand and then the models based on your budget. That is a good thing and the right way to choose laptops. Perhaps, you want a budget device, maybe a programming laptop, or a gaming laptop. 
The two makes, Asus and Dell, offer you immense options and budget flexibility. Therefore, getting some insights into the products you plan to have can immensely help your decision. 
You do not want to purchase a laptop that costs close to $1000 and has a painful experience with it. Asus and Dell are two manufacturers that do not have too many negative reviews. 
The models are durable, reliable, and affordable. We do not use these words to describe a laptop often. But that is the truth about them. They take their durability very seriously, which makes the Asus vs Dell review harder to decide. 
So, we have spent time researching to come up with some of the best makes from Dell and Asus. Besides, we have researched with a comparison of the features. This enables you to understand the products in a better manner. 
With that information in your hands, you can purchase a good laptop that benefits your cause. The best part about Asus vs Dell laptops is that there is something for programming, business, gaming, and just about anything. 
But we have also noted that the brand name does not necessarily make much of a difference. These manufacturers ensure that each of their products comes with reliability. Additionally, their specifications are outstanding. 
Asus vs Dell laptops: Quality of the product line 
We will look at some of their best-sold models in 2022. This will give us an idea of the design, features, and price. Dell sells top-notch devices when it comes to business laptops. 
The Dell ultrabook is good if you are a businessman or entrepreneur who wants a unit. Ultrabooks come with spectacular specifications and durability abilities. A good example of that would be the Dell XPS 2022 model. 
It is a massive hit throughout the globe. Additionally, the latitude models got many awards too. You can be a student or entrepreneur looking for a high-powered device. Maybe the devices can help you out. 
But wait, you also have the Asus devices. They come with a powerful blend of features, affordability, quality, and brand value. We were astounded by their gaming units. The Asus Rog laptops are in great demand in America and worldwide. 
We felt that the options and price range is good. You can expect a top-end model from Asus that comes at an affordable price. Even mid-range budget products come with affordable features that you can consider using. 
The cooling technology embedded in them is one of the major highlights of the laptop. It makes a good impression on the consumer. Likewise, Dell products come with outstanding multi-tasking ability and intense speed, enabling you to perform high-end tasks effortlessly. 
Asus units have distinct features like backlit keyboards, processing power, and screens with anti-glare on them. The Asus Rog Strix is an excellent choice if you are a professional gamer. 
In the battle for the top spot, Asus vs Dell provides numerous options for specific groups. Both manufacturers provide you with exceptional performance and reliability for the users. 
Our Recommendation For Asus vs Dell laptops
Below is a list of four laptops, two from each of the manufacturers we felt worthy of this post for our readers. 
ASUS ZenBook Pro Duo UX581:-
ASUS ZenBook Pro Duo is the most popular sold laptop by Taiwanese manufacturers. ZenBook laptops have been popular among the masses because of their versatility. They are quite powerful and come with sublime features. 
The device is a 15.6″ screen with a UHD NanoEdge bezel touch. You can view the pictures flawlessly and from any angle effortlessly. Coming to the processor, this is powered by the Intel Core i7-9750H, which offers exceptional performance. 
You can work on more than 30 tabs seamlessly. The storage space is 1TB SSD, and it has a memory of 16GB RAM. There is a dedicated GPU with the GeForce RTX 2060 for intense work and gaming sessions. 
We liked the detachable palm rest and Asus active stylus pen included with the laptop. The Pro comes with a dual-screen, which is useful for those who work in graphics and writing. 
You can keep an eye on the tasks effortlessly without repeatedly returning to the main page. It always pays to have an extra pair of eyes, does it not? Does this device come with any flaws? Sadly, it is priced above $2000. 
Pros:-
The build and design of the laptop are remarkable. 

It comes with a 4K matte touchscreen. 

It has the 9th generation Intel Core i7 9750H processor for intense tasks. 

There is a dedicated GPU in it. 

It makes use of the palm rest that can be detached. 
Cons:-
The device is quite expensive. 
ASUS ZenBook Pro will set up back $2000, but when you search for a device with superlative performance capabilities, you will want to use it.
The monitor, the excellent processor, memory, and storage space make it peerless. 
Check Price on Amazon
This is INSANE | ASUS Zenbook ProDuo UX581 | Review
Asus ROG Strix Hero III:-
Asus ROG Strix Hero III is another sublime product from the makers of Asus. The year 2022 seems to be a good year for the Taiwan manufacturer. If you are looking for gaming laptops, this one should be on your list.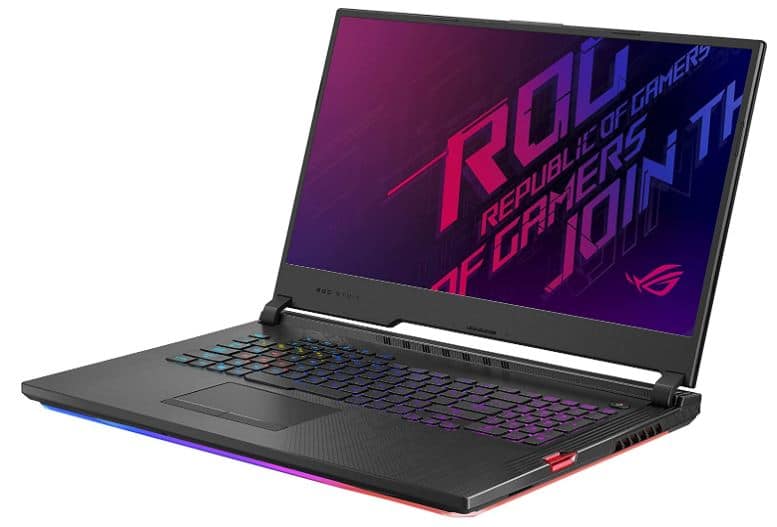 This gaming laptop has eloquent image quality in the form of a 144Hz IPS Type FHD monitor. You also have a dedicated GPU in the form of NVIDIA GeForce RTX 2060. Gamers can expect immense picture quality through it. 
A laptop of this kind must have a capable processor, which has 9th Gen Intel Core i7-9750H. We were quite impressed with the storage space at 512GB SSD and memory of 16GB RAM. Gamers will appreciate the cooling technology infused in the laptop. 
They also come with dust prevention. Users are stunned by the power of the cooling system in this unit. It works, and you can use them for hours at a stretch without hassle. Users have liked the discounts provided on the device during sales.
Pros:-
The device has a flawless design. 

It has a dedicated GPU that helps you play sublimely. 

The processor is the most powerful at 9th Gen Intel Core i7-9750h.

It comes with adequate storage and memory capabilities. 

Its ROG cooling thermal system is matchless. 
Cons:-
The ROG Strix will come for a price of more than $2000.
Asus ROG Strix Hero III has little or no issues except for the power cord's layout and the USB slots. When you are looking at a laptop that comes with exceptional quality and features, you may want to use it. 
Check Price on Amazon
New Dell XPS 15 9500:-
New Dell XPS 15 is one of the highest-rated products in the market today. The XPS laptop series has made an indelible mark in the segment. This is a 15.6″ device with touchscreen features for users' convenience.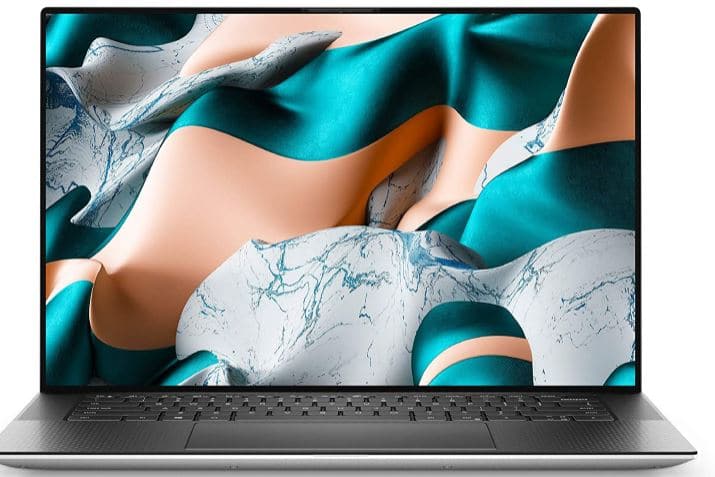 You will love the design of the device, which has a silver color. The laptop comes with a phenomenal Intel Core i7-10750H 10th generation processor and can operate and offer exceptional performance. 
The storage space is a massive 1TB SSD, and the memory of 16GB RAM makes it a dream unit. Consumers liked the edge-to-edge view of a 62% larger touchpad. It also comes with integrated display technology for decreasing the harsh rays of the monitor. 
Does it have any issues? Well, not that we know of anything, but it comes for $2000. The XPS laptops are suitable for a barrage of users. You can do anything you want using the device. 
Users can code, browse, read, write, and multi-take seamlessly. If you are a budding entrepreneur, your chances of succeeding lie highly in the equipment at your disposal. 
We can assure you that this one-of-a-kind device is produced in the market. 
Pros:-
The design is robust. 

It comes with opulent picture quality. 

The processor is powerful for intense performance. 

It has massive storage and top-notch memory. 

The ports are sufficient on the laptop. 
Cons:-
Unfortunately, it is expensive. 
New Dell XPS 15 9500 is in the $2000 price range, but it comes with top-notch specifications that you may not be able to find in many devices today. It is ideal for students, marketing professionals, as well as gamers. 
Check Price on Amazon
Dell XPS 15 9500 (2020) Review - MUCH Better Than I Expected
Dell Mobile Precision 5550:-
Dell Mobile Precision 5550 is from the Precision series devices from Dell. The Precision laptops seem to have a massive fan following in the market.
They are priced high but come with sublime features that you may not be able to find in the segment. 
The design and build of the laptop are similar to most Dell units. It is sturdy and durable. We liked the gray color that the laptop comes with. Besides the sharp features of the device, you will adore the image quality. 
It comes with a 2.6 GHz Intel Core i5-10400H processor that can offer you exceptional qualities. The unit has 256GB SSD storage space and a memory of 16GB RAM that is sufficient for any amount of work to be done. 
Sadly, it is priced at less than $2000, making it slightly on the higher side of the price. But when you want to use the best of the lot, you must be willing to pay for it.
The Precision series is one of the most reliable products sold today. 
Pros:-
It is a sturdy laptop that has sublime features.

The device comes in an elegant color, grey. 

It is a large monitor with a stunning picture frame. 

Its storage and memory as a powerful blend of power and speed. 

The product has a brand for value. 
Cons:-
It is priced at less than $2000, which can be expensive.
Dell Mobile Precision is a brand for value manufacturers. The specifications and features do not bloat as it is powerful, has excellent image features, stunning build, immaculate speed, and is robust. 
Asus vs Dell laptops: Comparison of features
A little history of the companies
Both Asus and Dell were founded during the period of the 80s. It is only fair that they both have a similar playfield. Users will be delighted to know that Asus was formed in 1989 by former Acer engineers in Taiwan. 
The Taiwanese giant is now a successful multinational organization that produces some of the best laptops, PCs, smartphones, and phone components. What we liked about Asus is that they are an Original Equipment Manufacturer (OEM). 
Unlike other manufacturers, including Apple, they make their components. This means you can be assured about the quality of their products. It is commendable to note that they have been able to raise the bar compared to their Chinese compatriots. 
On the other hand, Dell is an American company founded during the 1980s and has been going strong since then. They have been producing PCs and laptops with extreme build quality and options. 
Dell is known for its design and pricing. You have exceptional quality-made laptops for all kinds of users in the market. For example, the XPS laptops are in great demand in the market probably because they resemble the MacBook both on the interior and exterior. 
Asus vs Dell laptops: The components used in them
As we read in the history of Asus, they are OEM. When you buy from OEMs, you know that the product's quality will be spectacular. Asus is known for its flexibility among the laptops that it produces. 
They seem to have an affinity for quad-core processors even on their budget devices. It benefits students who have been affected due to the pandemic and need to join online classes for themselves. 
The ZenBook and ROG devices are top-end models with sublime features. It also comes with the NVIDIA Max-Q GPU. Users loved the touchscreen and 4K resolution full HD LED display.
Dell laptops, on the other hand, produce robust devices. The components used inside are good too. Compared to the Asus models, Dell makes it expensive because it comes with exceptional hardware and AMD and Intel processors.
Sadly, their budget laptops are slow and not up to the level you can expect. The manufacturer wants to make high-end laptops using the latest hardware. Distinct models from the maker are the XPS 15 and Precision series laptops. 
They have marvelous components like Hexa-core processors, NVIDIA GeForce GTX graphics, and an anti-glare infinity edge display. Besides, the battery life on the XPS series laptops can run for 10 hours. 
In this segment, it was a close call between Asus vs Dell laptops because the similarity of the components used is quite equal. But Asus gains a slight lead because it is an OEM. You know that they are using quality components for their laptops. 
Asus vs Dell laptops: The design of the laptops
The design of Asus devices is commendable. They are sleek, opulent, and astounding to look at and hold in your hands. They are immensely designed well and are on par with the Apple MacBook. 
They use a metal finish and colors such as silver, blue, pink, and the popular color slate gray. You can be guaranteed that the products can run for years without issues.
Some of the best examples would be ZenBook and the ROG model we saw in the review. 
Earlier their models were not so robust in nature and design. But following consumer complaints and feedback, the manufacturer has answered them and their critics. It is truly appreciable. 
Dell laptops are known for their solid design in terms of looks and durability. Their devices can go the distance effortlessly. Even today, you can find laptops manufactured by Dell running well after ten years. 
But they compromise with the appearance with fewer color options. You can hardly find them occasionally coming in colors like black, silver, and red. This can be slightly annoying for younger users who like to use attractive colors. 
As if that is not enough, the design seems quite sober—nothing stylish like the Asus or other makes. However, we liked the design of the XPS and the Precision laptops. They were quite stunning, though you have to be content with the lack of colors. 
The variety in colors is perhaps lacking from Dell, which gives the lead to Asus in here. But that alone should not be a factor for deciding which laptop you want to choose. Other important factors are also there.
The verdict is quite undoubted in design because Asus is the winner. They manufacture laptops that come in several colors in sleek models. Besides, the design is bold and durable that can last several years effortlessly. 
The price tag of their laptops 
Asus and Dell are known for their flexibility. Users can find devices at any price tag. The Asus, for example, has laptops coming at just $200 for students. However, they tend to compromise a bit on the performance of the devices. 
Like we read about the ZenBook that comes at $2000, other models are priced at less than $500. All you need to do is search on Amazon, and you will be amazed by the choices. When you want to use a powerful gaming device, the RGO is exceptional. 
On the other hand, Dell also produces some quality laptops priced reasonably well. They come for rates like $300 to $2000 for the XPS models.
If you are searching for a high-quality device, then it goes without saying that the XPS laptops are ideal. 
When searching for a gaming device, you can use their Precision models or the Alienware devices, which are quite popular among professional gamers. However, there have been complaints about the battery life in Alienware lasting 4-5 hours. 
The verdict on the price of both is quite simple. It is a tie because you can find many choices for both Asus and Dell. Be it a professional use laptop or you want a gaming device, you can surely find something that meets your requirements. 
The customer support of both the makers 
Before you take the money out of your wallet, you must find customer support. Laptops are expensive and are usually a one-time investment for many. You do not want to be replacing your laptop frequently every year. 
Asus does not do well in customer support. That is unfortunate for an otherwise exceptional maker who knows what it is doing. Perhaps, other manufacturers may want to take some advice from Dell on how to deal with and handle customers.
Firstly, their website is quite difficult to navigate and understand. You need to take quite some time to register your complaint there. Besides, their telephone support is neither helpful. Few users have claimed their devices were lost; yes, it can sometimes be poor. 
It is quite obvious that Dell offers you remarkable customer support. Yes, their products come with niggles and issues. But the maker is certain that they will settle immediately. They do not delay providing consumers with a spare or new device altogether. 
Once you face an issue, you are assigned a technician who handles your problem. If your laptop is covered under warranty, you are provided with a new device if the issue is their fault. This helps customers because they do not have to keep saying the issue. 
Most of Dell products come with a 1-year warranty. So, please make sure that your device comes with it. When sending for repairs, the manufacturer refurbishes the parts. Some clients have not taken it too kindly, but it is mentioned in the warranty. 
The winner of this segment is Dell. 
The innovation of the devices produced.
Innovation and Asus go hand in hand because they delve into the motto of incredible things. Looking at their devices, we can agree with them on that. The last two years have seen a massive surge in demand for laptops from the market. 
The figures may not be impressive, but they have managed to ring alarms for rivals to hear loud and clear. Most of the laptops come with exceptional specifications besides the cool design. 
The ZenBook Duo laptop was one of a kind because it comes with two monitors. That is a first in the segment. Additionally, the ROG gaming laptop is lightweight for gaming devices made from Dell that are heavy to carry around. 
Not to be outshone in that department, Dell, too, has come up with innovations designed in the Alienware gaming laptops. They insist on producing sturdy and robust machines, which makes them quite heavy. 
Dell has come out with monitors that provide you with outstanding image visuals. Not to mention, their keyboard typing speed and response are quite good. The XPS is almost on par with Apple devices; users will accept that based on the looks and features. 
What other people say
This is an important comparison feature segment because it has several interesting points. Users and consumers have the final say on the product. Though you may read sweet pointers in reviews, customers do not have to lie. 
After all, it is their hard-earned money, and they do not have reason to lie. Asus comes with mostly positive comments about the design and performance. Additionally, the battery was good too. 
Asus has received awards for the ROG and the ZenBook as well. Last year, 2019, they got more than five awards for Best Choice. They also got more than ten awards in the innovation category at the Computex awards.
We liked that you have immense flexibility in performance and colors from the Asus stable. This is packing even in the top manufacturers like Apple and Dell. Users can find something with any price tag. 
Dell has managed to produce some exceptional devices over the years. The 90s were quite sluggish, and they let Apple take a massive lead over them. However, Dell has made a mark in the segment with the makes of XPS and Precision units. 
Last year, 2022, saw them get awards like Best Place to Work in, Most Ethical Company Award, Environmental Leader Award, and so on. It is no surprise that you can find two Dell models in the top ten reviews on laptops or blogs. 
The winner in the innovation segment was Asus. Though Dell has always wanted to strife forward in their makes, they lag in design and innovation. Sadly, that is the way it is for now. 
Main differences between Asus and Dell
The first thing to note is that both Asus and Dell produce sublime products. The designs and pricing are just right for their models. Looking closely, you may note that the Asus takes the crown when designing. 
Asus laptop owners will brag about the design of the model. It is almost on par with the Apple MacBook. Dell models like the XPS 13″, all over the internet, are good too. This makes them both feature models in the top ten designs for 2022. 
In customer service, Dell is way ahead of anybody in the segment. Sadly, when it comes to pricing, they are both equal in having models above $1000. They are not exactly student-friendly when you want to own their top-end models. 
You can go ahead with the Asus make if you want a slim, elegant, and top-notch device. Users often choose Asus laptops because of their design and features. If you are looking for a budget product in Asus, you can find something that will satisfy you. 
You can purchase Dell laptops when you want a feature-rich device with a sober appearance. Besides, they offer you custom-made devices too. Dell also has durable laptops that can last eight years if used well. 
We felt that Asus laptops have a slight edge over Dell laptops because they are elegantly designed, reliable, and adequately priced. However, if you are particular about customer support and rugged design, Dell is the right option for you. 
📗FAQs
Is Asus as good as Dell?
Asus laptops have top-quality hardware and do not lack anything compared to Dell laptops.
Asus machines offer high-quality performance and has excellent build quality. They have Intel processors and a solid range of AMD-powered models.
Is Asus's laptop better than HP and Dell's?
Asus laptops offer much more reliable hardware and are faster. They may not be easily affordable compared to brands like HP. However, if budget is not an issue, Asus laptops are opted for by the majority of users.
Which brand of laptop is best?
The top laptop brands include Apple, Dell, HP, Microsoft, and Lenovo. Brands like Apple and Microsoft are from the premium category, while the other brands offer affordable laptops starting from $1500.
Which is best for gaming, Asus or dell?
Asus offers an edge when it comes to cost-effectiveness and performance. But if you are on the verge of grabbing a good deal for a Dell laptop, go for it.
Are Asus and Dell the same?
It was in 2005 that Asus announced itself as an individual brand. They applied everything they learned from Dell in their products.
Are Asus laptops reliable?
Asus is among the top laptop brands and offers one of the most reliable products.
Is Dell or Asus computer better?
Choosing between Dell and Asus computers can be challenging since both brands offer various products with different specifications and prices. The better brand for you depends on your specific needs and preferences.
Dell produces high-quality, reliable laptops and desktops that are ideal for business use. They feature sleek designs, long battery life, and excellent customer support.
Asus is known for producing affordable and powerful gaming laptops and desktops. They often include the latest hardware and technology, making them perfect for gamers and power users.
To make an informed decision, consider factors such as your budget, performance needs, design preferences, and customer support expectations. Reading reviews and comparing specifications can also help you choose the right brand for you.
Which is better Asus or Dell or Lenovo?
Comparing computer brands Asus, Dell, and Lenovo can be challenging due to the wide range of products with different specifications and prices. The best brand for you will depend on your needs and preferences.
Asus specializes in producing affordable, high-performance gaming laptops and desktops ideal for power users.
Dell is known for their high-quality and reliable laptops and desktops, designed with a focus on business use. Their products offer sleek designs, long battery life, and excellent customer support.
Lenovo produces versatile and reliable laptops and desktops for a range of uses. Their products include business and gaming laptops, as well as budget-friendly options.
When choosing among these brands, consider factors such as budget, performance, design, customer support, and reliability.
Reading reviews and comparing specifications can also help you make an informed decision. Ultimately, the best brand for you will depend on your specific needs and preferences.
Is Asus a good brand of laptops?
Asus laptops are reliable options for that shopping for a new computer. They are well-known for producing high-performance laptops at affordable prices, especially for gaming purposes.
Asus laptops come with quality construction, sleek designs, and powerful hardware specifications. They also offer a range of features, such as long battery life, fast processors, and high-quality displays.
While the reliability of some models may vary, overall, Asus is a solid choice for those in need of a new laptop.
Which laptop brand is best for students?
For students, there are several laptop brands suitable for their needs, each with its advantages and disadvantages. Popular options include:
Apple:- MacBooks are known for sleek designs, long battery life, and high performance, making them ideal for creative students, such as those in graphic design or video editing.
Dell:- Dell laptops are reliable and affordable, offering a range of products, including lightweight and portable options perfect for students who need to carry their laptops around campus.
Lenovo:– Lenovo laptops are versatile and affordable, including 2-in-1 laptops that can be used as both a laptop and a tablet, ideal for students who need the flexibility to switch between modes.
HP:- HP laptops are also versatile and affordable, offering a range of products, including lightweight and portable options suitable for students who need to carry their laptops around campus.
Do ASUS laptops overheat?
Laptops, including those made by Asus, can overheat. However, Asus is known for producing laptops with efficient cooling systems that can reduce overheating.
The likelihood of overheating depends on the laptop model and how it is used. Factors such as the processor, graphics card, and amount of RAM can all contribute to the amount of heat generated.
Additionally, performing resource-intensive tasks such as gaming or video editing may increase the risk of overheating. Regular maintenance, such as cleaning the fans and vents and avoiding placing the laptop on soft surfaces that block airflow, can help prevent overheating.
To address concerns about overheating with an Asus laptop, it is recommended to research the specific model being considered.
Will ASUS laptops last long?
Asus laptops' lifespan is influenced by factors like the model, usage, and maintenance. Many Asus laptops are known for their reliability and long-lasting performance, with users reporting several years of usage without significant problems.
The laptop's durability is affected by the build quality, materials, and internal components. Regular updates, virus scans, and cleaning can all help to extend an Asus laptop's lifespan. Ultimately, the longevity of an Asus laptop depends on usage, maintenance, and care.
Is ASUS a durable laptop?
Asus laptops are often recognized for their durability. The brand is known for producing laptops with high-quality builds, reliable performance, and long-lasting battery life.
Asus also uses quality components, such as processors and graphics cards, which contribute to the laptop's durability and longevity. However, durability can vary depending on the model, usage, and maintenance.
Regular maintenance, like cleaning the laptop's fans and vents, can extend its lifespan. Ultimately, proper care and usage determine the durability of an Asus laptop.
Why are Dell laptops known for their design?
Dell laptops have this as a major advantage over other devices. They are rugged in design and come with outstanding features too. But a notable feature always has the design. They are almost the same as the MacBook. 
This allows users of the XPS 13″ to use the device for eight years, unlike other models that may not go beyond five years. This may be why users are swayed toward Dell due to its robust build and design. 
Are Asus laptops good quality?
Yes, the Asus laptops are of exceptional standard compared to most in the market. Chromebook and ultrabook are the best choices from Asus makers. They come with solid features, battery life, and top-quality performance. 
Users can also make use of the gaming laptop from Asus. There are several options in the form of the Asus ROG Strix Scar III. The laptop is priced slightly at $1500 but has extremely powerful features on Mac's wavelength. 
Are Dell Precision laptops good?
The Dell Precision 7730 has remarkable features suitable for all users. Consumers were quite happy using the laptop. You will be delighted to know that the device has a remarkable carbon-fiber chassis.
The material is up to the military grade, which means it is durable and reliable. You can consider using it for several years without issues. Nothing would happen to the laptop, even if it accidentally dropped from a height. It will work just fine. 
Why are Asus laptops cheap?
In our comparison of the Asus vs Dell, you would have noticed that Asus laptops are generally cheaper than the Dell models. Besides, the budget range of laptops from the Taiwanese maker is splendid. 
We did feel that the design factor may have played a huge role in the pricing. They compromise on the built quality compared to Dell, but not on the features. You will be satisfied to know that Asus makes its components frequently. 
Why is the Dell Precision laptop priced high? 
Dell Precision is one of the best laptops produced by the makers of Dell. Perhaps, they have installed an impressive GPU on the device because of the high pricing. They are priced hence. 
The XPS is a good model priced at around $1200, but the Precision devices provide adequate flexibility. Users commented that you do not have to install expensive applications on the unit for it to function sublimely according to your requirement. 
Final thoughts
This is the end of our review on Asus vs Dell laptops. I hope you benefited from the post and have made up your mind. It can be tough to decide between two popular brands. We recommend you go with the Dell XPS or the Asus ZenBook. 
You cannot go wrong with them. The laptops come with literally everything a user would want to have present on their device. Yes, they may be slightly higher on the pricing front, but for 2022, these two devices are way ahead of the market. 
We suggest you read what other users say about the products before delving into them. You can also know more about the makers by doing little research.
This way, you know what to expect from the model you intend to purchase. Nobody wants to pay extra for a laptop that meets the features. Of course, Amazon provides reliable products and an excellent return policy. 
Did you like the review? Please leave your valuable suggestions and feedback in our comment section.