Are you searching for the Best Audio To Text Converter application? 🤔 There are many out there, but how do you know which one is perfect for you?
Lucky for you, we've put together a list of the best converter for you.
Let's get started. 📗
Video files, as we know them, are becoming much more common in 2020, and most of us prefer to have information from an audio or video file. In that way, we don't have to read the whole thing and can just mark what's important.
In many cases, a text file is much more important because a text file is more approachable, and a reader can easily navigate through articles.
Digesting it all and reading it through without having to worry about finding the particular parts such as you do in the audio and video files. 
There's a reason why people prefer reading books rather than watching movies which are based on the same books. Because in film, you don't get to know everything required to build up the character.
A great example of this happening in Hollywood is the Harry Potter series. With the help of dependable transcribing software, you can finish off the hours of writing works in just a few minutes.
Having a video or a marketing campaign with the subtitles is a great way to boost your business and tell people about your products in a more engaging way.
With the help of these software's you don't have to spend hours manually writing down the subtitles for your ads, you can just upload the video or it's audio and the outcome will be the text file. 
In addition to this, all the essential documents that you see in 2020 are written in text, and you need to sign them physically. That's because audio and video files can be hindered, and there is no way of knowing whether someone made those changes or not.
Today we are going to show you some of the best audio to text converters for your laptops and MacBooks, which will make it easier for you to write down the document.
Best Audio To Text Converter: Our Top Picks 👌
Now we have cleared out the benefits of having audio to text converters with you. We are going to share with you a list of top 10 audio to text converter software which you can download on your machine from the internet and start with your thesis that's been pending for so long which you are not able to complete it requires a lot of typing. 
1. Dragon Professional
At the top of our list, we have Dragon Professional, just from the name you can see that this software is built to provide you every single feature that you need in audio to text converter.
Dragon Professional feature demo: Transcription
In addition to this, the software is being used by several professionals such as doctors, lawyers, and journalists to get a soft copy of what they are talking about. 
So they don't have to write the whole thing once again once the conversation is made. It is one of the industry's leading speech recognition software, and millions of people are using it in their everyday life. The company is making things easier for professionals with this software for more than 30 years. 
Thus, you know they are doing something right to be relevant even after 30 years of being present in the same market and crushing the sales numbers.
The company was founded in the year 1992 in the United States, and it gives you a one-time payment offer per user, so you will get access to using the software for your whole life once you buy it. 
Below is the summary of the main Pros and Cons of the Dragon Professional that makes it add to the Best Audio To Text Converter list.
Pros:- 
First, the UI is the best in the class, it is easy to navigate, even though there are so many tools that are present in the software. 

Secondly, you can capture audio, have customizable macros, along with your speech-to-text analysis. 

The software captures all your voice dictation accurately as it has a great microphone. As a result, the accuracy of the software is more than 95%, and you can have more than 90% straight out of the box. 

In addition to this, when you are using it, it learns how you talk and upgrades its speech recognition so as to capture the right word and put it in the text file.

If you want to create unique words and phrases which you are going to use again and again during the writing, you can create them easily using the macros. 

Due to its accuracy, you don't have to repeat the sentence in so many instances. 
Cons:-
It only gives one access per user for the paid version. So if you want to buy it for more than two different systems, then you have to purchase them individually.
2. Sonix.ai Automated Transcription Software
From researchers to podcasters, to documentary filmmakers. Everyone is using Sonix.ai to get their transcriptions done on time. Thus, we have to put in the second spot on our list.
The future of transcription is here: Sonix is easy, fast, and affordable
You will be surprised to know that, in the year 2020, this software has been featured in Best ease of use medical transcription software along with best value transcription medical software 2020. We hope this clears your doubt about the reliability of the software if somehow you have any. 
To be honest, this is not the typical transcription software that you have to download and then put your audio file into it to convert it.
Here you need to upload the audio file which you want to convert online, and in less than 5 minutes with the help of AI, the transcript will be ready. 
With the help of a browser-based transcript, it stitches out the audio/video to text. Likewise, once you create the account on their online platform, you can easily keep track of all the audio transcription that you have done, and you can download them on any machine whenever you want.
You can also allow multi-user permission so other members of your team can read your transcriptions and make changes if needed for the work. 
Below is the summary of the main Pros and Cons of the sonix.ai that makes it add to the Best Audio To Text Converter list.
Pros:-
First, you get to have a free trial of this online software, meaning you can use it for a limited minute to check its accuracy and learn how to operate it. 

Besides, it's a web-based software, so you don't need to have a powerful computer to run it, even you can use your tablet to convert the audio files into text using this software. 

The training can be done online via attending webinars and documentation to fully understand what each tool does when it comes to transcribing your files. 

Moreover, the interface is easy to understand, allowing even the newbies to convert audio files like a pro. 

You can use it to transcribe multiple audios at the same time, like if you are interviewing someone and recording the video. It will deliver you the transcription, which is quite accurate for both speakers. 

Lastly, customer service is excellent, and the company tries to solve your problems as soon as possible with minimum back and forth communication. 
Cons:-
Pricing could be an issue, as they are so many options for you to choose from. It is better to take things slowly and once you are familiar with the platform and able to use it on the go. Then only you apply for a yearly subscription
3. Trint Audio to Text Converter Online
Trint is another web-based software that is backed by artificial intelligence to transcribe audio and video files into text files.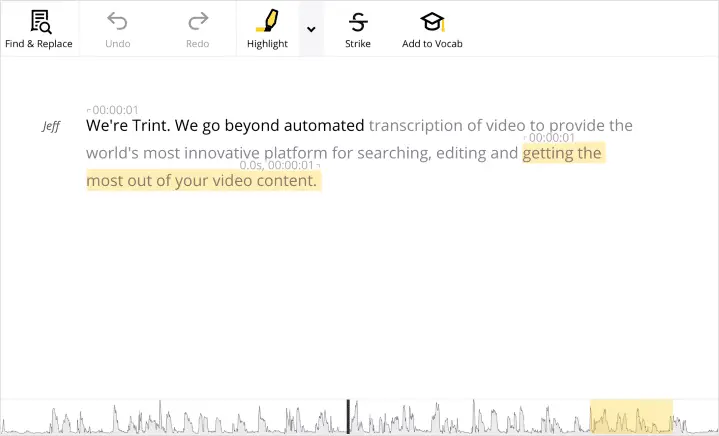 It uses automated speech recognition technology, which has been developed after years of research to make it work flawlessly. It works on a pay as you go pricing. So you don't have to pay a big amount to access their services. 
You can ask for live support if you want to have to get yourself trained to use this online platform of conversion. In case you want to go old school you can ask the company to send over one of their representatives to teach you how to use their service optimally. 
If you wish to simple audio to text conversion, this is the thing for you, no extra tools for you to mess around, plain, simple, and accurate.
The software can convert the file with 90% of accuracy, and that's a lot if you ask us, when the AI is working behind the curtains all on its own without any human help. 
Below is the summary of the main Pros and Cons of the Trint that makes it add to the Best Audio To Text Converter list.
Pros:- 
First, even if you don't have any prior experience in converting the files, you can still use it and get the job done in no time, it's that simple. 

For most people, this software feels like having your typing assistant, which will take every word from your audio and put it down on the text file it delivers.

In addition to this, you can edit the file before downloading it to your system. 

Moreover, if you want to alter the speed at which the dictation needs to be done, you can tweak the settings according to your liking.

The software does take some time to provide you with the text file, but the result will have quite a few errors for you to change manually, thus, saving a lot of your time typing the whole thing on your system.
Cons:-
If you want to run this software, you need to have a good internet connection. It requires a significant amount of bandwidth to run.

Likewise, if you have an old computer, this online application will take some time to be fully loaded. Even if it is online, it still consumes a lot of your CPU power when running in the background on your browser. 

As a result, you won't be doing any other work when the transcription is taking place. 
4. Dragon Anywhere
Yeah, Dragon is everywhere. That's what the makers of this app thought when they are developing it.
Dragon Anywhere: Feature Demo - Train Words
This application was built by the same company that came up with the Dragon professional, but this time it is for mobile devices such as your Android and ios devices.
Modern smartphones are built to do anything you use to have a computer except give you an excellent keyboard to write on, that's what is missing from all your touch smartphones. But with the help of Dragon anywhere, you can transcribe your audio files into text files from your phone. 
Below is the summary of the main Pros and Cons of the Dragon Anywhere that makes it add to the Best Audio To Text Converter list.
Pros:-
First, it comes with a 1-week free trial, and once you are satisfied with its use and accuracy, you can decide whether you want to pay monthly or annually.

In addition to this, it does recognize uncommon words, and you can add some on your own in its dictionary if required.

It has a Train Words feature, which makes it possible for you to show the app the spelling and the pronunciation of the word, which is quite rare to use. 

Moreover, the setup is quite easy and doesn't take much time. Also, you can run it smoothly on lower-end systems.

Lastly, the app supports third-party integrations such as your dropbox account and Evernote, making the transfer of files quick and hassle-free.
Cons:-
You need to have an internet connection to be able to convert the files into text document. 
5. Transcribe Audio to Text Converter Online
Now we are in the middle of our list, but we are still left with so many great audio to text convertors, so you need to give our fifth one a try, and we are sure you won't be disappointed. 
Transcribe is our number fifth. It makes the conversion of text files so easy that even a high school kid can do it without getting stuck somewhere in the process. 
While making the edits in the text file, you get the freedom to play a particular word if you want to know its origin in your audio file. It's a value for money software; there is no denying it. 
Below is the summary of the main Pros and Cons of the Transcribe that makes it add to the Best Audio To Text Converter list.
Pros:- 
If you are a transcribe expert and want to have something which doesn't require you to pay a hefty amount. Then we would love to ask you to install this software on your computer without having any second thoughts.

This tool saves hundreds of hours of a journalist who wants to get the text file of their report as it converts the file in just a few minutes.

In addition to this, the software supports all major dialects such as English, Spanish, Hindi, along with most European and Asian. 

Several tools will make things easy for you when you are using this software, some of these are auto loop, text expander, and support for your foot pedal if needed. 
Cons:-
It gives you a week for a free trial, and after that, you need to pay 6 dollars for an hour, or you can go for an annual subscription, which is 20 dollars. The hourly rates are pretty expensive, knowing everything is done using AI, and there is no one to check the work to find the errors once they are done. 
When we ask you to look at the services the Verbit provides, trust us, we are not playing. This software is built to provide the best of the audio/video conversion to text for the enterprise level.
All the other software we have talked about on this list are built to be used by an individual, but Verbit is made to help the whole enterprise, so they don't have to worry about their daily transcription needs. This software is being used in news channels, law firms, etc.
Below is the summary of the main Pros and Cons of the verbit that makes it add to the Best Audio To Text Converter list.
Pros:- 
First, it is one of the best business-class audio to text conversion software specifically built to provide a user with superior speech to text services. 

Like other Softwares, it uses high-end AI and machine learning algorithms to provide you with text files. In addition to this, the AI helps to cut the extra noise present in the audio files.

Even if you have a specific kind of accent, this software will still detect each word that you speak and convert it into a text file. 

Moreover, you can ask for human editors to check your spelling and other mistakes, which could be present in both the text file and your audio. 

The turnaround time of a manual transcription is 4 hours, which is quite fast compared to other software, which takes about a day or two.
Cons:-
You can't always put your audio in software and ask it to convert it into transcription using the manual editor. It takes some time, so if you are looking for that, you need to find other software; otherwise, for automated transcriptions, this is the best we can suggest at such an affordable price for the whole corporation. 
7. Inqscribe
If you are looking for software that can provide you with a free foot pedal without having to buy the premium version of it then Inqscribe is the software made just for you.
InqScribe: Simple Software for Transcribing Audio and Video
It gives you access to using the foot pedal for your transcription without asking you to unlock it. Which is something not so common in the industry. Consequently, a lot of transcribers are drawn to it and use its services to complete their job.
Below is the summary of the main Pros and Cons of the inqscribe that makes it add to the Best Audio To Text Converter list.
Pros:-
First, it is used by a wide range of professionals to create subtitles in their videos and movies. 

It can help you in analyzing and code the video based on the time-stamped tags. 

Besides, it comes with 14 days of free trial in which you can convert as many video/audio files as you want, there will be no restrictions.

This software can work on both Windows and Mac operating systems.

Lastly, when you are doing the transcription, you can insert a timecode anywhere in between the transcription. 
Cons:-
For a single lifetime license, you need to pay $99. Otherwise, you have to fight against the pop dialogs, which are quite annoying. 
8. Speechmatics
The company which has brought us Speechmatics has been researching for over a decade in machine learning to develop an error-free Automatic Speech Recognition (ASR), which can convert your audio files in real-time.
Speechmatics | Innovate with voice
While remaining a cloud service software at its core. As it's cloud-based software, your CPU doesn't need to have lots of cores to run it smoothly on your system. 
Being a cloud SaaS, you can use both Mac and Windows operating systems to convert your files using this software. Even if you speak a different language and not English, it will convert your audio and provide you the text file.
Below is the summary of the main Pros and Cons of the speechmakers that makes it add to the Best Audio To Text Converter list.
Pros:-  
First, the software has everything you need: speed along with accuracy. It can give you text files in just a few hours with almost no errors and grammatical mistakes.

You can drag and drop the link of the video in this software for which you need subtitles; it is as simple as that.

Background noise will be blown away in the text file with the help of AI decoding. 
Cons:- 
Even though speech to text is 100% accurate, you still need human interference to find spelling errors. 

The output of the text files is in pdf, which you can't edit once you download it. So we think it would have been great if the software gives us the text files in a word document. 
9. Google Doc Voice Typing
If you are looking for the best free application then Google Doc is the best solution for you. Personally, I am using this application to add subtitles in my YouTube videos.
It's really easy to use, Open the Google Doc and click on the Tools option and select the "Voice Typing" option.
Note:- Voice Typing feature is only available with Google Chrome, if you are using any other browser you are not able to use this option.
If you are using Windows PC, you need to enable the Stereo Mix option in windows. Read our guide to do so How to Enable Stereo Mix in Windows 10.
How to Automatically add Subtitle on Your Youtube videos
Conclusion 
So there you have it, the list of best audio to text converters in 2020. You can use this software to do the manual work to be done automatically, without worrying about the results and the accuracy of the text files.
With the advancement in AI technology in the field of speech recognition soon, we will be reaching 100% accuracy in all the major languages around the world.
Thus, making it easier for you to convert your native language audio files into text. Saving a lot of your time and money at the same time. 
If there are any other Softwares that you think are great as audio to text converters, do write them down in the comment section so we can find them and, if needed, update our list accordingly.