How to avoid 'Malvertising', like the malicious adware spread through Facebook Messenger?
Malvertising is increasing by about 300% per year, and malicious ads are typically spread through legitimate websites or by claiming to be a legitimate advertiser. Current global ransomware attacks show that they can use almost any online advertising platform.
To stay safe, you should follow these simple rules to protect your identity and your devices:-
1.You should regularly clear your browsing data to get rid of any cookies–the small pieces of code that download to your browser when you visit a website.When you return to that website, the cookie records this information so targeted ads can be directed at you.
I will recommend you to read my article How To Set Up Your PC to Automatically Clean Itself Periodically.
2.Protect yourself against malicious ads by using an adblocker. Ads help fund free media content, but while the ad industry is scrambling to find solutions to malvertising, it's best to stay safe and use an ad blocker such as uBlock Origin. But be aware that with each additional extension, your browser's fingerprint becomes easier to identify.
3.Anti-tracking and anti-cookie extensions are among the best ways to stay private. For example, Disconnect Private Browsing (disconnect.me) protects you from tracking and malware by blocking third-party cookies and social networks such as Facebook, Google,
and Twitter. Privacy Badger from the non-profit Electronic Frontier Foundation is
another good option.
Privacy Badger blocks spying ads and invisible trackers. It's there to ensure that companies can't track your browsing without your consent.
The extension is designed to automatically protect your privacy from third party trackers that load invisibly when you browse the web.
Privacy Badger sends the Do Not Track header with each request, and it evaluates the likelihood that you are still being tracked.
Open https://chrome.google.com/webstore/ and search for "Privacy Badger" and click on the "Add to Chrome" and click on the "Add extension" to add this extension in your browser.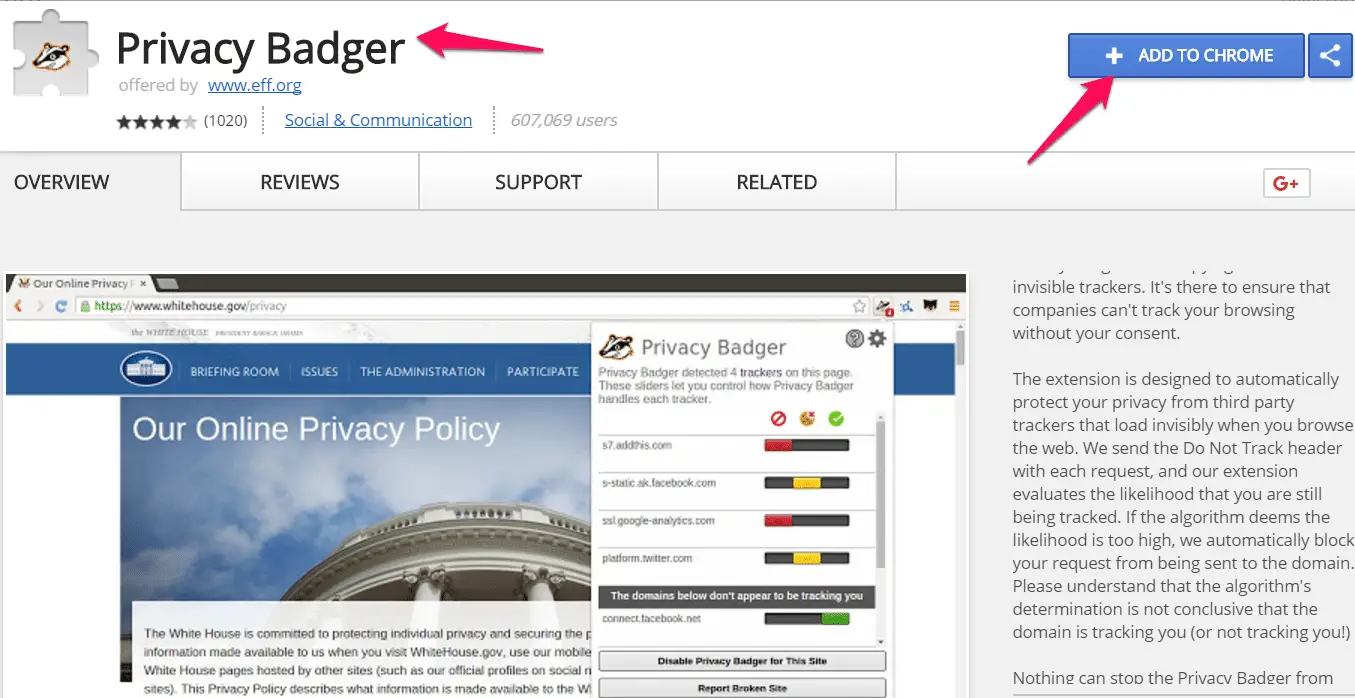 after adding "QCLean" and Privacy badger you have complete control over facebook ads like show in below image. It's showing " The domains below don't appear to be tracking you" .
Read How to get rid of Facebook ads easily
4. Use Quad9 DNS instead of ISP ProvidedDNS
Quad9 is a new security solution from IBM, PCH and the Global Cyber Alliance that promises to improve your system's security, privacy, and performance by routing requests through its own DNS servers, which have been designed to prevent you from accessing unsafe sites. Your requests are handled by the nearest data centers, which should result in a speedy response. Quad9 doesn't record or store your browsing history.
Read complete article Quad9 DNS: Internet Security and Privacy in a Few Easy Steps here.
5. Install software that blocks ads and protects your privacy. NordVPN has just launched
CyberSec
, a new security tool designed to block ads, malware, botnets and other threats.
It comes with a VPN, so it serves a double function: encryption and ad blocking.
CyberSec resembles a content blocker but runs on the network level. NordVPN's Android, Windows and MacOS apps have a built-in CyberSec option.