Are You Looking for a list of Best Apps For Pregnancy and Baby Tracker App which will let you enjoy motherhood to its prime? 🤔
This list is for you only.
Without Any Further Delay, Let's Explore this guide
Pregnancy is the beginning of a new phase in a woman's life, as she keenly waits to cuddle her newborn in her arms and to pose for the picture-perfect family album.
Stepping into the unknown world makes a pregnant woman perplexed whether to be excited or nervous about what is stored in the future. Pregnancy involves a vicious circle of hormonal imbalance and notable biological changes with irresistible cravings, nausea, tiredness, and altering body shape.
You are least aware of how this journey of becoming a mother would unfold and naturally, doubts, stress, and nervousness are common symptoms to be seen in expecting moms.
Announcing your pregnancy to the world fetches you a lot of happiness and good wishes but also invites a lot of unwanted advice too, which leaves you in a big dilemma, so it is always better to trust a reliable source of information, which can eradicate all your doubts about pregnancy.
A pregnancy app can take care of all these issues and you can take a sigh of relief by following the guidelines and tips featured in the Best apps for pregnancy and Baby Tracker App.
In addition, extra responsibilities like tracking doctor's appointments, taking medications timely and tracking the growth of the baby drain down an expecting mum completely and she is unable to handle all this alone.
These apps are a blessing and specially developed to look after the special needs of pregnant women and be their anchor during her life-altering phase.
There are multiple pregnancy apps available, which can be easily downloaded both on IOS and Android interfaces. You just need to identify the one which suits you the best and follow it religiously for a smooth gestation period.
A 40-week pregnancy is considered a healthy one, this period is divided into three semesters with definite fetal developments.
First Trimester (0 to 13 weeks)
This first stage of pregnancy is the most pivotal one as your body undergoes massive changes along with your baby's organ development. It is a highly vulnerable stage as maximum miscarriages and birth defects are seen due to negligence in this phase.
Second Trimester (14 to 26 weeks)
This stage of pregnancy is considered the best one as you become more relaxed and used to your body changes. Gradually in this phase, all the uncomfortable aftereffects of the pregnancy disappear on its own.
Third Trimester (27 to 40 weeks)
This is the final stage and physical discomfort is maximum, as both the mother and child are developed fully and you get impatient to eject the baby.
However, these trimesters are a defined cycle, but it is necessary to monitor closely what is going on in your body at every stage. Trusting the pregnancy apps to guide you through all these stages will let you enjoy motherhood to its prime. A few best apps which can assist u in your trimester are:
Best Apps For Pregnancy and Baby Tracker App
1. Pregnancy Assistant
This is a simple but very useful app that provides detailed information related to fetal development from week 1 to the 40th week.
Once you put in the date of your last menstrual cycle, you are able to view your baby's growth statistics, and pictures and also observe fascinating development changes from day 1 till the current date.
There is a separate notes section to put reminders for taking vitamins and not skipping the date for a doctor's appointment.
2. Pregnancy & Baby Tracker App
This is a very popular pregnancy app and is being followed by many. It is very helpful as you can easily keep a tab on ovulation and record the daily development of your baby.
Besides, it is equipped with a Contraction Timer which constantly monitors contraction and sends the results to the doctor. The app gets rolling with just the input of the due date from your side and displays tips from expert guides who give detailed explanations of all the dos and don'ts during this delicate period.
Pregnancy Tracker App for Android | BabyCenter
You can also join a community of cordial parents ready to share their experiences. You can take pictures of your inflating bump and proudly show them off in your pregnancy journal.
You can scout the database of baby names and zero down on the perfect name for your newborn. Once you deliver the baby, the app will convert into a parenting guide and also advise you on the baby's first growing year.
3. The Bump
This app is an extensive one-stop solution for all moms to be. It has a planner that reminds you of the upcoming doctor's appointments, an interactive 3D visual to view the baby's growth, articles brimming with pregnancy and baby-related articles, a photo album to record the growing baby bump, and a lot more to make all your inhibitions vanish.
One of the most liked features is, that it relates your baby's growth with fruit, and you can correlate the fruit size to the fetus size. Isn't this super fascinating?
You get regular updates about the changes and developments undergoing in your and the baby's body and the best way to prepare for the d day.
This is simply an amazing app, equipped with equally amazing features to let you experience the best.
Note:-
I have written a post for people looking for the
Best Apps For Nurses
?, do read it If you are interested.
At the time of our research on the Baby Tracker App, we found a video about "17 FUNNY THINGS NO ONE TELL YOU ABOUT PREGNANCY" which is worth watching. 🤴🏆
17 FUNNY THINGS NO ONE TELL YOU ABOUT PREGNANCY
4. Sprout Pregnancy
This app guides you daily about all the modifications you need to adapt as you escalate on the pregnancy graph.
It works in tandem with your pregnancy week and educates you about all the changes and developments happening in your body to accommodate the growing baby. You get to peep into your baby's world by viewing your baby's presence through the mind-blowing 3D interactions.
Helpful tools like a weight tracker, contraction timer, and kick counter assist you all through. The sensation of your child's kick and his heartbeat lets you track the baby's growth in an exciting manner.
This app can take pictures of your increasing baby bump and record your thrilling experiences along with the lovely memories you make while advancing in this special journey of motherhood.
Try this app for its outstanding tips for pregnant women and guidelines for a super smooth pregnancy. A healthy and balanced diet is the key to a healthy body but is of prime importance once you are expecting or planning a baby.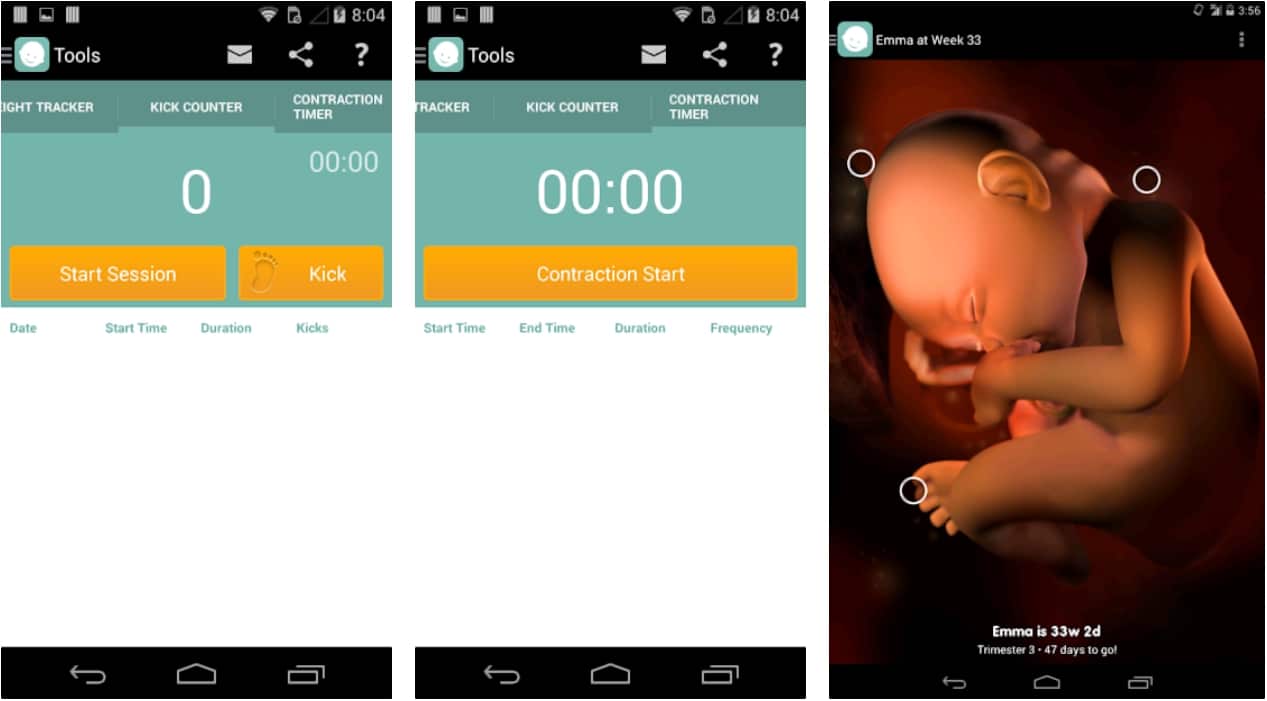 Eating healthy food will energize you and also pass on the nutrients to the growing baby in your womb. A balanced diet rich in fruits, vegetables, milk, eggs, meat, etc provides the additional nourishment a woman needs during her pregnancy.
Intake of nutritious diet helps in good fetal development, normal birth weight and reduces the chances of complications. A correct diet helps in curbing fatigue and morning sickness, two major sicknesses in the early months.
It also helps you to control the fluctuating mood swings and helps in labor and delivery too. Certain doctors prescribe additional vitamins and supplements to the diet to improve the overall health of both the mother and baby.
How Hard the Life of a Pregnant Woman Is
It is best to follow an informative app to get in-depth knowledge about good nutrition. The informative apps about pregnancy that guide you throughout with special stress on health and diet are. The Sprout Pregnancy App ranked number 4 in our Baby Tracker App list that you should download.
5. Pregnancy Workout Advisor
This app contains detailed illustrations of exercises to be done by pregnant women for stability, strength, and overall well-being.
These workouts are visually shown with easy-to-follow instructions. It gives recommendations on healthy and beneficial foods to include in your diet as well as the food to be avoided.
It displays a weight tracker to let you keep a check on your weight and also suggests the different sleeping positions to follow during each trimester, as it will help you to get sound sleep.
This app is a must-try as it focuses on all the aspects of motherhood. The Pregnancy Workout Advisor App ranked number 5 in our Baby Tracker App list that you should download.
20 FUNNY FACTS About PREGNANCY
6. Hello Belly Pregnancy Tracker – Baby tracker app For android
This app gives a detailed insight into the baby's development happening inside the womb. You can observe realistic illustrations of the changes during each trimester of your pregnancy.
You receive weekly advice from the best professionals to be assured that everything is normal and the development of your baby is as per the growth schedule.
If any discrepancy arises, you can sort it out immediately with the doctor without delaying the matter. It also helps you decide what to eat and gives you information on the best nutrition for both the mother and the baby.
Many Popular features include a child's due date calculator based on the date of conception, "what's normal, what's happening, you and your body" are widely used by all.
Information like week-by-week developments in the baby and handling the baby during the first delicate six months after birth are not to be missed.
An enormous collection of more than 400 tips written by well-known experts, best meditation techniques, useful checklists, maternity shopping, and a to-do list before the baby arrives are all a part of this wonderful app.
This app should definitely be downloaded as it includes every nitty-gritty of pregnancy along with expert advice. The Hello Belly Pregnancy Tracker App ranked number 6 in our best twin baby tracker app list that you should download.
7. Pregnancy Exercise
Staying healthy and strong during pregnancy requires an amalgam of adequate exercise, nutrition, rest, and prenatal care. This app helps you to fit this routine into your lifestyle.
It instructs you to concentrate on your fitness level both before and post-pregnancy. It constantly guides you on good nutrition, relaxation exercises, and overall well-being for the full nine months and also beyond it.
Explore the clearly illustrated pregnancy workouts and formulate a customized set according to your pregnancy stage. Assistance in planning meals along with recipes, podcasts, exercises for strengthening the pelvic floor, and meditation for dispelling all your nervousness and anxiousness are all a part of this magical app.
Available on both IOS and Android platforms with free downloads makes it is an ideal choice for all expecting mothers.
Regular exercise during pregnancy promotes overall well-being and eases off any pain or discomfort. A 30-minute exercise regime, in any form, will charge you and prepare you to spend these nine months smoothly. Swimming and walking are also great options.
EXERCISE DURING PREGNANCY | DO'S AND DON'TS!
You need to take care of your mental health too by practicing meditations and consciously keep all stress and anxiousness at bay.
You need to listen to your body's signals, declutter your mind, rest in plenty, and focus on staying calm to enjoy your pregnancy. Some of the useful apps for the mother-to-be, with special stress on aforesaid are.
The Pregnancy Exercise App ranked number 6 in our Baby Tracker App list that you should download.
8. The Bump
This app provides a set of personalized exercises to support your mental and emotional balance from the first day of pregnancy until the child is 24 months.
This is the best time when you can meditate and calm yourself and pass on the positive vibrations to the baby as well. Pregnancy is a life-altering experience and needs you to build up your mental and physical strength.
The app is designed by the masters of mental health who can guide you in prenatal health and mindfulness. Mind the Bump is a great app to switch off from all the ruckus and hubbub about pregnancy and simply enjoy the present.
9. Headspace
This app provides easy-to-use instruction to meditate peacefully. Unnecessary apprehensions and restlessness will just take a toll on your mental and physical health, instead, try doing things that will relax and calm you.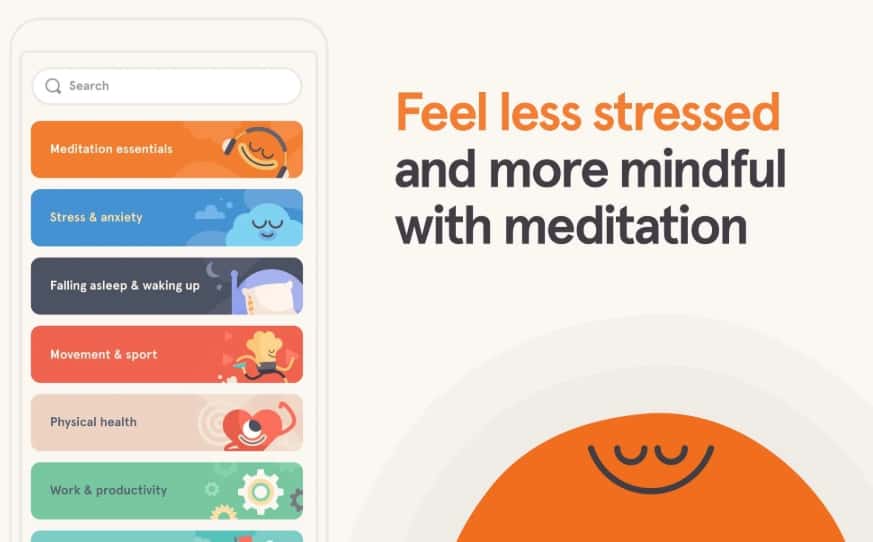 The app is a wellness guide and aims at improving your physical and mental strength by introducing you to ways and techniques that will usher more positivity, happiness, and balance in your life.
Regular practice will make you feel good and automatically your focus will shift on all the positive things. This app coaches you to believe to stay calm and rest everything will follow. The Headspace App ranked number 9 in our Baby Tracker App list that you should download.
10. TMSoft White Noise
During pregnancy, you get sleep deprived due to multiple reasons like hot flushes, frequent toilet visits, and wearisome body weight. This app is specially designed to revive your deep slumber, by offering around more than 40 melodious looped sounds that make you relax instantly.
This collection includes well-tuned sounds like croaking frogs, the humming of an air conditioner, crackling campfire, and many more pleasing melodies. You can also record your favorite sounds like crashing waves or chirping birds.
White Noise assures you to get a good night's sleep, by letting you even create a personalized sound by mixing two or more sounds. Later you can use this personalized sound to make your baby sleep.
An ideal app to help you sleep peacefully, It is worth a try! The TMSoft White Noise App ranked number 10 in our Baby Tracker App list that you should download.
11. Kegel Trainer
This is an excellent physical workout app specially designed for pregnant women, available on both IOS and Android platforms. It teaches a set of ten distinct exercises that aims to boost the pelvic muscles, which play a crucial role during and post-pregnancy.
The exercise regime stretches a maximum to 3 minutes to be easily practiced by even busy women. This app motivates you to complete the exercises and get access to unlock achievements as an incentive for finishing the exercises.
Exercise timings are recorded to make you work a little harder to beat your last time record. You must try this app and take control of your health. The Kegel Trainer App ranked number 10 in our baby feeding tracker app list that you should download.
12. WebMD Pregnancy
This app boasts of more than 900 doctor-approved authentic collections of articles that are invaluable and worth being read. It covers all the facets of pregnancy and imparts a deeper understanding of how to look after yourself and the baby efficiently.
It allows you to track your baby's and your health by using several key features like symptom tracker, contraction timer, kick counter, blood pressure, and weight tracker and set reminders for doctor's appointments, prenatal yoga training, and baby showers.
You can join the Pregnancy Community to interact and discuss stuff with like-minded people. It also offers videos, safety tips, slideshows, quizzes, and checklists for a visual treat for its users.
In addition to the bright display, it has a pepped-up fun quotient like belly size variations photo album and journal. This app is power-packed and loaded with very useful features for all expecting mothers to make the most of it.
Apart from these apps, there are a few out of the box pregnancy apps, they are:
13. Baby Names
You look forward to giving a special name to your baby. It can be quite a daunting task to scout for that perfect name. The Baby names app comes in handy here as it has a collection of more than 30,000 names.
You can delve deeper and explore the meaning, pronunciation, origin as well as popularity of the selected name. You can add a new name and even rate the existing ones.
You can take the help of Genie from the app to help you find names that will match and complement other family member's names. Trust the app if you are looking for naming your little one, you will certainly be impressed with the results.
14. Full Term – Contraction Timer
This app helps in tracking your contraction time arising during labor to note any changes in the regular pattern so that a timely alert can be sent to signal you to rush to the hospital.
It works on user-friendly platforms and has been devised to keep a tab on the labor period, from the beginning until the end of each cycle of contraction, and note the intensity of every contraction.
The feature is easy to use and tapping just one button lets you track each cycle of contraction, and the app automatically monitors the duration, pattern, and frequency of contraction during the labor period.
It keeps a vigil on the breaking of waters and warns the user instantly to take the appropriate action. It is equipped with a weight tracker, packed pregnancy references, and kick counter. This app is an easy-to-follow guide with timely alarms for the d day of delivery for all the expecting mothers.
15. Babylist Baby Registry App
Preparing to welcome the new member of the family should be exciting and not overwhelming. This app lets you add the best things for your child, from any store.
It's the ultimate stop for worrying mothers, who can add nursery items, learn breastfeeding methods and get post-delivery support like providing house cleaning services and fresh meal delivery.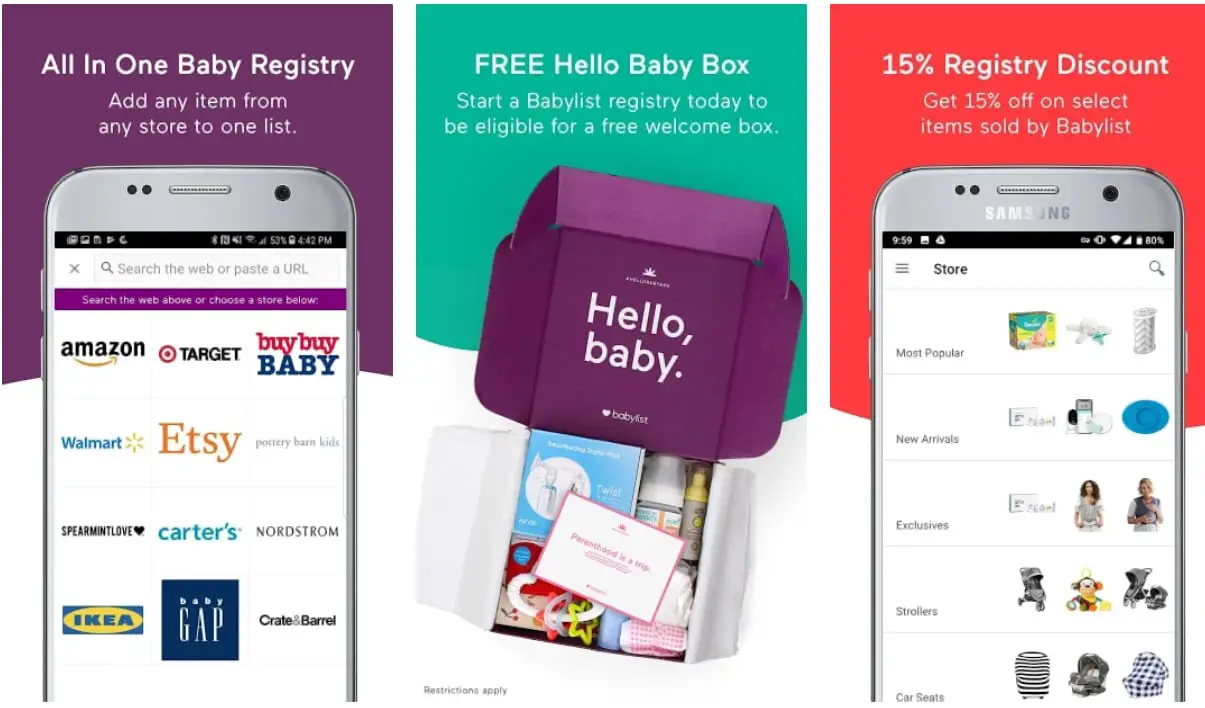 Babylist Registry lets you accumulate all the choicest things you ever wanted it for your baby. Even family and friends can pool in the baby registry and help you pay the hospital bills.
You can add anything which catches your fancy on the internet and even adding coupons for cooking dinner and babysitting is a possibility.
You can even edit your list at any point of time and also remove the item once you have received it. You can add the name of the person who has gifted you an item and keep organizing, sharing, and editing your registry to get a clear picture.
You can also keep it private by putting a password to it. This app is not jam-packed with features but seamlessly delivers what it is designed for.
Conclusion
Being on the threshold of becoming a mother is a very special feeling which cannot be expressed in words. Nine months of pregnancy is a long time and needs a lot of patience calmness and a reliable social network that can support you in this journey.
Reading good parenting books, support of family and friends along mental peace will help you cherish this experience. Another pillar of support can be from the best apps for pregnancy, which will guide you in an unbiased and rational way.
These apps make our life easy and have become our coaches for literally everything under the sun. Pregnancy-related apps are highly in demand as they motivate you when you feel low, connect you to the community of pregnant women who share the same woes as yours.
The app lets you focus more on good things like making memories with your baby in the form of journals and albums. You can pick up important tips for prenatal care from the apps.
They guide you to maintain a healthy lifestyle along with adequate exercise and a decent dose of meditation. Plenty of music options for better sleep are available on the app and moreover, they keep you updated with all the nitty-gritty issues of pregnancy instead of falling prey to wrong information.
With Pregnancy, you get your awaited bundle of joy in your arms, a happy family, the bond of the siblings and the priceless feeling of being a mother and father.