Google Drive is great for syncing selected folders to the cloud, but it doesn't offer all the features of a dedicated backup tool. FBackup fixes this shortcoming by letting you choose Google Drive as a backup destination, so you can create scheduled and encrypted backups, and save them directly to your Drive cloud storage.
Step-by-Step Process to Setup google drive secure backup
Step1:- Open FBackup and click File, Options, 'Online destinations'. Click Google Drive,  then Add and choose a name for your configuration, such as 'My Google Drive'.
Then click 'Choose account' and follow the instructions to log into Drive. Select a folder for your backups, then click OK twice.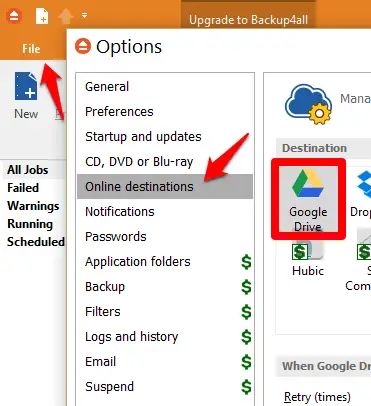 Step2:- Click New, give your backup a name and a description and click Next. Select Google Drive from the Destination menu.
In the next menu, select your configuration and click Next. 'Selection of files and folders', which lets you pick files and folders to protect, is highlighted by default.
Step3:- Presets in the same menu let you back up specific programs and file types. Click the drop-down menu to select one.
To browse a wider selection of presets, click Plugins. Once you've chosen your backup source, you can use the filters for greater control over what's protected.
Step4:- When you select a filter, only files of that type will be backed up, so if you want to back up files of every type, simply leave all the boxes unticked.
Note that there's an additional box you must tick if you want to back up empty folders.  Click Next when you're happy with your selection.
Step5:- On the next screen, choose 'Make full'  from the drop-down menu if you want to create an archive of all your files; or select 'Make mirror' to create an exact copy
without compressing the files.
If you select the archive option, you can click 'Yes, use password protection'  to encrypt it.
Step6:- Click Next, then choose how often you want the tool to create a new backup.  Finally, click Save, then 'Save and run'  and the backup will start.
To restore a backup, click the appropriate button for the backup on FBackup's home screen.
You may also like to read these articles
How to Backup and Sync an iPhone Without iTunes – 3uTools