This is a complete guide to Best Barcode Generator Software that you can purchase to streamline your inventory and accounts. 
Let's get deep dive in. 📗
It's a common thing to have a barcode when you are running a business, even if you own a food shop you need to have a barcode on items that you sell to your customers.
In that way, it will be easy for you to maintain the accounts and keep track of your inventory. In addition to this, having a barcode will give you easy access, which you can use to monitor your asset and see which item is selling more than others.
For creating a barcode for your product, you need to have special barcode software that will generate unique code for each of your products that can be recognized by your scanners.
Even if you are in an import and export business, you can use it to label the package you are going to ship to the other side of the country.
To be able to use this software, you are not required to hold any master's degree; a person with a little bit of computer knowledge can use it and take its benefits.
Today we are going to show you some of the best barcode generator software that you can purchase to streamline your inventory and accounts.
We have curated this list after months of finding reviews by the shop owners, who are currently running their business and using this software to generate a unique barcode. 
What is Barcode? 
When it comes to representing data in visual form in such a way that even a machine can read, it is called a barcode. You can find a barcode in almost everything that you buy from a supermarket or an online store.
What is barcode and how is it made in english
A single barcode is made from three two main parts that make it unique. First is the black bars, and then we have spaces in between the bars. These two combined make the barcode readable with an optical barcode scanner. 
Best Barcode Generator Software: Our Picks 👌
1. EZOfficeInventory
Starting with our list of best barcode generator software, we have EZofficeinventory. This one particular software will take you away from all the different excel that you are maintaining for your business.
EZOfficeInventory - Asset Tracking Software
It can do everything from history tracking to attaching photos, to finding something in your inventory. It's fast and relatively simple to use software that allows you to change the records with just one easy click.
You can create custom data points according to your business needs; moreover, it does have filters installed in it, which can help you find the product and its history if needed.
The main advantage of this software is you get to generate and maintain the barcode excel in just one place. 
Furthermore, you can use a mobile app for scanning the barcode that is made using this software, or you can integrate an external scanner with it, it depends on how you want to use the software. 
Below is the summary of the main Pros and Cons of the EZOfficeInventory that makes it add to the Best Barcode Generator Software list.
Pros:-
The company provides you with a free trial, where you can see how the software performs under your conditions, showing you its use cases and benefits. 

Secondly, you can use this software on multiple platforms, such as your Ipad, iPhone, and Android system. 

For training, you can ask their online representative to help you; also, you get webinars and video tutorials along with documentation.

Lastly, the setup is easy, and you get to have multiple tenancies under your single account is an added bonus to all its features.
Cons:- 
You cannot use a windows machine to be able to operate it, and it is made specifically for mobile devices. We hope the company solves this as soon as possible. 

Thus, you cannot use it if you have a large inventory at multiple locations; this software is made to help small shopkeepers and business owners only. 
2. BarTender
It's an all-in-one software that helps in creating barcodes for businesses of all sizes; you can use it to create a barcode and RFID tags for your products, check the print status.
Along with this, you can create customizable forms and configure your own data entry fields. It's software developed and sold by Seagull scientific, this company puts a lot of effort into making their software safe thus, you don't have to worry about your software being corrupted in the middle of a service.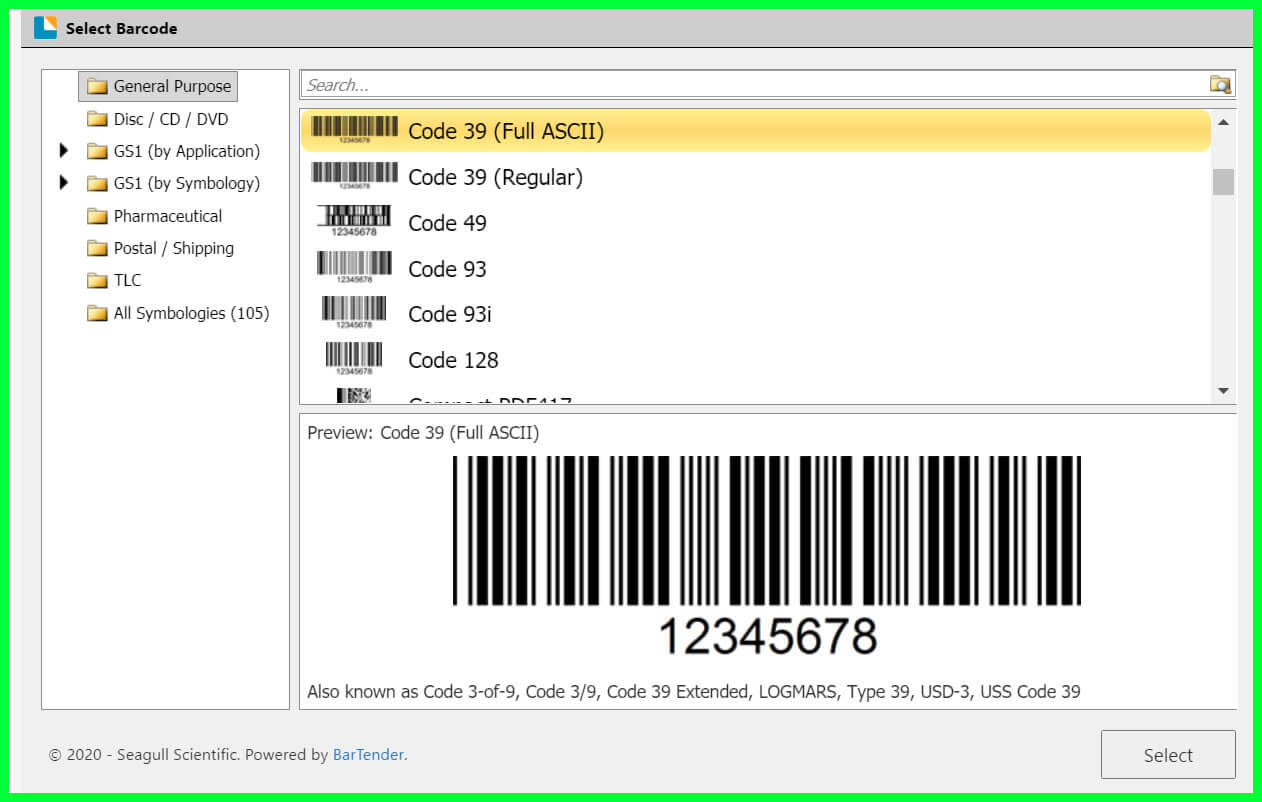 In 2020 hundred and thousands of companies are using BarTender to get their product a unique barcode, which holds every information that is needed.
BarTender can easily integrate with any outside data sets and windows printer to start printing out the barcodes for you to use. Moreover, this software is Oracle, SAP, and Microsoft certified.
Like the first one in our list, you get to try your hands on their free version, which allows you to perform most of its features for a limited amount of time. 
The main advantage of BarTender is how easily it interprets the zebra print barcodes, a task that is quite tricky for a lot of software.
The integration ability that comes with the software is fantastic, allowing you to automate a lot of things. In addition to this, to print a barcode you can use a simple printer that you have in your home. 
Below is the summary of the main Pros and Cons of the BarTender that makes it add to the Best Barcode Generator Software list.
Pros:- 
The interface is easy to understand, and you can customize it on your own even if you don't have any prior experience in coding.

To design a template for your barcode you don't have to go to lengths, it is as easy as making a presentation in PowerPoint Microsoft. 

Fields that are required to be filled to get the data from the barcode can be easily customized depending on your business.

Lastly, this software only means efficient work, and the developers made it simple so it can provide high-quality labels to the owner in a much shorter time. 
Cons:-
The version updates bring a lot of changes that could confuse a new owner, but in some time, you will get used to it.
Working with Barcode Objects in BarTender
3. Avasam Barcode generator
If you are in a hurry and don't want to buy complete software that will keep track of your barcodes and RFIDs, then you can use Avasam to help you in generating a barcode for your products. Visit here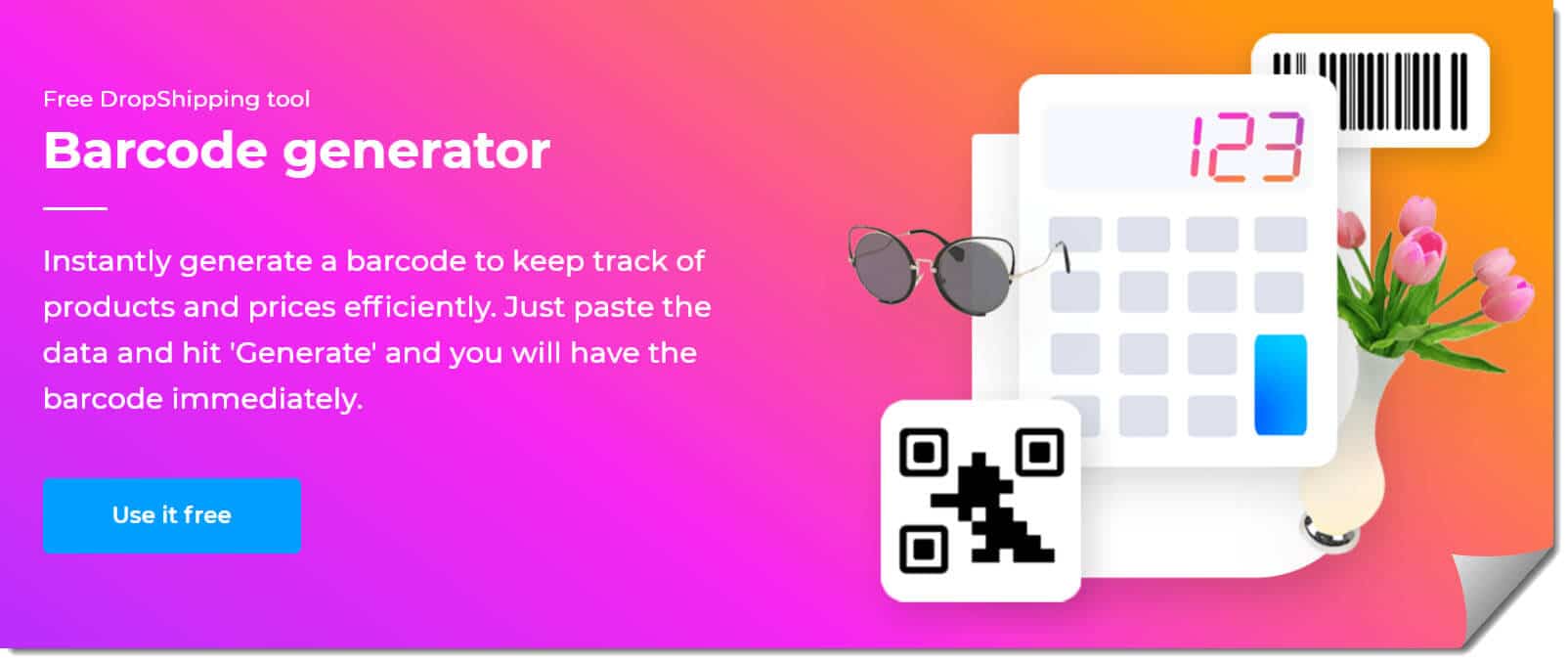 All you need to do is put the requirements that you have for the barcode in the generator tool, and it will show you some of the barcode templates from which you can choose anyone. Click on the save button and generate it within a few minutes.
It is an easy way to manage small-scale inventory where you don't have vast numbers of items. In addition to this, Avasam doesn't require you to get too much training; it's as simple as operating a printing machine. All you need to do is insert your barcode requirements, and you are done. 
Below is the summary of the main Pros and Cons of the Avasam that makes it add to the Best Barcode Generator Software list.
Pros:- 
It provides you with over 60+ integration options from some of the best marketplaces, such as Amazon, Shopify, eBay, etc.

The process of integration is plain and simple; that's why it has thousands of businesses using it every day.

Also, it allows easy navigation, and with just a few clicks, you can easily connect to your chosen platforms. 

The app is regularly updated so the customer can save time and work in a more efficient way. 

You can manage your orders from Amazon straight to this app, in addition to automating your pricing of the Amazon listed products allowing your business to go autopilot and grow.

With this software, you can pass the details of your shipping to the system automatically from your supplier to the Amazon warehouse; as a result, it will increase customer satisfaction.

Likewise, you can set the payment to automatic processing; thus, it will save a lot of your time and will streamline the payment and bookkeeping process.

Lastly, when using it with eBay, you can sync stock levels between your suppliers and E-bay warehouse to know if the stock is about to end and needs a new shipment. 
Cons:-
It's not a whole system, yes, you can do a lot of things with it, but you need to have extra software to manage your inventory. 
4. HandiFox
If you are new in the business and want to start keeping track of your inventory using a barcode system, then HandiFox is the perfect solution for you.
This software can come quite handy to wholesale distribution, manufacturing companies that are looking to expand their sales and make their inventory more streamlined. 
HandiFox - Barcode Inventory Software
Below is the summary of the main Pros and Cons of the HandiFox that makes it add to the Best Barcode Generator Software list.
Pros:- 
First, the cost of using the HandiFox online comes in just $39 a month, and you can avail of the free trial for the month and then go for the monthly purchase.

As it's a web-based software, you can use it on your mobile and tablet, it doesn't require a lot of processing power to get things done.

Training of this software can be done in person by the company officials if you want to; otherwise, you can choose online chat support and documentation that comes with the software.

If you are currently working with QuickBooks, this software will be an excellent addition to your software lineup and will make your work easy.
Cons:–
If you are trying to add a non-inventory item, the software won't recognize it; you first need to put it manually in the system. 

In addition to this, it can only work on a handheld, meaning you can't install it on Windows and Mac Pc or laptops.

Sometimes, as the issue with most of the mobile apps, this software gets stuck too and could lead to a shutdown. 
5. RFgen
RFgen is software that enables businesses to read barcodes for their products using mobile barcoding systems. Thus, it gives you an advantage over inventory and warehouse issues and increases their efficiency.
The software provides you the ease of deployment, meaning you don't have to worry about whether your system is capable of providing the necessary processing power to run this software optimally.
You can put this software on Pc, mobile, tablet, and in your Macbook also. The software is owned and distributed by the DataMax software group, which is said to be a worldwide leader in providing wireless and voice-integrated real-time solutions to the customers along with on-demand connectivity into the enterprise. 
The company has made the software in such a way that it is easier for the owner to integrate its SAP business one application to increase the real-time workflows to mobile devices.
Thus, helping to make your critical supply chain mobile. On the other hand, your workforce can get real-time access to your inventory data and make changes in it if required by taking your permission.
You can use your mobile phone's camera to be used as a scanner, or you can purchase an external barcode scanner to integrate with the device. It will work correctly in both cases. 
Below is the summary of the main Pros and Cons of the RFgen that makes it add to the Best Barcode Generator Software list.
Pros:- 
First, you can change the application's basic features and optimize it so it can work in harmony with your business requirement.

In addition to this, as a developer, you can quickly test the changes that you have made and deploy them into the software quickly. 

Furthermore, it works perfectly with Microsoft Dynamics and gives you an update about your inventory if there are any changes to it.

With this software, you can work on multiple projects at the same time; thus, it saves a lot of your time and makes things move quickly. 
Cons:-
The updates are not as smooth as they should have been, and sometimes they can cause multiple issues in software.

If you are looking to create something unique in terms of design in your bar code, you need to look somewhere else, as it provides the fundamental bar code printing.
6. Fishbowl Inventory
Now we are in the middle of our list, and at number five, we have Fishbowl inventory software. This works exactly like any CRM software does, provides you with all the necessary information that you need to track your shipment and products in your warehouse.
It's the best software when it comes to getting new customers for your business, as it enables you to send out the Email blast to several potential customers.
You can train your employees in just a few hours, and they will start using the software without any problem as its user interface is easy to navigate through. 
The integration with QuickBooks is excellent; it takes only a few minutes for you to get the data in sync from both these software. The support system which the company has deployed to solve the problem of the owners is excellent.
They listen to your question patiently and provide you their assistance until the issue is not resolved from your end. 
Below is the summary of the main Pros and Cons of the Fishbowl inventory that makes it add to the Best Barcode Generator Software list.
Pros:-
First, the quality and the speed of deploying the software to your current inventory data are faster than any other software in the market. 

Secondly, the interface is quite intuitive and is filled with lots of features ready for you to take advantage of to manage your inventory more efficiently. 

Moreover, you can install it on your Mac, PC, iPhone, and Ipad it works seamlessly with all these operating systems.

In addition to this, if you need training, the company can send you a trainer who will train you in person, or you can take the help of documentation and online tech support.

You need to pay only once, and after that, you don't need to pay monthly fees or annual fees. Thus, you get lifetime support on this software by the company.
Cons:-
Callback support takes some time to get back to you if you have any problem regarding the working of the software.
7. Finale Inventory
This software is flexible when it comes to integrating with a number of E-commerce selling platforms. It works on cloud service, so the development is based on cloud and SaaS.
For training purposes, you can join the companies webinar where they provide tutorials on how to use different features of Finale inventory. 
Microfiber Wholesale Success Story using Finale Inventory
Below is the summary of the main Pros and Cons of the Finale inventory that makes it add to the Best Barcode Generator Software list.
Pros:- 
First, it is a cloud-based system; thus, you get unlimited numbers of users for your software. 

You can easily copy, paste, and import the data in the software and edit it according to your needs. 

As it is linked to the cloud, any changes that have been made by your employee will be prompted to you and will be updated in your inventory automatically.

The search option gives you a shortcut to search for the item that you have been looking for, in your list.

Lastly, it has automatic purchase generation; thus, you don't have to fill out the new purchase on your own, manually
Cons:-
Its lack of support for Ios devices and browsers makes it a hard purchase for Apple product users.
8. Asset Panda
Asset Panda is another great barcode generator software, it works on your mobile system, but that doesn't make it any less powerful than any other software.
With the help of this application, you can create new barcodes for your business and use your mobile camera to scan the barcode.
The audit feature gives you access to go deep in your inventory and look for each and every detail of your item, such as when it was last sold and where it was delivered, etc.
Below is the summary of the main Pros and Cons of the Asset Panda that makes it add to the Best Barcode Generator Software list.
Pros:- 
You can use it for barcode generation, scanning, creating custom labels, inventory management, and serial number tracking.

The learning curve is not stretched out; thus, to master this software and use it at its full potential, you only need a few weeks. 

You can make it attached to your email, so if the item is getting returned, it will prompt an Email and will add it up in your inventory automatically.

It does come with the screen scraping ability, meaning you can copy the date from an online source to your computer or device without using any other software or app, respectively.
Cons:-
Sessions get time out way too fast, sometimes, it takes time to update, but the session expires, leaving you in the middle of your update. 

The support system only works through Emails, being software that is used by thousands of businesses; it is required that the company puts exceptional customer care support for Asset Panda.
9. Acctivate Inventory Software
The software (Visit Here) is all about making your inventory save all the data on a cloud-based storage system, which is integrated quite efficiently with QuickBooks Online.
Also, being a cloud-based system, you can track your inventory sitting anywhere in the world; all you need to have is an internet connection, and you are done. As a result, it can be used to keep a check on the multiple shops and their inventory. 
Below is the summary of the main Pros and Cons of the Acctivate Inventory Software that makes it add to the Best Barcode Generator Software list.
Pros:-
Even if you are going to use it every day or once a week in both cases, it is easier to operate than many other software that is present in this segment.

You are getting a 30-day free trial of the software, and after that, you can decide your purchase. 

Besides, if you are in a hurry and are not looking to make a custom label, you can take out a template from this software and use it, it is as simple as that.

For a barcode to have a symbol, texts and images are something you don't see often, but if your business demands it, BarTender can solve your problem.
Cons:-
If you want to edit and fix some of your bar code you need to make changes in your original file, there is no way around it. 

You need to have a fair bit of experience in creating barcodes, as for the custom barcode it asks you too many specifications, which could be puzzling. 
10. NiceLabel
With the help of this software ( Visit Here), you can track the online payment of your products, along with their shipment and packaging process. Most importantly, it can easily print your bar codes and scan them using the external barcode scanner. 
Pros:-
The app works great with the QuickBooks inventory and updates it back and forth if there are any new changes in your stock.

Moreover, the UI is quite user-friendly, making it easier for the owner to navigate during his usage. 

With an inbuilt librarian feature, you get to make sure that all your label revs are tracked and managed correctly. 

The video tutorials will provide you with in-depth knowledge of this software, giving all the insight you need to use its plethora of features. 
Cons:-
The reports that come out from this software are a bit hard to read; you need to manipulate it further to understand it clearly. 
11. Wasp Barcode
Don't worry; these barcodes don't sting. Wasp (Check Here) is a company that provides its customers with turnkey tracking solutions that help in improving productivity, profitability along with accountability.
The company is in the business for more than 25 years and has seen a lot of ups and downs in addition to the significant economic depression of 2009.
Still, they are standing tall over their competitors and are providing the best barcode generating software and hardware to their customers. 
Below is the summary of the main Pros and Cons of the Wasp that makes it add to the Best Barcode Generator Software list.
Pros:-
In three easy steps, you will get your bar code generated and ready to print. 

The company has been working with some big MNCs such as Boeing, CISCO, IBM, thus we can say they know what they are doing in terms of creating barcodes and providing support to their hardware and software.

You can use their vast number of barcode scanners according to your business requirement and get their team to come to your place to install it.

New versions of the software are readily available, and you can download it from their main website.
Cons:- 
You cannot download the barcode on your own once it gets generated; it will be sent to you via email, which the company later uses for sending promotional emails. 
12. Zint Barcode Generator
This open-source barcode generator (Download Here) gives you 50 different templates to choose from for you to make your barcode.
As it's open-source, you can download their full software without having to pay anything. Updates are quite frequent with this software as people can change something in the software if they find issues with it. 
Pros:- 
It can help you print a barcode for your business without any extra cost. 

Also, the software works on both Linux and Windows environments so you can install it without any hassle.

Best for small size businesses and optimal for creating barcodes for books and libraries.
Cons:-
There is no GUI; you first need to learn how to use it with the command line, and only then can you print your barcodes.
13. RcodeMonkey
When it comes to a barcode generation app, which lets you generate and scan the barcode without even asking you to download a premium version of it. You must think there is something fishy about the app, but that's not the case with RcodeMoneky.
With this barcode app, you can create an endless barcode for several services for your whole life without having to pay even a single dime to the developer.
All your QR codes will work for a life they don't have any expiry date, so you don't have to worry about them anymore. 
Below is the summary of the main Pros and Cons of the RcodeMonkey that makes it add to the Best Barcode Generator Software list.
Pros:- 
First, you can use it to put a custom brand name inside the barcode, which can be seen by your customers. 

You don't have to use photoshop to make the barcode; the app will do it; all you need to provide the logo and the type of barcode you need. 

Even if 30% of the QR code is gone due to some reason, you can still scan it and use it as it comes with 30% of the error correction.

Each QR code is built keeping in mind the pixel quality so you will be getting the best of pixel density in your QR code. You can download it in vector, SVG, eps, and pdf, the choice is yours.

Moreover, not many QR code generators provide you to create free QR in a vector format, but RcodeMonkey lets you do it without any hidden charges or issues.

Lastly, you can select your color, design, for all your QR code elements; furthermore, you can add a gradient color to your QR and make a stand out from the competition, so people can recognize your product just by looking at the code.
Cons:-
It's a QR code generator you can't use to make the barcode for your shipment services, keep this in mind. Otherwise, the product is excellent and has no issues whatsoever. 
Barcode components
Quiet zone:- it's a blank margin that you can see at either end of the barcode. The minimal margin that you can expect between the two barcodes is 2.5 mm.
If the quiet zone is not available, it will be tough for the scanner to note down the barcodes and RFID, thus, making the whole process bear unfruitful results.
Start/Stop character:- the start and the stop characters represent the start and the stop of the information that a barcode contains. Each character in the barcode is different from the other in a given system of barcodes.
Check Digit:- these are the numbers that you see in the 
In Conclusion
There you have it, the top 10 best barcode generator software for your business, these will surely ease the workload from your shoulder, giving you an ample amount of time to handle your customers and assist them in their shopping.
Most of the customers look for assistance when they are coming to a new shop. So make the most of your opportunity by using this software.
We appreciate you taking trials first and then choose the one which you think is most helpful along with your comfort. So go ahead and get yourself one of this barcode software and streamline your product selling cycle.