Health and fitness are extremely important for every person in today's time. And if you're an athlete or a fitness freak, your fitness is what you can think about any time, every time, all the time!
You would never miss a workout. You'd work out at every single chance you get. You'd practice different styles and exercises and ensure you have the perfect fitness routine and regime.
However, if working out and exercising were enough to ensure you're keeping the perfect health and fitness levels, probably every other person would have been an athlete. But that's not the case here!
In addition to being regular in your workout routines and fitness regimes, it's important that you keep a check on how these practices are working out for you.
This means you must constantly check your fitness training results to know where you stand, how far along you have come, and how much further you need to go.
These checks will also help you understand what changes you need to make to your training plans to get better results.
How to Check Fitness Performance?
Now, one of the best ways to check out your performance and results from your fitness training is through beep tests. These multi-level fitness tests will help analyze your aerobic capacity and performance as an athlete.
All you need to do is run laps on set timers and mark them at beeps. The higher your beep test score, the more your aerobic strength and capacity and the better your training results.
Moreover, carrying out these tests is extremely easy. You don't need any help from another person or trainer. All you need is the right application.
However, how would you know the perfect application from among the lot? Well, it's not easy, but we can help you to a certain extent with that.
Here are some of the best beep test apps you could use to successfully conduct this multi-level fitness test for yourself and analyze your performance and fitness training results.
Each of the applications here has been tried and tested, and you can be assured about the accuracy of the results these applications give.
What's more about these beep test apps will unravel further in the article only. So, go on, have a read, and find the perfect beep test application for the fitness freak in you.
Beep Test Apps For Athletic Training and Fitness
Beep Tests are among the best ways to know your fitness training results. They help you measure your aerobic capacity; based on the results, you can improve it further.
Moreover, taking these tests is never a pain considering that they test your fitness at multiple levels without needing you to make much effort.
Another thing that makes these tests easy is that you can find multiple applications to help you conduct the test.
However, what's the best among the swarm of many? This article will help you know the same by discussing some of the best beep test apps you could try.
1. Army Police Beep Test Official
Top of the list is the Army Police Beep Test Official app which is made along the lines of the official police beep tests. You can take the beep test on this app and see if you can pass the ones taken by the official police training.
With accuracy in mind, the beep test official application gives you the perfect beep scores every time you take the test.
It comes with a beep timer that calculates the time you spend running. Moreover, it's an advanced tool with voice control features and options.
Beep Test - Official Army Fitness Test for Police and Military Trailer HD
So, you need not open your mobile phone and operate it with your hands by interrupting your training or running. Instead, you could speak to the application, which will do what you ask.
Additionally, the application gives you voice notifications so that you can constantly track the progress of your training.
Moreover, besides helping you run a beep test, the application helps you train as well. You can find workout routines and other fitness training in the application and make sure that you train well to improve your beep test results constantly.
Another good thing is that your device does not constrain you in any manner. Be it an Android or an iOS phone, you'll find the Army Police Beep Test Official application on the device.
The only issue with the application is its in-app advertisements. These ads can interrupt your training, and you may feel irritated after a certain period.
Nonetheless, you can purchase the premium version of the application at a price as low as $0.99. With that payment, you can be free from the advertisements and enjoy your training without interruptions.
With all these features and functionalities, this is the perfect application for the fitness enthusiast within you. You'd love to try it, especially if getting fitter and improving your fitness levels at all times is what you seek.
Download the App from Google Play Store
2. Beep Test By Ruval
Specifically designed for Android phones, this is another wonderful application and surely one of the Best Beep Test Apps.
It not only helps you conduct beep tests for yourself, but it goes beyond that and creates a leaderboard for all the users on the application.
So, once you conduct a beep test on the application, you get ranked with the other users who have also conducted their beep tests.
You can compare your results with the others and constantly work on improving them. As you keep taking more beep tests on the app and your aerobic capacity increases, your position goes up on the application.
Moreover, taking beep tests is easy with the perfectly designed, user-friendly, easy-to-understand application interface. You only need to get ready with all your sports gear and find enough area to make 20-meter runs.
The application will keep showing you the distance you've covered and the time left to complete your sprint before the beep for the next sprint comes. 
Moreover, if you feel you could rest, you need not stop the beep test manually. The application will do that with its AutoStop functionality.
With that easy functionality, you can very quickly take your beep test, and once you're done, you can go on and check and analyze your results.
This is easier than taking the test in the first place because the application will show the results in very easy-to-understand formats.
Besides that, this application also helps you track and account for the calories you consume throughout the day. With that, the application promises maximum help in keeping you fit and healthy.
The best part is that you can use the application for free without irritating advertisements disturbing or interrupting you.
With all these features and functionalities and almost no disadvantage at all, you'll love to use this application for your fitness training and result in analysis. The only requirement you need to meet is to have an Android phone.
Download the App from Google Play Store
3. Physical Fitness V02 Beep Test
Another application for Android users, the Physical Fitness V02 Beep Test, is an application that you can use individually and as a group. This is possible with the functionality to create multiple accounts in the application.
So, if you're a sports coach and you'd like to track the fitness and aerobic capacity of all your team members, this application will perfectly serve your purpose.
The application provides a simple interface to conduct beep tests and analyze the results. Moreover, tracking progress is easier since the application assigns different levels, and you keep going up as you improve.
Not only that, if you're losing your capacity, the application will even downgrade your levels. So you can always see where you stand and how hard you must work.
Besides that, you can share all your progress and records on this application directly on your social media handles. So, you can tell your friends and colleagues how well you're training.
Moreover, if you want to remove a bad result or report, you can delete the same from the application. So, it's all in your hand.
Also, when having the beep tests, you need not look at your mobile screen to see if you're running out of time. The voice assistant on the application shall notify you about the same.
With all of that, it's an amazing application you can use for beep tests, and that is too free of cost. There are in-app purchases and advertisements if you go for the free version.
If you'd like to get rid of them, you can go for the pro versions. Yet, all the basic stuff is free, and you'd enjoy the full application.
Download the App from Google Play Store
4. Bleep Test – Best bleep test app
This is an application specifically designed for iOS users. Unlike most iOS applications, it doesn't cost anything. No, you don't need to worry about the ads, because there are none.
With that, you can conveniently take training to be a better athlete and sportsperson. Even if that's not on your list, you can use the application to keep the right fitness levels.
The application is built for Pro level athletes and novice users and will be perfect for building your fitness levels.
You can start small and slowly go up the levels in the application. You can start running and start taking your beep tests.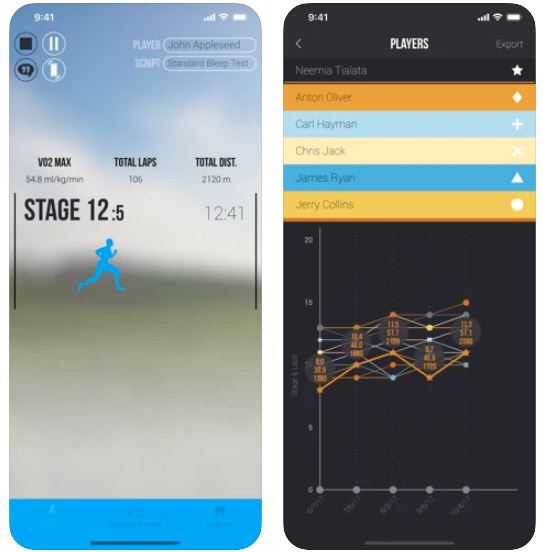 Additionally, once you've started taking the beep tests, you can start analyzing the results of your tests. Analyzing the results is easy, too, because the application has an extremely easy-to-understand user interface.
The application shows results for your beep tests in multiple formats, such as texts, graphs, and charts. So you can view results and get insights from them within minutes. Moreover, you don't just get to test your fitness levels and compare them as you improve.
You can check and compare your aerobic capacity with others too. This makes it the perfect application to use among groups. So, this will be a perfect application if you're a sports coach or just like to level with your friends and athlete group.
The only thing you need to ensure is that everyone in your group is using an Apple phone because there's no version of it in the Google Play Store.
Another thing worth mentioning about this tool is that it's not just a beep-testing application but also helps you with your training.
So, it's a complete fitness application that would be perfect for the fitness enthusiast that resides within you.
Download the App from Apple App Store
5. Beep Test SF – Bleep test app for android
It's surprising that an application made for a student's international program makes its way to the list of the best beep test applications. However, Beep Test SF has been popular for the purpose and is all for the right reasons.
For starters, it's a free application, and unlike other free applications, it doesn't irritate you with unnecessary advertisements that would interrupt your training flow and conduct your beep tests.
Secondly, it's a responsive application. So, while you'll be more comfortable running the application over your mobile phone, it would work equally well on a tablet, too, and you can view your results over a bigger screen.
Moreover, it's got a very clean, sleek, and user-friendly interface that's extremely easy to understand. So, it won't take long to get the hang of the application.
Now, moving to the beep tests, the application has a timer that tracks your running time and speed and ensures that every test gives the most accurate results.
Additionally, you can constantly track your progress in the application by checking the results of every beep test, the tests you passed successfully, and the ones that were pretty hard and you failed.
With this perfect record of all the tests you take in the application, you can constantly train yourself to be better over time and make sure that you raise your fitness levels for good.
The only bad thing about this application is that it's available only on Google Play. This means you'll be able to use it only if you have an Android phone.
Nonetheless, that doesn't water down how excellent and phenomenal this application is. It's great; the sportsperson, athlete, or fitness freak within you will love it at best.
Download the App from Google Play Store
6. Beep Test Calculator
Another free application for Android users, this application is just what it's named. Unlike other beep test applications, this application doesn't help you train. It only helps you take a beep test and check your aerobic strength, capacity, and stamina.
The application has a very simple and intuitive interface that helps you find your Beep Test Score in the easiest manner ever. All you have to do is find your shuttle score by measuring your running level on the application.
Then you can enter that score in the Beep Test Calculator application, and it will tell you your aerobic capacity with the highest accuracy.
This is all the application does—nothing less, nothing more. So you'll never get confused. However, you also miss features that allow you to compare and analyze your results and improve with time by constantly working on your workout routines and fitness training.
Nonetheless, the free application doesn't bother you with unnecessary advertisements. Considering that, it's a fairly good application, and you can consider using it if knowing your fitness levels is all you need.
You can always have other applications to back you up for training after all, and when you feel that you're getting better, you can run the beep test on the beep test calculator again to see how much you've improved.
However, the application is available only on the Google Play Store and wouldn't work on iOS devices. So, if you're considering using this application, you need to ensure you have an Android phone.
7. Yo-Yo Intermittent Test – Best free beep test app
This is another of the best beep test apps you could find on Google Play. The application isn't entirely free, but you can get many functionalities in its free version.
Moreover, one benefit of the application is that you never have to worry about those irritating advertisements and in-app purchase prompts that you get in most free applications because even in the free version of this application, you shall never be interrupted by advertisements.
Coming to the application's features, multiple things put its name on our list. It has a time tracker to track your running time and give you the most accurate beep test score.
Moreover, it offers the perfect way to improve your fitness and stamina. Based on your scores, the application grants you a level, and as you progress, you level up.
Additionally, you need not tap on your phone to access the functionalities of this application. The application has voice control features that you can use to operate the application.
This gives you more control over your training since you won't have to stop pressing and tapping keys on your mobile phone to access some functionality on the application.
Moreover, you can constantly get your training results in the application to track your performance. However, there's a slight issue here.
While you can see the results, the application won't save them unless you go premium. So, if you want to know the progress of your training constantly, you'll have to pay.
There are surely some benefits to paying for the application, though. You get better features for voice support and can even have more challenging beep tests.
So, while not entirely free, it's a good application and will serve many more purposes than just taking beep tests. You can train well with the application and ensure you constantly grow your fitness levels.
Download the App from Google Play Store
8. Beep Fitness Test – Beep Test App For iPhone
Last on our list is an application for iOS users. Although it's not a free application, you need not even spend a dollar on it.
It costs only $0.99 for the download, and then you can use it without getting interrupted or irritated by any advertisements and in-app purchases.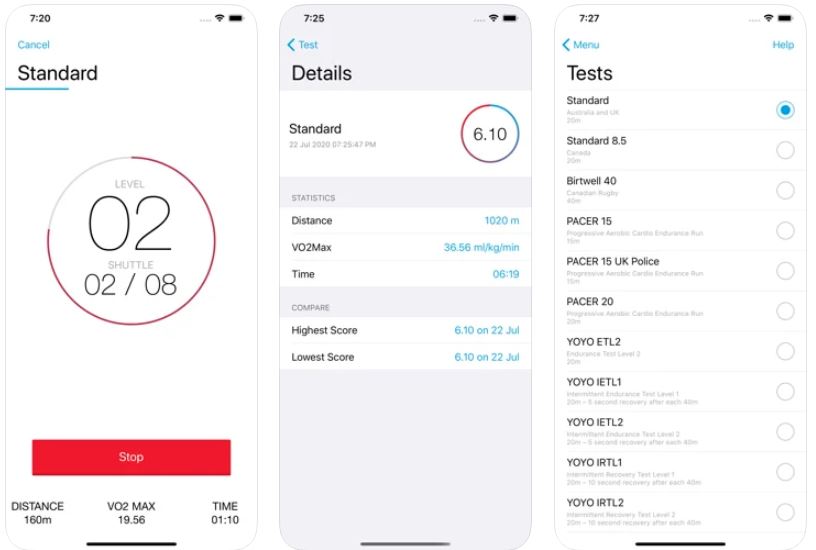 It has the perfect beep tests divided into multiple types and levels that will give you a score for your aerobic capacity and help you train well to constantly go up the levels with continual improvements.
Another good thing about the application is that it comes with voice command features, so you can concentrate better on your training without getting distracted by other things on your mobile phone.
With all of this, the application is good for any iOS user who likes to keep track of his/her fitness and continually improve fitness levels.
Download the App from Apple App Store
While exploring the 9 Best Beep Test Apps To Put Your Fitness To The Test, my readers, I found an awesome video on "5 Simple Exercises to Test the Age of Your Body," worth watching.✅🤩
5 Simple Exercises to Test the Age of Your Body
You may like to read our guide on 11 Best
Martial Arts Apps
For Self-learning and Training.
📗FAQ
Is there a beep test app?
There are multiple beep test applications, including Army Police Beep Test Official, Beep Test by Ruval, Physical Fitness V02 Beep Test, and Beep Test SF, etc., allowing you to analyze your aerobic capacity and performance. 
Can I download the beep test? 
Yes, you can easily download the official 20-meter beep test MP3 audio file used by the police, emergency, and defense services in various countries. Here is the link you can use to download the MP3 audio file of the beep test. 
What is the best bleep test? 
Standard, also known as euro fit, is considered the best beep test in the world. Standard 8.5, Bitwell 40, PACER 15, PACER 15 UK Police, PACER 20, and YOYO ELT2 are the next reliable tests to follow. 
Are there different versions of the beep test? 
There are so many test versions, and these variations depend mainly on the overall test timing. MSFT, MST, YOYO endurance test, 20-meter shuttle run test, PACER, and Aero Tests are different versions of the beep tests currently used in different countries for different purposes. 
How hard is 7.5 on the beep test? 
It entirely depends on your fitness level. For some people, 7.5 on the beep test can be massively challenging. On the other hand, some people pass this level quite comfortably, especially if they are athletes.
In the 7.5 level, you must run for 6 minutes and 51 seconds with a progressively faster speed at every level. When you touch the 7.5 level, you will cover a distance of 1120 meters, equivalent to 56 sprints.  
How fast is level 7 on the beep test? 
The average running speed to clear level 7 on the beep test is 11.5 km/h, which is very fast, depending on the runner's fitness level. 
Is Level 9 on the beep test good? 
For a 26- to 35-year-old male, level 9 is considered average, with an excellent score of 12/9.  
What is the beep test level for police? 
The standard requirement for a police officer who requires PST as an important part of their role is 5.4, which means running at least that time when bleeps four shuttles at level 5.
Is 5.4 on the beep test hard? 
No, the beep test level of 5.4 is not very hard, especially for athletes and police officers. Most individuals who appear in physical tests clear the 5.4 level even without much physical preparation. 
How far is level 13 on the beep test? 
Most people cannot reach level 13, which usually takes less than 14 minutes. If someone crosses at this level, they are excellent and would have run just over 1.6 miles or 2.5 km.  
How can I improve my beep test in one week? 
Improving the beef test in a single week is not very simple. Depending on your physical condition and fitness level, you will have to spend some time improving the overall beep test.
First, you must improve your fitness level, turn up efficiently, physically and mentally, prepare your body, constantly increase your pace, perform the tests in possibly the most favorable conditions, and ignore the boasters. You can try these tricks to improve your overall beat test score. 
How far is 8.8 on the beep test? 
Twenty meters is the standard distance when we talk about it on the 8.8 beep test score.  
How can I practice the beep test?
Tips for practicing the beep test:
Find an open space:– Look for a flat, smooth surface without obstacles running back and forth.
Download beep test audio:- Find and download the audio file online during practice.
Warm-up:– Do light stretches and exercises to prepare for the test.
Increase speed gradually:- Maintain a steady pace in the early stages to conserve energy. Pick up the pace as the beeps get closer together.
Practice with a partner or team:– This can help motivate and push oneself to improve.
Record progress:- Monitor the level reached in each practice session.
Be consistent:- Practice regularly to improve endurance and speed.
Remember that the beep test is a challenging cardiovascular exercise, so listen to your body and rest when necessary.
Can I do my beep test?
It's possible to do your own beep test using an audio recording and a flat surface.
Download the audio file from the internet, play it on a phone or music player, and follow the instructions to run between two markers at a specified distance.
Mark out the distance and place the markers before starting the test. Remember that doing your beep test may not provide the same level of accuracy or consistency as a test conducted by a trained professional.
How does the beep test app work?
A beep test app simulates audio cues and distances for a beep test. The app uses the device's speaker to play signals indicating when to start and stop running and at what speed.
Users set the initial level to determine beep speed and marker distance. The app records user levels and distance and provides feedback on performance, including average speed, total distance, and estimated fitness level.
Some beep test apps offer training programs, performance tracking, and other features to improve results.
Can I get the beep test on my phone?
To get a beep test on your phone, download a beep test app from the app store. Many are available for iOS and Android; some are free, while others require payment. When choosing an app, look for good ratings, reviews, and the features and settings you need.
Is the beep test harder than running?
The beep test is a running test, and it can be difficult to say whether it's harder than running.
However, the beep test requires short, intense bursts of speed followed by brief periods of rest, which can be challenging for some. It can be difficult if you are not used to this type of training or have poor endurance.
Nevertheless, the beep test can improve fitness and endurance, pushing runners to go faster and farther than they might otherwise achieve alone.
How hard is 6.5 on the beep test?
Scoring 6.5 on the beep test can be a significant challenge as it represents a high level of cardiovascular endurance.
The beep test requires running back and forth between two points with decreasing rest periods between each run.
At level 6.5, participants must run each 20-meter distance in less than 6.2 seconds, with only 20 seconds of rest.
Achieving this requires significant speed, agility, and endurance and may be challenging without regular training and conditioning.
However, with consistent effort and practice, it is possible to increase fitness levels and achieve a score of 6.5 or higher on the beep test.
Why is the beep test so hard?
The beep test is challenging because it requires high cardiovascular endurance, speed, and agility.
Participants must run back and forth between two points in time with beeps, with the time between the beeps getting shorter as the test progresses.
To perform well on the beep test, one needs a high level of cardiovascular fitness, strong leg muscles, and good lung capacity.
Achieving a high score on the beep test requires regular training and conditioning, and it is commonly used by sports teams, militaries, and law enforcement agencies to measure fitness levels.
What should I do the night before a beep test?
Prepare for the beep test the night before by:
Eating a healthy meal: Consume a balanced diet with protein, whole grains, and vegetables for sustained energy.
Stay hydrated: Drink plenty of water to keep your body hydrated.
Get enough sleep: Aim to get at least 8 hours to give your body enough rest.
Stretch: Light stretching helps to improve your flexibility and reduce the risk of injury.
Avoid alcohol and caffeine: It is best to avoid alcohol and caffeine as they can interfere with your sleep quality and lead to dehydration.
Visualize your success: Spend a few minutes visualizing yourself performing well and achieving your goals during the beep test.
Prepare your gear: Ensure you have everything you need for the test, including appropriate clothing, shoes, and a stopwatch or beep test app.
Relax: Engage in calming activities such as reading, meditating, or listening to music to help you stay relaxed and focused before the test.
How do I train for a beep test in 2 weeks?
One way to train for a beep test in 2 weeks is to assess your fitness level to know where to begin. Then, develop a training plan that gradually increases your endurance and stamina over the two weeks.
You can use interval training, combining running and walking, to build endurance. Additionally, focusing on exercises that target your legs and core can help improve your overall fitness.
Eating a healthy diet and getting enough rest and recovery time between training sessions are also important.
Finally, practice the beep test to familiarize yourself with the format and pacing and track your progress to stay motivated.
What level is the beep test for police?
The beep test level required for police varies depending on the specific police force and job requirements. However, in general, most police forces require a minimum beep test level of 7.5 or 8.1.
Some specialized units may require higher levels. It is best to check with the specific police force you are applying to for their specific requirements.
Is it good to do the beep test everyday?
It is not necessary to do the beep test every day, and in fact, it is generally not recommended to do so.
The beep test is a high-intensity cardiovascular activity that places significant stress on the body, particularly the lower limbs and cardiovascular system. Doing it daily without adequate rest and recovery time can increase the risk of injury and overtraining.
It is generally recommended to include the beep test as part of a well-rounded fitness routine that includes a mix of cardiovascular, strength, and flexibility exercises.
Depending on your current fitness level and goals, you may want to do the beep test 1-2 times per week, with at least one day of rest to allow recovery.
It's also important to warm up properly before starting the beep test and cool down/stretch afterward to reduce the risk of injury and muscle soreness.
Suppose you are training for an event requiring the beep test, such as a military or law enforcement fitness test.
In that case, following a structured training plan that gradually increases your beep test performance over time is important.
This may involve doing the beep test more frequently, but it should allow adequate rest and recovery time to prevent injury and overtraining.
What is a good beep score?
Generally, a score of 7.5 or higher is considered good for most people. However, for athletes or those in physically demanding professions, a score of 10 or higher may be considered good.
What is a good beep test score by age?
Generally, a score of 8.5 or higher is considered good for male adults, while a score of 7.5 or higher is considered good for female adults.
For children, the scores vary depending on age, but a score of 8 or higher is generally considered good for children between the ages of 6-12.
Final Words
Beep Tests are the best way to determine your fitness levels, and it's easy to take them with so many applications available in the Play Store.
This article mentions eight of the best beep test apps, which are remarkable with phenomenal features and functionalities. However, not every application runs on every device; not every application has all the features you need.
So, you need to weigh in on your requirements and, more importantly, see whether the application works on your device. Once you figure that out, finding the perfect application that will suit you best for your fitness training and progress will be much easier.
Happy Fitness Training!