With this buyer's guide, we are going to reveal the Best 3D Printer Under 400 $ in 2022. 😎
And this is important:
We didn't just add the 3D printers based on our personal opinion.
We bought the 17 3D printers under 400 $ available in the current market, and we came to the best 9 for our readers. 📗
So without further ado, let's explore this awesome buyer's guide. 🤴
You must be wondering, for real? Over a decade ago, only large print houses and wealthy private artists could afford a 3D printer. Still, thanks to the improvement and speed of technology and innovations, we now have 3D printers for the masses to display their creative side.
3D printers come as low as 150 dollars and serve the same purpose as expensive ones. However, buying a 3D printer depends on its purpose and how often it's been used, among other things.
So to start this wonderful, we have brought to your doorstep the best of the best 3D printers for a fraction of the price. Read through, and I hope you get an idea of what to buy when you are next in the tech department.
When you decide to start 3D printing, it is vital to get the right equipment. However, getting the right printer should not be a back or bank-breaking task.
To go overboard with an expensive gadget is too well, not wrong but is not a wise decision. If you do that, you can get your hands on a good 3D printer under $400, right?
Best 3D Printer Under 400 $ – Our Picks👌
1. 

FlashForge Finder 3D Printers with Cloud

–

Best 3d printer 2022
 This very elegant and portable printer has been dubbed the best beginner 3D printer on the market. And packs a lot of features with a user-friendly interface and low-cost being at the forefront of why it is a consumer favorite.
The design is centered and built within a sturdy plastic and alloy frame that will survive the testing period until you become a specialist. This casing also makes it kid-friendly and durable, especially in homes or where it might experience many irregular movements.
Features:-
It's an easy plug and plays design that allows immediate use after unboxing.
It comes with a starter filament and is very easy to calibrate, which is why consumers love the product.
The print bed also serves as the sliding tray for easily inserting and removing the printed object.
It offers an average printing speed of 40 to 200 millimeters per second
It comes with an MK10 brass nozzle with a tandem thermal barrier for a smooth extrusion process
An automatic intelligent feature that aids in leveling the calibration before use
Wireless connection utilization with Wi-Fi network under AP or STA modes
It has a memory space of 8GB
It also supports a 3D cloud function allowing you to store easily, share, edit, send and receive prints.
Uses Fused filament fabrication printing technology
It has an adjustable 100 to 400 later resolutions
Build volume is 140 cubes (same measurement all round for height, weight, and width)
The product is a perfect cube at 420 mm cube
Weighs in at 16 kilograms
It comes with only one extruder
Compatible with Mac OS, Linux, Windows 7/8/8.1, and Windows-10 operating system
It supports two languages like, Chinese and English
Pros:-
Non-toxic and safe for home use
The extremely quiet printer at 50 decibels
Users need to download images from the FlashForge finder website
Touch operation and easy-to-navigate options with its user-friendly options
Excellent print quality for a just under 300 dollars
Printed images are of high quality with details locked in place as desired
You can print out images using your USB cable, Wi-Fi, Cloud, and USB stick
It comes with a roll of 300g filament
Cons:-
It doesn't come with a USB stick
It only supports 1.75mm PLA build size is limited
The FlashForge Finder 3D printer is great for its size and is especially excellent for a beginner who knows nothing about printing.
Its user-friendly interface and print quality make it one of the best printers on the market, which makes it fit in our best 3d printer under 400 $ list.
Check Price on Amazon
FlashForge Finder 3D Printer: Un-boxing, setup and first print
2. DaVinci XYZ Jr. Pro 3D Printer – Best 3d printer for beginners
This 3D printer is a bargain and provides more than a satisfactory requirement for the user, just like the Finder; it is also an excellent choice for a beginner 3D printer.
Some endearing features are it's easy to set up and use and produces excellent print designs with great and accurate precision build volume.
Features:-
It comes with a 4GB SD card and supports the use of a flash drive
It can be connected to your computer to print images using a standard 2.0 USB cable
Resolution is 20 to 400 microns
Volume build is 5.9 cubic inch
It uses a 1.75 mm filament
It weighs 26.5 pounds with dimensions of 16.9 by 6.3 by 15 inches
It has a printing speed of 160 mm/s
It comes with a 0.3mm nozzle for a smoother print surface
Pros:-
It doesn't require any manual calibration process to set the distance between the print head and the nozzle
Print quality is exquisite
Very quiet during printing
It comes with autoloading filament system
It supports the use of third-party filaments like Cura and slic3r
The device is fully enclosed
Easy to assemble and use
It comes with a four-line resolution LCD screen
Buttons for loading and unloading filament to start printing
Cons:-
Only support PLA filaments
No heated print bed
It doesn't come with a spool holder for third-party filament
Although customers complained that it looks too big and not very stable when printing, the Da Vinci Jr. pro certainly delivers on all other sides and even more on the print quality and consistency. As a consumer best, the Jr. Pro is worth the purchase and can be put to use immediately after unboxing the product.
Note:
– I have written a post for people looking for the
Best Drawing Tablets
to buy?, do read it If you are interested.
Check Price on Amazon
3. Creality Ender 3 3D Printer
When the Creality Ender 3 hit the market, consumers were wow by how cheap and efficient the printer was and works, but just before we could come to terms with this printer, the Creality 3 3D was thrown at us, and we must say, it did not disappoint.
The Creality 3 3D has many qualities we love, like the price, performance, design, and user interface.
Features:-
Build volume of 220 by 220 by 250mm
A printing speed of 180mm per second
It uses a 1.75mm PLA
When printing, the nozzle diameter is 0.4mm with 0.1 to 0.4mm layer thickness with a ±0.1mm precision.
Uses fused deposition modeling technology
It comes with a heat build plate for easy extrusion and smooth print material
Pros:-
Very affordable
Great for beginners and small offices or schools
The print volume is great
Print quality is great
Images can be printed either when online or offline from a memory card
The filament path makes compatible with filament flexibility
Come partially assembled and easy to finish up
Portable and lightweight
Cons:-
The base is uneven and shakes more during print, causing a misprint
It is manually calibrated the print bed needs regular leveling
Despite the few negatives on the Creality 3 3D printer, it has proven to be a good buy and one that will sit if any home, school, or business premises.
With the Creality 3 3D, the biggest problem is adhesion, but the performance and other good qualities have certainly overshadowed it.
Check Price on Amazon
Creality Ender 3 Full Review - Best $200 3D Printer!
Note:-
I have written a post for people looking for the
best 3d printer under 300
$ to buy?, do read it If you are interested.
4. GIANTARM Geeetech Mecreator 3D Printer
 At under $400, you might be surprised by the features of this printer; with such a great balance between performance and quality, the Geeetech Mecreator 2 is a well-designed printer that comes fully assembled with only small adjustments in the setting before you are on your way to print land.
Geeetech Mecreator 2 3D printer is a straightforward design, with polished metallic frames providing a stable and sturdy feel when used.
Features:-
It comes with a heated print bed allowing you to use the ABS filament with high-quality extrusion and image
Uses the fused disposition modeling technology
It has a build volume of 6.3 cubic inches with a 0.05 print precision
Print speed is between 60 to 80mm per second
Nozzle and filament diameter is 0.4mm and 1.75mm, respectively
Works well with Windows, Mac, and Linux operating systems
The dimension of the printer is 320 by 320 by 360mm
Resolution is 50 microns
Connects either by USB or SD card
Weight is 9.05kg
Pros:-
Can act as a standalone printer
No need to assemble
Excellent print quality
User-friendly interface
Frames and build are durable and very stable
Cons:-
The printer is quiet, but the noise of the cooling fan can be a nuisance
The filament sample is too small
The Geeetech 3D printer is mostly loved for its full assembly nature, relieving the stress of you mentally and physically. As with any good product, there is always room for some negative aspect that customers feel is lacking in the product.
However, this 3D printer has covered the entire loophole as regards performance and capability, which makes it perfectly fit in our best 3d printer under 400 $ list.
Check Price on Amazon
At the time of our research on "Best 3D Printer Under 400 $", we found a video about "Top 7 Smart Ideas 3D Printed" worth watching. 🐱‍💻
Top 7 Smart Ideas 3D Printed
5. Geeetech Delta Rostock Mini 3D Printer
 Another product from Geeetech with more features will wow you and have you create 3D objects easily.
This printer is the upgraded version in this series and is designed to support a double extruder allowing you to bring two color objects to life; a single color can be used by placing a filament in the holder. With that said, the Geeetech Delta is a fun and high-quality performance device that the whole family will love.
Features:-
It comes with two filament holders and two separate extruders from which two different colors come out during a print
It has an auto-level button taking away the stress of adjusting the setting with every job
The G2 supports nylon and wood with PLA and ABS filaments
It comes with an improved LCD control panel allowing you to keep an eye on the printing process
User-friendly control system
Both leveling and calibration in this printer are automated
Very flexible diagonal rods allow for more précised and fine finish object
The print build is 170 by 200 and weighs 23 pounds
Filament and nozzle diameter is 1.75mm and 0.3mm, but the nozzle has other optional diameters of 0.35mm, 0.4mm, and 0.5mm
The layer resolution and thickness are 0.1mm
The print plate size is 210 by 3mm, with print speeds ranging between 60mm to 120mm
8 degrees with a steep angle of the 1.16th micro stepping
Connectivity compatibility is USB and SC Card
Works on Windows, Linux, and Mac operating systems
Pros:-
Easy to assemble and set up
A variety of filaments allows you to create more unique designs
Different extruder sizes to choose from
High-quality objects and clarity
Very user-friendly and something the family can enjoy
Very affordable and good value for money
Cons:-
This pretty 3D printer is a wonderful piece of device to have at home it comes fully assembled and calibrated when shipped. You only need to add a few parts to get it fully functional. Even though it's a little complicated, Geeetech G2 has excellent performance, and printing is always fun to watch.
Check Price on Amazon
6. Monoprice Maker Select Plus 3D Printer
This upgrade from the Select VZ with a more attractive look and performance. It also comes fully assembled except for a few screws here and there to get the printer to start working immediately.
We don't expect you to get a well-printed 3D model with the first test trial, but you will love the printer for its abilities and precision with subsequent use.
Features:-
Large heated build plate with 200 by 200 by 180mm in measurements
A 3.5 inches wide LCD touch-sensitive screen display
It comes with a free sample PLA filament
It has a Micro SD card with an already loaded printable 3D model for the user.
The user-friendly option includes a pause button allowing you to stop and do other stuff.
It has a 100-micron resolution
Build volume is 7.9 by 7.9 by 7.1 inches
The filament diameter is 1.75mm
It weighs 22 pounds when shipped
Compatible with commercial and open software such as Cura and Repetier on Windows, Mac, and Linux.
Pros:-
All control buttons are located at the base for easy use
It comes with a heated bed for smooth and fine extrusion for a high-quality model
Support different filaments such as ABS, PLA, HIPS, and other third-party filaments
Compact and lightweight, that will sit comfortably on your desk
The pause resume button stays functional as long as the device is plugged into the socket
Sturdy and reliable
Great open frame design with a touch screen option
The printer can create small, medium, or larger 3D models
Cons:-
Manual is a bit complicated
No auto-leveling
When you are ready to take your design from 2D or CAD, the Monoprice is the best 3D printer on the market with a good price that will produce excellent quality models.
Although you need to have experience and knowledge of how a 3D printer works before purchasing this device, it has a simple learning curve for any print enthusiast.  The Monoprice allows you to test and practice until you get the hang of the system.
Check Price on Amazon
7. ADIMLab 3D Assembled Printer
 If you want in a school or office environment and need a good 3D printer on a budget that will deliver a great and precise model with unbeatable performance is the ADIMLab 3D printer.
When you unbox this device, you are relieved as it comes assembled, and it takes about 15 or 20 minutes to screw all other parts and get it fully calibrated to start working.
Features:-
Easy to use control box
Head glass print bed
It comes with a free PLA filament for testing
A large 3-inch display screen
It comes with a 4GB SD Card
A detailed manual on how to assemble and calibrate easily
Nozzle and filament diameter is 0.4mm and 1.75mm each
Layer resolution of 0.05 to 0.3mm
Printing speed is 120 mm per second
Product weight is 10kg
Below are some of the Pros and Cons of the ADIMLab 3D Assembled Printer that earned it a spot in our list of Best 3D Printer Under 400 $ to get in 2022.
Pros:-
Powerful dual track for a precise and accurate printing process
Compatible with different filament materials including PLA, ABS, HIP, Flexible PLA, PC, and Wood
Sturdy and durable glass and aluminum plate frame
The print build is 310 by 310 by 410mm for larger models
Very balanced based allow you to set it to work and do other stuff
Fast, smooth, quiet, and precise printer
Cons:-
Prints a single color at a time
The leveling is sometimes off and requires manual shifting to complete the next phase.
When you are considering paying for that expensive 3D printer, ADIMLab comes with one that produces high-quality models, great performance, precision right on the money, and even more, it's cheap.
With little extra screws, this printer is up and running and has a year's warranty allowing you to acclimatize yourself with it truly.
Check Price on Amazon
8. TEVO Tornado 3D Printer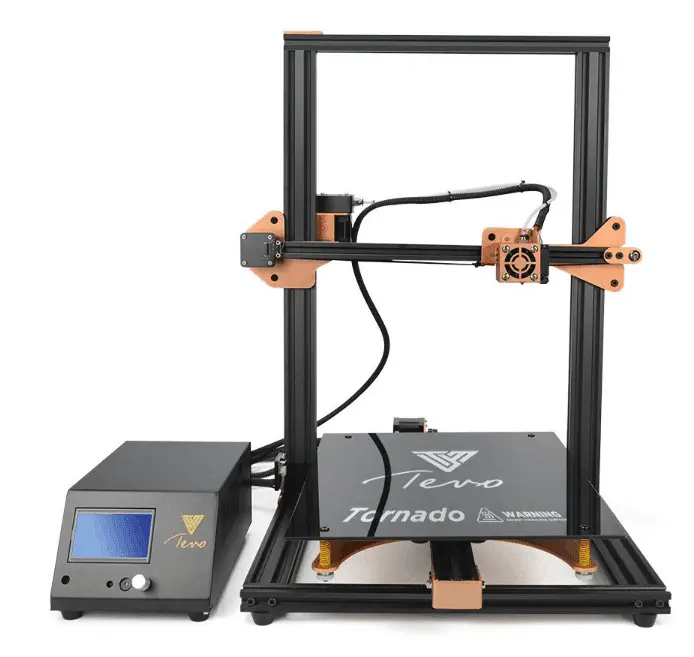 This is one of the 3D printers that made its mark in 2018 and still doing well this year. A product of TEVO, this printer comes 95 percent assembled with a large aluminum frame for large images and great compatibility and performance.
Below are some of the TEVO Tornado 3D Printer features that earned it a spot in our list of Best 3D Printer Under 400 $ to get in 2022.
Features:-
Works with a variety of filaments including PLA, ABS, Copper, wood, etc
A 300 by 300 by 400mm print display sheet
Printing speed is 150mm/sec
50 microns print accuracy
Fast heating Silicon bed for smooth and fine extrusion
Improved hotted with Bowden style Titan extruder
Wireless printing through SD cards
The filament diameter is 1.75mm
Nozzle diameter defaults 0.4mm but can be customized to 0.3 or 0.2mm for finer extrusion.
Below are some of the Pros and Cons of the TEVO Tornado 3D Printer that earned it a spot in our list of Best 3D Printer Under 400 $ to get in 2022.
Pros:-
Printing is easy with the TEVO 3D printer
Very sturdy and well-balanced
Portable and easy to set up
Ability to move your printer anywhere
A very versatile and user-friendly printer
Able to produce details and accurate models
It comes in a single color – black
Cons:-
The heated bed needs a more experienced hand to wire it up
The adhesive sticker is not up to par
It is easy to see why customers fall in love with this printer regardless of the boot-up bug and the salmon skin texture on the surface of printed objects.
The Tornado is a powerful machine with a simple learning curve. Furthermore, the fast heating bed and extrusion process are why we love the TEVO Tornado, besides its price.
Check Price on Amazon
9. QIDI TECH 3D X- Smart Printer
 If you want a chic, sleek, and well-built 3D printer, let us introduce QIDI TECH. QIDI TECH has designed this printer to allow beginners to get the hang of 3D printing, and it is an excellent addition for schools, studios, and educators.
The QIDI TECH pack comes with a one-kilogram roll filament to test the printer, power cable, USB pen drive, toolbox, and a filament guide tube for the users.
Below are some of the features of the QIDI TECH 3D X- Smart Printer that earned it a spot in our list of Best 3D Printer Under 400 $ to get in 2022.
Features:-
The printer comes with an extra cooling fan
One extruder
Full metal frame for better support and stability
A 3.5 inches colored touch screen with easy-to-use icons
Uses fused deposition modeling technology
The print volume is 150 cubic mm
It has a layered resolution of 100 – 500 microns
The filament diameter is 1.75mm, and a nozzle of 0.4mm
Precision positioning of 11 microns on X and Y with 2.5 microns on Z
Product weight 22kg
It uses QIDI Tech and Simplify 3d software.
Below are some of the Pros and Cons of the QIDI TECH 3D X- Smart Printer that earned it a spot in our list of Best 3D Printer Under 400 $ to get in 2022.
Pros:-
Excellent customer service that replies to you within 24 hours of placing a call or complaint
Prints via SD card and USB cable
Compatible with Windows 64-bit and MAC operating systems
6-month warranty on the product
Cons:-
Your search for a 3D printer has come to an end with this product from QIDI TECH, proving that you can get the best of both worlds – affordability and performance in one beautifully metallic framed box that is this printer which makes it perfectly fit in our best 3d printer under 400 $ list.
So if you are serious and ready to venture into 3D printing, give QIDI TECH a try.
What is the best 3D printer under $400?
Some of the best 3D printers under $400 are Qidi Tech X-one 2, Creality Ender 3 V2, Anycubic Mega Zero, etc. However, one must look at factors like print quality, body quality, print bed, etc., before buying one.
Which 3D printer has the best quality?
The best 3D printers are Creality Ender 3 S1 Pro, Elegoo Mars 2 Pro, Elegoo Neptune 3, Anycubic Kobra, Prusa MK3S+, Phrozen Sonic Mini 8K, Creality Ender 2 Pro, Anycubic Kobra Plus, etc.
What are the best 3D printers under 300?
MP Select Mini V3 ( Monoprice ), Lk4 ( Longer3D ), A10M ( Geeetech ), X-One 2 ( Qidi Tech ), etc., are among the best 3D printer under 300.
Can 3D printers print metal?
Yes, you can print 3D print items from metal. However, there are several manufacturing processes. One method uses layers of metal powder to build complex structures. These structures may be tricky to create using other methods.
Can you 3D print Legos?
Classic Lego-style and Lego Duplo-style blocks can be produced by FFF 3D print. The traditional Lego bricks are comparatively more tricky to be created; however, they can be done.
Is 3D printing worth it?
3D printing is worth it when you are good with the learning curve and can produce quality prints that can be utilized for prototyping or repairing home items. Then there are chances of making more money.
Is 3D printing expensive?
The cost of 3D printing can range anything between $3 to thousands. It is a bit challenging to say the price without a 3D model. The material used, structure complexity, and labor are some factors that affect the cost.
Can you 3D print Gold?
Gold 3D printing has been gaining a lot of popularity. Jewelry designers and watchmakers show growing interest. It makes way for the designers to be more creative.
Can you 3D print the glass?
Glass 3D printing gives unique meaning to digital design. It is a large-scale industry that uses transparent glass structures, and the technology is called G3DP 2.
Is filament stronger than resin?
Resin 3D prints are stronger with specific brands. However, filament prints are stronger because of their physical properties. Polycarbonate has a strength of 9,800 psi and is among the strong filaments.
🎏Best 3D Printer Under 400 $: What To Consider
With the market full of choices, it has become necessary to have a comprehensive buying guide to help you understand the market.
3D printers come in different sizes and costs, but you need to know more, and hence we have listed the top guides to know before you lock down a printer
🕵️‍♀️Build Area:-
This is the sheet on which the model is built, and the bigger, the better, as it gives you enough space to work with. When buying one, five by five by 5 inches should be the smallest measurement for the build area for the printer.
🎭Cost:-
although the entire printers listed here are below 400 dollars, printers range from as low as 150 dollars to thousands of dollars. However, these printers have the same performance level and print high-quality objects. So why not go for affordable brands?
🧩Extruder:-
the extruder is where the melted filament comes out to create the model. Most printers here come with one, except the Geeetech Delta Rostock printer. The more filament holders, the more colors the extruder extrudes.
🧵Purpose:-
if you do a lot of printing work, it is wise to get a printer. However, you should know that printers have a steep learning curve, and buying one without proper understanding can be a waste of money.
🎢Print Speed:-
how fast the extruder moves determine the printer's speed as this affects the quality of the overall result. This is usually affected by the printing material and the design complexity
🎍Print Technology:-
The idea of having a 3D print machine is to create volumes and depth models. In the world of 3D, we have nine major print technologies. The most common are SLA (stereolithography – this uses UV light and photosensitive resin to form the image) and FDM (Fused deposition modeling): which uses an extruder to form the model. The FDM is the most popular technology in most 3D printers and works well.
You should also consider if you want a wireless or cable printer. This decision is based on what kind of jobs you do with the printer and your mobility.
Other factors to consider when buying a 3D printer are the resolution (the smaller it is, the better the result), the heat bed, the type of filaments, and the ease of use. Once you have all these covered, you are ready for your printer but please never buy on impulse.