Do you have the curiosity to know about the best acoustic guitar for blues to Buy in 2022? 🤔 You can easily Find out now in this definitive list with our detailed review.
Without any further delay, let's find out. 👓
From the days of using strings to sound the tunes of your heart, the guitar has done more than bring pride to generations of music lovers.
However, blues was played with the electric guitar, but the acoustic guitar changed all that when stringing blues on it gave it soul and life for both the listener and the player.
It is not that the acoustic guitar is better than the electric guitar, but this guitar was capable of bringing out rich, deep tones and resonance that portrayed what Blues was truly about.
To get the right guitar for blues, you must consider certain factors, like the size, weight, number of strings, neck length, and overall measurement and proportion of the guitar.
In the article, we have tried to bring what we think is our best acoustic guitar for Blues and a detailed buying guide to answer some frequently asked questions to allow you to buy your very own acoustic Blue guitar for some soulful music with ease.
It doesn't matter why where you go to buy the best Blues acoustic guitar – whether at a yard sale, a pawn shop, a guitar center, or online, you have to consider one tip.
The guitar's look and playability matter, but if you want a guitar that plays Blues, you must listen to the ones that bounce off the strings when stroked.
If the tone is right, every other factor is secondary and can be amended to flow with the tone of your guitar. With that said, some Blues acoustic guitars are:
Best Acoustic Guitar For Blues – Our Pick👌
1. Gretsch G9200 Roundneck Boxcar
If you want to get the hang of playing Blues with a guitar, the G9200 round neck is a must-have – whether you are a student, professional player, guitarist, or musician, the Gretsch G9200 is the best soul guitar on the market.
The G9200 is an adventurous guitar with excellent resonance and screams Blues from neck to base. The body, back, and sides are all laminated mahogany giving this guitar some rich, reliable, consistent, smooth tone every time you play.
The V-shape soft neck makes this guitar suitable for Blues, reminiscent of the original blues guitars used at the beginning of blues. The resonator on this guitar is made of pure aluminum for some impressive volume and for the guitarist that wants to play slide guitar.
Features:-
Solid headstock with the Gretsch logo imprinted on it

Handspun eastern European spider cone design

Round neck guitar all-mahogany

It weighs 10.15 pounds and measures 43 by 20 by 7.2 inches
Pros:-
Perfect for the slide guitarist

Produces warm, rich, mellow sound from the 12 frets

Volume is of high quality with great tones
Cons:-
Not the most suitable guitar for people that want to play fingerstyle acoustic blues

It doesn't come with a strap

No in-built electronics

Not as versatile as other great Blues guitar
Final Thought:-
Some players have complained of low bass and weak sound, but in all fairness, the Gretsch G9200 Boxcar Acoustic Guitar is an excellent Blues guitar with great design and playability.
The guitar will deliver volume and range depending on how you play, and if old school Blues is your knack, the Gretsch is one for you, making it perfectly fit in our best acoustic guitar for blues 2022 lists.
Check Price on Amazon
2. Gretsch G5022CWFE-12 Rancher Falcon White
The Gretsch G5022CWFE has to be on this list with its features and beautiful design. It has a perfect weight and is well-proportioned for the cost. The Gretsch has a solid spruce top with a laminated maple finish at the back and sides.
Furthermore, the jumbo cutaway and its round shape allow the sound to be heard from any distance when it's stroked, and the best guitar for a concert, live band, or a fun day with friends.
The playability and tone on the Gretsch have also made the guitar so appealing that people that can afford it never stop playing it.
The strings on the Gretsch can play high precise notes or deep low notes and using the Fisherman preamp; you can string across the 12-string guitar with ease producing the tones of your choice. Gretsch G5022CWFE-12 Rancher Falcon White is Best Blues Guitar on a budget.
The Gretsch is cosmetically appealing and uniquely captivating when placed alongside other guitars in this series.
Features:-
A rosewood fretboard with 21 vintage frets and mahogany neck

It has a scale length of 25 inches and a nut width of 47.6mm

The product dimension is 20 by 13 by 47 inches

It comes with a scalloped X-bracing, arched back, and triangular soundhole

Deluxe hardware and gold-plated hardware
Pros:-
Made for right-handed individuals

Excellent craftsmanship and aesthetic appearance

Authentic and durable material

Top-notch preamp system

Deep tones with precise picks
Cons:-
Final Thought:-
The Gretsch G5022CWFE-12 Rancher Falcon 12-String Acoustic-Electric Guitar is a must-buy for a first-time guitar player that loves Blues; not only does the Gretsch Falcon white plays the Blues, but it will also tune out any sound that is stroked on its 12 strings.
For customers that have bought the Gretsch, it is a dream come true and delivers all genres of music, including the Blues. Regarding looks, style, playability, tone production, volume, and cost, the Gretsch is a guitar in your collection to boost your music career and soul for Blues.
Check Price on Amazon
3. Martin 000-15M Acoustic Guitar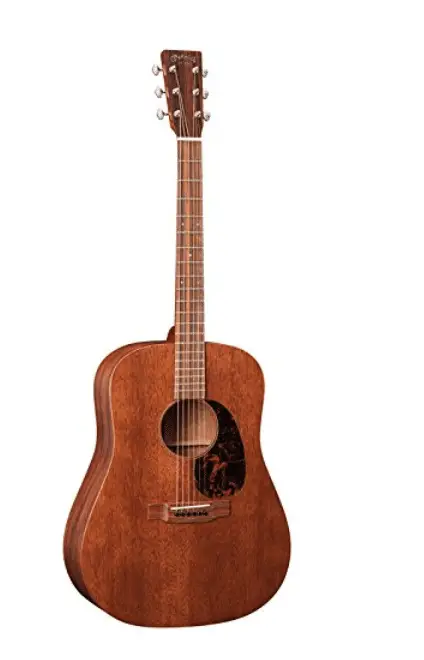 The Martins 000-15M offers the guitarist a perfect mix of vintage design and technology to bring to your fingertips a guitar that is more than wood with its exceptional tones and volume.
We all know that mahogany is the best wood for guitar construction, and the Martins 00015M is all mahogany wood. The acoustic guitar has a solid mahogany body with its rosewood fingerboard and satin finish.
The length of the oval shape headstock is also mahogany which not only gives the 00015M excellent durability, playability, and stability during play but delivers a large amount of resonance and warns sounds when stroked.
We also have to look closely at the craftsmanship of the Martin 00015M is the impeccable detailing to build a guitar that truly is durable and bangs on the money.
The playability and tone production on the Martins 00015M are excellent and capable of playing powerful mid-tones with enough volume and brightness during play.
Aside from the wonderful sounds and volume emitted from the 00015M, this acoustic guitar not only plays Blues but is an excellent guitar for low-end and high-pitch tunes with an excellent interpretation of other musical genres to produce crisped, clean, and well tones with its six strings.
Pros:-
Excellent tunes and volume

The craftsmanship is precise and works to enhance the feel during playability.

It comes with 14 vintage frets on a rosewood fretboard

Full mahogany body and neck for durability and stability during play

It weighs in at 20.4 pounds and has dimensions of 9.2 by 47.2 by 20.5 inches

It is beautiful, simple, and a good addition to your guitar collection
Cons:-
Final Thoughts:-
If it isn't the Martins 00015M, you haven't gotten a Blues guitar yet. This guitar is so simple that you won't want to stop once you strike the chord. The bass is so incredible across all frequencies and allows you to add your flair to it.
Check Price on Amazon
4. 

Fender 6 String Acoustic Guitar 
Even with your love for playing the guitar, not all can afford the high price of acoustic guitars, but the Fender CD 60 will bridge the gap and allow you to play your soul every time.
This budget-friendly guitar is not only affordable but has an excellent captivating design with its laminated mahogany body for some soulful Blues.
Hitting the chord on this 6-string guitar will produce sweet, organic, and exotic Blues that will also surprise you and your listener.
The Fender CD-60 has a modern look with the spruce top, mahogany back, and sides to deliver a balanced, bright, and high-volume mid-range tone.
This guitar responds well to all music genres and allows you to do hard strumming partners to fast, flat, or delicate fingerpicking.
Features:-
Complete mahogany dreadnought cutaway body with scalloped X-bracing

It comes with an in-built tuner with excellent playability

It has a Fishman low profile pickup, and the single-cutaway allows for easy upper-fret access
Pros:-
Great guitar for beginners and intermediate players

It comes with a padded guitar bag, strap, and a CD manual to get you started on your way to a wonderful music career

The rolled fingerboard edges neck makes playing easy

Response to any acoustic style and tunes

The strap allows you to play your guitar flawlessly while standing
Cons:-
Final Thought:-
The Fender CD-60 has a beautiful build and finish to match the sound and ease of play as the many several guitars on the market. Although the truss needs adjusting, it can produce rich and robust lower, mid, and upper-level tones.
Overall the CD-60 is an excellent guitar that will make a great addition to your collection for Blues or another genre. Fender 6 String Acoustic Guitar is the Best Blues Guitar on a Budget.
Check Price on Amazon
At the time of our research on "what makes a good blues acoustic guitar", we found a video about "TOP 30 songs for ACOUSTIC guitar," which is worth watching. 🏆
TOP 30 songs for ACOUSTIC guitar!
5. Breedlove Solo Concert Acoustic-Electric Guitar
For any musician, the solo concert guitar is the quintessential guitar that will help you better understand your tunes and let you hear your tunes as you play.
The Breedlove Solo concert acoustic-electric guitar is the best guitar for singers, songwriters, and students alike.
The body of the Breedlove acoustic guitar has a solid red cedar, a rosewood body, and a soundhole that allows you to hear as you play. The soft cutaway makes an excellent body for players creating a well-balanced, comfortable, and great-sounding guitar with an accurate range and incredible frequencies.
The Breedlove sides and back are made with rosewood, and the neck is satin finish mahogany with a volute for added strength and angle for great play, making it perfectly fit in our best acoustic guitar blues 2022 lists.
Important Features:-
The scale length of 24.9 inches and the nut width of 1.69 inches

Cedarwood for the top and rosewood for the side and back

6-string guitar

Glossy wood finish

It weighs in at 13.2 pounds and measures 46 by eight by 19 inches
Pros:-
Ability to hear yourself when you play

Enjoy a full strum sound

It comes with a gig bag to protect your guitar

Excellent cutaway style
Cons:-
The strings are weak and need to be changed

Some players can't handle the high action of the guitar
Final thought:-
The Breedlove Acoustic Blues guitar works exceptionally well due to the bridge truss that reduces the guitar's tension and vibration, resulting in a flawless sound.
The sound and design certain are appealing, and one of the best guitars for blues which has been the aim of Breedlove since its inception.
It is a great acoustic Blues guitar for intermediate and advanced players who love something different and high-action. Breedlove Solo Concert Acoustic-Electric Guitar is your Best Blues Concert Guitar.
Check Price on Amazon
6. 

Taylor 214ce DLX – Sunburst
This dark polished wood finish brings warm and soothing sounds with the flavor that comes off this full-bodied acoustic guitar.
With a solid Sitka top, the 214ce DLX is a layered Indian Rosewood back and sides that help deliver an exceptional mid-range sound in any situation, whether playing solo or in the confines of a studio.
The rosewood gives the guitar its durability and the ability to deliver the rich, robust tones it's known for. The neck of the Taylor 214ce DLX is a long, narrow, and comfortable wood that the player embraces as they string the guitar.
Furthermore, the expression system, two electronic preamps, and a Venetian cutaway give the guitar a broad range of sound frequencies to experiment with.
Features:-
The sleek and beautiful body of the Taylor makes it the ultimate acoustic guitar for Blues and any broad range of music.

The Soli spruce Sitka top allows a more dynamic playing style and tone.

The laminated rosewood shine and layered construction give the Taylor 214ce a pristine cosmetic look.

Elixir phosphor bronze string with Venetian cutaway gives players the comfort they need to play flawlessly.

Scale length is 25.5 inches with a standard bracing and tortoise pickguard

A 20-inch long guitar with 20 frets
Pros:-
The construction material makes it one of the lightest guitars to play with

It has two pickup and preamp systems with crisp, deep singing resonance

It has an excellent electronic system

Beautiful wood finish
Cons:-
A guitar for advanced players
Final Thought:-
The Taylor 214ce DLX has a great aesthetic and great value for money. This guitar offers the best sound with some high-end sonic features incomparable to any acoustic guitar.
Although it is not a guitar for beginners, it will take your music career to the next level. Taylor 214ce DLX –Sunburst Acoustic Blues Guitar is your Best Acoustic Blues Guitar.
Check Price on Amazon
7. 

Gibson Acoustic Parlor Rosewood AG
If you want to buy a good starter guitar or add one to your collection, Gibson is the best in this range. Its parlor body design allows for exquisite killer tunes and volume that resonates with the player and the listener.
Compared with other acoustic guitars, this guitar has a slimmer and shallower look than a dreadnought and can track your sound and performance, especially at the mid-range point.
The guitar's body is built to respond to every stroke on the string; the Gibson has a neck design that allows you to play a single note or chord due to the 16-inch mahogany length with a fingerboard that balances out the rich tones and improves playability and consistency.
Below are some Gibson Acoustic Parlor Rosewood AG features that earned it a spot in our list of best acoustic blues guitar under $500.
Features:-
Sitka spruce top wood with single cutaways

Rosewood back and sides

Righted hand orientation with the traditional X-bracing

The scale length of 24.75 inches and the nut width of 1.725 inches

20 frets

Richlite bridge guitar with 6-string

It weighs 4 pounds with a dimension of 38.5 by 14.5 by 3.5 inches
Below are some of the Pros and Cons of Gibson Acoustic Guitar that earned it a spot in our list of Best Acoustic Guitar For Blues.
Pros:-
The small and slim body creates a loud and wild sound

An excellent guitar for advanced players

Quick finger response
Cons:-
Not one to play at home

It is very expensive
Final thought:-
If you truly want a guitar that can give you sound and range, the Gibson Acoustic Parlor guitar, with its unique inlay and finish, allows you to demonstrate your expression at the touch of the string.
The 20 frets give you enough volume and a touch of professionalism. Gibson Acoustic Parlor Rosewood AG is your Best Blues Guitar.
Check Price on Amazon
8. Fender CP-60S – Best small acoustic guitar for blues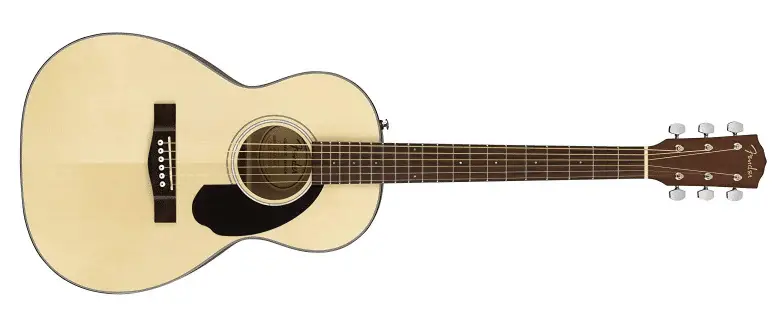 The Fender series of guitars have excellent guitars for all ranges and genres of music. The CP-60S is a parlor body design with a 14 fret neck made with mahogany creating some really rich and beautifully précised tones at every stroke.
The rolled edge rosewood fingerboard of the neck allows for easier playability, and strap buttons allow you to play while standing. The solid spruce top of the CP-60S makes the guitar suitable for flat-picking and fingerpicking.
The sound on the guitar is great, with bright and excellent mid-range tones produced due to the X bracing that helps this guitar release a loud and impressive tone.
Below are some of the features of the Fender CP-60S Acoustic Guitar that earned it a spot in our Best Acoustic Guitar For Blues list.
Features:-
The scale length is 24.75 inches, the nut width is 1.725 inches, and the fingerboard radius is 16 inches.

The body and neck are all mahogany

The advanced response neck profile

Dimension is 40 by 16 by 5 inches, and weighs 6.6 pounds
Below are some of the Pros and Cons of the Fender CP-60S Acoustic Guitar that earned it a spot in our list of Best Acoustic Guitar For Blues.
Pros:-
A solid and sturdy headstock and guitar overall

An excellent guitar for players that want to stay true to the originality of Blues

Traditional guitar with a modern design

The entire guitar is built with a mahogany

The sound production is smooth, rich, and flawless

It has an enhanced resonance due to the solid spruce top
Cons:-
Not a great slide guitar

It doesn't come with any built-in electronics

The headstock is not synonymous with traditional blues guitars
Final Thought:-
Whether a musician or a guitarist, the Fender CP-60S will provide you with the adequate guitar needed to improve your music career.
The quality is great for the price, with rich tones on all frequencies.
Check Price on Amazon
9. Yamaha NTX 1200R Acoustic-Electric Classical Guitar
This is perhaps the best two-way blues guitar on the market, with excellent and detailed craftsmanship. The NTX1200R has a spruce top, a back, a rib of rosewood, and a mahogany neck for stability and great play.
The small body and narrow neck allow the player or guitarist to string through gently, creating beautiful soulful tunes with their fingers.
The Yamaha guitar series has maintained its reputation; with this guitar, guitarists can enjoy different volumes for individual pickups to produce a smooth, flawless, velvety, silky sound.
This guitar will serve you excellently well if you intend to pursue a singing career in jazz music. The playability of the NTX1200R means you have to be able to maneuver the slim neck and make use of the nickel and pearl markers at the edge while playing.
Below are some of the features of the Yamaha NTX 1200R Guitar that earned it a spot in our list of best blues acoustic guitar under $1000.
Features:-
Solid Sitka spruce top wood

Rosewood back and side

Mahogany neck

The guitar dimension is 45 by 23 by 8 inches and weighs 14 pounds

The scale length is 25.5 inches, and the nut width is 1-57/64 inches

It's a 6-string guitar

It has a 2-way preamp system
Below are some of the Pros and Cons of the Yamaha NTX that earned it a spot in our list of Best Acoustic Guitar For Blues 2022.
Pros:-
It comes in a natural and black finish.

Small neck and string distance allows for some cool blues tunes

An excellent guitar for playing jazz and Blues

Durable and stable with great harmonics
Cons:-
It doesn't produce enough volume when playing in large spaces
Final Thought:-
Even though the Yamaha NYX1200R is not as powerful as other jumbo guitars, if you are looking for sound, playability, comfort, and cool blues tones, don't hesitate to get this guitar.
The level of harmonic makes you look and feel professional during play. Furthermore, the guitar's weight gives you extra balance, especially if you play on stage or in front of a large audience.
Check Price on Amazon
Best Acoustic Guitar For Blues: What To Consider
Remember that the music genre Blues is a piece of music that has undergone years of evolution and is still in transition today.
With that said, your guitar shouldn't be perfect for getting the Blues tunes from the onset, so buying one should not be calculus, but fun as Blues comes from the heart to the fingertips.
Some factors to consider are:-
Size:- when purchasing a Blues Guitar, the size matters. The size matter for comfort and playability but also for sound and volume; if you can embrace and hug your guitar, you will get the best out of it, which is what Blues is all about, the ability to embrace and capture your audience with soul-lifting tunes.
Weight:- Although most Blues guitars are small-framed, you must consider the weight. A heavy guitar, even when small, will not allow you to deliver excellence as intended.
Body Style: The guitar's style and design give it its distinct feature. For example, a large soundboard will deliver a deeper and louder result, and vice versa.
The Make Material:- what the guitar is built with affects the playability, sound, and quality. Most acoustic guitars are made with mahogany, cedarwood, rosewood, ebony, koa, maple, Ovangkol, spruce, Walmart, etc.
The Top:- this is the part where the sound played on the guitar is heard or amplified. The larger the soundboard is louder and deeper the sound. Furthermore, pure wood and layer guitars produce a resonance that works well with Blues.
The Neck:- we won't have a guitar without the neck to hold and string good music. The neck comes in different sizes, thicknesses, and widths. Although the neck plays zero impact on the sound produced, it does matter as it is part of what makes the guitar playable or not.
Furthermore, choosing a 12 or 14-fret neck for a Blues guitar is better.
The strings are either nylon or steel made; while nylon string produces softer, mellower tunes, steel strings produce loud bass and brighter sound.
The scale length and Nut Width:- the former has to do with the overall height and size of the guitar, while the nut width is used to guide the string on the fretboard.
📗FAQ
Which acoustic guitar is best for blues?
The Cordoba C9 Crossover is one of the best acoustic guitars suitable for blues music.
What is the best guitar to play the blues on?
The Epiphone 1959 Les Paul Standard is a fantastic guitar for playing blues.
What kind of guitar do I need for blues?
The Fender Strat, Gibson Les Paul, Gibson ES-335, PRS McCarty 594, and Gibson SG are five top-rated guitars for blues music.
Can you play blues on acoustic guitar?
Yes, you can learn to play blues music on an acoustic guitar, especially on the E key. An acoustic gutales allows you to use more open strings to make your blues licks resonate more compared to if you played in a key with fretted notes.
What makes a good acoustic slide guitar?
Acoustic guitars with heavier slides are better suited for blues music. Slides with heavier wall thickness are ideal for generating more volume with reduced fret buzz.
Is Takamine good for blues?
The Takamine semi-acoustic guitar offers solid construction, making it highly versatile and suitable for different genres and styles, including blues music.
What pickups are best for blues?
The Whole Lotta Humbucker is a great pickup set suitable for blue tones.
How long does it take to learn blues guitar?
It will take at least 200 to 900 hours to get the hang of playing the blues guitar on a beginner level. You can expect to learn a simple 1-4-5 chord within 3 to 4 months, provided you practice for an hour daily.
What chords are used in the blues?
The E and A forms, rooted on the E and A strings, respectively, are the two primary barre chords used in blues music.
Conclusion
For a musician or guitarist, the instrument of play is highly considered. So when you choose the perfect guitar for you, remember what you play, how you play, and how long you play, and then choose a guitar that expresses your inner Blues heart.
The guitars listed in this article are some of the best on the market. If you don't find your choice here, we have given you a decent guide and insight to choosing guitars for blues without a doubt.