Do you have the curiosity to know about the Best Action Camera Under 100 $ to buy in 2020? You can easily Find out now in this definitive list with our detailed review.
Without any further delay let's find out. 
Convincing a video enthusiast to purchase an action camera a few years ago wouldn't be too difficult. With the invention of smartphones, however, it has now become a question of what the camera can offer.
Some people would even say that the invention of modern smartphones has increased the redundancy of action cameras. After all, there are so many phones with fantastic cameras these days.
The truth, however, is that action cameras are not going anywhere. These cameras are still as impressive as they've always been, and this is something you realize the moment you step outdoors to record your adventures.
Whether it is for mounting it on your helmet as you ride deep into the forest, or lifting it with a selfie stick as you glide down a sliding rail – the truth remains that action cameras offer so many advantages.
A lot of people think that they have to spend too much to get action cameras, but that's not true. Today, you will find good-quality action cameras being sold at prices you can afford.
To help make it easier for you, we will go through a list of the best action cameras under $100 available in the market. We will also include a buying guide at the end of this article to help make the burden of choice easier.
Here is The List Of The Best Action Camera Under 100 $ To Buy in 2020
1. Afaso Brave 6 4K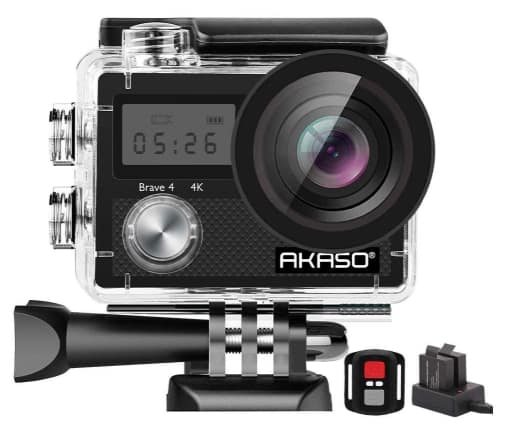 Over time, Akaso has grown into a household name in the action camera market, and the Brave 6 4K is one of the models that stands out from this brand.
The Afaso Brave 6 4K is an action camera to look out for if you are in the motion business. It is the improved version of the famous Brave 4. Just like the Brave 4, this one features so much in terms of voice control.
It also features a 6x digital zoom as well as an electronic image stabilization that is built in to aid better imaging. This camera is built to shoot 4k at 24 fps videos. We must state here, however, that the 4k tends to become interpolated.
This action camera comes packed with wireless remote control, assorted mounts, and two batteries. Being able to work with this camera while it is charging is an additional bonus that owners get from it.
Below is the summary of the main Pros and Cons of The Afaso Brave 6 4K.
Pros
it supports live streaming (iOs only).
Comes with a splash-proof wireless remote
Each pack includes an impressive tripod.
Cons
Battery life is not very impressive
Long charging time.
Check Price on Amazon
2. Apeman TRAWO
The Apeman TRAWO a very affordable option in the native 4k action category. It is, in fact, one of the cheapest you will find around. This option comes with all the features that you will need to begin your journey into recording top quality videos that will have electronic image stabilization.
A few months ago, it would have topped the Afaso Brave 6 4K in rating, but for the recent improvement in batteries of the Brave 6 to a bigger 1350mAh. This puts both options on the same battery life, meaning that they can record continuously for up to 1080 minutes.
The Panasonic sensor that the Apeman TRAWO comes with combines with its 1.8 lens to give it an upper hand in terms of still image capturing.
To be balanced, we must state here that the 2-inch IPS Regina display features by the Apeman TRAWO are not touchscreen and this can make control a little bit difficult. Apeman TRAWO is best cheap action camera under 100 $.
Pros
It comes packaged with every accessory needed to begin work.
It has an impressive image sensor that allows for more resolution.
Cons
Not being a touchscreen device makes operation somewhat tricky.
Check Price on Amazon
3. Crosstour 4K Action Camera
This is another option that's worth being on this list. First, for its impressive build, then for having a performance level that trumps most others in its category.
The Crosstour comes loaded with a lot of features that every user will fall in love with. For instance, it features a 7-layer optical glass camera lens and can shoot quality 4K videos at 30 fps.
Its beautiful anti-shake feature also contributes to making usage easier and better. Let's state here, however, that its 20 MP photo can limit the quality of your shooting in some angles being it can't work in rotate nodes, Date Stamp, or even Burst.
The camera comes with a massive 1350 mAh battery capacity which is excellent for handling shootings of a few hours. While it barely features a remote control, you will find that it can easily be controlled through the YUTUPRO.
Just ensure you have a sound memory card and you are good to go with the operation of a fantastic action camera. What's also great about this option is its ability to feature all these at an affordable price. This means that you will not need to spend so much to gain value.
Pros
Complete kits to begin shooting included
Features a special touchscreen UI
Its memory can be expanded with a good memory case.
Cons
Doesn't support live stream
Its battery life is relatively low.
Check Price on Amazon
4. EKEN H9R 4K
For most people that are looking for an action camera that can hold its ground without costing them an arm, this is the one for them. Over time, it has soared in popularity and functionality, hence standing out as a kind of camera to own.
The ability of this camera to capture stunning 20 MP photos while holding its own in the shooting 4K videos. In addition to being such an excellent performer, it comes loaded several additional features and accessories to make usage better.
It comes with two extra batteries, so you can expect to avoid the embarrassment of losing an important job because of power. One of the areas that this option does well in is the aspect of life support.
Although it only works with iO, notwithstanding, you will hardly find an action camera in its category being sold below $100. The kit also features a good tripod if you want.
Pros
Supports live streaming
It comes with kits to aid convenience.
Cons
Long charging time
Shorter battery life compared to others on this list.
Check Price on Amazon
5. MI Xiomi Mijia 4K
Over the last few years, we've seen Xiomi snowball into a force to reckon with in the tech world. This is so, especially for their production of top quality Android phones that are budget-friendly. Only a few people know, however, that the company recently diversified into the action camera market.
The MI Xiomi Mijia 4K represents so much quality and style. A lot of users have referred to it as "the excellent native 4k action camera, " and it if not so difficult to see why.
Straight from the pack, you can already tell that it is built to last. Like most other tech products from Xiomi, this one has been made to look incredibly sleek and appealing.
Before its release, the MI Xiomi Mijia 4K had a lot of hype around it. Although it has not done so much to justify all the hype, we still can't downplay the fact that this is a fantastic action camera. Its biggest downside, however, is its cost, but it still sells at below $100.
Overall, it is a cool option, and you will fall in love with all that it has to offer, from design to the incredible performance that it brings to the table.
Pros
It features an incredibly stylish look
Comes with all the needed accessories needed to begin your shooting journey
Cons
Slightly more expensive than most others.
Check Price on Amazon
Buying Guide To Find Best Action Camera Under 100 $
Features to Look Out For When Purchasing a Good Action Camera:-
Like most other technical equipment, making the right choice of action cameras comes with its paint. There are often too many features to sort through, and many users often get lost on picking what is best for their specific needs.
To help make the process easier for you, we've highlighted some features that you should look out for when making your choice of action cameras. Take a look at them:
Shapes matter a lot in action cameras. The three most popular shapes of action cameras include cube, Box, and Bullet. Each of these shapes is designed to be suitable for specific purposes.
The box action camera, for instance, is designed to be compatible with nearly every shooting accessories out there. They are often more preferred for chest mount arrangements, and they offer a good level of convenience to users.
The Bullet Action cameras, on the other hand, are not too popular because of their limited comparability. They are, however, perfect fit board, helmet, and handlebars mounting needs.
The Mini Action camera, in its case, is the perfect choice camera when you need to increase your positioning. This is primarily because of their small size and the level of flexibility that they offer.
You want to be sure that the size and weight of your choice action camera do not affect proper handling. It is already a known fact that action cameras are installed on specific mounting equipment most of the times. Hence, the need to get one that's compact enough to combine with any mounting kit easily. Most experts will advise that you stick to the smallest models.
You may be able to control every other thing in a shooting location, but the weather. There's a good chance that you will be faced with unfavorable weather conditions once in a while. At such times, it will pay to have a water-resistant action camera.
Hence, when making your choice of action cameras, it is important to pay heed to this factor to ensure that your work doesn't get stalled at any time. Otherwise, you can get a special waterproof case to house your camera with.
As important as getting quality equipment is, it is also essential to watch out for your pocket. This is one factor that is always worth considering, irrespective of what you are buying. Having a budget in mind for your action camera puts you in a position to be able to filter the best camera unit you can afford.
Don't worry; you will get a good camera for your need, irrespective of budget. It is, however, important to state that high budget action cameras are often stocked with more features than their low budget counterparts.
This is an essential feature to look out for, especially if you are a social media person. Being a social media personality means that you will continuously need to upload images and videos on social media platforms.
You may also need to transfer pictures and videos from one device to another; hence, the need for connectivity. Most modern action cameras come with various connectivity options like Bluetooth and Wi-Fi, to help make the process easier.
Resolution and Frame Work
This is one feature that you often cannot do without. If you are going to make videos, then you want your videos to be as excellent as possible. Nothing improves quality better than a proper resolution and framework. Higher resolutions often mean being able to capture images and videos with an impressive level of clarity. Frame rate, on the other hand, is in charge of footage. Hence, the higher the framework – the smoother the footage.
This is one final feature that you should look. It often doesn't matter how sophisticated your camera is; the truth is that you will still not enjoy it if it has troublesome batteries.
There are times when you will need to use the camera for hours in locations with little or no access to electricity. At such times, batteries become very important to the completion of your job. Experts often advise that you purchase multiple batteries to help make it easier.
There you have it, the best action cameras under $100. The availability of so many options in the market can make finding the right choice quite difficult. With this guide, however, you should be able to find the perfect action camera for your need, even at a budget.