The truth is; ads are a nuisance and no one likes to see ads every other time on their screen. Using your smartphone all the time means you will be easily irritated by the pop-ups and seek a solution to block them. Find the best ad blocker for Android to keep away from closing ads every other time.
Overview
Ease of Internet accessibility is responsible for the rapid and consistent increase of online users around the world. This increase has attracted businesses, which seek the attention of potential customers online.
They, therefore, avail their product information and all other necessary information such as contacts and locations to attract customer loyalty.
This abundance of information online offers a chance for the visitors to extensively research and shop before making purchases. As a result, a lot of time is spent online navigating through ads.
While online advertising is the to the seller; a great opportunity to sell their agenda, a congestion of ads online irritates visitors. It is no longer easy to focus on something without being distracted by pop-ups.
Millions of people are targeted by companies around the world with continuous pop-ups in an attempt to catch their attention.
Regular smartphone users around the world are exposed to averagely 100 ads in a day. Some people have more ads on their screens depending on their subscriptions and sites they visited.
This is a lot of distraction especially if you use the phone regularly for work-related duties or social media. Luckily, there are equally a good number of effective pop-up blocker tools to help keep you free from this nuisance.
This year, there has been an introduction of yet more effective ad blockers to explore.
Why an Ad Blocker?
Since there are many techniques used in online advertising, you need a matching ad blocker to keep the various forms of pop-ups at bay.
For example, some online advertisements are integrated in the content you access while others pop-up suddenly and flash in your eyes.
The pop-ups are the most annoying because they cover your entire screen and hinder your view from what you were doing. It feels like someone is invading your privacy.
It is more frustrating when you have to wait for a few seconds before it disappears. Keeping you waiting because you cannot find the close button annoys any user.
The fact that you paused what you were doing is even more annoying. This is exactly why you need an ad blocker to shield you from this new age problem.
What is an Ad Blocker?
An ad blocker is simply an extension within your browser, which helps to limit the number of online ads. This feature secures your navigation processes by reducing the pop-ups.
Apart from hindering the ads from appearing on your screen, the extensions allow you to load your pages faster. Without ads to block and slow you down, you can complete your work in good time.
Most significantly, you are at a lower risk of falling victim to malware when you acquire an ad blocker. Free access to your PC or smartphone puts you at high risk of malware downloads.
Related Post How to Check Your Windows startup programs are malware-free
Benefits of Ad-Blocker
Here are some of the most significant reasons why ad-blockers stand to help you in your online experience
Preventing Malvertising
You are probably aware of the malicious online hackers and parties who focus on destroying as many devices as they can. Although their reason for negativity is not known, there is no need finding out.
The most important thing is that you keep your device safe because it is an investment and we are all on a budget. Malware can come in form of ads and completely destroy your gadget over time without your knowledge.
You may not have enough time to find and repair it hence lose it in the end. Ad blockers will keep you safe from malicious code hidden in ads. Clicking on ads puts you at risk of downloading malware.
Fast Browsing
With ad blockers, you can restore fast web page loading like you used to enjoy when the PC or phone was still new. Background activities, ads, pop-ups, and malware installations slow down your time.
A dragging Internet experience is irritating and ad blockers relieve you from this problem to restore fast browsing.
Save Bandwith
Accessing the Internet using mobile data requires accuracy and saving on the amount used. Loading unnecessary graphical material in the name of ads significantly compromises your efforts in saving bandwidth.
If you are on a tight budget, and everyone is, choose an ad blocker to protect you from spending extra money.
Best Ad Blocker For Android to Block Android Ads in all Your Apps Without Rooting
Most ad blockers simply strip the advertising from websites as you browse, but Blokada ( Download Now) for Android goes a step further by also working across all your apps — blocking the annoyance, but also protecting your privacy, speeding up your device and reducing data usage. Blokada is best to blocks ads, trackers and malware.
Block Android Ads in Apps Without Rooting
Step1:- Google reversed its decision to ban ad blockers for browsers from Google Play a while back, but Blokada still isn't available there so you'll need to install it in a different way.
Go to Settings on your Android device and look under Security for the 'Unknown sources' option. Enable it.
Step2:- Open your mobile device's browser and go to Blokada's website (blokada.org). Click to Download Blokada in APK (Android Package Kit) format.
Use the link below if you're running an older version of Android. When the download has completed, tap Open to start the installation process.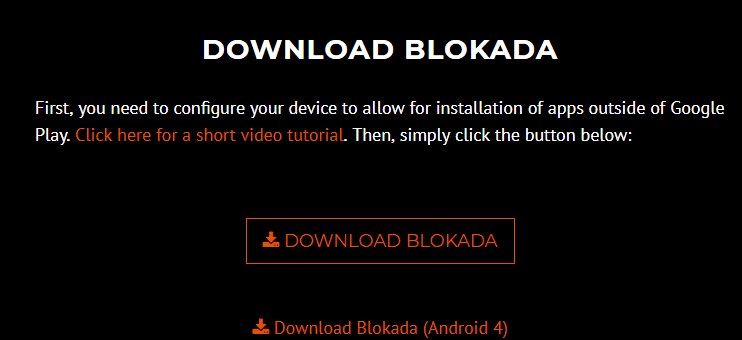 Step3:- Blokada doesn't require any special access (such as rooting), so just tap Install. When it's finished, tap Open.
You can run the app as a new user with basic settings, or as a power user with additional options; use the toggle switch to choose. Tap Continue to move on.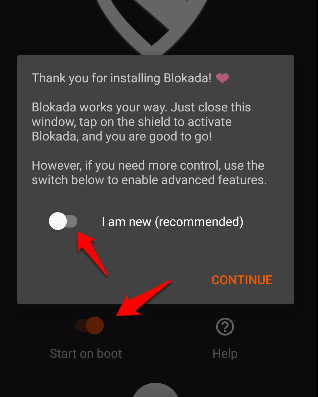 Step4:- Tap the shield button at the top to set things up. Tap OK to enable the required VPN (Virtual Private Network).
Once that's done, Blokada will run in the background and automatically block ads when you launch apps and visit websites. Use your device as you would normally.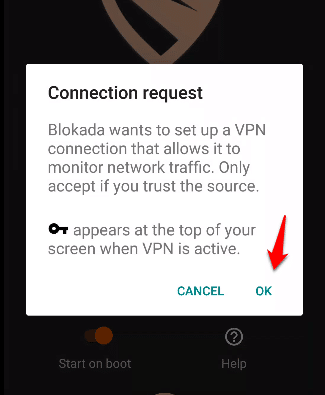 Step5:- The key icon at the top shows Blokada is working. You can see the number of ads it's blocked so fare and the amount of data you've saved.
Make sure 'Start on boot' is enabled. Notifications inform you when an ad has been blocked.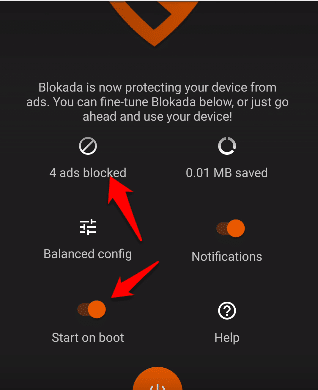 Step6:- Tap the pencil icon, select any greyed-out advanced features to enable them, then tap the pencil icon again.
The new options appear. You can whitelist and blacklist sites to get greater control over which ads get blocked. Use the power button to pause the ad blocker at any time.
First start and activating Blokada 1.0
Conclusion
Ad blockers are the best-known solution to irritating pop-ups. Although we acknowledge and appreciate the ingenuity in digital marketing, the competition for customers is too high to handle for the regular user.
Exposure to an average of 100 ads in a day is more than anyone could handle even if they are the biggest shoppers in the world.
Most people spend most of their time on their smartphones working but mostly socializing on the biggest online social platforms.