Do you have the curiosity to know about the best affordable camera for wildlife photography to buy in 2022? 🤔 You can easily Find out now in this definitive list with our detailed review.
Without any further delay, let's find out. 👓
Did you recently pick up a passion for wildlife, and would you love to document some of the beautiful moments you encounter, or do you have a love for photography? Wildlife photography can be either a recreational activity or a career.
Whatever part you fall in, you need a great camera at your side to take your wildlife photography and make your time outdoors all the more memorable.
Wildlife photography is an amazing pastime for people, and more people are growing interested in it because it is a great escape from the bustle of civilization. Time to detox, a time to make amazing discoveries, a time to just observe, or a time to practice your passion for wildlife photography.
A day with nature is a day to love, but a day you want to go prepared with the right camera for wildlife photography. 🐱‍🐉
Your regular camera will not be enough because out there, things are different, the best moments happen to like a snap of your fingers, and if you need to document it, you need the camera for the job.
Even though most cameras for outdoor use are generally expensive, we have come up with a list of affordable cameras that can very well serve to be used for wildlife photography.
By sticking to what matters and looking out for the best brands, the best price deals, and the best specs, this article is a list that shows finesse plus affordable when it comes to getting the best camera for wildlife photography.
So what? You have been told that to get a good camera for wildlife; you need to bend over backward; just read on and get ready to purchase because the cameras on this list will get you excited.
If you are new to the art of buying a camera, the buyer's guide below is informative enough to guide you through it so that nobody is left in the dark.
Best Affordable Camera For Wildlife Photography
1. Canon EOS 80D
If you are a lover of the canon but were a bit unsatisfied with the sensor and the autofocus on previous versions like the 70D, then prepare to be impressed by this improved yet affordable 80D version.
This camera is sleek, upholds the Canon standard, or perhaps pushes it higher. With great autofocus and sensor, you can have your wildlife photographs come out amazing.
However, the Canon EOS has a low range of ISO, so you may have to shoot only when it is bright outside. Not to worry, many lovely things to see and photograph during the day.
Features:-
Body material is made up of polycarbonate and magnesium alloy
7FPS continuous burst shooting with autofocus
Touchscreen LCD monitor
Four numbers of a high ISO setting
Anti-moisture and anti-dust body material
Autofocus rating of 45
24 MP sensor
It weighs 1.4 pounds
Pros:-
An improvement from the 70D version
The autofocus feature continues to work all through shooting and in live videos.
The lightweight offers convenience when moving around
It is built to withstand rain and dusty weather
It is a convenient option for beginner photographers and professionals
Cons:-
The ISO range is low, therefore is better to use in the daytime
It doesn't have the classic intelligent tracking recognition
Note:- this camera is budget-friendly, and if you shoot more when it is bright, you will have a great time using it, which makes it perfectly fit in our best affordable camera for wildlife photography lists.
Check Price on Amazon
Canon EOS 80D Hands-on Review
2. Nikon D7200 – Best camera for wildlife photography beginner
Nikon is a great brand in the market and has released many impressive cameras to soothe your wildlife photography passion.
If you weren't impressed with the cannon because of the ISO settings, then you may love this Nikon D7200, as its major selling point is the ability to perform great with low light.
Features:-
6FPS feature
51 AF point feature
Long battery run time
It has an inbuilt Wi-Fi and remote control
Up to 24MP image resolution
APS-C sensor
SLR camera type
Pros:-
The camera is affordable.
It is a great buy for both beginners and professional photographers
Good for use with low light, hence can be used in the evenings
The battery runtime is impressive, able to last through 1110 photos
The 51 AF is impressive
Cons:-
It is not waterproof hence is not very weather friendly
It doesn't have inbuilt image stabilization
Notes:- This Nikon camera is a great buy for all levels of photographers, and if you love to explore nocturnal animals, you should have yourself a golden buy in your hands.
Check Price on Amazon
Note:
– I have written a post for people looking for the 
Best Gimbals for iPhone
 to buy?, do read it If you are interested.
3. Sony Alpha 99 – Best budget camera for bird photography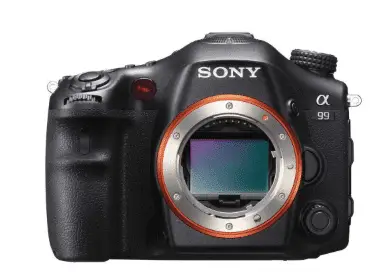 If your budget is a little on the high side of fewer than 4000 dollars, then the Sony Alpha 99 camera is the best in this budget category.
This camera was made to appeal to anyone who is already into DSLR type of cameras and with a great autofocus ability that sets it above previous camera models by Sony. The high light sensitivity of the camera and the resulting image quality is one to fall in love with within seconds.
Features:-
SLT camera type
24MP resolution
It has a full-frame sensor
6FPS with autofocus all through the shooting time
ISO rating of 100 to 25600
SLT mirror design
Pros:-
High rating even among other DSLR cameras
Suitable for use in different weather conditions
The camera is suitable for the different levels of wildlife photographers
The high shutter speed and high FPS make it amazing for shooting wildlife
It has an inbuilt GPS
The autofocus is highly effective, especially for making videos
Good quality photographs produced
Cons:-
It has no wireless connection
Controls are with buttons
It is a bit heavy
Notes:- if you love DSLR, you should try it as it is rated one of the best with very good light sensitivity. Even if the specs are unsatisfactory, you should try the S-99 II version.
Check Price on Amazon
Sony A99 II Hands-On Field Test
At the time of our research on the "best camera and lens for wildlife photography", we found a video about "10 Wildlife Photography Tips You Can't-Miss," which is worth watching. 🏆
10 Wildlife Photography Tips You Can't Miss | Nature Photography Tips
4. Pentax K-3 II
This camera is probably too good to be true as it seems to tick almost all the right boxes. If you are one for adventuring and discovering new things, then the geotag's very accurate feature should appeal to you greatly.
Not only will you get to take high-quality images, but you also get to make memories with the K-3 II by adding the right tags. The K-3 II is an upgrade from the K-3 and comes with impressive specs at an affordable rate.
Features:-
24 megapixel
APS-C sensor type
The ISO setting is 100-51200
In-built GPS
Weather-friendly body built
Optical viewfinder to improve image quality
It weighs 800grams
3FPS
Pros:-
Image quality can be improved with the optical viewfinder
Professional photographers can use it as well
A highly accurate GPS tracking
I can take a lot of pictures with high autofocus all through
High shutter speed to capture moving animals
Battery life can last to take up to 720 shots
Astrophotography feature
Dual storage slots
Cons:-
It is heavy
No wireless feature
It lacks a touchscreen feature
Note: The K-3 II has a lot to live about it; the lack of an in-built flash strobe can be corrected by purchasing one at a very affordable price.
Check Price on Amazon
5. Canon EOS Rebel T5i DSLR Camera
The T5i is a beast in Canon's Rebel series and is especially great for capturing fast-moving objects of interest. Wildlife photography always happens in a flash, and it is easy to miss the best actions within frames; that is why the T5i is an amazing buy.
With 30FPS in videos, you couldn't ask for more with that price tag. Although the 18MP resolution is considered low for a few, it is still highly rated among others because the image quality is nothing short of impressive.
Features:-
5FPS when setting to viewfinder mode
It has an articulated LCD touchscreen
18MP resolutions
60FPS for live-view videos
Three AF settings are available; manual, auto, and phase detection.
Pros:-
The image quality you get when used in a low-light situation is very good.
It gives great detailed video with live video
It is affordable
It is lightweight and easy to carry around for long periods
The fast shutter speed means you hardly miss a thing when you shoot on burst
It is portable and comfortable to use by both newbies and professionals.
Cons:-
There is not much improvement from the T4i version
No inbuilt Wi-Fi
The battery run time is low.
Notes:- if you are not into the fact that this T5i does not feature so many upgrades, you could opt for the T4i version.
Despite that, this camera would still do great when used for wildlife photography, making it perfectly fit our best affordable camera for wildlife photography lists.
Check Price on Amazon
6. Sony A7 III
There is a lot to find when you unbox the Sony A7 III camera; of course, a great quality image will result. With a fast shutter speed and the ability to capture even minute movements, you will have a great time exploring the outdoors with this camera.
Features:-
24MP resolution camera
It has a full-frame sensor
Can take full-width 4K video and cropped 6K video
It has a joystick controller for the autofocus
Touchscreen is available
10FPS with a fast shutter speed
It is a mirrorless camera
A battery can last through 710 shots
Pros:-
High-quality images
Fast shutter speed for capturing objects in motion
The 10FPS makes it a top runner in this list as you can capture details of the motion
Works well with low light
Autofocus kicks in quickly
Easy to handle
Very good video shoot produced
Cons:-
Some people find it hard to understand the controls
Notes:- This camera is a top runner in this category for daytime and nighttime picture taking; however, you should take some time getting used to the controls, especially if you are new to cameras.
Check Price on Amazon
Sony A7III Review | Nothing Comes Close
7. Olympus OM-D-E-M1 II
If you aren't specific in DSLR cameras but need a camera that will take your wildlife with high image quality, then you got yourself a steal with this one.
The price usually causes a turnaround for many, but it is definitely worth the money if this falls within your budgeted amount. The Olympus OM-D_E_MI II mirrorless camera is built to be able to support professionals through their journey.
Features:-
Mirrorless camera
It has a 20MP image resolution
It has five-axis image stabilization
Can capture 4k videos
Supports USB 3
Built to be used in harsh weather conditions
It weighs 575 grams
Battery run time can take 440 shots
ISO rating range of 200 to 25,600
CMOS sensor type
Pros:-
It has a fast performance
It is suitable for taking fast-action shots
Image stabilization is a high level
Good options for attachments
Good ISO range for different lighting situations
Cons:-
Some professionals do not prefer the MFT format.
Notes:- considering that this camera's specs are suitable for carrying out professional shots, it is easier to overlook the price tag, especially when looking at the features.
Check Price on Amazon
8. Canon 7D Mark II
If you need a camera to produce sharper images and work with different light conditions, then you should go for the Canon 7D Mark II. This camera is great for capturing wildlife and any other action-packed events, especially events when you cannot get the focus to pose.
The autofocus feature of the camera as well as highly impressive. However, you must put up with the noisy photos as that is a compromise to provide sharper images.
Features:-
It is a pro SLR format camera
It weighs 1.3kg when coupled
5FPS with a high shutter speed
MP3 and MP4 video format
The ISO rating is 100 to 16000 and can get up to 51200
20MP resolution
10FPS due to high shutter speed
Weather and dust-resistant body materials
Below are some of the Pros and Cons of the Canon 7D Mark II that earned it a spot in our Best Affordable Camera For Wildlife Photography.
Pros:-
The high shutter speed allows for capturing a smooth and high image
Up to 10 frames can be captured in one second
It has great accuracy when capturing motion pictures
Video quality
The cropped sensor camera allows for sharp image captures
Cons:-
No Wi-Fi
No touchscreen option
Notes:- Overall, this camera is worth every cent of the price.
Check Price on Amazon
Note:-
I have written a post for people looking for the
Best Hidden Dash Cam
to buy?, do read it If you are interested.
9. Panasonic LUMIX GH5
The LUMIX GH5 is a top contender among cameras and a great one for Panasonic.
If you plan to take more pictures than you would be making videos, then you can be sure you will capture even the tiniest moments with this camera. With brilliant FPS and autofocus, getting the slightest movements becomes a breeze.
Below are some of the features of the Panasonic LUMIX GH5 Camera that earned it a spot on our Best Affordable Camera For Wildlife Photography list.
Features:-
20MP camera resolution
Can shoot 4K video quality
Produces both 4k and 6k image quality
Inbuilt WiFi
Dual I.S.2 for image stabilization and clarity
Joystick for control
225 AF
30FPS with a high shutter speed
Below are some of the Pros and Cons of the Panasonic LUMIX GH5 Camera that earned it a spot in our list of Best Affordable Camera For Wildlife Photography.
Pros:-
It can produce a high-quality video (4K video quality
The burst feature helps to capture actions in details
High-quality image production
Joystick control is easy to use
Weather-resistant so it is perfect for outdoor use
Can capture details in a scene
It is not noisy during use
Getting it to come on and start shooting requires a very short time.
Cons:-
When switched to video mode, the autofocus slows down.
Notes:- This camera provides high-quality video and image format, and although it may not be the best, it is highly impressive.
However, it is more impressive with pictures than videos, which is the main reason to put in our best affordable camera for wildlife photography 2022 lists.
Check Price on Amazon
5 Reasons the Lumix GH5 is the BEST camera of 2021…
These nine cameras are the best you would get within the budget of below $1000 and below $3500; however, for fun, you can check out more high-end cameras; Nikon D5 ($6589) and Canon EOS-1D X II ($5499).
If you don't have budget restrictions, these are absolute beasts; even if you are on a budget, there is no reason you cannot know about them.
Best Affordable Camera For Wildlife Photography: What To Consider
Did it get confusing reading through all the specs, not knowing which camera to go with? That is understandable, seeing that while the specs are fantastic, you may not know which of the camera specs is relevant to your chosen passion for wildlife photography.
Just before you buy your camera, a quick look at these buying guides will help you make sure that you are making the right choice, especially since you are on a budget.
Built For Working at Night:-
If you are shooting wildlife, you need a camera that can work well with different light settings. With another type of photography, you can stage a scene and alter different things, including the light, but with wildlife, you have to work with what you've got.
Because the aim is to shoot the animals without disturbing their natural activities, you cannot necessarily alter the lighting but rather work with natural light. This means that even for shots at night, you need to be able to take clear pictures.
The camera's ISO rating determines how well it can deal with light situations; high ISO means it is built for bright days, while low ISO means it is built for darker night times.
However, except you are exclusively shooting a species of animal that only comes out either during the day or night, you will need a camera that can work well all day long. This means you will be looking at the ISO range rather than just a figure; the bigger the range, the more options you have with lighting.
High-Resolution Cameras:-
High resolution is important when photographing wildlife because there are a lot of details to be captured, a bird in a tree close by, a teeny tiny butterfly finding a home in the fields, and many more.
And let us be honest, with wildlife photography, you can't always be close to your target muse; sometimes, these picture-perfect details appear in unexpected places, making it so much fun.
In every frame, your images are clear, and you can see details even if you zoom and crop. Be sure that to create the best wildlife photos, you will do a lot of zooming and cropping, and you do not want your resulting image to be pixelated and come out blurry. Therefore, the higher the megapixels, the giddier the camera should make you feel.
Capture Speed:-
When taking pictures and videos of wildlife, nothing is exactly trying to pose for you or stay still while you get the right angle and focus. Sometimes the best moments in wildlife happen in seconds, and you have to be camera-ready in less than that time.
This level of unpredictability in wildlife photography makes capture speed a highly desired feature of cameras. The faster the capture speed, the higher your chances of getting everything in a picture.
The capture speed is indicated by the number of frames per second (FPS) a camera has; the higher it is, the more pictures you can take in a second.
The Autofocus of the Camera:-
In wildlife photography, there is always a lot happening in your scene, but that doesn't mean you are trying to capture everything. To get a good image or video, you need to be able to emphasize your intended subject to stand out among everything.
Doing this is easy when shooting other things that are still, but we all know that in the outdoors, things are hardly still in motion in the order of the day or night.
Therefore, your camera's autofocus must be brilliant enough to maintain focus even with the movements of whatever you are trying to capture. Autofocus is important whether you are making a video or a photo but what determines its importance is how still your subject can be.
Easy to move around with:-
When shooting wildlife, you spend a lot of time outdoors, usually chasing animals in their natural state, and sometimes this means you are walking through non-motorable paths.
You must go along with gears that will not get you exhausted before you reach your destination, seeing that you will carry it around with you.
Also, lightweight gears are better as they do not tire out the arms, even if you have to shoot continuously for minutes.
The Lenses:-
 You often upgrade your gadgets with increased wildlife photography expertise to give you better shots. Often this upgrade isn't changing the entire camera but just changing the lenses or buying new ones to offer you more options.
If you find yourself sticking to wildlife photography for the long run, you should consider going with a brand that you love in of the ways the features they offer. So that it becomes easy to change the lens as you will need lenses of the same camera brand.
The Price:-
Whether you are starting or a professional just looking to upgrade gadgets, you will be working with a budget. It is important to know firsthand that cameras for shooting wildlife are high-end and generally more expensive than their counterparts.
However, your budget will determine what you will be able to get. Luckily this list comprises budget-friendly cameras that will still perform at an amazing level for any stage in your photography career, so feel at ease picking from any of them listed above.
Your level of expertise:-
 With more skill comes higher demand from your camera. Cameras that will be good enough for beginners will not8 necessarily serve more professional photographers. Therefore, your level of expertise will indeed guide you in choosing a camera.
The key here is that, since you are working with a budget, you need to buy something that serves you, not the absolute best in the industry, as you can always improve as you upgrade.
FAQ's on the Best affordable camera for wildlife photography
Below are a couple of queries everyone expects to answer, and I did include the same for my readers.
What is the best camera for a beginner wildlife photographer?
1. Canon EOS 80D 2. Nikon D7200 3. Sony Alpha 99 4. Pentax K-3 II
What is the best focal length for wildlife photography?
The best focal length depends on your subjects and how close you can get to them. It's hard to get close to most wild subjects, so wildlife photographers generally use long lenses: at least 300mm for an APS-C DSLR, or 400mm for a full-frame DSLR or 35mm SLR
What Nikon lens is best for wildlife photography?
Nikon 55-300mm f/4.5 – 5.6 ED VR DX. Sigma 150-600mm f/5-6.3 DG OS HSM C.
Conclusion
Wildlife is fun and holds a lot to be explored and discovered; with a great camera, you can start capturing all your best moments to return to later.
The list was structured to accommodate different classes of a budget, so feel free to look through it and have the best time outdoors.