Well, we all know the iPhone's versatility when it comes to mobile operations. It's the unmatched interface, quality, and superior camera resolutions and shots that will defeat any competitor in their own den.
Sometimes, an iPhone may not be used as a personal phone but also for some other uses like a webcam alternative. For example, if you do not have a CCTV camera in your residence or a webcam attached to your laptop, you may bring your iPhone into use. 
There may be various scenarios where this may be possible. For example, if you are at a meeting and still wish to keep an eye out for your pet as there is no caretaker at home, an iPhone webcam can serve the purpose.
Also, bloomed flowers in your garden may become prey to naughty kids, and you can use the Webcam to avoid it at all costs. Well, iPhone's face detection and high-resolution cameras are excellent options for a webcam alternative.
If any object comes in proximity of the device or any face is detected, the webcam application will send you an alert. 
These applications will not only give you an advantage of monitoring and surveillance but also enhance security to the highest level. If you have a gorilla-pod or tripod at your home, stabilizing the device and installing it will become pretty easy.
The applications to synchronize the phone camera to a web platform helps transmit all the videos or live feeds to a virtual cloud network where the user can access and watch them from any remote location. 
There is various software for this purpose. Some are with paid, premium services and others are absolutely free for use. Well, going for the free ones are always advisable if you are looking at a one-time use. However, for regular basis work, the premium applications have a lot to offer. 
Best Application To Use iPhone As A Webcam 👌
1. EpocCam Free
When you are considering the above phenomenons, Epoccam is the first application that comes into mind by default. This application acts as an interface and can convert any iOS device into a Webcam. This can happen not only for Mac devices but also for Windows ones as well.
Its functionality is interactive, and its streaming options are available for a variety of video-conferencing apps like Cisco Webex, Skype, Facebook Messenger, Zoom, Microsoft Teams, etc. Epoc's features are state of the art and its procedures are not orthodox. Its updates are pretty regular and their in-app support is also responsive. 
The application is free for use and does not need any spending for download. However, you need to put up with irregular advertisements and a decreased and non-flexible graphic resolution.
It also claims to do away with traditional webcams but happens to drain device battery excessively. 
Pros:-
EpocCam is compatible with both Mac and Windows devices. It also has some Android based-applications that you can use for this purpose. 

It supports dozens of teleconferencing applications where you can use the iPhone as a webcam alternative. 

It has interactive functionality and is not very easy to learn. 

Streaming games can be a hassle on webcams, but with EpocCam, everything will run smoothly. 

The application is free and offers exquisite features too. 
Cons:- 
EpocCam Free has irregular advertisements and frequent in-app ads. Also, you need to put up watermarks in the video output. 

A lower resolution grade is offered by the interface, and you cannot change it.  
You can download and read more details about the application here. 
2. iVCam Webcam
This Webcam-based application acts as a perfect solution in converting your iPhone into an integrated webcam system.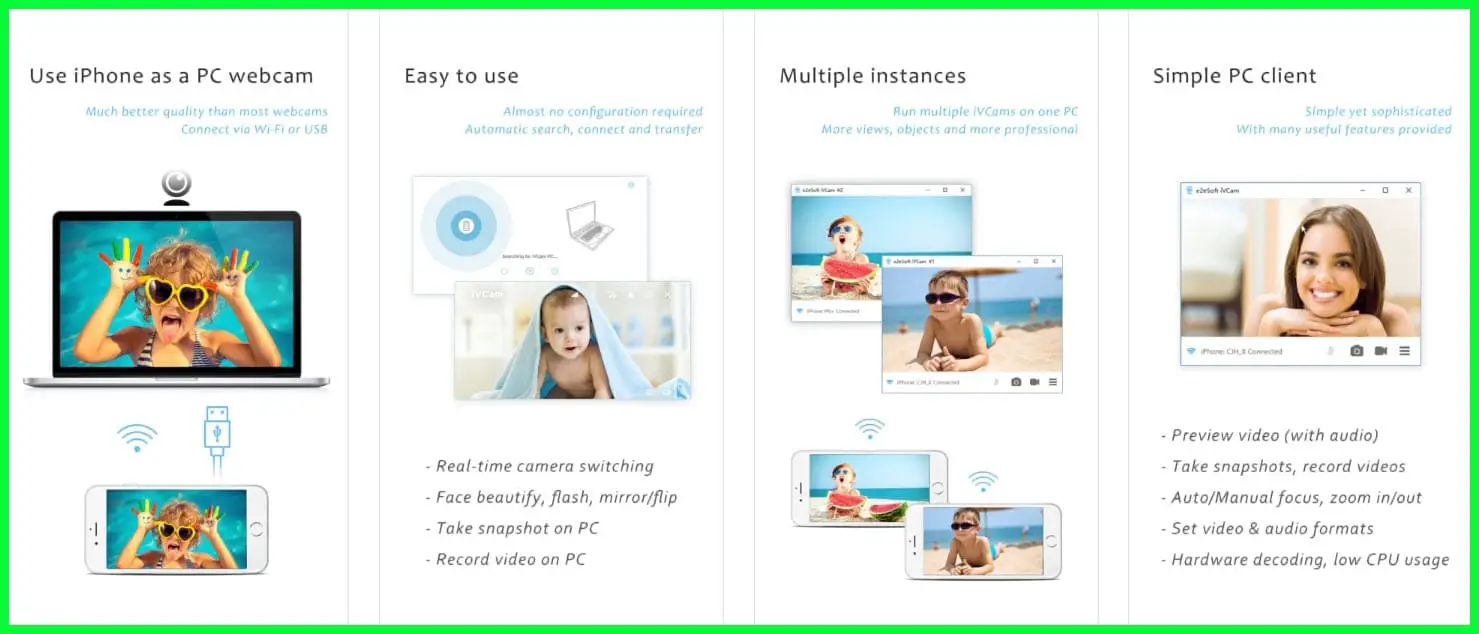 Suppose, you do not have enough space on your phone for recording, you can even stream and save it on your PC too if you are connected to the same network.
The device drivers of the application are state-of-the-art. However, the initial app configuration process may seem a bit complex for people not well versed with webcam apps. Also, the app is free for use and does not need any subscriptions.    
The application offers high-resolution videos and has a wide variety of video qualities. The video output resolutions can start at a mere 80p and extend to 720p. Lower latency is also a clear advantage in this case.  
Pros:-
You get portrait and landscape modes for this application. Just choose between the two before configuring the recording. 

A high range of video resolutions is available for iVCam Webcam. 

You can configure frame rates, fps, and audio and video output through the app interface, which is not available for most apps. Other applications keep these values constant and do not allow the user to alter them. 

Video flip and flash enabling options are available with the application. You can also use beautifying features while streaming on your device. 

Stores any excess motion-based happenings on the internet cloud so that you can peruse it later. 
Cons:-
Playback features are laggy as compared to other applications of a similar category. 

The app's streaming features and video quality features are useful, but the audio rendering is not top-notch. 
3. iCam 4.6v
Like the applications mentioned above, the iCam software works on a similar ground but has some unique features added to its name. You also need to install the interface software on your computer system as well to stream the events happening on your mobile screen.
After due configuration, which is a hassle-free process, start recording the developments and use playback features to watch anything from past events. The previous updates of this application were also promising and a recent upgrade is due soon.  
Since iPhones have face detection or motion detection features, they are used by the iCam app to detect motion and record those particular moments. This helps save data and crop out any unnecessary, motionless recordings.
Also, you have a feature to upload these recordings on any virtual online drive like the Microsoft cloud or Google Drive. You can directly upload the record on any attached external HDD or SSD in your laptop. 
Pros:-
Motion-based alerts and notifications are available during recording.

User-friendly and interactive approach available for this application. 

Camera configurations are entirely in tandem with the application.

The original application is a bit pricey, but the pro app is absolutely free.  

Additional features of this app set it at a higher scale of ratings as compared to iVCam. 
Cons:-
Features may not complement the price.

Motion detection recording may be a bit slow as compared to other applications. This can lead to nasty repercussions if you are using this app for professional tasks. 
4. AtHome Camera Security App
This camera app is a two-way functioning application that gives you the option of streaming your phone-camera output on your laptop or PC and also, your laptop's webcam feed on your iPhone.
This process is rare in other applications of a similar category. Remote streaming of a laptop's feed in a phone requires complex configurations of remote device access.
But, for At Home Camera, the user's ease is a priority, and it quickly does the tasks mentioned above at a moment's notice. This application is best suited for domestic purposes and you can use it with versatility. 
If you rig your mobile phone and schedule it to record occurrences at specific durations of the day, you are able to do it with the application.
For example, if you want to see if your pet cat eats their lunch or not, set the duration for their average meal times and record the movements during the period.
Once you get back from your work and check the feed, you will get to know what you wanted to find. This scheduled duration recording is what makes At Home Camera very popular for virtual-domestic use. 
Pros:-
The two-way streaming feature is really helpful for professional purposes.

Instant movement detection alerts can help the person take action against unwanted happenings. 

The application has lower ad frequency as compared to other apps but you can remove them entirely using the premium upgrade. 

Streaming and viewing applications have two-way talking facilities available in the app which configure and synchronize the devices in a particular manner. 

Audio and Video rendering is top-notch. 
Cons:-
In-app advertisements and watermarks can sometimes create problems and slow down recordings. 

However supported and compatible with both Windows and Mac platforms, it sometimes shows erroneous outputs in Windows laptops. 
5. IP Cam 
An easy-to-understand application that helps you convert your mobile device into a portable webcam and stream its output directly on your computer through a stable internet network.
This can happen through a local area connection, which has a much faster output and real-time interface.
If you have a powerful and stable internet connection in your home or your area of surveillance, you can stream the outputs from a remote location through an internet cloud upload facility.
IP Cam's software support is phenomenal and the easy-to-use approach is very popular among all users. The application's methodology works as follows:-
You set up the application and configure it with the device. 

After due configuration, set up the recording and the necessary features you want to run while recording. 

Set up your device and synchronize it with the internet cloud so that all the recorded data is uploaded on the internet cloud from where it can be directly streamed. 

Login to the internet cloud from your device or use the particular IP Cam application module for your laptop/PC. 
Through these hassle-free processes, efficient use of a portable webcam will happen. Its additional features include minimum advertisements, lower latency, and grayscale detection. 
Pros:-
MJPEG streaming, which is a movie streaming level format is available for IP cam recording. This can help if you are using the IP Cam application for any wildlife videography, scenery, or movie scenes. 

Adjustable brightness, contrast, and, red-eye detection features are also available in the settings menu. You also have the option of adjusting the saturation before and during the recording. 

Colour temperature and tint can are also adjustable but to certain limits. 

Night-vision and grayscale mode are perfect for night-time recording. These can prove very useful during professional surveillance, using a mobile device as a webcam alternative. 

The prices as compared to the features are very economical. 
Cons:-
Remote Streaming Service needs excessive app permissions, including contacts and image gallery. 

Bug Fixes or app updates are not regular. 
6. ACam Live Video
The ACam or AirCam Live Video application, available in the Apple Store gives you the option of viewing live feeds from your laptop or office desktop on your personal handset.
You can hibernate your desktop and still use the internal Webcam switched on by triggering it with your phone via the ACam application.
Therefore, you can track movements and even record audio in this process by keeping the microphone in use as well. ACam is currently trendy and very popular amongst users on the basis of operational ease, security, and versatility. Some of the features it has in store for users are really appreciable.  
However, you can face some resolution issues as integrated webcams of laptops or desktops may not always be up to the mark. If you have any additional webcam-based peripheral installed, then you do not need to worry.
However, audio outputs will always be AAC quality by default if you do not have any external microphone plugged to the PC. Just ensure a stable internet network and ample space for recording in your phone's internal memory. 
Pros:-
You can adjust the output volume and frame rate from the remote device itself. This can be done even while the recording is in progress. 

It is compatible with multiple OS platforms like Linux, Mac, and Windows. It may, however, need some rooting configurations with Linux due to some compatibility issues but will ultimately work well. 

Motion detection automatically initiates recording on the remote device. After due recording, the clip is saved in a designated folder specifically for ACam Live Video feed data. 

Motion Sensitivity can be adjusted to different levels, depending on the user's requirement. 

ACam Live Video is an excellent alternative as a domestic surveillance application without the need for installing an expensive webcam or CCTV surveillance system. 
Cons:-
Some audio-based features are sophisticated for beginners to understand. 

No demo/trial mode available for users to learn about the app. Also, higher priced as compared to features of competing apps in a similar category. 
7. Senstic's PocketCam
Though not very high-rated, this application can serve any user's purpose. As compared to its price on the app store, PocketCam offers a lot more: versatility, performance, and quality output.
Though having similar methodology and operating procedures like most apps here, Sentic brings additions like iMessage support and Facetime too. In most apps, FaceTime creates issues during live rendering. Its updates are not very frequent but its package has a lot in store for the users. 
It is easy to use and configures perfectly with any iOS-enabled device. Also, compatibility is never a factor as it runs smoothly on all operating systems and interfaces. 
Pros:-
Compatible with major operating systems or devices. 

The transformation from phone to wireless Webcam is effortless.

The app is economically priced against apps of a similar category. It outbids many applications at its price. 

Video quality of the output is remarkable with PocketCam. 

Motion Detection, high-definition video output, and graphic adjustments are additional features of the app. 
Cons:-
In-app advertisements in the application are persistent. 

Transmission based glitches can sometimes happen, but they are scarce. 
8. WebCamera 2.2 
This application, though underrated, is a compelling one and can convert your iPhone into a Webcam easily. Its features and efficiency have the potential to get it on the top of triggered webcam rankings.
However, due to inconsistency in updates and various other bug fixing issues, the application bears the wrath of staying in the lower rungs. It offers multiple resolutions beginning from basic ones for miniature outputs to ones for plasma screens.
This app's output is compatible with premium video editing software too. The likes of this software include Adobe Premiere Pro, Boinx and Camtasia. At an economical price, this application has a lot to offer and is in the app market for a long time now. 
Pros:-
It is efficient for business-based purposes. 

A variety of screen resolutions makes WebCamera 2.2's outputs compatible with many devices. 

Supports most operating systems and has an interactive application interface. 

Along with lower latency, the video quality is superior too. 

You can adjust screen resolutions and graphics easily while the recording process is on.  
Cons:-
The highest resolution it offers is 680×480, not suitable for high definition outputs, a necessary requirement nowadays. 

Night-mode features are not available even after multiple updates of the application. 
FAQ
(Q) Is it possible to turn an iPhone into a Webcam?
Yes, it is absolutely possible to convert an iPhone into a webcam and transmit its data to a remote device. This can be done using interface applications that access the device's front and rear camera and send it's recording feeds through the app to the user's end. 
(Q) What are some of the applications to use the iPhone as a webcam?
Some applications like IP Cam, IVCam, EpocCam, WebCamera, etc are quality applications that can help convert an iPhone into a wireless Webcam from which you can directly stream live feeds into a laptop/desktop and watch it from a local or remote location. 
(Q) Are these applications compatible with iOS and Mac devices only? 
No, not only are these applications compatible with iOS devices, their outputs can be interfaced and streamed from Windows and Linux OS devices as well. Compatibility factors are never an issue for any of the listed applications. 
(Q) Are paid applications of this category better than the free ones? 
Not necessarily. Some free applications have a lot to offer to the users as compared to the paid apps of a similar category. Even some of these apps are priced higher in contrast to their offered performance and outputs. Therefore using or trying out only paid applications is definitely not advisable. 
(Q) Which is the best application for this purpose? 
You can choose EpocCam as one of the best alternatives amongst the applications in the list. 
Wrapping Up
The iPhone-based webcam applications open up a dozen opportunities of use. Since the iPhone already boasts of superior video and photo-capturing capabilities, the onus rests on the application to utilize the device's full potential through its interface.
Looking at various features of the iOS devices, these apps are minutely designed so that every video-capturing feature is implemented in a way that the user always gets their desired output.
Some of these applications are paid, but you must try to use their free versions before buying the premium upgrades. This will help you understand their compatibility, security, versatility, and ease-of-use before you spend your money on it. 
If you wish to go for live feeds, ensure that you have stable internet connectivity at your home as well as the remote location. Try some of the free applications and check which of them consumes lesser data.
Remember that a low level of latency and high-quality output under a lower data consumption environment is best suited for webcam operations.
Fluctuating internet issues can sometimes create troubles for users and therefore these factors help the user a lot. Well, not only do these applications trigger the webcam of the selected devices but they indeed help a lot in surveillance operation in case your CCTV devices or other equipment are non-functional.