Are You Looking for a list of Best Apps For Meditation For Your Health and Happiness?
This list is for you only. 😎
Including:
How to Meditate: 6 Easy Tips For Beginners
A Japanese Method To Relax In 5 Minutes
Does meditation Really Work?
Without Any Further Delay, Let's Explore this guide 📗
Meditation is an activity that helps in adding multiple benefits to an individual's daily fitness regimen whether it is deep breathing exercises, calming sleep stories, or guided meditation.
There are a large number of people who have a busy lifestyle due to which they fail to get enough energy and time for regular practice. For some, visiting a meditation studio is also a good alternative. However, this approach might not be suitable for others aiming to practice meditation.
Choosing the right app can help in many ways and thus a number of best meditation apps found in 2022 have been discussed below for improving mindfulness and relaxing one's mind. Today, advanced meditation apps have turned out to be the easiest way to develop mindfulness and a relaxing fitness regimen.
Research studies indicate that meditation has its own benefits like reduced insomnia, depression, anxiety, and stress levels. Apart from that, there are various physical advantages of practicing deep breathing and meditation.
They help in reducing blood pressure and improve the variability in heart rate which in turn helps in the proper management of stress. There are a number of studies that indicate that sleep meditation aids in calming the mind and provides the individual with good quality sleep at night.
Today, there are more than 100 meditation apps from which the users can choose, and that promise to combat anxiety, provide better sleep, enhance focus and offer weight management, etc.
The most difficult job is to find the right app for oneself or to understand the difference between the various apps designed by professionals and others by novice individuals.
Thus, to assist in finding the best meditation and mindfulness app, a list of top 15 apps has been given below and also specified why each one of them might be suitable for a particular individual.
How The Apps Made To This List
This is a guide to a few of the Best Apps For Meditation and comprises a list of breathing, mindfulness, and meditation apps that have top ratings on Google Play and iTunes. All have ratings above four stars and their reviews reflect a lot of happy users.
Apart from the positive reviews and ratings, users generally look up for apps that have more to offer than just the audio-type meditation.
This list will offer the users multiple options for personalized meditation, pleasing activities, the only music in the background and no words, relaxation podcasts, supplemental meditation, and inspiring push notifications.
All the apps that have been listed below have been designed by either a company or an individual having strong links with mindfulness and meditation. They are professionals in this field and not novice individuals trying to make some profit.
Best Apps For Meditation: Our Top Picks 👌👌
1. Headspace
Headspace comprises spoken-word exercises that last for about 10 minutes and starts with a 10-session pack which is offered free to the users with the 1st download.
It comprises short packs of meditation for individuals who do not have much time. The best part of this app is that it can be tried out before making the final purchase. It helps in teaching individuals about the ways of incorporating meditation in their daily lives.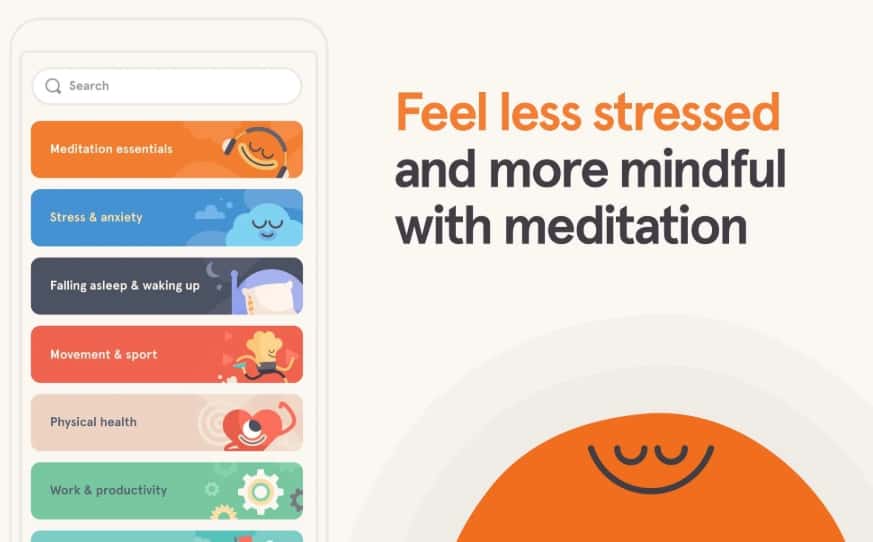 Headspace is gaining popularity as a kind of gym membership in the minds of users. Subscribers feel that Headspace helped them in improving their equanimity, alertness level, attention span, and capability to deal with stress in their daily lives. One of the users found it quite helpful in curing anxiety after prescription drugs did not help.
The app comprises 350 hours of meditation lessons that are offered by Puddicombe. He links meditation to learning to drive a car as he is of the belief that it is always easier to learn driving when someone is sitting next to the driving seat to guide.
Clubbing the Headspace app with a noise-canceling headphone provides the user with an unusual experience which is just like having someone in the next seat to guide the driving moves of the learner.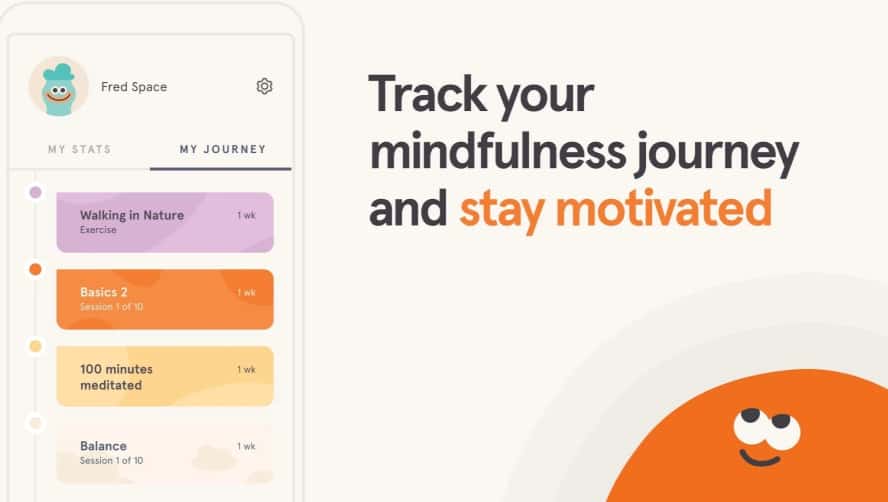 Every session begins with a regular 'checking-in' activity permitting the user to start settling and get ready for meditation.
The first step is to take a few deep breaths which make the user aware of the different physical sensations that surround them like their body weight, clothes, and chair, etc. The next step is to focus on breathing and count them with every inhalation.
The Headspace app ranked number 1 in our Best Apps For Meditation list that you should download.
2. Aura
Aura is a mindfulness app that offers micro-meditations to users lasting for over three minutes. It helps in relieving anxiety and stress based on an effective, simple, and technologically advanced platform.
The app is the mind work of some intellectual meditation therapists and teachers and has been customized by AI.
Users of Aura can maintain their gratitude journal, listen to the natural sounds in it and it also tracks their moods all through the day. It makes meditation a gaming process by providing options like level up and daily challenges.
This app is most suitable for individuals who do not have much time to invest in meditation every day. The app is simple and user-friendly and creates a sense of well-being and peace in the minds of the users.
The only thing disliked by users is that they cannot keep on replaying the meditation clips time and again unless they purchase the entire app. However, the majority of the users find the free version quite helpful. The Aura app ranked number 2 in our Best Apps For Meditation list that you should download.
3. Buddhify
It is another popular mindfulness app where the meditation sessions are theme-based as per the location of the users. It has been awarded the best app for calming anxiety and is customized as per the activities of the users like commuting, taking a break, and waking up in the morning, or having problems while sleeping at night.
buddhify promotional video 2018
It has 80 basic meditation sessions which the users can explore and have been designed by professionals. The app is most suitable for modern-day working communities as everyone seems to be in a rush.
Some of the people have been using the app now for more than three years and are still using it consistently. The app offers high-quality options and the professionals running the app are great leaders and teachers making constant efforts to improve the existing apps.
The Buddhify app ranked number 3 in our Best Apps For Meditation list that you should download.
4. Breethe
Breethe is available free of cost to the users and can be used right from waking up to the time they go to bed. It offers guidance and supportive tools which help the users to meditate in the right way all through the day. Breethe is the best meditation app for anxiety.
One meditation session lasts for 5 minutes and also offers tips to overcome pressure live with inner peace and intention and feel love. It can be completely personalized which makes it easy for the users to practice meditation.
A 'My Place' feature has been added to this app which makes all the content available to the user right at their fingertips. This helps them in setting their favorites, get significant recommendations, and explore the popular and new features. The Breathe app ranked number 4 in our Best Apps For Meditation list that you should download.
As promised above, here is the Japanese Method To Relax In 5 Minutes.
A JAPANESE METHOD TO RELAX IN 5 MINUTES
5. Calm
Calm is known to be an app that helps in propagating clarity, peace, and joy in the lives of people. Most of the users confirm that it is best suitable for mindfulness, meditation, and bringing positive changes in one's life.
The app offers relaxing clips like that of falling rain in the background and there are other clips also like that of the crackling fireplace, celestial white noise, and that of crickets. It also has a number of short meditations that prove useful when the users are busy.
Most of the users find the app value for money as it keeps them glued to regular meditation practices boosting their focusing capabilities to a great extent. People have noted that this app is very helpful in calming them during tumultuous times.
The Calm app ranked number 5 in our Best Apps For Meditation list that you should download.
6. Mindfulness
The app is found in different languages like Norwegian, Danish and English. It is basically for beginners to practice mindfulness meditation and for professionals to maintain their practices.
It is a mindfulness and meditation app that comprises three guided meditations like body scan, breath meditation, and power pause. The app has an in-built timer that keeps the users aware of the time spent on meditation.
This also helps in creating a daily meditation regime reminding them to meditate every day. Users can keep track of their progress by maintaining records of how often and how long they have been practicing meditation through this app.
Mindfulness can further be explored via this app by making a few in-app purchases. These are additional features that cover particular areas and support the well-being of the users by motivating them to be kind to themselves and others and by assisting them in identifying their hidden strengths.
Some of the practices have been designed particularly to assist people in their times of anxiety and difficulty. The Mindfulness app ranked number 6 in our Best Apps For Meditation list that you should download.
7. Ten Percent Happier
This app is for training individuals who are uncertain about the benefits of meditation. Dan Harris is an author and advocate who have written the book named '10% Happier'.
Its contents are associated with neuroscience and ignore the spiritual elements generally found in different apps. If a user is new to the field of meditation and fails to get the nick of it, the app might suit them well.
Users have reviewed that the app has helped them in feeling relaxed and calmer all through the day since they have been using the app. Initially, some of them were reluctant to download it but the positive outcomes experienced by them have simply left them surprised.
Regular users of this app boast that it encourages people to practice mindfulness irrespective of their background or religion. They have seen that this program helps them in identifying themselves in a much better manner.
The app provides meditation for restless Skeptics and applies philosophical ideas into everyday and practical language permitting the users to stay aware. The Ten Percent Happier app ranked number 7 in our Best Apps For Meditation list that you should download.
8. Insight Timer
This app comprises more than 4000 meditation sessions guided by more than 1000 tutors based on topics like stress, nature, and self-compassion apart from podcasts and talks.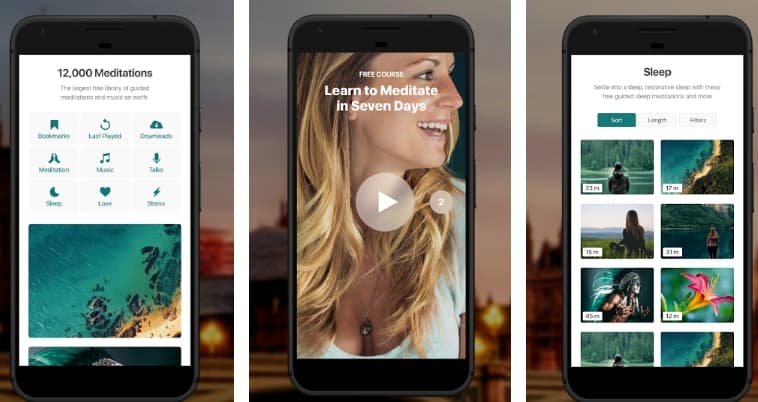 This is mainly for people who like quiet meditation as they can easily set the required time and then meditate to a calming noise or sound of bells in their surroundings.
This app is available free of cost to every community so that users can practice meditation in their daily lives. It sheds light on the fact that the activity of meditation should not be considered as a product but as a privilege.
Members of Insight Timer can meditate for an endless number of hours and as their heart and body permit. The app does not ask for any commitments or fees and gives the users the freedom to use it as per their wishes. The Insight Timer app ranked number 8 in our Best Apps For Meditation list that you should download.
9. Sattva
Sattva has a standard set of mood trackers, timers, chants, and guided meditations that are pre-loaded into the app. It also assists the users in checking their heart rate and presents them with trophies when they take up new challenges.
Its daily meditations are quite inspiring and they are sure to help an individual in seeking their best version. Friends can also link with each other through the app and meditate together.
Users are also free to join new groups with unknown people if they desire to acquire something new. Users can create new events using the app which helps people to chat with each other and share their unusual experiences.
One good way of keeping individuals motivated to maintain a routine or habit is by creating competition. Sattva always keeps the users eager to meditate as it turns into a fun game where friends can interact with each other while playing.
This app appeals to individuals who like social media and prefer communicating with people in distinct ways. The Sattva app ranked number 8 in our Best Apps For Meditation list that you should download.
9. Mindfulness Daily
As the name suggests, it is a mindfulness app that has innumerable benefits to offer via practices that hardly take up any time. The app has effective and quick practices that help in reducing anxiety and stress, enhances sleep, improves performance, etc.
The development team of the app has collaborated with a few of the global scientists, researchers, coaches, trainers, and physicians for creating a format that is best suitable for mobile devices.
This is quite helpful for users of smart devices who can incorporate the methods given in the app in their daily lives by practicing them for only a few minutes every day.
The thing which people love about this app is that it promotes sleep and reduces stress levels to a great extent. The Mindfulness Daily app ranked number 9 in our Best Apps For Meditation list that you should download.
10. Smiling Mind
The programs installed in the Smiling Mind are classified as per age ranging from 7 to 11 years of age. This app is very helpful for children who suffer from emotional issues.
The company which has produced this app is doing so with a non-profit motive as they aim at creating positive changes in the modern-day world and in the upcoming generations.
Its programs are easy and fun-filled and cater to both adults and children. Today, more than 2 million individuals are using this app globally. The majority of the users are teachers who have been using this app in-school programs for educating the students.
The app has also been successful in assisting the teachers with intensive professional development to boost their skills and make mindfulness an integral part of the classroom.
The Smiling Mind app ranked number 10 in our Best Apps For Meditation list that you should download.
11. Omvana
The iOS app comprises more than 500 most active transformational audio tracks popular all over the world for bringing about the overall improvement of human beings. A few of the categories commonly known to be affected are lifestyle, hypnosis, relationships, productivity, mind, and body.
It also has a '6 Phase Meditation' which lasts for 20 minutes and polishes practices like connection, gratitude, and forgiveness. The app is initially available free of cost so that willing users can gauge its suitability for themselves.
The versatile nature of the app attracts a large number of users as it is highly capable of motivating people to practice meditation in their daily lives.
As per existing users, the app is an outstanding idea that helps people in transforming their meditation practices in the most effective manner. For some, the positive impacts started appearing right after the completion of a few initial sessions. The Omvana app ranked number 11 in our Best Apps For Meditation list that you should download.
12. Simply Being
It is quite an affordable and solid app which features relaxing natural sounds and voice-based meditation sessions. It is suitable for both professionals and beginners as it guides meditation step-by-step.
One can easily decide the time they desire to divert towards meditation ranging between 5-30 minutes and also choose between silence, natural sounds, or music. The app assists the users in relaxing and experiencing the moment they are living in.
The fact that it is available free of cost attracts a large number of users. After downloading it, users can choose their background sound as well as the timing of meditation. Meditation through this app even for 5 minutes is very helpful.
The guiding voice is quite forgiving and calming in case the user's mind wanders away and also wakes up the user after the completion of meditation.
In this way, the users are re-energized and motivated to do this every day. The Simply Being app ranked number 12 in our Best Apps For Meditation list that you should download.
13. Stop, Breathe, & Think
This app is best suitable for users who seek more motivation and structure for inculcating a habit of meditation in their daily lives. The app comprises fewer time-taking activities which make it appealing to children who have newly been introduced to the idea of mindfulness and meditation.
However, the app is equally suitable for adults who have been aloof of meditation for a long time. The best part is that users can connect the app to their Alexa device to get timely reminders and also meditate on being away from their cell phones. The Stop, Breathe, & Think app ranked number 13 in our Best Apps For Meditation list that you should download.
14. The Mindfulness App
The pioneers of this app were two mindfulness and yoga enthusiasts and professionals who desired to share the innumerable advantages of mindfulness with the common man. They thought of making the world a more lovable, healthier, and friendlier place to live in.
It offers meditation activities for both advanced and beginners. The app is easily accessible and offers a huge catalog comprising meditation tracks. The tracks last somewhere between 3-30 minutes and are customizable as per the needs of every individual.
In case an app does not seem to be suitable for the user, they must not hurry and change ways because choosing the best app is a trial-and-error process. It turns beneficial after one finds the app suitable for them.
One can download a number of apps at the same time and try one after another all through the week. The most important thing is to look for a system that works the best for a user. The Mindfulness app ranked number 14 in our Best Apps For Meditation list that you should download.
Let's Start a New Life
Today, every individual is very busy and most of the time is spent on multitasking and wasting a lot of time accomplishing a million objectives at the same time. Amid this rush, people usually fail to establish a connection with the moment they live in and miss out on experiencing their feelings and activities they get involved in.
The practice of meditation helps in cultivating mindfulness. Developing a habit of practicing meditation and mindfulness is the best way to minimize anxiety and stress, have a relaxing time, and live the moment.
As promised in the beginning, here is the Does meditation Really Work?
Does Meditation Really Work?
Making these activities a part of one's daily life even for a few minutes makes an individual better equipped and calmer to deal with daily life challenges.
Meditation, yoga, and mindfulness are beneficial for an individual's life and health which is why it is important to download some of the apps and master the practice in the right manner.
Users must make it a point to try them whenever they are free and try to grab all the benefits that meditation has to offer. Generally, people do not take long to get the trick of it after which no guide will be needed for meditating, calming down, and relaxing.
Interested people can start by studying some of the apps that have been listed above and then inculcate them in their daily lives.