Are you searching for alternative apps like branch to borrow, save and improve your financial health?💁 We got you covered in this post.
Without any further ado, let's explore this guide.
Money is one of the most basic needs in our life. Be it a business or a job; we do it to earn money to enjoy the other luxuries and comfort of life because let's face it, there is no such thing as a free meal in this world.
However, as important as money is for every person, it doesn't come easy to most people in the world. You need to work day in and day out to make money in your life. But sometimes, even after all this hard work, you struggle to meet your expenses.
For instance, you may be running low on budget, and it shall be time for you to pay your rent. The feeling of helplessness that floods your heart in circumstances like these is disheartening.
However, what if we say that there was a solution using which you can save yourself from feeling this way ever again in your life? Surely you shall be intrigued to know more about it. Well, the solution is payday applications, one of the most popular ones being Branch.
Let's dig into the details deeper to know what this application is and how you can use it to the best of your benefit.
What is a Branch App?🧐
The branch is a payday application that you can use to get the money you have earned with your days of hard work at any time you want. You need not wait for your paycheck to get the amount you need.
You can withdraw the money from your Branch application account, and when your paycheck is credited, the application deducts the withdrawal amount during the month.
This happens because everything on your work desk is maintained in the Branch application. Be it your hours of work, overtime hours, login, logouts, leaves, etc., everything is managed on the application, and it is through this that the application grants you money before your paycheck is credited to your account. 
In addition to getting money as and when you need it, the application helps you collaborate with your team and work more collectively. There is even a chat feature in the application for this very purpose.
However, while this application has everything to gain and nothing to lose, there is one major problem. You can use it only if your employer has set it up in its organizational settings.
Now, every employer shall not set up the application. So, what are your options in that case? How would you meet your urgent money needs? Luckily, there are many other apps like Branch that you can use.
Let's have a look.
Best Apps Like Branch – Our Top Pick👌👌
The Branch is a phenomenal application to meet your urgent needs for money while also ensuring that you are in better coordination of your work with your colleagues as you can use the chat features of the app. However, using this application is possible only if your employer uses it too.
So, you need options in case your employer doesn't use the Branch app so that you can remain out of any situation involving a financial crisis. So, here are some of the best apps like Branch that can be a good option.
The great part about all these applications here is that they are not just payday applications that will help you get your money in advance.
All these options on the list go beyond that and come as a complete financial and money management solution that every person needs in today's time, where money is the need of the hour.
From planning budgets to putting money into savings, these applications do it all, making them all the perfect finance management applications.
So, let's have a look at some of the best apps like Branch without any further discussions.
1. Earnin – Apps like branch To Get Cash Before Payday
Earnin is not only amongst the best apps like Branch but also a  next-generation income platform. By allowing users to use their existing payment accounts, Earnin provides a convenient way of receiving money from friends and family members.
A lot of faith has been put into technology, but it can also be used to improve the way money is sent between people. 
Earnin provides users with a faster, cheaper, and more secure payment network. You can create an account on the application for free or use an existing account by lining it with the application.
Once you have connected the application with an account, you can start connecting with your contacts, friends, family, and other relatives and quickly transfer money to them.
Additionally, you can use the application to earn some quick cash as well. As you make purchases using your Earnin account, you get some extra cashback.
Besides that, it's one of the first applications that allow users to get their paycheck right after their shift ends. So, it's very quick and easy, and you never have to wait for the money you have worked so hard for.
Moreover, you need not bear any extra fees or subscription costs if you don't want to. The application is free to use.
Download the App on Google Play Store
Download the App on Apple App Store
2. Vola Finance
Vola Finance is an android and iOS app that uses AI to track your spending and investment and helps you maintain a balanced portfolio.
It has a growing community of users, and the application plans to expand further to other platforms such as the web and Windows shortly.
With that expansion, the application will become more accessible and convenient. Nonetheless, even with the current reach of the application, accessibility is not limited in any manner.
With Vola Finance, you can access your portfolios and spending reports from anywhere. You can also easily set up recurring transactions and maintain savings goals.
Vola, as a financial management platform, is trusted by millions of people worldwide to assist them in managing their finances.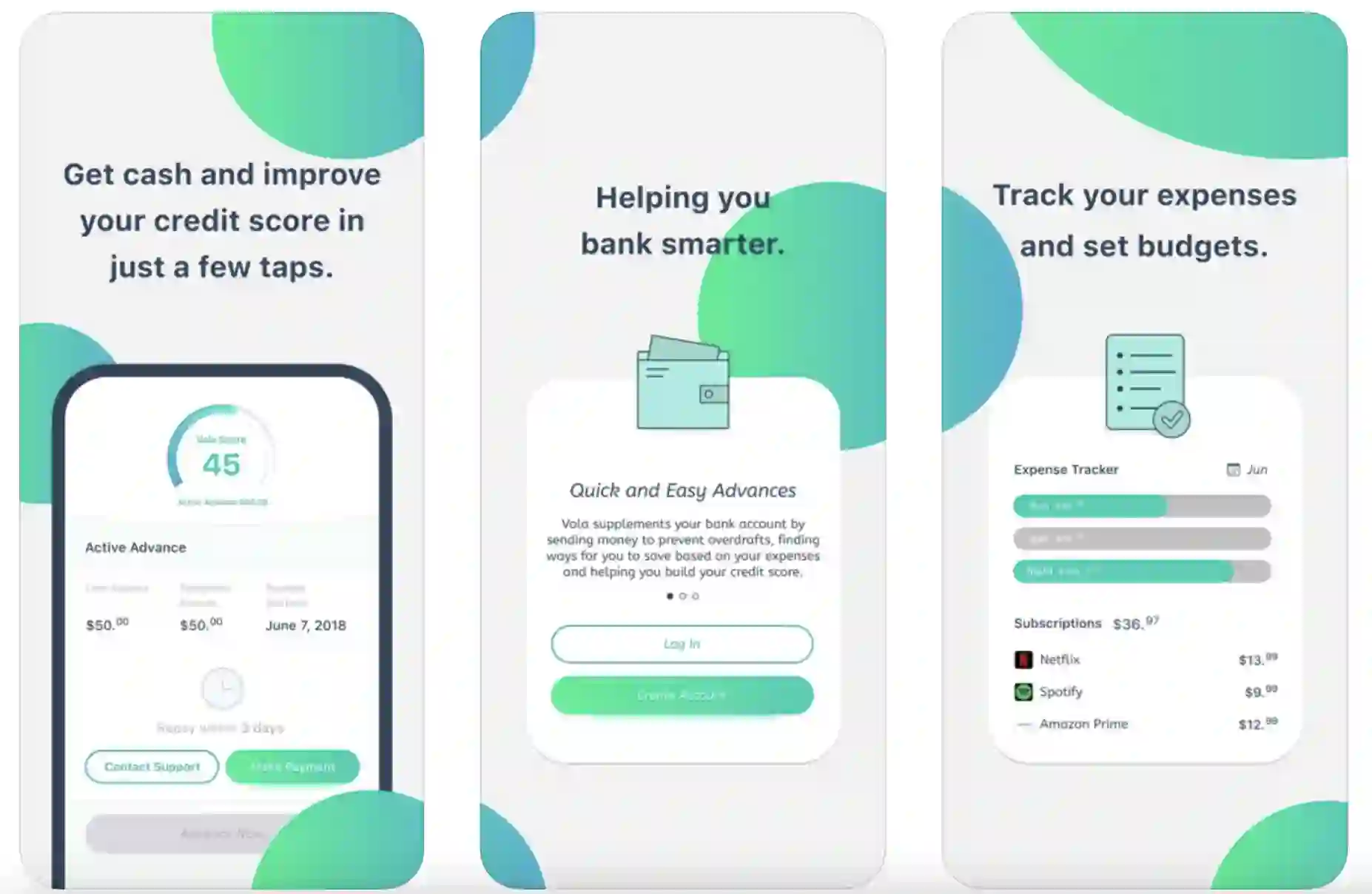 With the advanced and intuitive features of the application, you can manage all your finances in one place, connect with your loved ones and friends, and enjoy the strong backing of the 7+ years of experience that Vola has in the financial management space.
Talking about financial planning and management, the application allows you to create financial goals like saving for a vacation, a new car, or a down payment on a home. You can choose your savings frequency (daily, weekly, or monthly). 
Moreover, making transactions from the application is easy and quick since it links itself with your bank accounts to make it easy to move money in and out of your Vola account. Additionally, there is no minimum deposit. So, you can deposit any amount you like, whenever you like.
Besides that, the application helps identify and prevent fraud as well. Not only that, you can even take care of your budgets and track your spending to make sure that you are not going over budget.
With all of that, we can say that Vola Finance is the only budgeting app that you'll ever need. With its advanced AI algorithm, you can finally find the budgeting app you'll enjoy using.
Download the App on Google Play Store
Download the App on Apple App Store
3. Dave
People have to deal mostly with financial problems due to their lost focus on their money and the inability to track their spending and expenses. Dave ends this very issue for its users. It puts all the money tracking in one place and is very easy to use.
You can choose your way of tracking, such as with a pen and paper, or another way offered in the application. So, there's no need to worry about technology or budget.
The application values simplicity and ease of use and is designed with the same concepts. The application is available for immediate and ready usage.
You need not create or register an account. Only the first-time usage shall require a security pin, and then you are all set to use the application, at any time, from any place.
Moreover, you need not pay for it if you don't want to. The application has a free version as well as a premium version. The free version is enough to keep track of most people's expenses, but the premium version is what you need if you are worried about your financial situation.
With Dave Premium, you can get personalized budgets, get alerts when things are out of balance, and get advice from Dave.
Download the App on Google Play Store
Download the App on Apple App Store
4. Venmo
Venmo is yet another one of the best Apps Like Branch, and a payment app, where people can easily make transactions with a simple button tap.
This app makes it easy to transfer a payment from one person to another while also allowing a user to track a payment with a simple feed. The feed includes the most recent payments. A user can even send a payment from a notification.
The notifications work in the sense that anyone in your contacts can request you for an amount, and as you approve the request, the transaction is processed, and money is transferred.
Moreover, suppose you and your friends have a habit of shopping together and are always confused about splitting the costs. In that case, this application shall be extremely helpful since it allows you to split the amount, and then you and your friends can directly make the payments using your Venmo balance.
You can request a payment from contact with the touch of a button. This lets you request a friend to pay with a simple tap.
Venmo allows a user to easily split a purchase with a friend by paying your friend directly with your Venmo balance. Venmo will even transfer the funds from a bank account linked to the Venmo balance.
The only possible issue with the app is that it charges a transfer fee on all your transactions. In case of a direct bank transfer, you need to bear a transfer fee of 2%, while it's 3% if you make Venmo payments.
However, these fee amounts don't seem a lot and are easily affordable, so the application is still worth a try.
Download the App on Google Play Store
Download the App on Apple App Store
5. Even
Even is creating a new way of managing your money, putting yourself in control. It's the only budgeting app that lets you spend money when you want to, even when it's not "planned" in your budget.
It breaks the archetype of the bank account, where you have to wait to be able to spend it. Imagine you earn $1,000 in a month, but you only spend $250 in the same month.
It even lets you spend the rest of your money at any point, without waiting until the next month. This way, you can decide when you want to spend it! 
The best part is, it even tracks all your expenses in real-time, so you can see exactly where your money is going. It also tracks your income in real time, so you always know how much you have, even if you don't have internet access.
It also helps you take control of your spending and put some of it into savings. The application takes the spare change from your non-cash purchases and puts it toward your savings goals. This makes saving as easy as spending.
Also, if you're a Bank of America customer, the investment returns on your savings goals are at the same rate as the refund and rebate you receive on your bank statements.
To put it all straight, Even is simply different from any other app available. Even does not attempt to offer you an app-within-an-app experience or an interactive magazine-like experience, push you to watch ads, or promote the next million-dollar idea.
Its primary focus is to be a simple, minimalist, one-purpose utility app that lists your expenses and income for the day, along with automatic categorization to show your total savings. It is just that, and nothing more. No other app offers the same interface and experience.
Download the App on Google Play Store
Download the App on Apple App Store
6. Albert – Apps like branch For Mobile Banking
Albert is a Mobile Banking App available for Android and iOS. The app lets you manage your bank accounts, manage multiple banks within a single app.
You can follow your balance and other account details, make payments and transfer funds to other accounts, and receive push notifications whenever there is a change in your balance. With this, you would stop worrying about checking your account balance now and then.
Additionally, the application has a very intuitive interface with high flexibility and ease of use. So, you need not go through many hassles in setting up the application. You just download it and start using it. It's that simple!
Moreover, it's not just an application to manage your payments and pay your bills. You can use its assistance and guidance to manage your finances and make some savings.
This is possible because the application tracks your transactions, analyses them, and lets you know the areas where you can cut out on the expenses and put the money into savings.
With all of that, it's no doubt that the application has become so popular among the masses to meet their money needs quickly and easily.
Download the App on Google Play Store
Download the App on Apple App Store
7. Chime – Apps like branch To Start Building Credit
Chime is an affordable, easy, and mobile-only cash advance app using which you can manage your finances anytime, anywhere, without having to worry about paying expensive bank fees.
It is a great mobile banking app with many benefits for checking and saving accounts. The mobile app is a cutting-edge banking platform that enables users to have a good banking experience.
It is not just a bank; it's a community of people with a shared mission to help consumers get ahead.
It is a modern mobile finance app for your finances. It is free, secure, fast, friendly, and fun! You can easily track your account balances, credit card payments, cash flow, investments, etc., on the go. What makes Chime distinct from other finance management apps is its user experience.
Chime's user interface is one of the most simple, clean, and friendly interfaces for personal finance software. Creating new accounts, adding transactions, moving money between accounts, paying bills, etc., are extremely easy on Chime.
On Chime, you also can connect with people you trust and share your data with them – which is very helpful for people who have kids, are married, are in business with friends, etc.
It has a mission to simplify the financial lives of its customers, offering more accounts in one app, easy budgeting tools, automatic notifications for bill payments, free ATM withdrawals, free checks, and free deposits.
As such, the users of the Chime app can create a budget any way they want. Moreover, you can create any number of budgets, and the app makes it easy to switch between the different types of budgets.
Besides that, you can easily make bill payments when you receive notifications for the same. Also, whether it's withdrawal or deposits, you can do it all for free.
With all that, Chime offers you great control over your money and finances, and you can keep all your financial issues at bay.
Download the App on Google Play Store
Download the App on Apple App Store
8. Ingo Money – Apps like credit genie
A relatively new application to help you with your finances is Ingo Money. This is a free application that allows users to instantly deposit checks into their accounts and even instantly withdraw funds whenever they are needed.
Additionally, the application can help track account status and view all its activities to ensure that everything remains under control and you can better manage the finances and money in your hands.
The application is designed with the sole purpose of meeting your desperate and urgent requirements for money.
As such, you can simply request the money, and irrespective of whether your paycheck is credited, you shall get the money you need within an hour. This happens with the application's principle of sharing money among family and friends.
With that, this application is one of its kind, unique, and something that will help you a lot with all your financial needs and requirements.
Moreover, you can even withdraw money from an ATM using the Ingo Money Card available with the application. That further opens up your sources for having money in times of need.
Download the App on Google Play Store
Download the App on Apple App Store
📗FAQ
Is there any app like Branch?
There are various apps like Branch where you can access some money without any additional fees or interest. Apps like Dave, Brigit, and MoneyLion help you to access a part of your paycheck before your payday.
What app will let me borrow money instantly?
Many apps help you get a cash advance instantly without any interest. Apps like Earnin, Brigit, and MoneyLion can provide immediate access to a part of your paycheck. You can borrow money instantly in situations of emergency from these apps.
What's the easiest app to get a cash advance?
You can get the highest cash advance from Dave, quick cash advances from Empower, earning-based borrowings from Earnin, short-term loans from PayActiv, and same-day loans from Brigit. However, you can get many loan options on MoneyLion.
What apps will spot your money?
You can get immediate money for instant use from various cash advance apps like Chime, Empower, Earnin, DailyPay, PayActiv, Flexwage, and Dave. You can easily borrow money out of your paycheck from these apps.
How can I borrow $200 from the Cash app?
You need to open the app and tap on the cash app balance. Go to "Banking" and tap the "Borrow" option on the header. Tap on unlock to know how much you can borrow instantly from the Cash app.
What app lets you borrow $20?
You can borrow $20 immediately from the Chime and Dave app. As a borrower, you need not pay overdrafts or interest fees when you borrow from these apps.
How can I get $500 from Dave?
You need to open an extra cash account to check your eligibility for an advance. You can get an advance up to $500 and transfer it to any account. After settling your borrowing, you are eligible to borrow more money from Dave.
What app will give me $100? 
Earnin, Dave, Chime, Brigit, MoneLion, etc., are among the most popular and highly reliable applications you can try to get $100 instantly in your account and repay when you get your next paycheck.
These apps can be immensely helpful in managing your expenses, especially when you run out of cash in mid-month.  
Is Branch a good loan app? 
Face any type of financial emergency and need some money instantly before your next paycheck. The Branch app can be a reliable option to get a portion of your paycheck early depending on your eligibility.
However, there is a big problem. You can only get money from the app if your employer has already added it to its organizational settings. That's why it's a smart idea for you to look for other better alternatives. 
The Final Verdict on apps like branch
With the growing importance of money in our life and the fact that it is imperative to meet your needs and requirements right from the basic ones to the ones that are a chance at luxury and comfort, it is essential for you to manage your finances in the best ways you can.
One way has the money as and when you like ahead of your paychecks. The next way is to ensure that all your expenses and spending are managed, within the planned budgets and that you have enough money put into your savings.
Now, Branch is a phenomenal application for the purpose. You can get the money as and when you like, and you can get help with budgeting, tracking expenses, and putting your money into savings. Not only that, you can even manage your office work by collaborating with your team on this application. 
With all that, it's no doubt that Branch is the perfect money management application. However, since it is used only when your employer uses it, you need other options to your aid as well. In fact, the more applications you have to help you out with the management of your money, the better.
It is in this particular interest that we have come up with this list of some of the best apps like Branch.
We hope that you enjoyed going through all the applications on our list, found the article informative and interesting, and are all set to explore these applications so that you may have better control over your money and finances.
Happy Financial Planning and Money Management!