Do you want to buy fast and easy groceries online? Then GoPuff is the correct choice for you. However, if you are still looking for Apps Like GoPuff, I must agree that there is no ideal answer.
Still, several comparable applications will also bring fresh and fast delivery to your house.
What is GoPuff?🤷‍♂️
GoPuff's mission is to make life easier for everyone. It does this by providing an easy solution to the stress of running out of household staples, pet food, and other products.
Whether working late, stuck in traffic, or too tired to go out, GoPuff provides peace of mind that your essentials will be delivered right to your door.
The GoPuff app is a fantastic way to find, order, and have things delivered right to your door. On GoPuff, you can acquire everything from household cleaners to baby food to everyday essentials.
GoPuff collaborates with local fulfillment centers to deliver the products you need on the same day. With just a few taps, you may search by product or brand or tell them what you need, and they'll fetch it for you.
With an extensive inventory of household items and food essentials, you're sure to find what you're looking for. Search for essentials like laundry detergent, toilet paper, and specialty items like dog food and cooking ingredients.
With more than 100 product categories, they've got you covered.
GoPuff claims to save you time and money on the things you need most with rapid delivery and excellent customer service.
If you're on the market looking for an alternative to GoPuff because of some reason, we've got you covered.
Here are some of the best Apps Like GoPuff.
Best Apps Like GoPuff – Our Top Pick👌👌
1. Instacart – Apps like Gopuff For Grocery delivery
Instacart is a grocery delivery system that helps customers shop at nearby grocery stores. The corporation was started in 2012 and is based in San Francisco, California.
Instacart is an alternative to GoPuff, allowing you to shop for groceries online or via the app. Once you order your groceries, Instacart shoppers will pick them up from the store and bring them to your door.
The company's shoppers are paid hourly and work as independent contractors.
In addition to its home-delivery service, Instacart also offers a pickup option where customers can shop at their local store, pay online and pick up their order at a time that works with their schedule.
Using Instacart is easy. First, browse the app store, select your city, and go to the grocery store tab. Next, you search for a brand or type of product.
You can also search by name, item number, or price. When you locate anything you wish to buy, add it to your shopping basket and check out.
After you place your purchase, an Instacart shopper will go to the store and pick up your products before delivering them to your door.
There's no need to worry for those worried about privacy in this day and age because shoppers do not have access to any personal information about their customers.
Another plus is that they will use a signature upon delivery to ensure that only you are getting the deliveries.
Download the App from Google Play Store
Download the App from Apple App Store
2. UberEats – Apps like goPuff To Find Food Delivery On Your Budget
Instead of going to a restaurant to get the food you want, Uber Eats allows you to see what restaurants are around you and even search for the specific dish you want.
Uber Eats knows that if they can make it easier for their customers to find what they're looking for and make it convenient to get the food, they will have more access to more customers.
It offers fresh and fast food delivery from your favorite restaurants so that you don't have to go anywhere near the restaurant; use your phone and order what you want.
UberEats is one of the most popular apps like GoPuff and other food delivery services. You can get food from various restaurants, including local and national chains. You can browse by cuisine or search for a specific restaurant or dish, making it easy to find precisely what you want.
Unlike GoPuff, Uber Eats is available nationwide, not just in select cities. You can also purchase through the app, which allows you to explore and select your favorite foods.
UberEats also offers off-peak hours, so you can get deliveries as early as breakfast or late into the night. It's easy to find what you're looking for because they offer menus from all participating restaurants with prices so that you can see exactly how much your meal will cost before ordering.
UberEats has an app developed by Uber, which pioneered summoning a car at the touch of a button. The app is similar to the previous one, focusing on food.
Go to the app store, download the UberEats app, and place an order. When you're ready to order, you'll see your delivery address, expected delivery time, and total price.
Download the App from Google Play Store
Download the App from Apple App Store
3. Shipt – Apps like goPuff To Shop from neighborhood retailers
Shipt is one of the biggest names in grocery delivery. It's an excellent choice for people who don't have time to go shopping but still would like to get their favorite things delivered to their door without leaving their house.
The app also offers users unique coupons and sale alerts, allowing them to save money on their favorite things from their local businesses.
So, not only can you get top-quality goods directly at your front door, but you can save money doing it!
Shipt is a membership-based same-day delivery service that helps you save time and money while shopping locally.
You can use Shipt to purchase groceries, home products, electronics, and other items from your favorite merchants and have them delivered to your door in as little as an hour.
There are three price choices available. A one-time delivery for the same day costs a flat $7 rate. If you're looking for even more savings and convenience, you can purchase up to five passes through Shipt Pass and save up to 20% per delivery.
If you join Shipt every day, you get unlimited free delivery for a year – which is a great deal if you live in an area where they service and order often.
You can get started by downloading the free app or visiting the website. Enter your zip code, add an address for delivery, browse available stores, and shop!
Once you've placed an order for delivery, it will be brought to you by a local Shipt Shopper, who will hand-deliver your order in about an hour. It's that simple!
Download the App from Google Play Store
Download the App from Apple App Store
4. Favor – Local Delivery Service
Favor is a delivery service for people who want to order food and have it delivered. The thing that makes Favor different from other food delivery services is that you can get anything you want from anywhere on the app.
Favor users can order from any restaurant or fast food joint. You can order anything from local restaurants, like Burger King, Pizza Hut, and Taco Bell.
It has an on-demand food delivery app by which you can order what you like and as much as you want. It doesn't limit you to location and offers items from anywhere. You can call what you like and as much as you want.
AppStore Dec2019 Consumer Android rd2 Contactless
Moreover, Favor also uses runners as their way of delivering your food to you. Runners are people who go and get the food for you and then bring it back to you.
If you require a charger, runners (favor workers) can deliver it to you. Do you want to eat anything from your favorite neighborhood burger joint instead? You're safe with the runners.
Even if a store isn't listed in the app, you can direct the runner to a specific location, and they'll arrive.
The regular delivery charge is $6; however, it can be as little as $3 during special discounts. For the first two weeks, new users can get unlimited free deliveries.
Download the App from Google Play Store
Download the App from Apple App Store
5. DoorDash – Apps like goPuff For Restaurant Eats & Drinks To Go
DoorDash is yet another of the best Apps Like GoPuff, that has been in the market for quite some time now. It was launched in 2013 and had been giving tough competition to other food ordering apps.
It's an on-demand food delivery app that delivers food from thousands of restaurants to your doorstep. You can get delivery from your favorite restaurant or place a pickup order.
Orders can be scheduled in advance of time, and you can select contact-free delivery, which means your item will be left at your door. 
This app is available in many cities in the U.S. and some other countries. You can choose whether you want DoorDash to deliver your food or if you want to pick it up yourself.
DoorDash ensures your order is on its way within 45 minutes of placing the order.
This app offers free delivery on orders over $10. Still, there are times when they offer free delivery on all orders during the holiday season or even special occasions like Valentine's Day and such.
DoorDash clearly states how much their delivery charge is with each restaurant listed so that you don't have any surprises at checkout.
When it comes to the pickup option, you have to place your order and head to the restaurant to pick up your food once it's ready without incurring any fees.
Download the App from Google Play Store
Download the App from Apple App Store
6. Caviar
There are hundreds of food delivery Apps Like GoPuff in the market. So, it is hard to select the best one. But we have done it for you. Today, we will talk about Caviar.
Caviar is a food delivery platform that provides you with highly-rated local restaurants. It offers more than just food delivery; you can get pizzas, salads, desserts, coffees, and much more.
Caviar is an app with a list of restaurants to search for your favorite dishes and order food. You can arrange your orders ahead of time and select contact-free delivery, meaning your purchase will be left at your door.
There are no minimums, so you may purchase as little or as much as you like and get exactly what you need.
CAVIAR Sizzle v3 30sec 16x9
It is easy to use and has both Android and IOS apps. The main highlight of this app is its GPS. Your purchase will be submitted to the restaurant for further action after you submit it.
It also gives an estimated delivery time to know when to expect your food at home or the office. A customer support team is available for any assistance.
Download the App from Google Play Store
Download the App from Apple App Store
7. FreshDirect
There's no denying the convenience of grocery delivery. Ordering groceries online and delivering them is a beautiful choice if you live in a tiny apartment or don't have time to walk to the market.
FreshDirect makes it easy, whether you order online or through their app. You can create a shopping list on your phone, then add items as you go through the aisles of your favorite supermarket.
Once back home, you can either place your order via their website or use the FreshDirect mobile app and pay for your groceries with your credit card.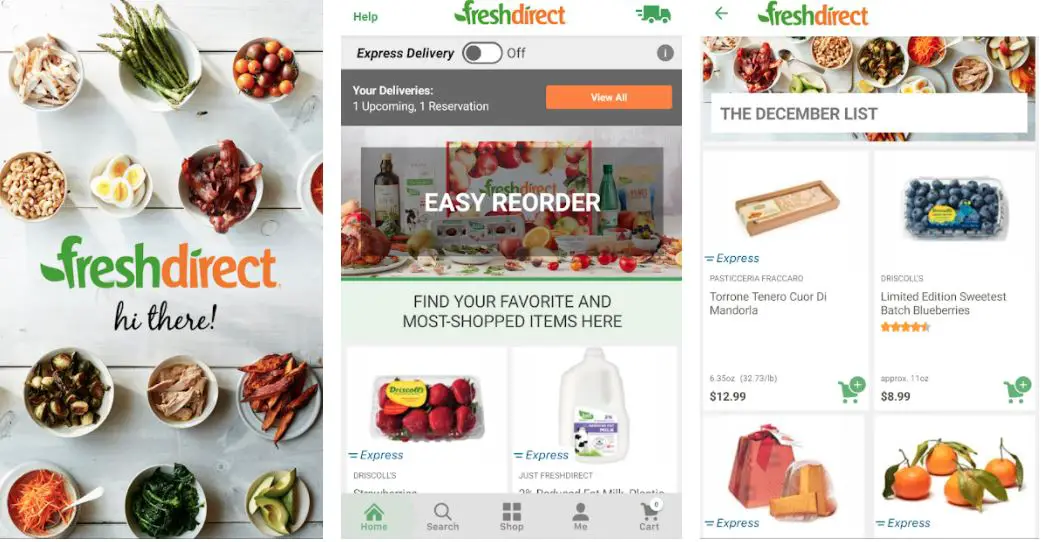 You can deliver seasonal choices, chef-prepared meals, and much more to your home or office via FreshDirect.
This started in New York and has now spread to several other states in the United States.
It's a straightforward tool for placing your order. Create your grocery list using the mobile app or the website. This is prepared in their facilities, and your order is quickly packed and transported on their refrigerated trucks.
FreshDirect makes it simple to receive whatever you need, whether you choose a one-time delivery or join up for their DeliveryPass for unlimited free grocery deliveries.
Download the App from Google Play Store
Download the App from Apple App Store
8. Grubhub
Grubhub is a U.S.-based online and mobile food ordering and delivery platform. Matt Maloney launched the company in 2004.
It offers different kinds of services. It is a food delivery service that offers both pickup and delivery options. People who order food from local restaurants can use this Gopuff alternative.
This service allows people to choose the type of food they want to order, where they want to pick up the food, the time they want it delivered, the delivery fee, and other requirements.
Its easy-to-use mobile app allows people to order from extensive menu options. The platform has partnerships with more than 300,000 restaurants in the U.S.
This makes it the largest restaurant network that offers delivery and pickup services.
Grubhub emphasizes being a one-stop platform for food ordering and delivery services. The company has many leading brands under its umbrella; AllMenus, LevelUp, Seamless, Tapingo, and Menupages.
Each brand serves a different purpose and allows users to access specific menus within their respective categories.
For example, LevelUp focuses on offering deals and discounts through its mobile app, while Seamless is designed to make ordering food online easier.
They also offer an option for users who do not have a credit or debit card to pay for the food they ordered. They can pay with another user's credit card or cash on delivery.
Download the App from Google Play Store
Download the App from Apple App Store
9. Deliveroo – Apps like goPuff To get the best food from top restaurants
William Shu and Greg Orlowski created Deliveroo in 2013. The company's mission is to deliver great food from the best restaurants direct to customers at the tap of a button.
Deliveroo is a restaurant online food service that lets you order your favorite dishes and deliver them to you at the touch of a button.
The innovative service is available in several cities around the globe and provides from local favorites to nationally preferred chains like Subway, KFC, and Pizza Express.
Food. We Get It. App Preview Video
If you're ever feeling hungry in a new city, Deliveroo can help. The company can get you anything from a locally-owned pizza spot to a major fast-food chain delivered straight to your door.
Deliveroo can even deliver groceries to your hotel room if you travel abroad! All you have to do is place an order and wait for it to be delivered.
The company started with just three people in a small office in London, but it has quickly grown into a global business that employs more than 2,000 staff across its network of offices and kitchens.
It works with several restaurants as well as grocery stores across the globe.
Download the App from Google Play Store
Download the App from Apple App Store
10. Postmates by Uber
Postmates by Uber is an on-demand delivery application that allows customers to get anything delivered in minutes. It is an app-based delivery service.
Unlike services like Instacart and Amazon Flex, customers can order from various restaurants and stores, not just grocery stores and pharmacies.
To use Postmates, download the app and create an account. Enter your address and select the store you'd like to order from. After you're done selecting your items, pay through the app with your credit or debit card.
How to order food, drinks, or anything else with Postmates
Once that's done, you can track the delivery in real time via the map on the app. If you don't mind leaving the house, you can order from some pickup places instead to retrieve your order at your scheduled time.
Anyone can use Postmates to order food, groceries, and more! However, there are certain restrictions based on location.
You can also schedule a time when you would like someone to pick up your order if you prefer to go out and get the items yourself.
This feature is especially nice if you have a large or heavy order or feel under the weather and don't feel like leaving the house.
Download the App on Google Play Store
Download the App on Apple App Store
11. Seamless
Seamless has been in business since 1999, and its services are now available in over 1,000 cities across the U.S.
They offer their customers some of the best deals and are constantly adding new restaurants to the list.
Seamless is a food ordering and delivery service that allows you to order food from your computer or mobile device.
With Seamless, you'll easily choose what kind of cuisine you're in the mood for and even search by dietary restrictions if needed.
The site's search engine makes it easy to find something that matches your preferences, including price, location, and more.
Once you've chosen a restaurant that meets your requirements, browse their menu, select the products you want, and pay for them directly through the internet.
Depending on your preference, the order will be sent directly to the establishment for pick up or delivered to you.
Seamless makes ordering food super easy and convenient. They offer a wide selection of food, you can customize your order, and the delivery is fast.
They also have coupons and deals that you can use when ordering. Overall, it's a great site if you're looking for quality food quickly and easily.
They may not always offer coupons or discounts, but they can help those looking to save money on their next meal. 
Download the App from Google Play Store
Download the App from Apple App Store
📗FAQ
What is similar to GoPuff? 
Instacart, UberEats, Shipt, Favor, DoorDash, etc., are very similar apps like gopuff and offer a complete range of features like instant grocery and food delivery, shopping from your neighborhood, suitable delivery time selection, access to a wide variety of local stores and much more.  
Where does Gopuff get its stuff? 
When you place an order, your items are shipped directly from the company, which keeps roughly 4,000 things in each Gopuff location.
Since GoPuff is not a courier service and they deliver directly instead of having customers pick it up from the store, they are noted for their quick deliveries. 
How does Gopuff get here so fast? 
GoPuff can deliver orders to clients as soon as they are received, often taking 15 to 30 minutes, thanks to their vertically integrated delivery approach that eliminates the intermediary.
Most places have goPuff open 24 hours a day, seven days a week; smaller markets may only have it open from midday to 4:30 a.m. 
Is working for Gopuff worth it? 
It is worthwhile to work with GoPuff because the company offers competitive pay and benefits. They pay hourly and per delivery and provide high compensation (if your shift is on the schedule).
They give good incentives to put forth additional effort. Additionally, they provide bonuses based on the number of deliveries you make each week or if it's a busy period. 
Why is Gopuff closed? 
GoPuff is not yet closed. But, to prepare for "what could be a far more dramatic macroeconomic turndown," the Philadelphia-based delivery business, which attracted more than $1 billion from foreign investors as customers drove up revenues during the pandemic, is closing or merging 76 distribution locations across the nation. 
What company owns GoPuff? 
Yakir Gola and Rafael Ilishayev launched the private enterprise GoPuff in 2013. With the help of this online platform, your must-have things can be delivered to your home more quickly than with other services, doing away with the necessity for convenience stores. 
Why did Gopuff stop delivering in my area? 
GoPuff won't accept your order if the closest Gopuff warehouse is too far away, making quick orders impractical, as it strives to deliver all orders within 30 minutes. 
Do you tip on GoPuff? 
Although tipping is not necessary on GoPuff, your delivery partner would be grateful if you did! At checkout in the app, you can tip your driver with your credit card or debit card. Your entire tip goes to your delivery partner! 
What app do Gopuff drivers use? 
GoPuff Driver is the app used by GoPuff drivers. It is an app that links GoPuff and our clients with delivery partners.
Delivery partners manage their schedules and accounts, see their earnings, and submit support tickets via the GoPuff Drive app. 
How often do GoPuff drivers get paid? 
According to driver reviews on forums and Glassdoor, drivers may anticipate making an hourly wage of $13.
However, the precise amount a GoPuff driver will earn can occasionally change because tips can always improve your revenue. Drivers at GoPuff are paid weekly. 
Can you pay cash with goPuff? 
Yes, you can pay for items on GoPuff with cash or a credit card. At the checkout, select "cash"! Do they return to change? They do! 
The Final Verdict on the alternative apps like goPuff list
While researching apps like GoPuff, I came across numerous other on-demand delivery services like Instacart, Seamless, UberEats, Shipt, etc.
All of these allow users to purchase groceries, household items, and their favorite meals from both online & local stores and restaurants. Many individuals with positive results have used all the apps listed above.
They're user-friendly, and their prices are reasonable. The best part? You can order almost everything you can imagine!
On the other hand, you can also access millions of fresh and affordable groceries through your mobile phone. Perhaps you can also take a look at them.
We hope this article has helped you find a suitable replacement app for GoPuff, and we wish you the best of luck in it.