Skout is the most common name when it comes to dating apps. It is a hugely popular app across the world. Skout isn't your only dating app; you might find that another app suits your needs better, depending on your preferences.
There are many apps like Skout for Android and iOS. Before we dive into apps like Skout, let's learn a little about the Skout application.
What is Skout?🤷‍♂️
Do you want to meet new people and have fun over Chat? You don't have to sit looking for a date or a mate for hours on the computer. Skout is the fastest-growing network for finding new friends and having fun.
Skout uses its user's smartphone's GPS technology to locate someone nearby while they are out and about. You can quickly see everyone nearby looking for someone to date right when you are.
It's a dating app in the Social & Communications section. You can also see other people in your area looking for someone like you.
Skout is available on over ten platforms, including Online/Web-based, Android, iPhone, Android Tablet, and iPad.
How Does Skout Work
Skout uses GPS to find out which Skout member is nearby and matches them. The application has successfully generated thousands of success stories. Some members have been involved since 2005, when the application was first created.
Skout registration is easy. You need to fill out a few details about yourself, such as your name, age, sex, and a brief description of what you enjoy doing. Then, upload a picture.
After you've filled in the required fields, you can start searching for people near you. The grid shows photos of all members located nearby. You can choose to chat, flirt or send messages to them.
You will also receive a notification from the application in the following cases:-
If someone is new near your location

To let you know when someone has checked you out

Notify me if someone adds to your Hotlist
Skout has a large user base around the globe. Skout is well-known for being the first dating app that works based on your location.
It's impressive that a website with only 11 years of existence has attracted a staggering 5.5 million visitors since its inception. Skout is available for both Android and iOS users. That is why Skout is so popular.
Skout at a Glance:-
Skout is available to singles around the world.

Registering with Scout is easy and quick.

All members of Skout can send messages for free.

It provides affordable premium plans and free accounts.

All users can comment and give likes on photos.

Unique features include the 'Back Stage,' where you can hide pictures and allow others to unlock them.

Many advertisements are included in the free version of Skout.

Many profiles on Skout contain incomplete information.

Skout is available for free.
Features:-
1. Backstage
Here you can hide pictures and allow other members to unlock them. The unlocking price can be set from 10 to 10,000 points. You get a percentage of the points for every user who unlocks your photos. Members who unlock your image can rate it anywhere from 1 to 5 stars.
2. Shake to chat
This feature is available in the Skout app's Chat function. Click on this feature, then shake your phone to match you with a random nearby user. Although it is risky because you don't know anything about the person, the thrill of the match is worth it.
3. Buzz
Buzz is a place to show off your personality, not just your profile. You can post content like photos and fun questions to engage people in conversation.
4. Skout Travel
You can travel to hundreds of places around the globe with a 24-hour ticket. Your phone will be set to that selected city, and all the features will be local according to the city you traveled to. This allows you to explore the culture and meet people from other cities.
Who is Skout for?
Singles who are looking for romance.

People who seek friendships and community building.

People who wish to expand their social circle.
Who is Skout not for?
It's not for casual daters.

Do not cheat on your partner.

For those who want erotic content, this is not the right place.
Help and Support
The website has highly responsive customer service. The executives are highly trained and will go out of their way to help users. Users can use the Report Abuse button to report any abuse they are experiencing from other members.
Pricing Structure of Skout
Skout's basic app is free. Scout+ for iPhone costs $3.99. It removes banner ads and gives you more screen space. You can also use the points system to send virtual gifts to certain users.
You can purchase points at different prices $4.99 for 500 points or $41.99 for 7500 points. They are "in-app" purchases once Skout is installed.
Which Apps Like Skout Should You Choose?
Many dating apps claim to be the best Skout alternatives. Some dating apps are meant for casual relationships, while others are for long-term relationships.
Other dating apps are available that cater to queer or bi or gay or lesbian, or transgender people. It doesn't matter who you are interested in; some apps will cater to your interest. It's subjective as to which dating app you should use.
If you're looking for serious relationships, choose an app with a record of long-term relationships. If you are looking for a short-term relationship, you will find many apps that let you meet people at special events. It allows you to meet attractive people and have a great time.
We have highlighted every dating app to make it easier for you to find the right match. Look at the top apps, such as Skout for iOS or Android.
Best Apps Like Skout – Our Top Pick 👌👌
Recent research has shown that people are more likely to use dating apps than any other type of apps, such as news, games, and entertainment.
Many options are available, whether you are looking for serious dating or a casual relationship. These are some of the most popular dating apps you can download for your phone.
1. OkCupid Dating
OkCupid is one of the most refined dating apps based on your interest. This platform claims it is a dating site that doesn't just focus on your looks.
The official website states that you are more than a picture. OkCupid is a dating service that helps you find more meaningful dates by focusing on your passions and interests. You can filter out potential matches based on the things that you like.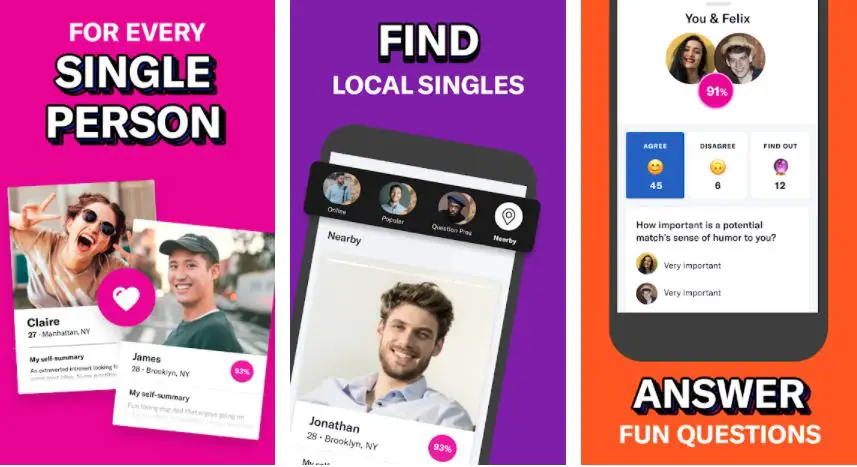 This app eliminates most of the guesswork from dating before you get matched. Many of the features on OkCupid are behind a paywall might cause some people to hesitate to use it.
It is the best app if you want your dates selected based on your preferences, not your looks.
Download the App from Google Play Store
Download the App from Apple App Store
2. Tinder
Tinder is among the most well-known and beneficial applications for meeting new people all over. It's a beautiful gadget that allows meetings and catch-ups with people and locals around you.
It's a fantastic application that can help you grow your social circle most efficiently. Tinder is among the most popular and significant applications, with a stunning community of singles worldwide. Don't be skeptical and frightened. Just swipe.
Tinder is a hugely popular personal meeting app that generates over 26 million match-ups each day, and the number is constantly growing.
It can improve your social media experience with interactive swipes, dazzling matching, excellent chatting, and unending dating. It's one of the most user-friendly and enjoyable apps to love one another.
The criteria for this app include swipes to the right to show you like them and a left swipe to leave the individual. It is easy to swipe through appealing profiles and match your ideal ones.
Tinder allows its users to communicate online with their matches and then step out of the phone to meet in real life and ignite some sparks.
Download the App from Google Play Store
Download the App from Apple App Store
3. Coffee Meets Bagel
Coffee Meets Bagel is different from many other top dating apps and tries to concentrate on quality rather than quantity.
Every day at noon, the app sends men a limited selection of possible matches based on their profile information and personal preferences.
Then women will be provided with various potential matches that have expressed interest in them. They then give women the possibility to reciprocate their interests.
The app will provide seven-day chat windows and an icebreaker if mutually appealing and mutual.
The new design made to the app for dating has put more focus on the user's profiles, allowing you to comment on pictures and profiles to create more connections among Coffee Meets Bagel users.
Download the App from Google Play Store
Download the App on Apple App Store
4. Happn 
Happn has a tagline, "Find people with whom you have crossed paths," which lets you do just that. Happn is an impressive local dating app that acts on a different approach to dating.
Happn uses social media and your geological location to connect people around you.
You can see the profile of any Happn member who meets you in real life. You can see how often you've crossed paths with the same person on the app. While this might not be very useful, it is interesting to see.
You can like or dislike people who appear on your Happn app just as you would on Skout. You can connect with another person if you like them back.
Happn has a Crush feature that lets you let the other person know you are like them.
Charms are earned from your credits, which you can earn by inviting friends or buying apps. Happn functions very similarly to Skout.
However, Happn's unique feature of showing people you've just met is intriguing and worth trying.
Download the App from Google Play Store
Download the App from Apple App Store
5. Hinge
Not wanting to follow the path set by swipe-driven apps, the dating app Hinge emphasizes conversations and relationships.
Hinge's explicit purpose is to bring you to a point where you've completely uninstalled the app, probably because you've discovered love, but not necessarily because you've found it through the application.
Hinge does not like being snubbed when it comes to swipes and offers an even more comprehensive profile that can be filled in with photos and stories.
Users can like or comment on something on your profile to start conversations. Every day, you can look up new suggestions and see those you have liked on your profile.
Hinge immediately responded to the shelter-in-place crisis triggered by the coronavirus epidemic by launching Date From Home features. The other changes include joining companies like Chipotle and Uber Eats to encourage users to make dinner dates.
A redesign was introduced last year, Standouts, a feature that highlights people who seem more likely to match your profile. Hinge believes it could spark conversations with your potential partners.
Download the App from Google Play Store
Download the App from Apple App Store
6. Plenty Of Fish
Most Plenty Of Fish app features allow users to send unlimited messages, view complete profiles, and more.
It gives you the freedom to explore more matching profiles. It hosts one of the largest dating communities worldwide, with over 150 million members.
Chatting or making live video calls with other singles is possible. With the Plenty of Fish dating app, you can meet other singles. The best part about this dating app for free is that it does not require matching their profile or signing up.
That's what makes Plenty Of Fish the ideal option for Skout. Plenty Of Fish app is free to download and use. If you are searching for the perfect partner, download this app and begin making connections with other people immediately.
But it is difficult for women to find the right match because of the many fake profiles and frustrated men who use this service.
The app is only available in a few countries, including Canada, Ireland, Spain, Germany, the United Kingdom, the United States of America, Italy, Australia, France, and New Zealand.
Download the App on Google Play Store
Download the App from Apple App Store
7. Bumble 
Bumble is the perfect dating app for women tired of getting sexist messages from all the dating apps. It is designed for meaningful conversations.
Bumble is one of the best apps like Skout, but with one crucial difference. Bumble only allows women to initiate a conversation.
You can view the profiles of potential matches on the app and like or dislike them. When both of you like one another, you can start a conversation.
Wait, you're not in luck if you're a man. Only women can start the conversation. Both men and women can benefit from this approach. First, women don't have to suffer through horrible pickup lines every time there's a match.
Second, if a woman initiates the conversation, she is genuinely into you. All you need to do to prevent this from happening again is not ruin it.
The app also has sections dedicated to people who want to meet, make friends, and network.
Download the App from Google Play Store
Download the App from Apple App Store
8. eHarmony
eHarmony is proud to claim that it is the first online dating service to employ a scientific approach to matching highly compatible singles.
It's an excellent dating app with a unique compatibility matching system.
Their website explains that the company uses its proprietary Compatibility Matching System technology, which matches single men and women based on nearly 30 dimensions of compatibility to create lasting and satisfying relationships.
It means that you, as a user, can be confident that matches displayed by the service only include compatible people. You have a better chance of making a date work.
eHarmony is designed for those who get tired of being on dates with people they don't like. This service is for you if you want long-lasting relationships and successful dates.
Download the App from Google Play Store
Download the App from Apple App Store
9. Truly Madly – Apps Like Skout For Indians
Apps like Skout, Tinder, or Happn can be used worldwide and are acceptable for Indians. However, TrulyMadly offers the best experience for Indian dating. This app was created for India and hosted the largest Indian dating community.
It uses your preferences and matching algorithms to find the best suitable matches. You can find many other unique cool features on TrulyMadly.
One of these features is 'Spark.' It allows you to send a personalized message to someone you like, even before they want you back. It makes it easy to stand out in the crowd and get their attention.
To combat fake profiles, TrulyMadly also uses trust scores. You can verify your Facebook profile, LinkedIn profile, and phone number to increase your trust score.
It makes it easier to identify fake profiles from your potential matches. TrulyMadly offers a series of 'Quizzes,' which you can take to get to know one another better.
You can create and upload your video profile. It allows you to express yourself better. All photos and videos you upload are also screenshot-proof, so your images will not be stolen.
If you are an Indian looking for a date, TrulyMadly is the best apps like Skout.
Download the App on Google Play Store
Download the App on Apple App Store
10. Grindr
Grindr, a dating app for gay, bi, and trans people, is an app like Skout. Grindr was launched in 2009 and has become the most prominent gay, bi, trans, and queer social networking app.
It's hard enough to date. But it's even more difficult for those who are not straight. There is no way to tell if the people they like have the same sexual preferences. Grindr removes the guesswork from gay, bi, trans, and queer dating, allowing people to meet like-minded individuals.
Grindr is a location-based dating service. It functions in the same manner as Skout. Sign up, create a profile, and you can browse photos of other members from your area.
To learn more about the image, you can click on it and send an instant or text message to anyone nearby.
Grindr can be downloaded for free on iPhone, but Grindr Xtra is a monthly paid subscription to access many more added features. Grindr Xtra does not display banner ads.
It allows you to see more people per search, receive push notifications when a new person in your area is available, send photos quickly, and switch between multiple chats with other people.
This dating app offers a free seven-day trial for Android and Blackberry phones. After that, you will be charged $4.97 per month.
Download the App from Google Play Store
Download the App from Apple App Store
✅Frequently Asked Questions
Which app is similar to Skout?
Several apps resemble Skout, which functions as location-based social networking and dating platform. Some of these apps include:-
Tinder:- Popular dating platform letting users swipe right or left on potential matches based on profile pictures and bios. Mutual right swipes enable chat and possible meet-ups.
Badoo:- Dating, social networking platform focusing on connecting users through the location. Offers profile verification, video calls, and a variety of search filters for finding matches.
Happn:- Location-based dating platform connecting users with people encountered in real life. Crossing paths brings profiles on each other's app, allowing profile viewing, liking, and conversation initiation.
MeetMe:- Social networking platform helping users discover and interact with new people nearby. Chat, video call, and participate in activities like games and live streams.
OkCupid:– Dating platform emphasizing compatibility via in-depth profiles and questionnaires. Users matched based on responses and stated preferences.
Are Skout and MeetMe the same thing?
Skout and MeetMe aren't identical; they're separate apps. Sharing similarities as location-based social networking platforms allow users to discover, connect with new people nearby, chat, and engage in various activities.
MeetMe acquired Skout in 2016, operating under the parent company, The Meet Group. Despite this, they retain individual identities, catering to slightly different user experiences.
Are there any apps similar to MeetMe?
Several apps resemble MeetMe, facilitating social networking, discovery, and connection with new people. Some include:-
Skout:– Location-based social networking, dating app allowing user interaction, discovery, chatting, virtual gift sending, and profile promotion.
Bumble:– Unique dating app where women initiate conversations with heteros#exual matches. Offers options for finding friends (Bumble BFF), and business connections (Bumble Bizz).
Tinder:– Widely-known dating app enabling users to swipe right or left on potential matches based on profiles. Mutual right swipes lead chat opportunities and possible meet-ups.
Happn:– Location-based dating app connecting users crossing paths in real life. Encounters make profiles appear on each other's app, allowing profile viewing, liking, and chatting.
Tagged:– Social discovery app designed to meet new people and make friends. Users browse profiles, play games, interact through chat, and live to stream.
Is Skout better than tinder?
Both apps offer distinct features, catering to slightly different user experiences.
Skout emphasizes meeting new people, making friends, and combining social networking and dating elements.
Users discover others nearby, chat, send virtual gifts, and promote profiles. Skout suits those interested in expanding social circles and seeking a friendship-dating mix.
Tinder, primarily a dating app, uses a swiping mechanism to match users based on profile pictures and bios. Focus leans toward casual dating and hookups. If seeking romantic partners, Tinder might be preferable.
Ultimately, choosing between Skout and Tinder comes down to personal preferences and objectives. Trying both apps helps determine which best fits needs and goals.
1. Is Skout safe?
Skout dating site is safe and secure for casual friendship or hookups. Only one condition: you need to be careful when dealing with strangers. You don't want your website to have a lot of underage users, and you don't want to finish on the wrong side of the law. Being cautious is your best bet.
2. Can You Find Serious Love on Online Dating Apps?
Many people have found love via dating apps for online use. These apps allow you to find a partner with similar interests to make a better match.
3. How to Use Skout?
Skout is easy to use. Registering on Skout takes less than 2 minutes. You don't need to answer lengthy questions or upload a photo. You are done once you have registered. You will receive notifications from the website about matches based on your IP address and GPS location.
Final Thoughts
These apps like Skout will help you improve your dating game. Skout has grown into a dating platform that has helped millions find love and friendship over the past decade.
Skout is a great app, but it's not for everyone. There are many other dating apps. We have included many dating apps above that can help you out. We hope that there is one for you.