Ciao!! You must be here to know about the Best apps to learn Italian. To start with, "Ciao" means hello. So, there you go, you have already started learning another language.
We have created a list of all the apps that are perfect for you and free that will help you learn Italian in the best manner possible.
It may not be the easiest of languages to learn, especially if you travel to other countries. Instead of buying an Italian dictionary and searching for every word, simply open the app and learn everything you can to make yourself fluent.
You can also add this to your dictionary since people love to hire someone who knows an additional language.
Also, you may have come across many such apps on the web, and it can be difficult to choose one for yourself.
So, keeping everything into consideration, we have listed the list here. Make sure you go through theM carefully and decide for yourself.
Best Apps to Learn Italian – Our Top Pick 👌
1. Busuu: Language Learning – Learn Spanish, Italian
We picked Busuu as our favorite, as it has been an incredible app over the years. It is powered by AI and available on multiple platforms, such as iOS, Android, and the web.
You can easily interact with native speakers worldwide and learn some very popular languages apart from Italian, such as English, Arabic, French, Japanese, German, Portuguese, Chinese, Spanish, Polish, Turkish, and Russian.
There are multiple courses and vocabulary lessons that you can try out. After each one ends, you can chat with native Italian speakers and learn a lot from them over a chat or learn to speak Italian through verbal conversation.
There are mainly two courses present on the app for Italian learning i.e., either the Complete Italian course or simply Italian for Travel.
To make things easier, you can set up a schedule for yourself. Simply make up your mind about the time and duration you wish to learn, and let the app set the schedule for you.
The AI-powered learning platform will send you notifications every day at the specified time. Although it isn't free of cost and it is worth the money.
Pros:-
12 Languages available

Cross-Platform Availability

Connect easily with native speakers

Multiple courses and lessons

User-friendly and smooth
Cons:-
The free plan has too many limitations

Cannot shut off notifications
Platform Availability
Android (Download Here), iOS (Download Here), Website
Pricing:-
Free Trial
Premium Plan- € 9,99 / month, € 5,83 / month, € 5,41 / month
Premium Plus Plan- € 10,99 / month, € 6,66 / month, € 6,24 / month
2. DuoLingo
Duolingo is one of the best free apps to learn italian. That has a lot of courses, lessons, etc. Not only is the app user-friendly, but also, every lesson or step of the way, you will enjoy learning.
You need to create your profile on the platform using your Facebook account or Gmail and get started.
Select the number of languages you want to learn and add them to your list. You can set up your time so that the app reminds you of every day.
It is available for Android, iOS, and web users as well. You can take up many things; start with the beginner level, and reach up to the pro level as you learn.
It makes each step of the way interesting for you by awarding you points. Also, the app has a repetitive word function where it will show you the words you missed out on or learned incorrectly.
Use the forum to medal in the discussion and solve your queries. You are even free to take tests so that you can know where you are at.
It has a section where the dictionary helps you learn words and find the meaning of the words page where you can specifically learn new words every day.
Pros:-
Free and easy to use

Vocabulary, speech practice, phrases, etc

Stunning and user-friendly interface

21 Different languages available to learn

Offers repetition and Audio practice
Cons:-
Only beginner-level learning

Speech recognition could be better
Platform Availability
Android (Download Here), iOS (Download Here), Website
Pricing
Free of Cost, and Duolingo Plus (ad-free)- $9.99 / month
3. Babbel
Babbel is a free app where you can easily choose among the 12 languages listed in the app. As you are looking for the Italian language, there is nothing more perfect than Babbel.
There are loads of apps that provide you with courses and lessons. Here, you can interact with 100's experts worldwide.
Learn not only lessons on the app but also learn how to speak it. It is beneficial to have a conversation while you travel and with others.
Although the free version will give you access to the first course, you will have to pay some money to continue.
Apart from this, the course includes audio recordings and dialogues from native speakers and is not computer-generated. All the lessons mentioned are about 10-15 mins long, which is easier to learn within a day. 
Furthermore, since it is compatible with the android and iOS systems, all your progress will be synced across every device after you log in.
After taking the lessons, you can take the revision lessons to brush up on your skills.
With the help of speech recognition technology, you can learn to pronounce words and have real-life conversations.
Well, with Babbel, you can learn by reading, writing, speaking, seeing, or even listening.
Pros:-
Real-life conversations lessons

Takes on 10-15 mins each day

Design is top-notch

Over 12 languages are listed to learn

Very easy to navigate
Cons:-
Free for the only first lesson

The interface isn't the best
Platform Availability
Android (Download Here), iOS (Download Here), Website
Pricing
Free for the first lesson, Subscription- $12.95/month, $8.95/month (3-month package), $7.45/month (6-month package), and $6.95/month (1-year package).
4. Mondly
Mondly has a superb interface, and the design makes it worthwhile for the 21st century. The app is available for both Android and iOS devices. Simply download, make an account, and get started for free.
Learn 33 Languages Free - Mondly
It also has the premium version, where you can access all the languages apart from only Italian. From grammar to vocabulary, you can learn everything in different lessons.
It has a build-up road map with sections like Family, Grammar, Travel, pets, Countries, Weather, etc. After each lesson, completing the app gives you points to keep you motivated.
There is a special section where a proper conversation lesson has been added so that you can also learn to speak, along with simple words.
Use the app statistics to keep yourself track of your daily progress. It shows the number of points you have, the total lesson you have learned, words, and phrases, along the day-wise schedule.
The free version allows you to learn only one app, so simply pick the Italian language without paying for it.
All the other 32 languages mentioned will be available once you take up the premium subscription.
Pros:-
Excellent interface and learning experience

Conversational chatbot to help in speech learning

Multiple lessons and courses

Over 33 languages to learn from

Effective speech-to-text software
Cons:-
Lack of differentiation between levels

Not entirely free
Platform Availability
Android (Download Here), iOS (Download Here), Website
Pricing
Free (1 language), Premium Subscription: $31.75/year
5. Drops – Apps to learn Italian While Playing Games
Drops are yet another one of the great apps to learn Italian. It is an excellent way to learn new languages, with over 33 languages you can choose from apart from simply Italian.
Drops: Learn Korean, Japanese, Chinese, Hebrew and 30 more languages!
You can easily download it on your Android and iOS phones and also try it out on your web browser at any time of the day. With the help of games and fun activities, learn word-by-word using the mnemonic images.
It has a feature where you can connect with a native speaker who can teach you proper conversations. From learning how to shop or bargain to asking for a coffee in a restaurant locally, you can learn everything word by word.
It also has over 200+ travel-oriented words helping to learn something new daily.
Using the app, you can get up your daily schedule and timer reminding you to start learning for a particular timeline. The app has a fabulous interface and design that keeps you engaged at every level.
You can use the app for up to five minutes every ten hours. To access all the content, a paid person is worthy of paying the money and investing your time in it.
Pros:-
Daily reminders are perfect for being on schedule

Swipe away if you already know the word

Multiple lessons are available such as Travel, Business, etc.

Cross-Platform Availability

More than 35 languages to learn
Cons:-
Skips basic info about languages

Contains random unrelated words
Platform Availability
Android (Download Here), iOS (Download Here), Website
Pricing
Free of cost, Premium Subscription: $9.99 (monthly), $69.99 (yearly), and $159.99 (Lifetime)
6. Bravolol
Learning Italian with the use of the Bravolol app is an excellent choice. This app, too, is available on your smartphone, supporting Android and iOS versions.
Simply register on the app and select the language you wish to learn.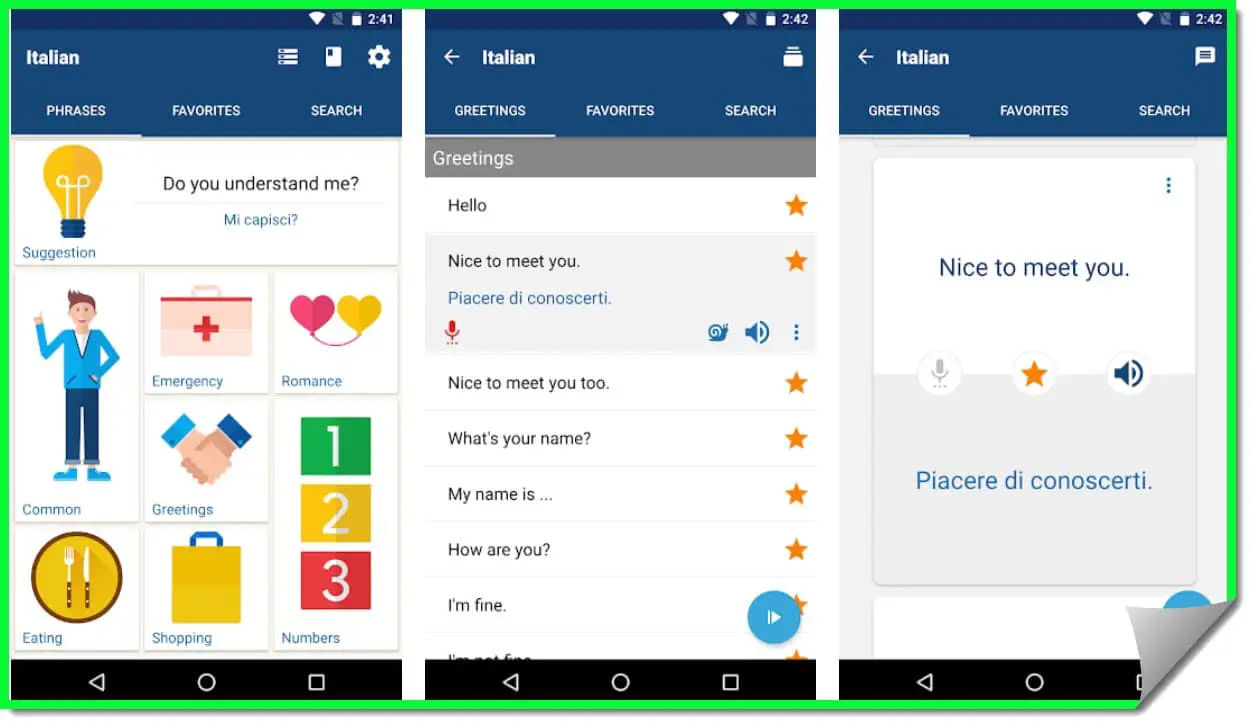 It has been specifically designed for everyone looking to learn Italian as soon as possible and in the best manner. You will find loads of phrases, words, sentences, etc., to learn from. Take your time and make sure you become fluent while you learn.
As soon as you tap on the phrase, the app speaks it aloud for you so that your speech skills are well brushed up and tested. Similar to what you may see in the Duolingo app, this, too, has a small snail icon beside the speaking out-loud option.
If the bot speaks too fast for you to understand, which may often happen since you have just started, click on the snail icon and the bot will break down the words and speak slowly for you.
Native Italian speakers have recorded the voice-over, and you can practice listening to them daily. All you need is at least 10-15 mins of your time to learn.
Record your voice as you speak and try to learn most effectively. Everything on the app is offline, and you need no internet connection.
Pros:-
Loads of Italian phrases and words are available

Voice recording & playback

Instant search by keywords

Customizable font size

Does not need any internet connection
Cons:-
No courses available as such

The interface could have been better
Platform Availability
Android (Download Here), iOS (Download Here), Website
Pricing
Free of Cost
7. FleuntU: Learn Languages with videos
This app is one of the most popular language-learning apps across the world. Not only is being used to learn Italian, but FluentU has access to almost every language there is, and you can pick it out for yourself and get going.
Learn a language with music videos, movie trailers, news, and inspiring talks!
Some of the popular languages available to learn on this platform are Italian, Spanish, French, English, Japanese, Chinese, etc.
It is not free of cost entirely, so you may need to buy a subscription. You can still try it out for 14 -days and decide for yourself.
The main focus of this app is on the entertainment industry. You may learn languages with movie clips, music videos, etc.
You can pick your favorite music or movie and learn directly from it to make things more interesting. Learn each word on the screen and how to use them in the upcoming aspect. 
You also learn voice learning, where you simply put on the words and hear the voice with the correct pronunciation.
FluentU also has School packages where the teachers provide a comprehensive structure for the students to learn the languages rather than having to prepare notes. This, too, has a lot of free stuff to offer but only for 14-days, after which you will have to pay for a subscription.
Pros:-
Easy to download and use

The interface is good

Learn vocabulary and grammar

Use real-world or the latest video of your choice to learn

Access the web's best foreign language content
Cons:-
Too many ads

Less number of courses
Platform Availability
Android (Download Here), iOS (Download Here), Website
Pricing
Free of Cost, Annual Billing- $20/month, Monthly Billing- $30/month
8. iTalki – Apps to learn Italian With Native Speakers
This app is exceptionally good since they provide not only courses but one-on-one interaction with professionals. Simply choose the language you want to learn and then select the teacher you want to go for.
What is italki? The Place to Find an Online Language Teacher
There are over 10000 teachers available on the platform teaching different languages. You can choose one based on their intros, experience, ratings by other users, etc.
As you know that this iTalki is not free of cost. Each teacher present on the app has different rates based mostly on an hourly basis. You can either opt for a trial which is also not free, and then go for the actual classes.
As soon as you are connected, the teacher and you will have a video season for as long as you need, and then you can continue to learn every day with ease. The teachers also have a specific day when you can choose and schedule your classes.
Furthermore, you can check out the community section, where all the helpful links are provided.
You can grab articles and notebooks, participate in discussions, find your language partner, and connect with them to increase your reach worldwide. Moreover, there are options to make certain challenges, earn badges, and more.
Pros:-
Thousand of professionals coaches or teachers are available

Flexible scheduling and connecting

User-friendly app and interface

Great designs are easy to navigate

Also can register as a teacher
Cons:-
No courses are available

Not for free
Platform Availability
Android (Download Here), iOS (Download Here), Website
Pricing
Based on each Teacher available on the app
9. Memrise
We love this app since not only did we learn Italian, but we also used it exclusively to learn Japanese too.. You will love the entire interface and the design of the application.
Memrise is an incredible language learning app that believes in selling courses to the one who needs them and interacting with language coaches or native speakers.
If you are into games or fun activities, you will be intrigued by the entire layout.
Memrise: Learn Spanish Fast, with Locals
All the courses and activities on the app are carried out by certain games where you will get achievements as you move forward. This keeps the users engaged at all times and also learns on the way.
No matter what, everything is crystal clear and super easy to navigate too. From learning vocabulary to phrases, you get everything on this app itself.
You can find tons of courses for the Italian language on the app. Pick one, make an account on the app, and just get going. Moreover, everything is free of cost, and there are no hidden fees.
It allows us to learn one language and all of it in every manner you would need. We highly recommend this app to learn Italian.
Below is the summary of the main Pros and Cons of the Memrise that makes it add to the Apps to Learn Italian 2022 list.
Pros:-
Free of cost to start with

Learn real-life conversations put up by the native speakers

Content and courses perfect for beginners

Good customization options in settings.

Loads of courses to look forward to.
Cons:-
The interface could have been clear
Platform Availability
Android (Download Here), iOS (Download Here), Website
Pricing
Free of cost. Premium Plan- $9 / month, $59 / year, or $129.99 / lifetime membership
10. MosaLingua
For all beginner-level learning experiences, especially for college students, Mosalingua is an excellent app. You can learn tons of words, phrases, and a lot more from this app which supports iOS and Android versions.
Mosalingua : Apps to learn languages on your smartphone and tablet (iOS, Android)
All the resources are also available on the web app so you can access them anywhere. Not only does it have courses listed but many other aspects as well.
You can download the mobile app and start learning immediately. Certain levels are based on experience; You can simply start from the beginner and reach the pro level.
Or if you are already aware of the languages, you can start anywhere you feel like. It isn't free of cost, and you need to pay a small nominal fee for the entire language pack, i.e., for the lifetime subscription.
The app has tons of resources available for you to learn the languages.
Over 3500+ words on the flashcards are present so you can learn as much vocabulary as possible. These written words are important, and the speech is also important.
So, you can look over the audio clips and hear them learn each word loud and clear. Learn the basics of Italian Grammar, so you are not left behind anything.
Below is the summary of the main Pros and Cons of the MosaLingua that makes it add to the Best Apps to Learn Italian list.
Pros:-
Tons of resources available for each language

Audio clips, Grammar, and flashcards present

Easy to use and navigate the app

Cross-platform availability

Choose what you want to learn
Cons:-
Not free of cost

Trial for only 15 days
Platform Availability
Android (Download Here), iOS (Download Here), Website
Pricing
Free Trial (15 days), Paid- $4.99 (Lifetime)
📗FAQ
What app should I use to learn Italian? 
Duolingo, Babbel, HelloTalk, italki, Busuu, etc., are some of the best apps to learn Italian and make it easy to master one of the most exciting languages in the world.  
What is a free app to learn Italian? 
Due to its comprehensive course that covers vocabulary, grammar, and all communication skills, Duolingo is the finest free software to learn Italian.
Although it is funded by advertisements, which occasionally interfere with your studying, the software is still excellent. Additionally, you can test out Babbel, Memrise, and Busuu for free to learn Italian. 
Is Italian on Duolingo good? 
Duolingo Italian is a fantastic tool that can take places other websites and applications can't. Despite these drawbacks, it remains one of the best resources available for learning Italian.
Furthermore, there is no justification for not using Duolingo as it only requires five minutes daily. 
Can Duolingo make you fluent in Italian? 
You won't become fluent in Italian using Duolingo. The approach is the fundamental justification. Without saying a word, you can play your way through lessons.
As a supplement to more engaging activities like discussions, one-on-one lessons, or audio programs, you can still use limited amounts of Duolingo. 
Duolingo does a wonderful job of introducing you to new words. Additionally, you'll learn some crucial grammar norms from locals.
Finding other methods to improve your speaking, listening, reading, and writing skills are necessary. 
Which language app makes you fluent? 
Mondly approaches language acquisition in a novel way. For example, the app's lessons begin by emphasizing phrases rather than single words, which offers you useful tools for having conversations rapidly.
And if having the right pronunciation is crucial, you'll value the app's two features: You may practice having genuine conversations with AI chatbots that utilize voice recognition to evaluate and train your speech while hearing native speakers. 
How long does a Duolingo course take to complete? 
You must play Duolingo for a minimum of 130 minutes per day for 180 days to complete a language tree in six months. That amounts to 210 minutes, i.e., 2 hours and 10 minutes.  
Can you learn a language with apps? 
Grammar exercises are available through language applications, which can also be a very effective approach to acquiring new vocabulary.
Duolingo and busuu are two of the most well-known language-learning applications.
Both Duolingo and busuu have been determined to be effective in most studies. However, most of this study focuses on studies with participants also enrolled in language classes.
Since participants use the apps for extra practice, the findings do not give a comprehensive picture of language acquisition using apps. 
Conclusion on the apps to learn italian list
Here we are with the list of best Italian apps to learn Italian in 2022. These are worth it since we have gone through all of them and reviewed them based on our experience and with other users.
Make sure you go through the app's links and choose them accordingly. If you are not ready to pay for these apps, we have some free apps worth spending time on. Many people do not trust the quality of freebies, but these are worth all of it.
While on the paid ones, you can go for the lifetime subscription if you are dedicated to learning, and also the prices are very reasonable too.
You can use it to learn Italian and other languages such as Japanese, French, English, etc. These apps have native speakers from around the world waiting to teach others.