If you are on the Internet looking for an app that you carry around on your boating trip, we web-surfer, you have landed on the right place.
In this article, we will be talking about the best Boating apps out there in the market that will help you in navigating and extracting all sorts of information you need.
So, let's get started. 
Best Boating Apps: Our Top Pick👌👌
A very renowned app and widely used for navigation by sailors is Navionics, one of the best boating apps that a sailor should have. The app has received positive responses from the sailors and they claim Navionics as one of the best must-have navigation apps. 
The app is an all-in-one platform that can help users to work efficiently on any water-related tasks such as sailing, cruising, fishing, and many more. But it is best for use as a navigation system.  
The navigation platform heightened SonarChat along with HD contour so that sailors won't have any difficulties in sailing. This platform not only helps users in water but also on land as it shows underseas topography as well as land's terrains. 
Although everything is between you and Navionics, there is a third-party integration when it comes to getting satellite images. And to make your journey much easier and to reach your destination much faster, Navionics also has a route map that tells you which path to choose.  
It provides ETA (Estimated time of arrival), Fuel consumption rate, and much more insights on such things. It is possible due to Navionics having dock-to-dock auto-routing.
After getting all these features, you agree with me now on Navionics being one of the best boating apps that a sailor should include in the best-navigating apps treasure trove.  
Download the App on Google Play Store
Download the App on Apple App Store
2. Marine Traffic – Ship Tracking
Many times yachts, boats, and ships drift away from the dock but locating it becomes easier with the help of Marine Traffic. It has a real-time ship location tracker that has helped many sailors to get their vessels back. 
Over 100,000 vessels have been found from all over the globe with the help of Marine Traffic. After installing it, users will have a map with major shipping routes and ports on it, which has a direct link with AIS receivers.  
MarineTraffic Mobile App - Android Favorite Ship Tracking App
It has a lot to offer to its users such as route maps, live locations, wind and weather forecasts, and many more. Not only does it allow users to find vessels but also to save them from any harm or damage.  
The tool has live weather forecasts and also informs its users about upcoming weather, as they can get insight on 48-hour wind forecasts. The app is in its prime stage when we talk about its vessel identification feature. 
Through the device's camera, users can easily detect vessels, a feature that not many apps have in, even the best of the best apps lacks. And it is all thanks to Marine Traffic augmented reality tool that straight away identifies the vessel.  
Download the App on Google Play Store
Download the App on Apple App Store
i-Boating is an app that solely works to provide or view marine charts. With its long list of charts, starting from nautical charts, river navigation charts, and lake contours for kayaking or sailing, i-Boating is a prime destination.  
Its Voice Prompts features to enable users to get possession of the best assistant that can provide a sailor with boat routes. It has plenty of options that can not only make life easier on water but also make it fun.  
i-Boating: Marine Navigation & Lake Maps for Android
Some of the features that a user will get are offline charts, ake depth maps, recording marine tracks, and many more. But the app does not stop here and showers users with a wind predicting tool, anchor alarm, and a piece of long detailed information on tide and currents.  
This is one of the best boating apps that a sailor from any part of the world can have under its possession and use it. The app has a ton of useful information on marine charts for lakes, waterways, and rivers of varied states including Germany, the UK, Canada, and so on. 
Download the App on Google Play Store
Download the App on Apple App Store
4. VesselFinder
A person should get VesselFinder before selecting the path of a sailor. It is one of the most straightforward and easy-to-use vessel tracking platforms that comes with a real-time vessel position detector.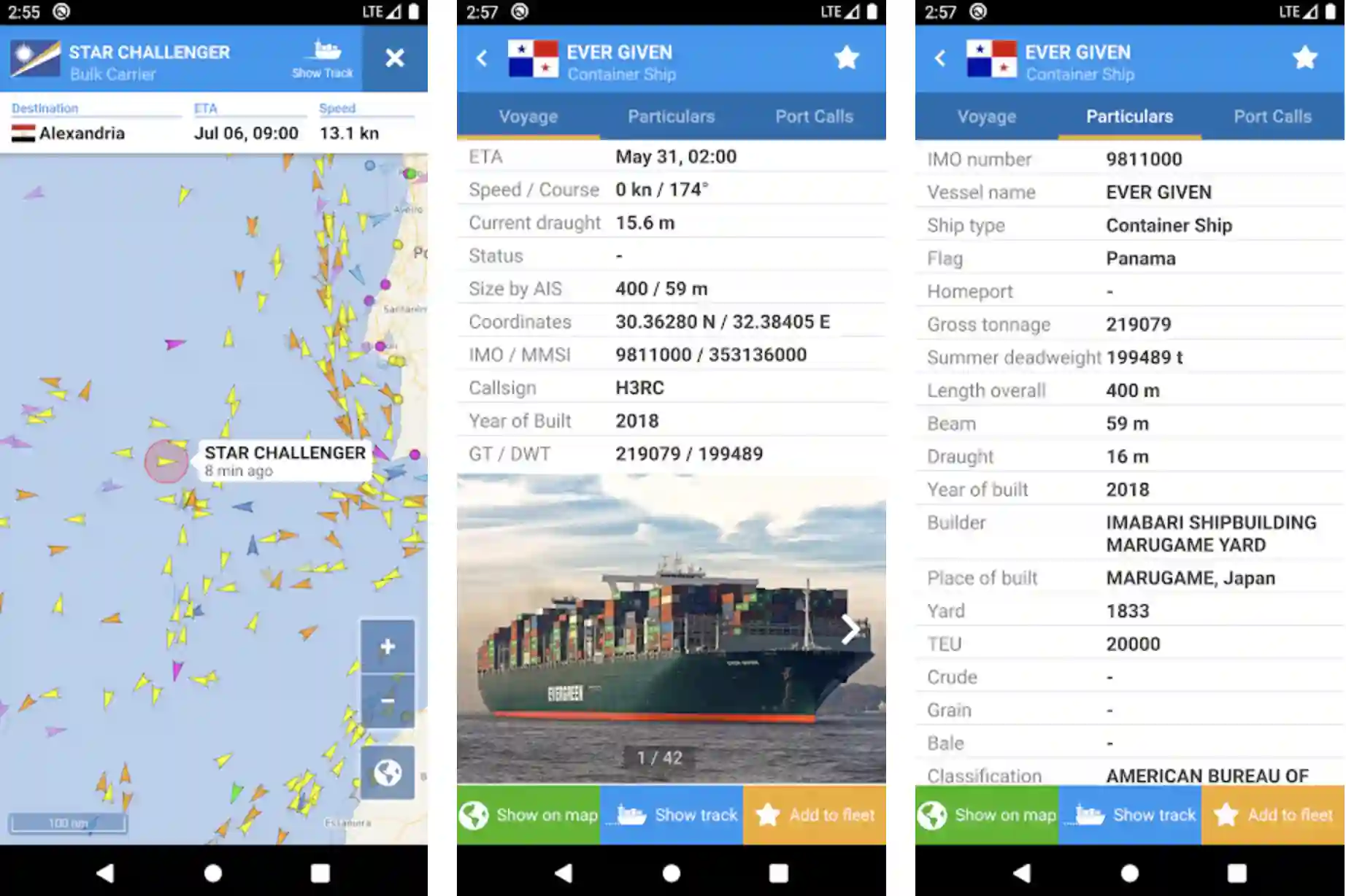 It has a terrestrial AIS receiver with a widespread network that allows users to find their vessel or know about their location. All possible due to its advanced tracking feature that has helped over 100,000 ships to return to their owners.  
There are other features also that a sailor can try such as narrowed ship search by using their names, MMSI number, or IMO number, getting complete details on the vessel such as ETA, destination, flag, its launching year, along with some of the original images of the photos clicked by their owners.  
And this map ensures users store the map view that can help them later along with a feature that gives users the power to categorize ships based on their size and shape. To say that VesselFinder is unarguably the best in the field, I will rest my case by saying that you will be having this tool in your asset at no cost at all.  
But many would love to go for a somewhat better version or rather not getting option sometimes make users wonder for other alternatives therefore VesselFinder has a premium version also that will unveil features like ship movement history and is ad-free.  
Download the App on Google Play Store
Download the App on Apple App Store
5. WingGPS Marine 
A modern approach to the navigation tool s what you are looking for in the app to consider it among the apps then go for WingGPS Marine. The WingGPS marine's GPS onboard will provide you with accurate navigation for a safe and sound journey.  
Apart from displaying direct locations, this tool also pings you up with marine charts that can be stored on the device for later uses.  
WinGPS Marine voor Android
This Stantec product is capable of guiding a ship and handling it well in various water-related tasks such as sailing yachts, canoeing at the sea, and kayaking on inland water. To get started with all these features, you just have to download the app on your device and that's that. 
The app is housing up-to-date charts that will help users with easy navigation, tracking, and managing charts, and comes with SD-card support. An all-in-one solution, WingGPS Marine is used for keeping distance from speed vectors, a solution for retrieving lost memories with the help of the man-overboard option.  
Also, it has a simple AIS and a GPS connection that can be used by either Bluetooth or Wi-fi. All in all.
Download the App on Google Play Store
Download the App on Apple App Store
6. Nautical Sailmate
A very good app for leisure sailors is Nautical Sailmate which offers the best nautical charts out there.
The app has a multi-functional interface that allows users to do a lot of tasks such as browsing, zooming in on official nautical charts, finding an approximate location, and so on. And to make you love this boating app more, I can say that you are getting all this in no fortune. 
The app is straightforward and simple to use so that no one would have any difficulty in working with it, and users can also create 5 customized points of interest.
The app is coming free of cost but it also has the availability of a premium version for some exclusive and exquisite features, for example, infinite personal POIs, marina maps, offline charts, and such likes.  
Download the App on Google Play Store
7. RAMS Mariner – Marine GPS Dashboard & Recorder
Sailing, fishing, navigating, everything will be disastrous if sailors are not aware of their surroundings but RAMS Mariner is providing a GPS on the voyage for alarming the sailors about their environment.  
It has a plethora of features that many would want in their best weather apps for boating, and some of them are logbook automation, travel time estimation, and so on. And to reduce sailors' load, the app is allowing them to record their trips so that it would be easy to recount easily.  
It also comes with a speedometer gauge that is customizable so it can adjust according to the user. And you are also getting cloud storage space for better uses ad syncing all these data on the device. You will be given a 5-speed unit for effortless conversion.  
No, the features list does not end here as you will also be stocked with live local weather and wind-displayed tools that can keep you hooked with real-time weather reports. To keep you aware of the time and calculate the time your trip will take, RAMS Mariner has a travel time calculator.  
Download the App on Google Play Store
8. Ship Locator – Ship Tracker & Vessel Finder
Another ship tracking tool is Ship Locator. It is a modified version of marine traffic. It allows users to track down vessels thus a very subtle ship finder platform. The app is used for tracking ships only with the help of mobile phones and nothing else.  
The app has tracking tools that track down shipment as well as work going on the ports and has good working marine navigation that can work fluently when it comes to nautical traffics. It would be a better option for people looking for their lost ships and vessels to get help from Ship Locator.  
It has a plethora of features such as a vessel map, live marine traffic, ship schedule, and so on.  
And if some exquisite pictures are what your heart desires then Ship Locator has a ton of marine-based pictures saved in its database. Along with it, Ship Locator has some beautiful marine videos of marine traffic that can be easily stored on the device. 
Download the App on Google Play Store
9. Marine Radar – Ship tracker
Moving on we have here Marine Radar entering the list of best-boating apps in its full glory for the Android operating system. With beautiful designs and an easy to get on with interface, you will be in no time tracking ships.  
The app allows users to keep track of the traffic all around the globe vessels in a cool way. Marine Radar has a feature called Cargo ship, it will analyze every movement of your ship from its initial point to the type, and the line.  
It satisfies each information with the help of different colors so that it will be easier for you to keep a track of ships. 
Download the App on Google Play Store
10. Boat watch
An exclusive platform, dedicated only to iPhones and iPad, Boat Watch is the name that iOS users should take when they want to talk about vessels and ships. The very minimal task of Boat Watch is to detect the location of ships and boats all around the world.  
And it does not take that much time to figure out the identity of boats so pretty much good in this department.  
Do not worry as the features you are getting in Boat Watch do not end here, you will also get identifying features and tracking them. The app comes totally free of price but does not shorten its users on any of the needed features. 
Apart from the free version, it also has a premium version which opens the users' door to some exclusive features such as long details on boats, recent track details, augmented reality, and many more such features.  
Download the App on Google Play Store
Download the App on Apple App Store
11. TrackashipUniversal

 
iOS sailors can now release a comforting sigh as they get one of the top-notch boating apps in the form of Trackaship Universal.
It's a destination for ship lovers who love to get information on anything related to ships. It has fleeting details on ships, their locations, their speed as well as their size.  
With an easy-to-understand and easy to get attracted interface, Trackaship Universal has a lot of fan following going on. To make it easier, it has an exclusive graphical designing and it has huge icons so that users can easily get to the feature they were looking for.  
And the list of features goes on with some other Trackaship Universal's own features such as a built-in compass, and OpenSeaMap data.  
Download the App on Apple App Store
12. OnCourse – boating & sailing
An absolutely free boating app for users is OnCourse which makes the boating experience and time worthwhile. The app is a gift from Marine Traffic to its users as it allows users to navigate the vessels.  
The app allows users to take full advantage of being on a boat as well as helps them to be aware of their surroundings. And what's a better platform than the one that comes fully packed with useful features.  
You can also plan and keep an eye over the voyage along with sizing up the optimal route. I Can not help myself by informing you about the feature that allows the sailors to add customized waypoints using the app.  
It also follows its creator footpath, as apart from mentioned features, it also lets users detect vessels and track them. The app is feature-packed as it also lets users share their sailing adventures with the one that shares the same excitement about the sea.  
And it is possible only by clicking the share option. The unique ones in the market are very few so after getting the insight into OnCourse's list of features, I can surely say that sailors would let go of one of the best assets if they are not given a chance to OnCourse.  
Download the App on Google Play Store
Download the App on Apple App Store
13. SeaPilot
If you want to mash up navigation tool along with Facebook then you will get the end result as SeaPilot. The apps let its users use the platform for navigation on the open seas and at the same time, they can also have connections with their friends.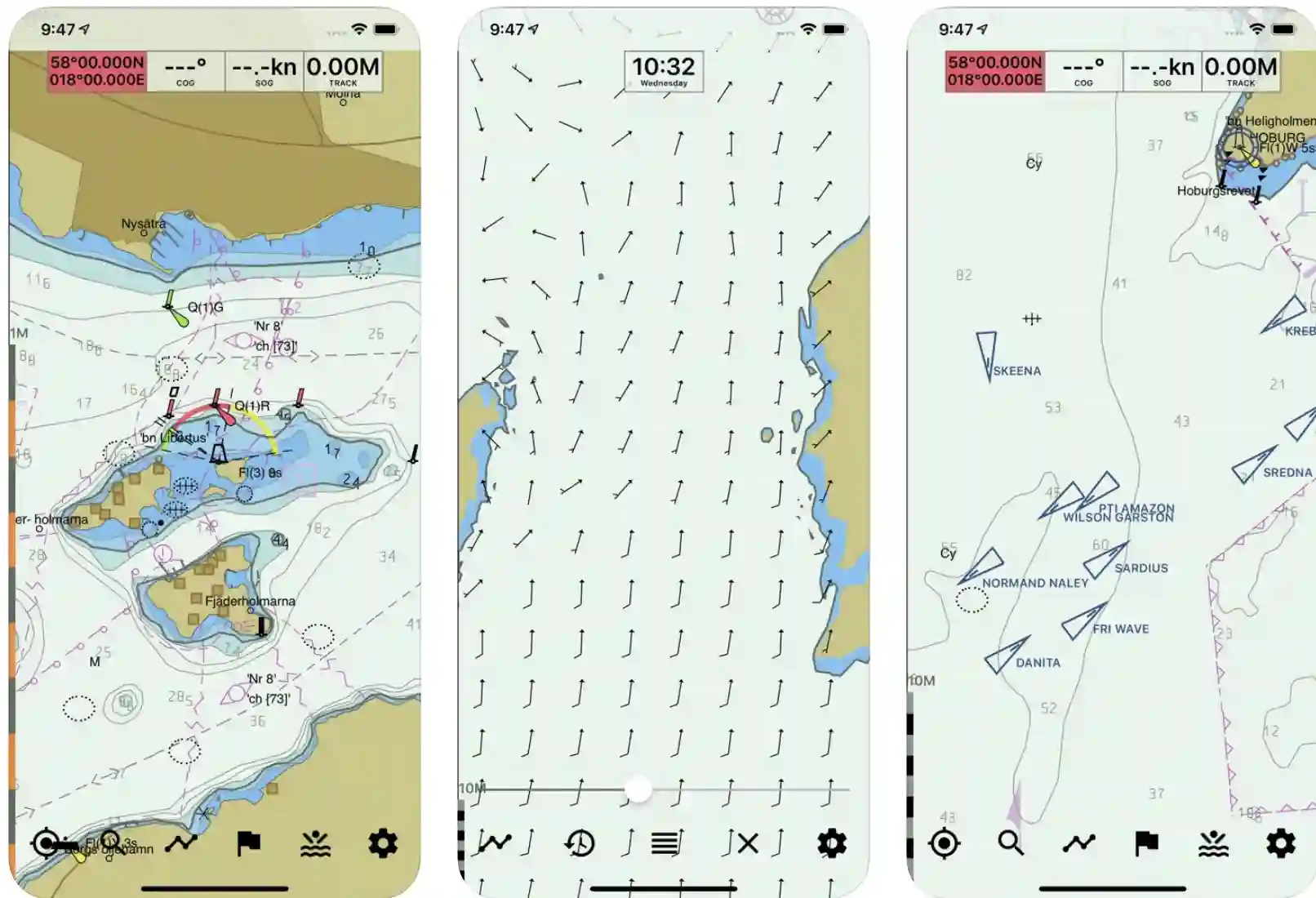 And what's better than one of the oldest social online platforms, Facebook. And apart from navigation facilities, and Facebook connections, it also suppresses others in the weather forecasts department.  
The responses from the critics on its functionality and its features are almost all positive. The app is a must-have for the crowd who would love to have a navigation tool cum feather forecasting tool as well as connecting tool with friends who hold the same interest.  
Download the App on Google Play Store
Download the App on Apple App Store
Another navigation tool for users other than Navionics and others is iNavx. It has an advanced set of navigation features that many sailors loved using. App has one of the smooth interfaces that not only works as a navigator tool but also provides GRIB files. 
These GRIB files will be displayed on the Chartplotter screen thus making hard production easy. There is a special feature in the tool which allows users to integrate a large number of latitudes in the chart.  
This feature is accessible due to the eight benefactors of the iNavx app. If you are looking for an easy-to-use navigation app then iNavx is one of the best boating apps.  
Download the App on Google Play Store
Download the App on Apple App Store
15. FishBrain – local fishing map and forecast app
FishBrain, this tool here is for fish lovers who would love to go fishing. Finding new destinations for fishing every time you go out sounds adventurous to me. The platform is storing maps for more than millions of fishing destinations.  
Fish smarter with Fishbrain app
After getting the right destination, users can also increase their game as the app offers species details residing in the selected area and what bait to use for better catches. And you can also share your fishing experience with others by recording them.  
Download the App on Google Play Store
Download the App on Apple App Store
16. Fishidy: Fishing Hot Spot Maps, Reports & Tips
Fishers, either professional or fishing lovers can know where a near pond is to have fun fishing with the help of the Fishidy. The app is one of the best fits for fishers who love to show the world their catch. 
It allows fishers to click a pic, record different fishing areas, and share their adventure with fellow fishers and families. It has over 17,000 waterways thus creating golden opportunities for fishers to catch a large shoal of fish.  
And to make it more likable, Fishidy has integrations with different social sites so now even friends and families and fellow angles can also get insights on your recommendations.
The app has both services: paid as well as free services but many users preferred paid services over free services due to it being more feature-packed than the free plan. 
Download the App on Google Play Store
17. Fish Track – Fishing Charts
A fully packed platform that many saltwater anglers would love to use is Fish Track. The app provides a report on the sea surface temperature (SSTs) along with satellite imagery and weather forecast, and to add charm to the app, users are getting all of these in the form of layered maps.  
The app is one of the apps that a sailor should know about and add to its asset of best boating apps. The sailors can get started with the app with a free 15 days trial and after the completion of the period, sailors have to purchase a premium version.  
The premium version has advanced features such as real-time tides reports, solunar tables, and many more. 
Download App on Google Play Store
18. Predict wind
One of the major concerns for sailors are wind and its direction, it can become dreading in the blink of an eye, and predicting the wind's direction can help the sailors from avoiding this dreadful blow to them.
All thanks to Predict Wind app, now it is possible to predict wind (as the name suggests) and avoid any blow.  
PW Android App - Promo Video Tablet
It allows sailors to have real-time and accurate live weather forecasts along with the status of wind all around the globe. The Predict Wind is housing two of its own that has differentiated functions assigned to them, all related to wind.  
Inshore and coastal sailing and Offshore Sailing are the two apps with varied interfaces. One works only when a sailor has internet whereas the other works using a satellite or an SSB connection.  
The online platform uses a WiFi connection to provide you with wind forecast reports whereas the offline platform presents you with GRIB reports without the help of the internet. Predict Wind is protecting you from high-velocity wind blows so do give it a try. 
Download the App on Google Play Store
Download the App on Apple App Store
19. Ayetides
I'm sure sailors will agree with me on wind and tides being major obstacles during sailings and if yes then I have got a solution for tides. Ayetides is one of the best boating apps that a sailor should have in order to prevent any damage and hazards.
And if you do not want to be counted among lost sailors then Ayetides is helping you to get insight on real-time tides information that is always accurate. In this way no crashing or hitting awful shallow areas.  
Well, no one would like scratches on expensive boats or any damage done to them and this app can be your favorite among the best-boating apps as it helps you to preserve the boat as it was bought. 
Download the App on Apple App Store
20. GoSailing
If you want a WhatsApp room will people just like you, adventure going then having GoSailing among other best boating apps is a must. It is a platform that enables sailers to interact with their kind.  
A journey is incomplete without meeting the best people on the road and by keeping this in mind, GoSailing is allowing its adventure enthusiast to meet other sailing lovers. Not only other sailors but also natives of the place you are residing in.  
And it will also help to know out and about new places, where you can purchase particular parts or join community events.  
Download the App on Google Play Store
Download the App on Apple App Store
Conclusion 
In this article, we talked about the best boating apps for you to download. All of them are somewhat similar and different at the same time. Hence, you should go through each of them and see which one of the mentioned best boating apps is for you.