Do you have the curiosity to know about the Cheap and Best Budget Car Speakers Under 100 $ to buy in 2022? 🤔
Your search end's here with our buyer's guide.
Let me clarify: our team manually tested all the speakers in this guide, and then we came to 9 Of the best car speakers for bass and sound quality under 100$ for our readers. 📗
So without further ado, Let's dive right in. 🎭
It's important to be mobile nowadays. People spend more time than ever in their cars, and spending so much time on the road can get monotonous quickly.
There are a few ways to keep yourself entertained while driving. It is a must to keep all your attention on the road. However, music is one of the best ways to keep things lively in your vehicle without taking your hands off the steering wheel and your eyes off the road.
Music is an important part of our everyday lives, whether in your car or not. Music can be so beautifully composed, and the true value of any track is gotten when you can hear every piece of it.
Good speaker systems reproduce audio to the best of their capacity, allowing you to appreciate the full extent of whatever track you are listening to.
Due to this, car audio is now more important than ever, and it is up to the speakers in your vehicle to faithfully reproduce the music. Sometimes the stock speakers that come with your car might not be as good as you want them to be.
Maybe one of your speakers blew out, and you need a new set to replace them. Or it could just be that you want a loud speaker system to shake your car. All of these are possible because the selection of aftermarket car speakers is large.
Car speakers don't always have to be expensive, and you can get fantastic car speaker sets without dropping too much cash.
Here are some excellent car speakers that you can get for under $100.
Best Budget Car Speakers under 100 $: Our Pick
1. 

Infinity 6X9" 360 watts
These impressively designed speakers by Infinity carry a modern steely appearance with a silver and black color scheme. These speakers measure 6 inches by 9 inches, and you need to be sure they will fit in your vehicle during installation before purchasing them.
There are grills to protect 2 of the drivers, but one is left exposed, which means you need to be careful when around them. A punctured speaker cone is a useless one.
These speakers are coaxial, containing multiple speaker types in the same enclosure. These speakers are 3-Way, meaning each unit contains its tweeter, woofer, and speaker to cover the mid-range frequencies.
Coming to the technical specifications of this pair of speakers, they've each got a max power of 180 watts, coming to 360 watts for the pair. Impedance is 3 ohms, which is compatible with the stereo systems in any car.
The woofer's cone is made of polypropylene, a good and inexpensive material that produces a very nice sound.
With their low impedance and high wattage, these speakers can produce rich, powerful tones, all just by spending about $50, which puts it in our best budget car speakers list. That's enough to buy another pair and remain under your budget.
Pros:-
Clean metallic design.
3-Way speakers produce a balanced sound.
High wattage for good volume.
Cons:-
One speaker is left exposed without a grill.
Check Price on Amazon
2. Pioneer TS-A1685R
Pioneer is a pioneer in audio games. You are never let down if you decide on this pair of speakers. These speakers are almost perfectly circular, with dimensions of 6.5 by 6.75 inches.
Their appearance is almost futuristic, with a predominantly black finish and some silver accents. This pair of speakers comes with a grill, but it isn't a complete one, only protecting the tweeters and mid-range driver. The woofer is still exposed and can be damaged easily.
These speakers are coaxial and 4-Way, which means they come with both a set of woofers and a speaker for the mid-range and two tweeters.
A 3-Way speaker comes with only one tweeter, and because of that, a 4-Way speaker sometimes gives clearer audio in the upper ranges of the track.
These speakers pack the power to go with their appearance, with a power output capable of peaking at 350 watts, which is 175 watts per speaker. The cones are made with a special multilayer material.
One layer maintains the rigidity, or stiffness, of the cone and ensures that it loses its vibrational energy as quickly as possible, also known as an internal loss.
All this ensures the speakers produce crisp, noiseless sound. The impedance on these speakers is 4 ohms, which is good. Pioneer TS-A1685R is the best car speakers under 100 $.
Pros:-
The 4-Way setup gives better high-end quality.
High wattage ensures high volume capabilities.
Modern design would fit well in most cars.
Cons:-
The grill doesn't protect the woofer.
Check Price on Amazon
Pioneer TS-A1685R speakers (unbox and closer look)
3. Sony XSR1646 – Best budget car speakers for bass
Sony is well-versed in producing entertainment equipment, including audio equipment such as home stereos and headphones. Their expertise in these areas carries over to their line-up of car speakers.
The XSR1646 is a stunning set of speakers with a professional angular design that screams quality. The speakers are completely matte black, and the effect it leaves is exceptional.
These 6.5" speakers will change not only the audio experience but the aesthetic when inside. The speakers come with an X-shaped grill meant to protect the woofer, but the design makes it so that it only protects the cone from larger objects. Smaller sharper objects can easily find their way to the cone.
Most car speakers are coaxial, and these are no exception. These speakers are 4-Way so you get a woofer, a mid-range speaker in the center, and two tweeters to the sides of the mid-range driver.
Without the grille, there's an X-shaped bar to protect the mid-range speaker from blunt insult, but thinner objects will easily hit the cone. The tweeters are small, so the tiny bar covering them may be enough to prevent damage.
270 watts is the power these speakers can push at max output, which is a bit less than the other speakers on this list but is regardless of a capable value.
The volume should be sufficiently loud for most uses. This pair of speakers is relatively cheap at $40, especially considering it is from a big-name brand like Sony, which perfectly fits in our best budget car speakers list.
Pros:-
The matte black design is highly appealing.
The 4-Way speaker produces more clarity in the upper frequencies.
Quite inexpensive.
Cons:-
Peak power output is relatively low.
A grill is more aesthetic than functional.
Check Price on Amazon
Sony XS 6x9 Speakers - YES or NO?
4. Polk Audio DB572 DB+ Series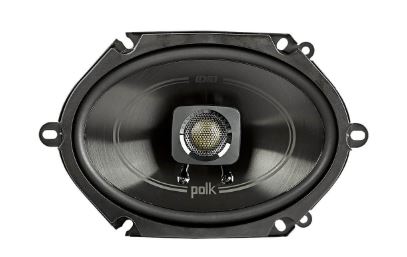 Polk Audio is a company with the word 'audio' in its name, so there's almost no question whether they know what they are doing. They do. But to be honest, the DB572s are not the prettiest speakers out there.
In this case, Polk Audio goes straight for functionality over aesthetics, and it shows with these 5 inches by 7-inch speakers.
The functionality extends beyond their sound quality, as this pair of speakers has an Ingress Protection (IP) rating for dirt and water resistance.
This pair is IP55 rated and even has a Marine Certification, which makes it appropriate for vehicles such as boats, ATVs, and of course, cars.
These speakers are coaxial but are only 2-Way, meaning they have a single woofer and a single tweeter per speaker.
They also do not come with a grill (apart from the little grate built over the tweeter), so you need to be careful around them to ensure that you don't pierce or damage the woofer. The cones are built of polypropylene, so you get good audio reproduction.
Peak audio output on these speakers is 225 watts, which is definitely on the lower end. Polk gives you great audio quality, and if you're not all about blasting music at maximum volume, you might be willing to make that trade-off, but if not, you should take a pass on these as they won't get ridiculously loud.
Below are some of the Pros and Cons of the Polk Audio DB572 DB+ that earned it a spot in our list of Best Budget Car Speakers Under 100 $.
Pros:-
Fantastic audio quality.
Marine certification is a bonus that protects against any water spills.
Cons:-
Power is relatively low so that these speakers won't be very loud.
No grill is included, exposing the woofer to damage.
They are not very attractive speakers.
5. Rockford Fosgate Punch P1694
The Rockford Fosgate Punch P1694 might not look like much, with a rather bland appearance, but the speakers aren't there to look good.
There's nothing particularly exciting about this plain black speaker, but it has a Spartan appeal. What matters is how well it performs in the audio department, not how fancy it looks. It performs spectacularly.
Rockford Fosgate gives you a pair of coaxial 4-Way speakers with a peak power output of 150 watts per speaker. That comes to a maximum power output of 300 watts which is a respectable value and guarantees sufficiently loud audio. Impedance is 4 ohms on this one, with a polypropylene cone.
These speakers come with an industrial, functional grill that will protect the drivers underneath.
The Punch P1694 may not be a looker, but it keeps function foremost. Rockford Fosgate has been in business for 30 years, so they've learned what matters, and all features make it fit in our list of best cheap car speakers under 100 $ list.
Pros:-
300-watt power output is impressive.
The 4-Way speaker produces an impressive treble performance.
An included grill is functional and protects the entire speaker unit.
Cons:-
Not the prettiest speaker on the list.
6. JBL GTO939 Premium
The model name of these speakers sounds like the name of a classic Ferrari. Performance-wise, these JBL speakers share many similarities with the Italian supercars. The JBL GTO939 Premiums are closer to the high-end of the budget but are worth the money.
These 6 inches by 9-inch speakers are impressively built and designed. They come with a grill that is both pleasing to the eye and functional enough to protect all drivers.
The GTO939s are coaxial speakers, 3-Way, to be precise, producing fantastic audio. The woofer cone is bigger than most cones in the six by 9-inch segment, resulting in heavier, richer bass than the competition.
The impedance on these speakers is low, at only 3 ohms, which is good. The lower the impedance, the better. They pack a lot of punch, with each pair of speakers rated at 150-watt peak power output, which is quite nice and assures you of plenty of loud audio.
Even at the highest volume levels, the audio from these speakers is clear as a bell with pretty much zero distortion.
Below are some of the Pros and Cons of the JBL GTO939 Premium that earned it a spot in our list of Best Budget Car Speakers Under 100 $.
Pros:-
Nice design with a functional grill.
Better bass than similarly sized speaker units.
300-watt peak power output for the pair is good.
Low impedance.
Cons:-
Closer to the $100 mark than other speakers on this list.
Check Price on Amazon
7. Kenwood KFC-6995PS
You might know Kenwood for making kitchen appliances, but they have also garnered quite a name for themselves in-car audio.
The Kenwood KFC-6995PS is a fantastic set of speakers that breathe fantastic audio. These are 6 inches by 9-inch speakers, and they are performance speakers sure to provide a top-grade audio experience.
These speakers are coaxial, but unlike all the other speakers on the list, the Kenwood KFC-6995PS speakers are 5-Way. That's right, 5-Way. You get five individual drivers in each one of these speakers. It consists of a large woofer, two mid-range drivers, and two tweeters.
This ensures that you get rich high-end and mid-range when playing music from these speakers. The cones on this one are paper, which is a relatively more expensive form of cone.
Well-made paper cones can withstand changes in humidity and temperature, which could otherwise affect their performance. Paper cones generally produce sound better than polypropylene cones.
Each speaker's peak power output is a whopping 650 watts, coming together for a paired 1300 watts, which is miles above anything on this list.
These speakers can get ludicrously loud, and if that's what you're looking for, you definitely won't be disappointed with them. Kenwood knew what they were doing, and this pair stands out as unique among the competition.
Below are some of the Pros and Cons of the Kenwood KFC-6995PS that earned it a spot in our list of Best Budget Car Speakers Under 100 $.
Pros:-
5-Way speakers give crystal clear audio with excellent treble and mid-performance.
The maximum power output is 1300 watts for the pair, the absolute loudest on this list.
A grill is large and functional while maintaining a good appearance.
Paper cones offer superior audio quality.
Cons:-
8. Kicker DS65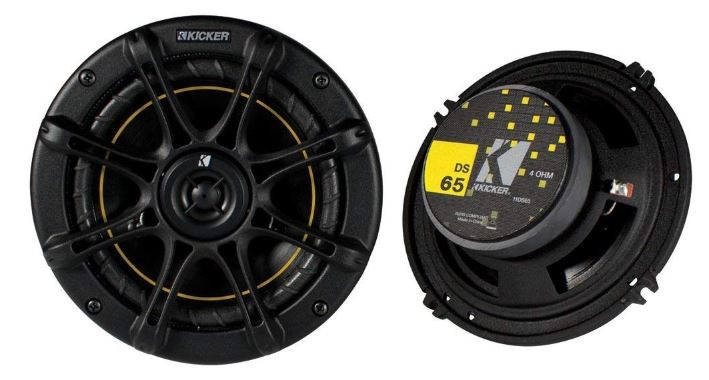 The brand's name makes you think of deep, rich bass. Kicker. The Kicker DS65 speakers are a pair of perfectly round, absolutely stunning speakers. Speakers aren't all about the looks, but if they were, then these Kickers would be pretty high up.
The grill's design resembles the rim of a sports car, almost entirely black, with a small white logo above the tweeter and the logo and the brand name in white above the woofer.
There's a very subtle yellow highlight along the woofer's edge, and its effect is rather stunning. These 6.5-inch speakers are pleasing to the eye, but the grill might not do the best job protecting the woofer cone.
These speakers are coaxial, like every other one on the list, and these are 2-Way. 2-Way speakers are not always a let-down, as properly constructed 2-Way speakers can sound miles above cheap 4-Ways. With the DS65s, Kicker focused all their attention on the woofer and tweeter, which paid off.
The woofer uses Extended Voice Coil tech, which produces deep but super-clear bass. The dome of the tweeters is made of titanium, giving you an equally clear treble on whatever audio you're playing. The audio from these is exceptional.
Each speaker in this pair is rated at 100 watts for its maximum power output, which is rather low. These speakers will not be as loud as the others on this list, as both speakers only add up to 200 watts. They will prove an upgrade over most stock speakers, however.
Below are some of the Pros and Cons of the Kicker DS65 that earned it a spot on our Best Budget Car Speakers Under 100 $ list.
Pros:-
Very sporty design.
Very good bass and treble ranges.
Cons:-
Power output is the lowest on the list, and volume may suffer.
A grill isn't the most protective.
Check Price on Amazon
9. Alpine Type-S SPS-410 – Best car speakers under $50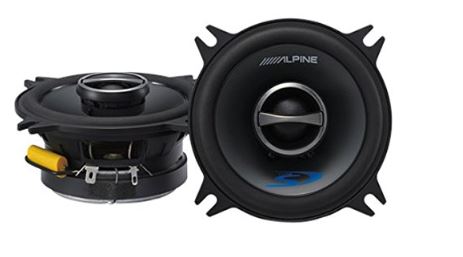 Alpine is another one of those companies that specializes almost primarily in-car audio, and with such specialization comes expertise. Alpine doesn't slack when it comes to bringing the audio heat.
These speakers are a pair of 4-inch units, so they are rather small, but considering their size, they are very capable. These speakers don't come with a grill, so you must be careful when handling them and after they've been installed.
The SPS-410s are coaxial speakers, 2-Way to be exact, and considering their size, that's fine. The woofer cone is made of a polymer material, and the tweeter dome is made of silk.
The audio quality on these is rather nice and of good clarity, considering their size. The bass isn't the best, but the mid and treble ranges sound good.
These speakers each push 140 watts at their peak power output, which is impressive considering their size. Two hundred eighty watts for the pair is substantial, and the volume level can probably climb to considerable heights.
Below are some of the Pros and Cons of the Alpine Type-S SPS-410 that earned it a spot in our list of Best Budget Car Speakers Under 100 $.
Pros:-
Quality cone material produces good audio.
280-watt output for the pair is impressive for the size.
Cons:-
No grill is included.
The Bass is slightly lacking.
Best Budget Car Speakers Under 100 $: What To Consider
There are so many different sizes of speakers and so many different manufacturers of cars with so many different models under each. There are too many options for car speaker installation to be a straightforward task.
There's no universal guide to installing a set of speakers in your car, and you've got to do some of the work yourself. Here are a few tips to make the installation process easier.
Always ensure compatibility:-
There's absolutely no point in buying speakers that won't fit in your car or in the exact space you want. It's essential to research the locations of the speakers in your car and the exact dimensions to figure out whether or not you'll even be able to install them.
Know your vehicle's stereo system:-
It is essential to be familiar with the specifications of your vehicle's stereo system. What is the maximum wattage it can push out? You need to figure out these things so that you can get speakers that fit well within the confines of what your stereo system is capable of.
Some disassembly required:-
Don't expect to just plug those new speakers into a slot in the dashboard and have them work instantly. Installing speakers in your car involves a bit of rough work. In some cases, you'll have to take off door panels, side panels, and even your dashboard.
Most of the time, it is relatively easy despite how it sounds. It just involves a lot of unscrewing and prying. It is advisable to disconnect your car's battery before getting started to avoid any incorrect wiring ruining anything.
Have your tools ready:-
Pulling off panels and putting in new speakers is not a procedure that can be performed without instruments. You will need more than a handful of them too.
As there's no universal guide to installing speakers, there is also no universal guide to the tools you may require. However, a lot of tools are common enough to expect, of which include:
Crimping tool
Screwdrivers
Metal file
Wirecutter
Wrenches
Electrical tape
Electric drill
Sometimes modifications need to be made:-
Unfortunately, you might have confirmed that the aftermarket speakers you purchased will fit in the space with the speakers you want to replace, but they simply don't fit when you attempt to install them.
In many cases, when installing new speakers into your vehicle, you have to make minor modifications, such as cutting away pieces of plastic or even metal to make way for speaker brackets or drilling space for screws.
Common Car Speaker Terms
Do you speak the speak of car speakers? It's alright if you don't, it can get rather in-depth and hard to understand sometimes. We're here to help clarify some of the more commonly used terms.
Peak Power Output:-
This is the maximum power that can run through the speakers. Anything above the peak power would likely result in some form of damage to the speaker unit.
Impedance:-
Impedance is essentially a function of electrical resistance, hence why it is measured in ohms. It refers to how well a speaker can hold back the electrical current. A wider pipe bore would resist less, and a narrower bore would resist more. This analogy fits when talking about impedance.
A lower impedance, such as 3 or 4 ohms, would resist the flow of electricity less, allowing the speaker to be juiced more effectively.
A higher impedance, like 5 or 10 ohms, is a narrower tube that restricts the flow of electricity much more. Pairing an amplifier and speaker with matching impedances gives the best performance.
Driver:-
This is the actual unit of the speaker that mechanically produces the sound. A driver is a cone in the speaker that vibrates to make the music.
Tweeter:-
This is typically a smaller speaker mostly responsible for producing the frequencies in the higher ranges. They can be either cone or dome tweeters. Cone tweeters are the more common variant.
Dome tweeters are more expensive to produce, but they benefit from better sound reproduction. Materials like paper and titanium are used in making tweeters.
Woofer:-
This is a larger speaker that is tasked with producing audio frequencies which are heavy and in the lower ranges. Woofers benefit from cones that are built with a material that is rigid and holds its shape well.
However, the material should also be light and have a good internal loss. Materials like paper, polypropylene, and aluminum or magnesium are commonly used.
Subwoofer:-
This is usually the largest speaker, sometimes in its enclosure, responsible for producing the frequencies in the sub-bass range, which is the lowest audio range.
The audio experience is an integral part of everyday life. Everyone listens to music, and low-quality audio is never pleasant to sit through. You might think your car audio is cutting it, but you'll probably see that it's missing something special when you listen to it.
Car speakers are built to improve the entire audio experience in your vehicle. Even if you don't have hundreds of dollars to spend, you can still get yourself a pair of aftermarket speakers to make your in-car audio quality better than you ever dreamed it could be.