If you're looking for a user-friendly Best Calorie Tracker App that will help you to Keep you fit. This post is all about this.
The world is moving ahead with great pace. Lot of technological advances, several economic developments, numerous researchers, and trails are going on in the world. Despite all the busy schedules, there is one thing that every person needs to pay attention to and that is Health and fitness.
There is no meaning in having everything if the person is not healthy and fit. Several people are keeping a track on their health, but it will be better to have tracker all the time with us, such as our smartphone.
There are several fitness apps that can be installed on the smartphone and they guide us in maintaining proper fitness. Here we present some of the popular fitness apps.
Here is the list of Best Calorie Tracker App
1.My Fitness Pal
My Fitness Pal is a highly rated app on Android and iOS ratings. It checks the fitness of the user by counting the calories. It has a list of over 500 foods and knows their calorific values.
Whenever you enter the details of food you have eaten, it will immediately show how many calories you have consumed and how much exercise you need to do in order to evaporate those calories.
It can also offer suggestions on healthy recipes and keep track of your favorite foods etc. It is quite simple but powerful in maintaining fitness.
Note:- I have written a post for people looking for the best fitness tracker for cycling to buy?, do read it If you are interested.
2.Spark People                                                       
Spark People has all the required tracking and calorie counting techniques to keep you in the best form. It takes down your personal details such as age, height and weight.
It lets you choose your health targets and guides you accordingly. You need to enter the details of food consumed after each meal.
It would show the number of calories consumed. It also shows demos of some exercises, reports on your performance and has a vast database of 4 million food items.
The app also has some articles on nutrition and fitness from the experts. You can track the exercises done by you in the fitness section.
3.Fat Secret
Fat Secret is another amazing food tracking app. It has a simple and clean layout. The best thing about this app is that it's without ads in spite of being a free app.
Further, it has features such as calorie counting, food diary, image recognition of food items, products and meals and a bar code reader as well.
It also provides ideas for meals and healthy recipes. You can also share your progress and diet regimen with your coach or trainer.
4.Fooducate
Fooducate is a bit different from others apps mentioned in this page earlier. Most of the fitness apps focus on calories, but Fooducate is all about the quality of food you are taking.
Once you enter your age, height, weight, your target and health conditions, it will work in coordination with the Apple's health app and give you guidance on which foods are good for you and help you in reaching your target.
It becomes almost like your personal doctor once you have given it all the required information. It has barcode scanner to scan the products.
It also helps you track your sleep, mood and hunger levels.
Note:- I have written a post for people looking for the best elliptical under 500 $ to buy?, do read it If you are interested.
5.Lose it
Lose it, as the name suggests, it helps in losing the weight by keeping track of your calorie intake and the daily exercise you are doing. It takes in the details such as your age, weight, height and asks your target weight you wish to achieve.
Based on this, it will suggest how many calories you can consume in a day or in a meal. When you enter the exercise done by you, it calculates the calories you have burnt and guides the diet accordingly.
It also gives the nutrient breakdown of the food you have consumed and entered in the app.
Note:- I have written a post for people looking for the best rowing machine under 500 $ to buy?, do read it If you are interested.
6.Noom Coach
Noom Coach lets you implement your plans in order to become fit. It doesn't matter what you know, it matters what you do. Noom coach focuses on what you are doing for reducing your weight or to maintain fitness.
It not only takes your personal details to analyze your calorie requirements but also measures your glucose content and blood pressure.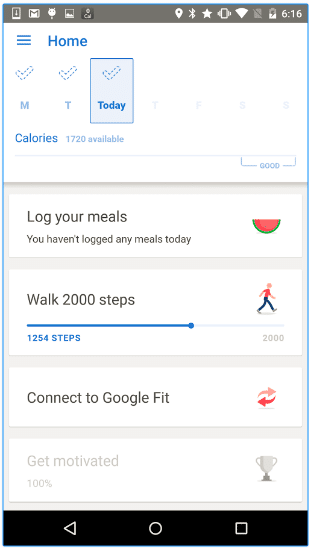 It has a built-in pedometer which helps you count the number of steps you have walked. If you upgrade to a premium app, you will find a professional training of 16 to 22 weeks with a coach.
Further, you will get access to several articles which give you lot of knowledge on fitness and also keep you motivated.
Apart from these apps, there are also some more apps out there which can help you stay fit. Some of them are Nutrition Menu, My Net Diary, My Diet diary and Simple Calorie count. Ultimately, your commitment and regular implementation is far more important to stay fit and healthy.
You may also like to read these articles
Top 6 Best apps for photo editing on Android (2018)