Interviews are when the interviewer and interviewee want to perform to the best of their abilities. If you are an amateur in this field or even a pro, the device used to capture the interview matters a lot.
The times have changed. Earlier, it was said a wise carpenter never blames his tool, but nowadays, your picture quality will be compromised if you don't have advanced gear.
There are chances that your video will disappear in the pool of many other videos. A list of the best camera for interviews has been made after carefully studying the market trends to give you excellent performance in the interview.
Buying expensive cameras for good results is unnecessary, but a little investment is required to buy quality equipment. Then again, it is not necessary to know all the tech-savvy language to understand the performance of a good camera.
You don't need a professional camera to show your abilities as an interviewer. Still, it is important to step forward in cameras by understanding a few basic terminologies.
Various special effects are featured in video cameras to give the videos a natural and sharp look. Let's check out the list below according to the parameters set in your mind and your budget to get good Camera gear.
Best Camera For Interviews – A Guide For Professionals👌
1. Sony's a7 III ILCE7M3/B Mirrorless Interchangeable-Lens Camera
Looking for an interview camera? Check out Sony's a7 III ILCE7M3/B Mirrorless Interchangeable-Lens Camera.
This camera has a full-frame sensor and versatile lens system, delivering excellent image quality for any interview. Its 24.2-megapixel resolution captures detail and color, while advanced autofocus ensures perfect focus in tough lighting.
The camera's compact design makes it easy to handle and transport on location or in-studio. With a 3-inch LCD screen, footage can be reviewed and adjusted easily.
Its video capabilities make the Sony a7 III the best camera for interviews. Shoot 4K video at 30 fps or Full HD video at 120 fps for stunning slow-motion footage. Advanced image stabilization keeps footage smooth, even handheld.
Whether you're a journalist, filmmaker, or beginner, Sony's a7 III ILCE7M3/B Mirrorless Interchangeable-Lens Camera captures high-quality interviews. Impress your audience and engage them in your story.
Pros:-
Full-frame sensor provides a high-quality image and video output
Interchangeable lens system allows for versatility in shooting
Advanced autofocus system ensures accurate focus, even in challenging lighting conditions
The compact and lightweight design makes it easy to handle and transport
3-inch LCD screen allows for easy reviewing of footage and adjustments
Video capabilities allow for shooting 4K video at up to 30 fps or Full HD video at up to 120 fps
Advanced image stabilization keeps footage smooth, even when shooting handheld
Cons:-
Body-only configuration means that lenses must be purchased separately
No built-in flash
Battery life could be longer
Limited touchscreen functionality
Some users may find the menu system confusing at first
The cost may be prohibitive for some buyers
Check
Price on Amazon
2.

Blackmagic Design Pocket Cinema Camera 4K
Filming interviews requires the right camera to capture details and convey emotions effectively.
The Blackmagic Design Pocket Cinema Camera 4K is the best camera for interviews thanks to its impressive dynamic range, low-light capability, and 4K shooting resolution.
With a Micro Four Thirds sensor, the camera excels in dimly lit conditions, producing clear, noise-free footage. Its portability makes it perfect for tight spaces and on-location shooting.
The Pocket Cinema Camera 4K captures high-resolution footage that looks like a professional cinematographer did it. It is the ideal tool for recording interviews, making viewers feel like they are in the same room as the interviewee.
In conclusion, choose the Blackmagic Design Pocket Cinema Camera 4K for the best interview footage. Its impressive features and design capture every nuance of the subject's body language and facial expressions.
Pros:-
The impressive dynamic range of 13 stops captures bright highlights and dark shadows without losing detail.
Micro Four Thirds sensor produces clear footage in low-light conditions
Shoots in 4K resolution for stunningly sharp, high-resolution footage
The compact and portable design is perfect for on-location shooting or tight spaces
Allows for easy access to advanced camera settings for more creative control
Cons:-
Battery life is relatively short compared to other cameras in its class
The camera does not have in-body stabilization, requiring the use of external stabilizers for smoother footage
Requires professional-level knowledge and expertise to use effectively, making it less accessible for novice users
The camera's buttons and menu navigation can be complex and overwhelming for some users
Limited autofocus capabilities, requiring more manual focus adjustments during filming.
Check Price on Amazon
3. Sony ZV-1 Digital Camera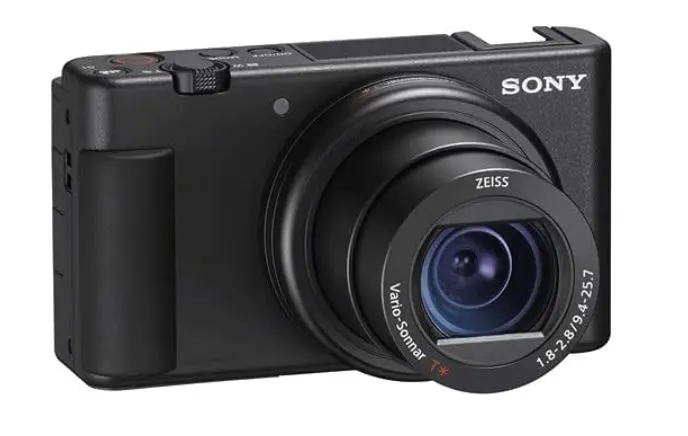 A 20MP smart new generation camera is waiting to be part of your work routine. The new and unusual microphone of the device makes it stand out among its peers.
This camera comes with advanced imaging technology. Other advanced attractions of this camera are,
Fast autofocus and real-time autofocus are part of the camera.

Optimized color enhancement gives a sharp picture quality.

Automatic exposure helps in face and smile recognition.

Image stabilization is a strong factor in this camera; even walking does not affect it.
Main Features:-
Background defocus switch.

The lens has a range of 24-70mm.

Side flip-out with a 3-inch LCD screen.

Hybrid log-gamma and S-log 3/2

360-degree rotational support.
Pros:-
The flip screen helps you to see your performance during the shoot.

The lightweight and tiny structure of the camera makes it convenient to use.

Strong editing features are already equipped in the camera, so little knowledge is required. 
Cons:-
The battery cover is mounted in the tripod, so every time the battery changes needs to be dismantled.

The camera comes without a charger.
Check Price on Amazon
Sony ZV-1 Review: The PERFECT Vlogging Camera is FINALLY here!
4.  Kimire 1080P Digital Video Camera
If you are looking for a new addition to your camera equipment or you are a beginner in this world, a smart camcorder is given by Kimire 2015.
Many features make it the best camera for interviews for beginners in this field. Before studying its many features, let's check out the reasons which make it stand out in the crowd-
The video created on the camera can be shown on Youtube and a webcam window while on a video call with anyone. For this feature to operate, software needs to be updated "AMCAP".

While recording, there is an option to pause or stop recording and continue again when ready.

The camera comes with an AV cable to upload to connect to Television for playing all the videos and a USB cable to upload the videos to the computer.

There are two batteries included for recording videos of 60 to 90 minutes in length if the required recording is possible while charging the batteries too.

The camcorder can be used on a tripod. It supports SD/SDHC cards up to 128GB.
 Features:-
Anti Shake system is there.

A smile capture system is available.

The pause function is there.

It comes with a microphone.

USB support is available.

16 X digital zoom is possible.

Digital resolution-24M (6000*4500) , 20M(5120*3840), 16M (4608*3472), 12M(4000*3000).

The focus range is from 1.2m to infinity.

SD memory card and MMC card can be used.

Fixed lens- ApertureF/3.2, Focal distance f- 7.36mm

Video resolution-1920*1080(15fps) HD 1280*720(30fps)
Pros:-
The reasonable price range for beginners.

Easy to operate without much technical knowledge.

Good battery life.

Camera clarity is excellent.
Cons:-
Not that great for professionals, although a good choice for a backup.

It does not accept an external microphone.

The SD card needs to be formatted before use and needs to be bought separately.
5. Sauleoo UHD 4K Digital 
This photo-capturing device enters the list of the best camera for interviews because of its ability to quickly capture images and process them with clarity and sharpness.
You would have missed no moment in the interview, so it helps you relax and work efficiently. Some of its unique qualities which we should study
Over here, we are not only talking about natural image delivery, but the stereo sound support is very strong as X-Y technology is used.

 As it comes with a handhold stand, it helps make low-angle videos. A lens cover is provided to stop the lens flare, and a layer of protection is provided from light and shocks.

This camera can be attached to the computer with a USB cable and used as a webcam if required. It can also be used on television as it has an HDMI function.

The camera comes with 1500mAh rechargeable batteries. The camera has many distinctive attractions like Led fill light, playback modes, and anti-shake, and it can support a 128GB SD card along with a ¼ inch tripod.
Features:-
It supports HDMI as well as a Computer connection.

18X digital zoom is available.

The focus range is from 3.28 ft to infinity

MP4 video format 

Supplement light is there.

270 Degree rotation is there, and touch screen facility.

You can record while charging.

The remote control is also provided, which works within a range of 22 ft.

An external microphone is given.

Digital resolution- Ultra HD 4K(3880*2160) , 30FPS, and 30MP.
Pros:-
A lightweight camera to be carried around.

The touchscreen feature makes it easy to use.

A recording is possible while charging.
Cons:-
Sometimes the camera is not recognized by the computer.

SD card is not included and needs to be formatted before usage.

When used, the webcam microphone needs to be attached to the computer.
Most camera users call it a magnificent camcorder, an excellent interview companion. 
6. Vetek 4K Camcorder Digital Camera 
This digital camera promises a small package with great features at a good price. The small size is the added feature of the camera.
It comes with a travel case which makes it look different from its peer in the list of the best interview camera.
Some of its added features are:-
The camera has many features, like a beauty function, selfie enabled, JPEG image, and a fill light.

Two modes can change the camera's interface from webcam to video.

The video camera has a pause feature so the recording can be started and stopped as required.

There are two rechargeable batteries in it, so it is very helpful in recordings for long hours, and recording is possible while charging the battery is also possible.

The camera's weight makes it convenient to carry anywhere, and the beautiful case looks smart.
Features:-
The CMOS image sensor is there with a maximum of 24 megapixels.

It comes with anti-shaking, smile capture, and face detection benefits.

 A 3-inch display screen is provided.

It supports multi-languages.

The fixed lens has an Aperture of F/3.2 and a Focal distance f- 7.36mm.

A microphone and speaker are given in the camera.

Digital Resolution-

  FHD 1920*1080(15 FPS), HD 1280 *720 (30FPS)
Pros:-
The camera's weight and size attract users, as it is easy to carry while traveling.

The users highly praised it for its picture quality.
Cons:-
LED light and Tripod are not included in the set.

Autofocus and optical zoom are not provided, so they are ideal for beginners.
If you are starting to understand the world of cameras and do not want to spend a lot, then this camera will give maximum features.
At the time of our research on the best camera for youtube interviews, we found a video about "Top Interview Tips: Common Questions, Body Language" worth watching.
Top Interview Tips: Common Questions, Nonverbal Communication & More | Indeed
7. Zuodun 4K Camcorder
A Camera with different modes for recording a video from night vision, slow motion, and time-lapse puts a paradise if you want to play with your videos and add different effects.
Some additional qualities that make this camera to the list of the best camera for interviews-
With high-resolution picture quality, it has an internet connection for which "RoadCam" is required on mobile phones or tablets. This helps in browsing photo albums and files quickly and easily.

The camera has a remote control that works within a distance of 16 feet. This is a helpful feature for the playback of videos and controls the camera.

If you are creative enough to work in different modes, run your imagination to make the interviews or videos look unique and stand out.

A lens hood is provided to block extra lights, which is a must to maintain the quality of the image.

It comes with X-Y stereo technology to give better quality sound to the interviews, as you can use it for noise reduction and improve the audio to the video.

The video and images are not shaken but more stable due to their compact size and comfortable handgrip.
Features:-
The touch screen is given with a 3-inch capacity

An image sensor is provided with 13 Megapixels.

It supports multiple languages.

16X digital zoom is supported.

Night vision light is given.

The focal distance is f-7.36mm.
Digital resolution-
Video- 4K 60FPS, 4K 30FPS, 2.7K 30FPS,1080P 120FPS,1080P 60FPS,1080P 30FPS, 720P 240FPS,720P 60FPS,720P 30FPS.
Image- 48MP (8000*6000 interpolation), 36M (6680*5160 interpolation), 24M (5600*4200 interpolation), 20M (5120*3840 interpolation), 16M (4640*3240 interpolation), 12M (4032*3024 interpolation),8M (3264*2448 interpolation), 5M ( 2592 *1944 interpolation).
Pros:-
The handhold stabilizer helps in making the video stable and clear.

The special features in a recording like slow, time-lapse, loop, time recording, and continuous shooting help make a different video.
Cons:-
The Autofocus feature is not there.

The external microphone cannot be used in any other camcorder.
This camcorder gives a sleek look and good picture quality. The wifi connection is one of the best features of this camera. 
8. Keculbo Cedita 2.7K Digital Camera
A camera that gives attractive accessories along with clarity in pictures. It comes at a reasonable price. It gives an enhanced performance with the help of a retractable flashlight used to light up larger areas.
Additional features which we should check out to add this camera in the best camera for interviews-
The menu can be altered per requirements like white balance, sharpness, date, and time stamp.

The camera can rotate up to 180 degrees with a full-frame view screen to view the image you are taking a picture of.

The files can easily be transported from one portal to another through a USB cable.

The camera has a self-timer mode of 2, 5, and 10 seconds. This is helpful during the interview as the camera supports 3 continuous shooting functions, so no shot is missed.

The camera can turn off the camera's start-up and shut-down sounds.

The camera has a pause function which is very convenient to stop and start recording again. Recording and charging together is possible, so battery problems are covered. For storage, a 32 GB micro sd card is included.
Features:-
Full HD resolution 2688*1520 

The camera is equipped with a 180-degree flip screen

The camera supports face detection.

Anti-shaking helps in giving clear and sharp pictures.

Smile shooting is supported.

Picture clarity is up to 30 megapixels.

The focus range is from 1.64 ft to infinity.

Digital resolution-

2.7K (2668*1520) 
Pros:-
The screen pop-up is another benefit to checking out the picture before taking it.

 The camera has a 32 MB sd card, so formatting the card is unnecessary.

There are two batteries given in the camera.
Cons:-
The camera does not support wifi.

The lenses need to be bought separately.
9. Oiexi 4K Video Camera
This new generation camera gives a clearer and sharper picture with a 13M pixel sensor. To stand out in your interviews, a great help is the picture quality.
This camera promises to remain on the list of the best camera for interviews for a long period.
Let's check out its other qualities,
The video given is more lifelike and in natural color.

An external microphone helps the audio quality by cutting on the outside noise.

The camera can be used as a webcam when required while making calls.

The remote control is included along with the camera with a range of five meters. 

The videos can be easily played on television with the help of an HDMI cable.

The camcorder has a 3-inch IPS touchscreen and can allow 270-degree rotation.

 The video camera supports a 128 GB sd card which is a big storage space.

The camera has two rechargeable batteries, ensuring long-duration videos can be made without hassle.
Main features:-
The image sensor supports 13 Megapixels

Two rechargeable Lithium batteries

Remote control with a range of 60 feet

Focal Distance f- 7.36mm, Aperture- F/ 2

A Lens hood is given for the protection of the camera.

It supports wifi connection.

Digital Resolution- Video- 4k 30 FPS, 2.7K 30FPS,1080P 120FPS,1080P 60FPS, 1080P 30FPS, 720P 240FPS. Image-48MP(9212*5184)
Pros:-
The external microphone is a big help in reducing the noise and provides better sound quality.

The 270-degree rotation is beneficial in making videos from different angles.

The after-sales service is a big help to this brand; they sort out the problem within 24 hours.
Cons:-
The camera does not include an HDMI cable, although it supports the function so it needs to be bought separately. 

The Sd card needs to be bought separately.
10. Actinow Video Camera Recorder
The brownie point for this camera is that it supports an external microphone and has a built-in one. This helps not only in noise reduction but also guarantees perfect audio quality.
Additional features which help this camera to make the list of the best camera for interviews-
The camera allows a pause function so the recording can be interrupted when required, which is important during an interview to take pauses.

A microphone attached externally and internally is useful for better audio quality. 

Remote control with a range of 7 meters is always welcome to ease the little hurdles during the shoot.

A 270-degree rotating screen helps in filming better videos from different angles.

Blurring can be reduced by pressing the anti-shake button.

The camera supports webcam features, and videos can be shown on television, also.

The battery lasts up to 90- 150 minutes. You can charge while recording, so it is easier to make longer videos.

For better quality pictures, two manuals are given for beginners to understand zooming in and out methodology.
Main Features:-
The image sensor is CMOS up to 8 megapixels.

16X digital zoom is supported.

The display screen allows a 3-inch TFT LCD.

Focal distance f-8.15mm, Aperture – F- 3

It allows SD and MMC memory cards.

270-degree rotation

Built-in fill light 

Anti-shaking and smile capture is supported.

Digital Resolution- FHD 1920*1080, HD 1280*720, 640*480, 320*240.
Pros:-
The beautiful face effect helps in better-quality videos.

Audio quality is unbeatable due to the two microphones.
Cons:-
The camera has a fixed lens, so a distance of 1.5mt is necessary to maintain clarity in video and pictures.

The memory card needs to be formatted before installation.
11. Yeehao Camcorder 
A camcorder with an external microphone is very helpful in producing good-quality interviews. This camera has many other qualities which help it be on the list.
Let's check them out-.
It comes with an internal rechargeable battery for which a USB cable is required to recharge it.

The external microphone comes with an extension known as a hot shoe with which other equipment can be connected, like a fill light.

The camera has a wide-angle lens for better angle recording, and the lens hood is given to protect it from excessive light.

The camera is Wi-Fi enabled, which helps it connect to a mobile phone—a helpful feature in browsing the recorded interviews.

This camera can be operated with a remote control which is beneficial for pausing the video while recording. The range of the remote control is 10 meters.
Main Features:-
16 X digital zoom 

Anti-shaking enabled device.

Supports the pause function.

Loop recording for 3, 5, and 10 minutes.

Image sensor CMOS image Sony IMX 179

Supports date and time stamps.

Videos support a time-lapse of 0,1,0.5 , and 1 second.

Digital Resolution:- FHD 1920*1080(30 FPS), HD 1280*720 (60FPS), HD 1280*720(30FPS)
Pros:-
The special feature of a wide lens helps get all the angles of the subject in the interview.

 The night vision features help in making videos with better picture clarity.
Cons:-
Although it comes with digital zoom, it does not support optical or autofocus.

The camera does not support other external microphones.
12. Vafoton 4K Video Camera – Best camera for zoom interviews
A camera with the latest CMOS image sensor delivers better picture clarity in the interviews. The handheld stabilizer helps in creating stability in the videos.
Features:-
This camera has a better image sensor, giving 16 X digital zoom and a resolution of up to 1080P 60FPS.

The stereo works on the XY pick-up technology to provide better sound quality.

 The 2.4g remote control provided with the camera helps operate at 360 degrees from a distance of 65 feet.

The camera can be used as a webcam to show videos on social media accounts. 

The camera is lightweight but packed with unique features to give excellent picture and audio quality. As it is easy to carry, taking interviews outdoors or indoors won't make a difference.
Main features:-
Rechargeable battery

Supports a 128GB sd card.

16 X digital zoom 

It comes with a self-timer of 3,5,10, and 20 seconds

The camera supports multi-languages.

The display screen has a 3-inch capacitive touch screen.

It supports wifi connection.

Digital Resolution-Video-UHD 2880*2160(24FPS), QHD 2560*1440(30FPS), FHD 1920*1080(60FPS), HD 1280*720(60FPS, 30FPS)
Image- 48M,36M,24M,20M,16M,12M,8M,5M.
Pros:-
The camera gives good picture quality in all types of settings.

The stereo microphone helps in producing a deeper audio field.
Cons:-
The camera bag is only sufficient to hold the cameras all the other ac accessories don't have room.

No manual focus is possible.
We all use our mobiles to create videos for personal or professional use. When you are a beginner and want to step into the world as a professional interviewer or sometimes to enhance your projects. Small interviews are required to highlight those projects.
Whatever the need may be, nothing can beat the use of a good camera. However, there are a few accessories that, if used with a mobile, iPad, or your digital camera, can change the look of the interview.
Accessories To Be Used:-
Nexigo lighting stand:-
A lighting stand on which a webcam or smartphone is kept with a ring light for different requirements. It has a flexible, durable arm, so your hand is free for the live stream, live shows, and selfies. It comes with a foam pad that prevents furniture from scratching when moved around.
Bestshoot M11 Condenser Interview Microphone:-
This microphone can be used for interviews, conferences, and vlogs. It can be attached to all camcorders and DSLR cameras with 3.5 and 6.35 mm microphone input sockets.
It is easy to use and only needs a 1.5V battery. The device has an anti-wind foam cap, microphone stand, and jack adaptor.
Lightweight Camera Mount Tripod Stand:-
This is a stand with a 3-way head, it has a smooth tilt and helps in getting 360 rotational direction. The height is adjustable and raised to the full height of 50 inches. It comes with a quick-release plate which helps in fast transition between shots.
But it is not good for heavy and high-end DSLR cameras.
Movo DoubleMic Two-Sided Supercardioid Video Shotgun Microphone:-
This microphone comes with two heads and catches audio in two different directions. This helps in getting crisp and clear audio. It reduces the vibrations and minimizes the noise.
It has both modes to switch from smartphones to cameras for easy accessibility. There is a 3.5mm audio cable to get a secure connection between the double mic and smartphone and the DSLR camera.
These accessories can enhance the quality of your video or upgrade your present camera for better performance.  
Camera Terminologies Needed For The Best Camera For Interview
Even if you are a professional photographer or a videographer, to excel in an interviewer's world, a little investment and a wise choice of equipment will help you reach heights and perform better.
Primarily, our area of concern is a video camera. With a boom in social media platforms, you want to reach the maximum audience with your videos. For some, still, photos also hold importance in an interview, but the video camera is the area of focus. 
The market has three types of video cameras: DSLR, mirrorless, and professional. All of them will give good quality videos, but DSLR and mirrorless cameras can shoot up to 30 minutes at one time, but that will not be a cause of concern as you can pause and press record again.
Things to look for in the best camera is 
Image sensors are determined by the results in megapixels a camera gives.

The camera processor

The video quality given by the camera is of 4k resolution or less.

External or Internal microphones will affect the audio quality of the video.

The lens of the camera 
Slam-Camera- Action
After reading about various cameras, you must have formed an opinion about your favorite. It is always advisable to read the reviews of various users before purchasing one.
Everyone has different needs and likes so the above list of the best interview cameras has been carefully formed after considering various factors. 
To perform to the best of your ability, it is important to focus on the work. While taking an interview, it is important to concentrate on your subject and the content of the interview.
Equally important is the device you are using to cover the interview. As a result, is what will be visible to the viewers so the quality of audio and video should be considered. Do invest in a good camera before you say take-camera-action.
📗FAQ
What camera is best for interviews?
When looking for a camera to use in interviews, consider several options. The Sony A7 III has a full-frame mirrorless design that produces excellent video quality.
Another mirrorless option is the Canon EOS R5, with advanced features like 8K video and impressive autofocus. The Panasonic GH5 is a micro four-thirds camera known for its outstanding video quality, autofocus, and durability.
Professional videographers might prefer the Blackmagic Pocket Cinema Camera 4K, offering stunning image quality, color grading, and advanced features.
For a more affordable option, the iPhone 13 Pro has good video recording, a user-friendly design, and multiple lenses.
The best camera for interviews depends on factors like autofocus, image quality, low-light performance, and ease of use. Evaluate your budget and needs to choose the right camera.
Is 50mm good for interviews?
Whether a 50mm lens suits interviews depends on the visual style, you seek. Consider:
Field of view:- A 50mm lens on a full-frame camera offers a natural perspective like the human eye, making it ideal for interviews.
Depth of field:- With a wide aperture, a 50mm lens can blur the background and focus on the subject's face.
Comfort level:- A 50mm lens creates intimacy if close to the subject. If shooting from afar, a longer lens may be necessary.
A 50mm lens may suit interviews for a natural look and intimacy. However, other aspects like lighting, audio, and subject comfort affect equipment selection.
What lens should I use for an interview?
When selecting a lens for an interview, consider the visual style, room size, and distance between the camera and the subject. Lens options include:-
50mm:- Provides a natural perspective and intimacy between interviewer and subject.
Zoom:- A versatile option for framing and distance, such as a 24-70mm or 24-105mm.
Wide-angle:- Suitable for smaller spaces or showing more of the subject's surroundings, like a 35mm or 24mm lens.
Telephoto:- A 85mm or 135mm lens can create a compressed look or work from a distance.
Ultimately, lens selection depends on your needs. Evaluate the desired style, room, and distance to choose the best lens for the interview.
What kind of camera do I need to take professional pictures?
For professional-quality photos, you'll need a camera offering manual control over exposure, focus, and other settings. Here are some options:-
DSLR cameras:- Digital Single-Lens Reflex cameras are versatile and offer excellent image quality. They also have a wide range of lenses available. Examples include Canon EOS 5D Mark IV and Nikon D850.
Mirrorless cameras:– These are lighter and more compact than DSLRs but still provide high image quality and control over settings. Examples include Sony Alpha a7R IV and Fujifilm X-T4.
Medium format cameras use larger sensors than DSLRs or mirrorless cameras, resulting in higher image quality and detail. However, they are usually more expensive and bulky. Examples include Hasselblad H6D-100c and Fujifilm GFX 100.
Why do interviewees look off-camera?
Interviewees may avoid direct eye contact with the camera for several reasons:-
Common technique:- Some interviewers request that subjects look off-camera to create a more conversational atmosphere and help them relax.
Distractions:– Interviewees may look away from the camera to avoid becoming self-conscious or distracted by its presence.
Eye contact:- Direct eye contact with the camera can feel uncomfortable or unnatural, so interviewees may look slightly away while maintaining eye contact with the interviewer.
Director's instructions:- Interviewees may be directed to look away from the camera for specific shots or effects.
In general, interviewees' decisions to avoid looking directly at the camera are made intentionally to create a specific effect or improve their comfort level during the interview.
How do you angle a camera for an interview?
For angling a camera during an interview, keep in mind the following:-
Eye level:- Position the camera at or above the subject's eyes to create a natural and flattering angle, preventing distortions or unflattering angles.
Rule of thirds:- Compose the shot using the rule of thirds, positioning the subject off-center, approximately one-third from either side. This creates a dynamic shot.
Background:- Maintain a simple and uncluttered background to avoid distractions.
Lighting:- Use lighting to create a flattering look and prevent harsh shadows on the subject's face. Natural or soft lighting creates a natural appearance.
Framing:– Allow sufficient headroom and space around the subject to avoid cutting off important details.
By considering eye level, the rule of thirds, background, lighting, and framing, a professional and visually pleasing shot for an interview can be achieved.
What is the best video setup for interviews?
An excellent video interview setup depends on various factors, such as location, subject, and budget. Nevertheless, there are specific components that are essential for achieving high-quality footage:
Camera:- Opt for a camera that can capture high-quality footage and allows for manual adjustments, such as exposure, aperture, and shutter speed. Popular interview options include the Blackmagic Design Pocket Cinema Camera 4K, Sony A7III, or Panasonic GH5.
Lenses:- Invest in high-quality lenses suitable for the shots you aim to capture. A prime lens with a wide aperture, like a 50mm f/1.8 or 85mm f/1.8, can offer versatility.
Lighting:- Adequate lighting is critical for producing high-quality footage. Consider buying a basic lighting kit with softbox lights or LED panels. Alternatively, utilize natural light from windows, but be mindful of potential lighting changes throughout the day.
Audio:– Invest in a high-quality microphone for clear audio. A lavalier microphone that clips onto the subject's clothing is popular, while a shotgun microphone on a boom pole can work well in some situations.
Tripod or stabilizer:- Use a tripod or stabilizer to keep the camera stable and prevent shaky footage. A tripod is useful for stationary interviews, while a gimbal stabilizer can add smooth motion for more dynamic shots.
In conclusion, an exceptional interview video setup should produce high-quality footage with clear audio and appropriate lighting.
It should also be adaptable enough to suit different situations and effectively capture the subject's emotions and expressions.
Should I buy a webcam for a video interview?
Investing in a webcam for video interviews can be a wise decision. Below are some factors to consider:
Quality:- A good webcam provides higher video resolution, better color accuracy, and improved low-light performance than built-in webcams on laptops or desktops. This enhances the overall visual quality of your interviews.
Convenience:- A dedicated webcam is more portable and easier to set up than a smartphone or camera. You don't need to worry about battery life or transferring files.
Cost:– Webcams range from inexpensive to expensive. Consider your budget and the features you need for your interviews.
Future Use:– If you plan to conduct video interviews frequently or use the webcam for other video-related tasks, investing in a dedicated webcam may be worth it. However, if you only need it for one-time or occasional use, the built-in webcam on your device may be sufficient.
In summary, a webcam is a beneficial investment for video interviews, providing higher quality, convenience, and portability. Consider your budget and how often you plan to use it before purchasing a dedicated webcam.
What should you avoid in a video interview?
To conduct a successful video interview, it's crucial to avoid certain things:
Distractions:- Ensure the interview location is quiet, well-lit, and free of distractions. Avoid conducting interviews in noisy or visually busy locations.
Dress code:– Dress professionally, as you would, for an in-person interview. Avoid wearing anything too casual, revealing, or distracting.
Technical issues:- Test your equipment before the interview to prevent technical problems like poor audio or video quality or internet connectivity issues. Ensure that your internet connection is stable and the lighting is appropriate.
Punctuality: Arrive early for the interview to avoid being late. This creates a poor first impression.
Preparation:- Research the company and position beforehand. Be ready to answer common interview questions and have examples of your experience and skills ready to share.
Distractions:- Avoid distractions during the interview, such as checking your phone or browsing the internet. Focus on the interviewer and the questions.
Professionalism:- Maintain a professional demeanor throughout the interview. Avoid using inappropriate language or engaging in unprofessional behavior.
In summary, avoid distractions, dress professionally, test your equipment, arrive early, prepare well, and maintain professionalism during the interview. Following these tips can help you conduct a successful video interview.
Best budget camera for interviews
Canon EOS M50, Panasonic Lumix G7, Sony Alpha a6000, Canon VIXIA HF R800, and GoPro HERO8 Black are all great budget interview options, each with unique features and benefits.
the best camera for youtube interviews
Sony a6400, Canon EOS R, Panasonic GH5, Canon EOS 90D, and Sony RX100 VII are all excellent options for filming YouTube interviews.