Want some extra income on your side? Looking to kickstart your design journey?
When starting as a designer, using a platform that has a user-friendly and intuitive interface may be a good call. And what could be better than Canva?
In an ideal situation, knowing what features to use when designing would be easy, but that is hardly ever the case, instead causing a lot of confusion in its wake.
This article may help you with all the available Canva Courses online.
What is Canva?🤷‍♂️
Canva is an online graphic design platform that allows you to create various visual content such as presentations, business cards, invitation cards, infographics, storyboards, etc. It is the one-stop destination for executing all your creative endeavors.
Whether you are a student creating a poster for an assignment or a presentation for an important class or a teacher trying to introduce smart and interactive ways of learning with infographics and flowcharts and posters, or an entrepreneur outsourcing your design work and not gaining any satisfactory results from it.
With the rise in the significance of social media and visual learning in our everyday lives, businesses and individuals must gain some level of expertise in design.
But oftentimes, this can be a very overwhelming process with the presence of so many complex and high-end graphic designing platforms online.
Enter Canva! It's an easy-to-navigate graphic design platform with a user-friendly and intuitive user interface which is an extremely helpful feature for a newbie designer.
It has a library of professionally designed templates that can be effectively customized and used to create the visual content of your choice that fulfills your purpose.
And the best part is you don't need extensive graphic design knowledge to start on this platform.
You can use Canva for free. All you need to do is create an account, but to avail of its premium features, you must subscribe by paying a subscription fee of USD 12.99 per month and USD 119.99 per year.
Best Canva Courses – Our Top Pick👌👌
When starting with Canva, the wide assortment of features can overwhelm anyone. But how to optimize the use of these different features so that your requirement is fulfilled and the end product is something you can be proud of?
One way to do this can be through online courses, which help you understand how to use these features to their optimum potential to fulfill your objective.
But where to find these Canva courses, and which would be the best for you? To answer some of these questions here, we have an article listing all the Canva courses we know might be helpful for you. So let's check out the list without further ado.
1. The Complete Canva Course – Udemy
Even though Canva has an interface that is extremely user-friendly and intuitive, for a newbie designer trying to pave their way in the world of graphic designing can be overwhelming.
Canva has a wide variety of features and tools. Designers must know how to use these tools and features to their utmost advantage effectively.
Udemy's Complete Canva Course (Visit Here) can help you.
This is one of the best Canva courses that aim to help you learn core design skills such as mastering basic color theory, when and how to properly add illustrations, how text and typography work, etc.
It will also aim to guide you in mastering some of Canva's fundamental but extremely important features, such as text, using shapes and lines in your design, editing pictures, text masking, transparency, font pairing, etc., and learn more about these features very thoroughly.
It will also familiarize you with how videos and animatics can be used to elevate your designs. The premium features available with the Canva Pro subscription are also touched upon.
The course also includes 9 real-world projects, which will effectively test and hone your newfound skills.
The course can be availed on Udemy. And is a 5.5 hr online certificate course providing you with lifetime access to the study material you require? 29 Indigo Academy teaches the course.
2. Canva Master Course – Use Canva to Grow your Business – Udemy
No matter how experienced a marketer you are, without the right tools, you will never gain the marketing you want with your brand, visual marketing being a huge part of that.
In an ideal situation, there would be a team of designers with a project an endless budget and time to work on that project, but this is hardly ever the case.
In such a situation, finding a better tool than Canva for building your brand's visual identity along with its visual marketing is tough.
But how to use Canva's range of design features to achieve that? This Udemy's Canva Master Course (Visit Here)- Use Canva to Grow your Business can help.
The course will teach you how to create a strong brand identity for your business. This, in turn, would set a strong foundation for your brand's visual communication to include your mission, vision, target audience, and core values.
All this while also covering the basics of graphic designing and familiarizing you with the features and tools present in Canva.
The course will start with teaching you how to create your Brand Style Guide and will progress by helping you understand how to publish your designs directly to social media and schedule social media posts from Canva.
You are also creating simple websites and landing pages. The course also includes creating 20 real-life projects, which will prove to be a great exercise to hone your skills. 
The 8.5-hour online course comes with a certificate and provides you lifetime access to the study material required for the course. The course is taught by Ronny Hermosa, a Branding and Canva expert.
Have plans to start a new social media page? Looking to amp up your social media presence? Canva can help you do both. Canva, with its Photo Editor, makes editing and formatting photos extremely easy.
And its wide variety of custom, as well as pre-designed templates, will help you create any form of social media post you want.
But how do these things happen? That can be learned from SkillShare's Social Media Content Creation in Canva: From Beginner to Advanced course (Visit Here).
The course will cover everything you need to know to create an impactful social media presence, from creating video thumbnails and YouTube channel art to quotation graphics and multi-post carousel pictures.
Even if you are a beginner, you don't need to worry. The course will start by teaching you various basic graphic designing skills and then delve deep into concepts that may help you in your content creation journey. 
These include hex codes and color palettes, using grids to create to structure your content better, the psychology of colors, the do's and don'ts of design, etc.
The course uses the Canva Pro version, but the instructor will also teach you some nifty tricks if you use the free Canva version.
The 4 hrs 40 min certificate course with video recorded lessons comes with study material to help you revise in your free time.
4. Guided Project – Use Canva to Create Social Media Marketing Designs – Coursera
Visuals are an important part of any marketing strategy. Media posts reach their maximum potential when combined with a visual element.
This is because most social media platforms across the web are mostly image-based.
So if you make a purely image-based post, it's highly likely that people will acknowledge it better if you add a captivating visual element to it.
And what better platform to create such a visual element than Canva?
So if you want to kickstart your social media marketing journey, Coursera's Guided Project- Use Canva to Create Social Media Marketing Designs (Visit Here) could be the best Canva course to help you do that.
This guided project will teach you to create a sample social media graphic for your business. It will also be able to import and incorporate your brand color palette into the sample.
This course will also introduce you to this platform and teach you how to select the size for your social media post, combine photos related to your brand into a social media post, and add text to your social media graphic.
So if you are a newbie social media marketer, this course can help you learn Canva and create your first-ever captivating social media graphic.
The 2 hr guided project comes with its course material. And the instructor for the project is Stacey Shanklin Langford. You can enroll for the guided project at Coursera.
You may like to read our guide on
Canva vs Photoshop
– Which Graphics Designing Tool Do You Need?.
5. Canva for Entrepreneurs, Freelancers, and Online Money Makers – Udemy
Are you a budding designer trying to start a career in graphic design or an entrepreneur tired of outsourcing your design work?
Udemy's Canva for Entrepreneurs, Freelancers, and Online Money Makers course (Visit Here) may be a good place to start. 
The course deals with everything you need to know about how to make money using Canva designs. The course covers the basics of graphic designing with Canva and explores the latest features of Canva (Canva 2.0).
Along with the basics, the course also covers how to edit photos, choose the right color palettes, and choose the right font for your design.
This practical and hands-on course has 8 projects to help you gain much-needed practical experience with your new skills.
You can access the Exclusive Facebook Group, where tutorials are posted almost every week, and it also serves as a good platform to clarify your doubts and share your ideas.
The 2 hrs on-demand course comes with a certificate of completion—and lifetime access to the course materials to help you ace your designing journey.
It also has assignments where you can brainstorm and put your design skills to the test. The instructor of the course is the designer and entrepreneur Nikhil GS.
You may like to read our guide on 13 Best
Apps For Teachers
To Engage Their Students.
Whether you are a teacher trying to create infographics to help you teach complex concepts in class or a student looking to create some designs for a class presentation or project having some designing skills under your belt is always a win-to-win situation.
The course can also be helpful for small business owners and bloggers. To help you do that, SkillShare Getting Started with Canva for Beginners: CANVA BASICS #1 course (Visit Here) is here.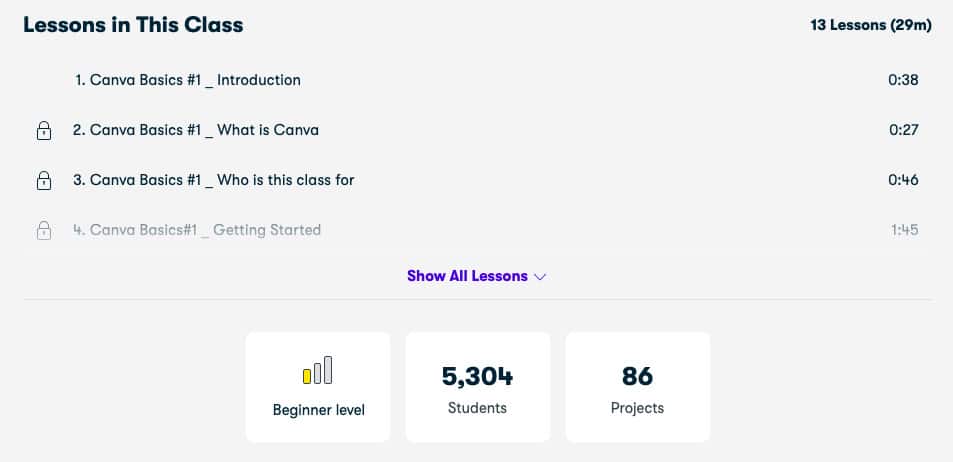 The course is for anyone who wants to understand what this platform is and how to use its fundamental features.
The course familiarizes you with Canva and how to navigate your way around it.
It mostly aims to cover basic topics quintessential for any graphic designer, such as using tools and layouts, backgrounds in designs, using the elements tab, and how to upload images and animations to use in designs.
With some additional tips and tricks on using your free Canva account to its optimum potential. There is also a final project to help you gain a practical understanding of the skills you have learned.
The 29 mins course comes with a certificate of completion and course material. And Josephine Tendo is the instructor of the course.
7. Canva for Beginners – Create a Book Cover Graphic Design – Udemy
Udemy's Canva for Beginners- Create a Book Cover Graphic Design (Visit Here) is aimed at beginners who want to learn more about Canva, its layout, and how to navigate its interface and for people who want to design their captivating book covers using Canva.
The course will help anyone who cannot create an engaging book cover for their book or Kindle ebook.
Even if you are a beginner who has no idea how Canva works. Need not worry!
The course starts with the fundamentals and familiarizes you with the layout and features present in Canva before diving deeper into the course material.
Moreover, it will teach you the fundamentals of designing book covers and how to look up popular ones.
And will help you understand the principles of using copyrighted images. But something to remember is that this course does not aim to teach you complex graphic design concepts and their intricacies.
This 2 hr on-demand course comes with a certificate of completion. With full-time access to the study material and videos. And is conducted by Concept Courses.
8. Design with Canva – Youtube
Want to become a Canva expert but don't want to enroll in any online course? Are done with your online course but still have problems when working with certain features? Then the YouTube channel Design with Canva may be the place for you.
If you are someone who works well when self-studying, then with online Canva courses, you can join Ronny and Diana as they steer complex Canva tools and features with ease.
8 NEW FEATURES that will make your life EASIER | What's HOT in Canva 🔥 [Ep. 16]
The channel (Visit Here) has a vast array of videos that guide you to navigate different features of Canva through easy-to-understand video tutorials.
They have tutorials ranging from how to make logos to how to make 3D visual elements for your design content, from simple topics such as how to add text and change fonts i.
Your design includes tough and hard-to-understand topics such as how to make liquid transitions in videos and animations, add audio and narration to your design, etc.
The channel also boasts of having videos that guide you on how to use the platform effectively for Entrepreneurs and how to use Canva designs to make money. The channel is truly a blessing for anyone who wants to gain mastery over Canva and design using it.
Conclusion
These are some of our picks for Canva courses that may be helpful to you. It can be a good place to Jumpstart your design journey, whether you are a freelancer or a budding social media marketer.
But the course which helps you do that is totally up to you; you can even learn how to work with Canva without any form of an online course. Nonetheless, using a course to familiarize yourself with the platform will be good exposure.