Have you been using the Cheat Engine on your system? We agree it may not be the most viable option for everyone, but you must be stuck with it.
There are many other options similar to this software that you can switch to. So, we did our best and made a list of the best Cheat Engine Alternatives.
For those who are not aware of what Cheat Engine does, here is something to get started with. Cheat Engine is a free and open-source debugger and a memory scanner for the Windows operating system.
In simple languages, the cheat engine is used to hack into games or cheat in games to be better at it and earn ranks. You can modify it and recompile the codes so that none can evade your system.
But many users are not satisfied with their functions enough, so you can always opt for a more stable switch and at least close to what the former provides.
You can check out the list below and choose one for your system that works out the best. Without wasting much time, let us get on with it.
Let us get started!
Best Cheat Engine Alternatives – Our Top Pick👌
1. Art Money – Best cheat engine for pc
Art Money is our favorite pick and one of the best Cheat Engine Alternatives on the web. We did try out everything we could, and undoubtedly everything was amazing acting as a perfect alternative.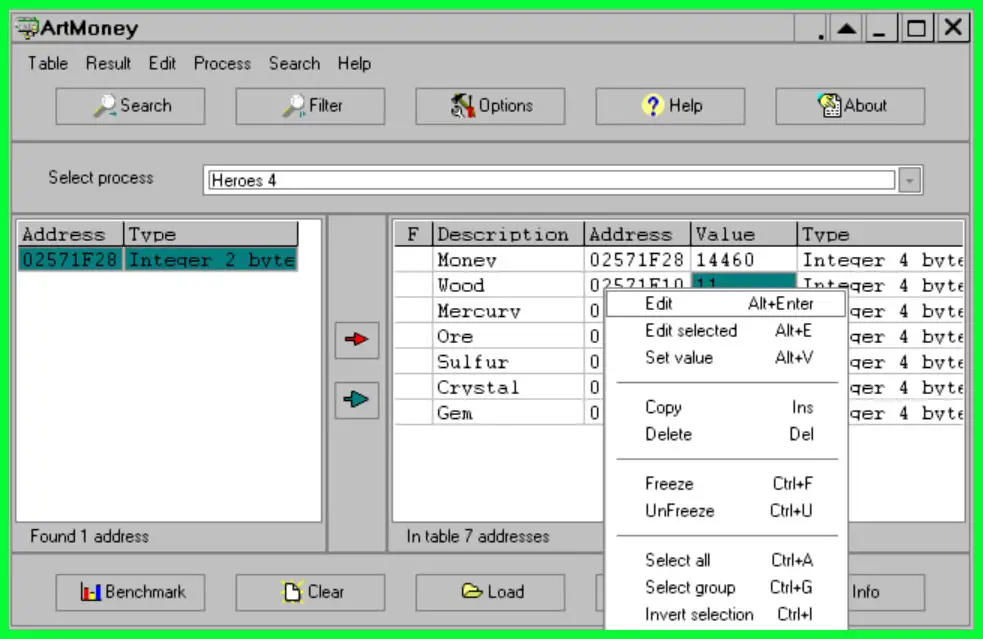 Art Money is a file or memory editor. This application is more of a cheating program used to cheat into games.
You may have played many games over time and run out of gems, coins, cards, etc.
By using Art Money you can access their memory and edit the numbers from the files. Although it may look like we are hacking into the game to alter it, it is completely legal, and no you are not hacking into the game in any way.
If you are more into its technical aspects, well, this program looks for the hex address based on the parameters that are given to it by you.
For example, if the parameter is set to 900; the program will display every code using the same number.
There are tons and tons of the same number in the game; your only job is to make the right filter for the game.
You can download the free version and download it instantly or try out the paid Pro version.
There are many features for the paid subscription, for example, only paid ones can get technical support.
Features of artmoney cheat engine:-
Can search for 12 data types simultaneously

Detects text encoding automatically

Supports normal and reverse byte orders

Can work with emulator's addresses

It also has Stealth Mode, due to which the system cannot detect the program
2. Squalr
Squalr is yet another excellent software known to be among the best for cheating in any game.
It is a memory or file editing software that can be used in the games to alter their codes and cheat to rank or win.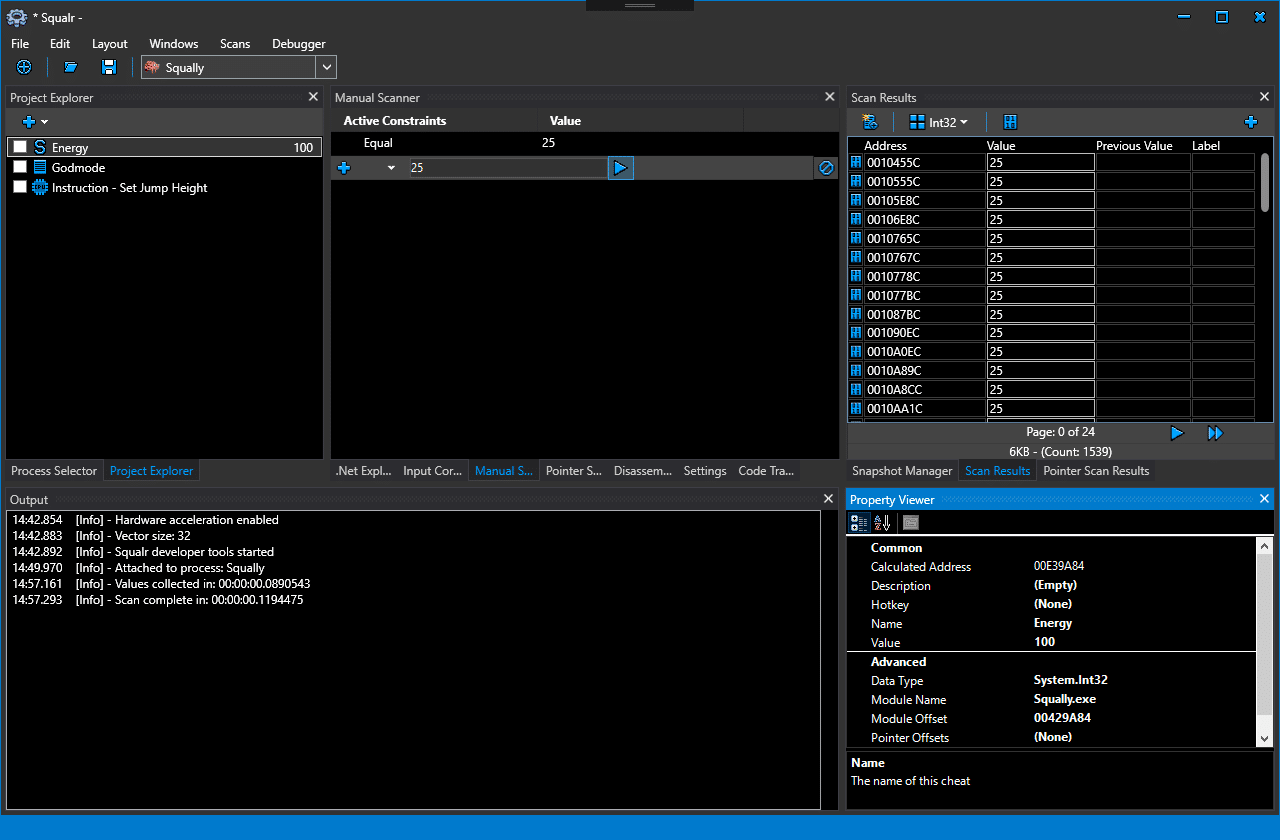 This, too, is an open-source tool that is found on GitHub if anyone is looking to contribute or learn from it. The software has been created with the capability of High-speed memory scanning of all primitive data types.
As we said, using this software, you can edit your coins, health, money, health, and a lot more of these which you run out of very easily.
However, using Squalr, you can get all the game cheat sheets and edit the program to serve your purpose right.
Moreover, everything is free of cost, so you do not have to look for any such software in the market that can cost you money too.
It includes memory scanning, pointers, x86/x64 assembly injection, and other common game cheating tools.
If you are unfamiliar with the technical aspects, you can understand that it is an excellent tool for your Windows operating system.
You can follow instructions and make it easier.
Also, there are tons of videos on YouTube that can be of help as well to learning more about Squalr.
Features:-
Write or edit the memory for such as swimming in the air, teleportation, etc

Performs memory scanning

Clean and easy-to-use software

Free of cost

x86/x64 assembly injection
3. WeMod
WeMod has an amazing design, and there is a chance you can learn from the site about cheating in the games.
It has trainers and mods for over 1075 single-player games from the gamer's community.
WeMod - The Easiest Way to Cheat in PC Games
The basic idea behind this software is to moderate the game's functions in a way that is not even illegal. There are over 100+ games that are ready to Mod.
To start with, as soon as you download the software on your Windows system, the program automatically scans each game.
If you are playing with steam or any other source, this app will scan any apps and improve things for beginners.
It has this Vision guard feature, which it stores the compressed copy of the original version before making any update on the game or the app.
As we had said, the best part about the software is that it has highly impressive interactive controls to alter the course of the game.
You will find more sliders, buttons, drop-downs, and more in these exquisite and easy-to-use buttons. Not only does it support Windows but also Steam, Windows Store, GoG, Uplay, Origin, Discord, Epic, itch.io, and other independent games.
If you feel your favorite game is not in the game library, the app allows you to request the game be added.
As more and more sums up, each game with the highest request will be added.
Features:-
Multi-Platform software

Highly effective and Interactive controls

Uses the Vision Guard to save the original copy of the game

Detects and scans the games automatically

Make game requests not available in the library
4. CoSMOS
CoSMOS is an incredibly advanced memory scanner and Gamehacking or, better say, a tool that allows you to alter the games you play daily.
Everything built with the CoSMOS has ensured that every beginner-level person or user can understand it.
You can easily start hacking your games, and all you need to do is simply understand the basics of this software.
If you have zero ideas about how it works, you need to learn a little, and everything will be very easy.
Also, the game hackers who have been doing this for years of gameplay can check out the advanced features and get acquainted with them.
You can create your own sceat sheet or script and share it with other players in the community so others can benefit.
While the software already has the trainers to provide you with the cheats, other hackers can also serve a great deal, and it is always the best for the entire community to grow.
As you know, these tools are free of cost and do not require registration. All your information is secure no matter what.
Furthermore, with this free package, you can access customer support as well if you face any issues. You can choose your package, i.e, the advanced level or the beginner level, and get started.
Features:-
Simple and easy-to-use interface

Memory scanner with VEH Debugger

Built-in Speedhack Function

Multi-language support

Hardware Accelerated Scans
5. The Cheat
We have been listing the Windows tool for a long time now. If you are a macOS user, you can use The Cheat for functions similar to that of Cheat Engine. Since there is no version of the Cheat Engine for macOS, this could be your ultimate breakthrough.
It is an open-source game trainer for macOS. This, too, starts searching for the memory address of the games or any other program running on your system. You can edit or change the variable inside the game, including money, health, strength, etc.
This software allows you to search for multiple variables in a single instance. It also ensures that you can cheat remotely from another computer, so your system is not traceable and be banned because of the cheating.
As soon as you find a cheat, you can create a file and save all of these so that you are able to share it with the community as well. Although a little heads-up to everyone new or a beginner here.
It is an advanced-level tool and may become a little difficult if you do not know about it.
It is also known that it is nearly not possible to cheat in multiplayer games, but you can give it a try and also let us know in the comment section.
However, if you are new, there are tons of video tutorials on the web so that we can learn from it before it is time to put it to good use.
Features:-
Search for variables that include strings, integers, and floating-point numbers.

Create and save your findings.

Allows to cheat remotely from another computer

It has a built-in help document
6. GameGem – cheat engine android alternative
Since we all know that Cheat Engine is not available for iOS users, we have here GameGem, which serves the same purpose as the former but is a lot easier to work on, especially for those who do not know the technical aspects.
It is simple to use a game hack or cheat app that can access the memory address and make the edits like never before.
You can easily scan and edit the games' values based on the most important aspects.
Well, you are not going to find these apps on your official store since brother Google or Apple support such apps for obvious reasons.
So, you can check out the Cydia store or any other platform where you can download it and use it to master any game.
Moreover, we would recommend you use the VPN service to be on the safe side. There are tons of such free services available on the web. The app is very friendly and has been made very keenly, taking beginners in mind.
If you want to learn more about the app you can check out the instructions on the web, watch videos on how you can use it, etc. It is not difficult since the UI is clean and easy to understand.
Moreover, the app supports all sorts of games, so you don't need to worry about anything. The library has tons of free games that you can download directly on the app.
Features:-
Compatible with almost every type of game

Free of cost

UI is clean and simple

Multiple / Mass Value editing is possible

Jailbreak required
7. Bit Slicer
Bit Slicer is an exceptionally amazing game trainer app for macOS that allows you to search and modify the values of the games, such as the score, lives, ammunition, coins, money, health, etc.
Well, technically, we would call such apps cheater apps since you are technically cheating in-game, but people have been keenly doing this for years now just to pass a level or win a game. 
As of now, it is only available for Macbook or macOS systems. You will find many features on the app that are simply the best and most useful.
It is used as a memory scanner which means you can search and narrow down the value of several data types, such as integers, floating-point, etc.
You can even add or delete the value or variable with ease. This app has a hex editor-style window that you can use to edit or edit the memory.
Once you are done with all the modifying or editing the values, this file can be saved, and you can even share it with your friends.
The most interesting aspect is that you do not need to root your device here rather use it as a normal user. If you want to be on the safe side, you can use a VPN service so that non can track you.
While the process runs on the system, you can pause and un-pause to make the work much more flexible.
Features:-
Memory Scanner

Used a debugger

Save the docs and forward them to your friends

Undo & Redo any process or actions when needed

No root is required of the device
8. HxD – Freeware Hex Editor and Disk Editor
HxD is a simple-to-use yet fast hex editor and modifies users are using that all over the world. It is being used as the editor to modify the memory of the system to hack games or cheat, as we know it.
The UI is very clean and pretty easy to use as well. You can learn quickly, whether you are new to this or a professional.
The editing work is pretty simple and takes place in a simple text editor format. Here the focus is mainly on the task-oriented process since everything you will find here is technical.
You need to edit the Drivers memory represented here as a simple and regular file, including the support as Undo option that you can use if you feel anything has gone wrong.
The developers have made sure that there are fewer technical aspects and a more direct approach. Everything has been kept simple yet fast and efficient so that every operation is carried out at the perfect time.
As we said, the opening and editing of the file are pretty fast since there is no regard for technical aspects from you in any manner.
Once you have created your file, you can immediately save it and share it with your friends who may have been looking for cheat codes for their games.
Do not worry an inch about the data that may have been inputted wrong in the app.
You have been provided with an unlimited Undo option, so all the operations are perfectly carried out is the best cheat.
Features:-
Available as a portable and installable edition

Use RAM-editor to edit the main memory

Instant opening of the files regardless of the size

Easy to save and safe to share the files

Easy to use and modern interface
9. iHaxGamez
We have another hacking or cheating tool that Mac users can use rather than Windows or Android. A lot of people love using their mac to play some very basic games, and it becomes necessary to hack into such games to get the best scores.
It is an open-source application (Download Here) that allows users to change the data types of the games and get what they desire.
As you have already learned, the princess involved in altering the data is pretty simple and requires very little time.
All you need to do is search for the values you wish to change, filter the ones that are needed, and replace them as desired. You can alter the data to get money, increase lives, health, etc.
The software is free of cost and easily runs on your mac with no lag or ads. You can download the software from the multiple websites available on the web. The software has the main window to find the games you want to hack.
Now, after you have selected any game, you can type in the search option any original value that you would be editing.
Since you have no idea which value is what purpose, you may have to randomly change the numbers and keep checking in the game till you figure it out. It does take time but worth it.
You can choose from multiple data types, such as Integers, Float, String, etc. The software supports flash applications as well.
If you are looking to hack any flash-based games, this could be a great opportunity to try out this software on your macOS system.
Features:-
Open-source application

Change data types pretty easily

UI is clean and easiest to use

It provides the main window for selecting the game you want to hack

Supports Flash Applications
10. GameCih
GameCih is an application that is used on Android smartphones to hack into games or use cheat codes to make your play better.
It is an open-source memory editor that allows users to hack into the games by editing the data types and proceeding with the operations.
This best cheat engine alternative supports almost all games online or offline on your smartphone. It is probably the easiest tool as well as the most popular tool there is on the web for Android.
Yes, the app is indeed very easy to use, but the version is a little older than the current apps we have been using. Hence there aren't a lot of advanced features on it.
However, the basic purpose of the app is to hack into the game by editing the driver's memory and changing the values.
The process here to use the app is very easy. All you need to do is open the app and select the game you want to hack. Now, start searching for the values and edit them.
While editing, you can check if that is what you need. Keep doing it since there are loads of things you can hack too.
You can also learn from the tutorial video on the web or YouTube. However, it is not recommended to hack the game or cheat ever.
But these apps are good for learning more about how users hack into your game and maybe win before you do.
The only disadvantage of such apps is that you may have to root your smartphone, and only then can you use it.
Features:-
Search for the values easily

Change memory values

Easy to hack games both online as well as offline

Easy to use and understand

Works for older Android OS and devices too
📗FAQ on Best cheat engine alternatives📗
Is there anything better than Cheat Engine?
There are multiple alternatives to Cheat Engine available on the web that allows you to cheat on some of the most popular games. Other great apps like Cheat Engine are ArtMoney, PINCE, Bit Slicer, etc.
The best option to go from here is ArtMoney. This platform can automatically replace assembler instructions with your assembler code.
Does the Cheat Engine cause viruses?
There is no inherent risk in utilizing Cheat Engine that would make it infect your system with malware or viruses.
To be safe, you should always download and install software from a reputable source. This is true for any software you download and install on your computer.
In some cases, websites promoting Cheat Engine and other cheat tools included malware or other hazardous software in the downloads.
It's crucial to only download Cheat Engine and other programs from dependable websites and to scan the downloaded files with antivirus software before installing them to minimize your risk of getting infected.
What game can use Cheat Engine?
It's possible to use Cheat Engine with various games and other programs. Still, it's crucial to remember that doing so usually violates the terms of service and may result in legal or account-banning consequences.
Additionally, it's crucial to keep in mind that employing cheating software can taint other players' gaming experiences and jeopardize the game's integrity.
Some of the games people use it for are Minecraft, Empire, etc.
Can Cheat Engine be detected?
Yes, it is conceivable for software or systems made to recognize and prevent such behavior to recognize Cheat Engine or other cheat tools.
Numerous video games and other pieces of software include built-in anti-cheat features that can spot the usage of cheat tools and take action to stop it.
This may entail blocking the user's account, deleting their progress, or taking other protective actions to preserve the integrity of the game or software.
Additionally, some cheat programs may establish behavior patterns or leave traces in the system that anti-cheat systems can pick up. It's crucial to be aware that employing cheating tools can be risky and may not always work to keep you undetected.
Using such tools may also violate the software's terms of service, resulting in penalties, including account suspensions or legal action.
Can Cheat Engine break my game?
Using a Hack Engine or other cheat tools to change a game's or other software's behavior could lead to issues or even damage the game.
A game or software may behave unexpectedly or unfavorably due to changing settings or variables.
Final Verdict on Best cheat engine alternatives
All the apps mentioned above may be a little too technical for you if you have no idea how everything works. But the entire process is not that hard to carry on with. You can learn from various tutorials and make yourself a part of them so you can use them without hesitation.
Apart from these, there are tons of similar apps for Android, macOS, Windows, etc., systems. Not all are well to be used, so maybe you can stick to the abovementioned ones.
Furthermore, if you need any help with these best Cheat Engine Alternatives, you can also let us know in the comment section so that we can help you in the best manner possible.
If you already have a rooted device, using such apps becomes much easier than normal. Otherwise, you can choose to root the device or simply not. Since there are apps that do not require you to root it.