You've probably never thought of how your smartphone may suffer from all the unnecessary burdens it has to carry.
All the background processes, junk files, caches, and residual data slows your smartphone down and cause superfluous performance issues.
You may not notice, but most of the time, your smartphone runs some application in the background with no adverse use instead of slowing down the whole performance of the phone and other hazardous effects.
These effects can be significant and noticeable, like reduced battery life or increased battery drain rate, non-availability of RAM, occupying extra storage space, the system slowing down, etc., are the most common effects.
This is why having a cleaning app on your smartphone is always necessary, as it keeps track of all the malicious activities in the background and helps eliminate them.
You must've noticed that your smartphone is sluggish in day-to-day operations or lags too much. This happens due to apps running in the background and less memory space on your phone.
This is where the cleaning apps play a significant role in boosting the performance of your device.
Why are cleaning apps required?💁
An android cleaning application is required to maintain a proper and constant flow of the performance and speed of the smartphone.
It has various perks, like protecting the device from malware, keeping junk clean, boosting performance, and optimizing the whole experience for the end user.
However, several cleaning apps are present on the play store, claiming to be the best, but we've sorted out the best cleaning apps based on ratings and the actual user experience.
Here's the list of the best cleaning apps for android.
Best Cleaning Apps For Android – Our Pick👌
1. 1Tap Cleaner – Best android cleaner 2022
As the name suggests, 1Tap Cleaner cleans all the junk on your device with just one touch. It is considered one of the best cleaning apps for Android that is present on the android platform.
It has numerous extra features, like cleaning cache files, history, texts, and call logs.
Rated 4.5 on the play store, this app also allows you to unintentionally restrict unwanted actions that your phone performs. You can use it regularly, significantly boosting your device's performance.
You can also set intervals to clean up the device automatically. It is available on the play store free of cost. You can download it from there without any hesitation.
Although this app can clean the entire device simultaneously, you can choose precisely what you want to eliminate. The 1Tap cleaner automatically cleans the cache, giving you extra space and performance.
It also allows you to set up a minimum memory scenario that creates a threshold crossing.
Features of 1Tap cleaner:-
Call logs can be cleared

Cache cleaner

Easy and simple to operate
Download the App from Google Play Store
2. Norton 360
Norton is a well-known company in the smartphone world regarding the security of devices, whether it's windows or android. Norton is one of the best in business.
Norton 360 is one cleaning app for android under the name of the Norton brand. It is the best android cleaner app that doesn't have any ads.
However, its services are mostly paid, ranging from 0.99 USD to 100 USD, depending upon the services you avail of from this app. It has excellent reviews from the people that have already purchased it.
Norton 360 intensely focuses on online privacy. It already has 50 million users worldwide and provides 24*7 customer support.
Besides cleaning, Norton 360 also provides layers of protection against malware, viruses, and numerous other threats that risk your privacy, like credentials of bank accounts or any personal info.
As mentioned earlier, it is a paid app, but even after purchase, they offer a 60-day money-back guarantee for annual subscriptions.
Features of Norton 360:-
Ad-free experience 

Multi-layer protection amongst various threats 

Google play app advisor 

Inbuilt web protection and VPN
Download the App from Google Play Store
3. Files by Google – Best free android cleaner 2022
Files by Google are adored and loved by everyone. It offers a simplistic approach to its user yet is unique because there is no other app like this.
With over 500 million downloads, it is one of the Best Cleaning Apps For Android. It is trustworthy and exceptional because it is a byproduct of Google itself, and they sure know how to make an app that is lasting and loaded with the feature.
Files by Google is a feature-rich android cleaning app to free up space on your device, find files quickly, remove junk, etc.
It allows you to check your device completely and is free.
This app has everything you need from an android cleaning app. It is an intelligent file management app that lets you manage your files, freeing up space with cleaning recommendations.
This is a goto app for regular android users who don't want to pay yet wish to enjoy the best experience out of these apps.
Features of Files by Google:-
Option to back-up data in cloud storage

Boosts phone's performance significantly 

File management and finding are quick and straightforward

best free cache cleaner for android
Download the App from Google Play Store
4. Bitdefender Mobile Security And Antivirus
Bitdefender is another renowned company on our list known for its security services in both the PC and smartphone worlds. Here we are primarily going to discuss smartphones only.
The Bitdefender works as a maintenance tool that lets you track all the running activities in the background on smartphone devices. It can also delete unwanted apps and files from your device to free up space and increase performance. 
Bitdefender has two versions available for its user base, one is the free version, and the other is the paid version. The difference between them is pretty noticeable. Bitdefender does all the essential jobs but only on a limited surface.
The primary issue with the free version is that we cannot use it on our Mac, IOS, or Android devices, and it doesn't offer real-time security until you hit the scan button.
The paid version has all the free features, but it is also loaded with some additional features. It is supported on all the devices like Mac, IOS, and Android and offers real-time protection.
It also has a multi-level layer of ransomware protection that protects it from ransomware threats.
Features of Bitdefender Mobile Security And Antivirus:-
Real-time threat protection

Hides VPN 

Inbuilt app lock, web protection

Malware security
Download the App from Google Play Store
5. Droid Optimizer
Droid optimizer is the to-go for if you feel that your device has become sluggish, apps are taking forever to open, or the battery is draining too fast. Droid Optimizer boosts your device's performance and cleans up space effortlessly.
It also protects your privacy against malware present on the Internet, which can make its way into your device through using unprotected Internet.
We all know that internet browsing without a secure connection can leave traces that can be illegally used against you.
Droid Optimizer helps you keep track of the permissions granted by an app. It also prolongs the battery drain of your device in several different ways.
App Review: Droid Optimizer
The best thing about Droid Optimizer is that it is free and has no ads. It builds up an outstanding experience for the end-users.
Features of Droid optimizer:-
Ad-free experience

Increase battery life

Cleans the device thoroughly

Protect privacy
Download the App from Google Play Store
6. Norton Clean
We've mentioned Norton 360 earlier in our Best Cleaning Apps For Android list. However, Norton 360 was a paid app, but Norton Clean is a free-to-use app for android users.
Users who love Norton's experience with their products will also like this product as it has similar features, but you do not have to pay for it.
It can be easily downloaded from Google Play. It stores the cache files, which ends up offering more space available for your device. It helps you to remove junk, residual data, and APKs from your device.
This app also has a reminder feature that lets you know when the junk files should be cleaned. Norton Clean even enables you to notice the apps you rarely use based on your device's usage; if it is an unnecessary app, you can delete it. You can also perform app-specific clean-ups.
Features of Norton Clean:-
Free-to-use software 

Junk and cache remover 

App-specific clean-up enabled 

App management

phone cleaner app for android
Download the App from Google Play Store
7. CCleaner – Best cleaning apps for android With Cache Cleaner
CCleaner is also software available to both platforms, PC and Android. The Android version of CCleaner has a very user-friendly interface that makes the app simple. It also won't show you any ads while you browse the Internet.
It also assists you with the removal of junk, browser history, clipboard contents, and application cache. It can also let you uninstall unwanted apps to free up extra space for your device.
CCleaner also handles the memory management of the device, including RAM management. You can easily monitor your system activities through this app very easily.
CCleaner also has a storage analyzer that lets you analyze and optimize your storage space which helps with the device's performance.
You can also discover which apps are consuming the most of your battery life, which is consuming the most data, and which is the least used app in the system.
Features of CCleaner:-
System analyzer 

Straightforward to use

Boosts battery performance 

Clear junk files
Download the App from Google Play Store
8. All In One Toolbox – Best cleaning apps for android With 30+ Tools
All-In-one is amongst the top most popular apps that are used by millions of users across the world. It is the Best Cleaning Apps For Android that not only assists the device's performance but also lets you boost the specific individual app performance.
Also, you can perform all the basic stuff performed by any other application of the same genre. You can uninstall apps, and manage APK files.
This is one of the best cleaning apps for android because it has no ads. So you get an ad-free experience without sending any money.
It is freely available on Google play. All in all, it is an excellent app to use for cleaning and gaining extra performance from the device.
Features of All-In-One Toolbox:-
One tap speed booster 

CPU cooling option is available 

Shows the current status of the device's memory 

File and App manager

best free phone cleaner app
Download the App from Google Play Store
9. Phone Cleaner – Android Clean, Master Antivirus
Developed by SystWeak's for Android, Cleaner for Android is a free app to download and use.
It claims to reduce data loss from your system, which mostly happens due to the frequently running apps in the background for no apparent reason.
It also has the unique feature of detecting junk files without detecting the data from the device. This app also has all the basic functionalities of a cleaning app, like removing junk and residual files from the system.
Features of Cleaner For Android
One tap booster 

Battery saver option 

Duplicate file removal 

Junk and residual cleaner
Download the App from Google Play Store
10. Go Speed
As the name suggests, this app focuses on boosting the device's speed by eliminating all the unnecessary processes from the RAM. Go Speed comes with a memory cleaner that allows you to free up memory taken by junk files, caches, residual files, etc.
Go speed also offers an app lock in its application that lets you lock important and private apps to protect your privacy from threats. It claims to boost your phone's speed by 60%, which is a lot. 
Features of Go Speed:-
Boosts performance by 60%

Phone optimizer

Cleans junk files by just one step

RAM cleaner
11. SD Maid
SD Maid is amongst the underrated categories of cleaner apps. SD maid gives users an in-depth option to clean their phones from junk files. SD Maid has a wide range of tools that helps in the deep cleaning of the device.
Deleting caches is the most efficient way of freeing up space, but after that, through the help of SD Maid, you can delete residual files and duplicate files one by one based on your preference. It also has a storage analyzer that gives you an overview of the entire system storage.
SD maid has another pro version of the app with some extremely good features. However, the pro version is paid but offers good value for money.
The Pro version has a scheduler by which you can schedule the cleaning process. The user interface of SD Maid is simplistic, but it might take some time to get the gist of it.
Feature of SD Maid:-
Includes file explorer

In-depth cleaning of junk

Optimization of database
12. Ace Cleaner
The Ace Cleaner App is a very simple but effective android cleaner app. It packs a lot of features like Ace Clean, Ace boost, Quite Notification, CPU Cooler, and battery optimizer.
The most helpful feature of all is the Ace Boost, it can boost your entire device to perform on the best possible level.
Ace boost can also stop the apps that tend to start automatically in the background, consuming the memory and making the device laggy and sluggish.
It also has a feature called duplicate cleaner which can find similar-looking photos from your files so that you can delete them to get some additional space. You can keep the important pictures and delete all the other similar images.
It has over 10 million downloads and has a rating of 4.6 on Google Play. It is easily one of the best android cleaner apps at the current time.
Features of Ace Cleaner:-
Ace boost feature

Integrated Do Not Disturb mode

In-built app lock feature
Download the App from Google Play Store
13. AVG Cleaner – Best cleaning apps for android To free up storage
AVG Cleaner is a must-try Android cleaning application. It has all the basic features of a cleaning app. But apart from that, it also acts as a file manager and system memory booster.
It also removes duplicate and bad-quality photos depending on your choice of what you want to clean and what you want to delete.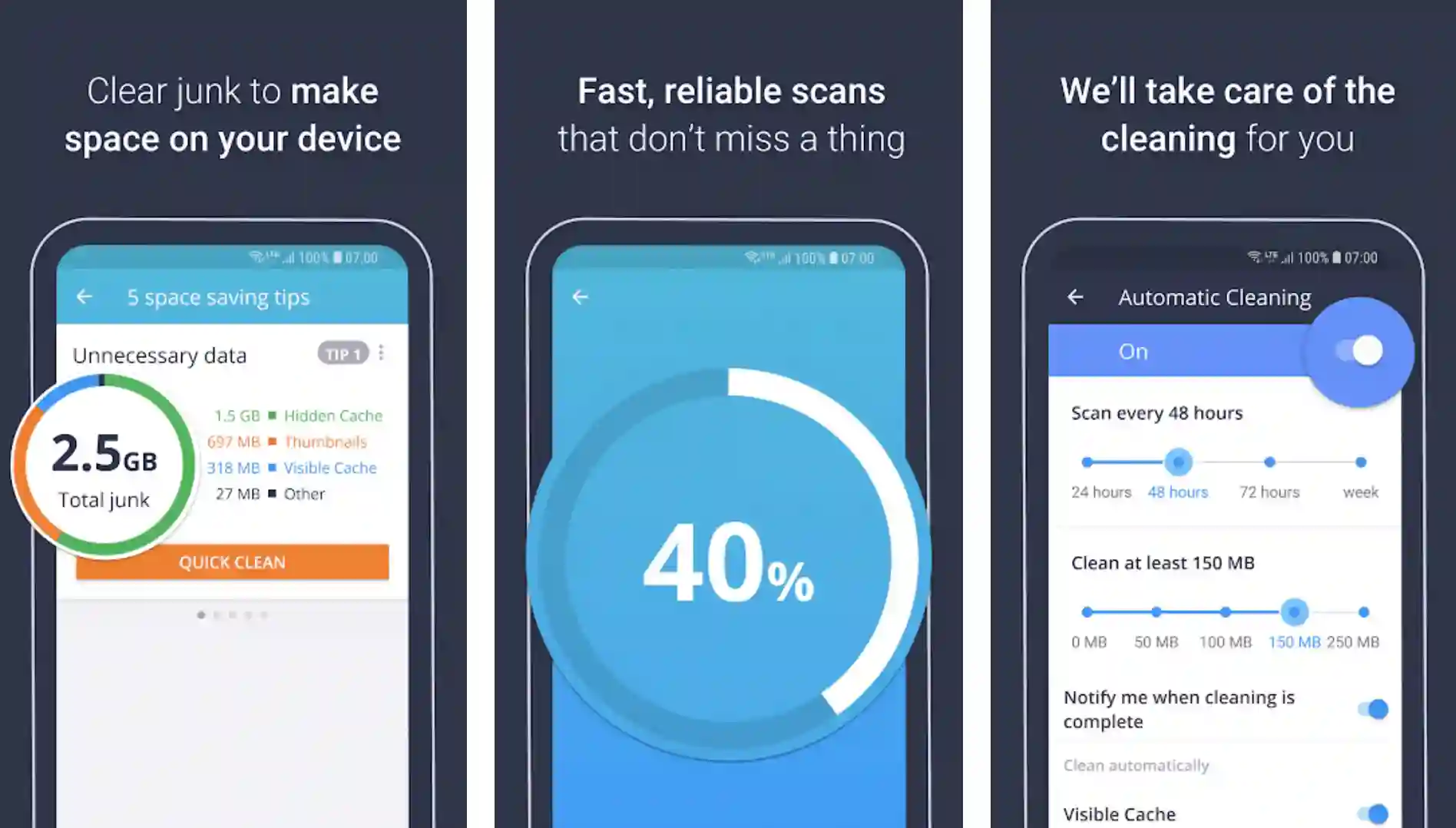 AVG Cleaner keeps track of the apps that consume the most battery and recommends stopping or removing them from the system if it isn't very essential.
You can also kill background apps in the app, improving the device's overall performance. It also has a battery optimization option.
AVG Cleaner gives the user a brief analysis of which apps are draining the battery or which consumes the most RAM. However, this app does come with ads which can be a little annoying sometimes, but as a whole, it is a decent app.
Features of AVG Cleaner:-
Automatic clean-up can be done. 

Acts as a file manager

Option to kill or hibernate background apps
Download the App from Google Play Store
14. One Booster – Antivirus, Booster, Phone Cleaner
If you don't want to install an additional app for anti-virus services, then this app can benefit you. It can be used as an anti-virus app and a cleaner app for android. You won't have to download a separate application.
Yet, the One Booster app's primary focus is the cleaning and managing junk and residual data. You can quickly perform activities like cleaning junk files and caches from this app, as it has one of the most simplistic user interfaces.
The CPU Cooler feature in this app generally clears the device's RAM, so it doesn't heat up, resulting in decreased performance.
The battery-saver feature also kills or hibernates the battery-draining apps resulting in prolonged battery life. Apart from all these good things, One Booster has a lot of ads that can disturb your pleasant experience of using it.
Features of One Booster:-
2 in 1 app

Includes antivirus and cleaner 

Fast performance
Download the App from Google Play Store
15. Avast Cleanup – Best cleaning apps for android To master your device's performance
Avast is a well-known and very reputed company in the software security market. They offer their services in both PC and Android products. It has a cloud storage option too.
Avast is generally known for its antiviruses, but they have also made a cleaner app for android users. It has a striking resemblance to the AVG Cleaner. It also has a photo analyzer that analyzes duplicate and bad-quality photos and an option to hibernate or kill apps.
The photo optimizer also lets you optimize the size of images too. However, this service is only available for paid or pro users. It has a rating of 4.7 and over 50 million downloads on Google Play. These are huge numbers and show the users' trust in this app.
Features of Avast Cleanup and boost:-
Inbuilt photo optimizer

Trusted developer 

Image analyzer and cleaning adviser
Download the App from Google Play Store
📗FAQs on the best cleaning apps for android
What Is A Cleaner App For Android?
A cleaner is used to clean and optimize your Android smartphone to improve its performance.
This application scans and removes junk files, temporary files, unnecessary files, cache, browser cookies, etc., all from your mobile device.
Why Does an Android Need a Cleaner App?
An Android requires a cleaner app to maintain the performance as well as the speed of a device. It clears the cache files and cleans up the RAM from the apps you are not currently using.
Cleaner apps improve battery life by closing unwanted apps running in the background. Also, this software will keep your Android device safe from malware and remove junk regularly.
What Does Smart Cleaner Clean? 
Smart Cleaner app cleans browser data, cache, cookies, and downloads and increases the overall browser speed. You can have a free trial for this app, but you must pay weekly or annually.  
What Is The Best And Free App To Clean Your Phone?
Different apps can be used for cleaning your Android device. The apps are CCleaner, Files By Google, Droid Optimizer, Ace Cleaner, AVG Cleaner, Avast Cleanup and Boost, All in one toolbox, and many more.  
What Is a Smart Cleaning App On Android?
Smart cleaning app has a feature for Android devices that automatically optimizes storage and memory depending on how frequently the apps are used.
Every day, for once, the cache memory is checked. If the cache memory is not used for more than two weeks, it is removed from the internal storage ROM.  
How Do I Declutter My Android Phone? 
Are many ways using which you can declutter your Android phone? You can do this by deleting unused apps, hiding less frequently used apps, creating folders, and organizing apps by their usage.  
What is the best Cache cleaner app for android?
We've included the best android cleaner apps on our list, and it is very hard just to choose one of them from the bunch as they perform very well and get the job done in their respective fields.
But still, if we have to choose just one, we can say that Files Go by Google is the best cache cleaner app on our list. It offers an easy-to-use interface. It is preinstalled on some devices as the default cleaner and file manager. And on top of that, it was developed by Google and didn't have any ads.
How to clear the cache in Android?
You can take a simplistic approach of deleting cache files on android by installing any of the apps we've included in our list. You can clear the entire device's cache using one app.
If you do not wish to follow the above method, then you can just do it manually; just go to your device's settings, then go to android storage settings. From there, you can delete the cache of each app present there manually and specifically.
How to speed up your android device?
The best possible way to speed up and boost the performance of your device is by deleting junk files and cache. This is possible from any of the android cleaner apps we've discussed above, or you can do it manually by the method we told you about earlier in the FAQs column.
Do you need an Android Cleaner app?
There's nothing that the user cannot do manually, like cleaning junk or hibernating apps. Users can perform all these activities individually and manually, but they can be time-consuming.
Android cleaner apps let you do the same thing by offering extra features and making the whole process simpler and more accessible for the end user. Ultimately, the choice depends on whether you need an android cleaner app or not.
How to free space in Android Devices?
We all know that every device has a limited storage capacity that we need to utilize efficiently. But sometimes, most of our precious storage space is filled with junk files, including cache and residual files.
Deleting them grants you the space that was occupied by them earlier. You can use any file manager app from the above list and see which app or file is acquiring more than adequate space.
Does clearing the cache from the device have any side effects?
Cache memory contains the mainly accessed temporary files from the users and stores them for faster app reloading or that particular file. However, it helps the file to load faster, but on the other hand, it acquires a lot of storage capacity.
Deleting them frees up the storage capacity. However, they get stored again, so you must do the process repeatedly. It doesn't have any side effects.
How can you free up RAM on Android devices?
You can free up RAM from your android device in numerous ways. You can free up RAM by killing apps from the recent app background menu. Another way of doing this is by just doing it from our listed apps in just one simple step.
You can go to developer options in your device's settings, disable animations, and set up a limited background process that won't allow any more apps to stay in the background than the limit.
Conclusion on the best cleaning apps for android list
We hope that we've solved every query and doubt related to the best cleaning Apps for Android. You can choose and select any of the applications listed above based on your preference and liking.
If you are hesitant to try any of the apps, then you first use the free version of every app and see what they have to offer or whether it is useful for you or not.
Then after gaining some experience, you can opt for the pro versions to get the benefits of these apps to their full extent.
These apps are just developed to save your precious time and give you some extra performance. Other than that, everything can be achieved manually.
Hopefully, this article was helpful to you—best of luck with your future adventures.