Most of the work has been done by different computer software nowadays. It does not matter whether you are an amateur artist or a professional graphic designer. We use different software to fulfill our different needs.
A computer, tablet, or a laptop with Chrome Operating system is known as Chromebook. People often think that Chromebook does not have quality applications when it comes to creative stuff such as image editing, painting, and drawing.
This is a clear case of misconceptions and misunderstandings. As a result, Chrome OS has not gained that much popularity among people. And you should not be disillusioned.
Certain apps work on Chromebooks, although it supports Linux apps, Android apps, and web apps. Gradually, the number of apps is increasing, but many of them lack quality. There are two types of Chromebooks.
The first one is the traditional PC with a mouse and a trackpad. And the second one is a comparatively new touch screen model that comes with a stylus. You can draw, paint, edit, and do creative work with both models.
However, touchscreen displays & stylus are handy and easy to use. Hence more preferable. Chrome books are manufactured by many big companies such as Acer, HP, Asus, Dell, and Samsung.
And we all know they are famous brands in the field of technology and electronic gadgets. And they are making Chromebooks mean they are not making any mistakes. Asus Chromebook Flip C432 and HP Chromebook 14 x360 are some popular models.
Apart from that, we have seen Pixelbook Go and Pixelbook by Google itself. It is all about the apps we use.
Choosing the best apps among the ocean of apps is difficult. That's why we are here to help you choose the best drawing apps for Chromebook.
These drawing apps give you all the controls with a vast range of features and tools. They work flawlessly with any of the devices discussed earlier. We have selected the apps after trying them by ourselves.
They offer a minimum amount of latency during your work on the Chromebook. And another best feature is they have offline support.
Let us discuss some apps that let you show your creativity on your Chromebook. It has features of using the Chrome browser as well as the Google Play store. 
Best Digital Drawing Apps for Chromebook 👌
1. Sumo Paint
Though we all know Sumo Paint (Download Here) as an online image editor, it can do many more things.
Without making any makeshifts, users can easily use this app as a painting tool, aside from just being a photo editing tool.
The application gives its users everything. You would get everything that a person needs for creating professional art by utilizing his/her creative skills. You will get more than 300 brushes to create your painting canvas.
As a beginner, you can start with basic painting and editing tools. Still, if you are a professional, you can explore auto-orientation, animated brushes, 360-degree rotation, gravity, etc. 
You will be surprised to know that the application can control your painting's adjustments by the amount of pressure you apply to your drawing pen.  If you have any experience with Photoshop, then you can do wonders.
We are talking about working on different layers. Yes, you heard it right. If you are comfortable with the usage of illustrator, then this is the app you need.
It can be used for image manipulation as well. Additionally, you can try options like gradient, fill, clone, line tools, smudge, etc. If you are an occasional editor or a professional graphics designer, this app is an excellent tool for you.
Some key features of this app are discussed as follows:-
3D rotation, animated brush, auto-orientation facilities

Can be used by a graphic designer or a photo editing beginner

More than 300 brushes are available

Facilities like clone, fill, smudge, and gradient

Complete control over your creation
2. Sketch Pad
The second item (Download Here) in the list is extraordinary. It is a similar app to other PWA apps, but the USP is you don't need a play store to run this app. A few people don't have play store support, it's an excellent tool for them.
It can satisfy all your drawing needs with its straightforward UI. You will get features like different brushes, color modes, texture stamps, presents.
But it doesn't have shadowing effect, path creation, layer-wise edit, color picker, select through pen tool, presets for shapes. You can install the PWA app directly.
Additionally, it has offline features as well in which you can use all the features without using data and changing any settings.  Sketch Pad can work with both images and vectors based on HTML5.
You will get a plethora of brushes with various stamps and fonts.  Sketchpad has more than 5000 clipart. You can import an image and start drawing on that too.
You can also add notes, paint on the imported images, and overlay text—a clutter-free free tool that can be used for primary and complex image editing. You can go for Sketchpad if your quest is to find out the best drawing apps for Chromebook.
The salient features of the app are as follows:-
Many stamps are available.

More than 5000 clipart. 

Offline features with an online platform. 

Multiple brushes with clipart specifications

Image and vector editing options
3. Infinite Painter
You won't find a better app than Infinite painter (Download Here) if you are a sophisticated painter. This drawing app has low latency, and its canvas adjusting is very efficient due to its free panning option.
You won't miss anything with the variety of tools it offers if you are an intermediate-level painter. It brings you more than 160 types of natural brushes. Moreover, you can also create new brushes.
Advanced layer support, geometric tools like circle, rectangle, ellipse, protractors, and lines make it an easy option for beginners. If you are not convinced, the application supports features like liquify, gradient fill, transform, pattern fill, and many more.
Infinite Painter on Google Play
It supports different file formats such as PNG, JPG, PSD, and ZIP. With the help of PSD, you can work on photoshop and infinite painter simultaneously.
For that, your Chromebook must support android apps. It is our onus to let you know that the application is not free totally. If you want to use its premium features, you have to invest some dollars. This app is a one-stop solution for sketching, painting, or drawing on Chromebook.
The key features of an infinite painter are as follows:-
It follows a freemium model 

It supports files like JPG, PSD, PNG, and ZIP file

More than 160+ brushes

Gradient and pattern fill option

Geometric tools, advanced layer support
4. Artflow
Though it comes 4th in the list, it is unarguably one of the best drawing tools available. If you are an android user, then Artflow (Download Here) can be the best sketching and painting app for you.
You can enjoy more than a hundred brushes with ArtFlow and other tools like gradient fill and smudge. You will be surprised to know that you can also create your brushes.
For brightness, color curves, and saturation adjustment, you can apply different filters and select masks. The tool won't distract you with irritating ads like other apps. Everyone prefers a large area for the canvas, but few apps deliver.
Artflow gives you a large screen by including a chrome dock. It works in the way that all the controls are hidden in the top right corner situated dot. In case you need something, you can click on this and use all the features.
And once you start drawing, the controls will be automatically hidden. Another wonder of this app is that one can create 50 layers of canvases and resolutions up to 6144×6144.
Artflow supports formats like PNG, JPG, and PSD. Now let us discuss some advanced features. Layer clipping mask, palm rejection, and pen pressure support are some notable mentions.
It is available in play stores. But here also you have to make in-app purchases to enjoy the additional features. With the free tool, you will get basic features like shapes, opaque, color pickers, and brushes.
Another important thing that needs to be discussed is it has almost zero latency. In light of all the points discussed above, we can conclude that this app is an excellent drawing and sketching app for beginners in digital paint.
If you like the features, you can download them. But before that, we should highlight some points about Artflow
Less distraction

It can be easily downloaded and used

100+ brushes and other tools like color picker and opacity slider.

It supports file formats such as PNG, JPG, and PSD.

A perfect tool for a beginner
5. Sketchbook by Autodesk
This digital drawing platform's name must be known to the maximum number due to its popularity. It doesn't matter if you are a pro or a beginner.
We can recommend it to anyone. Due to its android supportable quality, the software is available in Chromebook now. You can actively use a stylus. Palm rejection can be enabled for an individual's convenience. Sketchbook's (Download Here) performance is splendid.
Autodesk SketchBook: Google Play Tablet Preview
It has a full-screen mode that gives you a large canvas. Apart from that, it gives you multiple layers and tools. Another key feature that needs to be covered is zero latency. It is essential to iterate that this plays a vital role in a beautiful creation.
It works perfectly well without any crashing and freezing issues in devices like HP, DELL, etc. Sketchbook by Autodesk doesn't need any introduction as a drawing tool and, undoubtedly, the best sketching app for everyone.
Don't follow any false instructions or any tech hacks to install Sketchbook on Chromebook. As we mentioned earlier, it supports Android apps, which gives you complete offline support.
Salient features of this app are:-
Offline support

Both for beginners and experts

Easy installation

Full-screen mode

Different tools
6. Adobe Illustrator Draw / Adobe Photoshop Sketch
We know Adobe for PDF openers or PDF scanners majorly. But Adobe Illustrator (Download Here) is a robust painting software that was initially available in macOS and windows. But now you will get it in Chromebook as well.
You can easily get this app in the play store. It works in full-screen mode with normal keyboard controls, mouse, and touchpads. Anyone who has a basic idea about computers and drawing can use this app. It is probably the best drawing apps for Chromebook.
If you are up to vector drawing, then this app is for you. If you try drawing on a large canvas, you will get to see features like layers, brushes, and tools.
If you are in a dilemma and can't decide which among the two is for you, then we would recommend going with the Adobe Illustrator Draw first. As you know, it is a vector drawing application; free hands are welcomed. It's up to you how you draw.
Use your free hands on the canvas with the features it has in it. And you can try Adobe Photoshop Sketch only if you have to deal with raster drawing or bitmap. Gradually, you will get to know where to use which app depending on your needs.
Both apps have the potential to work well on Chromebooks. They support the tilt mode, which can be used for rotation purposes. You won't feel any latency with the apps.
Both apps serve different purposes and have already been used and appreciated by many satisfied users. We don't hesitate to recommend this app.
A few key features of this app are:-
Zero-latency

Serves different purposes

Easily function on Chromebook

Supportable in both Windows and Microsoft

Easy features like layer and brushes
7. Concepts
It is unfair to discuss drawing apps for Chromebook without mentioning "Concepts." (Download Here) This drawing app is available on AiPadOS, Android, iOS apps. You can also get it in your Chromebook. through play store.
The infinite canvas gives you enough space to create designs, sketches, and illustrations. The latency here is close to zero. Apart from that, Concepts supports pressure modes and tilt, thus helping you create a beautiful sketch with high precision and intricate details.
It gives you different drawing tools such as pencils, pens, natural brushes. You can also preset papers, select the background of your choice, and use different textures. Stylus also plays a role behind a classic masterpiece.
Concepts Sketching App for Android and Chrome OS
You can use the velocity feature for easy sketching and flexible drawing. It might not be the best drawing app on Chromebook, but it is beyond your imagination.
It focuses on drawing and does it effortlessly. It is more specific about drawing models, house plans, the basic structure of art. But it's not easily accessible because you have to pay for the pro version to use basic features like import image, normal adjustments, and editing.
All you need to pay is $9.99 for lifetime accessibility. But still, you don't get all the features. To enjoy all the specifications, you have to pay $4.99 per month.
You will get options like presets, easy import and export of images, a range of brushes, customer support, future updates, interaction with the community, etc. If you are ready to pay a small amount for your passion for drawing, it should be on your list.
To discuss a few important points about Concepts:-
Available in iOS, Android, and play store

Zero-latency means more power

You have to pay for key features

Very fewer features in the free version

Multiple textures, background, and preset option 
8. Krita
Linux is used by working professionals mostly and for drawing options, it is not considered usually. Most people find Windows handy. However, Krita is open-source for all the users of Mac, Linux, and Windows.
Now, it is available in Chromebook through the play store as well. Krita (Download Here) is a perfect sketching and painting app that gives you all the pro features like other drawing apps. Starting from filters, channels, preset brushes, and multiple layers at absolutely free.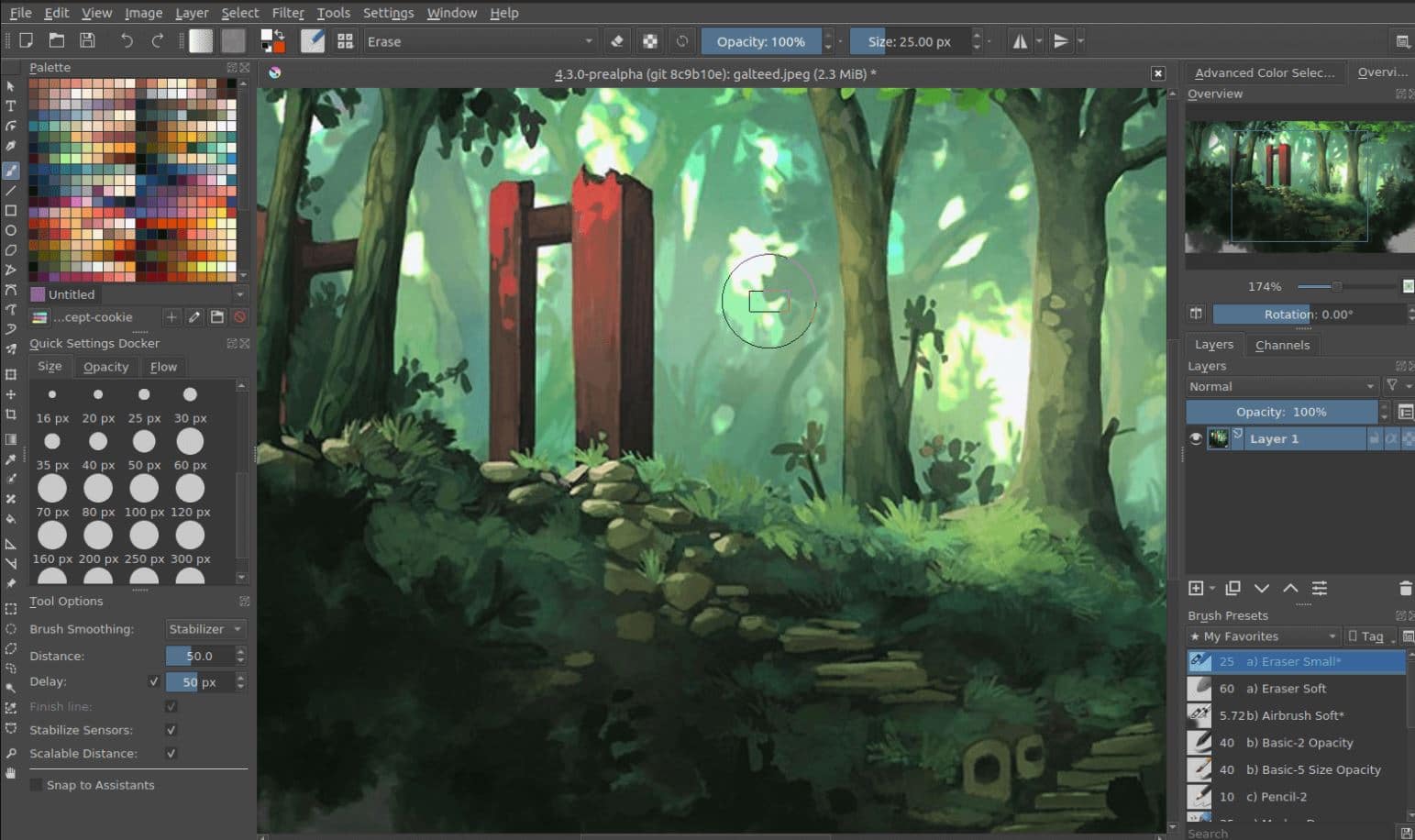 A small caution is its user interface is a little bit complex. Krita on other versions is better than Krita on Chromebook. It's because it is in the beta stage now due to its late entry into this version.
But in the future, you can expect a better experience. With the software, you can create complex illustrations and conceptual art comfortably. Though it is free, you will need to invest some money for Chromebook set up on Linux.
It is very popular for digital painting among the Linux community. This is a professional drawing tool that is a value in the list of drawing apps for Chromebook which works perfectly well without any headache.
Here is a  list of key features:-
App For Linux

Free and Open source

Preset brush, filters, layer option

Can be used both for personal & professional use

Comparatively new in Chromebook
Command to install:-
sudo su
flatpak install flathub org.kde.krita
You may like to read our guide on 9 Best
Paint.net Plugins
To Make Paint.net Even More Better.
9. Inkscape
Inkspace is another efficient app for Linux users. With its features like smart navigation, flyout, and anchor, it is beneficial. You can easily design a logo or any other complex paintings with tools like layers, text tools, and color profiles.
The only drawback with it is it occupies a lot of space. You will need a powerful Chromebook to deal with such heavy software. If you are looking for a perfect Chrome OS or Adobe Illustrator substitute, then Inkspace is for you.
Its advanced features help you to create your masterpiece with ease. The app gives you tools like spiro curves, beizer which are not found in other drawing apps for Chromebook. You have an option to use Inkspace without any hiccups by enabling GPU acceleration.
Key features are:-
App for Linux users

Beizer and Spiro curves

Heavy and needs a strong Chromebook

An alternative for Adobe Illustrator

Powerful text tool and color profile
Command to install:-
sudo apt-get install inkscape
10. Gravit
Last but not least in the list of drawing apps for Chromebook is Gravit (Download Here). Like most of the apps, it is neither a Linux app nor an Android app. It is a creation of Chrome that allows you to design and draw digital paint.
It is perfect for making vectorized graphics, icons, and logos. Additionally, it gives freedom to create characters using proper animations. If you are in a quest for a drawing application in the Chrome environment, Gravit is a perfect fit.
The key features of Gravit are as follows:-
App for professional illustrations and drawing

A Chrome feature 

Vectorized graphics, logos, and icons

Use of animation
✅FAQ
Is there a drawing app for Chromebooks?
There are numerous drawing apps available for Chromebooks. Here are some options:
Autodesk Sketchbook:- This professional-grade drawing app includes pencils, pens, and brushes. It has features like layer support, symmetry tools, and time-lapse recording. The app is free on Google Play Store.
Adobe Illustrator Draw:– This vector-based drawing app allows for customizable brushes, shapes, and layers. It permits users to sync their creations with other Adobe Creative Cloud apps. The app is free on Google Play Store.
Concepts:– This popular drawing and sketching app offers a range of tools, including vector and raster brushes, infinite canvas, and flexible layer management. The app is free on Google Play Store.
ArtFlow:- This comprehensive drawing app provides customizable brushes, color palettes, layers, and more. It enables users to export their creations as PNG, JPEG, or PSD files. The app is free on Google Play Store.
Is Sketchbook free on Chromebook?
Autodesk Sketchbook can be downloaded for free on the Google Play Store for Chromebooks.
This app provides a variety of drawing tools, including pencils, pens, and brushes, as well as layer support, symmetry tools, and time-lapse recording.
While the paid version offers more features such as custom brushes and unlimited layers, the free version provides a good drawing experience.
Is there a paint like app for Chromebook?
Several paint-like apps are available for Chromebooks. Here are some options:-
PaintZ:- This browser-based image editor includes a paint tool with various brushes, colors, and opacity options. PaintZ is free on Chrome Web Store.
Krita:- This professional-level digital painting software provides customizable brushes, multiple layers, and various effects. Krita is free on Google Play Store.
MediBang Paint:- This app offers painting tools, including brushes, pens, and pencils. It also includes various comic templates and panel layouts. MediBang Paint is free on Google Play Store.
MyPaint:- This open-source painting app provides customizable brushes, color palettes, and layers. It has a unique feature called infinite canvas, allowing for drawing in any direction. MyPaint is free on Chrome Web Store.
How to do digital drawing on Chromebook?
There are several methods for digital drawing on Chromebook:
Use a stylus or digital pen:– Many Chromebooks support stylus input, enabling direct drawing on the screen. Some models include a built-in stylus, while others require a separate purchase. With a stylus, digital drawing apps and other tools can be used.
Install a drawing app:- Various drawing apps are available for Chromebooks, offering diverse drawing tools and features. Some are free, while others require a purchase. Popular drawing apps for Chromebooks include Autodesk Sketchbook, Krita, MediBang Paint, and MyPaint.
Use a drawing tablet:- If preferred, a drawing tablet can be used with the Chromebook. Drawing tablets connect to the Chromebook via USB or Bluetooth and allow drawing on the tablet while viewing the image on the Chromebook screen. Popular drawing tablets for Chromebooks include Wacom Intuos and Huion H610.
Use a web-based drawing tool:– Web-based drawing tools can be used on Chromebooks without the need for software installation. These tools work directly in the browser and offer a range of drawing tools and features. Popular web-based drawing tools include Sketchpad, Sumo Paint, and Aggie.io.
Can I use Chromebook for graphic design?
Chromebooks can be used for graphic design, depending on task complexity. They are designed for lightweight use, such as web browsing, email, and word processing. However, their hardware might not suffice for demanding graphic design applications that require a lot of processing power.
Several graphic design apps are available for Chromebooks, such as Adobe Creative Cloud, Pixlr Editor, Canva, Gravit Designer, and Vectr. However, these apps might have limited functionality compared to desktop equivalents and some may require a subscription or purchase.
For complex graphic design tasks, a more powerful computer, such as a desktop or laptop with a dedicated graphics card, might be necessary. For basic graphic design tasks, a Chromebook can suffice.
Researching specific graphic design tasks and recommended hardware and software requirements can assist in making a decision.
Conclusion
In this article, we have discussed different drawing apps for Chromebook. There are numerous drawing apps available. They provide different tools for desktop programs.
Function Wise also performs well. Because they give you new editing options, support different formats of images, low or zero latency, secure insert options, varieties of brushes, simultaneous use along with photoshop, and many more.
It has surpassed the iPad for the range of facilities for drawing and illustrations. Yes, it may sound surprising, but its quality apps are considered a better platform than iOS.
However, many people are satisfied with their ChromeOS devices. Initially, we were not aware of Chromebooks' true capability, but after continuously trying and experimenting more, we discovered more about the wonders of Chromebooks. 
Chromebooks have touch screen features and a handy stylus that make the gadget extremely helpful for those who want to make drawings digitally. The apps we mentioned work on all Chromebooks.
There are different types of people having different mindsets and preferences. They may find Sketchbook interesting and Artflow boring or vice versa. Now it's your time. Let us know which one you liked most. And is there any vital app we have not discussed. Shoot your thoughts in the comment section.