Are you curious to know about the best electric bikes under 500 $ To buy in 2022? 🤔 You can now Find out with this definitive list with our detailed review.
Without any further delay, let's find out. 🐱‍🐉
Since electric bikes, things have gotten a lot easier for many commuters, especially those that live in urban areas that are often plagued with vehicle traffic or with residents having to go some distance to get to work every day.
Because not everyone gets the chance to live just across the street from where they work so they have to deal with either annoying traffic or high transportation fare they start to consider cycling as an option, but not everybody is fit enough to pedal mechanical bikes.
Not to mention ruining a perfect outfit by arriving at your destination drenched in sweat. With electric bikes, commuters get to cut out traffic, save money and of course, get to arrive at places not drenched in sweat.
However, electric bikes can get a bit pricey and sometimes even confusing to choose the right one, especially for first-timers. Choosing the right one is all about knowing what exactly to look out for and what makes the right bike for you.
There are different electric bikes that are affordable but you can't just go for anyone just because the price tag fits, that's why this article is about the best electric bikes under $500 and what you should know before buying yours.
Best Electric Bikes Under 500 $: Our Picks 👌👌
If you have done any rounds on electric bikes in the market, then you would know that a $500 e-bike is not impossible but it is not as common as higher costing e-bikes and you usually find the best ones costing more, but this does not mean that you cannot get a good one within that range.
Great electric bikes that go for less than $500 and below are the best of them.
1. Coyote Connect Folding Electric Bike
This coyote brand is known for its electric bicycles, and this folding bike is amazing for regular e-cyclist.
The way it can be folded is one of the most appealing facts about this coyote bike because it allows some flexibility when you have to move around the city, and you can use it with other means of transportation.
For most, the battery strength, foldability, and relatively lightweight are commendable features. Although this e-bike does not come with versatile designs and colors, it majors of being affordable and practical, and it can be used by both sexes.
Below are some of the Pros and Cons of The Coyote Connect Folding Electric Bike that earned it a spot in our list of Best Electric Bikes Under 500 $ to get in 2022.
Pros:-
The bike has a range of 20 miles
Can easily be folded up at the arrival
Relatively lightweight
Affordable
Lithium-ion battery
Cons:-
Throttle only pedal sensor
Check Price on Amazon
Coyote Connect folding e-bike | Halfords UK
2. SwagCycle EB5
Compared to the Coyote foldable bike, this SwagCycle bike is more stylish and it is made by a more reputable brand 'Swagtron' who is also an expert in making scooters.
This bike is also a foldable bike and it weighs less than the Coyote, however, this less weight does not compromise on the power of the bike.
This bike costs less than $500 and it is easy to use around especially if you are one of those that mix your daily commute with something like a train so that you can easily unmount and fold it up to carry on and off the train.
The features of this bike are the Lithium-ion batteries powering a 250W motor and with a range of 15 miles which is less than the coyote.
People that use this bike love it because of the credibility of the manufacturer which goes a long way in affecting a decision to buy a particular electric bike that comes under the best electric bikes under 500 $ in 2022 lists.
Below are some of the Pros and Cons of The SwagCycle EB5 that earned it a spot in our list of Best Electric Bikes Under 500 $ to get in 2022.
Pros:-
It is lightweight
It is foldable and hence easy to carry around
It is affordable
Good enough range for a regular commute
Durable Aluminium frame
Credible manufacturer
Cons:-
The battery is not detachable
Less range than the Coyote electric bike
Check Price on Amazon
3. Cyclamatic CX2 Bicycle
Cyclamatic manufacturer have different bikes out there in the market all performing wonderfully and the CX2 is one of them which doesn't just have a good performance but it is also relatively cheap.
The bike runs on 20-inch tires which fold to the mid-section of the bike when you need it to, it comes with three levels of assist system just as the Coyote bike, and it also has a control panel on the left handle.
CX2 works with a throttle pedal that makes it easy to ride and can get up to 15mph and has LED lights to improve visibility while riding.
The CX2 electric bike has a better range than the SwagCycle and the Coyote because it can go up to 25 miles on a full charge before it needs recharging, unfortunately, the bike weights considerably more as well.
Below are some of the Pros and Cons of The Cyclamatic CX2 Bicycle that earned it a spot in our list of Best Electric Bikes Under 500 $ to get in 2022.
Pros:-
Affordable
Can handle average hills
Has a good range
Good battery life
It has a good mud protect
Cons:-
It is heavy
The aesthetical design isn't very impressive
Check Price on Amazon
Cyclamatic CX2 folding electric bicycle review
At the time of our research on "Best Electric Bikes Under 500 $", we found a video about "7 Most Extreme Motorcycle Records No One Can Repeat" which is worth watching.
https://youtu.be/qfv3RKFXPwA
4. Shaofu Folding Electric Bicycle 350W 36V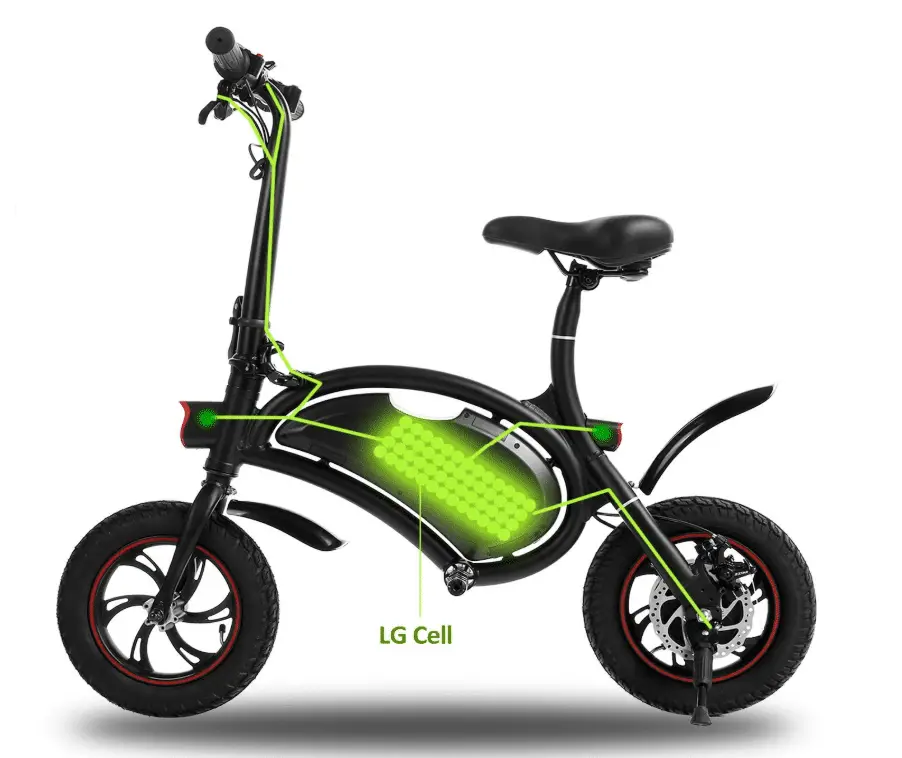 This Shaofu bike is also a folding bike like others on this list but what makes it very impressive is not only its affordability but the power of the motor.
With a 350 Watts motor, this bike seems like it got more packing than the previous three and all for a little under $400. This bike is stylishly designed with an aluminum alloy frame that is durable making it perfect if you are thinking of keeping it for a long time.
Aside from the design, this bike has a lighter weight as well with 12kg which is about half of the CX2, the bike also lists a 25km/hr speed and a range of 10 miles.
Unfortunately, if you are thinking of using this for long-distance commutes, it may not be perfect because of the low range, however, the speed makes up for that in a little way.
In addition to the technical features of the bike, the Shaofu bike has more features that make it great like a Bluetooth support system and a waterproof feature in case of rainy days.
Below are some of the Pros and Cons of The Shaofu Folding Electric Bicycle 350W 36V that earned it a spot in our list of Best Electric Bikes Under 500 $ to get in 2022.
Pros:-
Lightweight
It folds up nicely
Bluetooth supported
Affordable
Durable bike frame
Cons:-
Low range
Not a very popular manufacturer
Check Price on Amazon
5. NAKTO Electric Bicycle
Nakto is also a very reputable company for bikes just like with Swagtron, not to mention the thousands of positive customer reviews which is very important because you do not want to buy a bank no one has tested.
Asides from this validation got from customer reviews, the manufacturers offer a bit of help with helping you adjust to this bike by having a functional spare parts sales system as well as a descriptive manual and helpful and easy assemblage.
The NAKTO bike is perfect for beginners because of the support and credibility it has in the market which has been built up by its favorable features.
There are different types of NAKTO bikes in the market and sometimes the price you get is dependent on the bargain of the season however they are still very affordable bikes.
The features of this bike aside from the obvious include the foldable frame, high speed of up to 27km/hr, a removable battery that has a shorter charging time of three to four hours.
The bike also has 2 modes selectable, a year warranty from the manufacturers, and impressive brake performance. Although this bike costs a little over $500 on Amazon in 2022, it has features that make it worth the price.
Below are some of the Pros and Cons of The NAKTO Electric Bicycle that earned it a spot in our list of Best Electric Bikes Under 500 $ to get in 2022.
Pros:-
Reputable manufacturers
High speed
Manufacturer's warranty
Supportive system for spare parts
Easy to assembly
It is foldable
Cons:-
Nakto E-bike--the most affordable and adorable e-bike
6. SwagCycle EB-1
Considering that the manufacturers are very reputable, there is no surprise that two types of SwagCycle bikes show up on this list.
The bike is lightweight and has a pedal-assist which means it is amazing to sneak in some exercise while you ride it to your destination. Because of the pedal system mixed with the electrical support sensor, this bike will hardly leave anyone stranded in the middle of the road.
The EB-1 has a strong and durable aluminum frame that packs a very strong 250W motor which accounts for some of the range it can cover although the range is low at barely 8 miles.
The brake system allows the rider to stop easily and maneuver difficult turns making it amazing for inter-city commute.
In addition to the strong battery, it also has a short charging time so that riders can get back into the road in as little as three hours.
Below are some of the Pros and Cons of The SwagCycle EB-1 that earned it a spot in our list of Best Electric Bikes Under 500 $ to get in 2022.
Pros:-
Great maneuvering
Affordable
LED lights
Lightweight
Pedal-assisted
Cons:-
Check Price on Amazon
7. Zinc Electric BMX
Although not from a very popular manufacturer, this bike sold out pretty fast which accounts of course for something good about it.
The bike is perfect for use in daily commute even if you live on top floors because of its lightweight of 16.2 kg which is easier to carry than some others on this list.
Aside from the weight of the bike, even though the bike may not cover excessively long ranges, it is designed to allow you to have a fun day riding around town with your friends as long as you can get somewhere to charge it.
The remarkably short recharge time makes it easy for you to get back on the road after the batteries might have run out.
Below are some of the Pros and Cons of The Zinc Electric BMX that earned it a spot in our list of Best Electric Bikes Under 500 $ to get in 2022.
Pros:-
Affordable
Short recharging time
Good range
Can deal with rough terrain
Easy assembly
Cons:-
Manufacturers are not very popular
Check Price on Amazon
Types Of Electric Bicycles:-
There are different types of e-bikes depending on the grading criteria which could be based on the electric motors, the terrain it was built for, and the battery type.  The types explained below will be based on each.
According to the terrain they were built for:
Road Bikes:-
as the name suggests, road bikes are built for gentle terrains, where the roads are smoother and there will not be any hill climbing.
Road bikes may sound more delicate but they have their advantages over mountain bikes as they are built to be able to attain high speed on the ideal type of roads.
Road bikes are pricier than mountain bikes and that may contribute to it not being as popular, however, the choice for this bike will depend on the terrain of the road to be traveled by bike.
Mountain Bikes:-
Mountain bikes are designed specifically for riders in rougher terrains than riders with road bikes. Although mountain bikes can still work on areas with a smoother terrain, road bikes cannot substitute mountain bikes in areas with rough terrain.
Mountain bikes are suited for hilly regions and areas with problems like potholes and they are even easier to ride down a hill because riders do not have to pedal when going down the hill.
Unlike road bikes, however, mountain bikes are not as fast and they do not travel for the kind of range that road bikes travel for.
Based on their motor and portability:
Folding Bikes:-
Folding bikes are common choices among urban residents because they are more portable than hybrid bikes.
Folding bikes get their names from the fact that they can be folded and then easily stored in smaller spaces and are go-to choices for people that have smaller apartments or for people that may need to carry their bikes in every time they get home or to their destination.
Folding bikes are very suitable not only because they can be folded but also because of their weight, as they are lighter weight than hybrid bikes.
However, despite these advantages, folding bikes have their own downsides compared to hybrid bikes are they are made to be portable and therefore compromise on some mechanical quality, folding bikes are not built for as long commutes as hybrid bikes.
Hybrid Bikes:-
Hybrid bikes, unlike folding bikes, are stiffer. They are built with larger motors, larger wheels and are therefore not as compact as folding bikes.
However, hybrid bikes are built to be easier to ride than folding bikes and they are built to travel for a larger distance as well.
They are generally heavier, they need storage space and they have larger wheels and larger motors than folding bikes. Unfortunately for people that live on up floors where they have to carry up their bikes very often, they may not enjoy having to bear the weight of the hybrid bike, also people with less storage space may prefer folding bikes.
The choice of either of these two usually depends on apartment types and commute distance.
What Makes a Good Bike?
1. The Type of Sensor:-
There is a different type of sensors which lots of beginners do not understand at first before they buy their bikes.
These sensors control the speed the electric motors start at and they have an effect on the smoothness of the ride.
The two types of sensors are the Cadence sensors and the Turbo sensors these sensors function differently on the pedals.
Bikes with Cadence sensors are cheaper and more basic than Turbo sensors but the Turbo sensors are easier to ride and kick in faster and more seamlessly than the Cadence sensors which takes longer and riders may experience jerks. Bikes can, however, have both.
2. Lights:-
Lights are important if you are going to be riding any form of vehicle but then at the same time, if you are sure that you will not need to ride at night then you can do with a bike without lights.
However, if you plan to ride in areas with high traffic or at night then it may be preferable to have a bike with lights.
The lights are also electrically powered and sometimes they come with a different battery than the bike's battery, but for comfort, it is better if they share the same battery. Nonetheless, even if your bike doesn't have lights, you can have them added by purchasing one.
3. Battery types:-
It is an electric bike so the battery counts a lot. Even if you are going to be opting for affordability at least you should know what you are getting and what you should expect.
The battery affects things like the weight, the range, the maintenance and so on. Things like the battery Wattage and the type of battery are important considerations.
Electric bikes use either lead-acid batteries or lithium batteries; lithium batteries are lighter than lead-acid batteries and they perform for a longer time as well because they are not pulling along as much weight as the lead-acid batteries.
The higher the wattage, the longer the batteries' range and the higher the maximum speed.
4. Range:-
the range of a bike can be how long the batteries of the bike can travel before it dies.
As mentioned earlier, foldable bikes have a lesser range than hybrid bikes which means they generally do not travel so far before they run out of batteries.
Why range is important is that you do not want to have your batteries die while you are en route a destination and you want the bikes to be able to take you to and fro.
Knowing the distance you will have to commute will help you know what bike range is enough for you.
Things that affect the range are the batteries, the pedal system, the terrain, and the weight on the bike.
When a bike is traveling rough terrain, the range is shorter, when it is carrying more weight the range is shorter as well because the batteries do more work.
5. The Brakes:-
You are not going to be riding forever so the function of the brakes is an important factor for bikes especially if you will be riding on busy roads or in peculiar weather.
6. Weight:-
The weight of the bike is more important than a lot of people know.
For one, if the battery of the bike ever runs down on the road, you want to be able to carry your bike home.
Other than that, however, the weight of the bike affects the battery life and the maximum speed the bike can get to. Most electric bikes carry their weights at the center making it easier for them to move at a high speed despite the weight.
The weight of the bike affects the speed the bike can get to because the motor will have to carry your weight and the weight of the bike and the heavier it is then the more work to be done in moving the bike.
Best Electric Bikes Under 500 $: What To Consider
Your Terrain:-
from the earlier mentioned classification of bikes, it is obvious that the terrain affects the type of bike you should be willing to get.
Check the manufacturer's description for bikes that can easily travel along your local terrain so that you do not find yourself with a bike that does not serve you. Hilly terrains should go for mountain bikes and smoother terrains are suited for road bikes.
The weight of the bike:-
you should be trying to get a bike that you can carry. Even though electric bikes are generally heavier, you may want to opt for lighter ones so that you do not get stuck on the road with a bike you cannot lift.
Also, you may find yourself carrying the bike into whatever storage space you have designated for it, so weight is important. Aside from carriage, weight also affects the range of the bike as earlier mentioned.
Your travel distance:-
bikes have different ranges that matter highly on the battery wattage, and the range means how far the bike can travel without the batteries running out.
Be sure that the range of the bike you buy matches at least twice the distance you plan to travel to a destination, this is to ensure that it can return you back home.
Since you do not plan to be charging your bikes at every stop you make, you want the batteries to last long, for this, it is often better you test a bike to confirm that the manufacturer's range is the actual range of the bike.
Where you live:-
your bike will need storage space and so that should help you decide. The smaller storage space you have the more likely you are to opt for the foldable option and also a lighter option if you will have to carry it up the stairs.
Budget:-
Very importantly is the budget you have for the bike. When it comes to bikes like a lot of things, pricier isn't necessarily better.
After establishing your budget for the electric bike which is, in this case, $500, then you start to look at the other considerations listed here to know which is perfect for you.
Manufacturer:-
Manufacturers often come with a reputation and a price tag. Some manufacturers are more trusted because they have done very good bikes in the past, however, some manufacturers are also more expensive and so you should try to find a manufacturer that produces within your budget.
How To Maintain Your Electric Bike?
Irrespective of the electric bike you end up purchasing, whether it is one of these or a costlier one, even if it is from a trusted manufacturer you have to know how to maintain the electric bike otherwise your bike might not last as long as you expect.
These are ways to maintain your electric bike to make sure they serve for a long time.
1. First of all, you should look at the batteries. For the first use, it is advisable that the batteries are charged to their full capacity before they are driven.
After that, you have to ensure that the batteries are charged fully and try to do that before they are completely dead otherwise they reduce the lifespan of the battery and of course the range.
2. Lubricate the necessary parts:-
although it is an electric bike, it still needs some oiling as a traditional mechanical bike does. The wheel especially and the chains will need lubrication with the right lubricant made for it so that the metal parts do not wear out early.
3. Make use of good repair service:-
in case you run into problems, you do not want to be handing your bike over to just anybody.
Another misconception as well is thinking that a repairer of traditional bikes will definitely be able to fix an electric bike, this is false because they function differently. Therefore, it is important that whoever is fixing your bike is competent enough to fix it.
4. Cleaning in the right way:
if you want to maintain that very good shine that attracted you to the bike in the first place then, of course, you want to keep the manufacturer's bodywork in good order for as long as you can.
This will involve cleaning it with the right cleaning tools and also avoiding scratches. Some scratches cannot simply be cleaned off and therefore, avoid such scratches.
📗FAQ's on Best Electric Bikes Under 500 $
Below are the couple of queries on Best Electric Bikes Under 500 $ that everyone is expecting to answer and I did include the same for my readers.
How fast does a 500w E bike go?
The Breeze bike has a top speed of 20 MPH without pedaling.
Can electric bikes go up steep hills?
Yes, e-bikes are definitely more than equipped to handle steep hills.
Can you ride an ebike without the battery?
Yes, all ebikes by Rad Power Bikes can be pedaled just like a pedal-only bike without any motor assistance.
How long do electric bikes last?
In general, with regular use, an electric bike battery becomes less efficient after 3 to 5 years.
Conclusion
In conclusion, getting an electric bike does not have to be very pricey, the ones selected here has been tested to function properly and offer you the worth for your money because you will be looking at the right things.