Do you have the curiosity to know about the Best electric planer to buy in 2022? 🤔
You can easily Find out now in this buyer's guide.
So without further ado, Let's dive right in. 🎭
When considering the essential work tools for your in-house or commercial workshop, the planner would be one of the first to grace the list. The significance of this tool in obtaining finely finished woodwork cannot be overemphasized.
In fact, this singular tool could reasonably impact the quality of furniture and wood products you can churn out from your everyday activities.
This is because asides from the smoothness that planers bring to wood surfaces, it is also useful for incorporating important straightness and accuracy into your work.
Note that these use advantages apply to virtually all fundamentally designed wood planers. Hence they would all tend to achieve the same results. However- on the other hand, the invention of electric planer tools comes as a big plus to contemporary carpentry and woodwork practice.
Generally, they bring an important convenience to wood planning, and you don't have to put in so many energy inputs as is required with manual hand-driven planers.
Electric planers have been discovered to affect reasonable additional speed to the user's operation- thus allowing you to carry out more in a relatively shorter time frame.
Now, considering the importance of this development to your woodwork activity, it is essential to have knowledge of the best electric planners in the woodwork tool market.
This would allow the intending user to access the best products that guarantee top-notch quality- especially in terms of machine durability, work output quality, speed turnout, efficiency, and other factors that the users would consider germane.
In this article, we will be discussing some of the best electric planers as of 2022, with some of their characteristics, the pros and cons, and other ways in which they can be of importance to the user.
Best Electric Planer – Our Top Picks 👌👌
1. WEN 6530 6-Amp Electric Hand Planer
Although the Wen 6530 electric hand planer is still considered to be a relatively new entry on the woodwork tool market, it has been able to gain substantial popularity since its invention and distribution for public use.
This is because of the machine's top-notch efficiency and reliability, and many current users have acknowledged the fact that it was worth every single dime spent on its purchase.
Even so, the machine still ranks amongst the cheapest in its category- considering its capacity functions if placed in comparison with other electric planers.
The planer is a 3-1/4 inches machine with a strong six amps power motor, that is just fit for every of your wood smoothening and straightening activities.
Since the machine comes in 3-1/4 inches, it would deliver an apt wood width cutting of the same measurements and a maximum slicing depth at about 1/8 inches.
However, the user can adjust cutting measurements to suit their purpose, with a guarantee of the best results.
Some of the accompanying features of the Wen 6530 are a reversible dust chute- which helps in the gathering and packing of the sawdust, an aptly implemented double-edged cutting blade- which can be rotated and with a cutting capacity of up to 34,000 cuts per minute and a retractable protective kickstand.
Asides from these, other value features are a six-foot power cord, a chamfer grove, a rabbeting guide, amongst others.
Wen 6530 6amps planer has an average weight of 6.5 lbs., and sells at a remarkably cheap price of less than 50 USD.
Below are some of the Pros and Cons of The WEN 6530 6-Amp Electric Hand Planer that earned it a spot in our list of Best Electric Planers.
Pros:-
The planer is highly efficient and suitable for all basic everyday wood-cutting work, bringing this to our Best electric planer 2022 list.
Its sales are reasonably priced, allowing more intending users to gain purchase access to the product.
With good maintenance practices, the planer guarantees long-term durability, with all its functions remaining intact.
6amps high power motor ensures speed and quality woodwork
The product comes with a rabbeting guide, and rabbits of about 1-inch deep capacity
Cons:-
The machine's cutting depth at 1/8 inch is considered quite insufficient.
Check Price on Amazon
2. Makita 1806B 10.9 Amp Hand Planer
This machine is a top-notch, high-power output product that is guaranteed to serve the heavy-use owner, as well as the occasional carpenter.
Makita 1806B hand planer does not need much effort before it is effortlessly granted space on the list of the most sort after electric planers.
All of the product features adequately suggest the manufacturer's intent- to produce an electric planer that is next to none.
The planer comes with a 10.9 amp power motor with a stock removal capacity of 15,000 RPM and is a great work companion for the workman involved with heavy door and window fixing, construction frame production, household furniture making, etcetera.
Furthermore, the plane has a maximum cutting width capacity of 6-3/4 inches, which is executable in one plane pass. The machine has a high-speed planer blade that significantly facilitates the player's overall work performance.
Accompanying components of the Makita 1806B planer are the sharpening holder assembly (arranged in the package box), a wrench, a triangular rule, a blade set, etcetera.
The planer has a cutting capacity that is placed at about 30,000 cuts for every minute. An insulation framework aims to serve as a protective feature for the user.
The handle designs are made in such a way that allows easy handling and usage- no matter how long the machine is being used.
This feature is also aided by the massive, sturdy sole plate at the place, which is added as stability providing structure for the machine.
Below are some of the Pros and Cons of The Makita 1806B 10.9 Amp Hand Planer that earned it a spot in our list of Best Electric Planers.
Pros:-
If you're looking for an electric planer that can sufficiently serve all your heavy-duty woodwork, then the Makita 1806B hand planer may be the best option.
There is a convenient roadmap for the tool handling and the desired cut depth setting.
The sturdy soleplate and the lock-on button facilitate continuous use with a reasonable level of convenience.
High-speed steels are definite infrastructures for optimum performance.
The planer has a two-blade cutter head provision
Cons:-
The Makita 1806B electric planer is highly expensive and can be considered an investment.
The high cost of procurement makes it less advisable for purchase by non-heavy activity users.
Check Price on Amazon
Note:-
I have written a post for people looking for the
Best Cordless Jigsaw
To Buy, do read it If you are interested.
At the time of our research on Best Electric Planer, we found a video about "How to Use a Planer," which is worth watching. 🤴🏆
How to Use a Planer | Woodworking
3. Bosch PL2632K Electric Planer
This Bosch product is one of the best sellers in the wood-cutting industry, with many prospects of retaining the top positions. It is ingeniously designed to carry out quality work, with a corresponding protective framework for the user.
Whether you intend to use it for your minor homestead carpentry activities or a commercial-grade venture, you're well assured of hitting the right planer tool.
Structural features of the planer include a double-edge cutting blade- that is powered by a 6.5 amp motor, and an estimated planning capacity placed at a width of 3-1/4 inches, and a maximum planting depth of 3/32 inches. The stock removal capacity, on the other hand, is an impressive 16,500-speed measurement.
The Bosch PL2632K has an accuracy facilitating structure in the form of incorporated aluminum-made front and back matching shoes with a chamfering grove.
The machine weighs an average of 6.3 lbs. and is just handy to handle at the top and for all types of work purposes. It uses engine power via an electric source, with a 120 volts ideal specification channeled to the motor through the added electric cord.
This planer is a first-grade wood machine in its category, with analysts and users dishing out an impressive rating for the product.
Below are some of the Pros and Cons of The Bosch PL2632K Electric Planer that earned it a spot in our list of Best Electric Planers.
Pros:-
The planer is easy to handle and use for work; the top handle makes this possible.
Bosch PL2632K has an improved stock removal capacity of 16 500 RPM, which is a definite plus for the product.
The machine is acclaimed as the first electric planer to come with an ambidextrous lock-on and off-release button- which aids use the convenience of the planer.
The tool is moderately cheap while giving the owner optimum value for their money.
Cons:-
The touching aluminum surface may easily scratch and wear off, with the use
Check Price on Amazon
Bosch PL2632K 3-1/4" Planer Review
4. DeWalt D26676 Electric Hand
This product enjoys a good rating on the wood equipment procurement front, with more people acknowledging its relevance to their type of woodwork.
This comes despite the planer's supposedly powerful 5.5 amp capacity motor, which may be a reduced ability compared to other common electric planers in the market.
However, the good thing about the machine is that it can still carry out every basic wood resurfacing and smoothening activity you may want to carry out, especially for your home.
It also has a stock removal speed capacity of about 17,000 RPM, with an estimated 34,000 cuts for every minute.
The maximum cutting width is put at about ¼ inches, and a planning depth of 1/16 inches for basic. The kickstand support allows a user to balance the tool on the work material for rest, which may be considered an advantage over other hand-handled electric planers.
The planer's ergonomically fashioned handle makes it easier to hold and use the machine, making it fit for a long period of use.
The advantage of such a handle is that the user is saved off excess fatigue that accompanies some other planers without this handle support type.
If you seek that electric hand planer that would work just fine, for most of your home woodwork, you may consider this option.
Below are some of the Pros and Cons of The DeWalt D26676 Electric Hand that earned it a spot in our list of Best Electric Planers.
Pros:-
The ergonometric build of the electric planer is considered an advantage for users.
DeWalt D26676 accepts the use of carbide reversible blades
Non-heavy and easy to carry from place to place- within and outside the workplace
Easy depth cut adjustment method to suit user preferences and specifications
Cons:-
The machine is relatively expensive, which may be a major turn-off for people with low carpentry activity tendencies.
The product has only one chamfering grove attached. Hence it may not be as effective with other players with at least a dual chamfering attachment.
Check Price on Amazon
5. Makita KP0810 7.5 AMP Hand Planer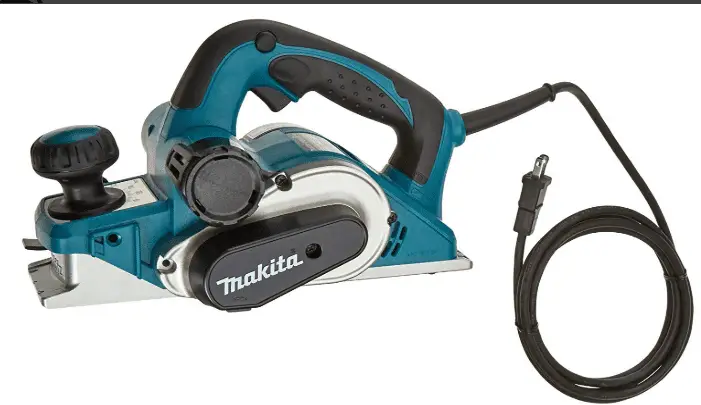 Some analysts say this power tool is ideal for professional industrial purposes, but we've found the Makita KP0810 hand planer useful for all wood-cutting processes.
The planer's 7.5 amp motor pushes the machine to perform a perfect finishing that ultimately impresses you with your planer choice.
Hence, whether it be door and window installations or just the regular fine wood cutting, this device comes in handy to the rescue- saving you that stress that was once commonly associated with wood planking.
All of the accompanying features on the planer are made with high-quality materials, which in turn facilitates a high durability tendency for the user.
As common with other planers in its category, the Makita KP0810 comes with a double-edge cutting blade and a 16,000 RPM speed for facilitated stock removal.
The planning width capacity is put at a maximum of 3-1/4 inches and a maximum depth cut of 5/32, all executable in a single planer cut.
The machine also has an essential ergonometric balance and other accompanying back, and front rubber handles- all facilitating overall planer balance. There is three frontal base located chamfer grooves, as well as precision adjustment and determination knobs.
If you want a highly effective planer tool that works for as long as a reasonable number of years, you may want to throw your shot on this one.
Below are some of the Pros and Cons of The Makita KP0810 7.5 AMP Hand Planer that earned it a spot in our list of Best Electric Planers.
Pros:-
Planer displays high-level efficiency and optimized work rate. This allows you to finish up your work within the shortest possible time.
The powerful motor capacity allows machines to work well for hard and softwoods without causing any damage to the wood materials.
It has a structural ball bearing that aids its efficiency and durability.
Ergonometric center balance ensures proper convenience for the machine and user, while it is in use.
Cons:-
The electrical wire cord seems connected in a way that hinders the users. This is because it is pointed upwards and stands directly on the mid-tool.
Check Price on Amazon
6. Porter-Cable PC60THP Electric Planer
Firstly, this ingeniously designed electric planer may have earned its popularity and high ratings because of its aesthetic beauty structure.
The Porter-Cable PC60THP comes with an attractive body build, made out of quality durable materials- to give the product its final high-tech look.
Asides from these, the planer also rates well in terms of function and efficiency- thanks to the carefully imputed specifications and individual structural parts. The planer is a 6 amp motor run device with high-speed tendencies and a reasonable work implementation capacity.
One particularly important ability of this Porter-Cable product is its ability to cut through even thinner surfaces without losing the much-needed accuracy important to your finished work.
Another vintage feature of this planer is its characteristic enabling maneuverability, allowing the user to carry out all supposed difficult work. This tendency is made possible by the planer's 11.5" aluminum shoe.
Note that the Porter-Cable PC60THP has three chamfering grooves, and the more accurate cut depth of 5/64 allows the user to carry out more quality work on average.
To facilitate ease of use, the planer comes with a dual dust port that efficiently removes wood chips and sawdust promptly- thus preventing possible clogging between the blades.
Below are some of the Pros and Cons of The Porter-Cable PC60THP Electric Planer that earned it a spot in our list of Best Electric Planers.
Pros:-
The dual blade provision allows for a more efficient cutting session and facilitates your activities' speed.
Considering the peculiarities and use advantages of the planer, it is reasonably cheaper and, thus, a good shot for your money.
A more precise and accurate cut depth provision of 5/64 inches with 10 different depth stops is a plus for the machine.
The 11.5 inches aluminum shoe maneuverability structure is not found on other planer machines.
The dual-port extraction attachment allows easy gathering and packing of collected wood wastes.
Cons:-
Planer requires constant maintenance if it must remain in top form.
Check Price on Amazon
How Does The Electric Hand Planer work?
Before settling down on your choice of an electric planer, it is equally essential to understand the tools' fundamental working procedures and methods.
Unlike the manual hand-drove planers, electric planers are a little different in operation procedures- even though they aim to achieve largely the same results as the former (many times, better though).
However, the general concept of an electric planer operation is quite easy. The planer blades are made from steel or carbide and are beaten into cutting blades.
The blades are made to cut through the wood by the powering efforts of the motor (that requires electric current or its equivalent to run).
Now, the electric planer may be manufactured with a cord- through which the user is expected to plug the machine into an electric source, or it may be cordless- in which case, the planer is made to run on batteries.
Once an attached electric source is attached, the rotor forces the blades to move through the wood as the planer glides through.
Depending on the manufacturer's specifications, different electric planer rotors rotate at different speeds, and while others may run at 10,000 RPM, others may run at 12,000 RPM, 14,000 RPM, and so on.
Lastly are, the adjustment knobs used to fix the intended cutting depths for the blades. These knobs control rotor speed, affecting the blade movements and actions on the wood.
Best electric planer: What To Consider
As much as there are several best electric planer options on the market stores, not all of them would ideally suit your type of woodwork activities, hence making you derive lesser benefits from their purchase- if you ignorantly or adamantly buy them.
When choosing your electric planer, there are certain traits to look out for, which may depend on how much you'll be using the tool when you've bought it. Some of the important traits to consider in your electric planer includes the following:
The number of incorporated iron
Usually, the ideal electric planer has a base iron number starting from two and more. The number of irons on your chosen planer may determine if the tool was designed for professional purposes or was just meant to be used for basic carpentry work.
Type of planer handle present
If you're buying an electric planer, one of the important things you should consider is how much convenience framework has been installed on the planer you want to buy. Using a planer could sometimes be a little tiring, especially if the appropriate handle types were not built into the machine.
The ideal handles for electric planers is a soft materials that can absorb and cushion the effect of the vibration and friction that the user feels when using the machine. If the handle is apt, you'll be able to do more work per a time, with very limited chances of fatigue resulting from using the planer.
These structures on your electric planer facilitate your work accuracy and precision. They are directly important influences when taking measurements of your woodwork.
This feature is important, and most times it seems better to go for a planer with a longer fence, as this helps promote the accuracy of whatever measurements you take.
Wood chip and sawdust collection bags
As you work, it is easier to have a structure on the planner that takes care of the waste collection. The electric planer, with a suction bag, collects the wood dust as you work, making you work on your material with ease and saving you the extra work of cleaning.
Depth determining and measurement scales
This feature is very important in your electric planer, as it is directly concerned with the accuracy and quality of woodcuts you're able to make for each time you make use of the tool. Make sure that your chosen planer is that which is easy to set up, as well as that which is calibrated in the units that are common and easier for you to read.
Availability of a blade retraction feet
This feature helps to protect the user and his tool from damage if the planer is left to stay on the workbench.
Blades make up a material.
There are two types of blade material that you'll find on any electric planer: an HSS steel blade or a carbide fabricated blade.
Each of these blade types may work best for you, depending on your work type tendencies; hence it is important to determine which one is good for you before you buy.
Other important Features To Consider in an Electric Planer.
When deciding on what electric planer to buy, the following should be considered as fundamental determinants to whatever ultimately informs your decision:
The power rating of an electric planer is directly proportional to its work capacity. This means the higher the amp rating on a planer motor, the higher its work capacity.
Hence, it is normal to go for a planer with a high amp- if you're involved in commercial woodwork activity, while a moderate DIY home carpenter may go for a planer with a moderate amp power rating.
If you don't understand this and purchase a low amp planer for heavy wood activities, then you may not find its use effective and may need to make another different purchase.
The cutter head speed refers to how many rotations per minute the planer blade can make.
This is measured in RPM (rotations per minute), and a planer with a higher RPM is that planer with a more efficient work output. This feature directly impacts on the smoothness of the woodwork finish and affects the quality of the job.
You should also check for the manufacturer's specified planner feed rate before you proceed with your planer purchase. This feature is measured in feet per minute (FPM), and the lower the FPM, the greater the number of woodcuts made with each planer pass.
Care and maintenance of the Electric Planer
As you would expect with every other motor-driven product, the electric planer also requires care and maintenance to continue working perfectly.
Firstly, always remember to disconnect the planer from an electric source- especially if there is a prolonged non-use of the machine.
Asides from this, try to follow manufacturer instructions strictly, and do not connect the planer to high electric provisions that may damage the components.
Clean the planer parts after use, and store them up from the weather elements.